The best Oktoberfest beer adds another level of fun to the already exciting festivities. These trademarked beers are also an excellent choice for when the weather gets cooler.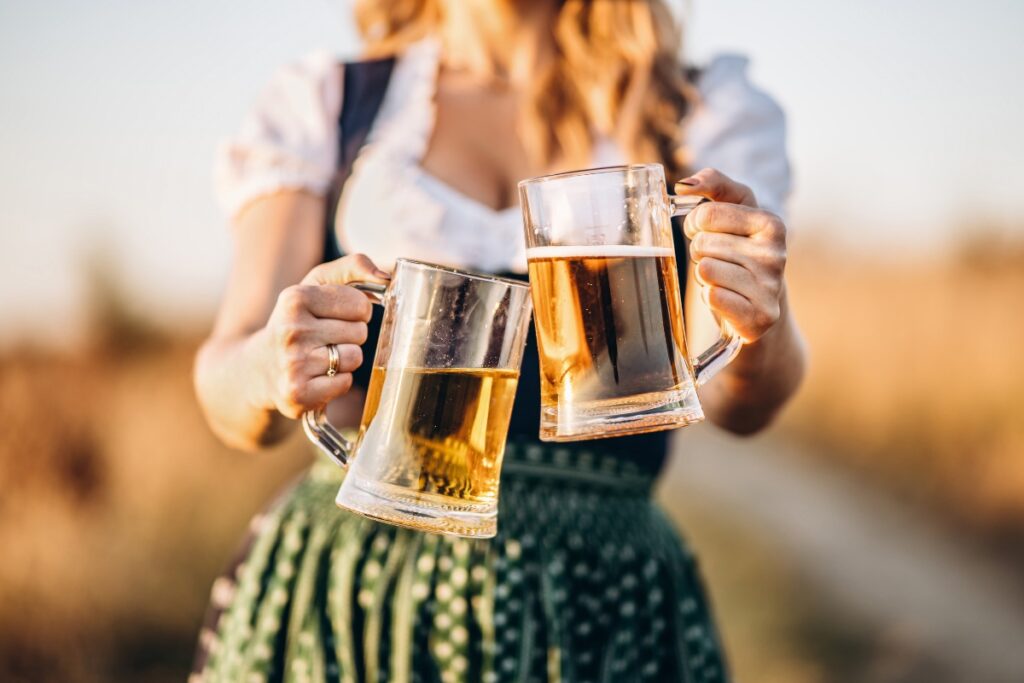 Our experts tasted dozens of Oktoberfest beers, and these nine stand out for their quality. Read what each expert liked and disliked about each beer!
9 Top Oktoberfest Brews
Hand selected by our beer cicerones, here are the top nine Oktoberfest beers to drink and enjoy this fall.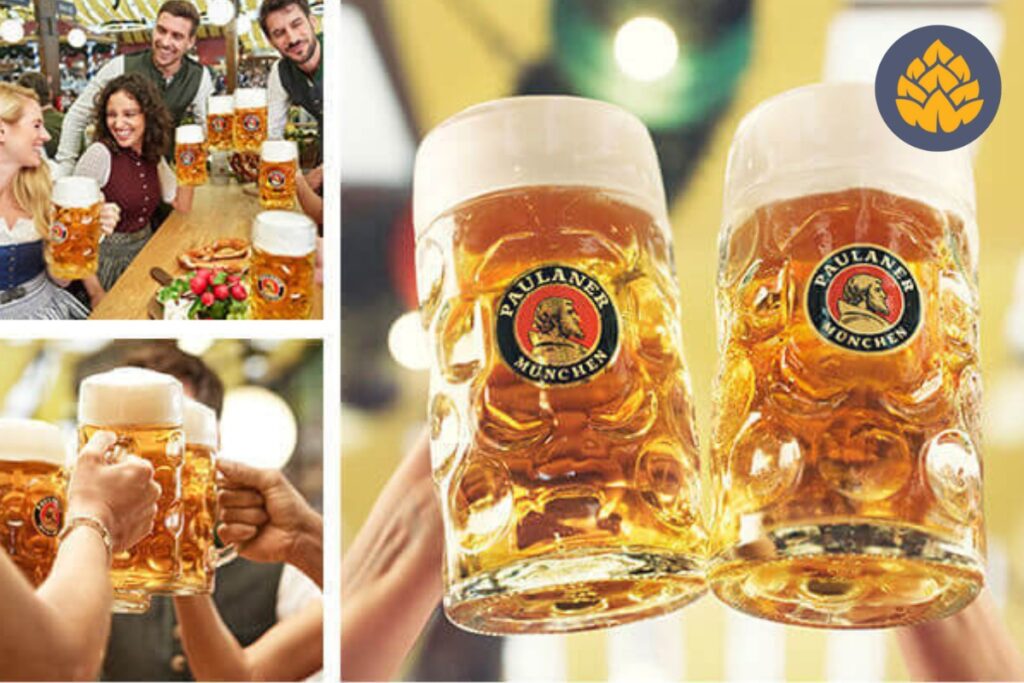 Paulaner
Pros
This beer's iconic golden hue is unmistakable.
The right amount of frothiness greets the mouth with every sip.
There is a strong floral and spicy aftertaste to this beer.
Its bold, bready flavor is apparent once you taste it.
Cons
There is a very subtle finish that does not quite hit the mark.
Paulaner is one of the most popular Oktoberfest beers for many reasons. For one, the clear, amber color is distinct and delightfully frothy with a transparent look to it. Zesty herbal hops accompany Paulaner's sweet toasted malts, which you cannot resist. The beer was brewed to have a prominent bready flavor tempered with an excellent level of carbonation.
Paulaner keeps things simple with a mix of just two types of barley — traditional German hops and a light roast. It is quite strong, great-tasting, and is reputed as "a glass full of October sunshine, strong and golden."
After we tasted this Oktoberfest beer, we had to agree that the Paulaner Oktoberfest bier is an absolute delight. It is an authentic Oktoberfest beer at its very best, and although it might be old, it continues to hold its own.
However, we discovered that the Oktoberfest Bier has a subtle finish that doesn't quite leave a lingering impression.
Overview: We like that Paulaner Oktoberfest Bier has a lot to offer. From its light gold color, a delectable bready note, subtle bittering hops to finish, and thick foamy heads that last well, this beer tastes great and is perfectly well-balanced. However, a downside is that the beer's subtle finish doesn't leave a lingering impression.
Oktoberfest Amber Marzen
Pros
This beer is malty and sweet, with a caramel tone.
It possess a nice, watery mouthfeel.
The taste is delectably smooth and creamy.
This beer is medium-bodied.
Cons
Its floral and noble hops have a tendency to overtake its maltiness.
The original Oktoberfest Amber Marzen represents everything a beer of its caliber should. It embodies a perfect blend of maltiness and sweetness and slowly transitions from a slight stickiness into a nice drying finish.
Amber Märzen gives you touches of mild spice, ginger and raisins to entice your taste buds beneath the fruity malt notes and glorious smoothness. The red-tinted gold color only adds to this beer's appeal ahead of the aromatic sweetness it gives off.
Märzen-flavored beer also has high-end carbonation and treads lightly with a watery and slightly sticky feel. However, we noticed the maltiness of this beer was overpowered by assertive aromas and a very bold hoppiness. Still, these very bitter undertones give the beer a taste of maturity and classiness, making it a must-have for every Oktoberfest beer lover out there.
Overview: Amber Märzen can simply do no wrong in our eyes. Although the malt is overtaken by floral aromas and noble hops right away, it still delivers an excellent bitter bite and medium-bodied feel. If you are looking for a medium, smooth and creamy beer that shows a perfect marriage of hops and sweetness, grab a bottle of Hacker-Pschorr's Oktoberfest Märzen.
Spaten Oktoberfestbier Ur-Märzen
Pros
There is a beautiful golden brown color that is apparent once you open this beer.
Full malty flavor and a great aftertaste greets the mouth with every sip.
There is a light carbonation in this beer, which is something that a lot of beer enthusiasts love.
Cons
This beer is sometimes descriobed as too malty.
Oktoberfest beers don't get more original than what Spaten brings to the table. Starting with its gorgeous golden brown color, Spaten Oktoberfest delivers an enticing aroma of malt artfully combined with lemongrass hops.
Beneath the skillful marriage of these primary flavors, it shines even more with sweet, hard-to-miss caramel tones.
It also has a toasted biscuit and exciting citrus hints to give you that extra zing!
This Oktoberfest beer surprises you with its hoppiness and doesn't back off as it accompanies that with the right balance of light malty sweetness. However, it delivers less bitterness and breadiness than its American counterparts and ample carbonation that gives it a much-appreciated slickness. We didn't really like the Spaten Oktoberfestbier because the malty profile is a bit too high.
Overview: Spaten Oktoberfestbier is an excellent Oktoberfest beer that would delight anyone looking for a mix of malt and tanginess. This beer teases you with notes of caramel, toasted grain and fruity spice.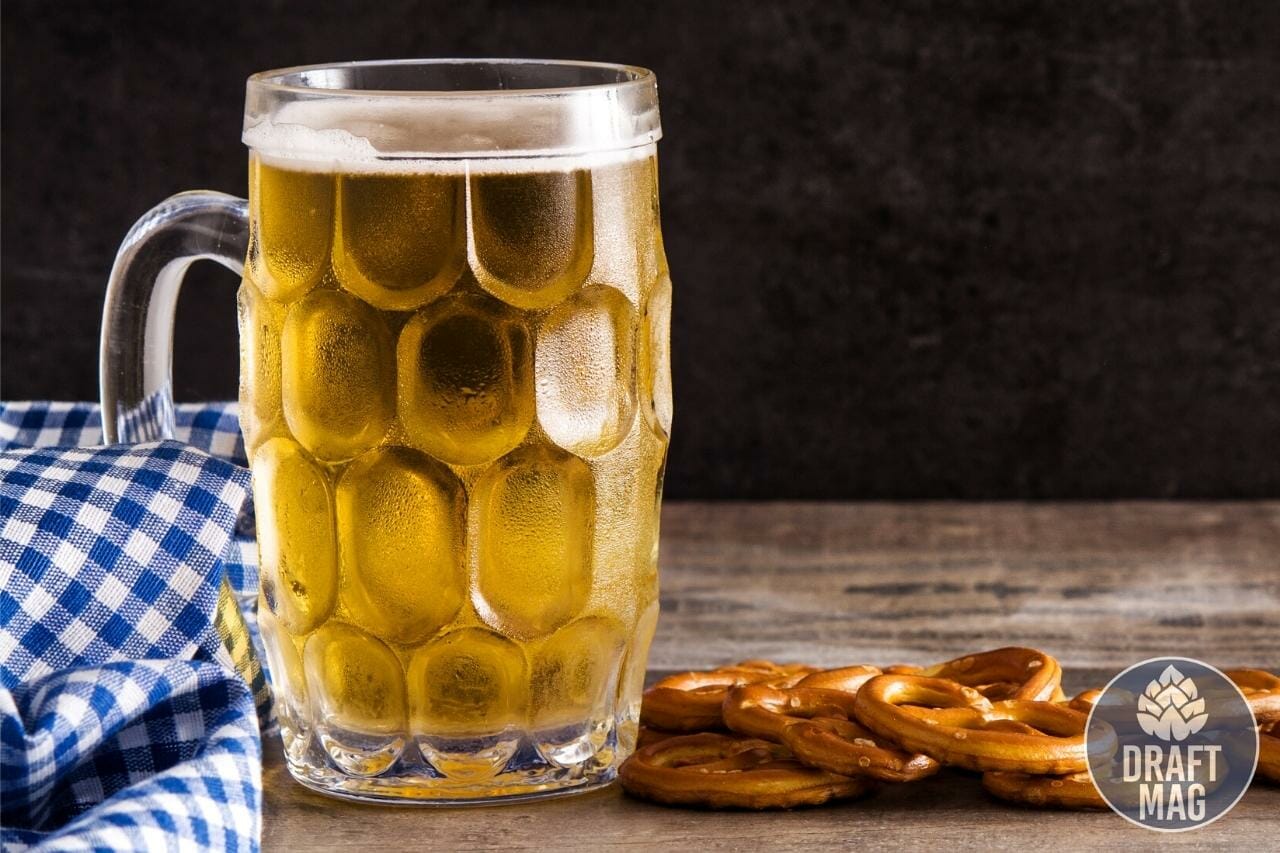 Augustiner Bräu Märzen Bier
Pros
There is a light, hoppy finish that is absolutely delightful.
The beer is slightly sweet with noble hops.
It presents itself as a fresh and tasty beverage.
This beer's signature unforgettable flavors are distinct and remarkable.
Cons
A pretty big con is that this beer is not sold outside Germany, so you will have to travel to the country in order to have a taste.
There is a slow, timid start before you get to the full falvors of this beer.
The first time you have Augustiner Marzen Bier, the chances that you won't want to stop are much too high. This beer has a shy and gentle start but soon hits you with all the richness and sweetness it can muster.
The sweetness is immediately followed by a nice, clean and dry finish, making the Augustiner Märzen Bier the perfect blend of flavorful creaminess. Another remarkable thing about this transparent gold-colored beer is its mix of irresistible malt and noble hops, the perfect marriage of sweet and bitter.
Augustiner Marzen Bier is also medium-bodied and has lower carbonation than most beers. It does not have a robust and bold smell that hits you right away. As the timid opening gives way for the malts, herbal hops, and unmistakable classic German yeasts, the beer convinces you to want it at every Oktoberfest.
Overview: Augustiner Brau is a fantastic choice of Oktoberfest beer. While you might not be able to get it outside Germany, you will be in for a treat if you get your hands on it in Saltzburg. This beer is excellent for anyone patient enough to appreciate the flavor and subtle aroma after a quiet and shy start.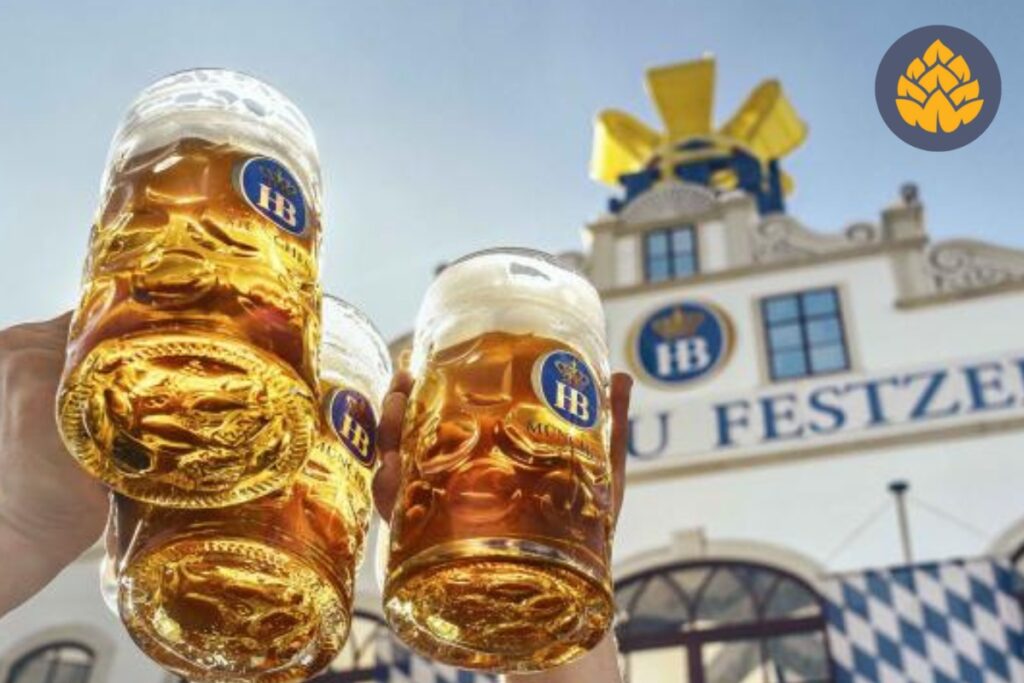 Hofbrau
Pros
It has a simple, classic Oktoberfest beer style.
This beer is extremely easy to drink, even for beginners.
Sweet, honey-kissed and malty tones greet the mouth with every sip.
The signature earthy citrus notes on this beer are unmistakable.
Cons
This is a classic but not very spectacular beer.
Hofbrau beer pours a lovely light golden color drink that hits with a delicious grainy aroma. We can best describe Oktoberfest beer as an authentic classic German Oktoberfest beer with its clean maltiness chased by a slight sweetness and minimal hops. Hofbrau is mostly medium-bodied and finishes nicely with dryness and bitterness.
As far as classic Oktoberfest beers go, this one is a mature and flawless brew.
It has a pleasant crisp taste with slightly fruity apple hints that aren't overly excessive. Hofbrau is also medium-bodied with the right amount of bitterness to compliment the malty sweetness. This beer is very happy and would pair well with German comfort dishes. When the slightly sweet finish gets you going, you will find yourself reaching for more.
Overview: Hofbrau is the perfect Oktoberfest beer for anyone who just wants some easy drinking at any time. Its simple sweet maltiness, light carbonation, and delicious taste have no genuinely shocking characteristics. However, its smoothness and light taste make it a favorite among light beer drinkers.
Samuel Adams Octoberfest
Pros
This beer has a nice, rich flavor that is perfect for the Oktoberfest season.
A well-controlled balance between sweetness and hoppiness is achieved in every bottle.
You get the full-bodied taste of this beer without a heavy feeling afterwards.
Cons
A common complaint is that this beer does not have enough pumpkin for pumpkin lovers.
Samuel Adams Octoberfest is often one of the top rated Oktoberfest beers by nearly every brewer. While its ubiquity might get it overlooked and a little taken for granted, we couldn't help but bring this familiar friend into the limelight.
This easy-to-drink brew comes at you first with a rich, gorgeous amber color accompanied by some carbonation. It embodies every malt lover's dream as the taste is just as rich as its color.
Samuel Adams Octoberfest's sweetness is skillfully controlled and balanced with German Noble hops with a masterful blending of four roasts of barley. The delicious harmony of caramel and toffee, among other sweet flavors, will have you eager for another glass and then another.
Although we'd appreciate it if there was an increase in the pumpkin content, Samuel Adams Octoberfest is still a hit.
This sweet roast blend is excellent for your Oktoberfest celebrations and, really, any other season!
Overview: Samuel Adams did a good job putting this one together, and it is easily one of the best Oktoberfest beers in USA. If you are looking for a standard beer with rich, hearty malt, decent hoppiness, and a subtle pumpkin feel to it, you should definitely try this one.
Great Lakes Brewing Co. Oktoberfest
Pros
An enticing dark orange color will greet you upon opening the bottle.
This beer is very malty, with toasty autumn flavors perfect for the season.
It has a well-coordinated bready smell and malty taste with slight hops.
Its medium-body and nice carbonation makes it easy to drink.
Cons
The simple and light hops might be too underwhelming for some.
When it comes to picking good Oktoberfest beers, our experts think it would be an unforgivable oversight to leave out the classic Great Lakes Oktoberfest. Brewed in Ohio, this tasty beer pours a gorgeous burnt orange color and boasts a very daring 5.5 percent ABV.
Great Lakes Oktoberfest goes all out to prove that it celebrates maltiness in all its glory and hits you with a vibrant sea of flavors. Many Great Lakes lovers would describe this beer as hoppy but not too hoppy, and our experts think so too.
With this Oktoberfest beer, you're guaranteed a good time with smoked caramel notes and delectable hints of pumpernickel bread. Great Lakes Oktoberfest also gives off aromas of bread, caramel and bread spice, followed by an immaculate and sweet finish. It is medium-bodied and has crisp carbonation with a just-right amount of hop spice and nuttiness.
Overview: Great Lakes is an excellent choice for anyone who enjoys lots of flavor in their beer with moderate maltiness and hoppiness. With its perfect blend of malt, flavors and hops, every sip is a memorable one. You will get a hearty hoisting with this autumnal festbier with a medium level of bitterness.
Beck's Oktoberfest
Pros
This beer is simple and easy to drink.
Subtle and intriguing notes of caramel, sweet malts, and cloves greet you with every sip.
A perfect balance of floral and spicy hints make this a delicious brew.
This beer is quite affordable.
Cons
There is a metallic taste that some people don't like.
Its watery and bitter aftertaste can be a turn-off for some.
There aren't many shocking details to this beer. Beck's Oktoberfest is a standard and solid choice from the taste to the smell with its 5 percent ABV. Despite being sale-banned in Germany, this bright copper lager with sweet floral aromas and a grainy-flavored finish is flourishing in the USA.
Its well-appreciated spice and very little carbonation appropriately accompany the subtle maltiness. Looking at the pour, Beck gives a delicious-looking frothy cap that sits for a solid 3-4 minutes before and after the bready and malty notes hit.
This Oktoberfest beer doesn't have much for you in the way of shock factors, but it is a comfortable and simple drink to have. Beck's Oktoberfest is nicely balanced between toasty, sweet and spicy, allowing the simplicity of it all to make its impression on you.
Overview: If you are looking for a nice and simple Oktoberfest beer to enjoy on a budget, you will appreciate all that Beck's has to offer. However, the overly watery feel and the metallic aftertaste are not a fan-favorite. Do not go for this beer if you can't stand any watery tastes in your Oktoberfest beer.
Lowenbrau Oktoberfest
Pros
This beer's crisp and dry finish is a winner in our book.
There is a perfectly balanced sweet and malty taste to this brew.
Its appealing and rich golden amber color is unmistakable.
This beer just generally tastes great.
Cons
Some people find this beer slightly bland.
There is no discernable aroma to be ascertained.
Lowenbrau Oktoberfest beer has an appealing appearance that makes an excellent impression. The smell heavily consists of grainy malt and floral, grassy hops while showing signs of light carbonation. This beer has a smooth, nice and clean feel, making it easy to drink. Although light and nearly indiscernible, the aroma is sweet with bready malts, hay and hints of herbal notes.
Lowenbrau introduces you to novel apple and honey hints despite the thin feel. This full-bodied drink can help you appropriately celebrate Oktoberfest with just the right hinting of spice and a yeasty tang to follow.
Overview: Lowenbrau Oktoberfestbier has exciting hops and grainy malts to keep you excited. It also has a lot of depth, with smooth transitions between the artfully blended compositions. This beer is excellent for anyone who enjoys modest sweetness with a more grainy profile than many others.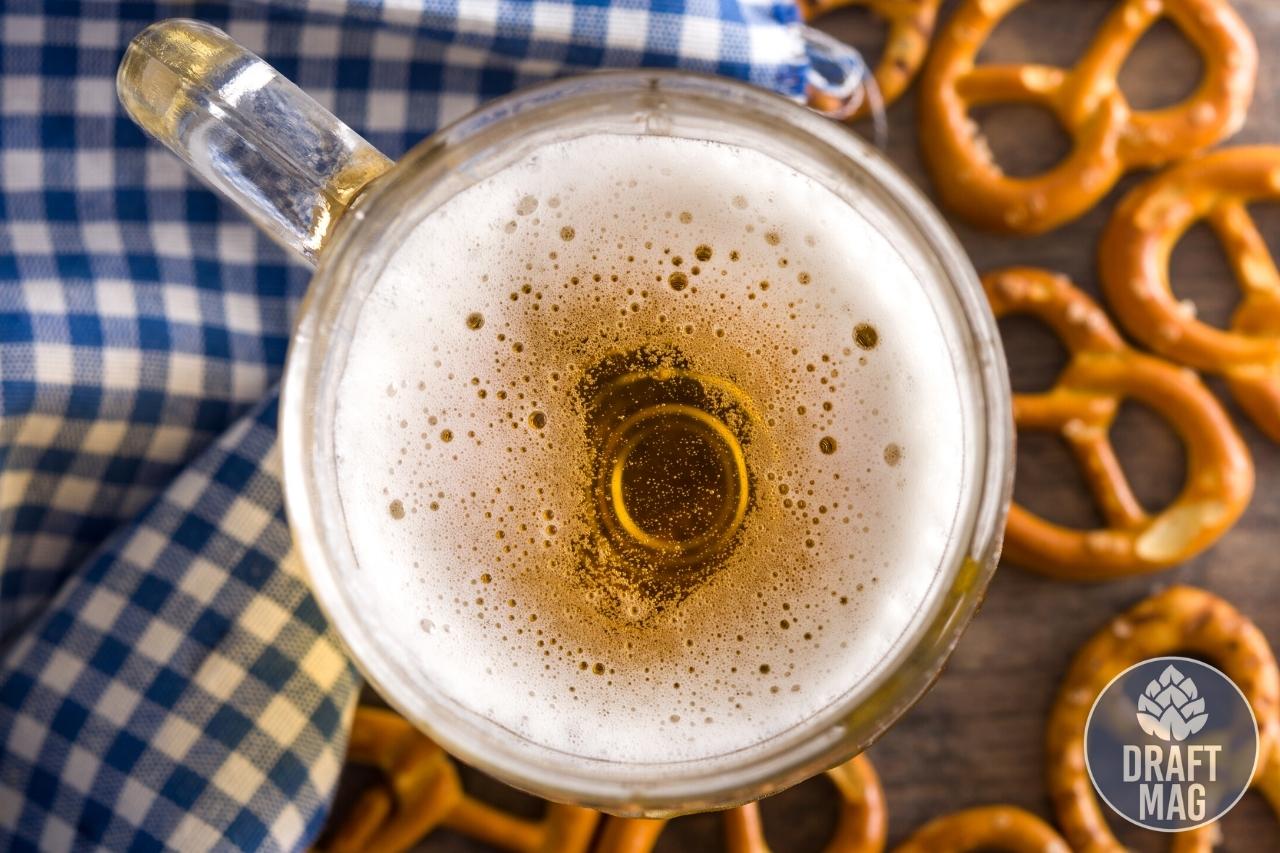 Oktoberfest, Märzen and Festbier
Oktoberfest is a festival held in Munich, Germany every year and lasts for over two weeks. It started as a celebration for the marriage of the crown prince of Bavaria to Princess Therese von Sachsen-Hildburghausen and now involves beer drinking and German food.
Märzen, often known as Märzenbier, is a Bavarian lager. It has a medium to full body with a color range from pale to dark brown. It's the beer that was first offered at Munich's Oktoberfest.
In recent times, Festbier, also known as Wiesn, Festibiere or Oktoberfestbier, has replaced Märzen as the official beer served during Oktoberfest. Festbier majorly differs from Märzen by the addition of paler malts and a golden color.
What Makes a Good Oktoberfest Beer?
The best Oktoberfest beers combine rich malts with tried-and-true brewing techniques to create beers that are dark amber in color, flavorful and ready to be savored.
Similar to the Vienna lager, this beer is malty with a clean, bitter hop finish. The scent and flavor of toasted bread or biscuit-like malt are also expected.
Check out the Best Octoberfest celebrations in the USA and learn more about beer alcohol content.
FAQ
What criteria are used in selecting Oktoberfest beers?
Oktoberfest beer criteria include being brewed within Munich, adhering to the Reinheitsgebot purity law, and having an ABV of at least 5.8%.
What are the big 6 breweries for Oktoberfest worlwide?
The big 6 breweries for Oktoberfest are Paulaner, Hofbräu, Augustiner, Hacker-Pschorr, Spaten, and Löwenbräu.
Wrapping Up
You can't say you have had a great Oktoberfest if you don't get to drink at least two of the top Oktoberfest beers on this list. And if you a curious about a different beer style check out our puppers beer review.
While your favorites should depend on your personality and preference, we can guarantee that you will find a couple that suits you perfectly.
Oktoberfest is a festival held in Munich, Germany every year and lasts for over two weeks. Celebrations involve beer drinking and lots of German food.
Paulaner Oktoberfest Bier is our top choice for your seasonal brew.
The best Oktoberfest beers combine rich malts with tried-and-true brewing techniques to create beers that are dark amber in color, flavorful and ready to be savored.
What more can we say but a hearty "Prost!"