Puppers Beer is not just a fictional beverage from the show Letterkenny — at least not anymore. Of course, it originally did start as an imaginary drink that features throughout the show, but an Ontario-based brewery named Stack Brewing made this beer a reality in 2017.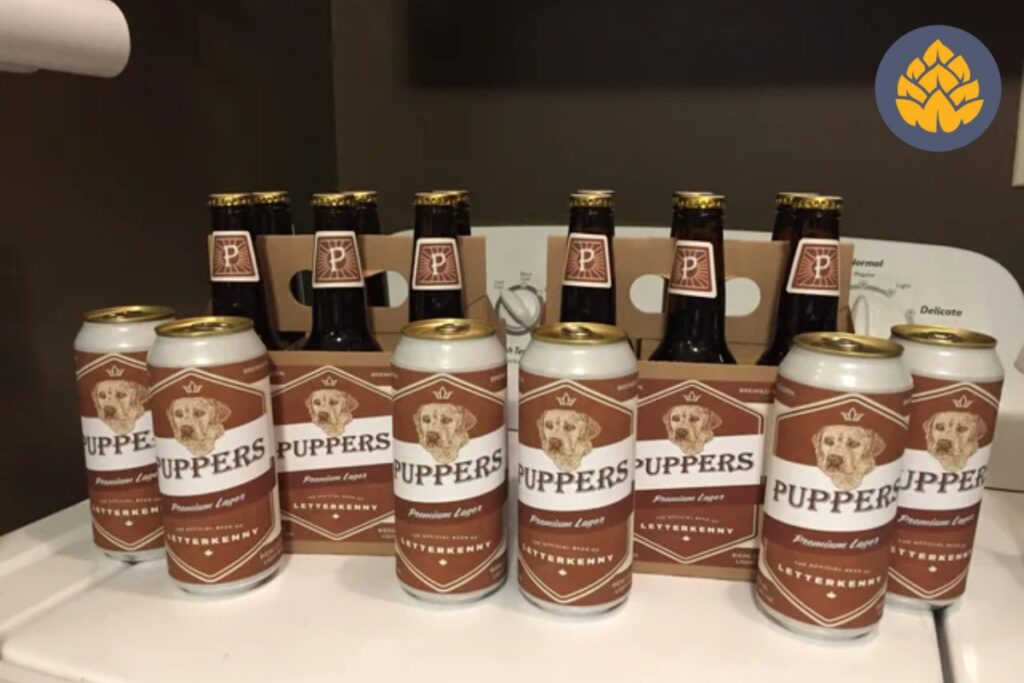 The beer appeared in the series in 2016 as a prop and soon became a craze amongst fans of the show. With the growing enthusiasm of fans, it was only a matter of time before a craft brewery in Ontario turned it into a reality in 2017.
In this article, we delve into everything you need to know about Puppers beer. These include its origin story, the beer style, where it comes from, how you can buy it, and what it tastes like. If you're a fan of the show, you already know you want to stick around to the end of this article!
Is Puppers Beer Real
Yes, while the beer was indeed just fictional at some point, you can now have an actual beer named Puppers Beer. As you read on, this guide will show you that the concept of the drink has been adopted from the TV show.
If you came across the name of this lager only in the Letterkenny show, you might be skeptical about whether the beer actually exists. To answer your question, yes, Puppers is a real beer. The makers of the show used Puppers Beer as a recurring prop, possibly to avoid running into trouble with existing breweries.
What Type of Beer Is Puppers Beer
Puppers is a light lager with a 4 percent alcohol content, making it one of the lightest beers. This beer primarily has a sweet malt taste, alongside the slight tinge of hops. It's a refreshing drink that one can enjoy at any time of the day, especially while relaxing after a hard day at work.
Stats
| | |
| --- | --- |
| Country | Canada |
| Brand | Stack Brewing/ Labatt Brewing |
| Style | Light Lager |
| Taste | Light, crisp |
| Body | Smooth |
| ABV | 4 percent alcohol content |
| Flavors & Aromas | Earthy, Malty, Fruity |
| Serving Temperature | 38–55 degrees Fahrenheit |
Puppers Beer Review
For sure, Letterkenny has helped Puppers Beer significantly in gaining popularity within a short period. However, the beer itself deserves credit too, being an amazing premium lager. With a light ABV content of 4 percent, this is a beer that you can drink at any occasion or time of the day. Let us take a deeper look at what exactly the Puppers Beer is like:
Appearance
Puppers Beer is a beautiful golden lager that stands out due to its bright appearance. The sulfur-toned finish further adds to the lavish and beautiful appearance of the beer. The beer comes with about an inch of foamy head.
Aroma
The aroma of Puppers Beer is quite mouth-watering and deserves a special mention. It's mostly dominated by the aroma of raw malts and bread mixed with that of wheat, honey, and vegetables. Unlike most beers, you may not be able to smell the hops. This is due to the overpowering aroma of the malts and vegetables.
Mouthfeel
Owing to the light carbonation, Puppers Beer comes with some fizz and crispness. Once you get past the three-quarter mark, the beer will start flattening out. Like most lager, the mouthfeel is notably moist. The aftertaste of Puppers Beer is mostly clean, though you might find a tinge of straw and vegetables.
Flavor
The sweetness of the malts is dominant in the flavor of this premium lager. You may also find a hint of bready wheat and vegetables. Although the hops aren't very prominent most of the time, you might notice the flavor of earthy hops in the finish and a tinge of lemon.
Food Pairings
Lagers go particularly well with fish and chips, roast pork, pizzas, and hot dogs. This applies to Puppers Beer as well.
Nutritional Facts
A can of Puppers Beer contains about 120 calories, which is quite low compared to most beers. This is largely due to the low alcohol content, which brings down the number of carbohydrates in the lager.
It's a well-known fact that drinking too much beer can cause one to gain excess weight and suffer from health issues. The low carbohydrate content in Puppers Beer makes it perfect for those who'd love to drink more without much weight gain.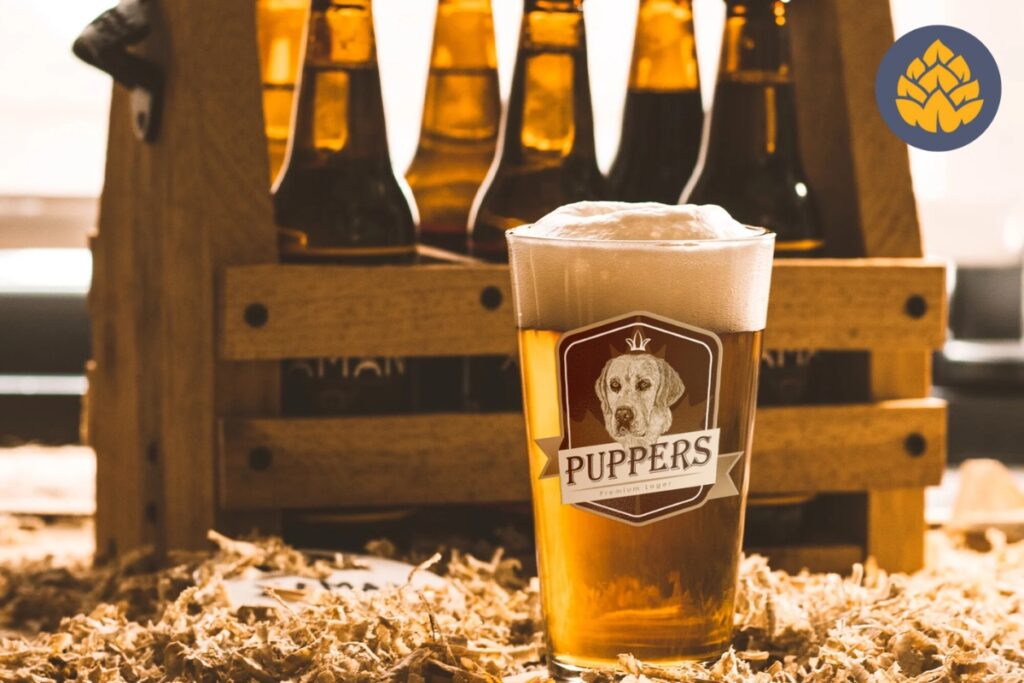 Origin Story Of The Puppers Beer
Puppers Beer was created as a prop beer for the Canadian sitcom series Letterkenny. The show, created by Jared Keeso, launched on Hulu in 2016 and soon became a popular show in Canada and beyond. It's a story that revolves around two siblings, Wayne and Katy, who own a produce stand and a farm. These siblings have to deal with life issues, from competition with other farmers to matters of empathy and religion.
While Katy and Wayne are the main characters, you'll encounter other cast members, including Squirrely Dan, Daryl, Jonesy, and Reilly. From time to time in the series, you'd see them consuming cans of only one particular beverage, the Puppers Golden Lager. A good part of the characters' dialogues is "Get this guy a f**ing Puppers!*
With the Puppers Beer as a big part of the series, fans wondered if the prop beer was real. As fans asked questions to see if they could even order the star beer, a brewing company in Ontario turned the Puppers Golden Lager into a reality in 2017. Now, not only is the Puppers Beer real, but it's the official beer for the show and can be bought by residents of Ontario.
What's The Beer Style Of The Puppers Beer
Stack Brewing Company is the craft brewer that turned the prop beer into a reality for the show and its fans. It follows the show's original description as a deep golden-colored lager that leaves you refreshed with light carbonation. As such, Stack Brewing brews Puppers Beer as an American-style light lager with a straw yellow hue and an inch-thick soapy head when poured.
Stack Brewing brewed the Premium light lager with Cascade hops, Wyeast, corn sugar (dextrose), light dry malt extract, and flaked corn. As such, you get a sweet and bready-like aroma of malt, lemon, grassy hops, and herbs. Brewing Puppers Beer takes place in Toronto by the Mill Street Brewery, and the Liquor Control Board of Ontario regulates and controls the distribution of the drink.
As the signature beer of Letterkenny, there's a description attached to the premium golden lager on their official website. It reads as "People, persons, peasants, pheasants. We proudly present a palate-pleasing potion for pals parched proper. Partner, the whole population'll be pilin' up to partake promptly…so pitter-patter, partner. Who's a good beer? Puppers. Perfect."
As a nod to their fans, Letterkenny Puppers also attached the following description when they released the beer. "Puppers is a 4% premium lager, it's everything you could want in a beer. This golden lager has a satisfying taste that will get along with anyone. It's a faithful friend that will always be by your side. Pure. Loyal. Golden."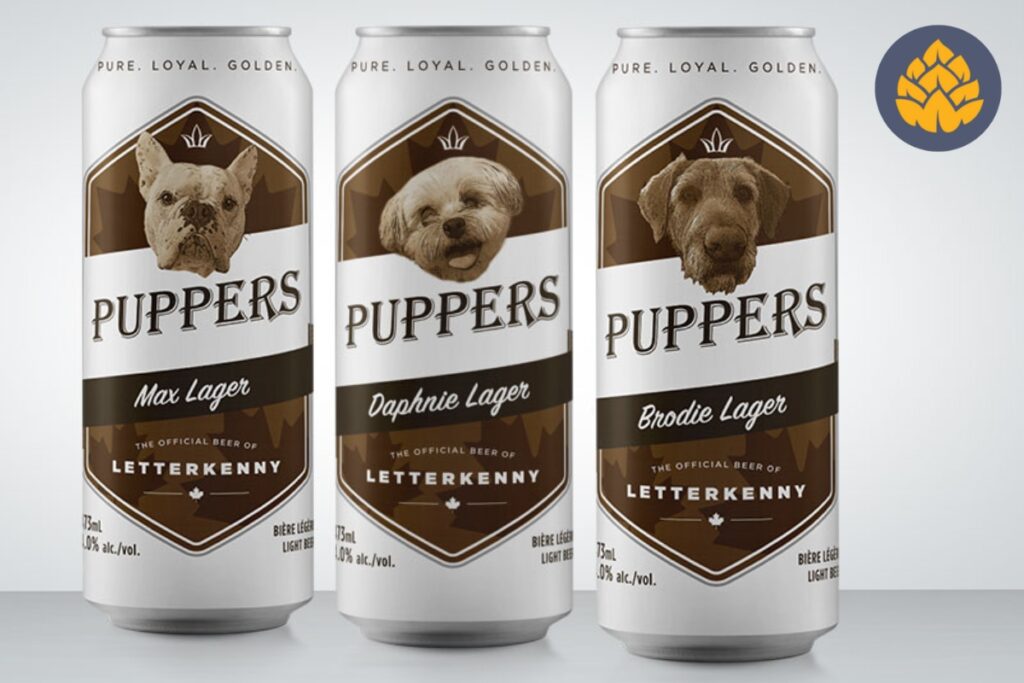 About Stack Brewing: The Producer Of The Puppers Beer
Puppers Beer comes from Stack Brewing Company, a craft brewer in Sudbury, Ontario. This Sudbury is also where Letterkenny is filmed, keeping the beer exclusive to residents of that area. However, Stack Brewing Company is one of the fastest-rising breweries in Canada, entering the alcoholic beverages market in 2013. They have a beer marketing network throughout Ontario and have won several awards for their craft.
These include the Ontario Brewing Awards and the Canadian Brewing Awards. Their reputation has also attained new levels since they officially made the Puppers Beer. Stack Brewing Company has a good collection of beers, including the following.
A 5.3% ABV cream ale known as Saturday Night.
A 4.0% ABV light lager known as Nickel City.
A 6.5% ABV dry-hopped sour IPA known as Expansion.
A 4.5% ABV session IPA known as Panache.
A 6.6% ABV black IPA known as Black Rock.
A 5.2% award-winning altbier known as Impact.
Following the success of the Puppers Beer by Stack Brewing, Labatt Brewing Company took up production a few years later. This company expanded its distribution zones beyond Sudbury, taking it to areas including Thunder Bay, White River, North Bay, Sault Ste. Marie, and Ottawa. To know the difference between Stack Brewing and Labatt Brewing Company, check the label of the cans.
Stack Brewing label has its front reading as "Puppers Premium Lager, the Official Beer of Letterkenny." The back reads the description about People, persons, peasants, pheasants. On the other hand, Labatt Brewing company has a label with its front reading as "Pure. Golden. Loyal. Puppers Golden Lager, the official beer of Letterkenny. Its back reads, "This deep golden coloured lager features a grainy and bready-like aroma with slightly spicy hop notes. The grainy, malty sweetness is perfectly balanced with drying hop bitterness. The body is low-medium, and the beer has a slightly dry, sulphur-toned finish."
How Does Puppers Beer Taste
This Puppers beer review will be incomplete without giving you the drink's flavor profile. As the beer is made with malts and hops, there's a balance in taste between the malty sweetness and hoppy bitterness. You get bready notes along with hints of grains and yeast. It has an aftertaste that gives you sweet, lemony, and doughy flavors.
The Puppers Beer is light and crisp, and carbonation is minimal. It's quite refreshing, making it a good beer choice after a long day of work. It contains only 4% ABV, which means you can take a couple or more cans and be good. However, be mindful of the calorie count at 120 calories per 473ml.
In food pairings, the Puppers Beer is great with several dishes, including spicy noodles, hot buffalo wings, fried fish, and hot dogs.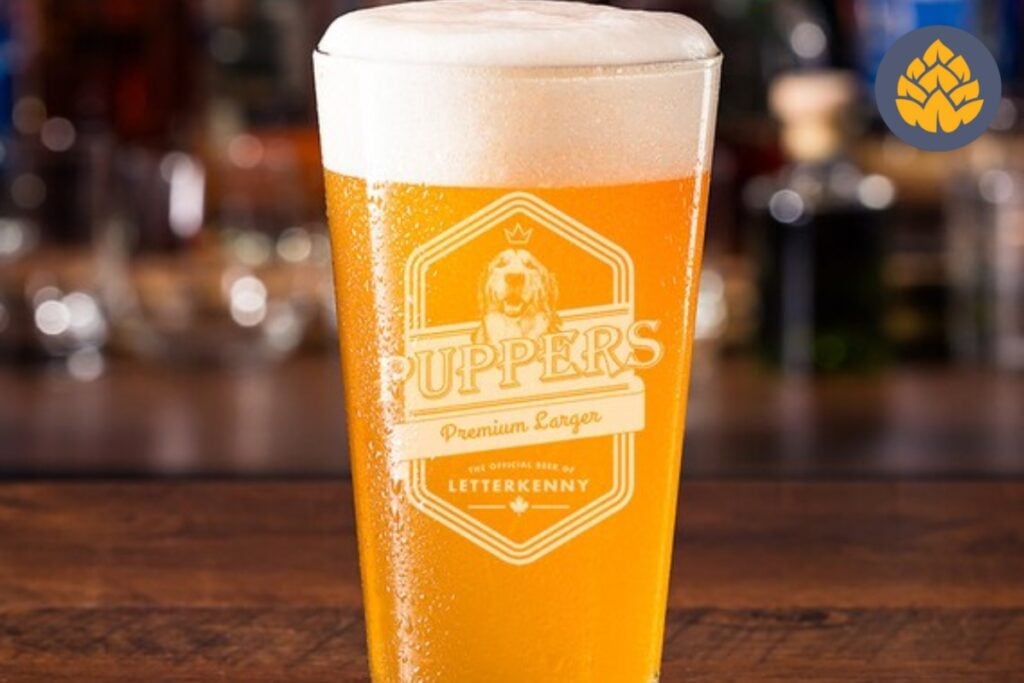 Where Can You Buy Puppers Beer In The United States
Currently, there's no beer store in the country where you can buy Puppers Beer from. The production of Puppers Beer is contained in Canada, and due to regulations by the Liquor Board in Ontario, it's almost impossible to ship the beer here. The original intention of the craft brewer, Stack Brewing), was to make the available within Sudbury, Ontario, where the show is filmed.
Even with Labatt Breweries in charge of production now, it's still against the border rules to import beer to the states from Canada. So, if you want to get Puppers beer, you will have to go to Ontario for one. They're available at LCBO liquor stores, Stack Brewing retail stores, and the Letterkenny official website.
If you can drive across the border to buy Puppers Beer, you can only bring back about 287 ounces or 8.5 litres to the country. This is about a case of the 473ml canned Puppers Beer. However, you must be ready to pay the duty to bring Puppers beer across the border.
It's important to note that Puppers Beer is a limited beer, and even in beer stores across Ontario, Canada, it can be difficult to get.
Is Puppers Beer Worth The Hype
The Puppers premium lager by Stack and Labatt Brewing companies has been described by consumers as a good pale lager. As a light lager, the Puppers Beer does not taste like the watered-down version of some of the most popular brands of light beer in the states. Puppers Beer is an enjoyable crisp and clean pale lager, with a sweet, citrusy aftertaste that'd be loved by anybody drinking beer.
Also, with its 4% alcohol content, you can enjoy several cans of the Puppers beer without getting intoxicated. It's a good beer to share with family and friends, and you'll enjoy the Puppers beer with a good range of dishes.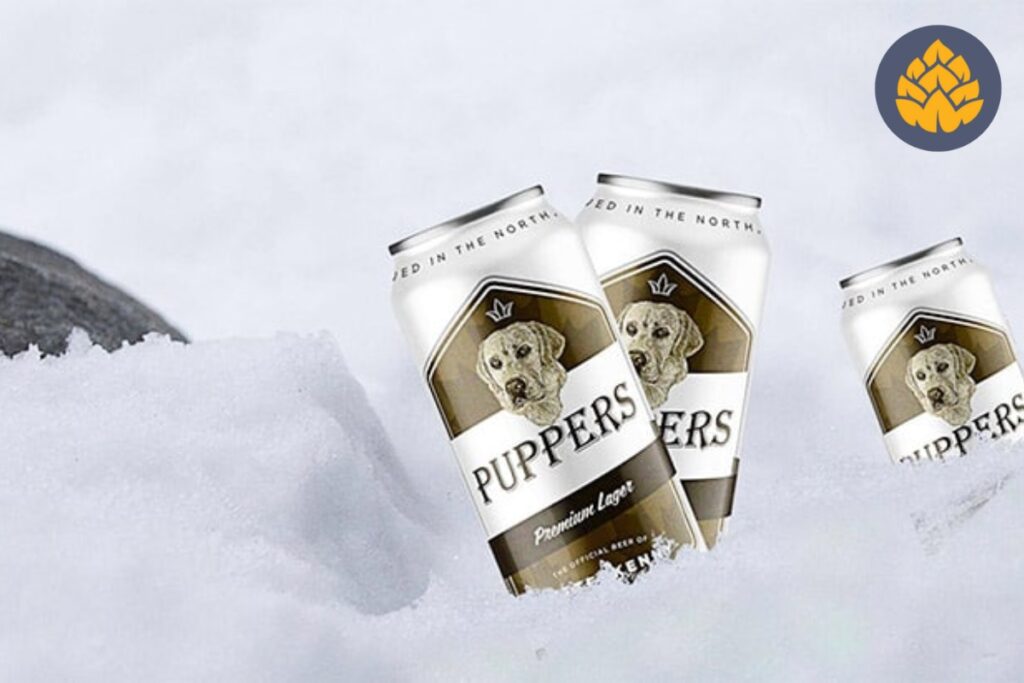 Ratings and Reviews
Plenty of people have rated and reviewed Puppers Beer after giving this lager a try. Let us take a look at them to get an idea of the general verdict:
Untapped: In total, more than 5,000 people have rated Puppers Beer on Untapped. Among them, 4,393 are for the old version from Stack Brewing, resulting in an average rating of 3.18 out of 5. The Labatt Brewing Beer has an average rating of 3.29, with 1,091 ratings in total.
Beeradvocate: Beeradvocate has eleven reviews for the Stack Brewing version of Puppers Beer. Here the lager has earned a score of 80 out of 100 and is marked as "Good." The Labatt Brewing Puppers Beer hasn't been ranked on this site.
YouTube: Reviews on YouTube from beer critics mostly speak well of this lager. According to Drunk Polkaroo, the Stack Brewing version has "grassy noble hops," "a cereal grain flavor," and "biscuity, toasted malt flavors." Alconauts has reviewed the Labatt Brewing version, noting that the beer is "bright, crisp, and clean."
Beer Label
One difference between the actual Puppers Beer and the one shown on TV is that while the latter always came in brown bottles, the former is available only in cans. Both Stack Brewing and Labatt Brewing have used the picture of a crowned white Labrador on the label. The text, however, changed once Labatt took over Puppers Beer.
Label Under Stack Brewing
Front: Puppers Premium Lager, the Official Beer of Letterkenny
Back: "Puppers is everything you could want in a beer. It's the start of a good time with your close pals. A satisfying taste that will get along with anyone – that faithful friend that will always be by your side."
Label Under Labatt Brewing
Front: Pure. Golden. Loyal. Puppers Golden Lager, the Official Beer of Letterkenny.
Back: "People, persons, peasants, pheasants. We proudly present a palate pleasing potion for pals parched proper. Pertnear the whole population'll be pilin'up to partake promptly… so pitter-patter, partner. Who's a good beer? Puppers. Perfect."
Similar Beers
While Puppers Beer is unavailable in the U.S. and getting them from Canada is quite hard too, there are a few alternatives that you may go for. These beers are similar in taste and flavor and should give you an idea of the Puppers Beer taste until you can actually give it a try.
Who's a Good Beer?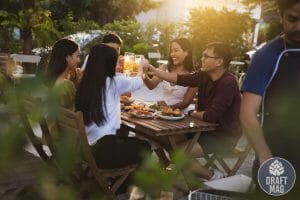 Streetside Brewery launched this pale ale to raise funds for two local animal shelters: Save the Animals Foundation and Ohio Alleycat Rescue. Besides the fundraising, the brewery has also tried to get people to adopt cats and dogs featured on the labels.
As for the beer, it has an ABV rating of 4.5 percent, slightly higher than Puppers Beer. The taste is primarily a mix of Citra and grain, with an aroma of lemon and spices.
How 'R Ya Now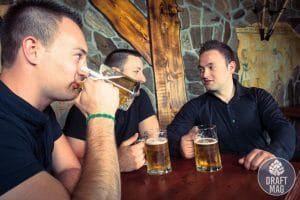 This beer from Night Shift Brewing is a close alternative to Puppers Beer, at least in spirit. Like in the case of Puppers Beer, it's advertised as a beer to enjoy when relaxing after work. However, its alcohol content is higher, with an ABV rating of 6 percent.
With notes of lemon, lychee, and berry, this is a very refreshing and crisp drink. The brewery uses caramel malts and hops the beer with Citra and Rakau hops.
Good N' You IPA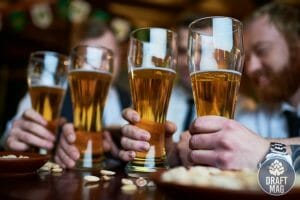 This pale ale from Springdale Beer has an ABV of 6.5 percent, making it a good choice for individuals who aren't a fan of light lagers. It carries a beautiful tropical taste, along with a great aroma.
Good N' You IPA has an IPA of 25 and is best served at a temperature between 45-50 degrees Fahrenheit. Brewed using Citra and Galaxy hops, this IPA is worth a try.
Be Fair Pale Ale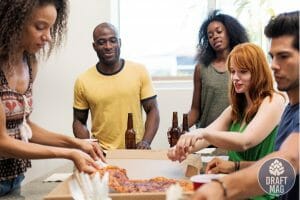 This is yet another beer from Night Shift Brewery that shares stark similarities with the Letterkenny Beer. The hazy American Pale Ale carries a fruity taste – a blend of citrus and stone fruits. The great combination of Amarillo and El Dorado hops ensures a rich mouthfeel and aroma too. With an ABV rating of 5.6 percent, this ale is a good choice for those seeking an alternative to Puppers Beer.
Backcheck IPA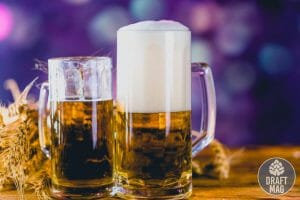 Backcheck happens to be a crisp India Pale Ale from Smuttynose Brewing, with 6.3 percent ABV. This medium golden ale carries a flowery and fruity aroma. The flavor is a blend of pine, spices, and citrus, giving the beer a beautiful taste. The brewery primarily promotes the beer as a great pre-game drink that will boost you up.
Lucky Streak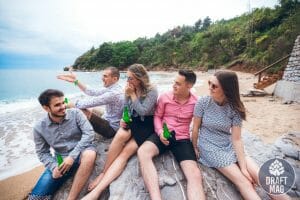 With an ABV level of 4.2 percent, Lucky Streak is very close to Puppers Beer in terms of alcohol content. Released in 2018 by Anheuser-Busch, the lager has a clear straw appearance and a thick, white head.
The bready and rice-like flavor comes with a touch of green apple and sourness that delivers a refreshing taste. Lucky Streak is an excellent choice if you detest bitter beers and would rather go for something crisp and fruity with a sour tinge.
Miller Lite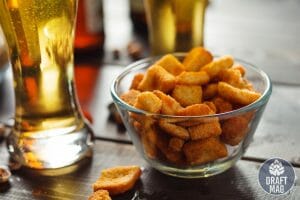 This American-style Pilsner beer is known to be the original light lager that first started in 1975. Over the centuries, it has retained its popularity among drinkers who love crisp beers with low alcohol content. This lager has 4.2 percent ABV, a light to medium body, and a clean finish.
The Galena hops and specially grown barley give the beer a beautiful aroma with a malt character. As for the taste, it is sweet with a touch of caramel and a crisp, clean finish.
Pabst Blue Ribbon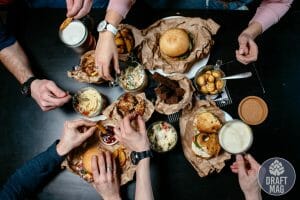 One of the most notable brands under Pabst Brewing Company, Pabst Blue Ribbon is an American Premium Lager that has been around since 1844. This is a smooth and full-bodied beer with 4.74 percent ABV.
Brewed using some of the finest hops and grains, Pabst Blue Ribbon delivers an exquisite taste that earned it great recognition back in the 1890s. However, you can likely find a better drink if you are looking for an alternative to Puppers Beer.
Coors Light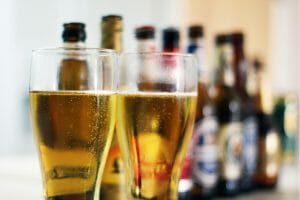 Best served ice-cold, Coors Light is a lager from Coors Brewing Company, a Colorado-based brewery. It carries a sweet taste, with subtle notes of malt. The lager particularly stands out due to its quality ingredients, including 100 percent Rocky Mountain water.
The mouthfeel is effervescent in nature, with a crisp finish. The lager carries the aroma of freshly baked bread, with hints of pear and banana.
Straub Light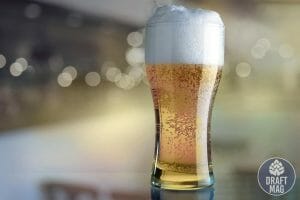 Straub Light is well-known for its craft beers, which are handcrafted using the same techniques initially developed in the late 1800s. Straub Light is a very light later, with 3.2 percent ABV and 13 IBU. Transparent straw gold in color, the lager also offers a very mild flavor with light grain and lightly grassy hops. However, the aroma is quite nice, and so is the overall appearance.
Frequently Asked Questions
Can you order the Puppers beer online in the United States?
No, you cannot order the beer online to be delivered to your residence in the states. If you want a Puppers beer, you must be in Ontario, Canada.
How much is a can of Puppers Beer?
Via the LCBO store, a 473ml can of the Puppers beer is sold for $3.60.
Does Stack Brewery still make Puppers Beer?
In July 2021, Labatt Brewing company took over production and distribution of the Puppers beer across Canada.
Related Articles
Check out some other great limited edition beers like these Hoegaarden beer varieties with rich taste and history.
Wrapping Up
This is everything there is to know about Puppers beer, from its origin to where you can get it. If you're a big fan of the show, then you won't mind heading across the border to get a can and try out the iconic beer yourself!