Blue Point Toasted Lager Review: Perfect Balance of Malts and Hops
The Blue Point Toasted Lager is the brewery's most popular beer, and for a good reason. If you're looking for a top amber lager with a good balance of malts and hops, this is the ideal choice.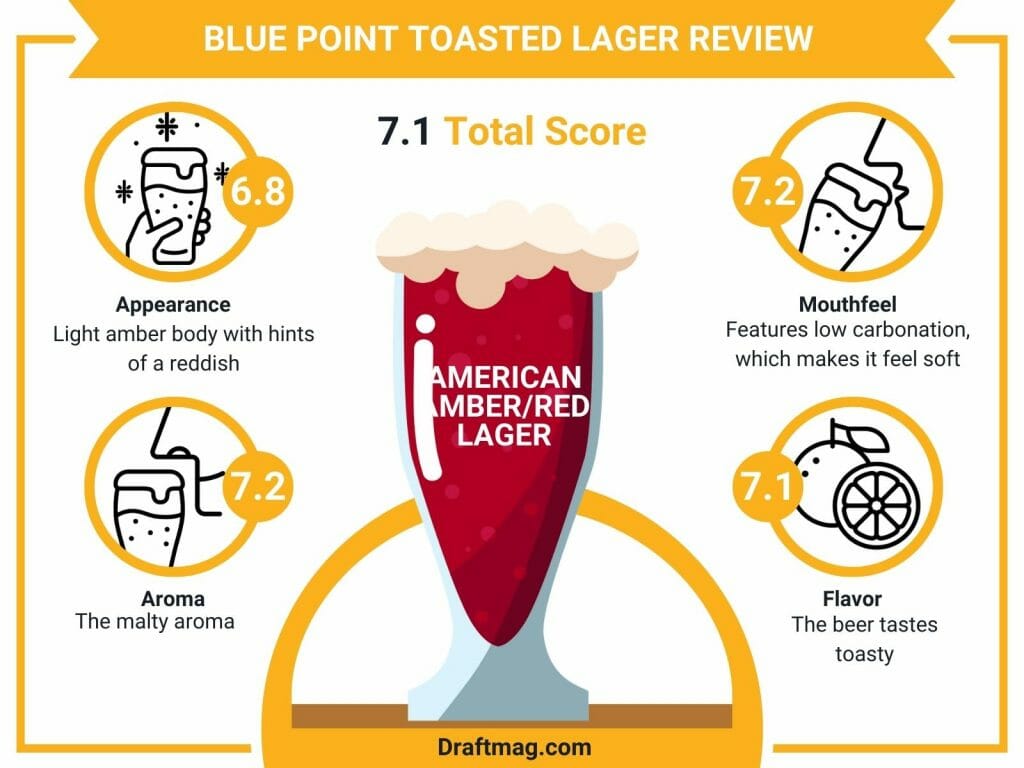 This Lager offers a diverse tasting profile with a smooth finish and is perfect as a year-round beer. You will know more about this beer, as you check out our review below.
Blue Point Toasted Lager Stats
| | |
| --- | --- |
| Country  | United States |
| Brand | Blue Point Brewing Company |
| Style | American Amber/Red Lager |
| Taste  | Sweets, toasty |
| Body | Light body |
| ABV | 5.5 percent |
| Flavors & Aromas | Caramel, bread, toasty biscuit |
| Serving Temperature | 45 – 50 degrees Fahrenheit |
Tasting Notes
Blue Point Toasted Lager Tasting Profile
Blue Point Toasted Lager Review
Toasted Lager is an amber ale or a red ale, with a 5.5 percent ABV. In contrast to what the name suggests, the beer tastes pretty toasty and sweet, with flavors like caramel, bread, and biscuits. The flavors come mostly from the malt list, as the hops are subdued. It has a light amber color and a semi-sweet finish.
When drinking this beer, you should serve it in a pint glass to get the most out of the foam head and bright color. It is even a good idea to serve it cold, with 45 degrees Fahrenheit being the ideal temperature. You can add sweet berries to it.
An all-season beer, this lager features a balanced, grainy, toasty, and caramel character. Have it with seafood like shellfish and meaty fish.
– Appearance
As you would be pouring the semi-sweet Lager, it features a light amber body with hints of a reddish hue tinting the top. It has a crystal clear appearance despite the red color. The head is foamy and large, but it quickly disappears into a tiny covering and scattered lacing.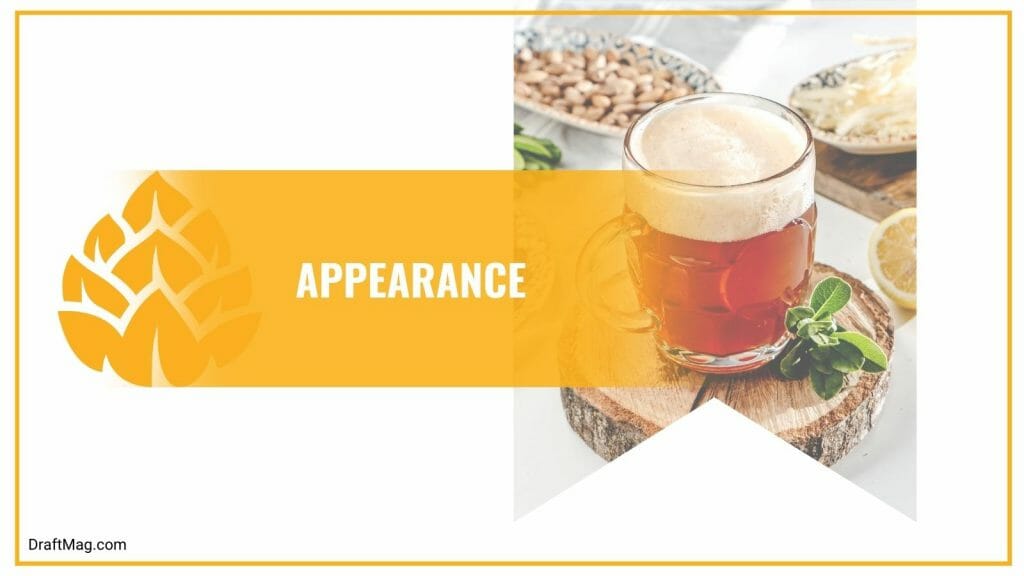 – Aroma
There's one word to describe the aroma that this Lager offers, and that is malty. The malty aroma offers hints of caramel, bread, biscuits, and some malted barley. There is also slight nuttiness in the aroma, but this is relegated to the background of your sense of smell.
– Mouthfeel
This lager is light-bodied, although you can see that it tries to be creamy. Despite this, the beer is watery and light. It features low carbonation, which makes it feel soft against your palate. There is a sweet finish with a slight spice, and the maltiness goes into the aftertaste. Overall, drinking it won't make the flow any heavy due to the light carbonation.
– Flavor
When you taste the lager, you will be pleased to see that it's sweet and easy to drink. The beer feels clean on your tongue, with no bitterness from the hops at all. As the name states, the beer tastes toasty first of all, and there is slight pepper at the end.
The lager combines its toasty flavor with slight sweetness gotten from the malts. The malt also gives you flavors of bread and caramel as it follows the nose. The toasty malt disappears in the middle of the flavor, where there is a subdued hoppy character. It also has a nutty backbone.
The Toasted Lager hits the toasty notes that it promises to offer, with a slight roast on the bread and caramel. There is a very low bitterness, and it is highly drinkable. With the average ABV, there is no alcohol warming in this beer, as it only feels like warmly baked bread.
– Food Pairings
When having the lager, you can pair it with a wide range of foods, especially those that are meaty and bready. Have it with barbeque pulled pork, brisket, jerk chicken, or a heavily topped pizza. in addition, it also offers a clean taste that will cut through fried and fatty foods.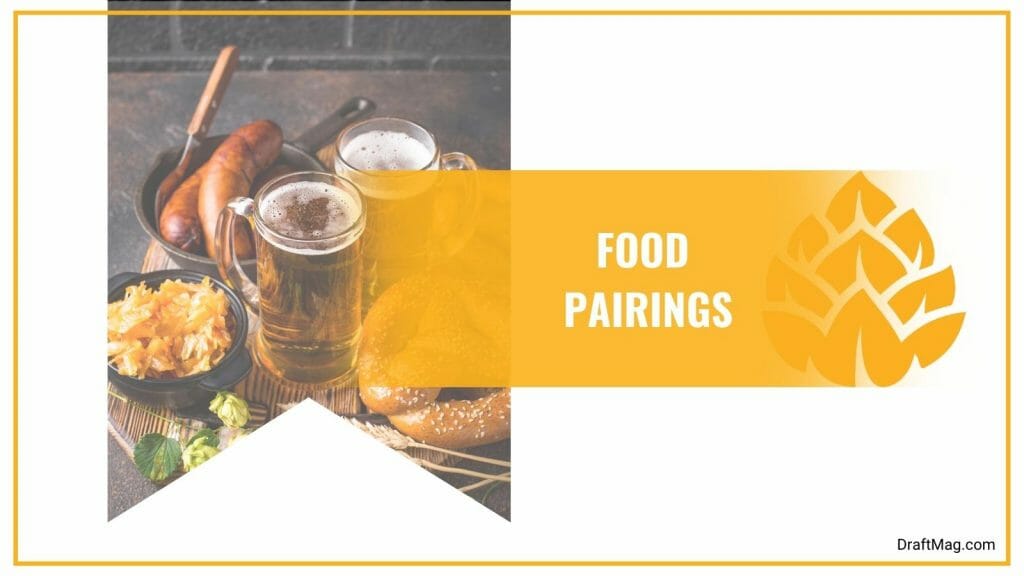 Bring out the caramel sweetness of the toasted beer with some creamy Alpine-style cheeses. Or, you can decide to contrast the flavor instead by having cream and spicy pepper Jack cheese. The beer will go great with European dishes, like German sausage or spicy grilled or roasted meat. This will complement the bready notes of the lager.
Ingredients
The Toasted beer offers a balanced flavor of malts and hops, and this is due to its ingredients list. It is made with malts, hops, yeast, and water. The malts are six different grains: English pale, Munich, Wheat, Crystal, Carapils, and Belgian Caravienna.
The malts offer you flavors of caramel, bread, and toast. It is also made with lager yeast, which provides the beer with a long-lasting smooth finish. The yeast makes it crushable and drinkable.
Nutrition Fact
The Toasted Lager features a 5.5 percent alcohol by volume, which is pretty decent for a lager. There is no alcohol bite, and the flavor is barely there, increasing the drinkability of the beer. It also features 28 IBUs, which is expected since the hops have no bitterness.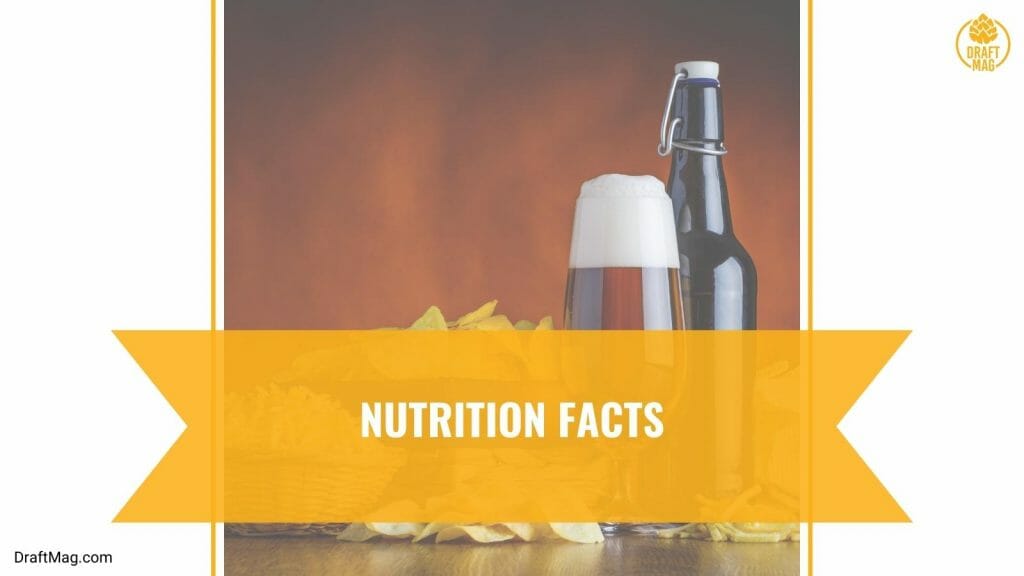 This lager has 175 calories in every 12-ounce serving, and this should be considered for those calculating their dietary intake. It also features 15 grams of carbs and two grams of protein. The high carbs make it unsuitable for drinkers on a keto diet. The beer is not gluten-free too.
History
This Lager is an amber lager from Blue Point Brewing and is their most popular beer. It is also the flagship beer from the brewing company and has been in the New York craft beer scene for about 24 years. The long heritage of the beer makes it easy to love. It is also the first beer that some of the Long Islanders drank.
This is also an award-winning beer, with medals from the Great American Beer Festival and World Beer Cup Gold.
Conclusion
If you're interested in tasty and unique beer, this Lager will please your taste buds. We covered a review of the beer, and here are the main points:
this toasted beer is a 5.5 percent amber lager.
The beer features flavors and aromas of toast, bread, caramel, and sweet malts, offering a smooth and clean finish.
It is made with six malts, hops, lager yeast, and water.
The lager is best served in a pint glass with some fresh berries when cold.
Have the beer with meaty and bready foods, creamy or spicy cheeses, and European dishes.
To try out the Toasted amber Lager, you can easily purchase it at a store near you. The beer is also available online and at the brewery in New York.