Hoegaarden is a highly revered Belgian beer brand, popular amongst beer drinkers for its distinct fruity taste. In this review, we take a look into the rich history of the original Belgian wheat beer, its current manufacturer, and the varieties available in the market.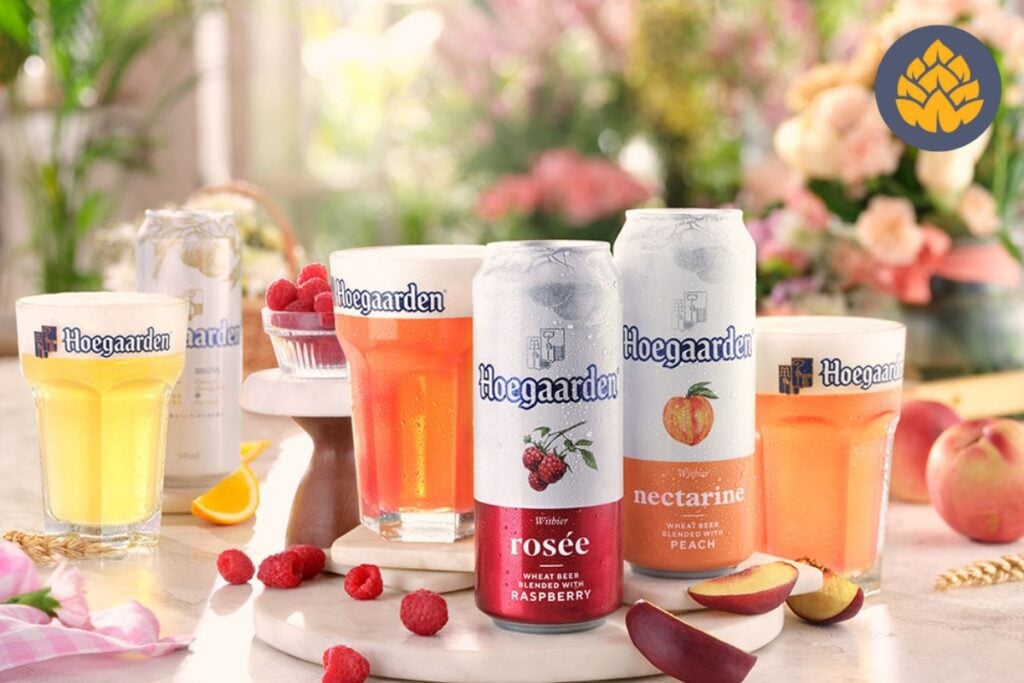 Hoegaarden brand has been in existence for over 500 years, with an interesting history to go with it.
The Original Belgian Wheat Beer: Hoegaarden
The village of Hoegaarden in Belgium was occupied by monks in 1445, who were the original discoverers of the recipe used to make the Belgian wheat beer. History speculates the monks were probably tired of the conventional sacramental wine and, by divine inspiration, knew how to combine Curacao's coriander and orange peel to make the world-famous beer.
The recipe was passed down through generations, and in the 18th century, the village became one huge Hoegaarden brewery. In 1726 alone, Hoegaarden had 36 breweries and 110 malt houses. However, in 1957, the village's last brewery closed down, leading to the villagers vying to preserve the original recipe.
It was a Milkman, Pierre Celis, that used the traditional ingredients of yeast, wheat, hops, coriander, orange peel, and water to recreate the white beer in 1965. Several brewers offered to buy from Pierre, and in the end, the white beer ended in the hands of the then Interbrew, now known as Anheuser-Busch InBev. Probably the largest brewer in the world, Anheuser Busch has sealed Hoegaarden's place as one of the best Belgian white beers worldwide.
Today, the wheat beer is brewed in different variations, including Hoegaarden white, Rosée, Cherry, Agrum, Citrus, and Speciale. All of these are reviewed in the following headings.
Hoegaarden White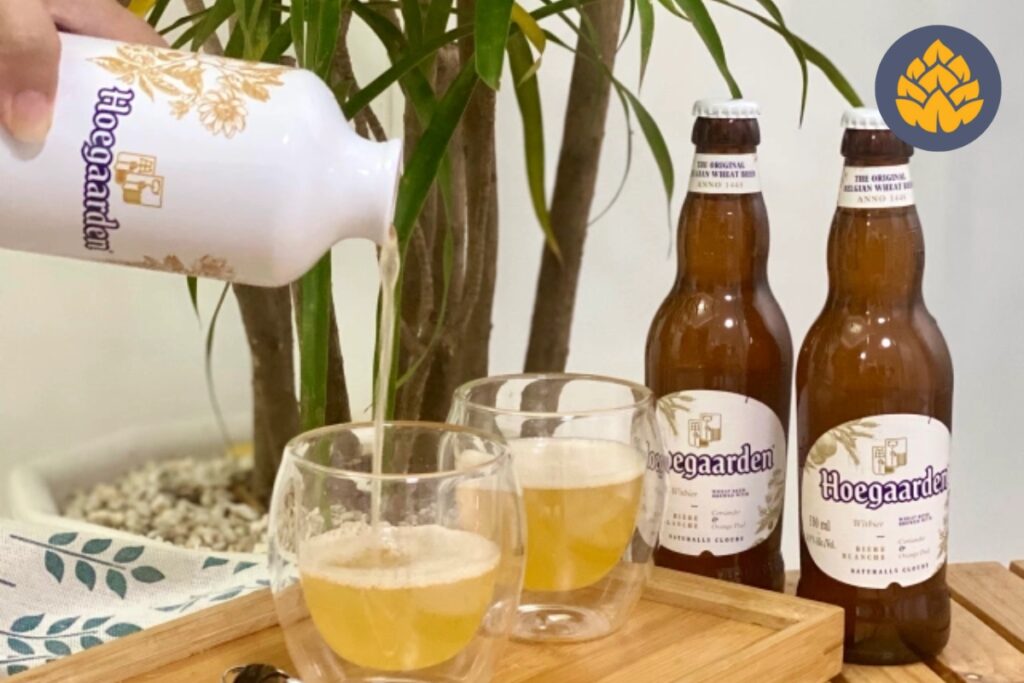 When it comes to white beers, this brew can be considered the OG of them all. It's the signatory and original Belgian wheat beer from the village centuries ago. The wheat beer is made from wheat, coriander, orange peels, hops, yeast, and water.
It comes with a refreshing flavor, a captivating aroma, and a cloudy appearance that accompanies its clean, crisp finish. The fruit beer contains 4.9% alcohol by volume and has an IBU of 13. Its fruity taste makes it the perfect beer to pair with a wide range of dishes, including sausage roll coleslaw, ginger tofu, guacamole, and salad with citrus dressing.
The beer comes in bottles and cans and goes for as low as $13 per 6-pack. You'll find them available for purchase at your favorite online and physical liquor stores.
Hoegaarden Rosée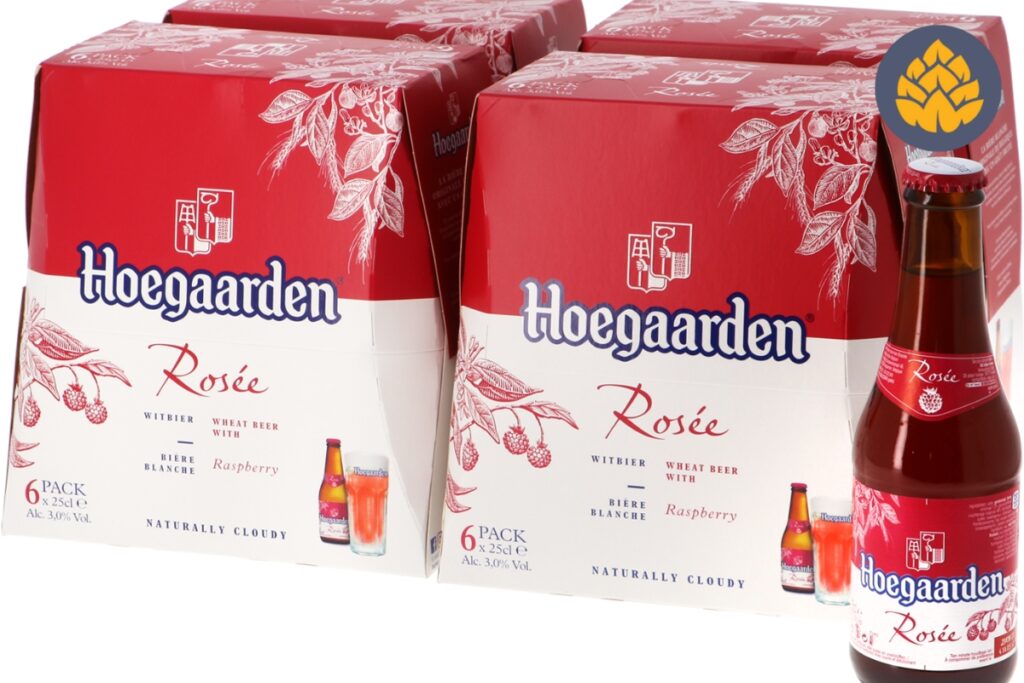 Sold in a Hexagon bottle, the Hoegaarden Rosée was reputed to have been served in jam jars in the old times. This is because of its slightly sweet flavors of raspberries and an equally captivating aroma. It's a wheat beer that's perfect for all functions of summer, giving you a refreshing flavor and soft dry finish.
The Belgian beer is light purple in color and gives a pinkish foamy head when poured into a glass. It's brewed with unmalted wheat, hops, yeast, raspberries, sweetener, and sugar. The sweet beer has a 3% alcohol by volume and an estimated 90 calories. Rosee was launched in 2017, and it comes in bottles and cans.
As with other Hoegaarden products, you'll find this available online and in physical retail stores. The wheat beer is enjoyed paired with spicy dishes, barbecues, salads, burgers, and pizzas. Its relatively low alcohol content also makes it ideal for small gatherings with family and friends.
Hoegaarden Cherry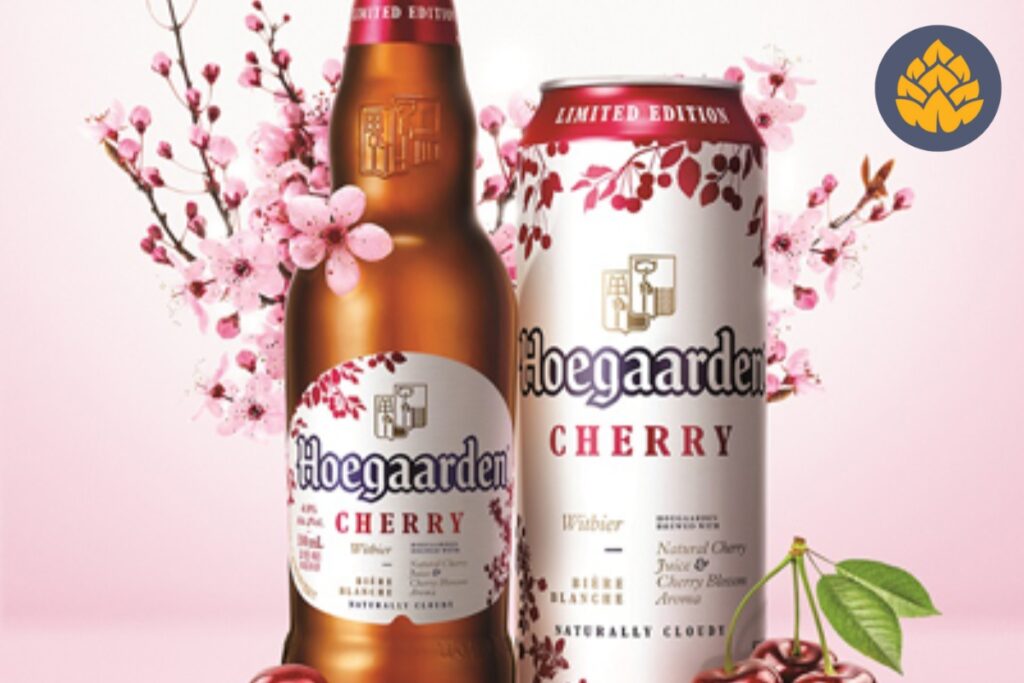 This is one of the more recent products from the Hoegaarden brewery, made as a limited edition in their seasonal beer series. It was launched in 2018 and brewed as a wheat beer made from hops, wheat, yeast, sweet cherry juice, cherry syrup, and hops. The beer is specifically made for springtime, with its fresh cherry aroma making it the perfect drink for your spring picnic.
Although fruity, the wheat beer has a high alcohol content of 5.6%. It's perfect for spring-inspired dishes and for parties where you want to get everyone in the mood! It also comes in bottles and cans.
Hoegaarden Agrum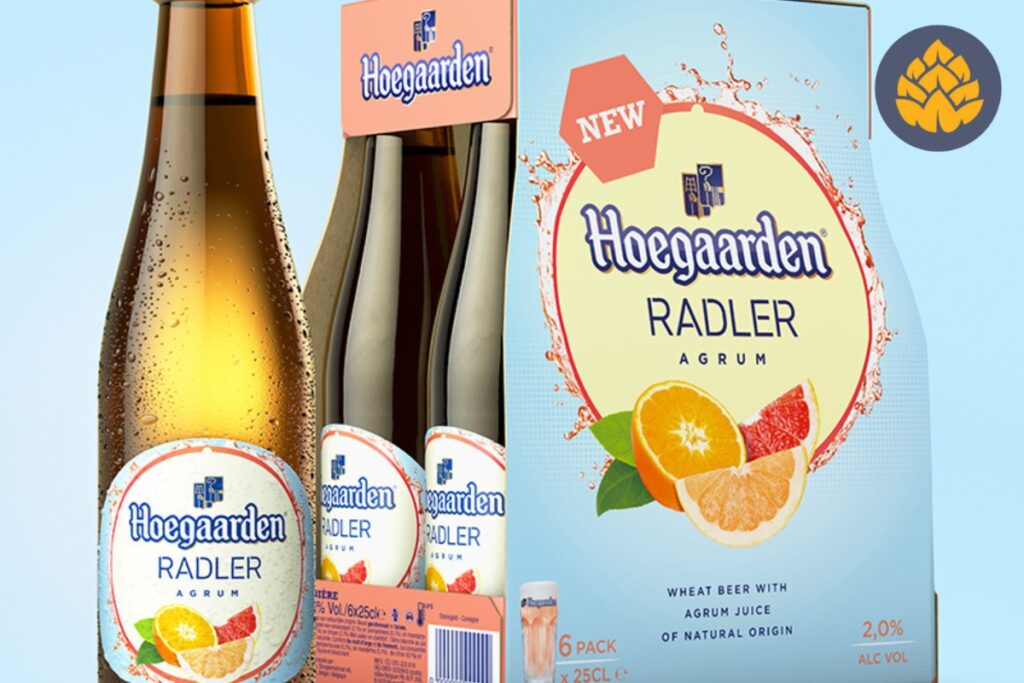 The wheat beer is brewed with the local fruit favorite known as Agrum. It's one of the limited-edition seasonal beers, brewed lager style to contain very low alcohol content. The Agrum beer is made from hops, yeast, wheat, water, and the Agrum fruit.
It's a radler that contains only 2% alcohol by volume, making it ideal for game days and family gatherings. You'd be able to take as many cans as you wish without getting overly intoxicated. It comes in bottles and cans and can be purchased online and in physical retail stores.
Hoegaarden Citrus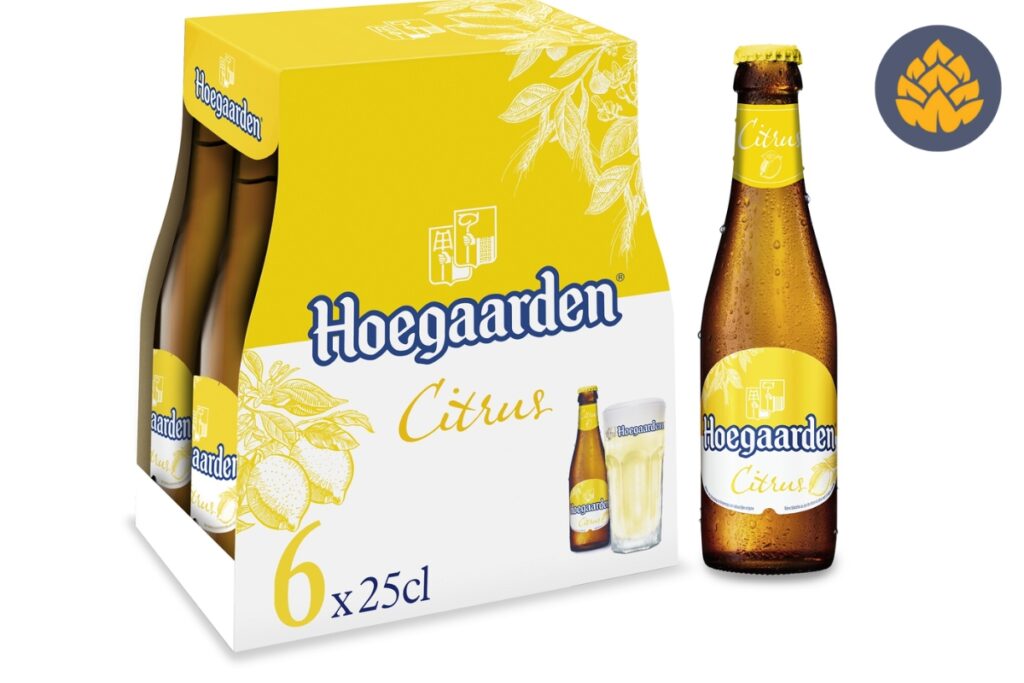 Also known as Hoegaarden Citron, it's a simple brew of the classic wheat beer infused with citrus essence. It's pale-straw colored, hazy, and has a citrus aroma. The brew has a higher alcohol content than the Agrum at 3% abv.
You'll enjoy this beer for long summer months, giving you a refreshing taste with a crisp, clean finish. In food pairings, you want to serve the beer with steak, barbecues, spicy dishes, salads, and several other summer-inspired dishes. The mild beer comes for purchase in bottles and cans.
Hoegarden Speciale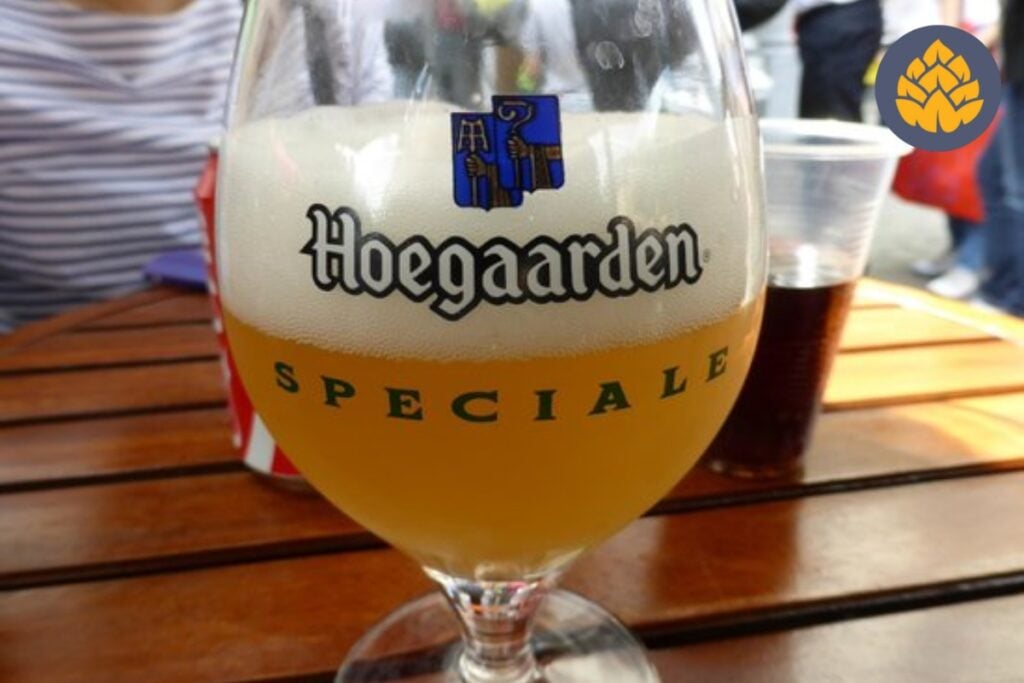 This brew is available from October – January only in Belgium. It's the same wheat beer brewed with herbs, barley malt, hops, spring water, and wheat. The taste is quite complex, giving you a blend of bitter/sour, overripe banana, yeasty bread, and spices. Its aroma compliments this flavor profile with scents of lemongrass, yeast, and coriander present in the beer.
The beer has a strong aftertaste and goes best with seafood and meat meals. It comes with an IBU of 15 and an abv of 15%. It's recommended to serve chilled in a glass for the best experience on your palate.
FAQs
How do you serve Hoegaarden beers?
First, you chill them, pour two-thirds, swirl, top off, and then enjoy.
How does Hoegaarden stand out from other beers?
It stands out from other beers in the use of wheat, coriander, and orange peels in its brewing process.
What gives the wheat beer its cloudy appearance?
This appearance is because the beer remains unfiltered even after it's fermented twice.
Related Articles
Enjoy more wheat beer reviews with this detailed review on the flavorful Bell Rinds Over Matter, our guide to the bright and crisp Goose Island 312, and the German wheat beer that everyone talks about, the Hefeweizen Beer recipe.
Wrapping Up
Hoegaarden beers remain a favorite amongst wheat-beer lovers, especially with the refreshing fruit flavors infused. They're great for virtually all occasions and will pair excellently with a wide range of dishes.