The balanced flavor profile and refreshing taste of Busch beers make them one of the most popular alcoholic beverages in the country. From the famous Busch Light to the most recent Busch Camo Cans, these beers remain a favorite amongst beer drinkers in America and beyond. But what are the components of these beers, and which should you have at your next social gathering? We highlight these and more for you in this review!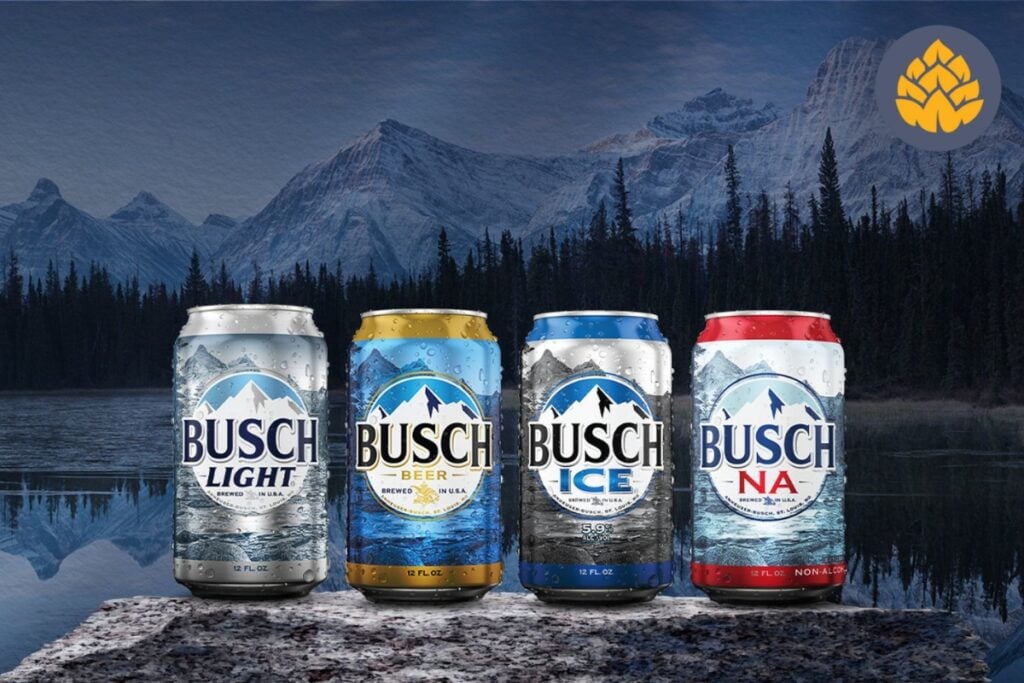 Everything You Should Know About Busch Beer Brand – Anheuser Busch
When it comes to Anheuser Busch beers, the Busch products are the only drinks that carry the name of Adolphus Busch, a founding partner of the beer company. Although the Anheuser-Busch company has existed since 1852 as a Bavarian brewery, Busch did not come to life until 1955, way before Bud Light.
The drink started as a pale lager named Busch Bavarian, with the slogan "Clear and Bright as Mountain Air." However, in 1979, it was repackaged and rebranded as Busch Beer, which remains in existence to date. It also took on a new slogan, "Head for the Mountains," with a popularized refreshment sound of "Buschhhhh." From this OG beer, four other varieties have been produced by Anheuser Busch, including the Busch Light, Busch NA, Busch Ice, and Busch Camo Cans.
In 2008, Anheuser Busch merged with Inbev to become the multi-billion dollar brewing company Anheuser-Busch Inbev. They currently own the flagship brand Budweiser, along with specialty beers, including Bud Light, Natural Light, Michelob Ultra, King Cobra Malt Liquor, and Stella Artois. Anheuser Busch also owns/partners with different prominent breweries across the country, including Breckenridge Brewery, Golden Road Brewing Company, and Goose Island Brewery.
Compared to other beer brands, Anheuser Busch has always topped the beer market in sales. However, the company has recorded a drop in sales due to recent boycotting, putting them second to Grupo Modelo, the owner of Modelo Beer. Regardless, they continue to churn out the best of Busch products, which we'll review in the following headings.
Busch Beer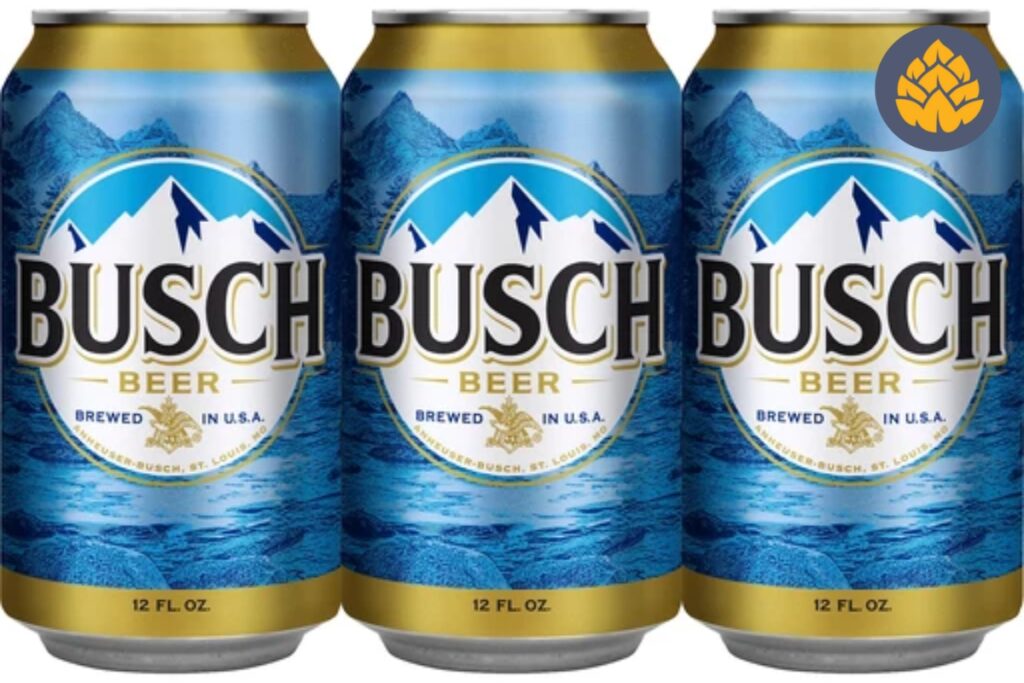 Formerly known as Busch Bavarian, the Busch Beer is the slightly sweet pale lager that pioneered the birth of other Busch products. The premium beer is made from a fine blend of barley malt, corn grits, hops, and crisp water. It's widely loved for its refreshing taste and crisp finish.
It has soft and smooth flavors with hints of malt sweetness and a faint bitterness/fruity aftertaste. You get minimal fizz from the drink, and it guarantees to leave you refreshed when taken cold. There's not much going for the aroma, but you may discern notes of what you would in heavy malt liquors.
Busch Beer is packaged in a blue and gold can/bottle and comes in packs of 6, 12, 20, 24, and 30. A 12-ounce serving of the Busch beer contains 4.3% alcohol by volume, 0.9g of protein, 6.9g of carbs, and 114 calories. The beer is best served with American dishes, including chips, grilled meats, hot dogs, and burgers.
They're ideal for summer parties, game days, and special occasions with your friends. Busch Beer is available in different countries, and you can buy them online or in your nearest retail stores.
Busch Light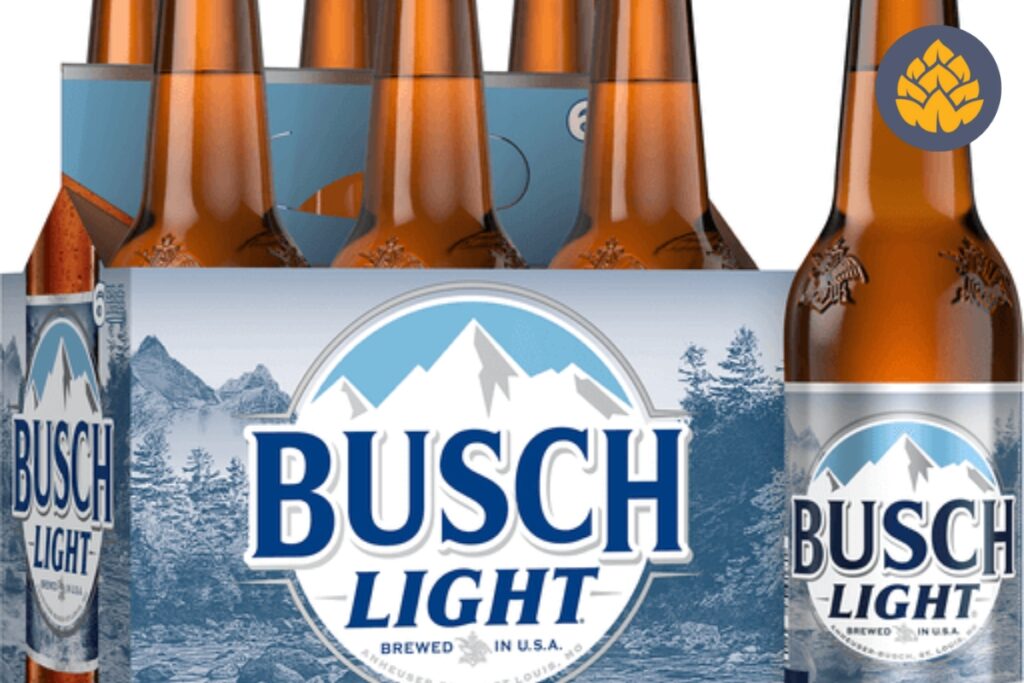 This was introduced to the alcoholic beverages industry in 1989 as Busch Light Draft. However, in 1995, Anheuser Busch dropped the "Draft" in its name to give what's popularly known as "Busch Light" today. It's the best-selling Busch product, made specifically for health-conscious consumers.
The beer is light, refreshing, and comes with fewer calories compared to the original Busch Beer. Its brewing process shows a fine blend of barley malt, corn grits, hops, and water brewed to give an almost-clear light lager. The beer has a subtle flavor to it, and it's perfect for drinking in warm weather, so you want to have this for summer.
A 12-ounce serving contains 4.1% alcohol by volume, 3.2 grams of carbs, and 95 calories. Also, its International Bitterness Unit (IBU) is rated at 5. You can have this beer paired with dishes, such as salads, grilled meats, sandwiches, and burgers. It comes in cans and bottles, and you can buy them from your nearest liquor stores or order them online.
Busch NA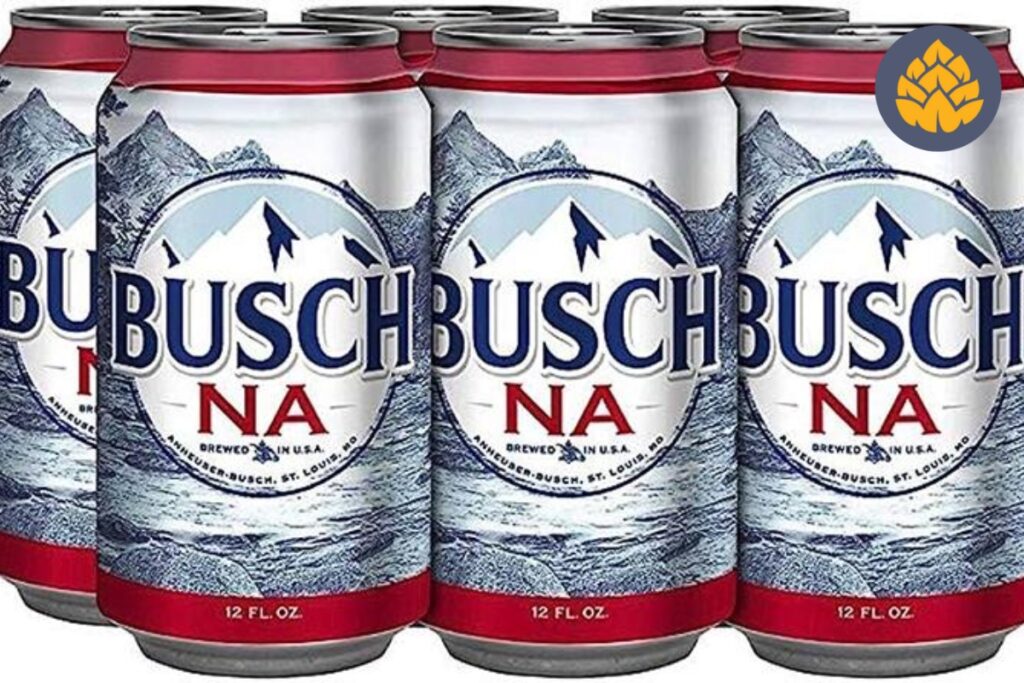 This is a non-alcoholic brew introduced into the market in 1994. It comes with a rich flavor that gives you the taste of a real beer. The high-quality drink is made from fine barley malt, premium American hops, pure water, and cereal grains. It comes with light blue and red packaging and is contained in 12 FL. OZ cans and bottles.
The brewing process is such that the ingredients are allowed to mature and ferment, and then alcohol is filtered off via a low-temperature process. Busch NA contains 0.4% alcohol by volume, 12.9 grams of carbs, 0.6 grams of protein, and 60 calories. It's the perfect beer for your next cookout, as it makes a great addition to grilled meat, fish, salads, and desserts.
Similar to other Busch products, you'll find this beer in packs of 6, 12, 24, and 30. They're available for purchase online and in retail stores.
Busch Ice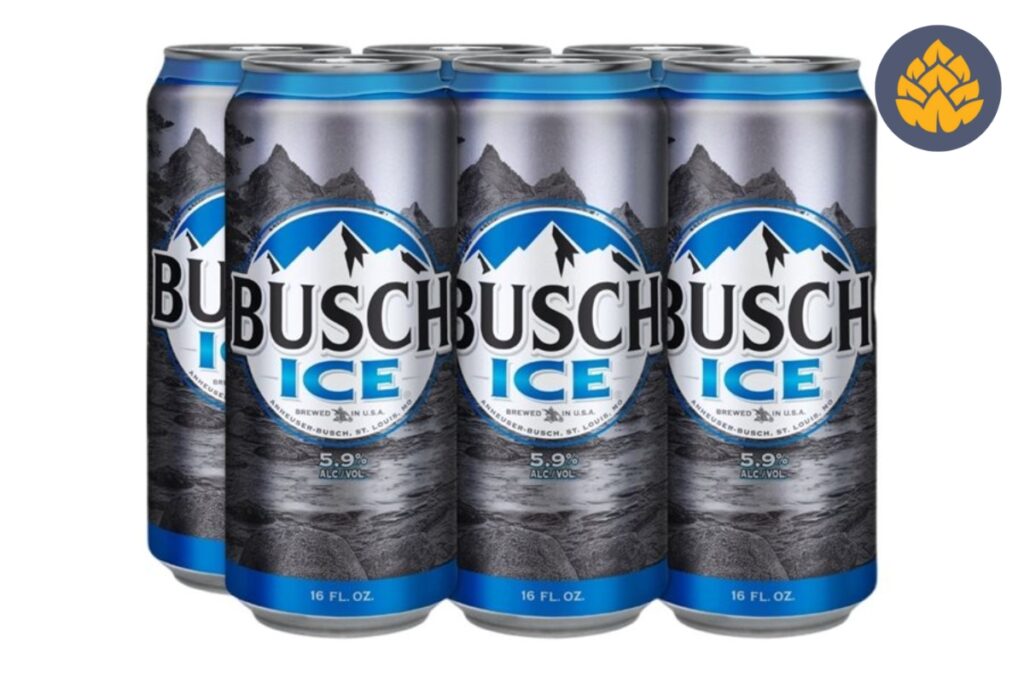 The brewing process for this beer is as unique as the others, using an ice-brewing process that gives the drink a smooth, refreshing taste and high alcohol content. Busch Ice was introduced into the market in 1995, tagged with the slogan, "Brave the Cold." It's made with corn grits, premium hops, barley malt, and pure water.
It's an American light lager with a balanced flavor of malt, hops, and sweet grain. It gives a light mouthfeel that leaves you highly refreshed when served cold during the summer. Busch Ice is available in cans and bottles, and a 12-ounce serving contains 5.9% abv, 4.2 grams of carbs, 1 gram of protein, and 136 calories.
You'd enjoy the drink paired with curried chicken, pizza, pickled mussels, cheese salad, barbecue, and shellfish. With its high alcohol content, it's the ideal beer for huge parties and summer raves. They're sold across the country in cans and bottles
Busch Light Peach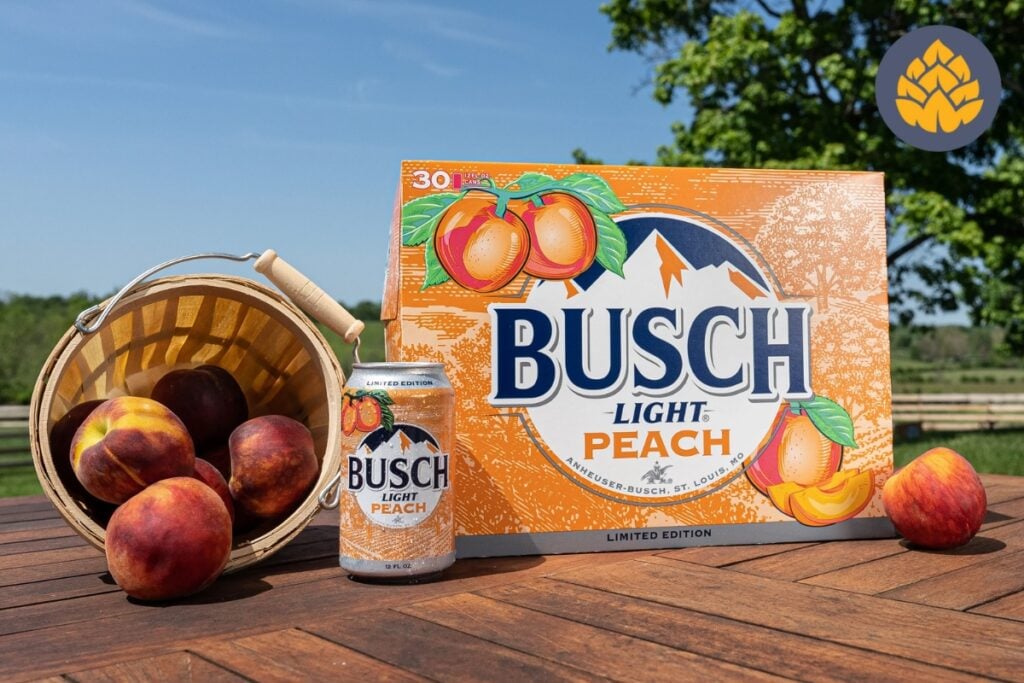 The Busch Light Peach is one of Anheuser-Busch's limited-edition beers. It's a peach-flavored light lager that gives you fruity flavors and a clean beer finish. They're made with Busch light ingredients, including corn grits, barley malt, hops, water, peach, and an addition of other natural flavors.
For summer picnics, family gatherings, dinners, or a relaxing evening, you definitely want to give this fruity beer a try. It's available primarily in cans, and a 12-ounce serving contains 4.1% abv, 14.1 grams of carbs, 138 calories, and less than a gram of protein.
You'd enjoy this beer paired with any summer dish, from grilled meat to salads. They're available to order online.
FAQs
Does Busch Light taste like Michelob Ultra?
Although both are two light beers from the same company, they have notable differences in their taste. For instance, Michelob Ultra has a citrus flavor, while Busch Light has hints of malt and fruity notes.
Which is the best of all Busch beers?
This will depend on your preferences, from the amount of calories to the flavors you want in a beer.
Alternatives and Comparisons
Busch products, especially Busch Light, have been compared to several other beers, including ones from the same producer. We highlight the differences between them in the following reviews.
This is one of the most popular debates, with beer drinkers having diversified opinions about the two. Generally, Bud Light is more popular and more expensive.
Both are from Anheuser Busch, and one of the most notable differences is the alcohol content in each of them.
Get an in-depth analysis of Busch and Busch Light in this review. This gives you a full grasp of the flavor profile, history, and nutritional info in each beer.
Related Articles
Enjoy more beers with balanced flavors with these comprehensive reviews of Budweiser, Bud Light, and Hoegaarden Beer.
Wrapping Up
Busch products are some of the most enjoyed beers in America and beyond, and it's quite understandable why that is. From the flavors to the packaging of each Busch variety, everything about the beers give class and quality.