Modelo Beer has been one of the most purchased beers in America for decades, particularly the Modelo Especial. But the full-flavored pilsner beer is not the only product from Modelo that has gained massive popularity, as we'll highlight and discuss in this article!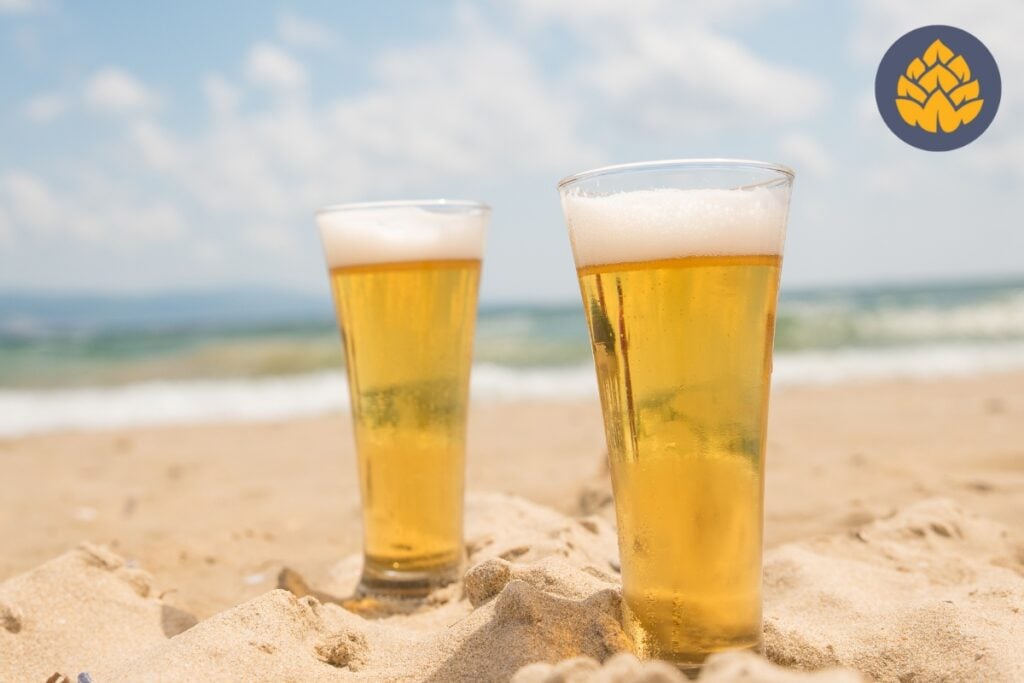 Its popular orange blossom honey aroma and super refreshing taste are welcome at summer parties, family gatherings, game days, and several other occasions.
Everything You Need To Know About The Imported Beer Brand
The Modelo beer brands are owned and distributed in the Mexico beer market by Grupo Modelo. Until 2013, a non-controlling 50% stake in Grupo Modelo was owned by Anheuser Busch InBev.
However, after a legal battle, the two companies merged in the United States, transferring their rights to selling beer made by Grupo Modelo to Constellation Brands. Following Bud Light's fall due to boycotting in 2023, Modelo Especial beer became the top-selling beer by retail volume in the United States.
The lager beer's golden hue is well-known by Mexicans and Americans, representing a drink that's a huge part of Mexican culture. From casual Mexican dishes to celebrations, Modelo Especial has served its lovers for decades. What Modelo tastes like has cemented its place in the hearts of many as a good beer.
Its combination of barley malt, hops, unmalted cereals, and water makes it a crisp, smooth drinking beer perfect for all occasions. But the Modelo Especial Mexican Beer is not the only product from this company to win the hearts of many.
The next biggest product from Grupo Modelo is the Modelo Negra. Modelo Negra tastes so good that it gives a majority of dark beers in the country a run for their money.
Other amazing products from the company are the Modelo Cheladas, which come with a tantalizing sweetness that's perfect for the summer.
We highlight and discuss some of these amazing Modelo varieties in the following headings.
Modelo Especial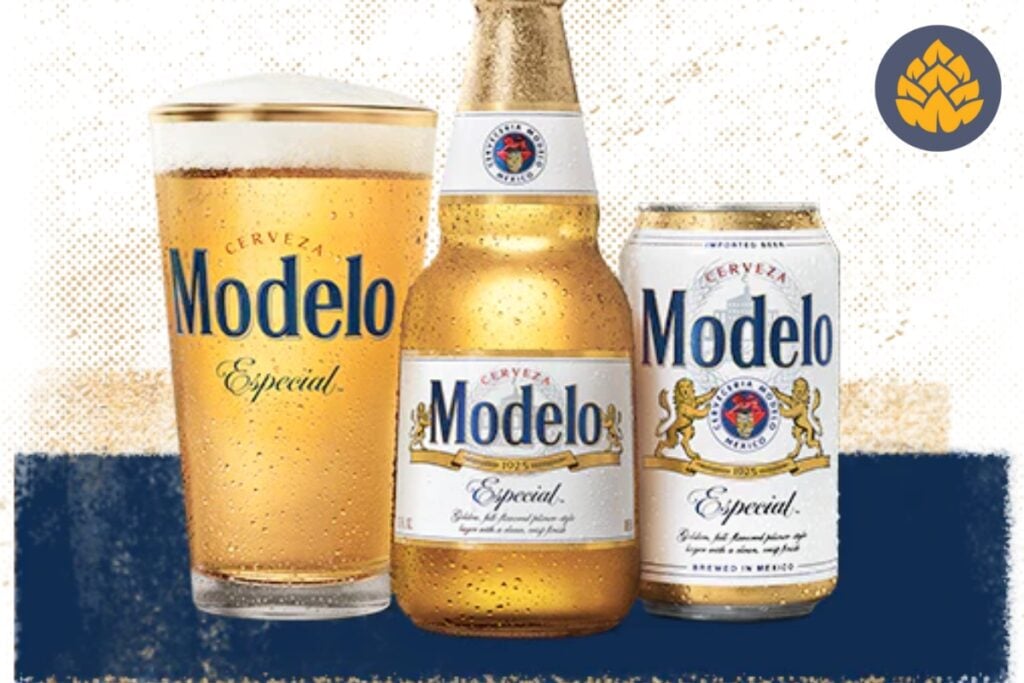 The Modelo Especial beer was the first to come from the Grupo Modelo brand. It's a golden, full-flavored pilsner beer that comes with a crisp, refreshing, and clean finish. The beer is known for its delicious orange blossom honey aroma, and it's brewed from hops, water, non-malted cereals, and barley malt.
A 12-ounce serving of Modelo Especial beer contains 4.4% alcohol, 13.6 grams of carbohydrates, 143 calories, and zero grams of fat. Modelo Especial goes great with a lot of dishes and makes the perfect addition to your summer parties, dinners, game days, and several other occasions.
You'll find the Modelo Especial beer in bottles and cans, and you can easily get them in online and retail liquor stores.
Modelo Negra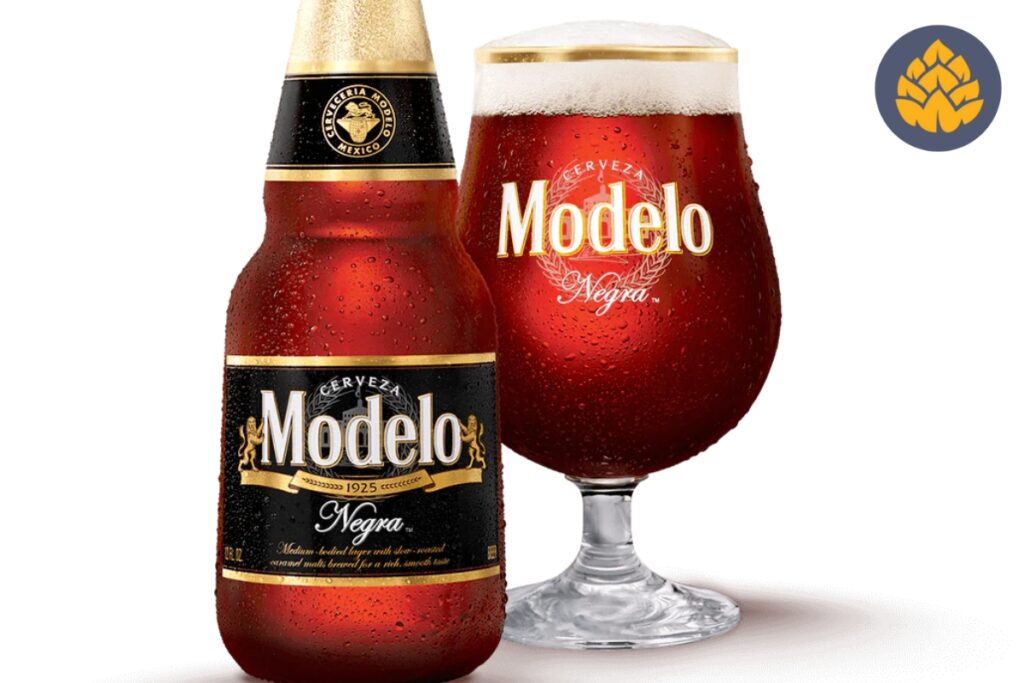 This beer also came into existence in 1925 as a dark beer brewed in the Munich-Dunkel style. It's brewed caramel malt, two and six-row malt barley, caramel malt, and super galena hops. These ingredients are brewed to give a balanced flavor that differs from the bold amber hue of the drink. It has 5.4% ABV, and as the motto of Modelo says, it's brewed with a fighting spirit.
Modelo Negra comes with a sweet, refreshing taste and a clean finish that will have you craving more bottles. The aroma of the beer is unmatchable, with hints of citrus, toffee, and roasted caramel. In contrast to a light beer like bud light, the Modela Negra is rich in carbs and calories. It has 172 calories and 15.7g of total carbohydrates.
You'd enjoy having this with your friends for your next barbecue or over a veggie-rich dish, as the beer is also vegan-friendly. This delicious beer is available to order online or at your local retail stores. You'll find them in bottles and in cans.
Modelo Chelada Pineapple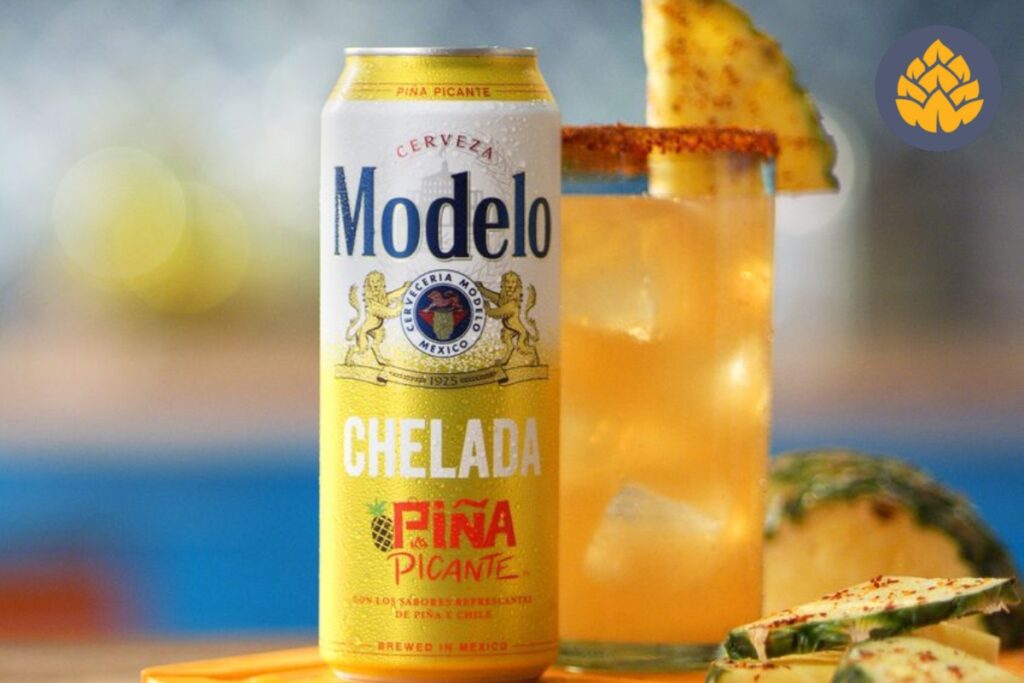 You might want to take the "drink responsibly" advice seriously with this exceptional Modelo Chelada product. The Modelo pineapple, also known as the Modelo Chelada Pina Picante, is a refreshing Mexican light beer that's perfect for summer. Pineapples and chile peppers make the perfect match to give this drink its strong fruity and spicy flavors.
It's golden in color and comes with a fizzy appearance. While the smell and flavor are mostly fruity, the cerveza still retains some of its malty character. You want to have a bottle of this with a pizza dish, your favorite desserts, or a spicier diet. It has 3.5% alcohol by volume, 130 calories, zero grams of fat, and 16.7 grams of carbs.
It's a best-selling beer and you can order online or buy from a retail shop. It's primarily available in cans.
Modelo Limon Y Sal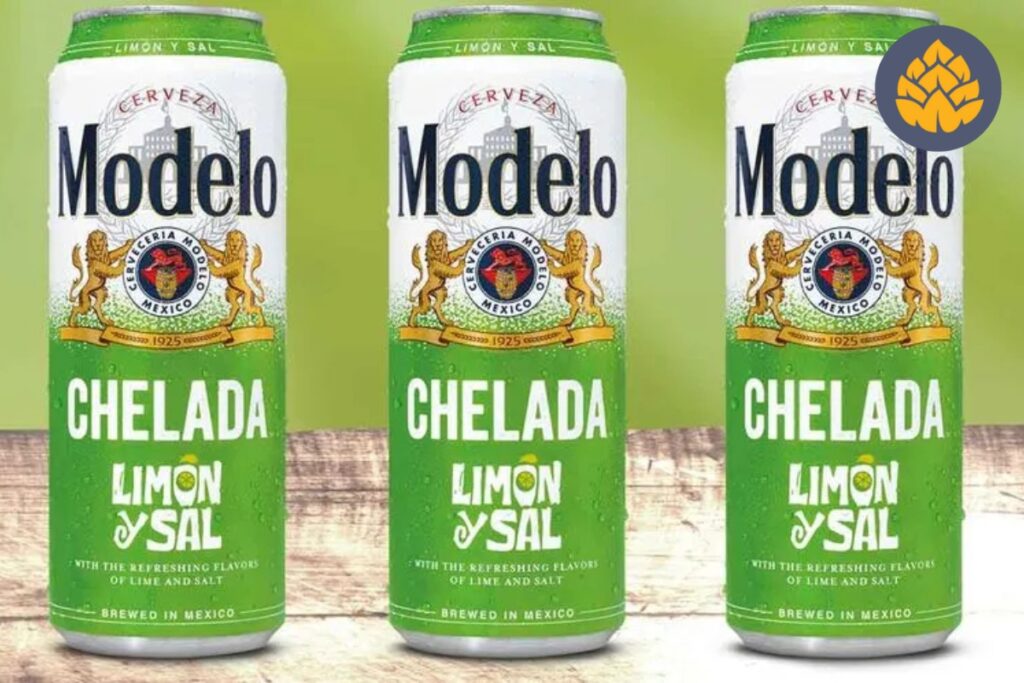 This is another Modelo Chelada with a light hop character and zero sweetness. The drink is made with two-row malted barley, yeast, corn, hops, yeast, and filtered water. You get aromas of lemon and lime, strong flavors of salt and lime, and orange-yellow color with slight haziness when poured.
The smooth, lime-flavored beer has 3.5% abv, 12.5 grams of carbohydrates, and 240 calories in a 12-ounce can. There's a characteristic bitterness to the drink, making it perfect for dishes such as barbeque foods, burgers, pizzas, and tacos.
Like other Modelo Chelada beers, it's primarily in cans. You can order them online or buy them in your closest retail stores.
Modelo Tamarindo Picante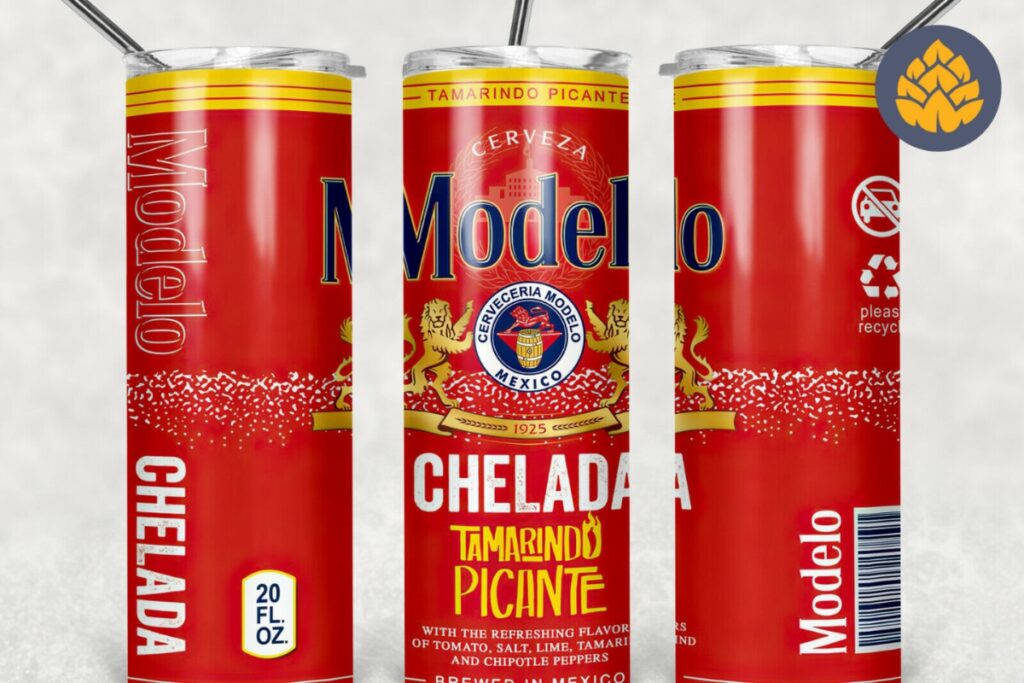 The tamarindo Picante Chelada beer reminds you of a Bloody Mary with its tomato-red appearance. It's made with barley malt, hops, water, and non-malted cereals. This drink also contains artificial colors and sweeteners that give it its characteristic red color.
Tamarindo Picante has a combo of flavors that comes from the combination of sweeteners and natural beer ingredients. You'll detect a test of malt, spice, tomato juice, and grains. This Chelada is best enjoyed with chicken mole, burger, steak, fried fish, calamari, and barbecue.
The light beer contains 3.3% abv, zero grams of fat, 18 grams of carbs, and 139 calories. They come in cans and can be found online and in retail stores.
Modelo Naranja Picosa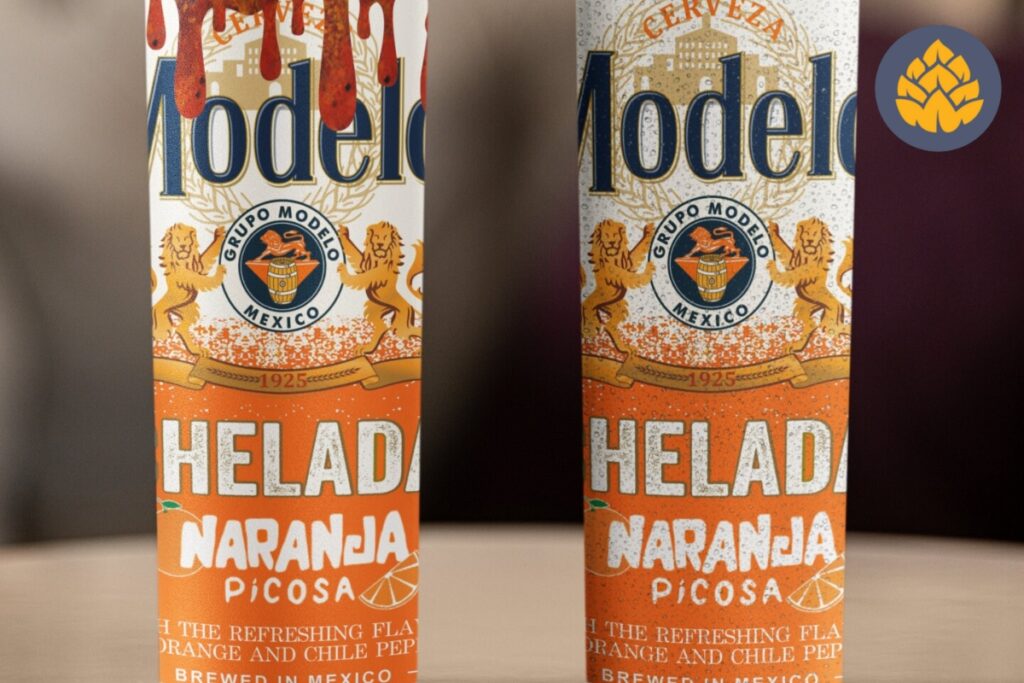 The orangey flavors of this Modelo Naranja Picosa are everything you need for summer gatherings. It's primarily a malt liquor with flavors of orange, bread, malt, and chili peppers. The drink takes on a hazy orange soda look and tastes like a salty orange soda with a hint of chile peppers.
You'll enjoy this drink with spicy dishes, such as beef enchiladas, tamales, and ceviche. It contains 3.5% abv, 140 calories, zero grams of fat, and 22 grams of carbs.
The drink was launched in 2022 and is distributed across the states by Constellation Brands. They come in cans, and you can order them online.
Modelo Mango Chelada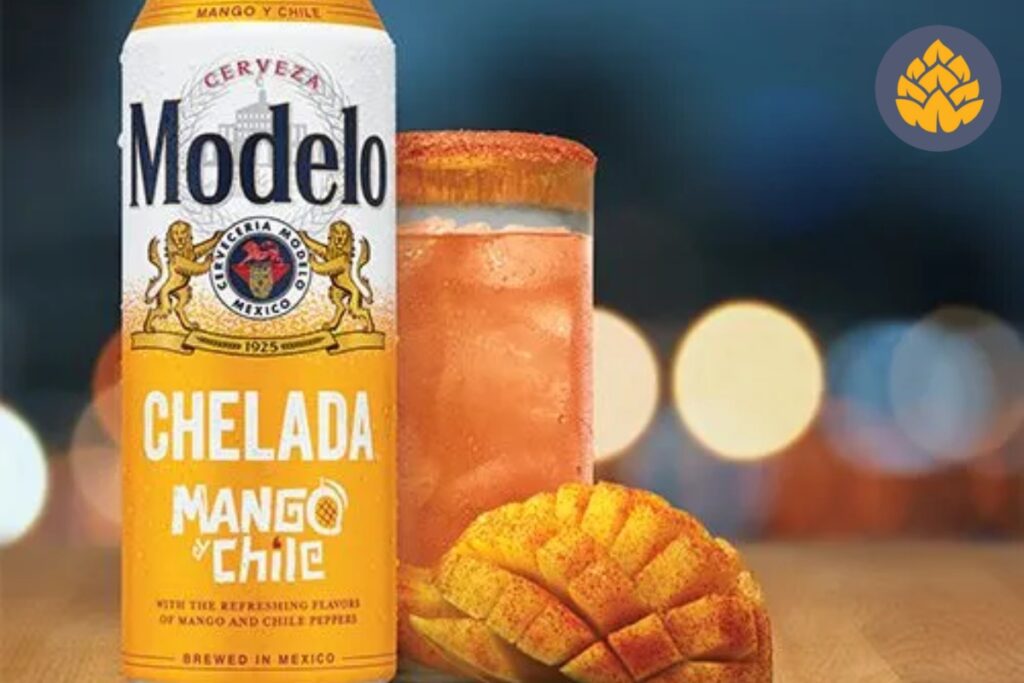 This Spicy Mango Beer will have you coming for more cans with the delicious flavors it brings to your palate. The hazy yellow-orange drink has flavors of mango, passionfruit, apricot, and chile peppers. Its fruity aroma makes it the best drink to have with your meat meals and fruity desserts.
This Chelada comes with a low alcohol percentage of 3.2%, making it the best refreshing drink for any occasion. It contains 278 calories, 36.2 grams of carbs, and zero grams of fat.
FAQs
How many breweries does Modelo beer have?
Modelo has eleven breweries scattered across Mexico. You'll find some of these breweries in Yucatan, Coahuila, Oaxaca, Hidalgo, Guadalajara, Sinaloa, Mexico City, and Zacatecas.
How did Modelo become the top-selling beer of the year?
Following the fall in bud light's sales due to backlash for supporting a transgender influencer, Modelo Especial and related products have taken the top spot.
How many calories are in Modelo Especial?
With a 4.4 abv, Modelo Especial contains 143 grams of calories.
When did Modelo beer begin?
This beer came into existence in 1925 in Mexico. On the day of its grand opening, 50,000 bottles of Modelo beer were served.
Alternatives and Comparisons
Comparisons are popular within the Modelo products and other brands of beer. A few of our favorite comparisons are highlighted below.
The debate between these two has gone on for years and doesn't seem like it'll end. The primary differences between these drinks are that Modelo is sweeter, richer, and fruitier. Corona has a lighter aroma and has higher calories, up to 150 grams.
Modelo is a pilsner made from honey, malt, and maize to give you a refreshing taste and crisp finish. Modelo Negra is a dark lager made from toasted caramel and malt.
Related Articles
Read more on key differences in tastes between Modelo and Corona as well as this comparison that details what beer is better for you between Modelo and Modelo Negra.
Learn more about Bud light Vs Modelo beer is this detailed review article.
Wrapping Up
The different Modelo beer products are currently in high demand in the States. From this review, we can see that these beer products come in great taste, with a drink made for every person and occasion!