Modelo Chelada Review: Examining the Important Details of This Brew
Modelo Chelada is an amazing offering from one of Mexico's top brewers. This is an authentic Mexican beer brewed to have the same integrity and quality as every beer from Modelo.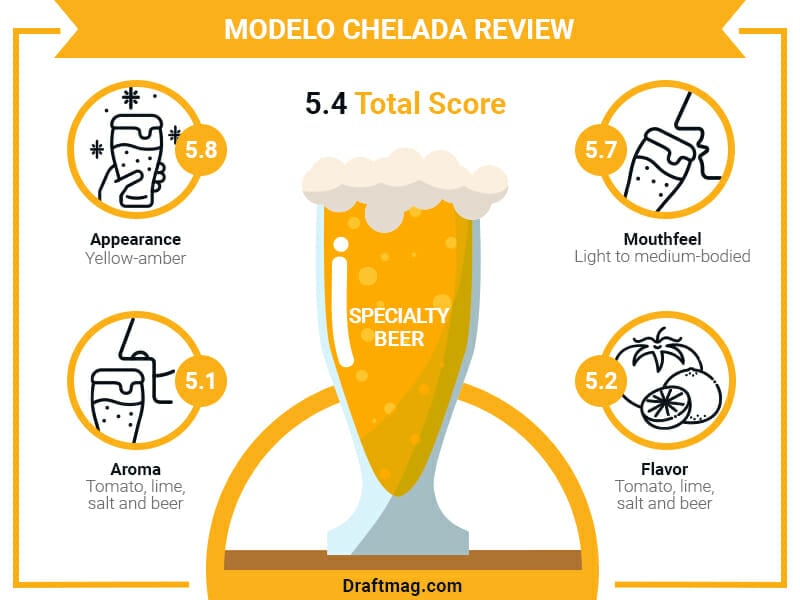 There are five Chelada variants from Modelo, each with different flavor twists to give exciting specialty beers. Check out this detailed review for a close look at the Cheladas and what makes them special.
Modelo Chelada Stats
The key features of these Cheladas are highlighted below to help you make informed decisions.
| | |
| --- | --- |
| Country | Mexico |
| Brand | Grupo Modelo |
| Style | Specialty Beer |
| Taste | Sweet, spicy and pure taste |
| Body | Light to medium-bodied |
| ABV | 3.2 to 3.5 percent |
| Flavors & Aromas | Flavors and aromas of tomato, lime, salt and beer |
| Serving Temperature | 45 to 50 degrees Fahrenheit |
Tasting Notes
Modelo Chelada Tasting Profile
Modelo Chelada Review
This specialty beer is clean tasting, with several delightful flavors and aromas. It has a perfect blend of ingredients that ensures it stays true to the iconic Modelo heritage. The Cheladas offered by Modelo have everything you need for an exciting evening with your friends or family. They include variations of tomato, lime, salt, and Mexican beer to ensure a premium mix of natural flavors.
The great thing about these Cheladas is that you add your preferred spices and flavors and turn them into uniquely made Micheladas. There are five premium Chelada variants from Modelo, inspired by traditional nuances. They include:
Modelo Chelada Piña Picante
Modelo Chelada Mango y Chile
Modelo Chelada Limón y Sal
Modelo Chelada Especial
Modelo Chelada Tamarindo Picante
Every ingredient used aims to deliver subtle but distinct flavors and aromas for a true michelada experience whenever you want. You should not miss out on these exciting options. Let's take a look at a more detailed review of the features of the different Cheladas.
– Appearance
The appearances of the Cheladas are as follows:
Piña Picante — It pours as a hazy, yellow-amber liquid with speckled sediment. This variant produces some foam that vanishes within seconds.
Mango y Chile — This beer has a hazy yellow color with light visible carbonation and faint amber hues. It pours with small white lacing around the glass edge.
Limón y Sal — The color is straw pale yellow with a thin white head that disappears almost instantly. It has bubbly carbonation and no lacing.
Especial — The Especial variant is an ultra-cloudy, rose red colored liquid with some bubbles formed on the pour. You may also notice some tomato grit sediment left as lacing.
Tamarindo Picante —It has an opaque red-orange body with visible dense sediments. This variant produces a small, loose orange head that vanishes quickly without traces.
– Aroma
Despite having a similar base and ingredients, the different Chelada variants offer unique, delightful aromas.
Piña Picante —The aroma of this beer is of overpowering sweet pineapple. This aroma jumps out of the can as you open it. You may also perceive a slight pepper hint on the nose. The smell is overpowering sweet pineapple.
Mango y Chile — Here, there are moderate aromas of mango in the nose and some Modelo undertones. This is highly pleasing, and you would want to have more.
Limón y Sal — The aroma of this variant is a combination of lime, faint white bread and faint malt. You may also notice a bit of saltiness coming through as you open the can of beer.
Especial — The aromas are tomato juice, salt, lime, onion, garlic, peppers and light crackers. You will also notice hints of celery and some herbal earthiness. The aromas are well balanced, with medium strength.
Tamarindo Picante — Aromas include tomato, lime and chili pepper, which may be overpowering. There is a faint note of beer grains in the background with some faint peppery undertones.
– Mouthfeel
The mouthfeel of these specialty beers makes them exciting options. Their complexities deliver tastes that keep you wanting more.
Piña Picante — The mouthfeel gives some light creamy malts with sticky spice on the finish. You will feel the lingering chili pepper once the finish warms your throat, but the heat isn't overwhelming. Pina Picante has high carbonation and a light-medium body with a crisp finish. The finish is also clean, refreshing and flavorful without astringency.
Mango y Chile — Its mouthfeel is light with solid carbonation,  but this beer is very drinkable. There is a nice stickiness combined with the mango flavor and low ABV to improve the palate's feel further. You will also notice some chili notes with sweet and salty tangy essence for pleasurable drinking.
Limón y Sal — This beer is soft and pleasant, refreshing, and could perhaps be the ideal lawnmower beer. Its nice mix of salt and lime, plus the 3.5 percent ABV is worth a try.
Especial — The mouthfeel is light to moderate, with increasing dryness due to the lingering slickness. It also has medium-high carbonation and a medium body. Especial gives a smooth, creamy tomato and fairly sticky balanced mouthfeel. There is no warming alcohol because of the relatively low ABV, but you will notice some spice heat on the finish.
Tamarindo Picante — Medium-bodied and with moderate-high carbonation, Tamarindo Picante is smooth to drink with a little slickness and some spicy prickly bite. However, it may not be as drinkable as the Bud Light Chelada or the Especial variant. It may also not be as spicy-hot as other chili beers.
– Flavor
The flavors of these amazing Modelo beers will make you fall in love with them!
Piña Picante — The flavors are of big pineapple juices, with some light chili pepper spice, herbal/grassy hops and cracker malts. There is some fruit tartness that builds up on the palate on the finish. You can't miss the syrupy malt alcohol base and the hot chili aftertaste.
Mango y Chile — The taste of this beer is filled with flavors of mango with chili spice notes on the finish. It is a sweet beer due to the upfront mango taste. The chili comes up in the middle and remains until the finish.
Limón y Sal — Strong lemon juice and some saline will hit you upfront. The lemon and very mild lime notes will come through with no sweetness at all. The underlying beer itself gives lightly toasted cracker malts with hints of cereal grains. As you would expect, the salt and lemon shine, harmonizing with the base beer to give premium enjoyment.
Especial — This beer's taste is of big tomato juice, salt, lime, spices, and some malt notes, giving a beer with somewhat solid strength. The flavor is also robust and balanced with tomato juice and some spiciness. It comes with zero astringent flavors on the finish so that you can enjoy it properly.
Tamarindo Picante — The flavor is salty, with sharp lemon and tomato juice and a bit of tamarind. You will also pick some sweetness due to the beer and tomato mix. The lime has a slightly sour flavor, but it's not overpowering. The spice warms your throat slightly on the finish.
– Food Pairings
Cheladas are flavored with unique ingredients, including spices, herbs and fruits. They also feature seasonal local items to give interesting flavors from start to finish. Therefore, you must pair them with foods of similar quality. The best food pairings with these beers are those with dominant flavors like herb-encrusted meats or fish tacos.
Cheladas also pair excellently with shredded pork stew with smoky tomato sauce spicing. It is a classic pairing that is popular in countries like Cuba and Mexico. The effervescence from the beer allows it to easily go with a heavier meal like stew. Combining stews with these beers lightens up the meal and doesn't make you full too fast.
These are some foods to pair with the Chelada beers:
Mexican foods like Chimichangas, fish tacos, flautas, etc.
Barbecues
Traditional Bloody Mary foods, e.g., pickles, beef sticks, olives and marinated mushrooms
Cheese
Ingredients
The flavorful nature of the Cheladas are a result of a combination of ingredients. Generally, all Modelo Cheladas contain barley malt, hops, non-malted cereals, natural and artificial flavors, certified sweeteners and colors. However, each of the Cheladas has a twist, adding unique ingredients for even more unique tastes.
Piña Picante — Pineapple and orange juice garnished with salty chamoy and chile powder.
Mango y Chile — Freshly sliced mangos with lime and spicy chile powder.
Limón y Sal — Lime and salt for refreshing and crisp taste.
Especial — Tomato, lime and salt to give the authentic Mexican Chelada feel.
Tamarindo Picante — Tamarind and Chipotle peppers to add a spicy and sweet taste.
Modelo Chelada Nutrition Facts
The alcohol content of the Cheladas range from 3.2 percent to 3.5 percent for 12 fluid ounce servings. The table below contains a summary of their nutritional details.
| | | | | | | | |
| --- | --- | --- | --- | --- | --- | --- | --- |
| | Alcohol content | Calories | Fat | Protein | Carbs | Sodium | Potassium |
| Piña Picante | 3.5 percent | 130 | 0 g | 0.7 g | 16.7 g | 333 mg | 402 mg |
| Mango y Chile | 3.2 percent | 150 | 0 g | 0.9 g | 20.5 g | 545 mg | 1130 mg |
| Limón y Sal | 3.5 percent | 120 | 0 g | 0.8 g | 12.5 mg | 442 mg | 128 mg |
| Especial | 3.5 percent | 144 | 0 g | 1.6 g | 17.5 g | 440 mg | 490 mg |
| Tamarindo Picante | 3.2 percent | 278 | 0 g | 2.6 g | 36.2 g | 1000 mg | 1130 mg |
These beers are low-alcohol beers that allow you to enjoy tasty flavors for a longer period of time without getting drunk. They also prevent the risks of developing beer-induced fat because they all contain zero grams of fat. Their calories are also relatively low, except for Tamarindo Picante with 278, so you may have to avoid that variant if you're watching your calorie intake.
These Cheladas, except Piña Picante, are also vegan-friendly. They mostly contain natural fruit and herb ingredients without any item that may cause allergy-related conditions. You should grab one of these Modelo offerings if you want a healthy beer with an exciting touch of Mexican tradition.
History
Casa Modelo started in 1925 in Tacuba, Mexico, and has been crafting deliciously balanced beer since then. Modelo Negra, Especial and Modelo Light were the three top beers produced by Grupo Modelo years ago. However, this brewing company came up with a twist in 2013, aiming to bring together the Mexican culture of Micheladas but with the unique Modelo nature.
They were made available in various retail locations in Nevada, California, New Mexico, Arizona, Chicago, Texas, etc. They embraced Mexican authenticity by creating beers with traditional Mexican ingredients. These specially-brewed beers deliver authentic blends of great base beers and refreshing flavors of other ingredients like tomato, mango, lime, salt, tamarind, etc.
Modelo carefully crafted this recipe to deliver the true Mexican taste with the flavors and mouthfeel beer lovers seek. The ready-to-serve cans are perfect for various occasions, ranging from a quiet backyard barbeque evening with your friends to birthday parties. Each Chelada inspires every drinking occasion if you seek quality and authenticity.
Conclusion
This article covered the various features of the top specialty beers in today's market, detailing their tasting notes, ingredients and nutritional facts. Let's review some of the vital points we mentioned.
Modelo Chelada is a specialty beer that contains a mix of local Mexican beers and other unique ingredients to give it nicely balanced flavors.
There are five different Cheladas offered by Modelo, including Piña Picante, Mango y Chile, Limón y Sal, Especial and Tamarindo Picante. Each of them has a similar Modelo base but different twists to give them unique tastes and aromas.
They include variations of tomato, lime, salt, and Mexican beer to ensure a premium mix of natural flavors. The great thing about these Cheladas is that you add your preferred spices and flavors and turn them into uniquely made Micheladas.
The best food pairings with these beers are those with dominant spicy and fruity flavors like herb-encrusted meats or fish tacos. Others include barbecues, cheese, Chimichangas, etc.
12-ounce servings of these beers contain between 120 to 278 calories. Their alcohol percentages also range from 3.2 to 3.5 percent, and they all contain zero grams of fat.
You should grab one of these Cheladas if you're looking for a flavorful, refreshing beer that provides exciting flavors and aromas.