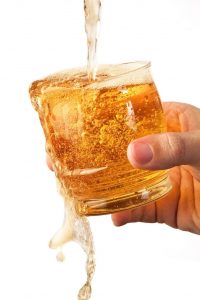 Our Bud Light Platinum review offers detailed information on one of the most selling beer brands in America. As a recent addition to the classic Bud Light beers series, the Bud Light Platinum is a step-up light lager brewed with increased alcohol and malt-sweetness.
From what Bud Light Platinum beer is all about to how this beer differs from Bud Light classic, our research includes all the key facts you need to know about this beer.
What is Bud Light Platinum?
Bud Light Platinum is a premium lager beer. With an alcohol volume of 6 percent and a slightly sweet taste, the beer is geared towards party nights and heavy drinking.
This American-style beer is brewed with a blend of cereal grains and golden malts, along with mild hops. The triple-filtered premium light lager is a domestic beer. It has a slightly sweeter taste than Bud light beers.
Bud Light Platinum is claimed to be a stronger and better-tasting alternative to the older and classic Bud Light beers. It was added to the Budweiser family in 2012. Bud Light Platinum is available in the market in two different types of packaging:
Pack of 12 fl oz cobalt blue glass bottles
Pack of 12 fl oz slim cans
– Bud Light Platinum Ingredients
The core ingredients used to produce Bud light platinum are;
Barley Malt
Hop Extract
Corn
Water
Artificial Sugar Substances / Fermented Cane Sugar
Bud Light Platinum Nutrition Facts
Whether you choose a 16fl oz Bud Light Platinum bottle or a 12fl oz Bud Light Platinum can, the nutritional aspect of the beer remains the same per serving. With a high sugar profile, it's evident that the beer tastes sweet — this can be a potential concern for consumers who wish to reduce the sugar intake in their diet.
Total Carbohydrates: 5.1g or 2%
Total Sugar: 1g
Added Sugars: 1g or 2%
Protein: 0.7%
Bud Light Platinum Taste, Smell and Appearance
Bud light platinum is a light beer with a hint of sweetness to taste. With a smooth finish and high alcohol content, Bud Light Platinum offers a crisp, punchy and clean flavour. The crispiness of the beer is felt most when it is stored well and served chilled. This light lager beer leaves a sweet aftertaste.
The Bud Light Platinum ABV is at 6 percent, which is the reason why it tastes stronger and more alcoholic than other light variants in the same line. Overall, the aroma of the beer can be described as a faint pale malt and corn-like smell but it is mostly neutral.
Bud Light Platinum is widely available in azure-coloured glass bottles and Bud Light Platinum can. When poured, the beverage appears as a light golden liquid with a bubbly white head.
Bud Light Platinum Vs Bud Light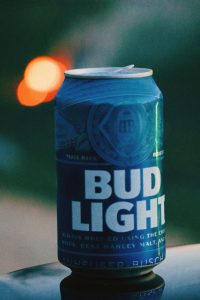 Even though the main ingredients are very similar to the ingredients present in Bud Light, there is just a little difference that sets the two apart. Bud Light is a classic beer that has been around since the 1980s, whereas Bud Light Platinum entered the market in recent years. Bud Light gained immense popularity and was relaunched in the past years. Bud Light's alcohol volume is much lower than Bud Light Platinum's.
Similarly, Bud Light contains fewer calories and sweetness than Bud Light Platinum. The additional sugar substances or fermented cane sugar used in the brewing of the beverage is what increases the sweetness level in it, making it much sweeter than Bud Light.
In terms of taste, Bud Light has a more typical beer flavour to it when compared to Bud Light Platinum. Here's an overview of the major differences between the two lager beers;
| | | |
| --- | --- | --- |
| | Bud Light Platinum | Bud Light |
| Alcohol | 6% | 4.2% |
| Ingredient | Corn | Rice |
| Purpose | Nightclub | Sports event |
| Carbs | 5.1 | 6.6 |
| Calories | 139 | 110 |
Is Bud Light Platinum Stronger?
Yes. Bud Light Platinum alcohol content is at 6 percent, as we stated above. The percentage is stronger than Bud Light classic (4.2 percent), Bud Light Seltzer (5 percent), and Bud Light Peels 4.2 (percent).
The highest alcohol percentage beer available in the Bud series is the Bud Light Platinum Seltzer, at 8 percent. So, whether you can define the Bud Light Platinum as strong or not mostly depends on which beer you're comparing it with.
However, for an average consumer of Bud Light, switching to Bud Light Platinum can feel stronger. Since the company advertises the refreshment drink as an "evening drink", it is best to conclude that the drink is more suitable for nightclubs and parties to get a little drunk.
Will Bud Light Platinum Get You Drunk?
Yes, Bud Light Platinum will get you drunk. For that, you'll need three to four bottles of Bud Light Platinum, each bottle serving 6 percent alcohol. A similar beer with less alcohol volume will take you longer to get drunk. You would need around six to seven hours to be sober again, but the time can vary from person to person.
What Does Triple Filtered Beer Mean?
Filtering is the process of getting rid of impurities such as proteins, tannins and yeast from the brewed beer. It is done to prevent off-flavours mixing into beer and spoiling the beverage. The term triple-filtration refers to a more extended process of cleaning and filtering beers during one of the key stages of brewing. In the fermentation stage, once the beer matures, the liquid is filtered to remove the yeast from it.
The beer is then carbonated with COS and finally taken away to be stored and filled. During the triple filtration process, the liquid has to go through several layers of filtrations:
In the first filter, a general removal of microorganisms helps to ensure that the beer is safe from off flavour or unwanted smell.
In the second filter, microparticles from the fermentation process are removed from the beer. This turns the consistency of the beer into a lighter form while adding foaminess to it.
The final filtration stage acts as an extra step to ensure that the whole process has been carried out well, leaving no microorganisms left in the beer. This last step also contributes to the smoothness of the beer.
The perks of a filtered beer are that it tastes much cleaner and looks clear in comparison to unfiltered beer. The filtration method also makes the beer much more stable and safe to drink.
Bud Light Platinum Review on the Internet
Many consumers have varying opinions about the Bud Light Platinum. A portion of beer drinkers who did not prefer sweeter and stronger alternatives returned to drinking Bud Light and other variants. On the other hand, consumers who wanted a better taste and a higher alcohol content for partying hard opted for Bud Light Platinum, mentioning that it was the best of the two beer choices.
Some consumers also expressed their dislike towards the increased price but, for the most part, Bud Light Platinum is not very expensive for an average beer consumer. A few people who tried both the beers, Bud Light and Bud Light Platinum, stated that they could not detect the difference and felt that both drinks were fairly similar.
In terms of alcoholic content, some consumers are against its label of being called a "light" beer. With high calories, more alcoholic content than Bud Light and added sweetness, the beer may taste a bit too strong to be categorized as "light".
Bud Light Platinum: Beer from Anheuser-Busch InBev
Bud Light Platinum belongs to the same parent company that owns Budweiser, one of the largest selling beers in America. Popularly known as a common refreshment beverage in tailgating, the company takes a step forward with the Bud Light Platinum, marketing the drink for nightclubs and parties.
However, the high-calorie count can be a concern for certain health-conscious consumers. As with many similar beers in the market, Bud Light Platinum aims to appeal to youths and consumers with strong alcoholic preferences.
Conclusion
Our article has tried to cover some of the most essential information and reviews on Bud Light Platinum beer. Here's a summary of the key ideas on the refreshment beverage;
Bud Light Platinum beer is an American light lager beverage with a strong 6 percent alcohol volume and added sugar.
The ingredients used in Bud Light Platinum are barley, cane sugar, hop, corn and water.
The refreshment drink is marketed towards heavy drinking and nightclubs.
Bud Light Platinum shares similar characteristics to the classic Bud Light but differs in alcoholic percentage and added sugar substance.
Bud Light Platinum goes through a unique method of triple filtration to be extra safe.
 There are contrasting views on the internet about the Bud Light Platinum beers, some praising its premium quality while others deny calling it "light".
Despite the mixed reviews, Bud Light Platinum is an overall favourite among legal age drinkers. The high percentage of alcohol, triple-filtration feature and premium taste of the Bud Light Platinum beer is a perfect pick for a memorable evening or to have a good time with friends.

Latest posts by Draft Mag
(see all)