Ithaca Flower Power: Why Should You Try This Floral American IPA?
Ithaca Flower Power is one of the most surprising American IPA beers you will come across. Unlike many other IPAs in this category, the Ithaca beer is unique with its earthen, floral taste and aroma.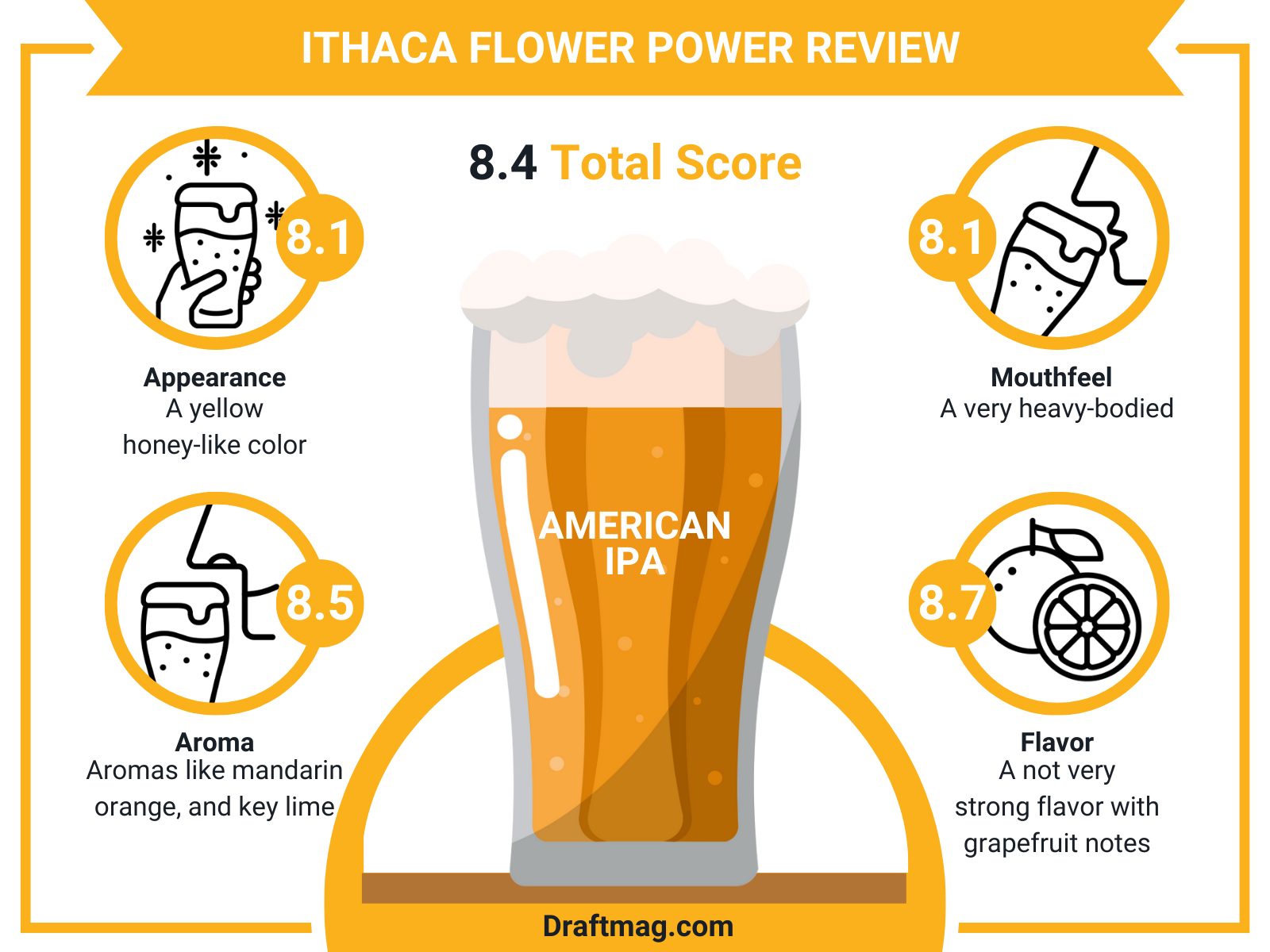 So, before you get a bottle and form an opinion about this beer, here is a detailed review to help you learn everything there is to know about it.
Ithaca Flower Power Stats
| | |
| --- | --- |
| Country | New York, United States |
| Brand | Ithaca Brewery |
| Style | American IPA |
| Taste | Floral, earthen, punchy, and hoppy bitterness |
| Body | Big and heavy-bodied |
| ABV | 7.2 percent |
| Flavors & Aromas | Tropical hoppy aroma |
| Serving Temperature | 55 degrees Fahrenheit |
Tasting Notes
Ithaca Flower Power Tasting Profile
Ithaca Flower Power Review
The name Ithaca beer comes from the fact that this beer has many earthen and floral flavor notes, which makes it a pretty pleasant surprise among other American IPAs. Beyond this, there are many more characteristics that set this beer apart from conventional IPAs beers. Check them out below.
– Appearance
The Ithaca Beer has a deep orange, rich golden, or an almost yellow honey-like color. It also forms a thick foamy head which has a good retention rate. The carbonation level is mild; hence not many bubbles are visible like lager beers. The clarity is not much since this beer is quite thick and heavy.
– Aroma
The Ithaca beer has a very floral and fruity smell. All of the smells are quite powerful. Even the smell of the bitter hops is quite prevalent, along with the other aromas like grapefruit, Mandarin orange, and key lime.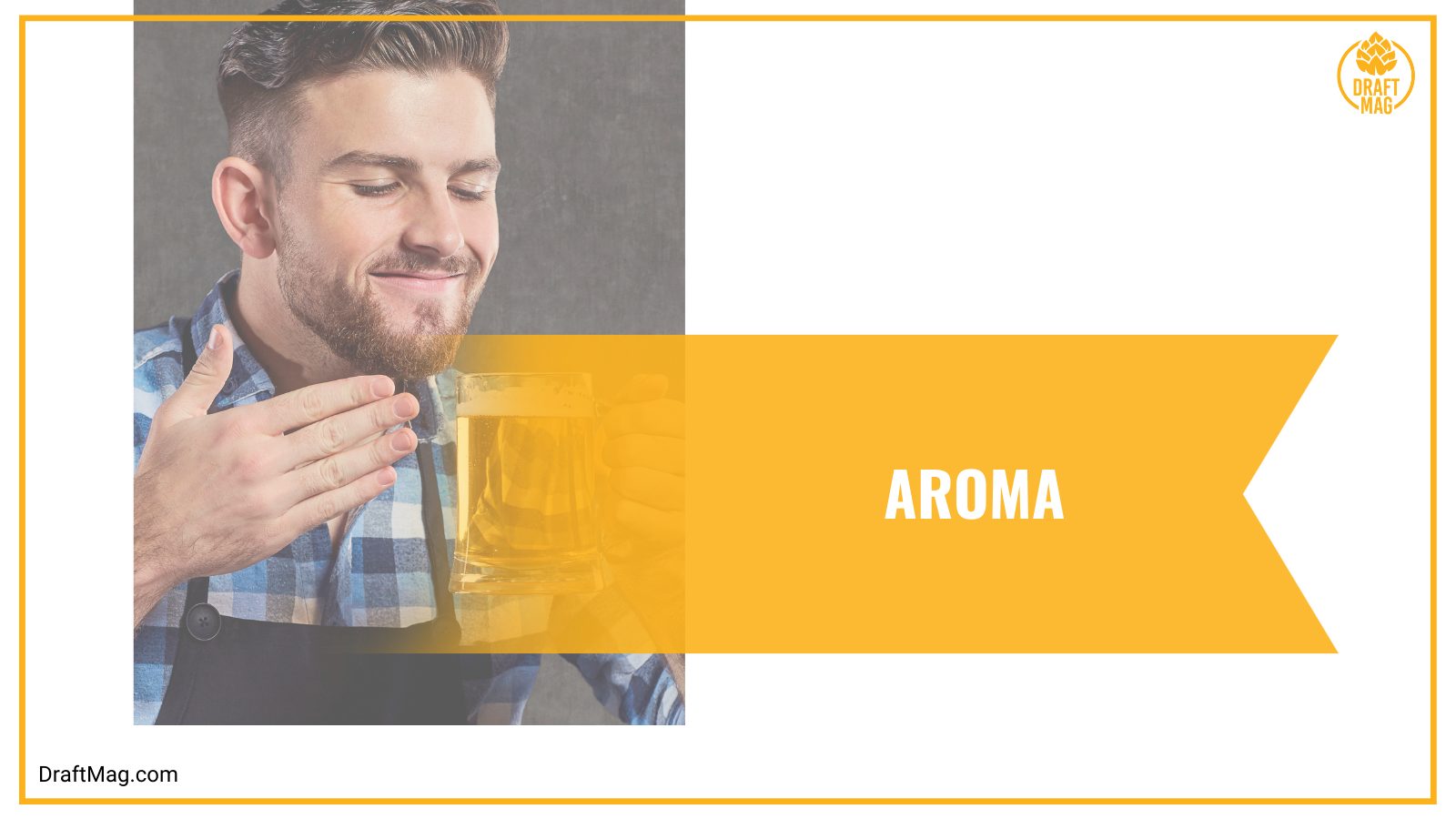 Though there is a heavy amount of malts present, the smell of the bready malt is covered up by the strong floral and earthy aromas.
The overall smell is very tropical and refreshing and also has hints of pineapple and an almost fresh grass-like beautiful aroma. The smell of the alcohol is hardly present among all the other hop and malt aromas.
– Mouthfeel
This is a very heavy-bodied American IPA craft beer style. It has a crisp and dry finish. The fizzy effects on the mouth are also on the lower side due to the low to medium carbonation levels.
– Flavor
The overall flavor of this IPA is quite refreshing and layered. Unlike many other IPAs, the taste and flavor of alcohol are not very strong. The different kinds of sour and citrus-like tastes of grapefruit, Mandarin orange, and key lime. It also has a very mild but consistent taste of honey malt. The malt flavor gives out an almost bread-like taste to this beer. The honey malt used in this beer also leaves a honey-like taste, which is unique and surprising for an IPA.
The hops' different floral and earthen flavor overshadows the malts flavors in this craft beer. The bitterness from the hops is not very aggressive or overwhelming since it has many different layers of other flavors. Some taste notes of pineapple can also be found in this beer.
Since the alcohol content is quite high in Ithaca beer, it is never felt in the taste because of all the other sour and herbal tastes. Though most IPA beers are harder to drink because of the high alcohol level, this beer is quite an easy drink. But the beer has an overall punch and is quite strong, so it should be drunk with care. It is quite rich in its hop game – all the hops shine out and play their individual roles in bringing out the subtle taste layers in this beer.
– Food Pairings
You can pair the Ithaca beer with different kinds of food to make the beer-drinking experience more wholesome.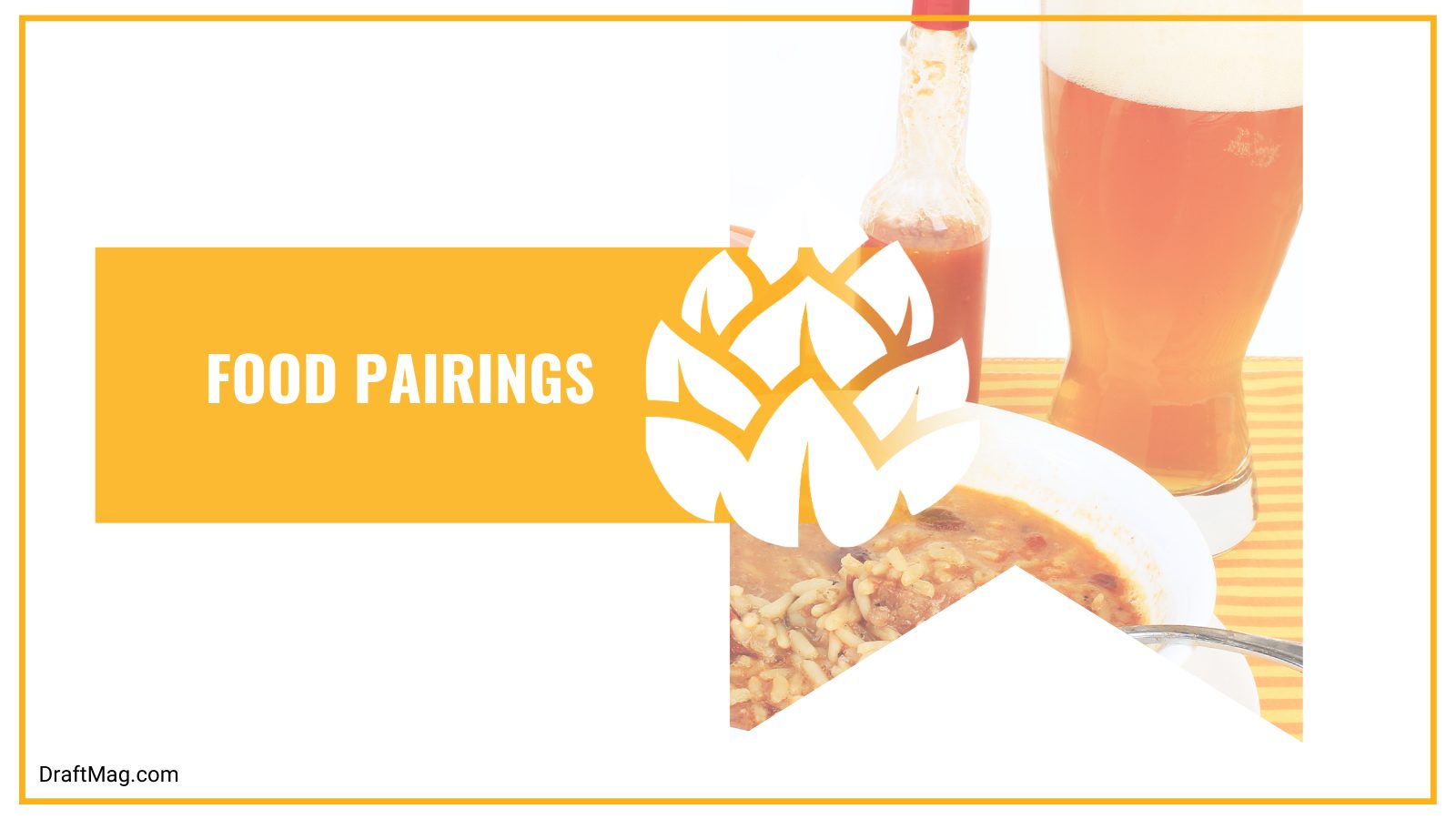 Since this is a very heavy beer, you can always pair it with hot and spicy food like Asian or Jamaican cuisines. The beer's sharpness balances the food's hot and spicy effects and makes a great pair.
If you want to keep it light and refreshing, you can pair it with simple things like salads and greens like a freshly made garden salad or a honey-mustard grilled chicken salad.
Grilled and smoky meat dishes also work well with this beer, like grilled lamb, pork, chicken, etc. if you are a vegetarian, you can go for vegetable grilled dishes like grilled pepper and cauliflower, etc.
Ingredients
There are a lot of diverse ingredients used in this beer. One of which is hops, and the other is malts, in addition to water.
The hops used in the Ithaca beer are Simcoe, Chinook, Citra, Ahtanum, Amarillo, and Centennial. These beautiful combinations of hops bring about the unique flavor and aroma of craft beer. This beer uses both dry hoppings five different times with different hops. The dry hopping continues throughout the brewing and fermentation process. Each layer of hopping adds a different level of flavor.
The brewers at the Ithaca Beer Company use a mix of two exclusive malts: the two-row pale and the Honey malt.
Nutritional Facts
The nutritional statistics of the beer for every 12-ounce serving are as follows. It had 150 calories, and 10g of carbohydrates.
History
The Ithaca beer is one of the most acclaimed flagship beers by the Ithaca beer company for its diverse flavor profile in the IPA category.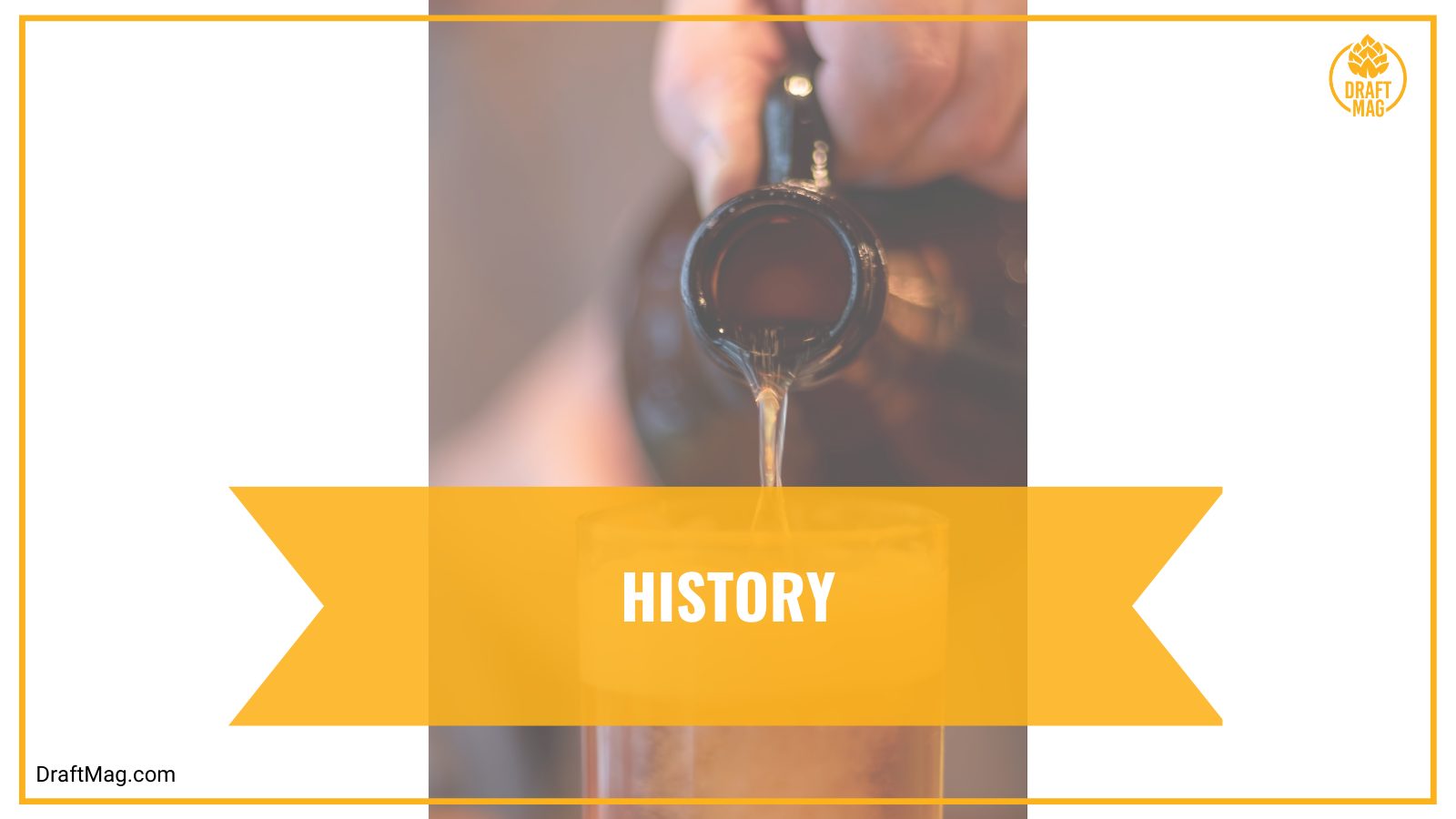 They started as a craft brewery and sold only freshly brewed beer at their brewery in New York. But at present, they also sell bottled and canned options of the same beer, and the taste is unchanged in all versions.
Conclusion
If you like a good floral and earthy beer, the beer is an excellent choice for your flavor palette. Here are some essential points about this beer that you must remember before tasting a bottle:
The Ithaca Power IPA alcohol content is around 7.2 percent, making it a strong beer.
This beer is a great combination of floral, earthen, citrus, and malt flavors and aromas.
This beer pairs well with both light and spicy food, depending on your choice of taste.
If you are interested in this unique craft beer, we recommend you try a bottle or two before forming an opinion.