Key West Sunset Ale Review: Is This Amber Ale Worth a Try?
If you're considering red beers, you should try Key West Sunset Ale. However, you may need a few heads up about the beer before drinking. That is why is, in this complete review, we'll discuss the beer's appearance, aroma, flavor, ingredients, and nutrition facts.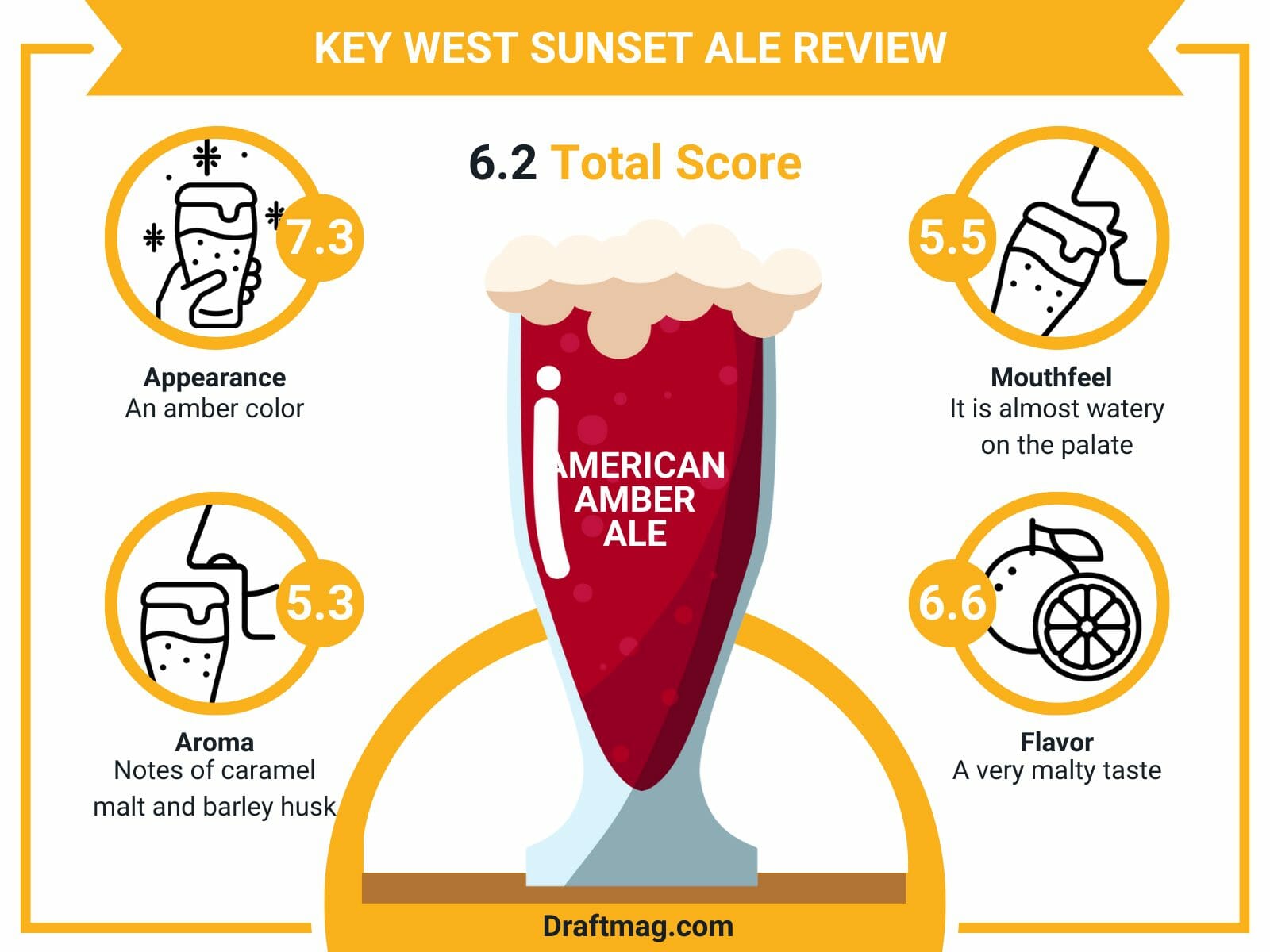 You don't want to end your reading journey here as we'll also cover its history and food pairings.
Key West Sunset Ale Stats
| | |
| --- | --- |
| Country | United States |
| Brand | Carib Brewery USA |
| Style | American Amber Ale |
| Taste | Caramel, malt, mix with mild bitterness |
| Body | Light to medium |
| ABV | 4.8% |
| Flavors & Aromas | Caramel, malt, citrus |
| Serving Temperature | 45-55 degrees Fahrenheit |
Tasting Notes
Key West Sunset Ale Tasting Profile
Key West Sunset Ale Review
The table above shows the basic characteristics of this beer. But, keep reading as we'll dive deep into the details of this amber ale so you can know what to expect.
– Appearance
The beer pours a clear amber color into a beer glass.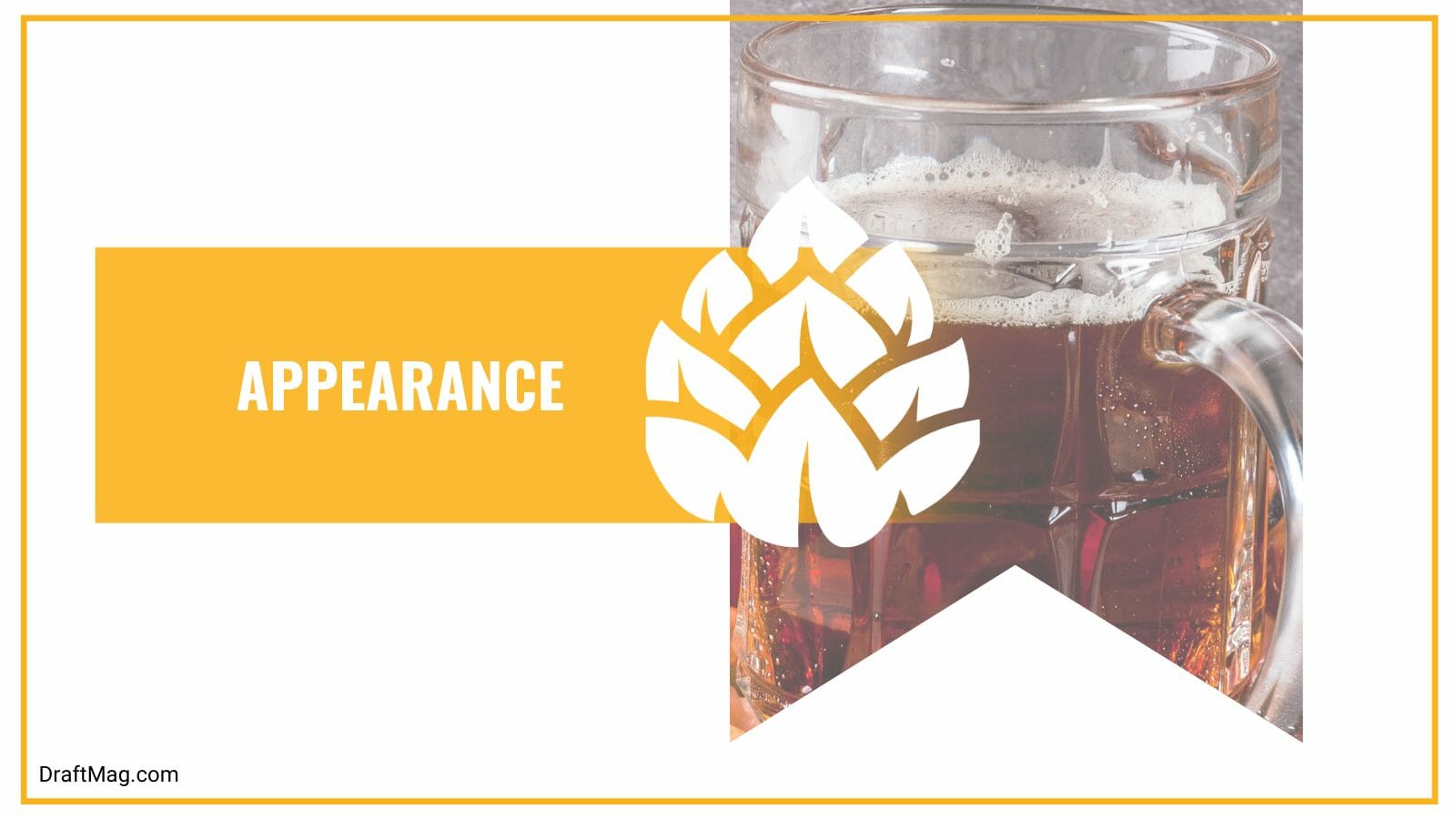 This is followed by rising bubbles that join the one-finger thick beige head that is persistent and leaves decent lacing.
– Aroma
The beer gives off notes of caramel malt and barley husk on the nose. However, the alcohol note is not so distinct. Also, mild citrus notes and resinous hops are present in the aroma.
– Mouthfeel
The mouthfeel is a vital characteristic that will guide your judgment on this beer. The beer's body is light to medium, with decent crisp carbonation that tingles the tongue. It is almost watery on the palate with balanced hops, malty sweetness, and fruitiness and finishes semi-dry. The malty flavors in this amber beer beautifully support and absorb hop flavors, giving the beer a well-balanced feel and taste.
– Flavor
Compared to pale ales, amber ales have a very malty taste. Like the aroma, Key West Sunset Ale's flavor is a blend of caramel sweetness, barley malt, light citrus fruitiness, and hot bitterness.
– Food Pairings
After grasping the beer's characteristics, you may be curious about the foods that go well with it. Given the crisp nature and semi-dry finish of this Florida beer, it is perfect for cleansing the palate with pizza with a lot of cheese, grilled chicken, pork barbecue, and fried foods. In addition, the sweet caramel notes enhance the flavors of cured cheeses and rice pudding. Also, thanks to the beer's moderate carbonation, you can pair it with Indian/Mexican/Asian cuisines.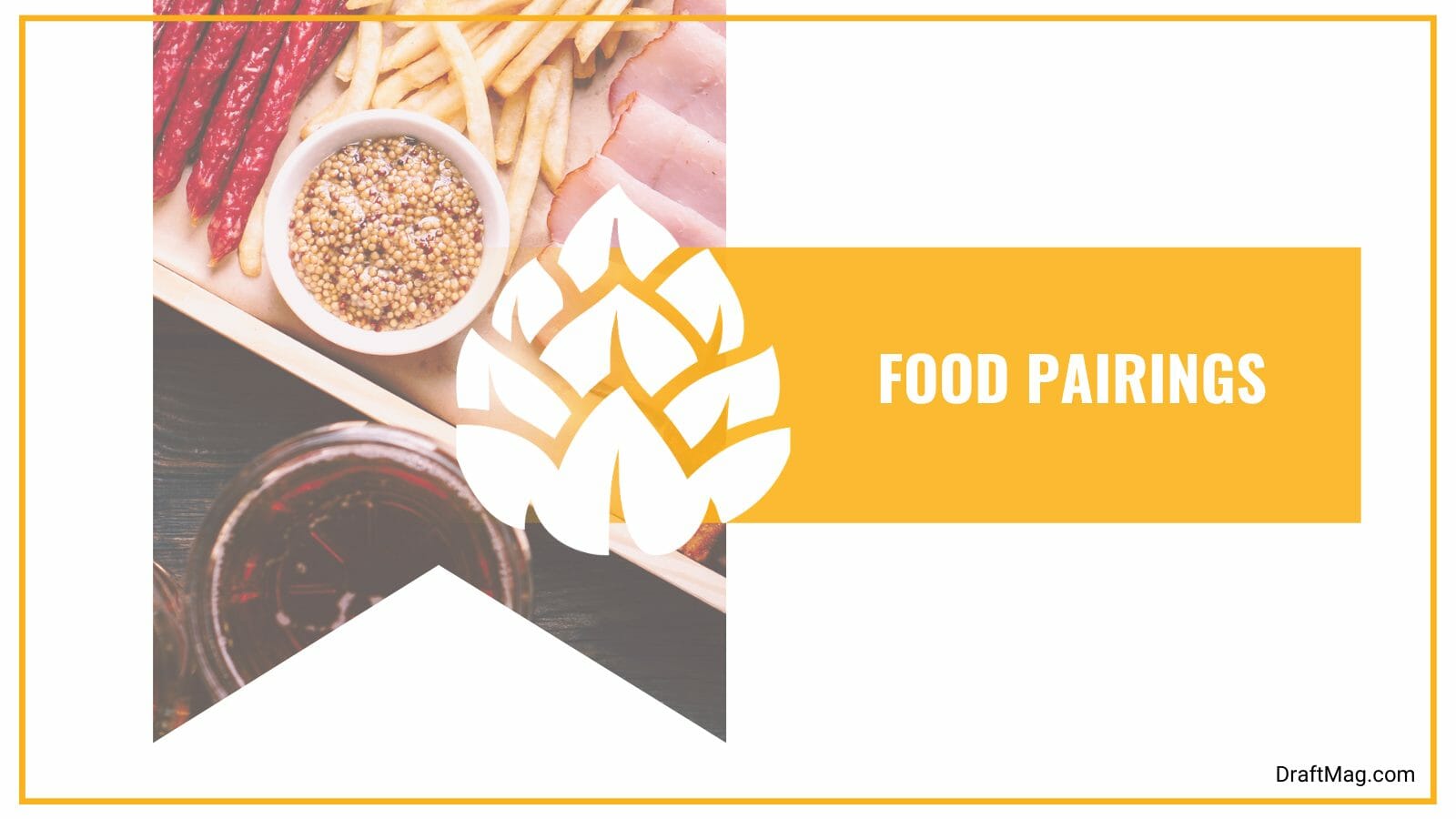 Generally, when pairing beers with a meat dish, you must consider the condiments or the sauce to guess the combination. Therefore, whether you're grilling or frying brisket or beef, don't load them with excess spices to achieve a pleasant sensory experience. In addition, this brew is suitable to complement and cut the flavor of foods like ribs with barbecue sauce, spicy food, or risotto. It will also go well with bruschetta and falafel.
Other exciting combinations include pasta dishes, pound cake, chili, etc. Note that this is not an exclusive list; thus, there is room to explore other foods. Also, looking at the design of the bottles and cans, you should get a hint that it's a refreshing drink for beach hangouts or after sailing.
Ingredients
While the details of the recipes are not on the bottle label, Florida beer Key West Sunset Ale is suspected of containing the following:
2-row malt
Caramel malt
Blended hops
Water
Yeast
Nutrition Facts
A 12 fl. oz serving of this beer contains about 144 calories and 13 grams of carbohydrates. However, there is no concrete data about its protein, vitamin, fibers, cholesterol, and fat content. But the calorie data is on the high side; thus, frequent consumption may result in weight gain. This may not be beneficial if you have an underlying health condition.
Amber Ales generally have about 4.5 to 6 percent alcohol content. Key West Sunset Ale ABV is 4.8 percent, considered light; thus, a few bottles shouldn't get you drunk. However, you should drink moderately as excess alcohol is not healthy.
History
Key West beers are produced by Carib Brewery USA, formerly Florida Beer Company, a leading brand in the regional craft beer market for over 15 years. Florida beer was established in 1997 as Indian River Brewing Co. before the name changed in 2005. Later in 2013, the company expanded its operation and settled in Cape Canaveral, Florida.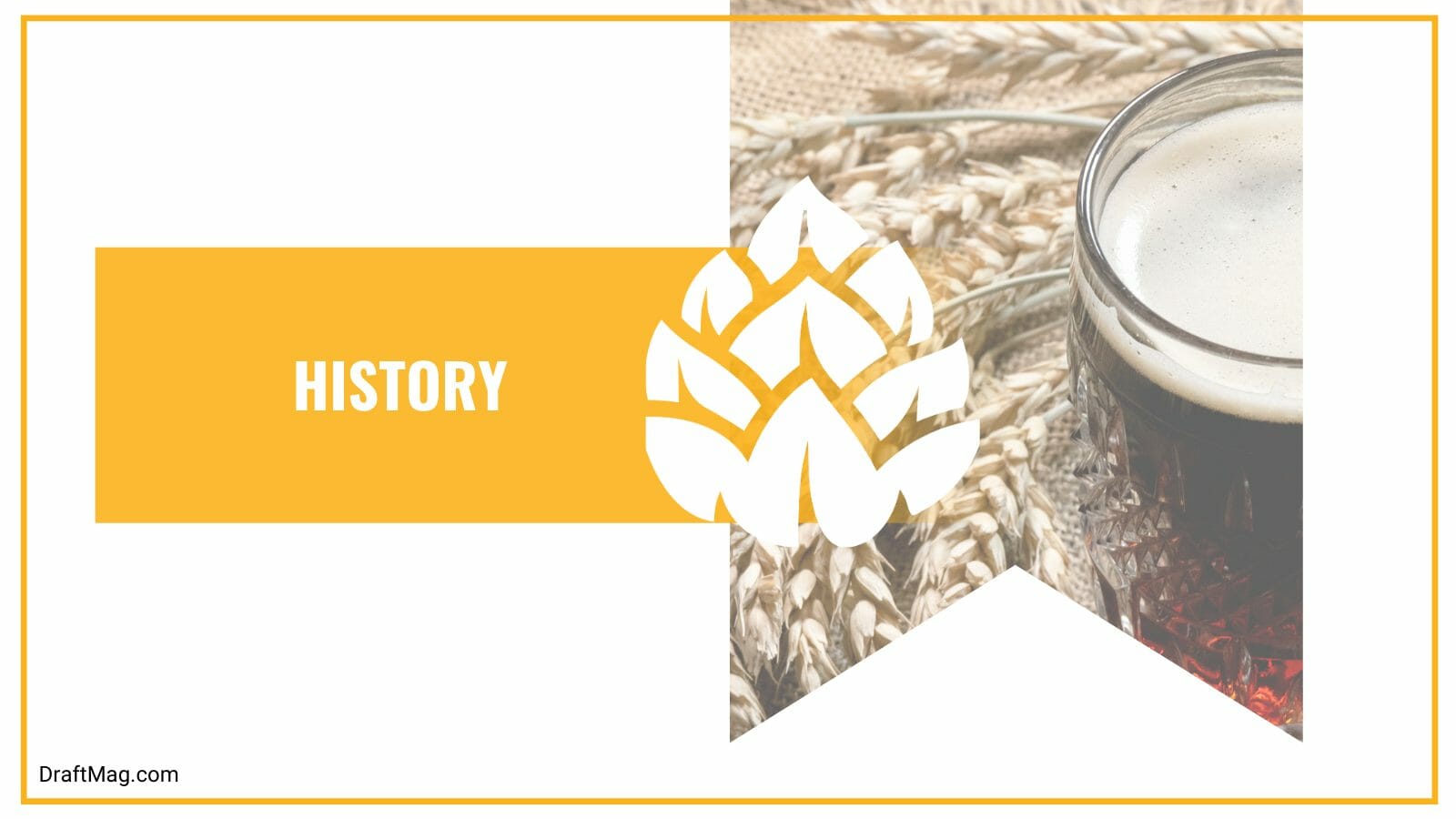 Florida beer company produces over 20 beer styles, including lagers, seltzers, ciders and ales. Some core brands include Key West Sunset Ale, Florida Lager, Devils Triangle IPA, Key West IPA, Hurricane Reef, etc. Also, various brands from the company have gained prestigious recognition through international and local beer contests. For example, Key West Sunset Ale have won gold and bronze awards during the Best Florida Beer Championship. This event aims at promoting craft breweries in the state.
Later in 2016, ANSA McAL U.S acquired the company but renamed it Carib Brewery USA in 2021. However, operation remains at the Cape Canaveral facility with hopes for expansion.
Frequently Asked Question
– Where To Buy Key West Sunset Ale?
You can buy Keywest Sunset Ale in 12 fl. oz bottles and cans in restaurants, bars, and online and local retail stores across Cape Canaveral, Melbourne, Utica, and surrounding cities. ANSA McAL, a Caribbean company, owns the company after its acquisition in 2016.
However, operation continues at Florida Beer's Cape Canaveral brewery and taproom. ANSA McAL headquarters is in Trinidad and Tobago.
Conclusion
This is where the journey ends in our review of Key West Sunset Ale, and now that you have all the details about this beer, don't you think it's worth trying? Here are key takeaways from this review:
Key West Sunset Ale is an American-style Amber Ale with 4.8% ABV.
The beer appears clear amber with a finger-thick beige head that lingers and leaves decent lacing.
A 12fl. Oz serving of the beer contains 144 calories and 13 grams of carbohydrates.
Florida Beer Company has been renamed Carib Brewery USA after ANSA McAL's acquisition.
You can purchase this beer online or in local stores, restaurants, and bars. Finally, remember to serve at the required temperature to unleash the beer's sweet flavors.