Stella Artois Solstice Lager Review: An Exclusive Summer Beer
Stella Artois Solstice Lager is named after the longest summer day and is made to refresh people during long tiring days. It is a light lager beer made by the Stella Artois brewery in Belgium.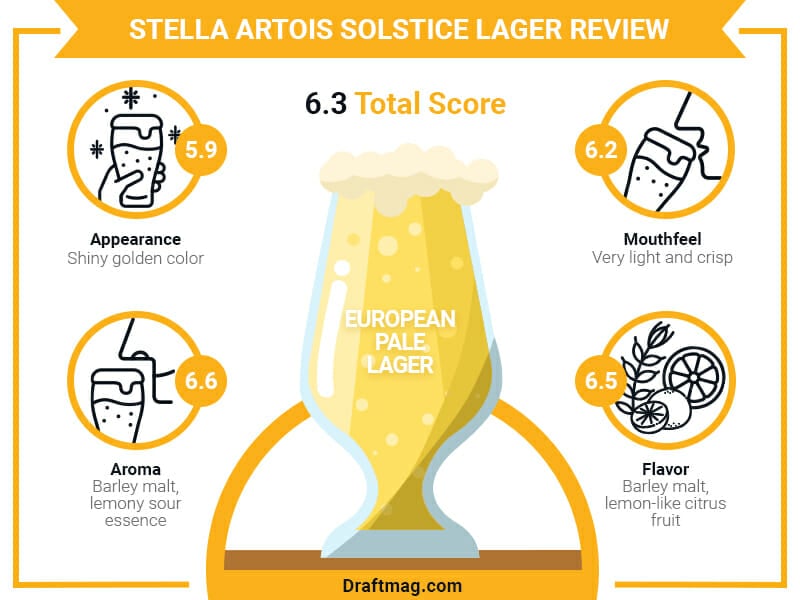 This is a new take on the classic Belgian style or European style pale lager beer, which boasts a great depth of flavor and is available across America. To see what other characteristics this beer has that make it different from other lager beers, read this complete review to find out.
Stella Artois Solstice Lager Stats
| | |
| --- | --- |
| Features | Description |
| Country | Belgium |
| Brand | Stella Artois (Anheuser-Busch) |
| Availability | In stores across America |
| Style | European Pale Lager |
| Brewing location | Baldwinsville, New York, USA |
| Taste | Light citrusy and bread-like flavor profile |
| Body | Light bodied finish, smooth finish |
| ABV | 4.5 percent |
| Flavors and Aromas | Light smell of alcohol and sour aroma |
| Serving Temperature | 39 – 45 degrees Fahrenheit |
| Shelf life | Around 180 days |
| Selling packs | Packs of six or twelve cans or pint bottles |
Tasting Notes
Stella Artois Solstice Lager Tasting Profile
Stella Artois Solstice Lager Review
The Stella Artois Solstice Lager has an exclusive citrus taste added to the classic lager flavor profile. This represents the long and hot summer days of the summer solstice. The golden color of this beer also represents the golden color of the setting summer sun on the beaches. The makers wanted to represent summer in their beer bottles, and this beer is a great way to present it.
Stella Artois brewery has produced many beers over the years with many diverse tastes, but the Stella Artois Solstice lager is one of their most exclusive lagers. There are many core characteristic features of this beer that you should know about before tasting it. Here is a complete review of what this beer has to offer.
– Appearance
The Stella Artois Solstice lager has shiny golden color, giving it a very royal look. The light golden yellow color represents the summer sun rays and aptly lives up to the name of this lager beer. You can also see fast-rising bubbles due to the heavy carbonation of this beer.
It forms a foamy head when poured, but it does not have good retention. There is no lacing around the glass like other average lagers.
If you want to try a variety, then Stella Artois Lager is another version. It is a classic Belgian lager beer that is light to medium-bodied and has a crisp and refreshing finish with a 5.2 percent ABV level, making it an easy-drinking beer. It has a well-balanced malty sweetness, mild bitterness from the hops used, a slight citrus sour taste, and medium fizz from the carbonation. Due to its complex and beautiful depth of flavor, it was named the world's best lager in 2019 at the World Beer Awards.
– Aroma
The Stella Artois Solstice lager has a strong smell of the barley malt used in the fermentation process. It also has a light aroma of lemony sour essence. You can also distinctly feel the smell of hop extracts which gives it an overall refreshing smell.
The barley grain gives this beer an almost bread and biscuit-like smell. The overall smell is refreshing, and all the ingredients combine to form a complementary smell. The smell of alcohol is light and does not hit the nose very sharply.
The barley smell might be strong but is not aggressive or does not overpower the other subtle smells of hops, alcohol, and citrus smell notes. The smell of the herbal yeast and the hops makes a very earthen and refreshing smell, giving the Stella Artois Solstice lager its classic smell. The barley malt adds an extra sweet smell to this lager beer, which strikes the right balance with the zesty lemon smell and makes a harmonious pair.
– Mouthfeel
The Stella Artois Solstice lager has a very light and crisp mouthfeel with a smooth finish. There is no bitter after notes from the hops used, but the sweetness of the barley keeps lingering for a while. There is also some fizzy effect on the tongue due to the high carbonation level.
The overall mouthfeel is refreshing and clean due to the three layers of filtration that this beer goes through during the brewing process. The Stella Artois Solstice lager ABV is 4.5 percent. Thus, it is best for weekdays and light drinking.
– Flavor
The Stella Artois Solstice lager beer has a distinct taste of the barley malt. Due to the use of freshwater combined with the barley, the overall taste is very fresh. There are also very subtle taste notes of lemon-like citrus fruit, which come from the combination of hops and yeast used. The taste of alcohol is also present but not very hard-hitting, making it a very easy drink.
The barley grain malt used in this beer also makes it taste like fresh bread or grainy biscuit. The hops and yeast add an almost rustic flavor to this beer. None of the tastes are very aggressive and forms a perfect balance of flavors in this classic lager beer. Due to its low alcohol level, it does have a burning effect and makes for a perfect summer drink, which is where its name also comes from.
Summer Solstice is the longest day of the summer and the taste of this beer is a tribute to the high beer-drinking rate of beer lovers during this time. Overall, the taste of this lager is very crisp and the sour pop at the end gives it a very clean finish and cleanses the mouth. The exclusive Barley malts in this beer give this beer an added sweetness, and the zesty lemon flavor cuts through the sweetness to create an outstanding balance of tastes.
– Food Pairings
Due to the light flavor profile of the Stella Artois Solstice lager beer, it can be paired well with multiple different foods. Try out this beer with any of these to make your drinking experience more wholesome.
It pairs well with a variety of cheeses like Chèvre, mild Cheddar, Edam, Swiss, Havarti, and Monterey Jack.
This beer is meant to be a summer drink for warm climates, so it pairs well with all kinds of beach food like different kinds of seafood like fresh fish, squids, etc.
It also works well with light foods, like fresh green garden salads, baked fish, or chicken.
Due to its refreshing and sweet taste, it also pairs well with smoked or barbequed food like crab, lobster, salmon, and chicken
The sweetness of the Stella Artois Solstice lager also works well with any kind of spicy and hot Indian or Mexican dishes and different kinds of fried food. The hotness of the spices is cut down by the sweet flavors of the Stella Artois Solstice lager and forms a great balanced food pairing.
Making Grilled chicken with Stella Artois Solstice Lager is another use of this refreshing beer. Just add one pint of the lager, a dash of oregano and thyme chopped, and some garlic chopped in a bag. Add some salt and pepper to this, and squeeze in half a lime, then add a chicken breast to this mix and lock the bag.
Marinate it for some time inside the zip lock bag. After about two hours, heat one tablespoon of butter in a shallow pan and grill the chicken on it. You can also put it inside the oven at 350 degrees Fahrenheit and broil it for 5 minutes to give it a crisp finish.
Ingredients
The ingredients used in the Stella Artois Solstice lager are quite simple. It uses 100 percent barley malt, bottom-fermenting European lager yeast, fresh water and hop extracts. All their ingredients are carefully curated and always use an exclusive range of European yeast, which is a closely guarded secret. They also use citrus agents, which bring a mild sour and lemon-like taste to this beer.
All of these premium ingredients used are what bring in the unique earthy yet refreshing and premium balance of taste. The loyal customers of Stella Artois Solstice lager have always appreciated the premium beers launched by the brand and their ingredients and quality are the main reason behind this.
Nutrition Facts
This is a light beer, so the carbs in Stella Artois Solstice lager calories are on the lower side. Here are its nutritional facts for health-conscious people.
Carbs – 4.5 grams per serving
Calories – 104 per serving
If you want to go for a gluten-free version of this beer, then Stella Artois Gluten Free Lager is an option. It is a gluten-free lager made with a 600-year-old Belgian lager recipe. It has a clean finish and comes with a subtle balance of flavors.
The alcohol level is 4.6 percent, making it a very easy drink. It uses barley malt, the flavors of which are not very strong because the gluten is neutralized by the brewmasters of Stella Artois. It is one of the most flavorful gluten-free beers, making it popular among health-conscious people.
History
The Stella Artois Solstice lager is made with a historic Belgian beer brewing technique that dates back to 1366. This beer is made with inspiration from the Belgian Trappist beer brewing technique. This technique was once exclusive in Buddhist Trappist monasteries, but after the commercialization of craft breweries, the technique brought some very exclusive beers into the craft beer scene.
Though these Trappist beers have been quite popular among the Belgian and European people for a while, Americans are still new to tasting this beer. The present Stella Artois Solstice lager is brewed with close inspiration from this centuries-old traditional method, giving it the extra depth of flavor that Stella Artois fans enjoy.
– Stella Artois
In 1926, the Stella Artois brand was founded by Brouwerij Artois in Leuven, Belgium. The first beer they made was a pilsner and it came as a gift to the local people of Leuven during the Christmas holidays. From 2020 May to June, Anheuser-Busch launched the Stella Artois Solstice lager as an exclusive lager beer to honor the hot summer solstice. It was exclusively crafted to honor the summers and the beer lovers who enjoy the summers a bit more due to the exclusive beers.
But right after being launched in America as a limited edition summer beer, it was in high demand and sold out quickly. The makers then decided to extend its production and restart its mass scale and year-round production from December 2020. Since then, it has always been on the shelves of American beer stores and has been quite popular among lager beer lovers.
What was once a seasonal beer has now become a permanent and well-appreciated lager beer in the American beer market. The Stella Artois Solstice lager has been added to the premium beer category of the Stella Artois family of beers and is here to stay.
– This Beer Today
When this beer was launched, the Stella Artois Solstice lager was branded as the summer beer and was advertised with the tagline, "Make Summer a Vacation." This was a special branding campaign to promote the limited edition feeling of this golden lager beer. The refreshing taste of this light, sweet and crisp beer was a tribute to the longest day of summer and was meant to beat the heat during the summer months.
But now, since it has become a permanent member of beer stores in America, the Stella Artois Solstice lager is sold with a new tagline. It says, "Golden taste for every season." Though the name originated from the concept of hot summers, it has now become an all-season beer and hence the branding makeover. But since the flagship name really stuck with the beer advocates, the name remains unchanged even though the concept of its production and its branding has changed.
The Stella Artois Solstice lager, produced by the Stella Artois brand, comes under the parent brand of Anheuser-Busch. It is Anheuser-Busch's mass-scale distribution system and high level of publicity that made this classic Belgian lager go viral across America and made it an instant hit in the market. What was once just a small local brand made out of passion in Leuven, Belgium, has now gone global with a little push from Anheuser-Busch.
You can buy this beer at different online sites or visit your nearest liquor store to grab a six or 12-pack.
FAQs
– What Is Different About Stella Artois Solstice Lager?
The Stella Artois Solstice Lager beer is made with many centuries of beer brewing expertise and is one of the best flagship beers of this brand, making it stand out from other lagers in this category.
This beer is shiny golden in color and has a very layered depth of flavor which makes it an ideal drink for a lot of people. It has a smooth and crisp finish and is a favorite among beer lovers.
– What Is the Difference Between Stella Artois and Stella Artois Solstice?
The main difference between these brews is that Stella Artois is the first and oldest beer from the Stella Artois brand of beers while Stella Artois Solstice Lager was one of their exclusive summer range seasonal beers. Stella Artois is a classic lager of golden color while the Solstice is clean, crisp and refreshing in taste, representing the long summer months.
The Solstice became so popular among the masses that Stella Artois decided to make this a regular beer rather than seasonal. Today, this summer special beer is available throughout the year all across American stores.
– Is Stella Solstice a Light Beer?
Yes, the Stella Artois Solstice lager is a classic light lager beer with a hint of sour citrus flavor. This was intentionally made light to make it an easy drink during the long summer days.
Wrapping Up
If you are an ardent beer connoisseur who loves a good and refreshing new flavor, the Stella Artois Solstice lager is a must-try. You must try a bottle or two of this shiny golden premium beer before you form an opinion, but before you try it out, here is a quick recap of all we learned about this beer.
The Stella Artois Solstice lager and its exotic golden color and taste are inspired by the summer solstice or the longest and hottest days of summer.
This beer is inspired by the triple-filtered brewing style of Trappist monasteries. Along with this technique, they also use very exclusively sourced ingredients which give this beer its beautiful, rich, yet rejuvenating taste.
The Stella Artois Solstice lager was first launched in 2020 as a collection of limited edition seasonal beer to beat the heat of the summers, but it became very popular and the brewers decided to make it a year-round beer from December 2020.
The Stella Artois Solstice lager has a very light, fruity, sour, and malty flavor profile. The taste of alcohol is very mild but has a very crisp and light finish. The malt taste is quite prominent and has an almost bread-like taste.
This beer has a shiny golden color inspired by the bright summer sun rays. When poured, this beer forms a foamy head but does not have great retention and there is no leftover lacing inside the serving glass.
Make sure you taste this premium range of Belgium beer from Leuven right here in America to decide if it's the best premium lager you have ever had.