Modelo Pineapple Review: A Michelada-style Beer With Fruity Flavors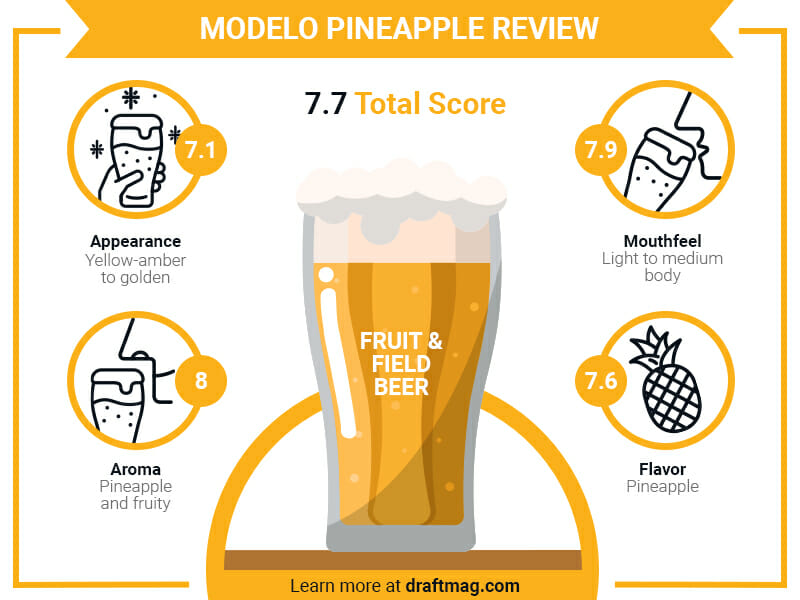 If you're looking for a unique, fruity beer, the Modelo Pineapple beer offers the best experience. The Modelo Chelada Pina Picante was brewed by Grupo Modelo S.A. de C.V., a popular Mexican brewery.
It is a fruit and field beer with a natural pineapple flavor and hints of chile peppers, giving off a light and refreshing character. Let's take a closer look at the beer in this in-depth review.
Modelo Pineapple Stats
| | |
| --- | --- |
| Country | Mexico |
| Brand | Grupo Modelo S.A. de C.V. |
| Style | Fruit and Field Beer |
| Taste | Fruity, spicy |
| Body | Light to Medium Body |
| ABV | 3.5 percent |
| Flavors & Aromas | Pineapple, spicy chile, tropical, syrupy malt, peppery |
| Serving Temperature | 42-45 degrees Fahrenheit |
Tasting Notes
Modelo Pineapple Tasting Profile
Modelo Pineapple Review
The Modelo Chelada Pina Picante is an authentic Mexican beer with a strong pineapple flavor. The beer is made with natural pineapple and chile peppers, giving it a fruity and spicy character. It also features a hazy golden color.
With its well-balanced flavor and fruity aroma, the beer is an ideal choice for those who want something different and sweet. It is a light, refreshing beer that balances fruity sweetness and spiciness with a slight alcoholic kick.
If you're looking for a delicious beer on a hot summer evening or something to quench your thirst and offer flavor, the Modelo Pineapple is the ideal choice. It features a 3.5 percent ABV and an authentic Mexican feel that enhances its taste. The beer is best enjoyed with salty-sweet chamoy, chile powder, and a mix of pineapple and orange juice.
– Appearance
The Modelo Pineapple pours yellow-amber to golden and has a hazy appearance. When you pour it into a transparent glass, you will notice the sediments contributing to its hazy character. There is also visible carbonation that gives it a fizzy, bubbly appearance. Sitting on top of the beer is a white, thin head that dissipates in a few seconds and leaves a slight laciness.
– Aroma
On the nose, the Chelada Pina Picante has a strong pineapple and fruity aroma. The beer has a slight candy-like scent and an indication of spice. Although the sweet pineapple flavor is overpowering, it does not take away from the beer's malty character.
– Mouthfeel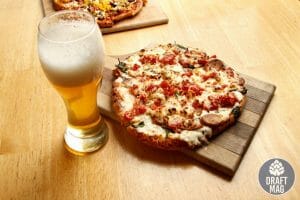 As for the mouthfeel, the Modelo Pineapple starts with a light mouthfeel but eventually becomes more medium as the heat builds and the sweet flavor enhances. Due to the chile, you will also notice a bit of spice burning at the back of your throat. The carbonation adds a poppy, fizzy feeling to your tongue, and the aftertaste drags on for a while.
– Flavor
The Chelada Pina Picante has a strong pineapple flavor that tastes like concentrate or syrup. It also features mild spiciness similar to bell peppers or capsicum but does not make the flavor unpleasant. On the backbone of the beer is the unmistakable malt liquor base that makes it syrupy.
The hot chile flavor also seeps into the aftertaste, and you can enjoy the fruitiness and pineapple flavors that build up on the palate. It is well-balanced with a peppery flavor and fizzy carbonation.
– Food Pairings
The Modelo Pineapple is a fruity lager with a strong flavor of pineapple and chile pepper. It is best paired with fruity desserts like cheesecake cupcakes, lemon-flavored cakes, fruit salads, cherry or apple pie, and other types of fruits.
You can also pair the Mexican beer with spicier dishes like hot chicken wings, steak, and fish. Other pairings include duck and pork dishes, especially those with sweet components, light white meat, barbecued, grilled, and fried foods.
As for cheese, the Chelada Pina Pincante goes well with Mascarpone cheese and other full-bodied, matured cheese. Blue cheeses are also a good pairing with the beer.
Ingredients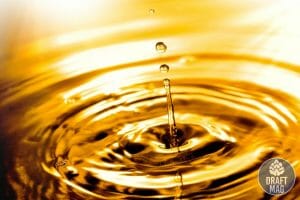 The Modelo Pineapple beer has two main ingredients that shine through the flavor: pineapple and chile pepper. Aside from this, the beer is made with common ingredients like barley malt, hops, yeast, and water.
The refreshing flavors of pineapple and chile make this a unique beer, as these are creative beer ingredients in the market. Like every other fruit and field beer, the traditional malts and hops are less noticeable, while the pineapple flavor is the dominant taste.
Although a major brewery makes the beer, its ingredients remind you of a craft beer.
Nutrition Fact
The Modelo Chelada Pina Picante has 130 calories in a 12-ounce serving, and you can purchase it in a can. There are also 16.7 grams of carbs and 0.7 grams of protein. The beer has no grams of fat, sodium, and any other mineral in the nutrition facts.
The Mexican beer should be avoided on a keto diet because it's high in net carbs, set at 16.7 grams. The beer is also not gluten-free because it is made with barley malts containing gluten.  The ABV level is 3.5 percent, lower than the average, creating the perfect beer for a summer day.
History
The Modelo Chelada Pina Picante is brewed by Grupo Modelo, a popular Mexican-based brewery that has been around since 1925. The brewing company owns over 60 percent of the beer market in Mexico and distributes its beer to the United States.
They are known for some of their most popular beer brands including the Modelo Especial, Modelo Negra, and Modelo Chelada. They are also the brewers of the Corona beers. The Chelada Pina Picante is part of the lineup of beers from Modelo and is brewed in Mexico.
Conclusion
Modelo Pineapple is a fruity and spicy beer that still retains the beer flavor despite the strong pineapple presence. It is the perfect beer for a hot summer evening or if you want to enjoy a fruity beer that won't get you drunk quickly. Some of the important points from the review include: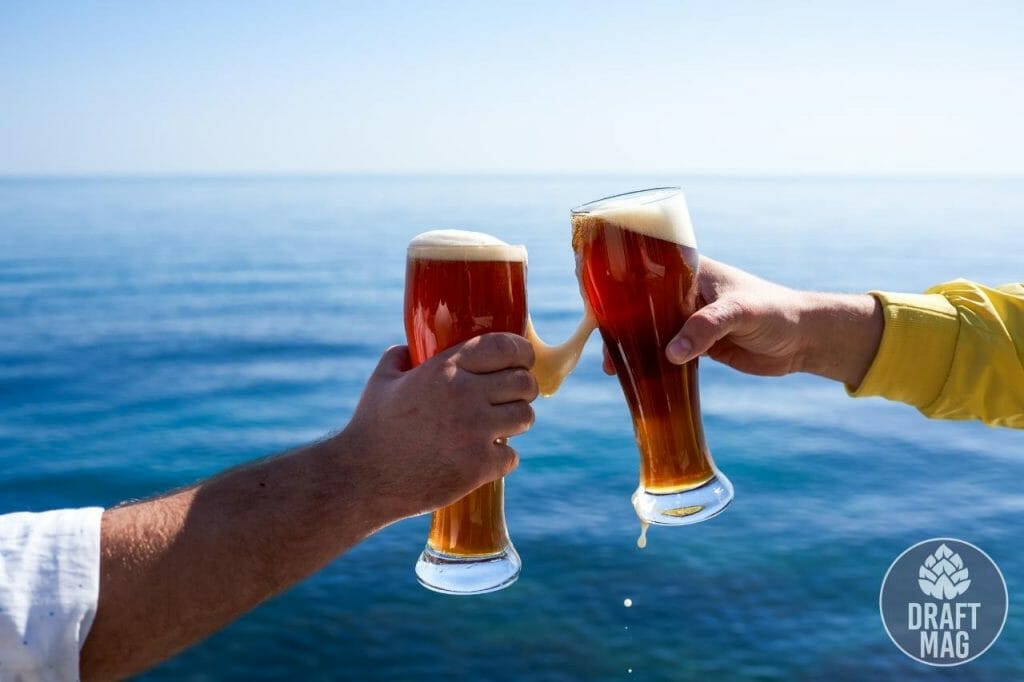 Chedala Pina Pincante is a fruity pineapple beer made by Grupo Modelo, a Mexican-based brewery.
The beer combines aromas and flavors of pineapple, chile pepper, and a malty backbone, giving it a light to medium body and syrupy mouthfeel.
The beer was made with pineapple and chile pepper flavors, barley malt, hops, yeast, and water.
It is best served as a fruity cocktail with salty-sweet chamoy and a sprinkling of chile pepper.
It goes well with fruity desserts, blue cheeses, and spicy, sweet, barbecued dishes.
You can easily purchase the Modelo Pineapple beer from online stores or liquor shops around the United States.