Voodoo Ranger Juicy IPA Review: A Hazy Beer With a Little Sarcasm
Voodoo Ranger Juicy IPA is a hazy, hop-forward craft beer that bursts with tropical fruit aromas and juicy fruit flavors. This juicy haze IPA from the New Belgium Brewing Company is perfectly bitter with a refreshing and crisp finish.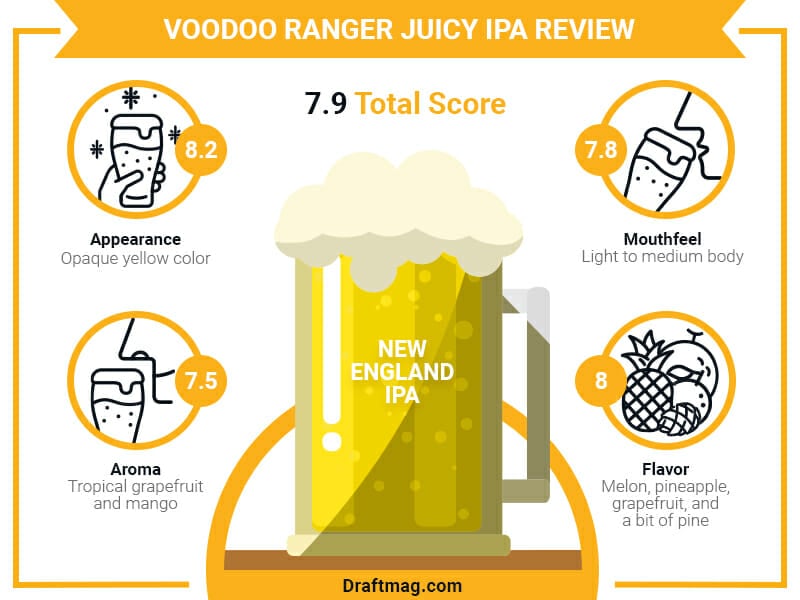 Every can of this trendsetting beer features Voodoo Ranger — its famous mascot that has a fan following of its own. Stick with us in this detailed review of Voodoo Ranger Juicy Haze IPA to live rangerously.
Voodoo Ranger Juicy IPA Stats
| | |
| --- | --- |
| Country | United States |
| Brand | New Belgium Brewing Company |
| Style | IPA – New England |
| Taste | Creamy, hoppy, floral, juicy |
| Body | Medium Light-bodied |
| ABV | 7.5 percent |
| Flavors and Aromas | Tropical fruits including grapefruit, citrus, melon, and pine. Subtle malt aroma and flavor. |
| Serving Temperature | 45-50 degrees Fahrenheit |
Tasting Notes
Voodoo Ranger Juicy Haze IPA Tasting Profile
Voodoo Ranger Juicy Haze IPA Review
The taste profile of this unique brew is dominated by tropical fruit flavors, including melon, pineapple, grapefruit, and a bit of pine. This Juicy IPA showcases a well-balanced hops and malt profile. Although a hop-forward beer, there are no hops burn. This refreshing beer has a smooth finish.
Here is what New Belgium Voodoo Ranger Juicy Haze IPA has to offer:
– Appearance
It pours a very hazy, opaque yellow color that resembles an unfiltered pineapple juice. The hazy and cloudy appearance is a result of dry-hopping. On top of the body sits a thick head of white color that shows excellent retention before leaving a nice lacing.
– Aroma
The nose is full of tropical grapefruit and mango aroma with a citrusy backbone. The dedicated use of hops lends it a spicy, herbal, and floral aroma. You can also notice a subtle caramel malt aroma paired with fruity esters.
– Mouthfeel
Although a hop-forward beer, it doesn't go harsh on the palate. Similarly, the citrusy flavor from Citra, Cascade, Centennial, and Simcoe does not take over the overall mouthfeel. It maintains smoothness from the first sip to the last. It has a light to medium body with moderate carbonation, and Voodoo ranger's smoothness makes it an easy-to-drink beer.
– Flavor
The hops profile builds tropical fruit flavors of melon, pineapple, grapefruit, and a bit of pine. The sweetness from the malt perfectly balances out the bitterness of the hops. Due to the well-balanced malt and hop profile, you can notice light sweetness at first that builds up perfectly before ending with a stronger bitterness.
However, the bitterness is not prominent and maintains harmony with the overall flavor profile.
– Food Pairings
Hazy IPAs are best paired with spicy Indian, Thai, Vietnamese, and Mexican dishes. Similarly, the crispness of English peas, asparagus, and artichokes complement the hazy mouthfeel. The choice of fish includes meaty and oily. You can use spring onion for garnishing, as it helps to bring out the bitterness of hops.
While peppery, pungent, and sharp cheese goes well with IPAs, the choice of cheese for Hazy IPAs remains creamy and bloomy cheese, which enhances the smoothness of Hazy IPAs. The perfect dessert to pair this beer with is Vanilla and Caramel flavored sweets.
It is best served at a temperature ranging from 45 to 50 F in a Pint Glass, Snifter, or Goblet. These glasses are best suited for hazy or cloudy IPAs.
– Finish
The sublime finish is pleasantly smooth. The earthy character of hop becomes noticeable at the end. Some may describe it as herbal or spicy, but overall, the finish is thirst-quenching.
The drink is best served in glasses with bulb-like bottoms. This allows enough space to swirl your beer and experience the rich, fresh tropical aromas. The tip should also be slightly tapered to let your glass capture the froth and bubbles. Thus, a tulip snifter is the most ideal choice for this drink.
Moreover, it should be served at the ideal temperature of 45 degrees Fahrenheit.
– Overall
A highly refreshing IPA with big west coast hops aroma paired with light malt sweetness. Altogether, the alcohol content is not evident, some bitter taste profile may build initially. However, malt sweetness balances it out.
Voodoo Ranger Juicy Haze IPA comes in both glass bottles and cans of 12 oz. It also comes in Cans of 19.2 oz. A pack of 12oz glass bottles contains a total number of 6 beers. The pack is sturdy, well-branded, and easy to carry.
Similarly, Voodoo Ranger 6pk-12oz cans and 12pk-19.2 oz cans are also widely available. The cardboard box is easy to carry and features a Voodoo Ranger label, which is trendy and out of the league. Every different variety of this family features a well-dressed skeleton in different moods.
– Mascot
Undoubtedly, the beer inside every can is delicious. Beyond beer, its namesake mascot on the outside equally contributes to the popularity of Voodoo ranger. This "sarcastic and mysterious character" has got a fan following of its own.
It has almost 100,000 followers on various social media sites. You can expect information about the latest Voodoo Ranger beers and even memes from the spokescreature itself.
Ingredients
The Voodoo Ranger Juicy Haze IPA ingredients include the following:
– Yeast
As yeast is a key ingredient for fermentation, the selection of yeast is critical. The New Belgium Brewing Company prefers the American Hefeweizen yeast strain for its Juicy Haze IPAs.
– Water
New Belgium Brewing Company believes in sustainable business practices. In pursuit of this, they have an in-house water treatment plant. It is powered by Evoqua's ADI Treatment System to generate soft and pure water.
– Hops
Voodoo Ranger Juicy Haze IPA bursts with hops aromas and flavor thanks to the dedicated use of the following hops:
Cascade: Cascade hop is the prime choice of American IPAs, especially west coast IPAs. This remarkable beer also takes characteristic qualities of Cascade hop, such as flavors of floral, citrus, and pine with grapefruit. They are versatile and moderate in alpha acid content, so beyond the hop profile, you can also expect a subtle hop bitterness.
Centennial: It is often called "Super Cascade" due to its stronger citrus aroma than Cascade hops. Our beloved Voodoo Ranger also gets its versatility from the use of Cenetential hop in combination with Cascade and Citra.
Citra: This variety of hop is high in alpha acid, which means it is responsible for hops aroma and flavor along with bittering the brew. As a result of brewing with Citra hop, the Voodoo Ranger Juicy Haze IPA gets citrus (grapefruit) and tropical fruit notes with a smooth finish.
Simcoe: An exclusive choice for craft beers, Simcoe Hops imparts different aromas such as pine, passion fruit, and earthy notes. High alpha acid level gives this Juicy Haze IPA some bittering quality.
Nugget: Brewers use this hop variety primarily for bittering purposes. However, it also imparts the resiny and floral aroma and flavor.
– Malts
Here are the different malts used for this unique brew:
Pale: Pale malts are the most widely used malt to produce beers. This juicy haze IPA uses pale malt that is carefully dried at low temperatures to retain the mild flavor and enzymes.
Wheat: This beer uses wheat in conjunction with another malt for extra smoothness and richness.
Oats: As hazy IPAs are about smoothness, oats are added to Voodoo Ranger to achieve this characteristic. It adds a velvety and creamy texture to the Voodoo beer. Hazy IPAs are all about smoothness.
C-80: Caramel-80 lends the beer some darkish color and light bittersweet caramel flavor.
Nutrition Facts
A standard serving of 12 oz of Voodoo Ranger Juicy Haze IPA contains calories up to 230 grams along with:
Sugar: 1 grams
Carbs: 14.5 grams
Protein: 2.7 grams
Calcium: 29 grams
Potassium: 223 milligrams
The Voodoo Ranger Juicy IPA alcohol content stands at 7.5 percent. Compared to other craft beers, the ABV of this Juicy IPA is much higher. Therefore, always remember that one or two pints of Voodoo Ranger Juicy IPA can make you a little tipsy.
History
The Voodoo Ranger family consists of a range of hand-crafted beers from the house of New Belgium Brewing Company. Its co-founders, Kim Jordan and Jeff Lebesch, were highly inspired by Belgian-Style brewing during their bike trip to Belgium in 1988. They decided to bring this art to their hometown, Fort Collins, CO. To translate their dream into reality, they founded New Belgium Brewery in 1991.
Their first beer, Fat Tire, became an instant hit. Since then, it has remained the flagship beer of the company. Our beloved Voodoo Ranger beer's journey started with the launch of Ranger IPA by the New Belgium company. Over time, this beer got many additions.
Finally, in 2017, Ranger IPA was re-introduced into the market with a new name and mascot — Voodoo Ranger. Voodoo Ranger IPA and Voodoo Ranger Imperial IPA were the first introductions in this family. Voodoo Ranger Juicy Haze IPA was released after a few years. Since then, there has been no stopping this mega brewery from producing numerous great brews.
– Current Scenario
Today, the Voodoo Ranger family consists of more than 20 uniquely crafted beers. It is widely available throughout the US. Be it a gas station, supermarket, or convenience store, you can easily get your hands on this Hazy IPA.
Meanwhile, you can also check for the availability of Voodoo Ranger near you by searching for it in online stores. You can also order this beer online from Drizly, Uptown Spirits, and Sipwhiskey.com.
There are countless reasons to love this Juicy IPA, such as:
Big, bold, hop-forward beer served with sarcasm
It bursts with tropical fruit aroma and flavors
Dry-hopping imparts perfect haziness, making it look beautiful in a glass
A well-balanced, great beer with a smooth finish
It is appropriately priced and widely available
However, many find it a little higher on the sour or bitter side.
Voodoo Ranger Juicy IPA: FAQs
– What Is the Alcohol Content of Voodoo Ranger?
Voodoo Ranger IPA has 5 percent alcohol by volume, while Voodoo Ranger Juicy Haze IPA has 7.5 percent alcohol by volume and Voodoo Ranger Juice Force Hazy Imperial IPA has 9.5 percent alcohol by volume.
Voodoo Ranger beers are stronger in terms of alcohol content. Voodoo Ranger is not a single beer. Instead, it is a range of beers from the New Belgium Brewing Company. The alcohol by volume percentage ranges from 5.3 (Voodoo Ranger Hazy IPA) to 9.5 (Voodoo Ranger Juice Force Hazy Imperial IPA).
– Is Voodoo Ranger Popular?
Yes, Voodoo Ranger is a popular brew because it is a modern take on traditional IPAs. It bursts with flavors of tropical fruits and select malt. New Belgium Voodoo Ranger is brewed with trendsetting hops and served with sarcasm. Overall, it is a highly refreshing and smooth beer with a complex hops profile.
Furthermore, this Juicy Haze IPA adds more spice to monotonous, bitter IPAs widely available in the market. The dedicated use of four different varieties of hops pumps this beer with tropical fruit flavors and aroma. What makes Voodoo Ranger popular is the modern take on traditional IPAs with a sarcastic touch.
Endnote
Voodoo Ranger Juicy IPA manages to tick every essential aspect of a modern IPA checklist. With a well-balanced hops and malt flavor profile, this New Belgium IPA is truly a unique offering for beer lovers, so with a happy note, let us sum it all up:
Voodoo Ranger Juicy Haze IPA by New Belgium Company is brewed with five trendsetting hops and four select malt varieties.
It pours hazy, opaque in a glass with a thick white, foamy head that shows great retention.
It showcases the aroma and flavor of tropical fruits, including citrus (grapefruit), melon, mango, and pine, with a subtle malt character.
The taste of the beer paired with a unique spokescreature on its label makes it popular.
It is widely available throughout the US at a reasonable price.
Compared to other hazy IPAs, it is more juicy, smooth, and refreshing. If you want to get your hands on a big, bold, Hazy IPA with a vibrant hop profile, then look no further — Voodoo Ranger Juicy IPA is the right pick for you.