Iguana Bait Beer Review: A Guide to This Honey Flavored Kolsch Beer
The Iguana Bait beer is a surprising Kolsch bursting with sweet and crisp flavors. It was brewed by Florida Keys Brewing Co and stood out with its strong aroma and taste of sweet honey and hibiscus.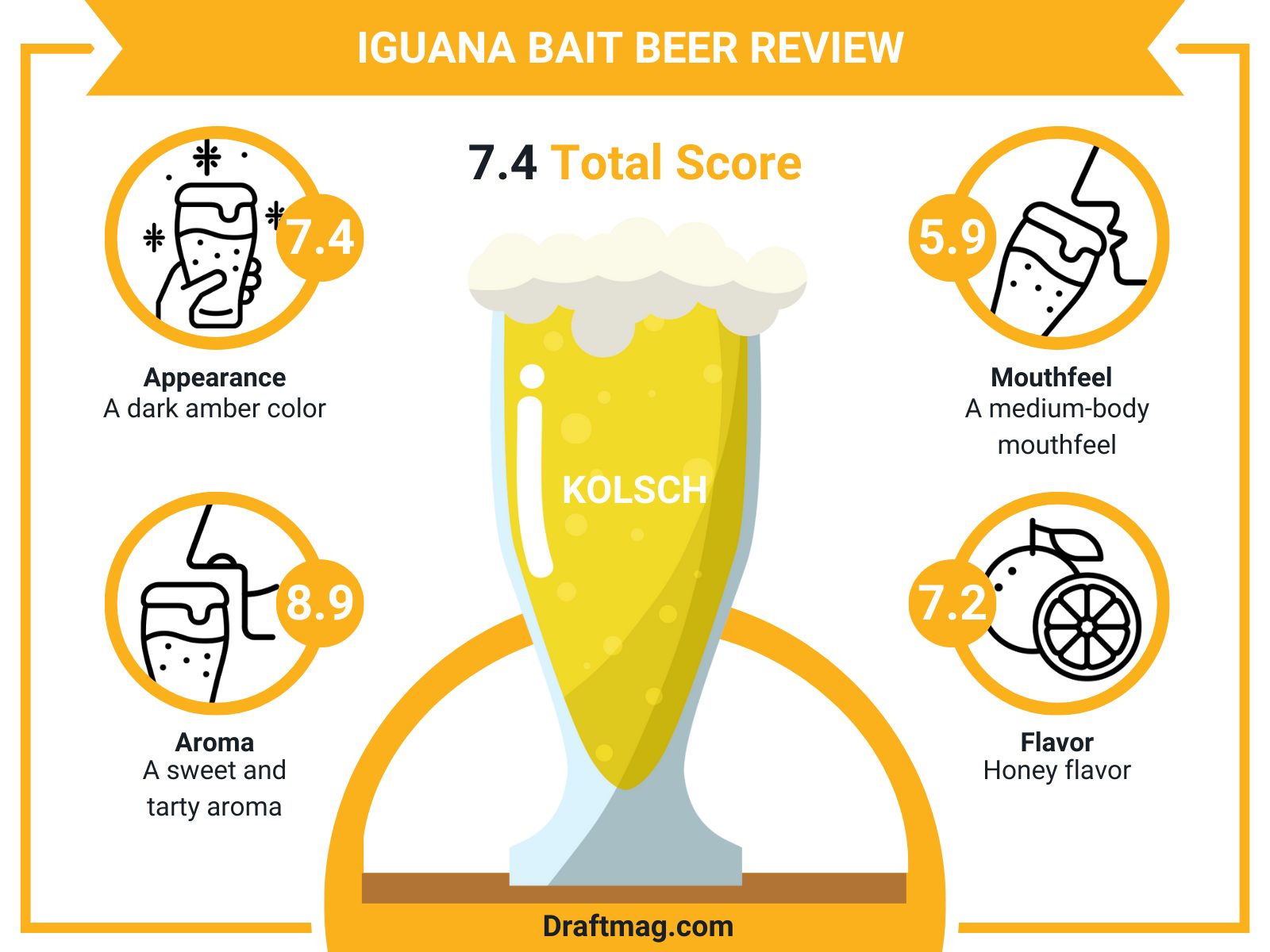 Made with local flavors, the beer has a 5.2 percent ABV and will make a great summer beer. Our Iguana Bait review covers all you need to know about drinking this Kolsch.
Iguana Bait Beer Stats
| | |
| --- | --- |
| Country | United States |
| Brand | Florida Keys Brewing Co |
| Style | Kolsch |
| Taste | Honey, tart |
| Body | Medium-light Body |
| ABV | 5.2 percent |
| Flavors & Aromas | Honey, hibiscus, floral, white bread |
| Serving Temperature | 40-45 degrees Fahrenheit |
Tasting Notes
Iguana Bait Beer Tasting Profile
Iguana Bait Beer Review
Iguana Bait is a honey hibiscus Kolsch made by Florida Keys Brewing Company. The beer is made with local honey from Florida and hibiscus to give you a light, refreshing, drinkable summer beer. It balances honey sweetness with a slight tartness from the hibiscus to provide you with a well-balanced beer.
You can enjoy the Iguana Bait beer when served in a strange glass — a tall, narrow glass often used to drink Kolsch beers. The perfect serving temperature is between 40 and 45 degrees Fahrenheit, and it can be garnished with orange zest and cherries.
The beer is the perfect choice during summer, as it has a refreshing taste that cools you down on a hot day. The Iguana Bait is always fitting whether you're having beers with your friends or sipping a can alone.
– Appearance
Iguana Bait pours a dark amber color that looks like honey, with rose tinges on top of it. The beer has a small fluff white head that leaves behind spotty lacing on your glass. The beer is slightly hazy as expected from a Kolsch beer, but the rose-tinged hue is obtained from the hibiscus. The white head evaporates quickly too.
– Aroma
The Iguana Bait beer has a sweet and tarty aroma from honey and hibiscus. The honey scent is more forward, and you can also smell some white bread aromas in the background, true to its beer character. The aroma also has hints of caramel, toasted malts, nuts, vanilla, and slight notes of barley, fruit, and floral hops.
– Mouthfeel
The beer has a smooth and mild, medium-body mouthfeel. It is pretty thin and crisp on the drier side. Iguana Bait also leaves a slightly sticky feeling on your tongue and has good carbonation, evident in the palate.
– Flavor
The taste of the Iguana Bait follows the aroma, with the honey flavor being pushed forward. The honey later subsides to give you flavors of malts and white bread, toasted nuts, and barley, with a honeyed sweetness in the backbone.
The fruitiness and floral notes also come through in the taste, mostly from the hibiscus. The malty flavors don't overwhelm but stay in the backbone and allow room for other flavors to shine. The tartness of this beer also persists as a cranberry flavor with bread at the back of the palate.
All in all, it's a crisp, tropical Kolsch that was well-crafted to allow all the flavors to balance against each other well.
– Food Pairings
It would be best to have the Iguana Bait wheat ale with meaty and hearty pork dishes or other similar foods like chicken, beef, and turkey. The slight hoppiness of the beer makes it balance well with seafood and other light fish dishes like sole or monkfish.
You can bring out the beer flavors when you have it with salad or bread-based dishes like pizza or flatbread. As for dessert, you can go all out with honey-flavored desserts like honey cheesecake, honey truffles, or honey mousse.
Cheese lovers can pair the Iguana Bait with a French Comte, a creamy and peppery cheese that pairs well with the floral notes of the beer. Try marinated cheeses like mozzarella, feta, or burrata cheese.
Ingredients
Iguana Bait is a Kolsch beer made with barley, hops, water and yeast. This was complemented with real, local honey and hibiscus flavor to give you a delicious Kolsch. The honey and hibiscus are the highlights of the flavor, giving you a sweet and tart taste and aroma.
As for the barley, you notice it in the malty backbone and wheat bread and caramel flavors. There are also some fruity and floral hops obtained from the hop schedule, although the hops in this beer are relegated to the background. If you are allergic to barley or honey, it's best to avoid this beer.
Nutrition Facts
The Iguana Bait Kolsch features 5.2 percent alcohol content and 20.4 IBU due to the low bitterness, as the beer is mostly sweet. The exact calories and carbs in the beer are unknown.
Iguana Bait is not ideal for those on a keto diet as Kolsch beers usually have high carbs and calories. It is also not suitable for gluten intolerant people, as the beer contains barley wheat.
History
Iguana Bait was released by Florida Keys Brewing Co and is one of the mainstays on the tap list. Whenever you're in the brewery, there's a good chance you'll see Iguana Bait on the tap list.
The beer was named Iguana Bait because the local iguanas in Florida love eating hibiscus flowers. Kolsch is a traditional German-style beer that follows the infamous purity law. The brewers said they destroyed the law by adding honey and hibiscus to their beer.
Conclusion
Iguana Bait is a sweet and tart Kolsch beer that appeals to anyone looking for a refreshing summer beer. Here is a summary of our Iguana Bait review.
Iguana Bait is a Kolsch style beer made by the Florida Keys Beer Company, with a 5.2 percent ABV.
The beer has flavors and aromas of honey, hibiscus, white bread, caramel, and fruity and floral hops.
It was brewed with local honey, hibiscus, barley, water, hops, and yeast.
The beer is best served in a stange glass, with temperatures between 40 and 45 degrees Fahrenheit.
You can enjoy Iguana Bait best when it's served with meaty dishes, bread-based food like pizza, honey-flavored desserts, and marinated cheeses.
If you want to try the Iguana Bait, you can visit the brewery in Florida for an on-tap experience or check physical and online liquor stores near you.