Goose Island Lost Palate Review: A Hazy IPA With Juicy Mango 
The Goose Island Lost Palate is a popular, amazing beer with a soul-felt story behind it. The beer will give you an excellent balance of sweetness and spice provided by cinnamon and mango, the two main ingredients.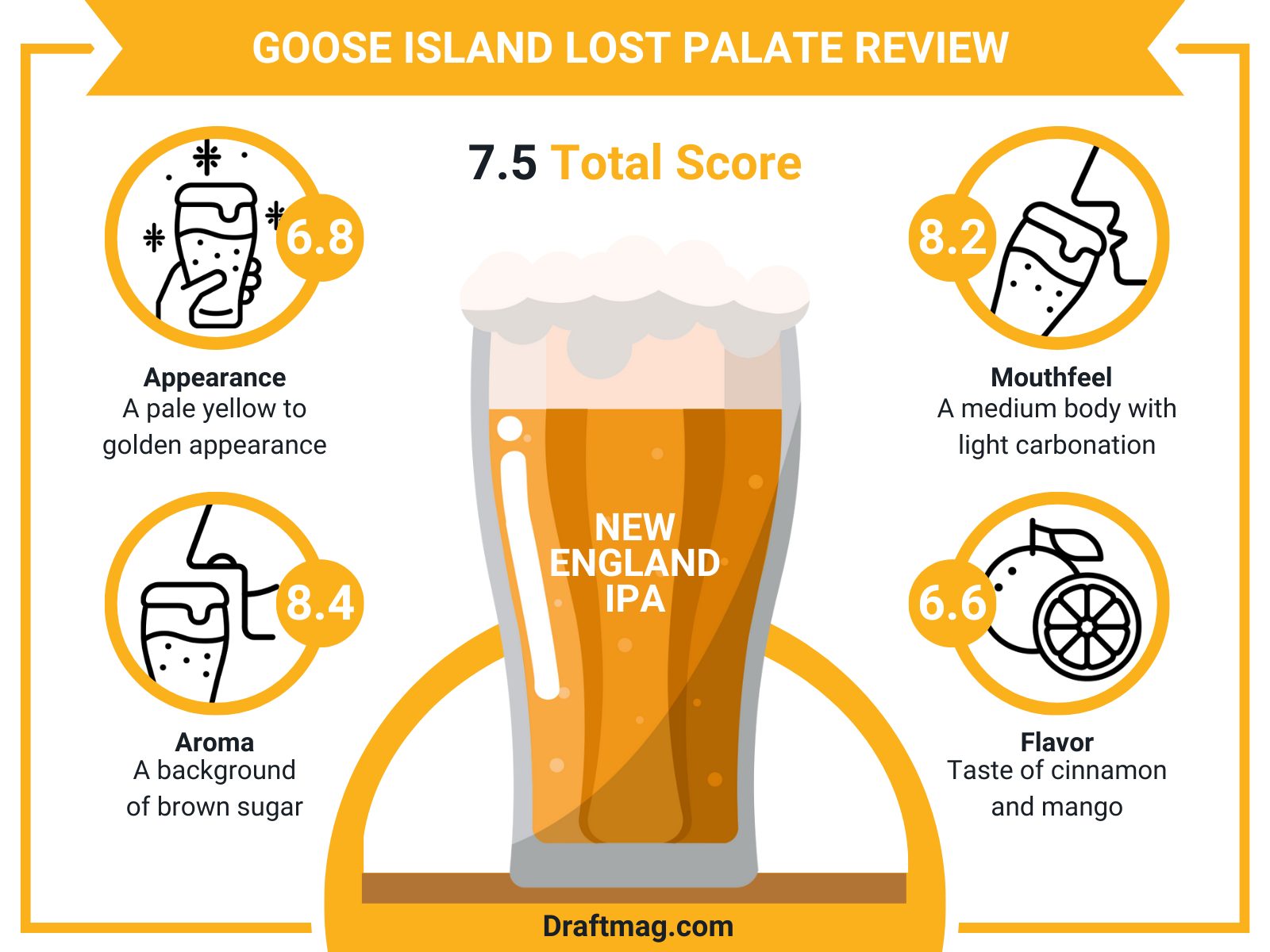 You can combine your love for beer with the fulfillment from giving, as proceeds of this beer go to research for cancer. This Lost Palate review covers all you need to know about this New England IPA.
Goose Island Lost Palate Stats
| | |
| --- | --- |
| Country | United States |
| Brand | Goose Island Beer Company |
| Style | New England IPA |
| Taste | Cinnamon, mango |
| Body | Medium body |
| ABV | 6.3 percent |
| Flavors & Aromas | Cinnamon, mango, citrus, grains |
| Serving Temperature | 45-50 degrees Fahrenheit |
Tasting Notes
Goose Island Lost Palate Tasting Profile
Goose Island Lost Palate Review
Lost Palate is a New England IPA brewed by Goose Island Beer Company with a 6.3 percent alcohol content. It features a unique flavor that will change everything you know about IPAs, with the two main flavors being cinnamon and mango.
This offers a good balance of spice and sweetness. The beer's flavor is ideal for all summers whenever you want it and presents itself with a gorgeous haze and an attractive color. Even if the Lost Palate is an IPA, it does not have an overpowering hop flavor like what you might be used to.
You can enjoy Lost Palate best when served in a snifter, chalice, or goblet glass. The ideal serving temperature is between 45 and 50 degrees Fahrenheit and will taste great with citrus garnishing.
– Appearance
The Lost Palate hazy IPA has a pale yellow to golden appearance, with a white, foamy head a little over an inch. The appearance stays true to the New England IPA style, with moderate lacing against the glass. You will also view suspended yeast particles in the beer's appearance that contribute to its hazy look.
– Aroma
On the nose, the Lost Palate IPA has strong aromas of mango and cinnamon up front. The beer smells of sweet and sour fruits, with a background of brown sugar obtained from the malts. You will also notice hints of sweet, creamy grains and a distinctive scent only obtained from ales. If you're sensitive, you might also get wafts of tangerine in the aroma.
– Mouthfeel
The Lost Palate IPA features a medium body that fills up your mouth and light carbonation that presents itself as a fizzy feeling at the back of your tongue. The mouthfeel is smooth and soft, with little malty slick leftovers left in your mouth. It has a semi-dry finish that reminds you of soda.
– Flavor
The flavor of the Lost Palate IPA follows the aroma, with the main taste being cinnamon and mango. The cinnamon is distinct and natural in flavor and does not overshadow other characters.
Though these flavors are subdued, there are also hints of fruitiness and citrus peel. You might expect a strong flavor after the nose, but the beer tastes gentle and drinkable, with a good balance of fruitiness and spice.
From the hops, the flavor offers a bit of tangerine, grapefruit, and clementine, with a little bit of bitterness as you swallow. It's a tad sweet and spicy and climaxes towards the swallow.
– Food Pairings
There are different kinds of foods that you can have with the Lost Palate IPA. Remember that this beer style is difficult to pair with food because of the strong cinnamon and mango flavor. The ideal food pairing with this NEIPA is roast chicken, which goes well with the beer's fruitiness.
You can also consider spicy foods and cuisines or a Hawaiian Pork Tenderloin. Other food pairings include Mexican food, Indian curries, fried food, burgers and streaks, and food with salty, spicy, and umami flavors.
As for dessert, try this beer with a Matcha Crème Brulee, while the ideal cheese pairing is blue goat cheese.
Ingredients
The Lost Palate IPA is brewed with malts, hops, water, and yeast. The malts list consists of pilsner, flaked oats, white wheat, honey malt, and carapils, which provides flavors of grainy sweetness in the beer. The hops used to brew the beer include Idaho 7, Simcoe, Mosaic, and Amarillo, contributing to the fruity taste.
Aside from this, it also features cinnamon and mango in its ingredients, leaving you with a well-balanced beer that is a mix between sweet and spicy.
Nutrition Facts
The Lost Palate IPA features a 6.3 percent alcohol content in a 12-ounce can and 14 IBU since its flavor is mostly sweet. The beer features approximately 300 calories from the source and 204 calories from fat, which you will need to consider when calculating your dietary intake.
The beer has 17 grams of carbs, so it is not recommended to those on a keto diet. It is also not gluten-free since it is made with wheat in the malt list. If you are allergic to wheat or cinnamon, it's advisable to avoid this beer.
History
The Lost Palate is a NEIPA brewed by Goose Island Beer Co. The beer is based on Jonny Coffman, the brand ambassador facing a cancer diagnosis. The cancer battle caused him to lose his sense of taste, and although the doctors said he would regain them, they didn't know when.
But one day, he had breakfast with mangoes and cinnamon toast and he could taste it. This is what birthed the Lost Palate (hence the name) and its two main ingredients. Although the brewers were skeptical about making the unique flavors drinkable, it quickly became one of Goose Island's most popular hazy IPAs.
Jonny is a cancer survivor and proceeds from the Lost Palate beer go to the Robert H. Lurie Cancer Center.
Conclusion
Lost Palate is a delicious NEIPA bursting with mango flavors and cinnamon. Here are a few points we cover in this review:
Lost Palate is a NEIPA brewed by Goose Island with a 6.3 percent ABV.
The beer offers a good balance of mango and cinnamon, with tropical fruit and sweet grains.
It is brewed with malts, hops, yeast, and water, specifically Idaho 7, Mosaic, Simcoe, and Amarillo.
The beer is best served in a chalice or goblet when cold.
It pairs best with roast chicken, foods with spicy and salty flavors, and grilled foods.
If you want to try out the IPA, go straight to the source in Illinois, or you can check the beer out at liquor stores, bars, and restaurants.