Mangolorian Review: A Delicate Mango-Flavored Fruit Ale 
Mangolorian is a vibrant, mango-flavored ale made by Alley Kat Brewing Company, and it promises to keep you refreshed with every sip. The beer's character is bursting with flavors of fruits, and as evident from the name, mango is at the forefront.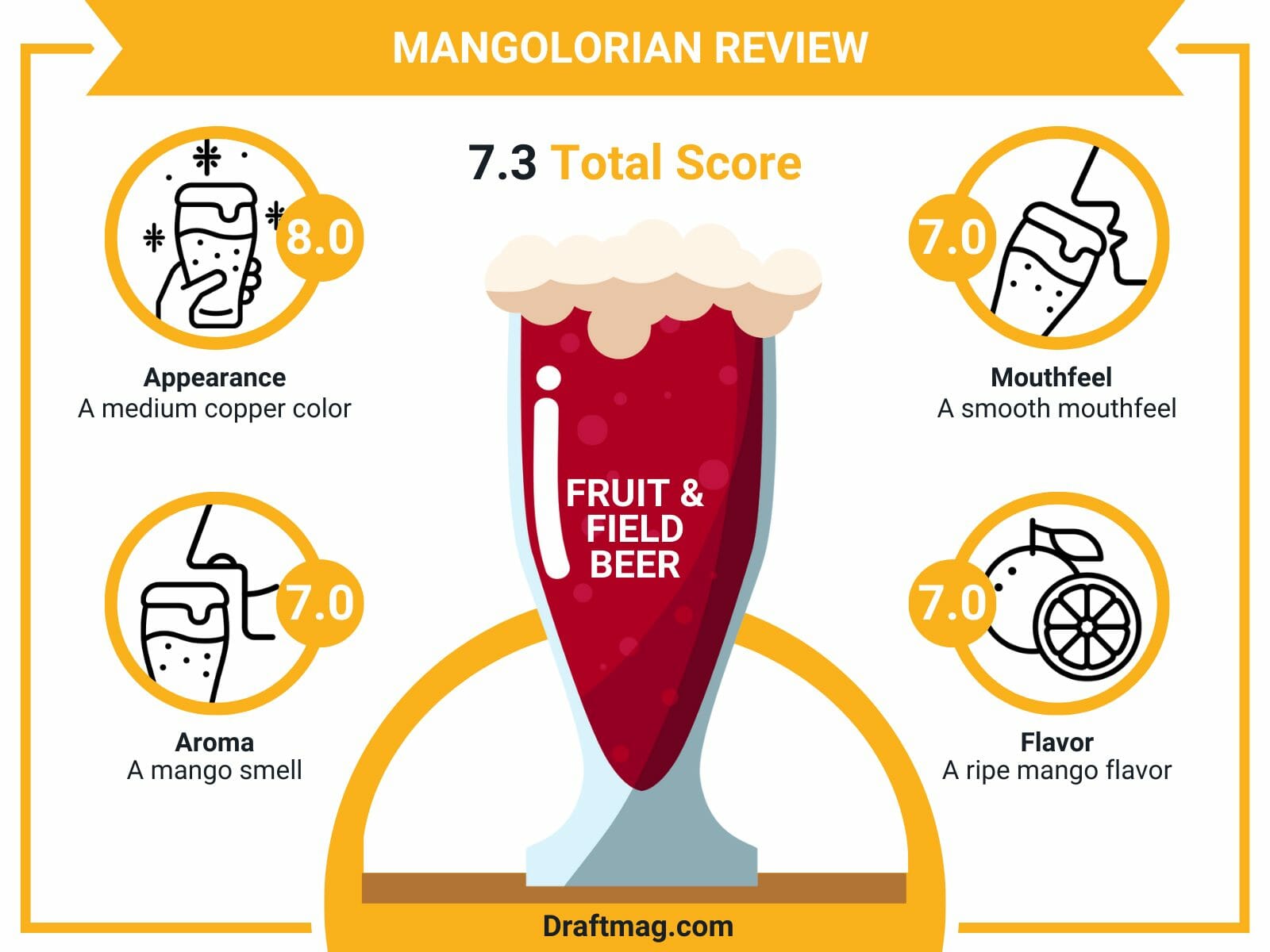 The light-bodied beer goes down easy with the fizzy carbonation and will pair well with a wide range of foods, making it perfect for summer picnics or beach trips. In our complete review, we cover all you need to know about drinking this mango-flavored ale, from the food pairing to the tasting notes. 
Mangolorian Stats
| | |
| --- | --- |
| Country  | Alberta, Canada  |
| Brand | Alley Kat Brewing Company  |
| Style | Fruit and Field Beer |
| Taste  | Mango, hops |
| Body | Light Body |
| ABV | 5 percent |
| Flavors & Aromas | Mango, bread, toasted malts, hops |
| Serving Temperature | 45 – 50 degrees Fahrenheit |
Tasting Notes
Mangolorian Tasting Profile
Mangolorian Review 
Appearance: 8/10

Aroma: 7/10

Mouthfeel: 7/10

Flavor: 7/10
Mangolorian is a fruit and field beer made by Alley Kat Brewing Co. The juicy ale features an alcohol content of 5 percent and will remind you of a sweet breakfast filled with mango slices and jammy bread. The beer is all about mango, with barely any malts, and while the aroma does not remind you of a beer, the flavor will.
The beer has aromas and flavors of mango, hops, toasted malts, and bread, with a light body and refreshing finish. It pairs nicely with different kinds of food, especially those with a spicy taste or any fruity dessert. The bright and tropical beer is ideal for a hot summer day.
Serve the beer into a tall flute, as the narrow shape of the glass will maintain the carbonation and aromatics of the beer. You should serve it at temperatures from 45 to 50 degrees Fahrenheit and garnish it with a thin orange slice. 
– Appearance 
The Mangolorian Mango ale pours into a tall flute glass with a medium copper to deep gold color and has an attractive appearance. The beer looks bright, crisp, and crystal clear, so much so that you can look through it. The appealing appearance of this fruity beer is a perfect precursor to its wonderful flavor.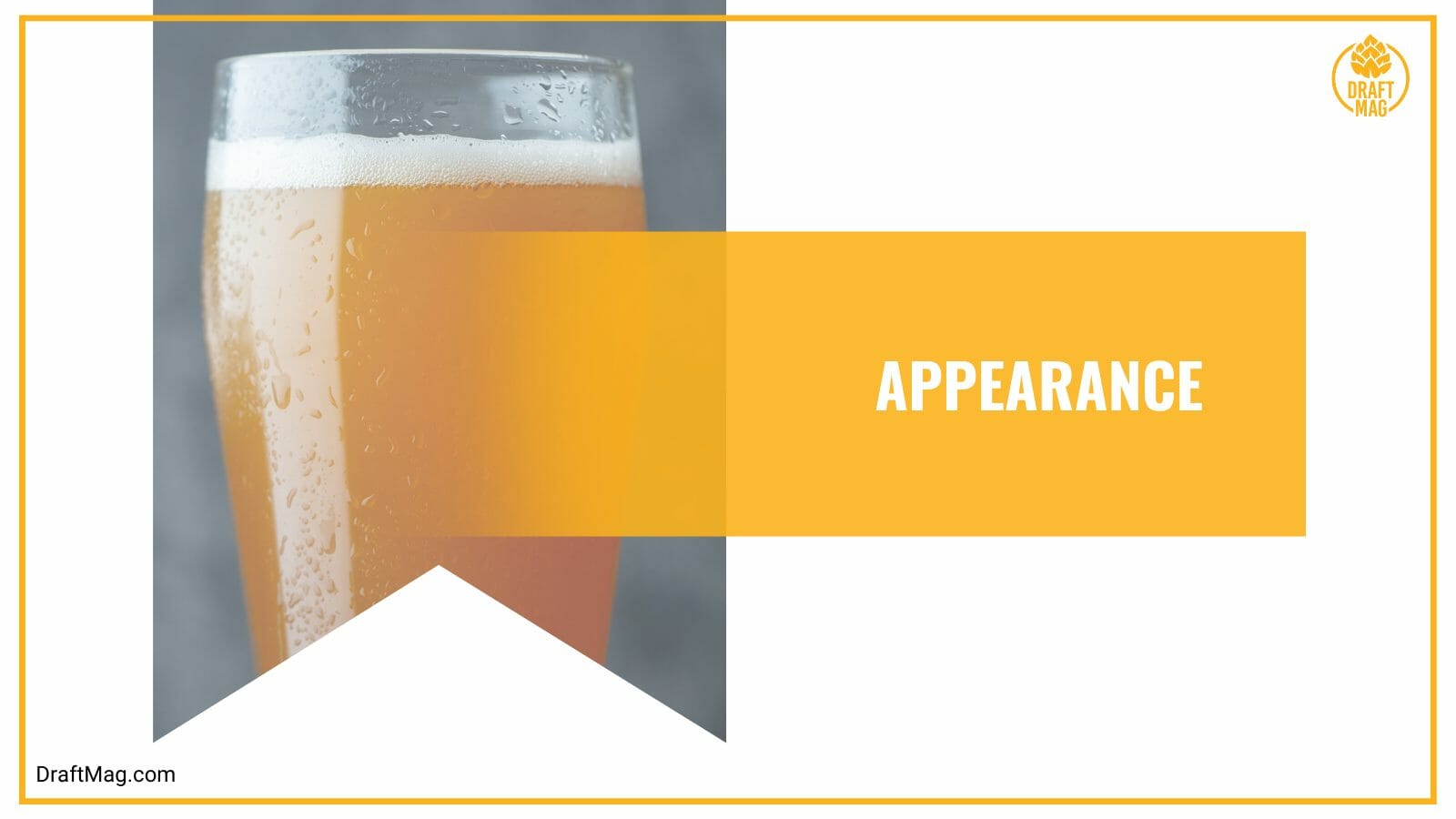 On top of the beer is a cloud, off-white head that retains for a long time. The foamy head will go down slowly as you drink and help you retain the aroma. Due to the clear appearance, you can also see the bubbles in the appearance floating to the top.
– Aroma 
On the nose, all you can smell from this beer is the mango from start to finish. The aroma might be a bit off-putting since it smells more like a mango-flavored seltzer than an actual beer. The first thing you smell is ripe mango.
You might also notice hints of jam and bread that lend support to the backbone of the aroma, and the hops offer a damp, earthy scent on the nose. Overall, this beer smells like how it tastes, fruity and fresh.
– Mouthfeel 
As you drink and swallow the fruity ale, you get a smooth and well-rounded mouthfeel that goes down easy as you swallow. The beer feels light and soft, as it has a very light body and a lot of carbonation. The fizzy carbonation is poppy against your tongue, which makes it refreshing to drink on a hot summer day.
Towards the end, the beer finishes very sweet and offers a lot of mangoes. The beer also feels a bit sticky and jammy on your tongue and offers a short, smooth finish. You may feel like you're drinking a fresh and sticky cup of mango juice, albeit a bit more hoppy and alcoholic.
– Flavor 
The flavor of the pale ale follows the aroma very closely, so you can expect a lot of mangoes as you drink. But unlike the aroma, it actually tastes like a beer rather than a seltzer, as it maintains the flavor of toasted malts and hops in the backbone of the fruity mango taste. It will remind you of faint mango marmalade on toast. 
The flavor of the Mangolorian beer is more of ripe mango, but there's also a lot of jam in the taste that reinforces the flavors of the mango. You might notice a bit of bread in the taste, and this balances out with that of tropical fruits. The hops offer a grassy, weedy and earthy taste too. 
– Food Pairings
When having the Mangolorian, there are different kinds of food that you can pair it with. If the mango in the beer is not already overwhelming, you can pair the beer with mango rice, corn and raw mango salad, eggless mango mousse, and more.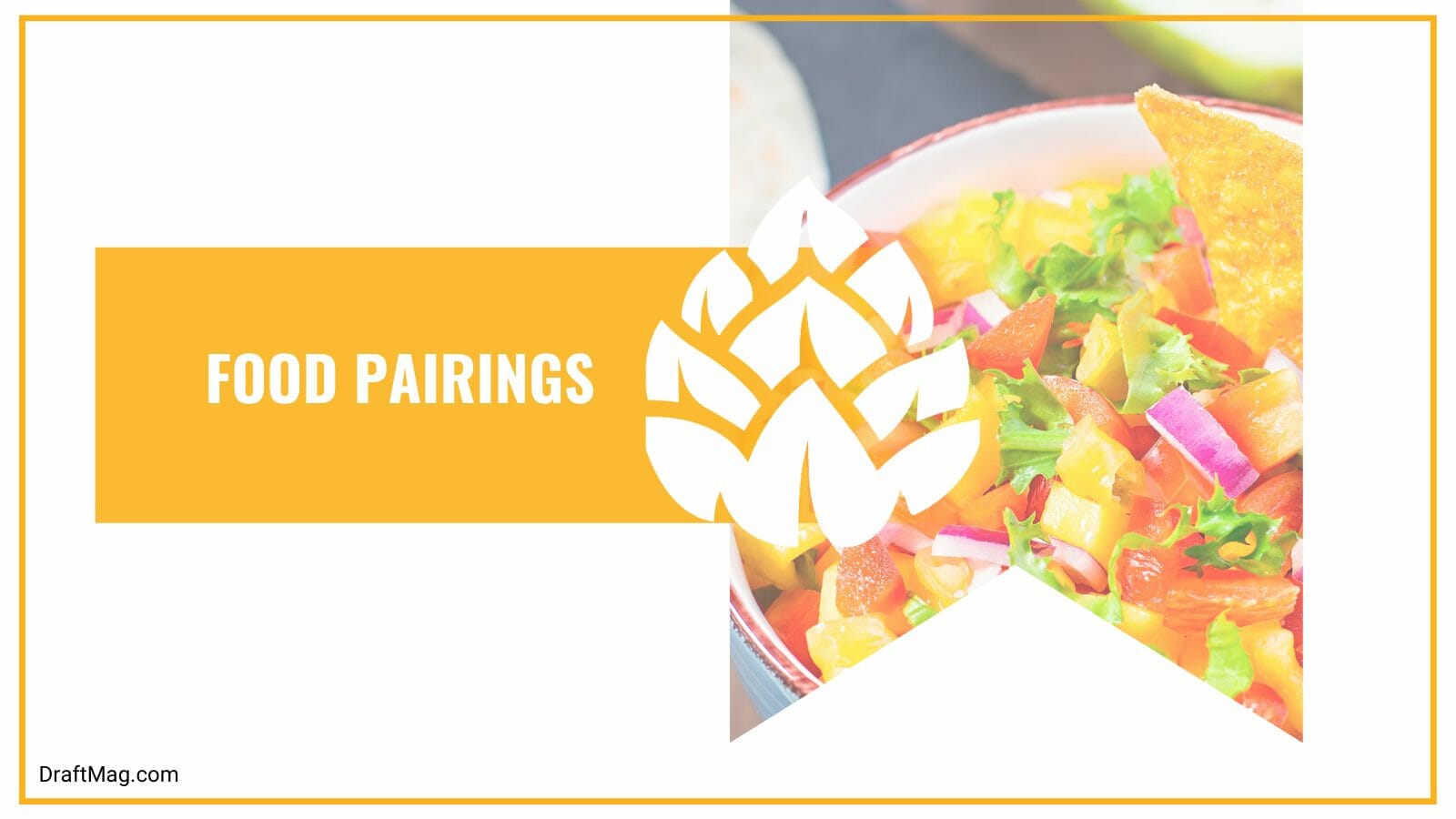 The crisp and fruity taste of the beer will pair well with light white meat, duck, and pork dishes that have sweet components, any dish that has a lot of herbs and spices, or pickled dishes. You can also enjoy it with crisp, green salads that have fruity dressings. 
If you enjoy having your beer with cheese, you can have this one with mascarpone cheese or consider a nutty and creamy cheese. It also goes great with fruity desserts, so you can try out a mango-flavored cheesecake, mango ice cream, or a mango and raspberry swirl slushie. It also goes great with simple desserts like strawberries and cream.
Ingredients 
The main ingredients of the beer are malts, hops, yeast, and water, all balanced to give you a taste of mango, grassy hops, and light bitterness. The malts used to make the beer include wheat, 2-row malts, Carastan, and Munich malts. As for the hops, they are Cascade, Simcoe, and Citra hops.
The hops offer a taste of tropical fruits from start to finish, but you also get a bit of earthiness and grassiness as you drink. It also gives the beer its overwhelming mango character. As for the malts, it offers you toasted malts and bread. 
Nutrition Facts 
The beer features an alcohol content of 5 percent, which is a decent level for a fruit beer. The alcohol is barely evident as the mango continues to overshadow the taste, and you won't get any alcohol warming as you swallow. As for the IBU, the beer features 15, as there is barely any bitterness in the taste.
The beer features 147 calories in every 12 ounces. It's essential to keep this factor in mind when considering your daily dietary requirements. The beer has 30 grams of carbs, which is a high level. If you're on a keto or a strict diet, you should avoid drinking this beer. 
History 
Mangolorian is a creation of Alley Kat Brewing Company and was released as a seasonal beer in 2021. The beer is available every summer, and it is recommended to enjoy the beer at the beach. The summer brew offers a few hops and a lot of fruit and is one of the two beers in the seasonal collection. The second one is the Pumpkin Pie.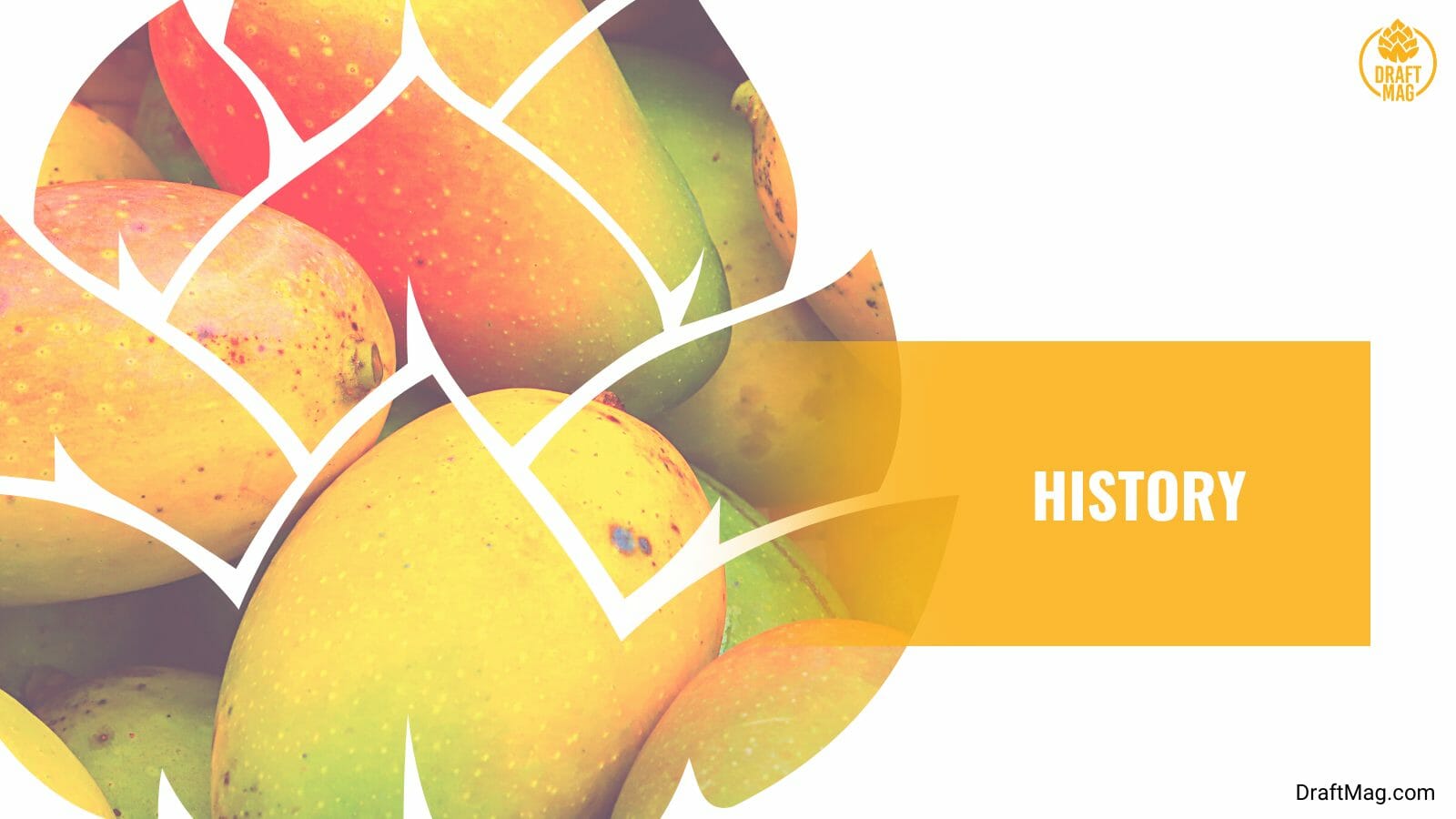 Alley Kat Brewing Company is the oldest craft brewery in Edmonton, as it has been making beer since 1995. The brewery has won different awards for its top-notch brews. Mangolorian is one of its top beers that Alley Kat fans look out for every summer, as the brew is perfect for lounging at the beach or for pool parties. 
Conclusion
The Mangolorian beer is a fruity and vibrant option for anyone who wants to give a fruit and field beer a try. Fans of mango will surely love this refreshing brew, so here's a quick rundown of what we covered in our beer review:
Mangolorian is a fruit and field beer with a 5 percent alcohol content from Alley Kat Brewing Company.
The beer has flavors and aromas of mango, jam, bread, toasted malts, grassy hops, and earthiness.
It is made with wheat, malts, Cascade, Simcoe, Citra hops, and yeast, as well as the flavors of mango and other adjuncts.
The beer is best served in a tall flute at 45 degrees Fahrenheit.
Enjoy pairing this beer with spicy foods, light white meat, herby and sweet foods, nutty and creamy cheeses, and fruity desserts.
You can look out for this beer at stores and supermarkets near you, but you'll get a better chance of buying it in the summer months once it is released. Make sure to bring a bottle or two for your beach trip!