Ommegang Neon Rainbows Review: An Assertive Tropical IPA
Ommegang Neon Rainbows is a vibrant, year-round beer that can easily be likened to a unicorn. The New England IPA is double dry-hopped with tons of hops to give you a bright, tropical fruits character from start to finish.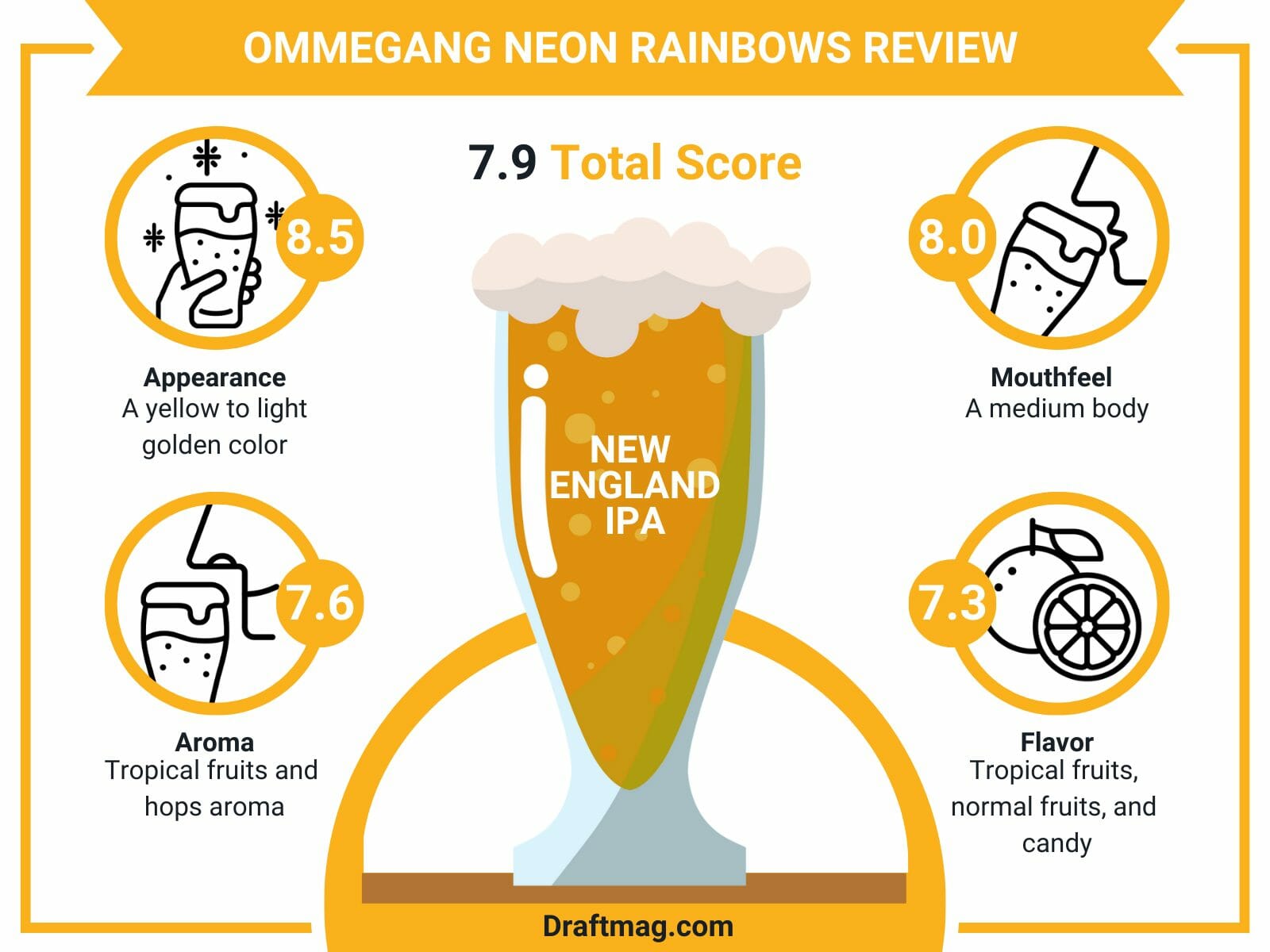 This is a creamy hazy IPA that is perfect for watching the game with friends or pairing with your favorite snacks. Take a closer look at the beer in our detailed review below.
Ommegang Neon Rainbows Stats
| | |
| --- | --- |
| Country  | United States |
| Brand | Brewery Ommegang |
| Style | New England IPA |
| Taste  | Tropical fruits, bright |
| Body | Medium Body |
| ABV | 6.7 percent |
| Flavors & Aromas | Tropical fruits, citrus, pear, pineapple, bubblegum, pine |
| Serving Temperature | 45 – 50 degrees Fahrenheit |
Tasting Notes
Ommegang Neon Rainbows Tasting Profile
Ommegang Neon Rainbows Review
This is a New England IPA with a 6.7 percent alcohol content. The beer is made by Brewery Ommegang, based in New York, USA. The hazy IPA has a bright and fresh character that will definitely grow on you, especially for the hop heads. The beer pours a semi-hazy golden color and has a medium-light body.
The beer has flavors and aromas of tropical fruits, pear, citrus, bubblegum, and pineapple. The hops are the dominant flavor in this beer, and it finishes dry. Pour the IPA into a snifter, chalice, or goblet. These glasses have bulbous bodies that show off the golden color and hold the head in place.
The ideal serving temperature for the NEIPA is from 45 to 50 degrees Fahrenheit. You can enjoy the beer with hard-aged cheese, root vegetables, citrus fruits, chicken and tomatoes, or simply garnish it with a citrus wedge.
– Appearance
The IPA pours a yellow to light golden color into your glass and has a semi-hazy appearance, but you can still see through it. On top of the beer is a three-finger, frothy white head with fantastic retention.
It also leaves a lot of spotty lacing against the glass. The carbonation is visible with the bubble streams at the sides of the glass.
– Aroma
On the nose, the beer will immediately hit you with the aroma of tropical fruits and hops.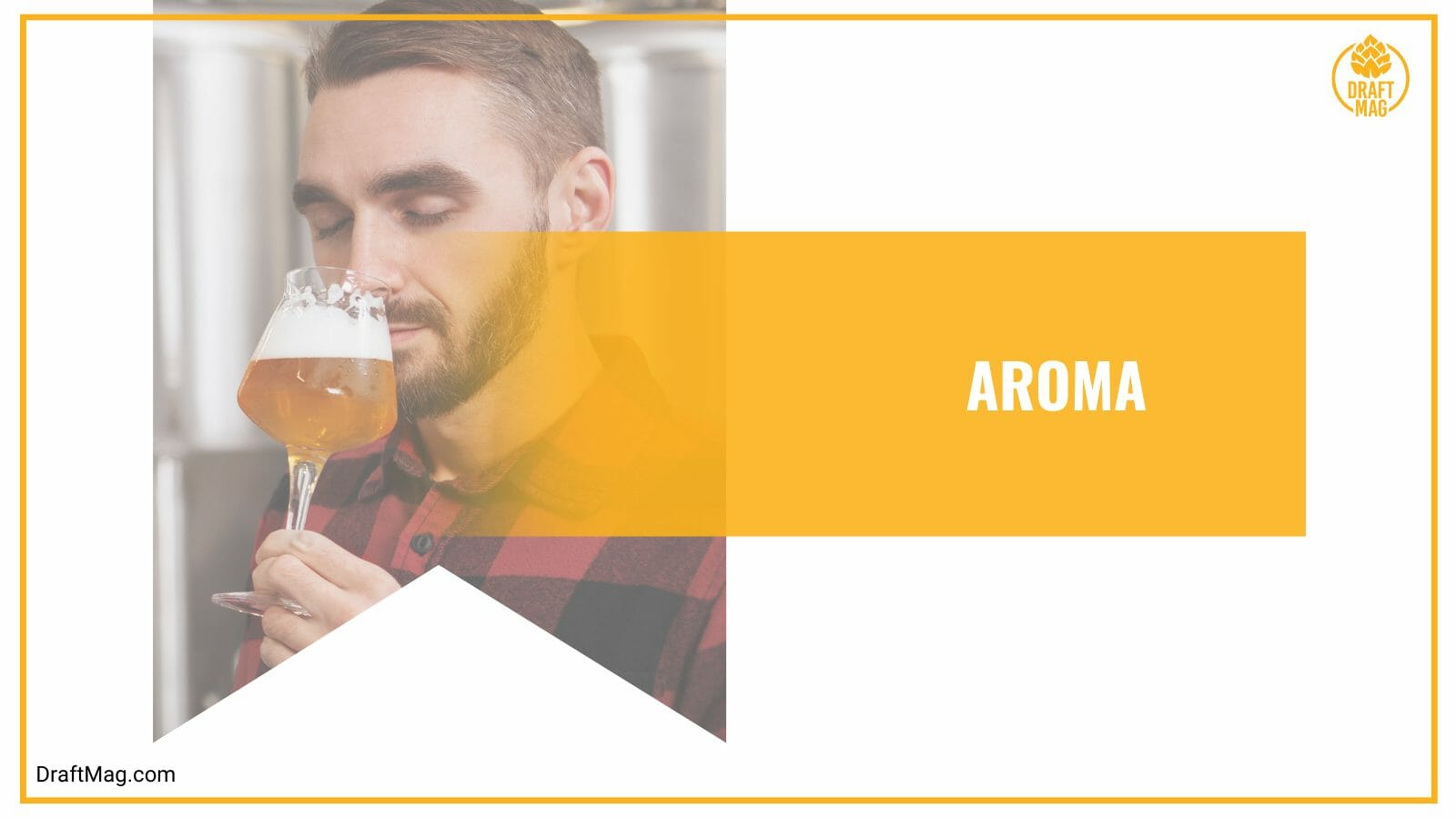 You will smell mostly citrus and pineapple at the forefront of the scent, with hints of pine, grass, and floral notes from the hops. Other fruity notes in the aroma are mango, berry, grapefruit, and papaya.
– Mouthfeel
The NEIPA has a medium body, although it still tends towards the light a little. There is average carbonation which you might have noticed from the appearance and a creamy texture that caresses your tongue. The finish lasts for a while and is quite dry. The carbonation is assertive but balances out the smoothness.
– Flavor
When you drink the IPA, you get a balance of tropical fruits, normal fruits, and candy. This doesn't mean that it's overly sweet, as the hops are ever present to offer a balance. You will taste tropical fruits with juicy pineapple and pear, and there's a little bit of bubblegum as you go into the middle of the palate.
The taste of the beer is a bit brighter than the aroma. You will also notice some pine, rose petal, floral and grassy notes from the hops, with some underlying bitterness. The tropical fruits offer mango, papaya, mixed berry, and grapefruit rind. You might also notice bubblegum and cotton candy. The Simcoe and Mosaic hops are the most prominent.
– Food Pairings
There are different kinds of food that you can enjoy with this beer despite the seemingly complex character. You can't go wrong with any roast chicken recipe which complements the fruitiness.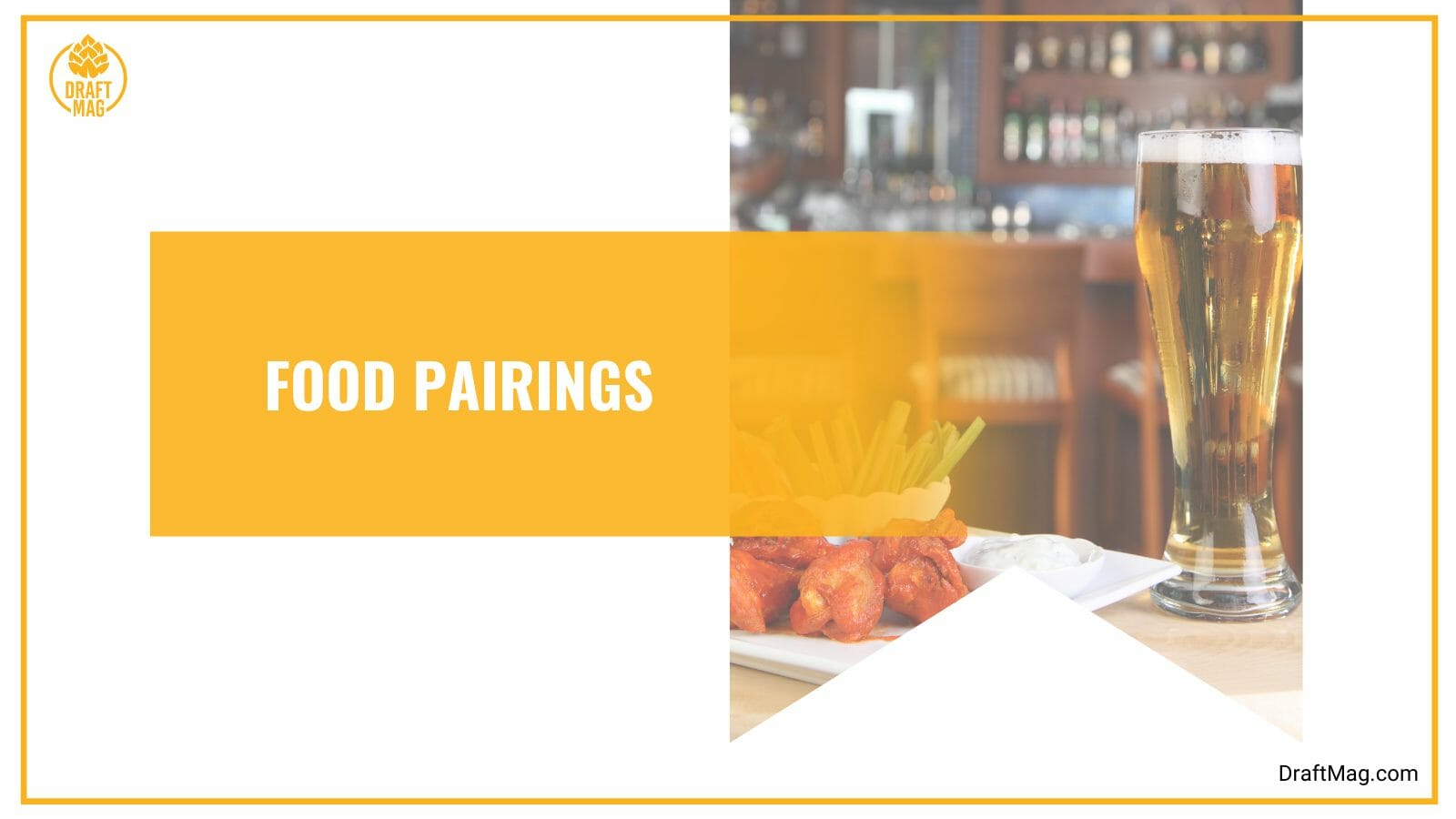 The creamy texture and medium body make it ideal for oily fish like mackerel or salmon, while the fruity nature means you can serve the fish with lemon or mango salsa. With the soft body of this hazy IPA, you should pair it with crunchy dishes that can contrast it. These include fried food, crispy chicken, potato salad, chips, dip, or corn on the cob.
You can enjoy the hazy IPA with a subtle, mid, or soft cheese like aged cheddar, soft goat cheese, fresh chevre, and mozzarella. If you want something similarly intense, go for a sharp cheddar. For dessert, have the beer with a carrot cake or banana or orange crepes.
Ingredients
The Ommegang NEIPA is made with malts, hops, yeast, and water. In the primary hopping, the Mosaic, Citra, Topaz, Simcoe, and Centennial hops are used. Then for dry hopping, the same hops aside from the Centennial hops are used. The exact malts that are used to make the beer are unknown, but the yeast is London Ale.
Nutrition Facts
The Ommegang beer features an alcohol content of 6.7 percent, which is decent for a New England IPA. You can barely taste the alcohol as it is well-masked, as the fruits and hops cover-up. There are 45 bitterness units, an average level due to the many hops.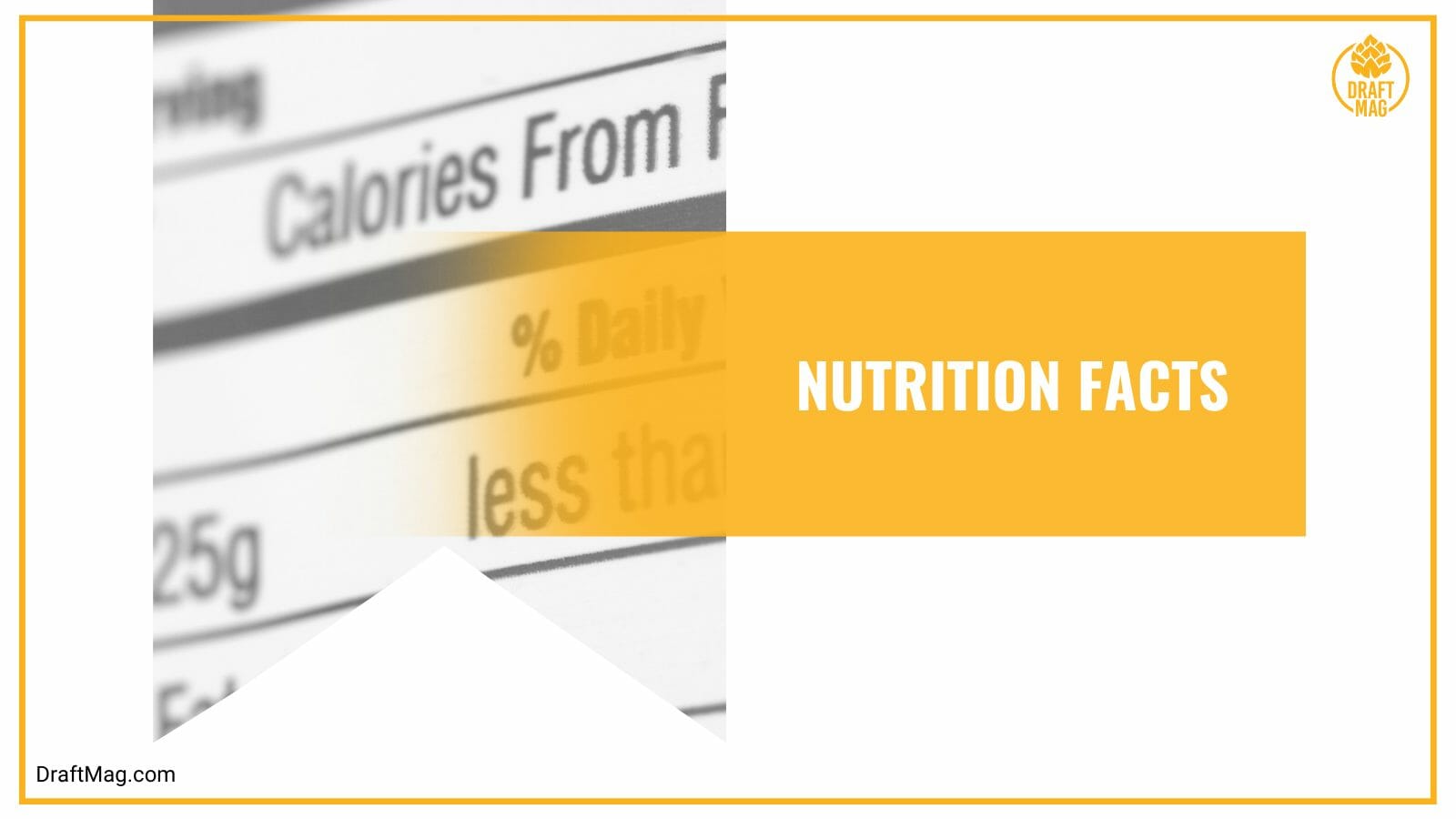 The beer has 201 calories in every 12 ounces, although this is quite high. There are also 15 grams of carbs but no fats or protein. The carbs make it unsuitable for those on a keto diet. Gluten-sensitive people cannot consume this beer.
History
The beer was made by Ommegang in 2018 and has remained one of the most well-known NEIPAs that they offer. The beer is so popular that it got a sequel the year after, with an 8 percent alcohol content and more hops.
The brewery was founded in 1997 and is known for its Belgian-style ales. It is owned by Duvel Moortgat Brewery. The first beer was the Abbey Dubbel, a traditional Trappist-style dark ale.
Conclusion
If you want a NEIPA that satisfies your need for hops, this option from Ommegang is spot-on. Here's a summary of our beer review:
This is a New England IPA with 6.7 percent alcohol content from Ommegang Brewery.
The beer has flavors and aromas of tropical fruits, bubblegum, piney hops, pineapple, and pear, and it has a bright and fresh character.
It is made with malts, London ale yeast, Mosaic, Simcoe, Citra, Topaz, and Centennial hops.
The beer is best served in a glass with a bulbous shape and garnished with a citrus wedge.
It pairs well with roast chicken, crunchy dishes, oily fish, creamy and mild cheeses, and fruity desserts.
You can purchase the beer in 16-oz cans and four-pack cans at a wide range of stores or get it on draft from the brewery.