Cape May IPA Review: A Solid Brew With Malt-Hop Balance
Cape May IPA is a golden amber IPA and a perfect representation of the style, offering you a good balance of flavor notes. With the taste following the aroma, drinkers can expect a lot of citric and floral notes throughout the beverage.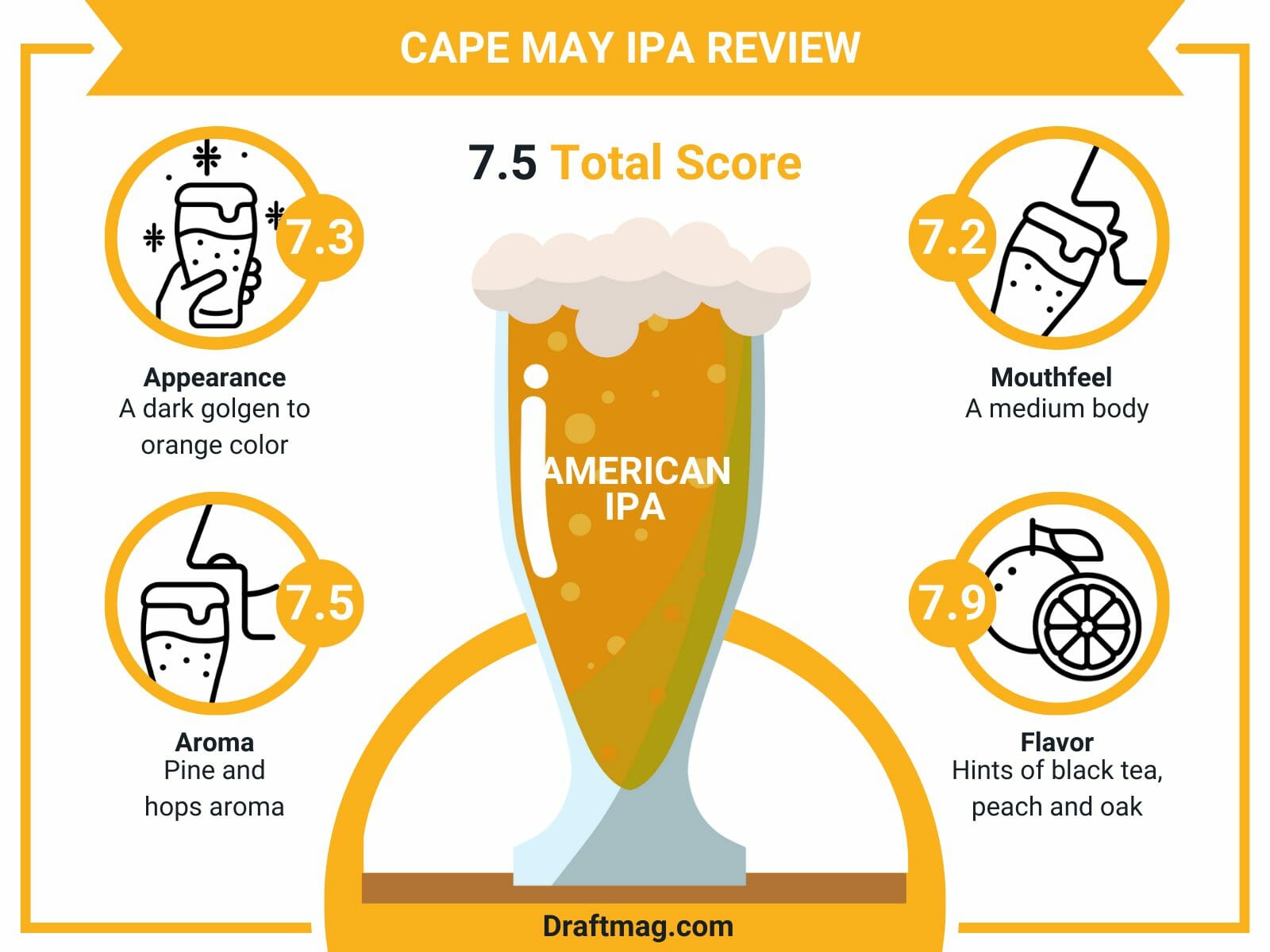 You can enjoy this solid IPA on any occasion, whether it's a hot summer day or when you're hanging out with friends. Before you take your first sip of this beer, read our detailed review to learn all you need to know about it. 
Cape May IPA Stats
Country 

United States

Brand

Cape May

Brewing Company

Style

American IPA

Taste 

Citrus, floral

Body

Medium Body

ABV

6.3 percent

Flavors & Aromas

Citrus, floral, piney, bitter, malts, hops

Serving Temperature

45 – 50 degrees Fahrenheit
Tasting Notes
Cape May IPA Tasting Profile
Cape May IPA Review 
Cape May IPA is an American IPA made by a brewing company of the same name. The beer has been praised by drinkers for being an all-rounder, ideal for a hot summer day at the beach or by the pool or watching the game with friends. The 6.3 percent alcohol content will get you tipsy quickly, and the clean profile makes it a great pairing for a wide range of foods. 
The beer has a dark color despite the style and a medium, balanced body. There are flavors and aromas of citric and floral notes, hoppy bitterness, malty sweetness, and pine, with a crisp finish. It is a balanced IPA with a drying mouthfeel, making it perfectly crushable.
When having this IPA, you should serve it in a glass rather than drinking it from a can. The ideal serving glasses are snifters, chalices, and goblets, designed with a bulbous cup and a short stem for twirling the brew around. Serve it at temperatures from 45 to 50 degrees Fahrenheit.
– Appearance 
The first thing that will surprise you when drinking this pale ale is its appearance. The beer is very dark, which is unexpected for its style. It has a dark golden to orange color and is crystal clear. On top of the beer is a thick, white head. 
The head is also quite sticky, leaving a lot of foamy lacing decorating the glass. With outstanding clarity, you can see the moderate carbonation in the form of bubbles floating to the top.
– Aroma 
On the nose, the pale ale offers a calm and soft aroma that hardly prickles your nose. It is not too overwhelming, but the scent of hops is very strong. There's a lot of pine in the aroma too.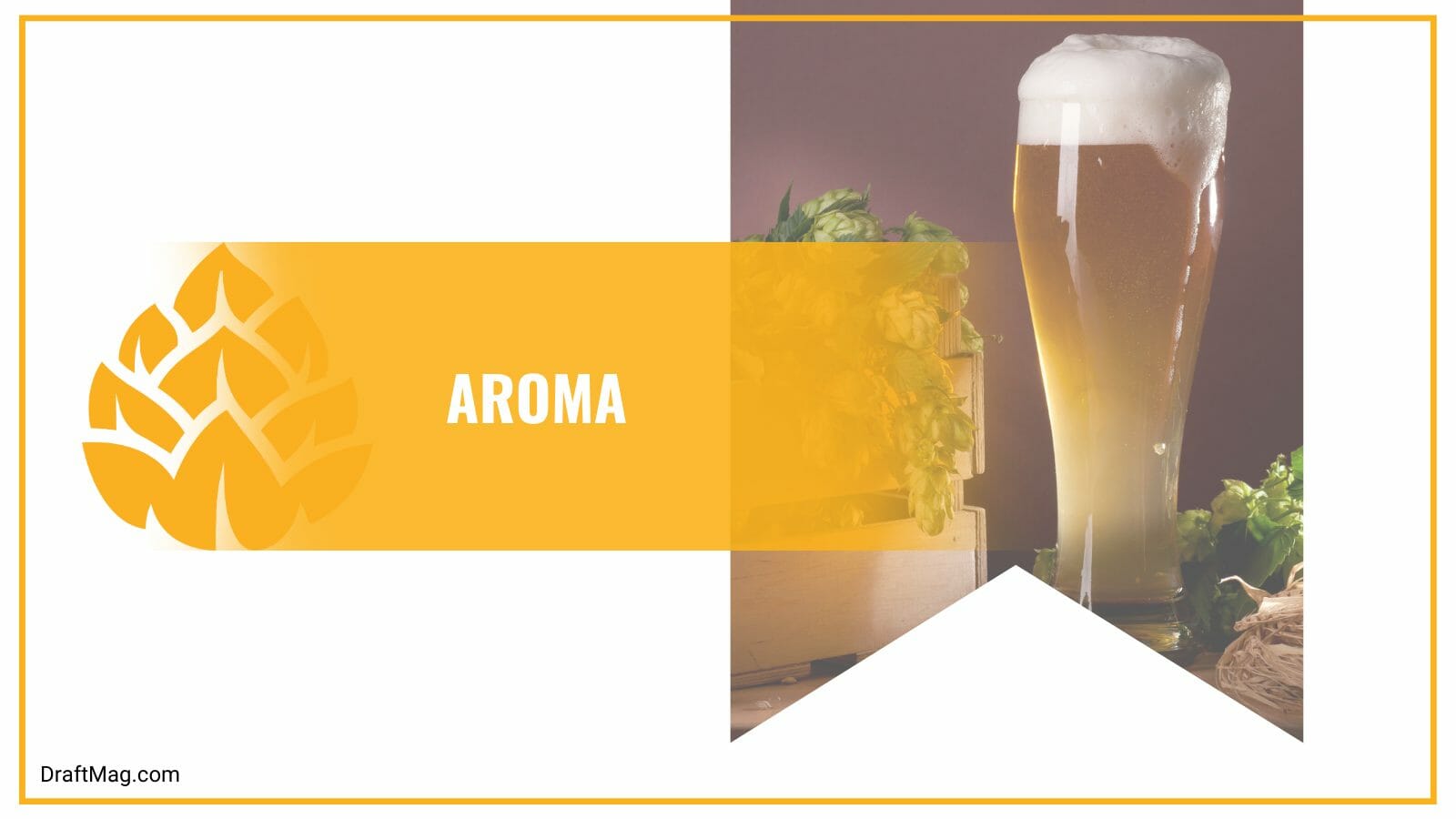 The aroma combines the hoppiness with a sweet smell of citrus. The floral and citrus remain in the aroma until the end of the drink.
– Mouthfeel 
The mouthfeel of this ale is dry with a medium body, and it feels a little bit full on your tongue. The texture of the beer is excellent, not too light or heavy, but it feels warm and sticky instead. The dryness that you feel on your tongue is gentle, and the citrus is not cloying. 
The sticky head also feels nice on your tongue, and there is mild coarseness on the palate. Take note that there's a bit of an aftertaste.
– Flavor 
The flavor of the IPA follows the aroma very closely, with a pleasant, refreshing balance. The first thing that you taste when you drink the beer is the nice hoppy bitterness, but this begins to fade until you reach the finish. In the end, you get a refreshing, malty, and hoppy balance. It is a crushable IPA that is surprisingly malt-forward and has a bit of moderate hop bitterness.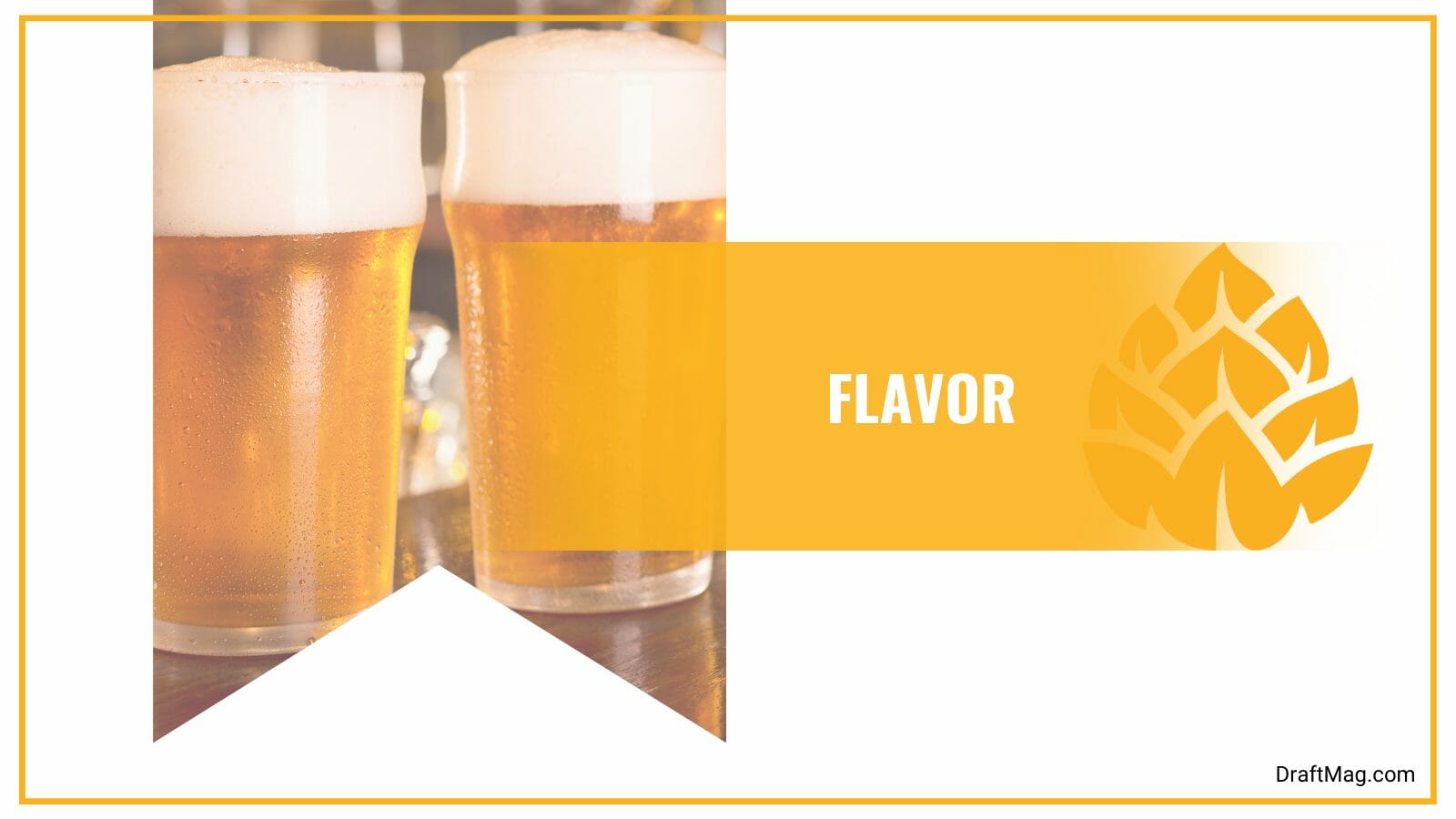 The beer is filled with citrus and floral notes from the hops, tasting really juicy in the beginning, but there are a lot of piney hops toward the end. With the smooth body, there's a zesty citrus, and the malty backbone remains the same. You might also notice hints of black tea, grapefruit, peach, grassiness, and oak. 
– Food Pairings
With the bitter and hoppy flavor of the pale ale, you can't go wrong with spicy dishes since the beer will cleanse your palate. Consider having the beer with tacos or burgers with barbecue sauce, fish and chips with tartar sauce, spicy noodles, Indian, Mexican, and Southeast Asian dishes, and spicy pasta.
You can enjoy the IPA with oily fish, as this goes well with the medium body. Try out a salmon or mackerel and serve it with a traditional lemon or mango salsa. Another good option is sticky sweet chicken wings or buffalo wings, or serve them with mango dip. The brewery recommends you serve it with fish or hamburgers.
The beer is a good pairing for cheddar, but beyond that, you can have high-fat cheeses that the hops can cut through, blue cheeses, and spicy pepper cheese. Satisfy your need for dessert with a carrot cake, panna cotta with lemon, or banana orange crepes. 
Ingredients 
The Double IPA is made with malts, hops, yeast, and water, giving you a well-balanced beer with a lot of hops. The exact malts used to make the beer are unknown, but they remain a solid and consistent base throughout the flavor, offering a bit of sweetness.
There are three hops used to make the beer, and they include Cascade, Centennial, and Chinook hops. The hops offer a balance of floral and citrus notes, with orange, grapefruit, and a juicy body. There is also a bit of hoppy bitterness. 
Nutrition Facts 
In the beer, you get an alcohol content of 6.3 percent, which is a decent level for an IPA. The beer does not taste boozy because the alcohol content is well-masked. It also features an IBU of 34, which offers decent bitterness from the hops.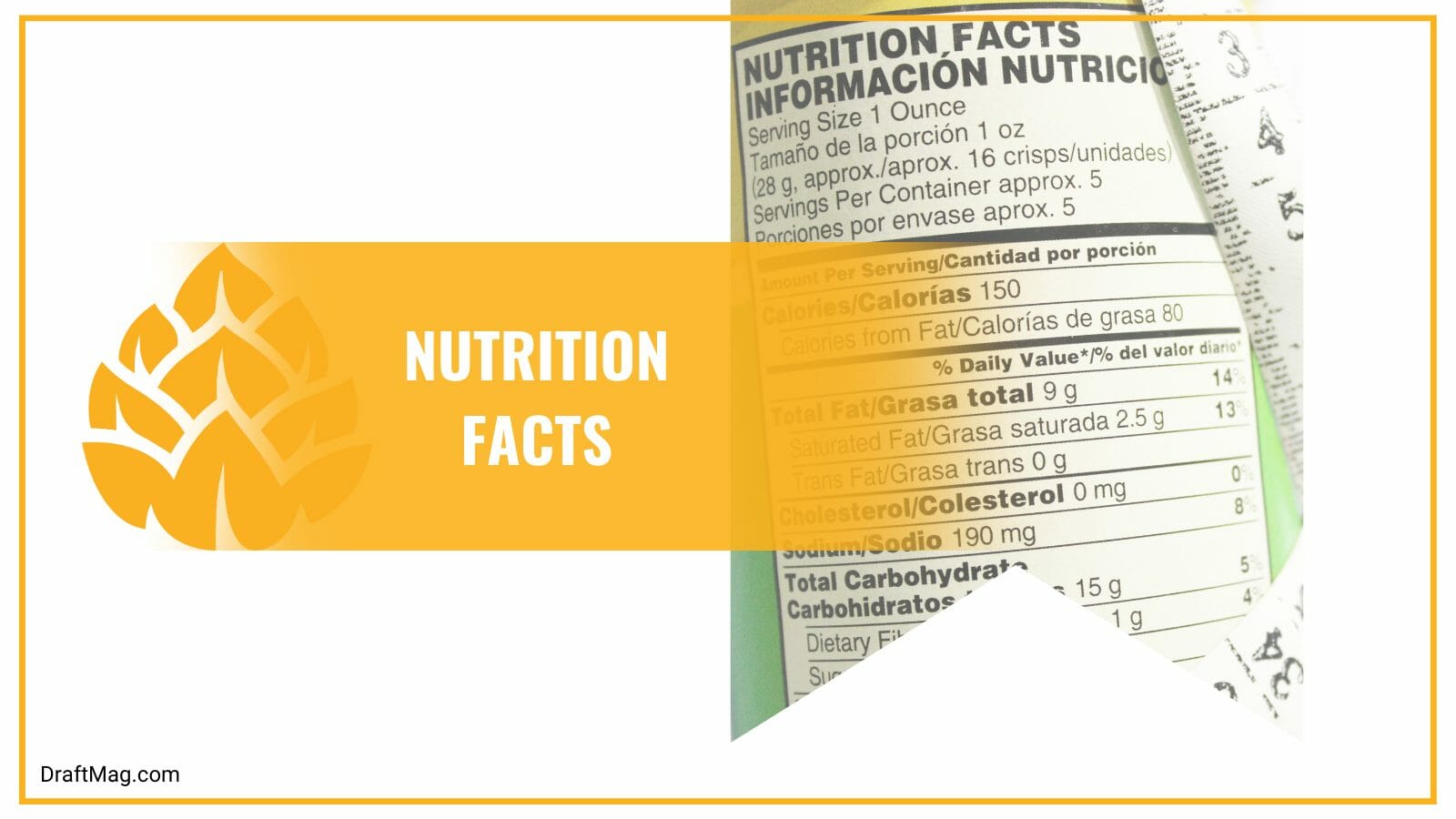 It's important to check the nutrition facts of a beer if you're on a diet. For this IPA, you get 186 calories in every 12-ounce serving. The beer also features 14 grams of carbs, and this makes it unsuitable for those on a keto diet since it is a low-carb alcoholic beverage. It is also not gluten-free. 
History 
The Cape May IPA was released by the brewery in 2011 and is named after the oldest seaside resort in America. The brewery describes it as a west coast IPA that was made on the east coast. The brewery was founded in the same year, 2011, by Ryan Krill, his father Bob Krill, and his friend Chris Henke. 
The first batch of beer was sold right from the founder's car trunk, and it has been around for over a decade. Cape May Brewery has released a wide range of other IPAs since then, but this is one of the most popular. Other beers include the Coastal Evacuation Double IPA, The Grove Citrus Shandy, Tan Limes, Mop Water, Honey Porter, White Caps and Always Ready Hazy IPA. 
Conclusion
If you're new to IPAs or you simply want a refreshing beer, this IPA will surprise you with its well-balanced flavors and aromas of citrus and floral hops. Here's our review summary:
This is an American IPA with a 6.3 percent alcohol content from Cape May Brewing.
The brew has flavors and aromas of citrus, floral, pine, malts, and fruits like grapefruit and peach with hoppy bitterness.
It is made with Cascade, Centennial and Chinook hops.
Cape May IPA is best served in a snifter, goblet, or chalice at 45 degrees Fahrenheit.
Pair the beer with spicy foods, oily fish, sticky and sweet wings, fish and hamburgers, high-fat or spicy cheeses, and fruity desserts.
The beer is always available on tap at the brewery in New Jersey. If you can't get it on tap, purchase the cans online or at liquor stores near you.