Yuengling Mango Review: Unique Sweet and Refreshing Beer
Yuengling Mango is the perfect drinkable beer for those who want a fruity accompaniment while at a party. The refreshing beer has a unique mango flavor and a sweetish and fruity taste, with clean lager flavors and a crisp finish.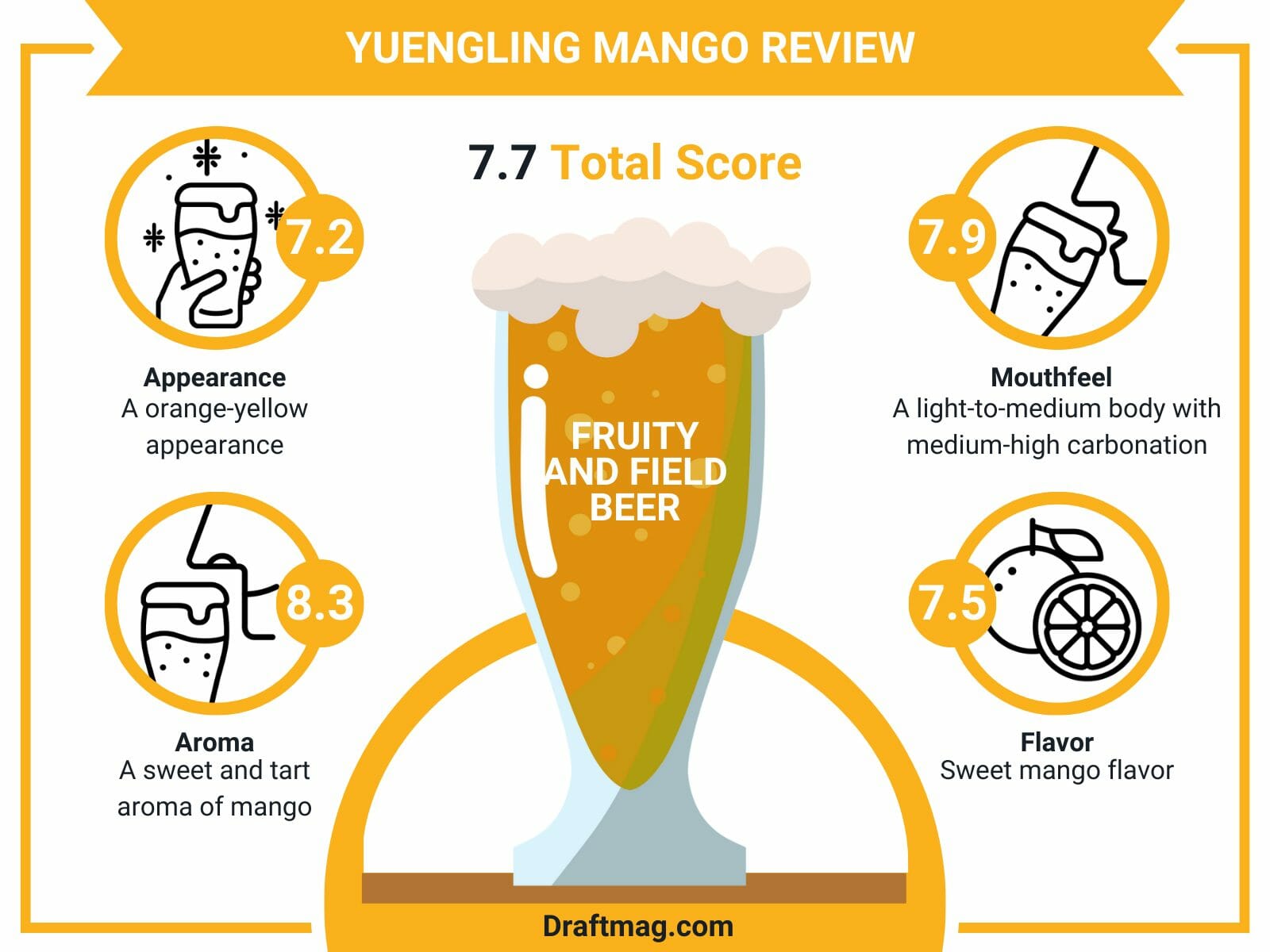 Ideal for day drinking and partying, it will make a good addition to the beers that you've tried out from Yuengling. In our review below, we cover all you need to know about this beer, from the tasting notes to the ideal food pairings. 
Yuengling Mango Stats
| | |
| --- | --- |
| Country  | United States |
| Brand | Yuengling Brewery |
| Style | Fruity and Field Beer |
| Taste  | Mango, wheat |
| Body | Light-to-Medium Body |
| ABV | 6 percent |
| Flavors & Aromas | Mango, wheat, grassy, candy, corn |
| Serving Temperature | 50 – 55 degrees Fahrenheit |
Tasting Notes
Yuengling Mango Tasting Profile
Yuengling Mango Review 
Raging Eagle Mango is a fruit and field beer made by Yuengling Brewery in the United States. The mango-flavored beer stands out with its tart and fruity taste that is not cloying or bitter. It is instead a clean and refreshing beer that will go down easily. The beer has a 6 percent alcohol content.
With a hazy light orange appearance and a light to medium body, the Mango pilsner follows its beer style perfectly. There are sweet and sour flavors and aromas of mango, wheat, candy, grass, and corn. The mango is the prominent player in character, with the wheat offering a solid base and the grass peeking from behind.
To get the most out of this beer, pour it into a tulip glass with a short stem. You can easily place the stem in between your fingers and swirl the beer, getting the most out of the aroma and taste. The ideal serving temperature is from 50 to 55 degrees Fahrenheit, and you can garnish it with a citrus wedge. 
– Appearance 
On the pour, the Mango pilsner has an orange-yellow appearance that is leaning towards golden. It has a hazy and lightly cloudy appearance that you can barely see through, but there are no sediments to affect the flavor. 
On top of the light beer is a white head that is up to two fingers high. The foamy head stays in place for only a few minutes before quickly dissipating into a thin film. It leaves a bit of lacing against the glass. 
– Aroma 
Bring it to your nose, and the first thing you smell is the aroma of fermented mango. The beer has a sweet and tart aroma of mango, but the scent is not overwhelming but mild so it does not affect the taste.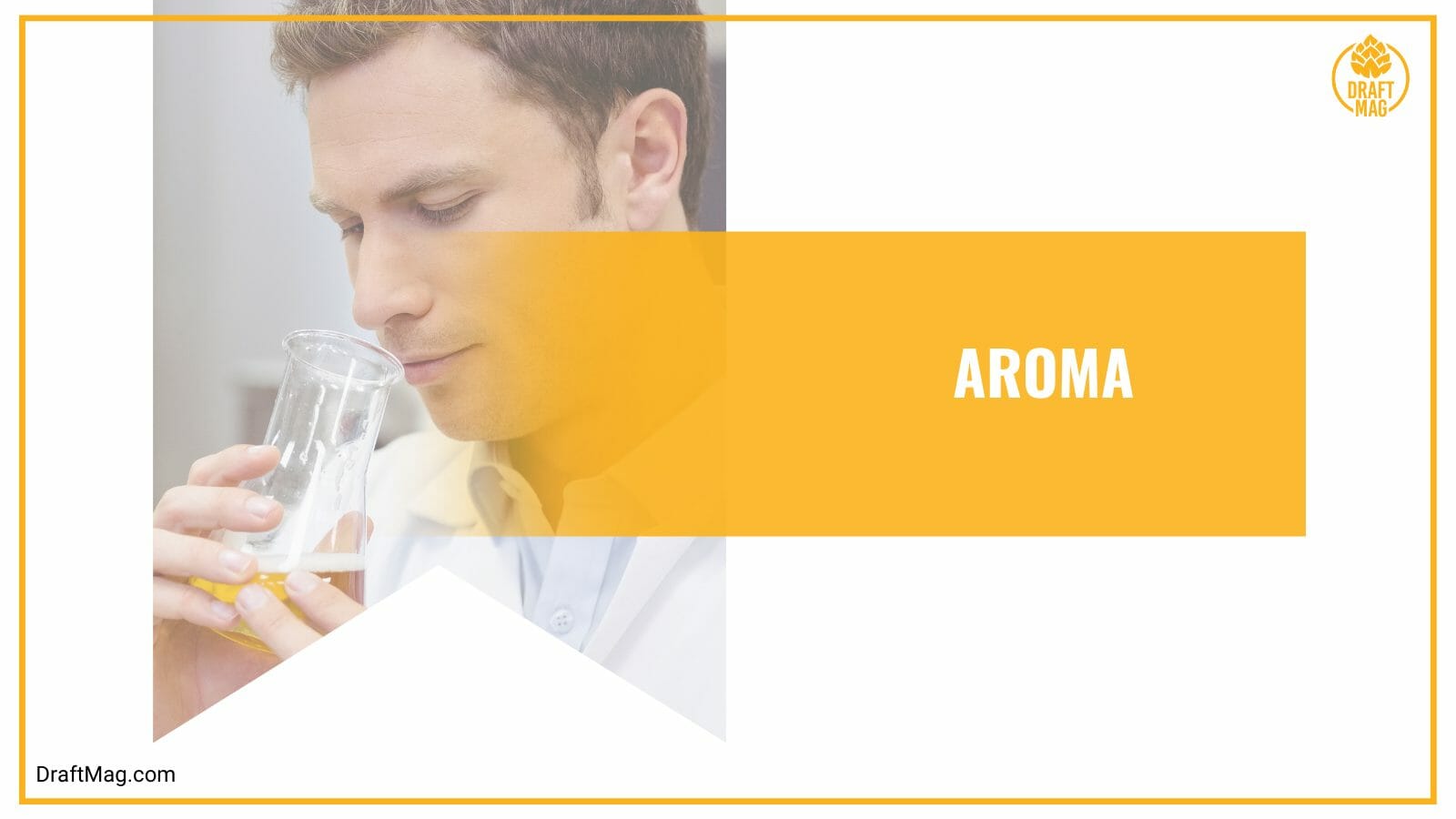 There is also a bit of grassiness in the aroma from the hops, as well as biscuity malts in the backbone. The cracker and wheat malts are constant in aroma.
– Mouthfeel 
The Raging Eagle beer has a light body that leans toward medium. The light-to-medium body is balanced with the medium-high carbonation that offers a bit of astringency. You can feel the fizzy notes on your palate as you drink.
The wheat beer is clean, crisp, and refreshing against your palate, going down easy. There are clean lager flavors with no cloying on your tongue. 
– Flavor 
The flavor of the Yuengling Raging Eagle beer follows the aroma very closely, but it's a bit sweeter than you'd expect. It is clean and refreshing, and the sweet mango is at the forefront of the flavor. 
The mango is the first thing you taste at the beginning of the flavor, and the wheat becomes more prominent in the middle of the palate. On the finish, the beer tastes a bit grassy, with a few herbal hops too. It is quite dry.
There is a light to medium herbal taste, minimal fruit tartness, grassy bitterness, and some woodiness in the flavor. There is a bit of corn in the taste too, which offers a sweet flavor. It offers a subtle alcoholic taste toward the finish. 
– Food Pairings
When having the beer, you should prepare some sweet and light foods to go with it. It pairs well with light white meat, pickled dishes, pork and duck dishes that have sweet components, and crisp salads that are topped with fruity dressings. In general, foods that have a lot of herbs and spices pair well with beer.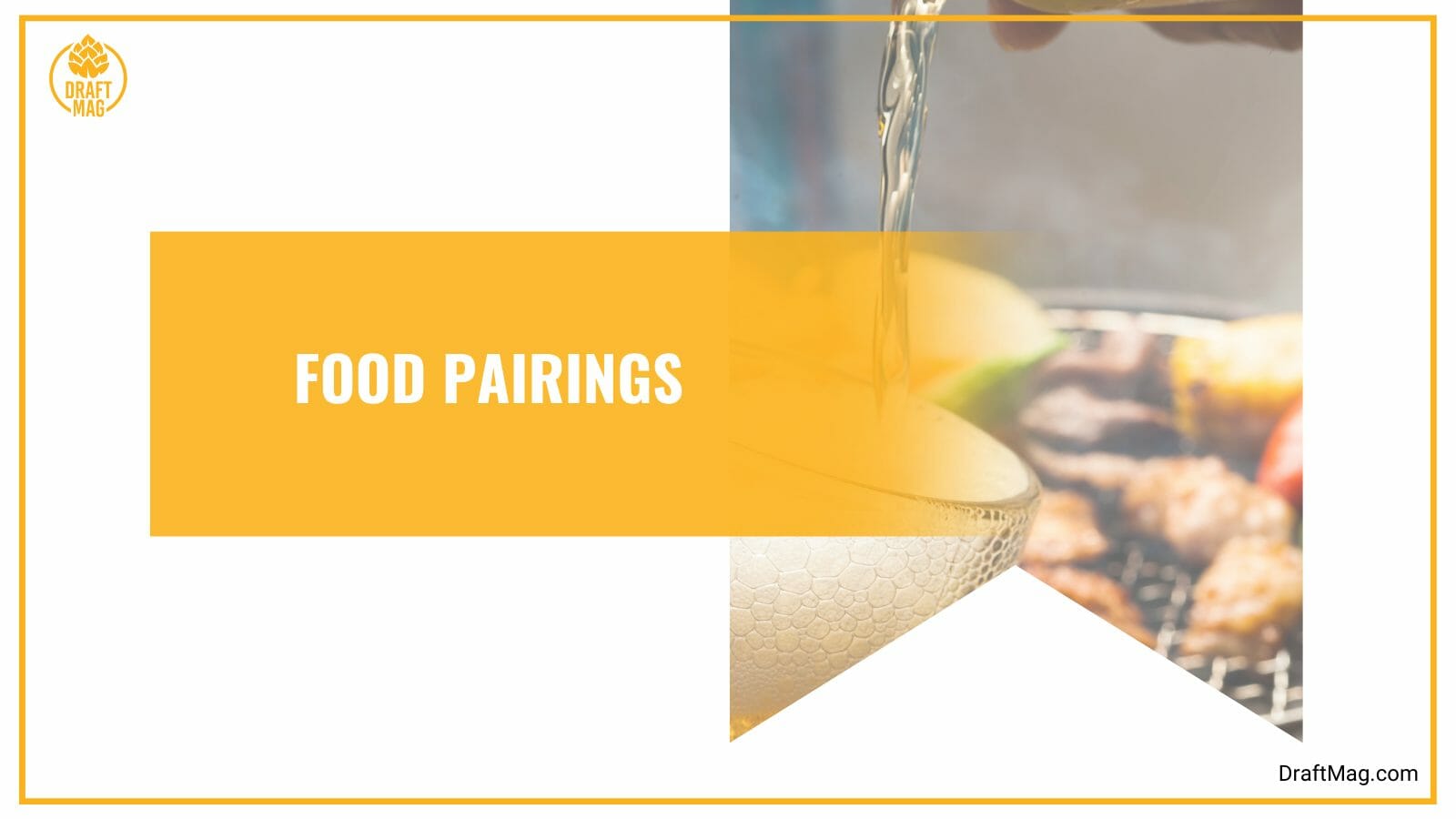 You can also enjoy having a beer with Southeast Asian, Mexican, and Latin dishes. Spicy foods like Indian curry, spicy noodles, and burgers with barbecue sauce will also pair well with beer. It goes great with seafood too, such as sushi, shellfish, and light fish dishes.
Try out light pasta dishes with grilled pork and chicken on the side. For dessert, you should enjoy the beer with a bowl of fresh fruit or a serving of vanilla ice cream. If you enjoy cheese with your beer, go for creamy cheese, fresh mozzarella, or Mascarpone cheese.
Ingredients 
The Mango pilsner is made with the classic ingredients used to make beer, but what makes it stand out is the natural mango flavor. Since it is made with mango, it has a juicy and refreshing taste without being artificial or fake. 
It is also made with classic hops, which offer a crisp taste. The hops offer some herbal and grassy notes in the flavor and offer a dry finish. The malts used to make the beer remain a constant throughout, offering hints of cracker and wheat as you drink.
Nutrition Facts 
In the Raging Eagle Mango beer, you have an alcohol content of 6 percent in every 12 ounces. The alcohol level means there's a bit of booziness towards the end of the taste, but it is not prominent. It also has decent bitterness levels that are balanced with the fruitiness, with an IBU of 11.
The beer has 180 calories in every 12 ounces of the beer, with 12.5 grams of carbs. It's important to consider this when calculating your daily dietary requirements. Also, the pilsner is not ideal for those on a keto diet or those who are gluten-sensitive drinkers. 
History 
Raging Eagle Mango is a pilsner beer made by D.G. Yuengling & Son, Inc, which is known as America's Oldest Brewery. It was released in 2021 and is an addition to the brewery's portfolio of adventurous and invigorating beers. It is aimed at young adults between 21 and 35 years, who are usually surrounded by friends.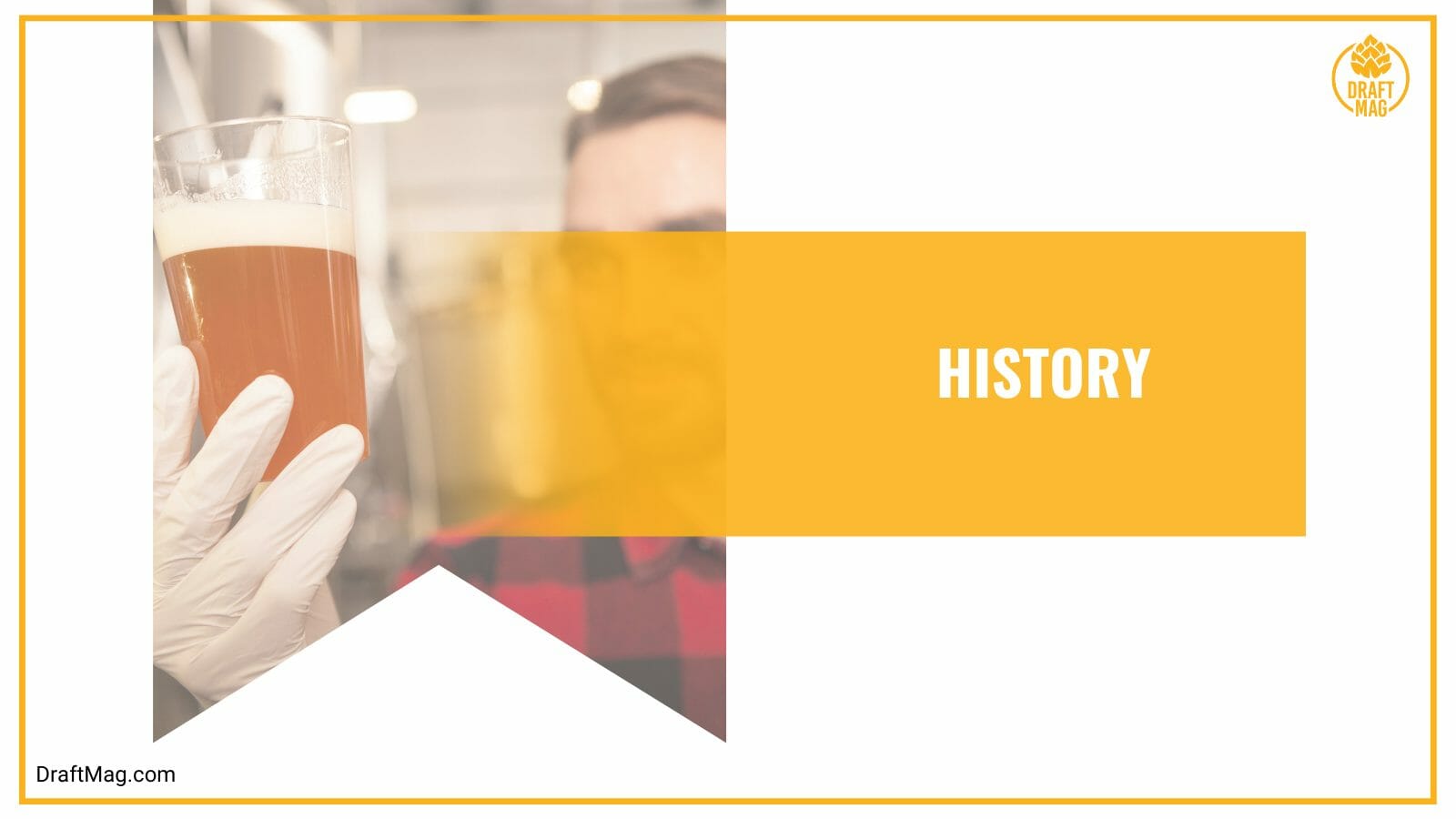 The beer is sold across 22 states in 24-oz cans, and it received a lot of social media coverage after its release. It was also inspired by consumer feedback. Other top beers from Yuengling include Flight, Golden Pilsner, and Hershey's Chocolate Porter. 
Conclusion
If you're curious about a mango-flavored pilsner, this will satisfy your wants and liven up your tastebuds. Here's a summary of our beer review:
The Mango beer is a fruit and field beer with a 6 percent alcohol content, made by Yuengling.
The beer has flavors and aromas of mango, wheat, grassy, corn, and candy, with some herbal notes and cracker malts.
It is made with natural mango and classic hops.
The beer is best served in a tulip glass at 50 degrees Fahrenheit with a slice of citrus. 
It is best paired with sweet and light food, meals with herbs and spices, Mexican and Southeast Asian food, seafood, vanilla ice cream, and creamy cheeses. 
The beer is sold in a wide range of states in the USA, so you can buy it close to you. It can also be ordered online and on tap at the brewpub.