Paulaner Grapefruit Radler Review: Zesty, Fruity and Light
Paulaner Grapefruit Radler is a very light yet surprising Radler that kicks you into summer with every sip. The beer is bursting with fruity notes and has a very low ABV, so you can focus on having fun without forgetting it the next day.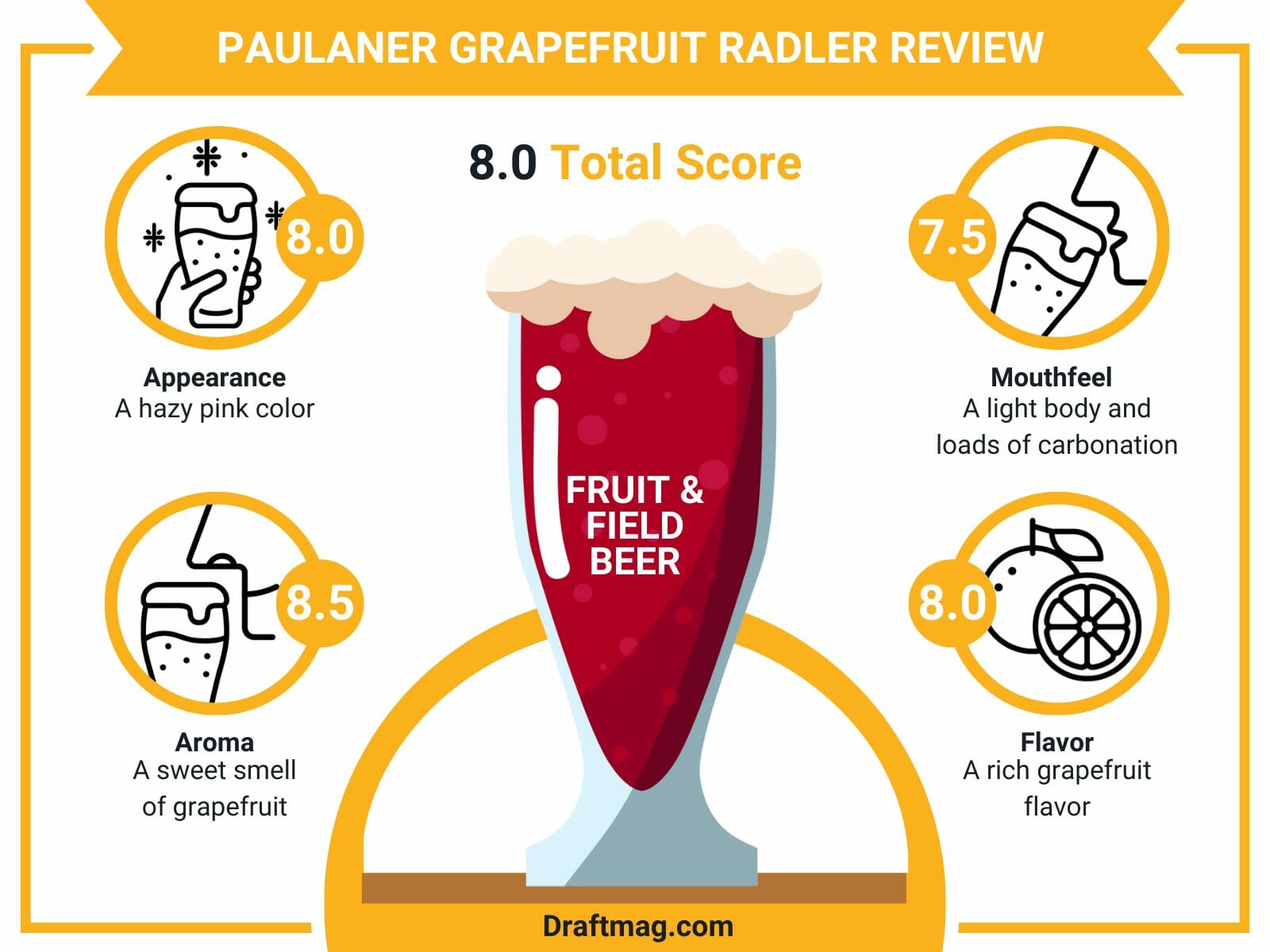 If you're a fan of grapefruits or want to try out a fruity beer, this is a good place to start. But before you dive right in, read our detailed review to know what to expect from this Radler and how you can pair it with food. 
Paulaner Grapefruit Radler Stats
| | |
| --- | --- |
| Country  | Germany |
| Brand | Paulaner Brauerei |
| Style | Fruit and Field Beer |
| Taste  | Grapefruit, juicy |
| Body | Light Body |
| ABV | 2.5 percent |
| Flavors & Aromas | Grapefruit, fruity, soda, berry, orange, caramel |
| Serving Temperature | 35 – 40 degrees Fahrenheit |
Tasting Notes
Paulaner Grapefruit Radler Tasting Profile
Paulaner Grapefruit Radler Review 
Appearance: 8/10

Aroma: 8.5/10

Mouthfeel: 7.5/10

Flavor: 8/10
Grapefruit Radler is a fruit and field beer made by the famous Paulaner Brauerei in Germany. The fruity beer has a rich grapefruit flavor and only a 2.5 percent alcohol content, so you can expect no ethanol, warming, or even getting tipsy when you drink this beer. It offers a delicious balance between soda and beer. 
The beer has flavors and aromas of grapefruit, oranges, berries, and a caramel base, offering a juicy, sweet, and soda-like beer. It is a solid Radler that offers a light orange and pink appearance with a light body. It is the ideal choice for drinking at a pool party, while watching the game, or on a hot summer afternoon.
Enjoy this beer best when it's cold, at temperatures from 35 to 40 degrees Fahrenheit. The natural, fruity flavor is ideal for any glass, whether you have a pint glass, a snifter, or a mug. You can garnish it with a citrus slice. 
– Appearance 
The Radler has a fantastic appearance with a hazy pink color and orange tinges that stay at the top. It looks attractive, with a balance of light orange and pink. It also has an opaque appearance with light orange streaks going toward the bottom.
On top of the beer is a frothy and fleeting white head with orange tinges. It dissipates quickly and leaves a thin white film on your beer after it settles. 
– Aroma 
The aroma of this Paulaner fruity beer is as expected from the name, as it is full of zest and grapefruit. The beer smells quite sweet with the grapefruit, and you can smell the tinge of other fruity flavors in the backbone.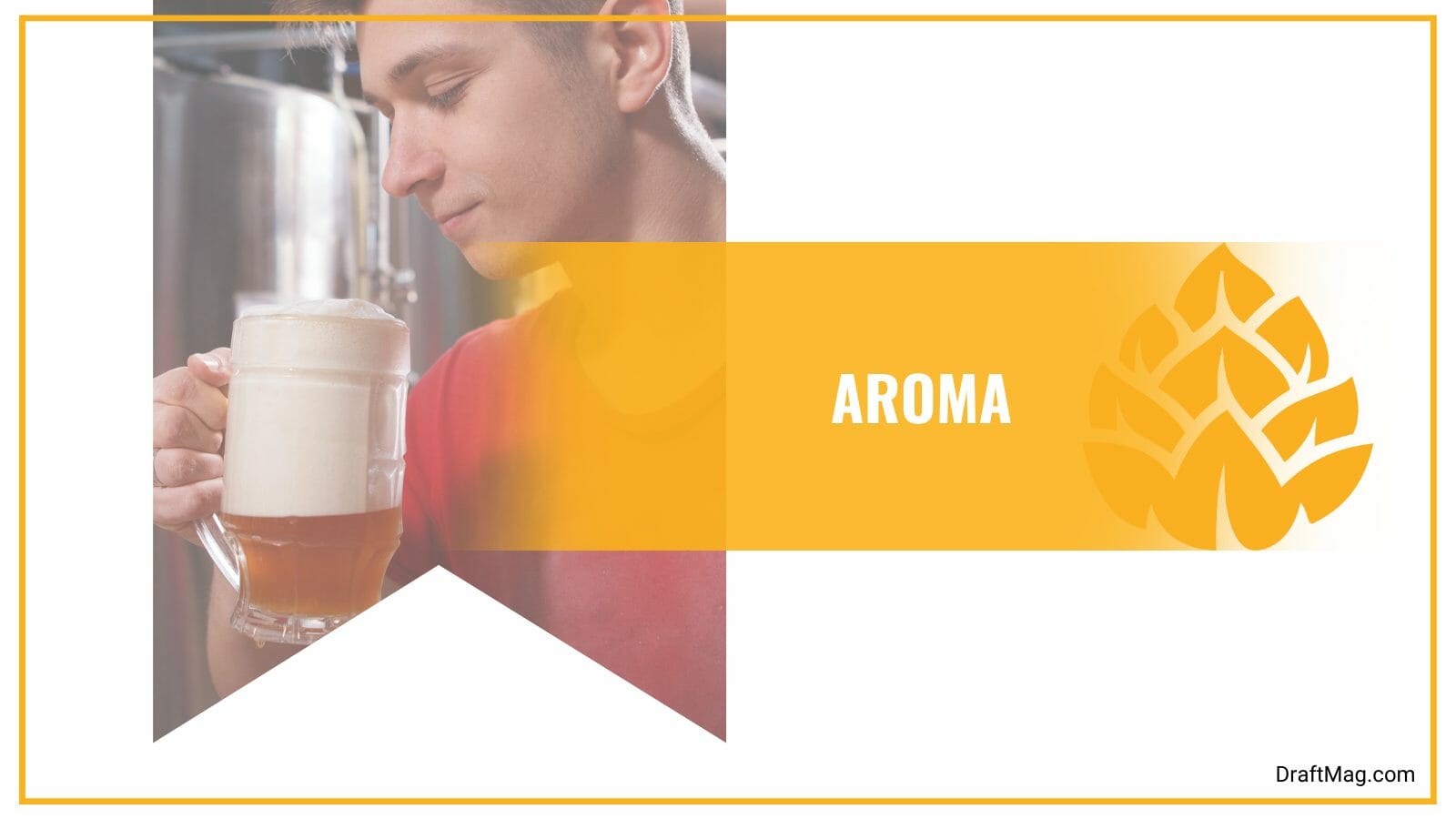 As the beer warms up, you might notice a bit of oily and fruity bitterness. The grapefruit remains the dominating aroma but it is not unpleasant and simply impressive. 
– Mouthfeel 
In the mouth, the Radler offers a light body and loads of carbonation that makes you feel like you have a soda. The light body goes down easily and is very refreshing. It will also quench your thirst, especially when you drink it cold.
Despite the carbonation in the beer, you don't get a lot of large bubbles on your tongue. Instead, it smoothens out and becomes fine while you're consuming it. It finishes quickly and sweetly after you swallow. 
– Flavor 
The flavor of the Radler is quite simple despite having a lot of fruits on your tongue. The main thing that you taste is the rich grapefruit flavor that remains from the beginning to the end. It is a juicy and sweet flavor, but there is some light bitterness that pops up in the finish. The flavors are well-balanced and offer a fruity experience.
The sweet grapefruit taste is balanced with some orange and berry notes, especially when you get to the mid-palate. The other fruity notes make the grapefruit wane a bit as time goes on. It also tastes a bit tart. You might notice the subtle backbone of toasted caramel that becomes more evident towards the end, reminding you that you're drinking a beer, not a soda.
– Food Pairings
When having this grapefruit-flavored lager, you should have it with bold umami flavors. The beer will pair well with a dish like sumac roasted chicken flatbread. With the high carbonation and grapefruit flavor, you should try out grilled barbecue meats, tropical seafood recipes, and melted cheese dishes.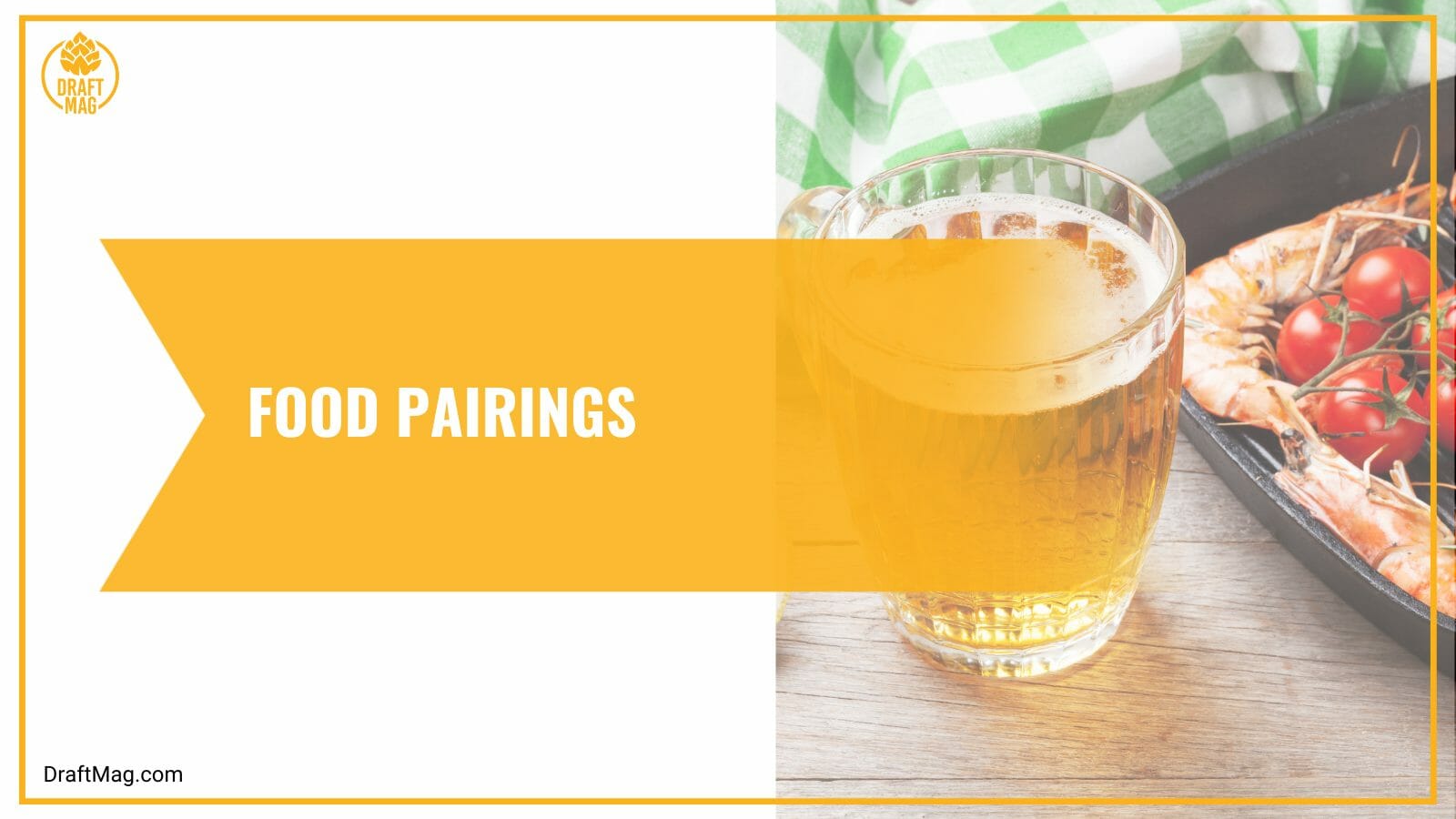 Enjoy having this beer with beef and chicken, cured meat, meaty and oily fish, and pasta. It goes especially great with light white meat, duck, and pork dishes that have sweet components, pickled dishes, and salads with fruity dressings. You'll enjoy it with food that has a lot of herbs and spices.
For your cheese pairing, the Radler goes great with Mascarpone cheese or any other nutty and creamy cheese. For your dessert, have it with bold and sweet desserts like a carrot cake, grapefruit sorbet, and orange crepes. 
Ingredients 
The Radler is made with 50 percent Munchner Lager and 50 percent natural grapefruit, giving you a delicious balance between a fruity Radler and a beer. The Munchner Lager consists of water, malted barley, and hops. The hop used to make it is the Hallertauer Tradition, while the malt varieties are Pilsner malt and Munich malts. 
As for the grapefruit lemonade, it includes water, sugar, pink grapefruit juice, orange juice, lemon juice, concentrated lemon extract, black carrot juice, fermented carbon dioxide, natural grapefruit flavor, other natural flavors, and a stabilizer locust bean gum. All of this gives it prominent grapefruit and fruity background flavors. 
Nutrition Facts 
The alcohol content of the Radler is 2.5 percent, which is a very low level. You can't taste any alcohol when you drink this beer, and you won't get drunk easily. The bitterness units are also low as the hops barely shine in the flavor and aroma.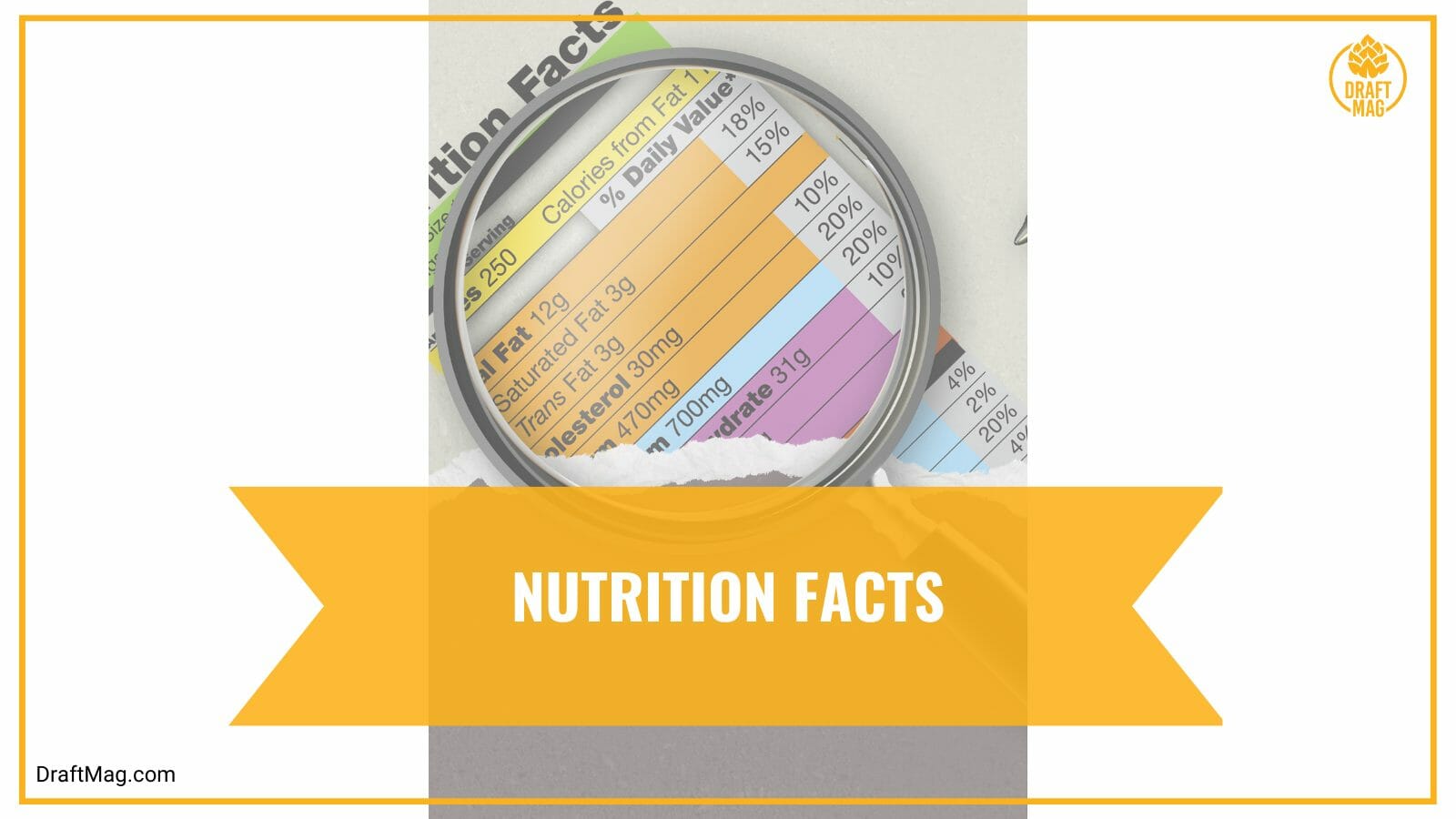 The beer has 38 calories in every 100 ml, which translates to about 120 calories in every 12 ounces. Other facts include 5.9 grams of carbs and 4.3 grams of sugar in every 100 ml. The beer is not ideal for those on a keto diet because of the high carb content, about 20 grams in every 12 ounces. 
History 
The Grapefruit Radler was released in 2020 by Paulaner Brauerei, which is based in Germany. Once it was released, it was made available in the United States and has remained one of the most popular beers, available in 16.9-oz matte-printed cans.
The Paulaner Brauerei dates back to 1634 in Munich, Germany, making it one of the oldest breweries in the world. But with the Paulaner USA, you get options like Hefe-Weizen, suspected to be the first hazy beer, and Original Munich Lager, a go-to German lager among beer lovers.  
Conclusion
Whenever you're feeling like summer or fruits, or you just want a light, bright and vibrant beer, go for this fruity Radler.
Here's a summary of our beer review:
The Paulaner Grapefruit Radler is a fruit and field beer with a 2.5 percent alcohol content.
The beer has flavors and aromas of grapefruit, orange, berry, caramel, and juicy, fruity notes.
It is made with malted barley, hops, yeast, and a grapefruit lemonade mix.
The beer can be served in any glass or mug but should be very cold at 35 degrees Fahrenheit.
Enjoy it with foods that have bold umami flavors, herbs and spices, tropical seafood, barbecued meats, melted cheese dishes, and fruity desserts.
You can easily purchase this beer from liquor stores and supermarkets close to you or order it online.