Shock Top Belgian White Review: Uniquely Crafted Wheat Ale
Shock Top Belgian White is a spicy Belgian-style wheat ale and is unfiltered to give you a naturally cloudy, smooth, and refreshing beer. It sets itself apart from other styles of wheat ales since it is made with real citrus peels.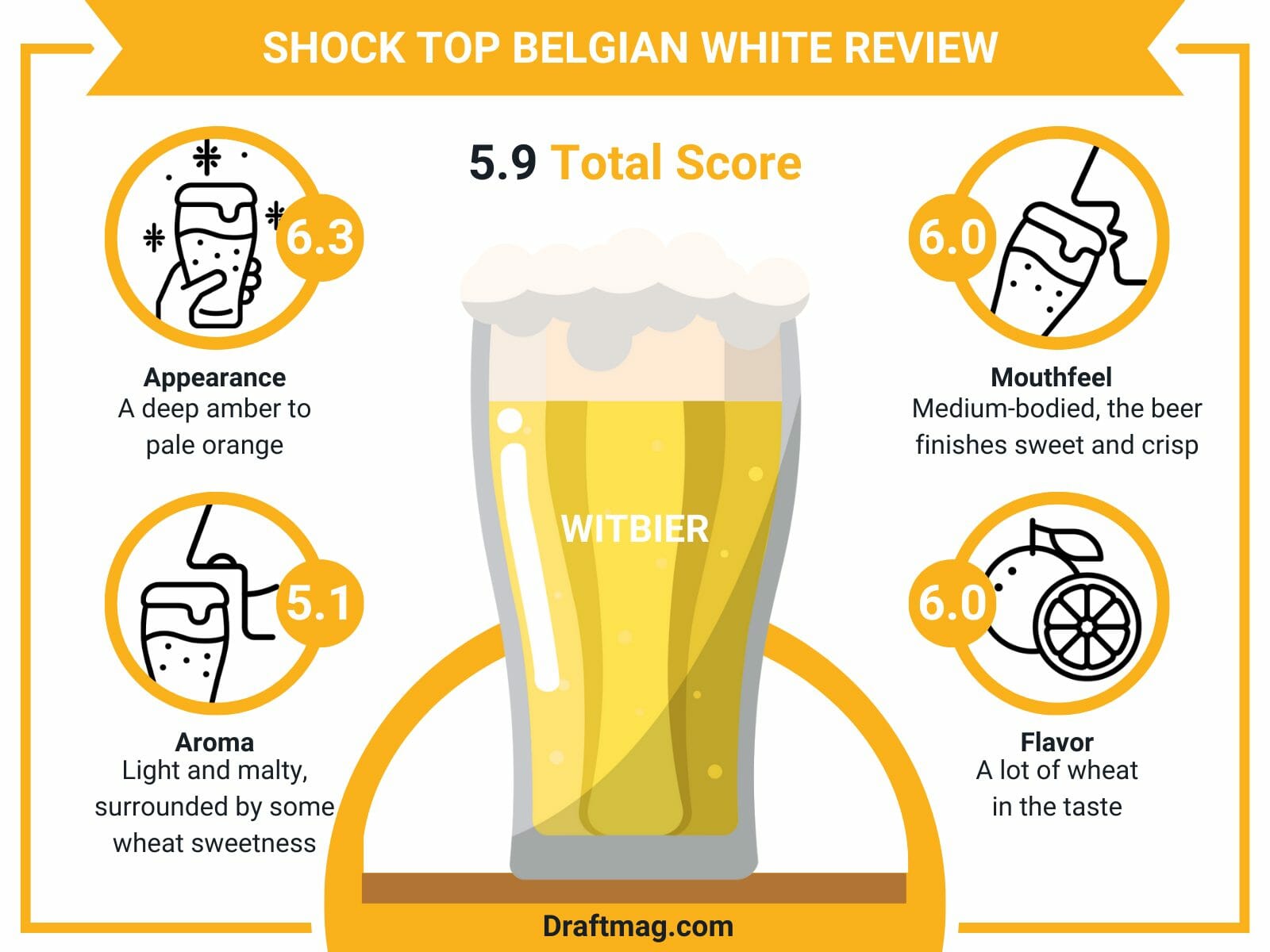 The award-winning ale retains its complex flavor despite being a macro brew. If you're thinking about drinking this beer, our detailed review covers all you need to know.
Shock Top Belgian White Stats
| | |
| --- | --- |
| Country  | United States |
| Brand | Anheuser-Busch |
| Style | Witbier |
| Taste  | Malts, citrus |
| Body | Medium Body |
| ABV | 5.2 percent |
| Flavors & Aromas | Malts, citrus, yeast, grassy, coriander |
| Serving Temperature | 45 – 50 degrees Fahrenheit |
Tasting Notes
Shock Top Belgian White Tasting Profile
Shock Top Belgian White Review
Belgian White is a witbier brewed by Anheuser-Busch InBev under the Shock Top brand, with a 5.2 percent ABV. The Belgian-style wheat ale is brewed with real citrus peels, and then some coriander spice is added to the mix. It is also unfiltered to give you a cloudy and hazy yet golden appearance. Due to its unique take on a Belgian wheat ale, the beer has won multiple awards.
As for the flavor and aroma, the Shock Top beer offers notes of malts, citrus, coriander, yeast, and wheat sweetness. You might also notice some floral and spice notes with a sweet and crisp finish. It is best poured in a pint glass, as the slender shape showcases its cloudy, golden color.
Serve the beer at temperatures from 45 to 50 degrees Fahrenheit and garnish it with an orange wedge.
– Appearance
The beer pours a deep amber to pale orange color that looks simply golden at first glance, with a decent head on top of it.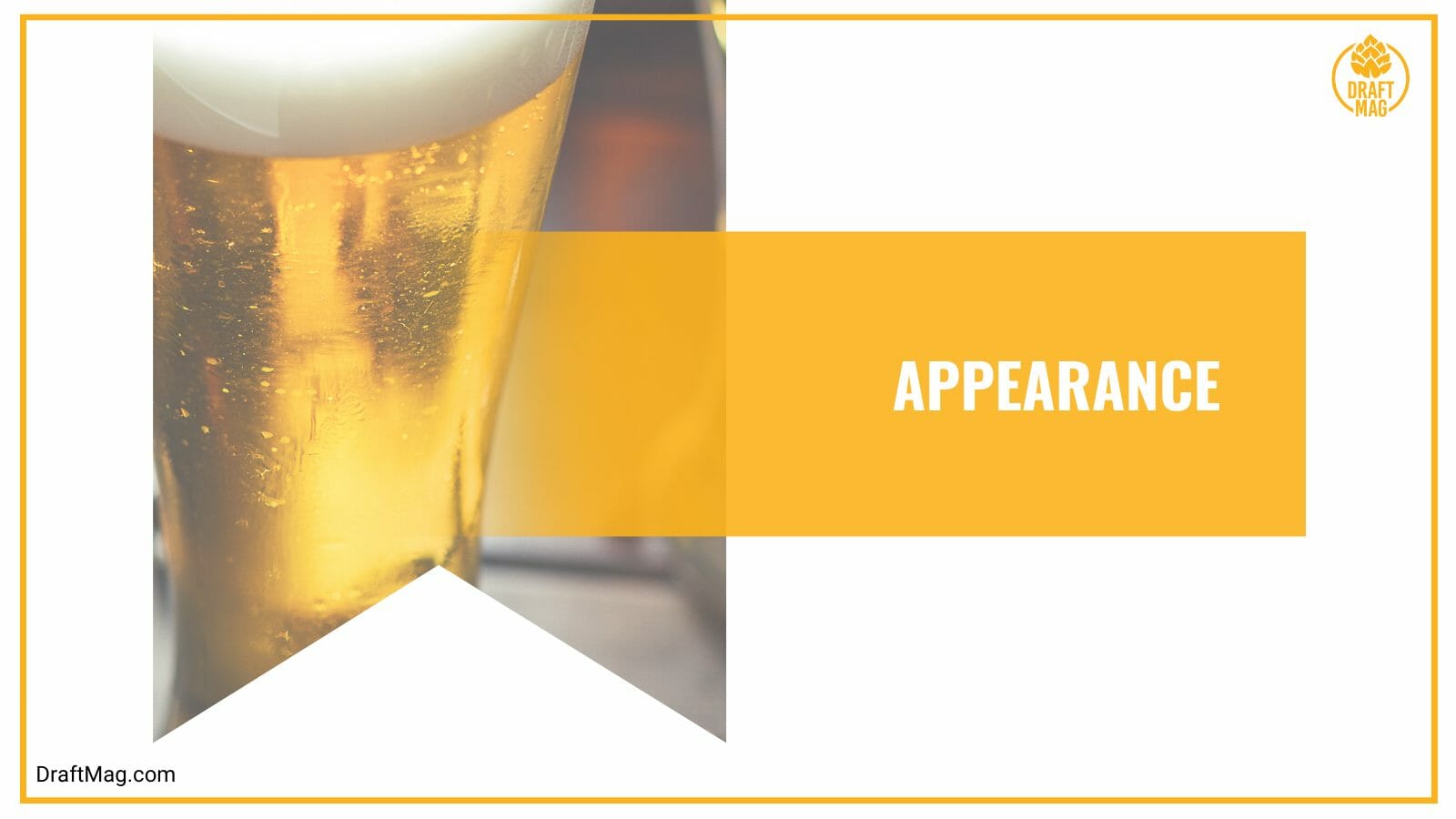 The beer appears cloudy and hazy, with a medium white head and good retention. The carbonation makes it bubbling and aggressive when you pour.
– Aroma
On the nose, the witbier is light and malty, surrounded by some wheat sweetness. There are hints of orange and coriander in the aroma too, with slight spice and floral notes. The nose is hard to detect since it is light, and there is more spice than wheat.
– Mouthfeel
On the palate, the Shock Top witbier is medium-bodied and offers aggressive carbonation in the form of fizzy bubbles. The beer finishes sweet and crisp, with a slightly sour note at the very end. The citrus and wheat follow into the aftertaste but is not unpleasant.
– Flavor
The beer has a malty sweet flavor with a lot of wheat in the taste. There is some acidity and coriander in the taste, but the citrus is also very prominent as it is made with real citrus peels. The fruity notes, orange, and citrus offer you a sweet profile with hints of floral and pepper notes.
The medium wheat character is balanced with some earthy hops and offers a slick feeling on your tongue. It has a mild flavor with some faint lemon citrus notes and minimal yeast. The citrus is sweet before turning sour towards the end.
– Food Pairings
The Shock Top witbier is bready and wheaty, with hints of citrus and spice. The best pairing for this beer is a cheese dish, which goes great with the creamy nature of the wheat beer. You can have a mild and fresh goat cheese dish and garnish it with some coriander to match that in the beer.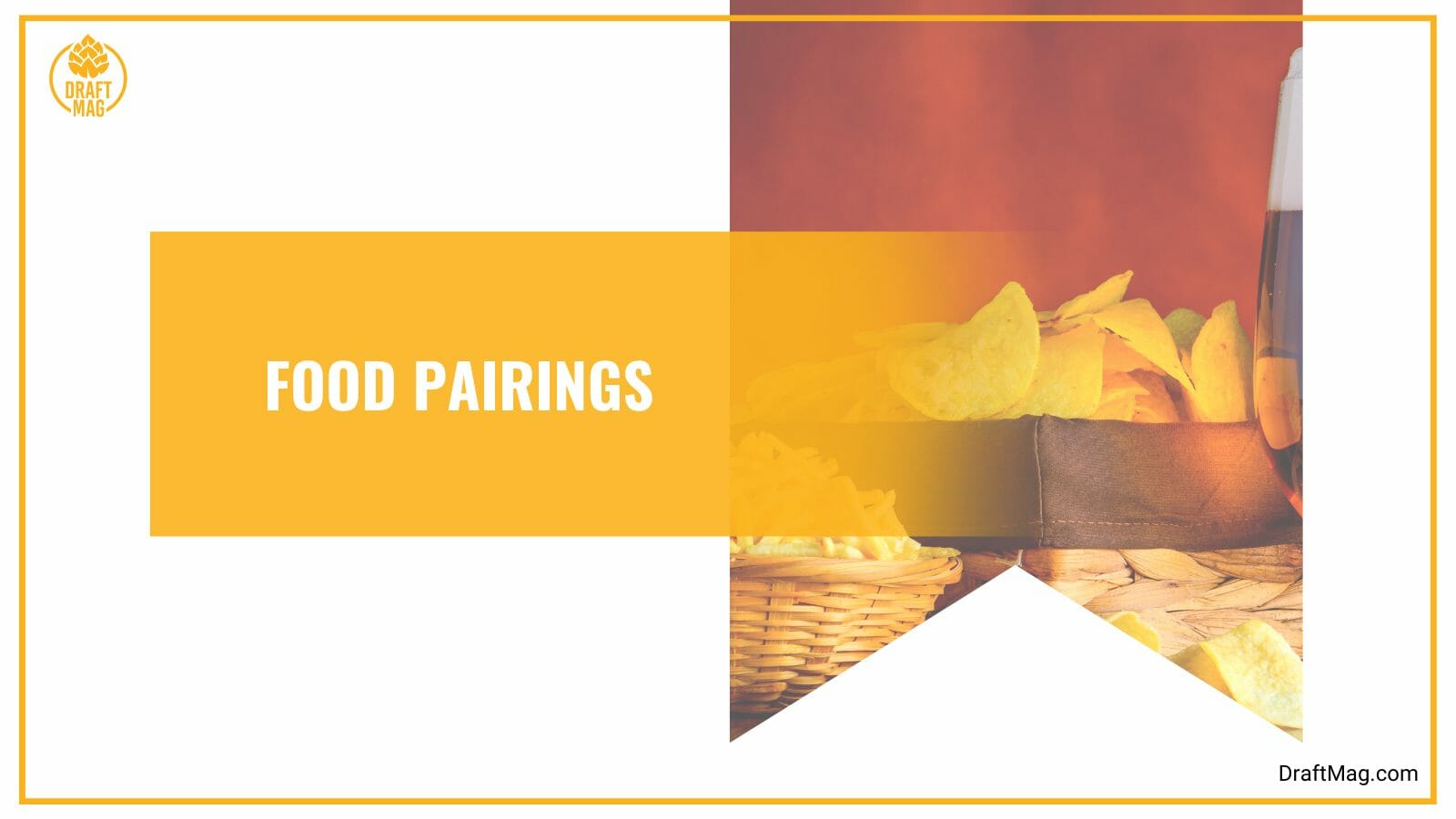 Another food pairing for this beer style is a classic summer salad, like a Caesar salad, which you can enjoy with or without chicken. You can also try out a Greek salad with feta cheese, or a simple Caprese salad sprinkled with basil.
Fish is also a good pairing with the beer, especially roasted fish, sushi, and sashimi. The citric taste of the fish goes well with the orange peel of the beer. For your sweet tooth, pair the wheat beer with a fruit-based dessert or custard crème cake and pie, or try out a vanilla ice cream.
Ingredients
The beer is brewed with two-row barley malts that give it a malty and wheaty flavor. The hops are a blend of imported Hallertau hops, Cascade hops, and Williamette hops, which offer earthy, pepper, and floral notes. The citrus notes are obtained from the fact that the beer is made with real orange, lime, and lemon peels.
Nutrition Facts
The witbier has an ABV of 5.2 percent, but you can barely taste or smell it. It has an IBU of 10, as there is barely any bitterness or hoppy character in the beer. There are 168 calories in every 12 ounces of beer, so keep this in mind when calculating your daily dietary requirement.
The beer also has 15 grams of carbs and 2.2 grams of protein in a 12-ounce serving. It is not ideal for those on a keto diet as it is a high-carb alcoholic beverage. Also, the beer is not gluten-friendly.
History
The Shock Top witbier is brewed by Anheuser Busch. The beer is the flagship of the Shock Top brand and was first released in 2006. When it was first introduced in 2006, it was a seasonal beer.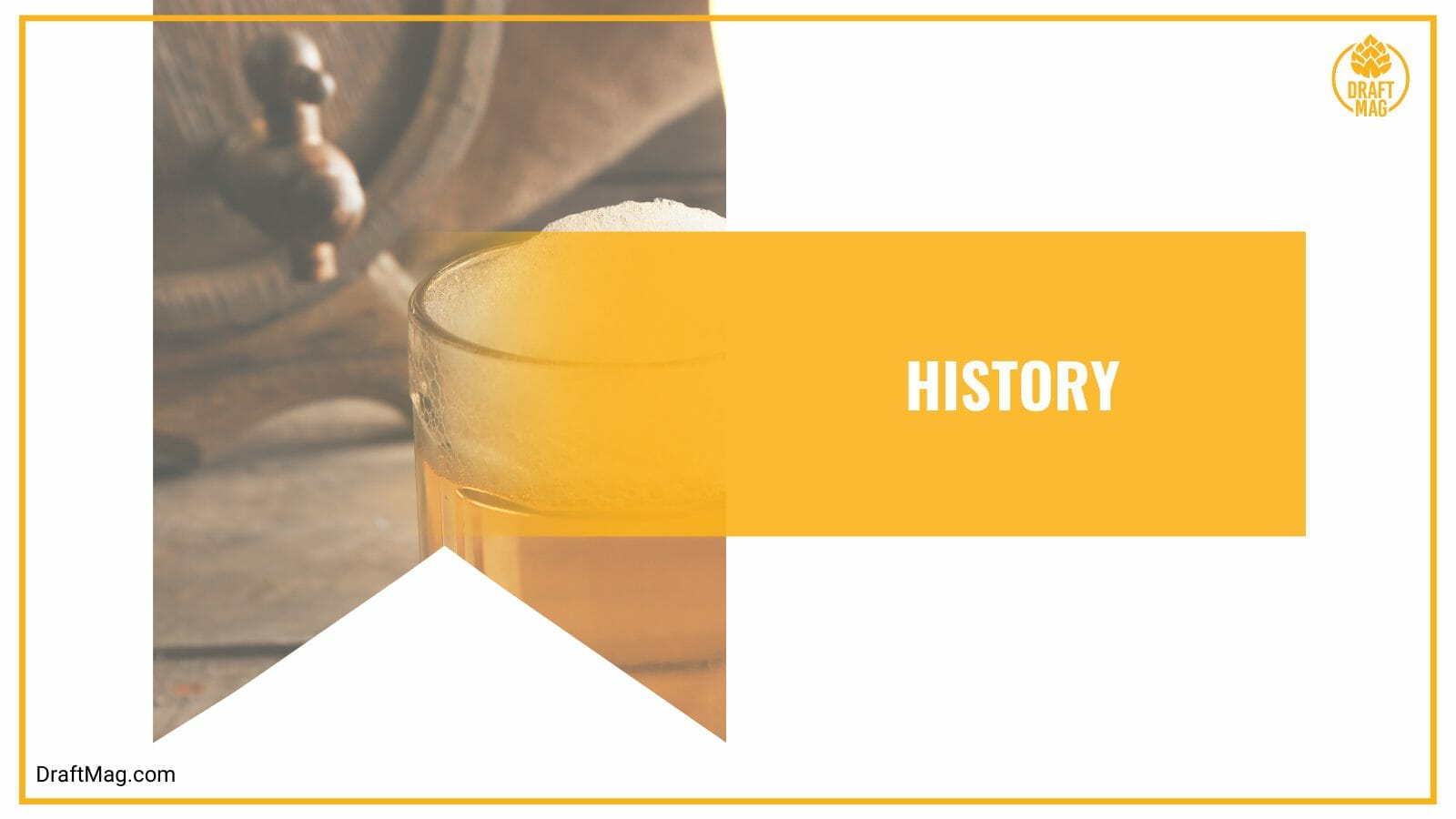 After this, it won a gold medal at the North American Beer Awards in its category and then became a year-round offering. Now, it is brewed by the popular beer brand Anheuser-Busch InBev and managed to retain its original style.
Conclusion
The Shock Top witbier is a spiced wheat ale that offers flavors and aromas that you might not expect, made with citrus peels. Here's a rundown of our beer review:
The beer is a Shock Top wheat ale with a 5.2 percent alcohol content, made by Anheuser Busch.
The beer has flavors and aromas of malt, wheat, citrus, coriander, and spice, with earthy, peppery, and floral hops.
It is made with barley malts, hops, real citrus peels, and coriander spice.
The beer is best served in a pint glass at temperatures ranging from 45 to 50 degrees Fahrenheit.
Pair it with a creamy cheese dish, roasted or raw fish, crispy summer salad, or fruit-based desserts.
Now that you are aware of what to expect from this brew, you can get the beer at any physical or online store selling liquor.