Best Christmas Beers: What Are the Top 12 Beers To Try This Christmas?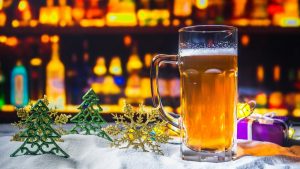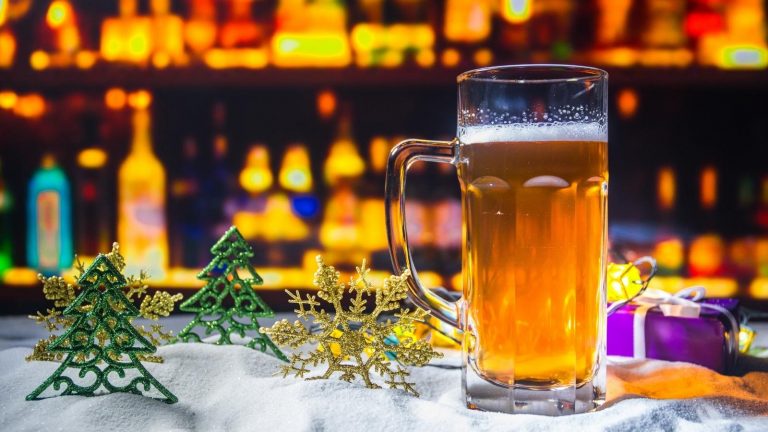 The best Christmas beers will not only make the holiday season fun, but they will also give you a nice, strong buzz. So if you're looking to enjoy Christmas with your friends and family and decide to add some beer to the festivities, you should always go for the best.
Continue reading as we give you the ten best Christmas beers to spread Santa's cheer.
Best Christmas Beer: The Best Christmas Ales To Drink
While there are many ales available in the market, not every one of them is an ideal option for the holiday season. Here are the top seven Christmas ales you should try.
Bell's Brewery Christmas Ale
This Christmas ale from the legendary Michigan brewery perfectly fits the classic Scotch ale style. This beer earned its status by shifting the beer landscape while remaining firm on its flavor profile. Its 2017 revamp made it richer, stronger and more impactful, making it the best fit for the holiday season.
Its 7.5 percent ABV reflects what you would expect from a comforting holiday beer. The rich, complex and toasted malt base combines perfectly with this beer's warming strength. Bell's Scotch Ale Christmas Ale is your ideal companion for the cold winter because it is the warm seasonal beer without the extra Scotch whisky influence.
This beer also mixes flavors of caramel, toffee and dark fruit with some oak flavors that melt delightfully in your mouth. If you are a huge fan of accessible, drinkable and delicious beers, then you don't want to miss out on this Christmas ale. It is also an excellent gift for a loved one who loves to have a hearty ale at Christmas.
Deschutes Jubelale
Jubelale was the first Deschutes Brewery beer ever bottled back in 1988. While the beer production has grown since then, the recipe remains the same — the traditional malty English ale style.
This classic winter beer is one of the best Christmas ales to have in your fridge for the season. It hits all the right notes with a perfect mix of festive and fun.
Jubelale is a medium to full-bodied beer with low carbonation, softly brushing against your palate. Its blend of five different hops pushes the excitement up a notch. The hops flavor matches the rich roasted pale and barley malts for extra warmth and character. The flavors meet with coca, toffee and dried fruit notes for robust warming spice.
Its 6.7 percent ABV and 60 IBUs make it a great sipper. It feels slick and smooth, allowing you to gulp back easily and leaving you wanting more. Deschutes Jubelale is an excellent seasonal dipper for your holiday parties and long winter evenings.
Anchor Brewing Christmas Ale
The yearly iterations of this Christmas Ale by Anchor Brewing make it one of the best options to turn to whenever you need hearty winter craft beers. The San Francisco-based brewing has used different recipes for its Christmas Ale for the 45th year running, with each recipe representing the true joy of craft beers for Christmas, paying homage to the holiday season.
Anchor Christmas Ale features rich toasted caramel and coffee notes for an incredible measure. It also infuses holiday flavors of toasted marshmallows, chocolate and graham crackers. The nose shows some light cinnamon with a touch of herbal and pine notes, while the deliciously smooth mouthfeel and seasonal spices combine with a malty backbone.
This vintage beer has its ABV at 7 percent, with the darkest appearance in Anchor's line. Despite that, it is approachable and easy to drink at your holiday gatherings. Since there is a new offering each year, you can never get enough of this Christmas ale.
Talk about an ideal holiday beer!
Avery Brewing Co. Old Jubilation Ale
This beer is one of the strongest holiday brews – a brilliant decision by Avery Brewing Company. The Old Jubilation Ale is a simple yet delicious beer showcasing the iconic English ale style.
If you want a beer that gives off natural flavors, then Old Jubilation Ale should be one of your top choices. It does not include any adjuncts for extra flavor.
The magic in its flavors is due to the perfect combination of five specialty malts. This classic winter warmer has an inviting malty profile that overshadows the hoppiness. You get a deeper feel of the season, thanks to its toffee, mocha and hazelnut notes that combine with its mahogany color.
Avery Brewing wants to get you in the holiday spirit as early as possible, so this beer is available from the month of October each year. With its strong 8.3 percent ABV, Old Jubilation Ale is just the right Christmas beer. You can have it with you during long evenings with friends in front of a roaring winter fire, but it is also a good companion whenever you wish to have winter time by yourself.
Great Lakes Brewing Christmas Ale
Here is another Christmas brew with an eye towards timeless quality and tradition in terms of ingredients and brewing process. An ideal beer for Christmas should be heavy on the malts, dark and a bit heavier on the alcohol content. Great Lakes Brewing hit the winning formula to give one of the best Christmas Ales available.
It is a medium-bodied beer with medium carbonation and a creaminess that glides down your palate. It pours clear, with a deep amber color and a light white head.
This Christmas Ale is rich, giving full flavors of sweet honey, cinnamon and fresh ginger, leaning towards sweetness. However, the bitter hops' presence ensures that it never cloys, keeping clean and balanced at the finish.
Despite its 7.5 percent alcohol content and 30 IBU, Great Lakes Christmas Ale is quite easy to drink. Its smooth and velvety character matches the underlying booze, making it the benchmark for spiced Christmas beers.
It always makes its appearance in November, after Halloween. This Christmas ale gives you a taste of warmth and energy surrounding the season.
Anderson Valley Winter Solstice
Here's your favorite winter red beer, and you may never find any other better one. Anderson Valley gave this beer a deep amber color with a half-inch creamy head, and its rich mouthfeel and creaminess will lift your spirit.
Initially, you have earthy hops coming through with a pleasant aroma of chocolate. It almost feels like freshly baked chocolate cake combined with vanilla and sweet biscuit notes.
The hints of spice, caramel and toffee will tease your senses, although it is faint. You will also get a very light alcohol whiff in the aroma. The first flavor impression is of cinnamon and plums, then you get hints of nutmeg and toffee, vanilla and spice. The hops bitterness shows but does not overpower other flavors.
The 6.9 percent alcohol gives a slight warmth that cuts the sweetness to provide even more balance. Sipping over sometimes shows spice and complex malt notes. The caramel and vanilla notes also match nicely, but it does not go over the top with spices. This is another perfect Christmas ale to share in the cold winter days and long nights.
Brasserie Dubuisson Scaldis Noël
This Belgian dark ale by Brasserie Dubuisson caught the world's attention almost right after its release. Most dark beer lovers eagerly anticipated its annual appearance. Some areas sell it as Scaldis Noël, while others sell it as Bush de Noël. Regardless of which one you get, it is one of the best Belgian Ales to drink in the wintertime.
It has a dark tan body with a low, dense head. The aroma is a mix of caramel, vanilla, apple and alcohol.
This 12 percent ABV Christmas ale provides beer lovers with a warm, spicy and full malt mouthfeel with banana, brown sugar and a hint of pineapple flavors. The round character of the Scaldis Noël comes from the roast caramel malts used in its brewing.
The right proportion of hops helps carefully balance the malt character to give a subtle hops aroma. The solid fruity character also gives a consistent pleasing taste. You don't want to miss out on this Christmas beer.
Best Christmas Beers: Top Christmas IPAs for the Holiday Season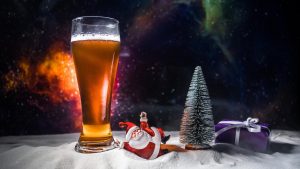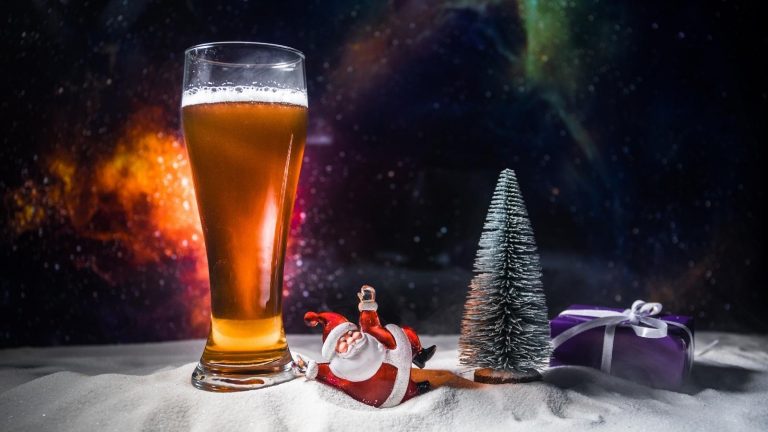 What's winter without a Christmas IPA?
Here are the top three Christmas IPAs you should stock in your fridge for your enjoyment.
Sierra Nevada Celebration Ale
Sierra Nevada is one of the earliest adopters of holiday beers. The unsliced recipe has remained the same for over 40 years for this brewing company. There is no reason to change the recipe since the beer remains an annual joy for Christmas craft beer lovers. Sierra Nevada never gets tired of giving beer lovers the excitement of great beers for every season.
If IPA is your thing, then you should look into having a bottle of Celebration Ale. Its impression of slickness from fresh hops allows you to enjoy the hoppiest holiday beer. The major difference between Celebration Ale and other winter craft beers is that there is no sweetness or slickness about it. Instead, it gives classic American hops'  festive pine and citrus notes.
There are plenty of Centennial, Chinook and Cascade hops in the Celebration Ale. The hops give it brisk bitterness that keeps you going in the cold winter air.
The 65 IBU measure ensures that this beer stays true to its class, having the bitter aspect of the IPA style. An ABV of 6.8 percent also gives the balance that keeps fans coming back year after year.
Goose Island Christmas IPA
This Christmas IPA is a perfect combination of six significant hops with great malts. It pours as a reddish copper beer with a medium, long-lasting lacing head. Many beer enthusiasts are already in love with this Christmas IPA, and rightly so. Its balanced flavors are complemented by its maltiness and earthy aroma.
There are some hints of sweetness in every beer shot, giving it a smooth and balanced mouthfeel. You tend to have a mildly sweet malty beer with notes of caramel and toasted grains, giving the Goose Island Christmas IPA an excellent ratio of hops bitterness and forest-like notes.
The earthy and sweet flavors with caramel undertone match an incredible fruity aroma to give a crisp feeling in your mouth. Its bitterness rating of 38 IBUs is a little mild for an IPA of its class, but the 7.5 percent ABV combines well for even more balance. This beer is a great choice to give you crispy and fluffy feels for warmth on a cold Christmas night.
Fort George Magnanimous IPA
Fort George's mission is simple and effective – constantly improving on every variable to get closer to perfection. With this being said, you should be looking to make festive winter Magnanimous IPA your winter favorite. Brewed with Chinook and Simcoe hops and loads of Grand Fir tips, this beer promises to blend fresh evergreen aroma with the lush of piney hops.
Magnanimous pours with a bright pale golden color with a billowy white head that fades to leave a fair lacing. It is a medium-bodied beer with a light lingering finish. Its smell focuses strongly on the herbaceous and piney characters, and you will get notes of lemon, thyme, sage, spruce and hops from this beer.
The notes of earth and pine showcase its herbal and earthy nature. The taste is just what you want from a Christmas beer — it is crisp, clean, dry, super fresh, bitter and slightly sticky. An ABV of 7 percent makes this West Coast IPA a great companion through the winter chills.
Best Christmas Beers: The Top Christmas Stouts for the Season
To some people, Christmas cheer is not complete without a Christmas stout. Let's examine the top Christmas stouts for the winter cold.
Alesmith Brewing Co. Speedway Stout
Despite its early release in August, the Speedway Stout is a seasonal beer that gives the ever-anticipated winter treat to stout beer lovers worldwide. It has a pitch-black appearance with chocolate and roasted malts flavors to match. The bittersweet chocolate and pleasant coffee notes combine to give the ideal Christmas beer flavor. The coffee note is restrained but pleasant.
The roast character ensures that the Speedway stout is very smooth. Malt caramel sweetness, some vanilla, coffee and slight toffee rounds off the beer's finish to give it a slight sweetness. The wonderful mix of sophisticated chocolate character, delicious roast and balanced malty sweetness gives an exciting flavor to the booze.
Overall, Alesmith Brewing Speedway Stout is an efficiently brewed coffee stout, exhibiting excellent coffee flavor on a solid beer base. It also has a nice complexity to it, thanks to a touch of chocolate and dark fruit character.
Speedway Stout will lighten up the feel with a 12 percent ABV without it being overwhelming if you desire the warmth of high alcohol content. It is a huge-selling beer for your holiday enjoyment.
Virginia Beer Elbow Patches Oatmeal Stout
It is nearly impossible to talk about Christmas stouts without mentioning Virginia's Elbow Patches Oatmeal Stout. This beer pours with a dark to light brown color and about a 1 inch foam blanket with good retention. Its sweet chocolate and dark roast espresso mixes with hints of smoke to create an unrivaled beer.
The presence of flaked oats gives a smooth, velvety base to set the stage of its pronounced aromas of coffee and chocolate. This dark beer's popular appeal may also be attributed to its lack of astringent bitterness, with an IBU of 26.
The Northern Brewer hops bitterness balances the notes of chocolate, two-row, roasted barley, flaked oats and crystal malts. You can almost feel this beer give off aromas similar to your regular breakfast, with fresh oats, mild roasts and some roasted coffee. Hints of nuts and sweetness show the presence of cream and coffee.
This stout has a 6.2 percent ABV with a balance of richness, flavor and texture. An oatmeal stout is best enjoyed with a delightful meal at any time of the day, so you should have this beer handy whenever you have a Christmas gathering.
FAQ
What are the 12 beers to Christmas?
"The 12 Beers of Christmas" typically refers to a variety pack of seasonal beers, with popular options including spiced ales, stouts, and IPAs.
What was the original Christmas beer?
The original Christmas beer is difficult to pinpoint, as the tradition of brewing seasonal beers dates back centuries. However, some sources point to Wassail as a popular Christmas ale in medieval times.
What makes the best Christmas ale?
The best Christmas ale often includes warming spices like cinnamon, nutmeg, and clove, as well as rich malt flavors. A higher ABV and darker color can also add to the festive feel. Ultimately, personal preference plays a big role in determining what makes a great Christmas beer.
Conclusion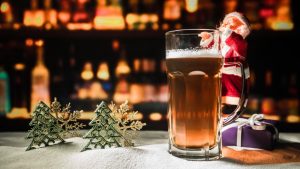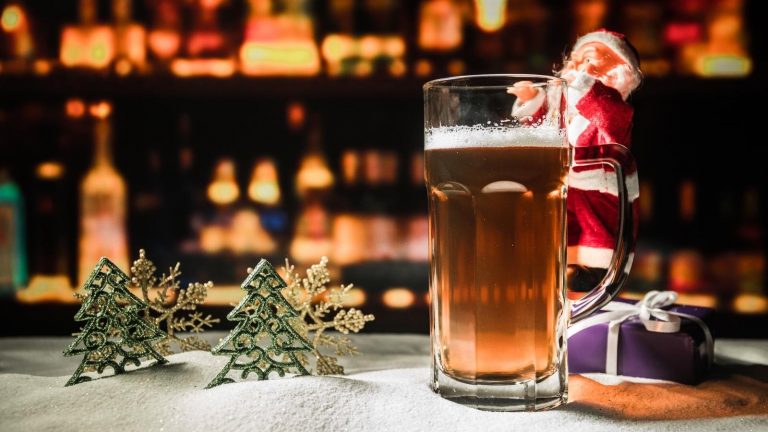 The Christmas season is one of the best times to celebrate with families, friends and loved ones. It also marks the end of the year, so it should be celebrated to the fullest.
What better way to celebrate than to have the best Christmas beers at hand?
The best Christmas ales include Bell Scotch Ale Christmas Ale, Deschutes Jubelale, Anchor's Christmas Ale, Avery's Old Jubilation Ale, Great Lakes Christmas Ale, Anderson Valley Winter Solstice and Brasserie Dubuisson Scaldis Noël.
The Christmas ales have unique features that make them suitable for the wintertime.
Christmas IPAs are also excellent beer choices for the winter season.
The top Christmas IPAs you should try are the Sierra Nevada Celebration Ale, Goose Island Christmas IPA and Fort George Magnanimous IPA.
Christmas stout beers help you to enjoy the darkness of beers and the soothing warmth of alcohol.
The best Christmas stouts include Alesmith Brewing Speedway Stout and Virginia Beer Elbow Patches Oatmeal Stout.
Put the above-discussed beers on your list for next Christmas, and regardless of your choice, you are sure to enjoy the holiday season.