Missile Toad Review: An Imperial IPA Fit for the Christmas Season
One of the top Christmas brews is Missile Toad, exploding hoppiness and warmth in the middle of winter. The triple IPA balances citrus notes and a medium body with a soft piney finish and was brewed by Ever Grain Brewing Company.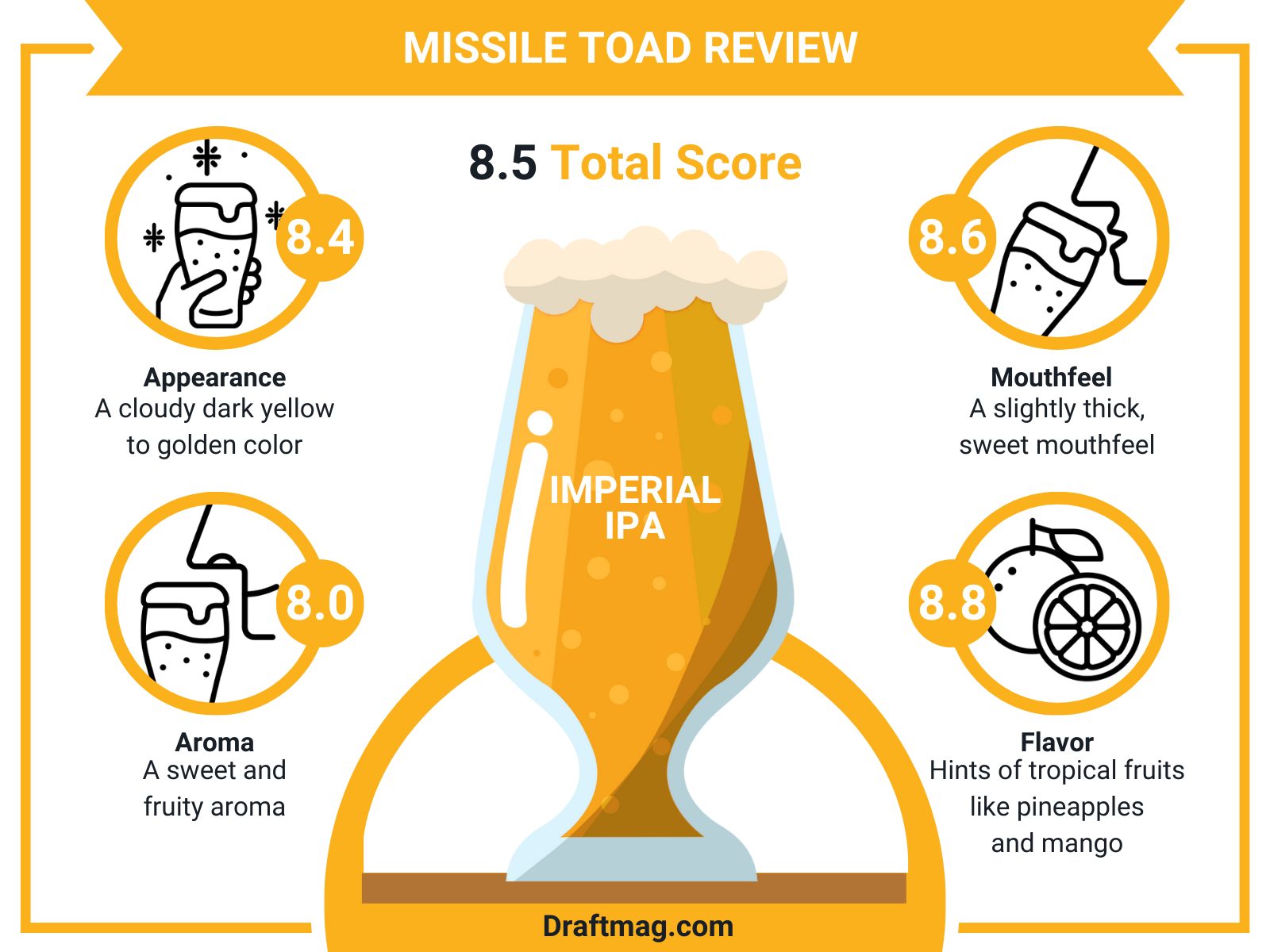 This is the ideal choice if you're looking for an imperial IPA to accompany you during the winter months. Before trying it, check out our complete review and learn what to expect from Missile Toad.
Missile Toad Stats
| | |
| --- | --- |
| Country  | United States |
| Brand | Ever Grain Brewing Co |
| Style | Imperial IPA |
| Taste  | Citrus, sweet |
| Body | Medium body |
| ABV | 10.5 percent |
| Flavors & Aromas | Citrus, pine, malty sweetness |
| Serving Temperature | 46-50 degrees Fahrenheit |
Tasting Notes
Missile Toad Tasting Profile
Missile Toad Review
Missile Toad is a delicious triple IPA brewed for Christmas by Ever Grain Brewing. The seasonal beer features an ABV of 10.5 percent, making it the ideal accompaniment for a night out with friends on a cold day. The beer's flavor and aroma explode with juiciness from the hoppy character. It starts with citrus notes before finishing with a pleasant piney finish.
Ever Grain describes this imperial IPA as a tropical vacation in the middle of winter, and trying out this beer is enough to convince you that it's true. To get the most of Missile Toad, you should serve it in a pint glass, a pub shaker, or a tulip glass for easy drinking. The serving temperature is from 46 to 50 degrees Fahrenheit to enhance the beer's aroma. Due to its citrus character, you can place a citrus slice like lemon or orange for garnishing.
Despite the high ABV that will get you drunk quickly, Missile Toad is pretty drinkable and makes you feel like you're having a 5 percent ABV beer. It does great in hiding traces of alcohol in the taste, keeping you focused on the citrusy and piney flavor. The hearty beer is ideal for cold days, but you can have it at any time.
– Appearance
When poured into a glass, Missile Toad has a cloudy dark yellow to golden color. The color can also be described as dirt straw. On top of it sits a frothy, creamy white head that dissipates rather quickly. The dense, thin white head leaves lacing against the glass and circles on top of the beer.
It appears hazy with slight hints of carbonation in the form of bubbles floating to the top of the beer. The foamy head enhances the aroma of the beer.
– Aroma
The first thing you smell when drinking the Missile Toad on the nose is the citrus flavor. Moderate aromas of citrus present themselves, combined with the aroma of tropical fruits. The hops add aromas of mango and floral scents, giving you a true IPA experience.
There are also slight hints of pineapple aromas, with the subtle scent of a peppery, spicy fruit rind on the nose. The beer's aroma is sweet and fruity, making it a great representation of a triple IPA.
– Mouthfeel
The Missile Toad beer has a hearty body and a slightly thick, sweet mouthfeel against your tongue. Despite the sweetness, there is also some subtle bitterness. It gives you an astringent mouth feel and finishes peppery dry.
Although the beer does a great job of masking the alcohol flavor, you will still feel slight alcohol burning at the back of your tongue. Due to the moderate amount of carbonation, the beer feels crisp on your palate. It's a bit thicker than medium-bodied, giving you a chewy feeling. The beer is dry on the tongue and palate.
– Flavor
The taste of Missile Toad follows the nose, with loads of hop flavor hitting you immediately. The citrus flavors are what you taste first, and although it lingers throughout the flavor, it does not overshadow the entire style and lets other flavors shine.
As the citrus flavor wanes, the beer will hit you with the light pine taste, which feels rather pleasant. The pine is accompanied by a tangy, fruity, and floral flavor. You can taste hints of tropical fruits like pineapples and mango in the beer's flavor.
The beer has a subtle sweetness mid-palate, with a slight taste of ethanol despite the high alcohol level. The malts add a sweet, malty backbone, with a taste of light grass and caramel sweetness evident in the finish. Missile Toad has a mostly dry finish, and a faint taste of citrus follows into the aftertaste.
The Missile Toad IPA is an excellent representation of the imperial IPA style. It's a real treat because of its drinkable nature and heavy hops. Hop heads will enjoy the aroma and flavor of this citrus and pine beer. Despite being a hoppy beer, it has low bitterness, offering more sweet flavors.
– Food Pairings
You can have your Missile Toad IPA with a wide range of foods, especially spicy foods. Due to the hoppy flavor, you need food with similarly strong tastes, so no one overwhelms the other. The bitterness of the IPA can cool off a spicy dish and act as a palate cleanser.
Some top food pairings include Mexican cuisine, Indian cuisine, tacos, burgers with barbeque sauce, grilled foods like chicken, pork, fish, and meat, buffalo wings, sticky ribs, and a steak. The IPA can cut through the spicy flavors of this beer and can be combined with vegetables like green onions and spring onions to enhance the hoppiness.
You can also consider pairing the Missile Toad IPA with sweet foods because of its sweet citrus and caramel flavors. The beer goes well with desserts like a blood orange sorbet, panna cotta, banana orange crepes, and cake. Other top options include fruity pies like apple pie or peach pie.
If you'd prefer to have your beer with cheeses, the best options are blue cheeses like gorgonzola, Roquefort, and Danish. These are strongly flavored cheeses that will balance well with the strong flavor of the beer.
Ingredients
Missile Toad is a triple IPA, so you can expect many hops in the ingredients. The beer is made with Mosaic hops during the brewing and dry hopping process, which gives you citrus, juicy, and hoppy flavor.
The beer is also made with malts, which you will notice in the malty sweetness balanced behind the flavor of the hops. The malts also add flavors of caramel sweetness and grass, which you will notice towards the beer's finish. The exact malts being used are not known.
Other ingredients used to make this beer are water and hops. If you're a homebrewer, you can replicate the Missile Toad beer after drinking. You can use Mosaic and Elles hops for the hop schedule, as these provide citrus and pine flavors. Homebrewers usually use 2-row pale malts, carapils, and oats for the malt list.
Nutrition Facts
Missile Toad features a 10.5 percent ABV, but its exact nutritional facts are unknown. The IBU of the beer is also unknown, but it has low bitterness units due to the citrusy sweetness that dominates the taste.
The beer is not recommended for those on a keto diet because of the high carbs. It is also not gluten-free due to its malt list. If you have any allergies, especially wheat and barley, it's advisable to avoid this beer.
Imperial IPAs usually have between 250 and 300 calories, especially higher since the Missile Toad IPA has a 10.5 percent ABV. Those watching their dietary intake should keep this in mind when consuming this beer.
History
Missile Toad is an imperial IPA by Ever Grain Brewing, a craft brewery based in Camp Hill, PA. The brewery focuses on providing fresh ideas and high-quality beers to its customers, as you can see in this triple IPA.
Ever Grain is owned by two friends and was founded in 2016. Since then, it has quickly become a top brewery in Pennsylvania with a 5-foot bar and a large taproom for its visitors. The brewery also has German-style picnic tables for enjoying your beer outdoors.
The Pennsylvania farms got all the ingredients used to make Missile Toad and other beers from Ever Grain. The fresh ingredients are also from their privately owned farm, so you can enjoy fresh beers when you visit the brewery and take the beer from the tap.
Conclusion
Missile Toad is a delicious IPA that appeals to hop heads and beer lovers looking for fresh perspectives on high ABV beers. Before we go, here are the highlights of this article:
Missile Toad is an imperial IPA with a 10.5 percent ABV by Ever Grain Brewery.
The beer has an aroma and flavor of citrus and pine, with hints of tropical fruits, malty sweetness, and caramel to give you a creamy, soft beer.
It was made with Mosaic hops, malts, yeast, and water.
The beer is best served when you have it in a pint or tulip glass to display the color, hazy appearance, and fluffy head.
You should pair the IPA with spicy foods, sweet and citrusy desserts, and strongly flavored cheese.
You can enjoy the farm-to-brew Missile Toad at Ever Grain when you're in Pennsylvania. The beer is also available at liquor stores around you or online.