Dr Dank Review: A Guide to the Delicious Hybrid IPA for Beer Lovers
Dr. Dank is one of the top craft beers that best represent the American IPA style. Brewed by Wicked Weed, the craft beer offers a good balance of hoppy bitterness, pine, and earthy character — all encased in a crisp beer.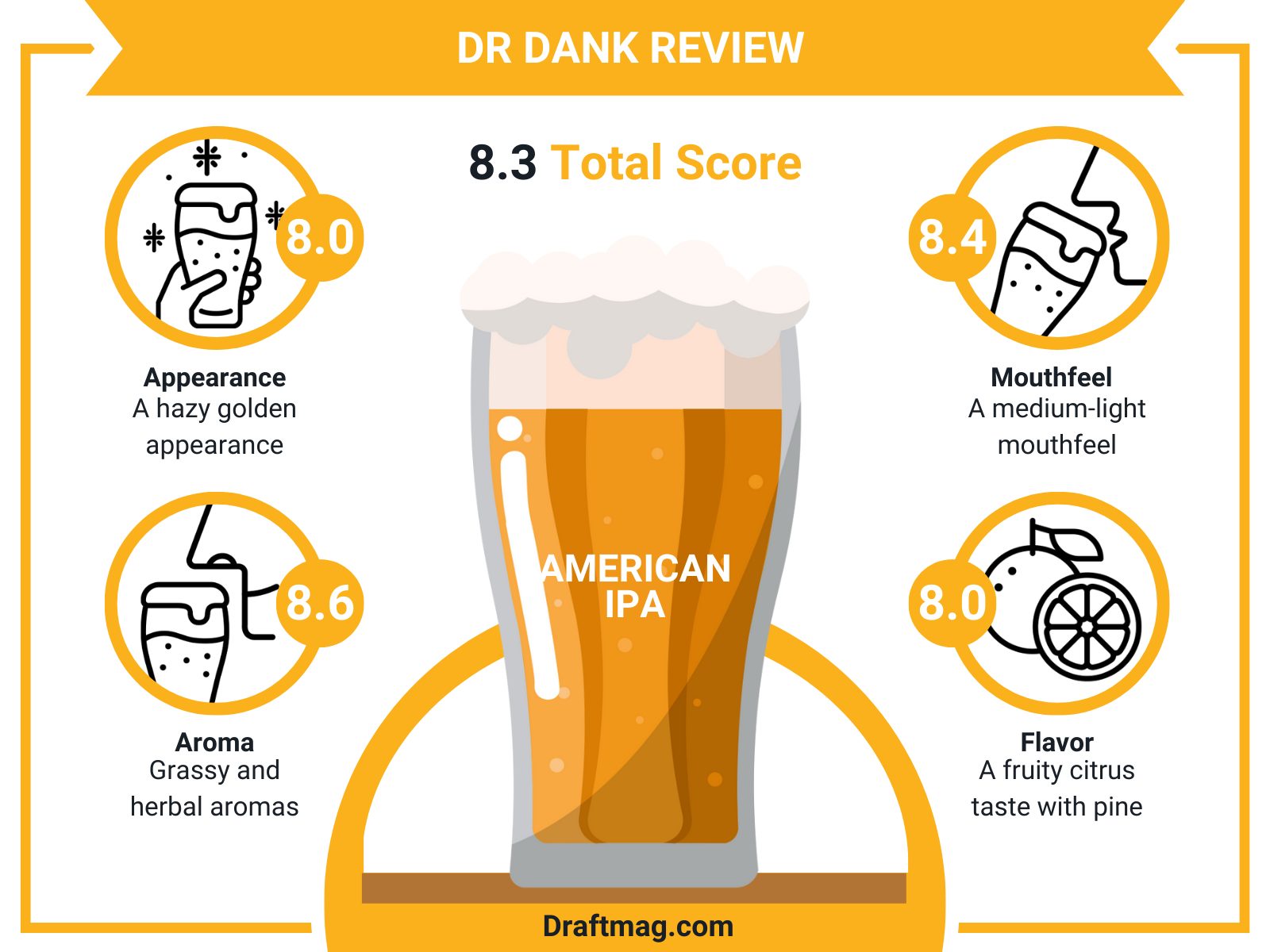 The IPA has quickly become a top favorite among beer lovers in the United States, surprising everyone with its fruity, hybrid taste. If you're wondering whether this beer is worth it, we cover all you need to know in this complete review.
Dr. Dank Stats
| | |
| --- | --- |
| Country  | United States |
| Brand | Wicked Weed Brewing |
| Style | American IPA |
| Taste  | Hoppy, crisp |
| Body | Medium body |
| ABV | 7.1 percent |
| Flavors & Aromas | Earthy, bitter, hoppy, pine, crisp |
| Serving Temperature | 45-50 degrees Fahrenheit |
Tasting Notes
Dr. Dank Review
Dr. Dank is an American IPA with 7.1 percent alcohol content. The beer is dominated by flavors and aromas of earthiness, hoppy bitterness, and pine and has a crisp taste. The beer is made with botanicals and has a danky flavor and aroma based on the name. This weedy flavor makes the entire brew bold and delicious.
To enjoy the Dr. Dank beer best, you should pour it in a snifter, goblet, or chalice and serve it at a temperature that is not over 50 degrees Fahrenheit. Placing a citrus slice or a little juice in this beer also makes it taste better, balancing the fruity flavor with the pine and hoppy bitterness.
Dr. Dank has a hazy and attractive appearance that you first notice when you pour. The weediness dominates the beer's character, but you can get other flavors and a medium mouthfeel. It finishes with a little bite that encourages you to get another glass.
– Appearance
The dank IPA pours hazy golden, with a large, beautiful and clear white head sitting against it. With impressive head retention, the white foam remains on your beer for a while, enhancing the aroma. It also leaves thick lacing against the glass you are using.
– Aroma
On the nose, the botanicals are evident in the form of a grassy and herbal aroma. This aroma mix backs up the strong resinous scent that first hits you when you drink the beer. Amidst the light dank weed, there are also hints of citrus and pine, with some herbal notes. The wet aroma becomes even more pronounced as you get to the end of the can.
– Mouthfeel
Dr. Dank features a medium-light mouthfeel with preppy carbonation that gives you a fizzy, tingly beer. The carbonation adds bubbles to the beer and gives you a light mouthfeel. Aside from the feeling on your palate, the beer features a strong bitterness in the aftertaste from the hops.
– Flavor
As for the flavor, the Dr. Dank beer offers a good balance of the elements that make it a great IPA. The taste is dominated by the resinous quality and adds in hits of floral and melon. The malt backbone is always evident in the flavor and is well-contrasted with bitter hops, with flavors that linger into the aftertaste.
The enjoyable IPA also has hints of fruity citrus and pine that add a herbal character to the flavor. There are also flavors of orange, grapefruit, and mango, and it finishes with some pine, rind, and hoppy bitterness.
– Food Pairings
There are different kinds of foods that you can enjoy with Dr. Dank, as the beer follows the standard of IPAs to give you a hoppy and bitter flavor. This hoppy bitterness goes well with spicier dishes like barbeque, tacos, burgers, and other meaty foods.
You can also have a beer with snacks like fish and chips, ceviche, and fish tacos. If you prefer to have cheese, the earthy and lightness of the Cambozola goes well with the Dr. Dank beer. You should look for earthy and creamy cheeses that will go well with this beer.
As for dessert, you should have beer with sweet and sour foods like lemon pie or cake, fruity-based desserts, chocolates, and more.
Ingredients
Dr. Dank is an American IPA beer, so you can expect a focus on its hops. The hops used to make this beer include Amarillo, galaxy, Motueka, Citra, mosaic, and pacific jade. These add the flavors of hoppy bitterness and pine flavors to the beer.
It is also brewed with malt, yeast, and water. The beer has a malty backbone obtained from its main ingredients. The beer is also made with botanicals, giving the drinkers a dank flavor.
Nutrition Facts
Dr. Dank features a 7.1 percentage of alcohol and 65 bitterness units due to strong hops in the beer. The high alcohol content gives it a slight boozy character and will get you drunk rather quickly.
The beer also has 212 calories and 16 grams of carbs in a 12-ounce can. The high-calorie level means those on a diet should be watchful. The beer is not ideal for those on a keto diet because of its high level of carbs, and it is not safe for those who need a gluten-free beer.
History
Dr. Dank is brewed by the Wicked Weed Brewing Company based in North Carolina and is one of the top beers from this famous brewery. Aside from Dr. Dank, you should check out Coastal Love, the hazy IPA, and Appalachia Session IPA.
The beer was released in 2021 to provide something different from what beer lovers are used to. This resulted in a dank botanical beer and has gained popularity among beer lovers.
Conclusion
Dr. Dank is the right representation of an American IPA with resinous, bitter, and piney flavors backed up by a sweet malty backbone. Here is the rundown of this beer based on our review.
Dr. Dank is an American IPA by Wicked Weed Brewing Company, with a 7.1 percent ABV.
The beer's flavor and aroma mix pine, resins, hoppy bitterness, and citrus flavors to give you a clean and crisp feeling.
It is dry hopped with a wide range of hops during the brewing process.
This beer is best served with a citrus wedge, while in a pilsner or chalice, and served cold.
It is paired well with spicy foods and earthy cheese.
If you want to experience the flavor, Dr. Dank is available at different restaurants, physically and online. You can also visit North Carolina and enjoy the beer right from the tap!