Ballast Point Sculpin Review: A Classic West Coast IPA
Ballast Point Sculpin IPA is a great example of the American India Pale Ale with a mix of citrus and hops. The medium-bodied beer is made by Ballast Point Brewing Co and offers a balanced flavor.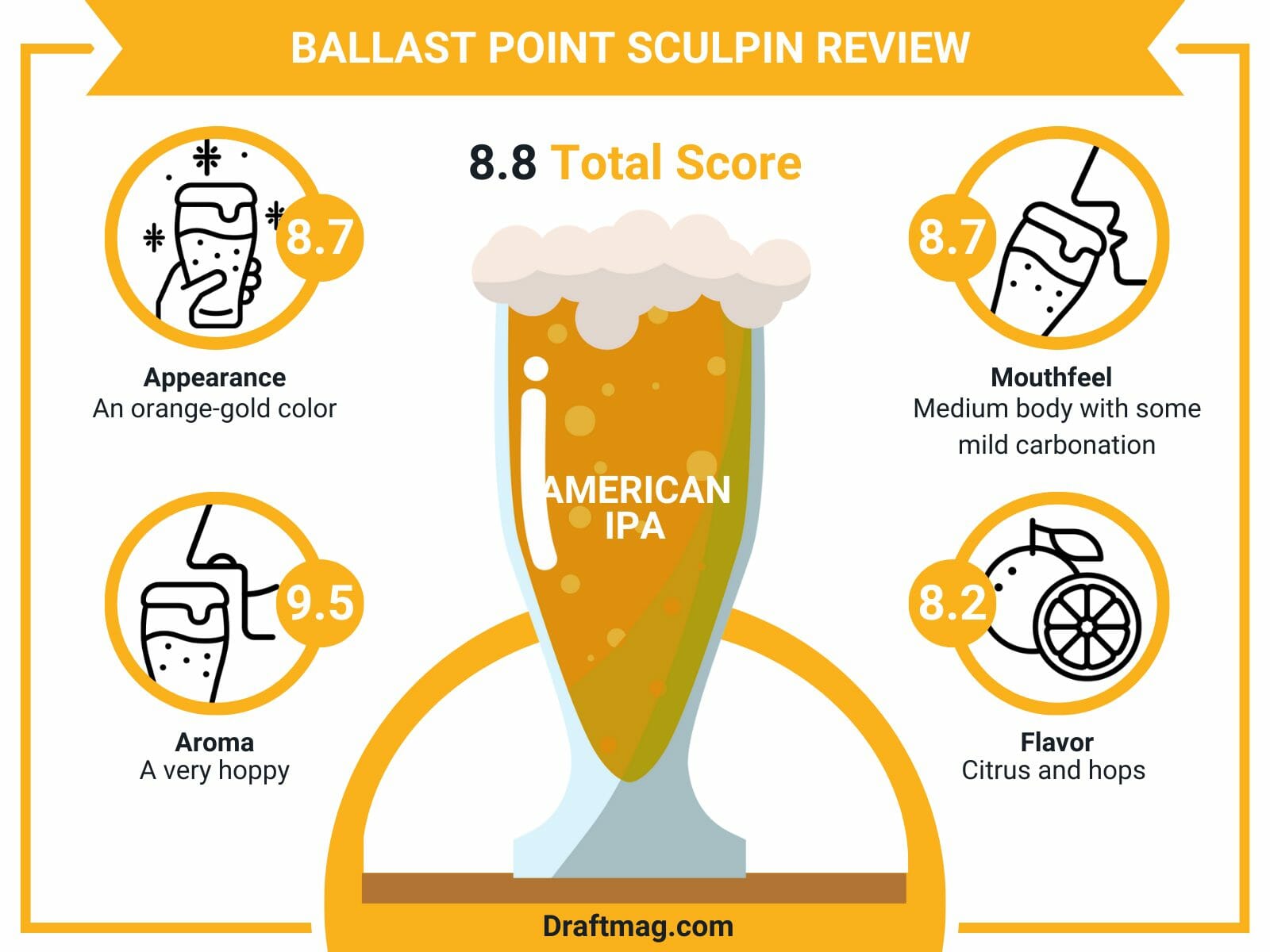 The beer has proven itself as one that is excellent in its style, gaining the attention of beer enthusiasts around the world. If you're one of them, read our complete review below to know more!
Ballast Point Sculpin Stats
| | |
| --- | --- |
| Country  | United States |
| Brand | Ballast Point Brewing Company |
| Style | American IPA |
| Taste  | Hoppy, citrus |
| Body | Medium Body |
| ABV | 7 percent |
| Flavors & Aromas | Hoppy, citrus, bitter, pine, malt |
| Serving Temperature | 45 – 50 degrees Fahrenheit |
Tasting Notes
Ballast Point Sculpin Tasting Profile
Ballast Point Sculpin Review
Sculpin is an American IPA with a 7 percent alcohol content. The excellent classic IPA will most likely have you coming back for more, as it pours an orange-gold color and has a medium body. The Sculpin beer has aromas and flavors of hops, bitterness, citrus, pine, and malts in the backbone.
The beer will look great when poured in a pint glass, as the cloudy golden color offers a steady head that sits well on the wide opening of the glass. Other good options include a snifter, chalice or goblet. When serving this beer, it should not be too cold; preferably at temperatures from 45 to 50 degrees Fahrenheit.
Garnish the beer with a citrus wedge or slice to accentuate the citrus flavors in it. You can pair it with some hard-aged cheese or beef.
– Appearance
The Sculpin ale pours an orange-gold color into your glass and appears to be cloudy or slightly hazy. On top of the beer is a three-finger high head, which dissipates slowly. The head eventually becomes a thin cap and leaves some lacing against the rim of the glass.
– Aroma
The aroma of the beer is very hoppy and might even catch you off-guard as it is a bit more intense than the flavor.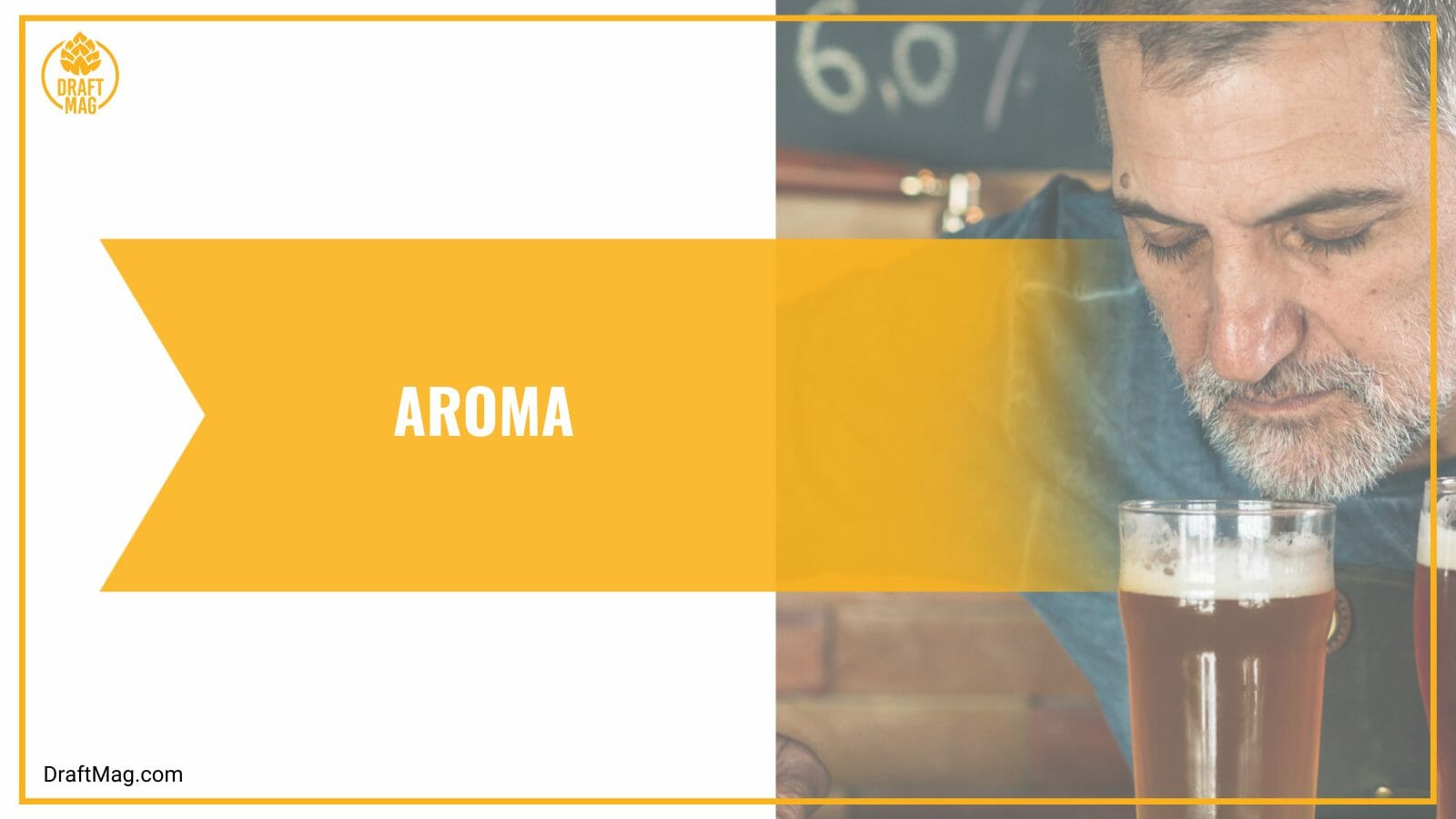 You will notice aromas of citrus and hops, with hints of earthiness, grapefruit, lemon, and coriander. Although slight, there are also hints of biscuits and light caramel.
– Mouthfeel
The Sculpin beer has a smooth feeling on your palate that goes down easy despite the high ABV and hoppiness. The medium body is combined with some mild carbonation, and this results in a firm and slick feeling against your palate. It finishes dry with barely any alcohol warming.
– Flavor
As for the flavor, the Sculpin ale tastes much lighter than you would expect from the aroma. But it is still firm and holds strong against the aroma with the flavor of citrus and hops. When you first taste the beer, you will notice some pine, white pepper, and bready malts.
Mid-palate, the beer offers some peach and grapefruit in the flavor, which balances well with the citrus, especially orange and lemon rind. In the swallow, you get some orange zest, caramel malts, peppery hops, and toasted grain. It finishes off-dry with hints of bitterness.
– Food Pairings
The Sculpin IPA pairs well with similarly intense foods, especially due to the hoppy and citrus flavor.  When having the IPA, you should go for spicy foods like a burger or taco with spicy barbecue sauce, spicy noodles, fish and chips, sticky and sweet chicken wings, Indian curry, and Mexican cuisine.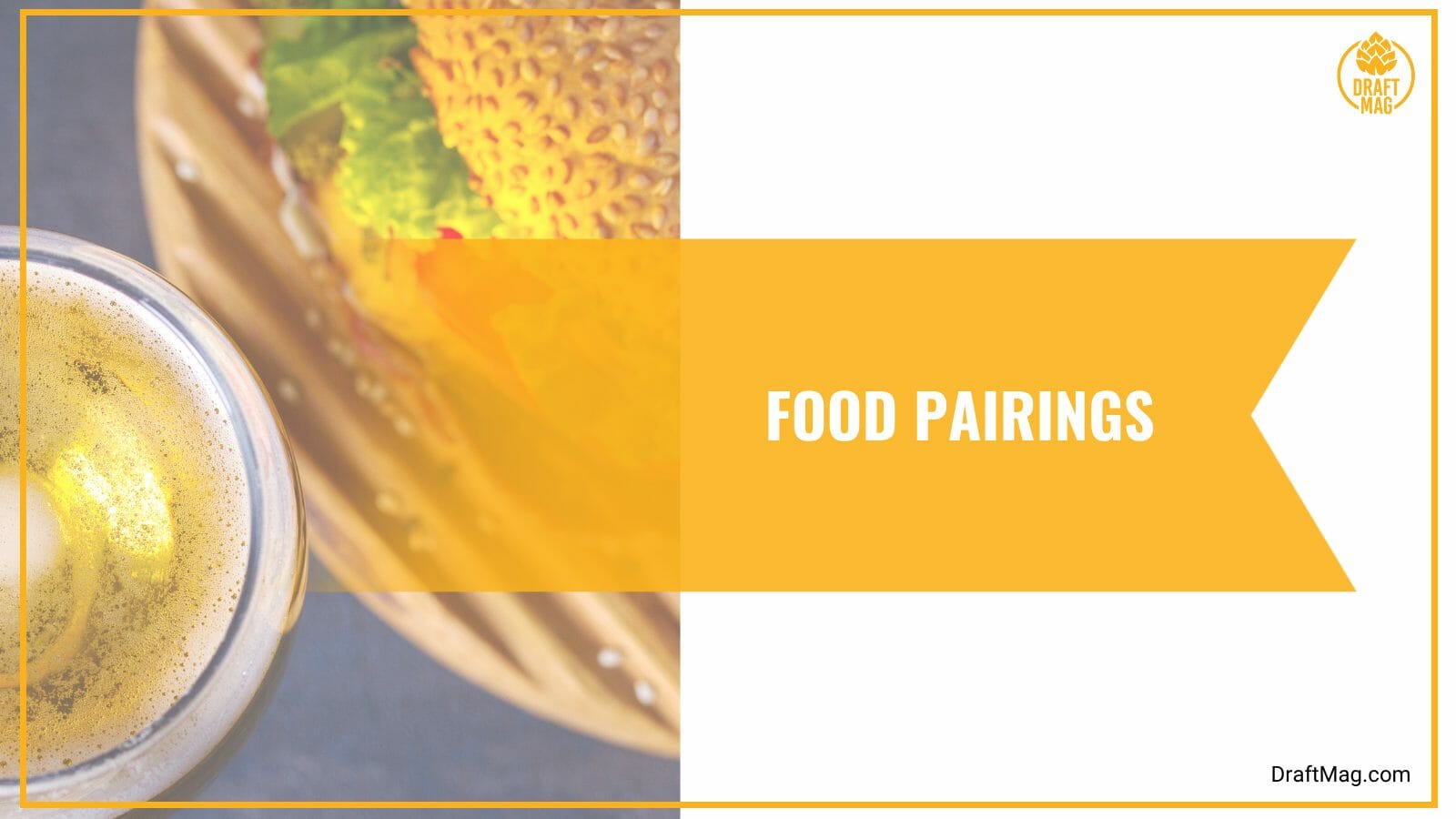 The IPA will go great with crisp and bright produce like English peas, artichokes, and asparagus, which will complement the soft mouthfeel of the beer. Oily fish will also pair well with the beer, so consider a mackerel or salmon.
The Sculpin beer goes great with citrus-based desserts, so try out a lemon cheesecake, blood orange sorbet, or a panna cotta with lemon. Fresh berries, a fruit soup, or some banana-orange crepes will also go well with the beer. As for the cheese, the IPA goes great with a medium or sharp cheddar, blue cheese, or Parmegiano Reggiano.
Ingredients
The exact ingredients of the Sculpin beer are unknown, but it is made with malts, hops, yeast, and water. The malts offer flavors and aromas of biscuits and caramel, although it is barely present and relegated in the backbone. The hops are bright and vibrant in the character, offering hints of citrus, pine, earthy notes and spice.
Nutrition Facts
In the Sculpin beer, you get a 7 percent alcohol content but it is rather light despite the high ABV. As for the IBU, it is 70, which is a pretty high level. This is due to the hoppy and bitter flavor that you can enjoy when drinking this classic beer.
The beer has 240 calories in every 12-ounce serving, which is a really high level. Keep this in mind if you're on a diet and calculating your daily dietary intake. It also has 20 grams of carbs and 12 grams of sugar. Those on a keto diet cannot take this beer due to the high carbs content, and it is not ideal for those that cannot consume gluten.
History
Sculpin is a production of Ballast Point Brewing Company and is a product of years of experimentation. The beer is hopped at five separate stages and gets its unique name from the Sculpin fish, which is a sea scorpion. Although it has poisonous spikes, it is also one of the tastiest fish in the world.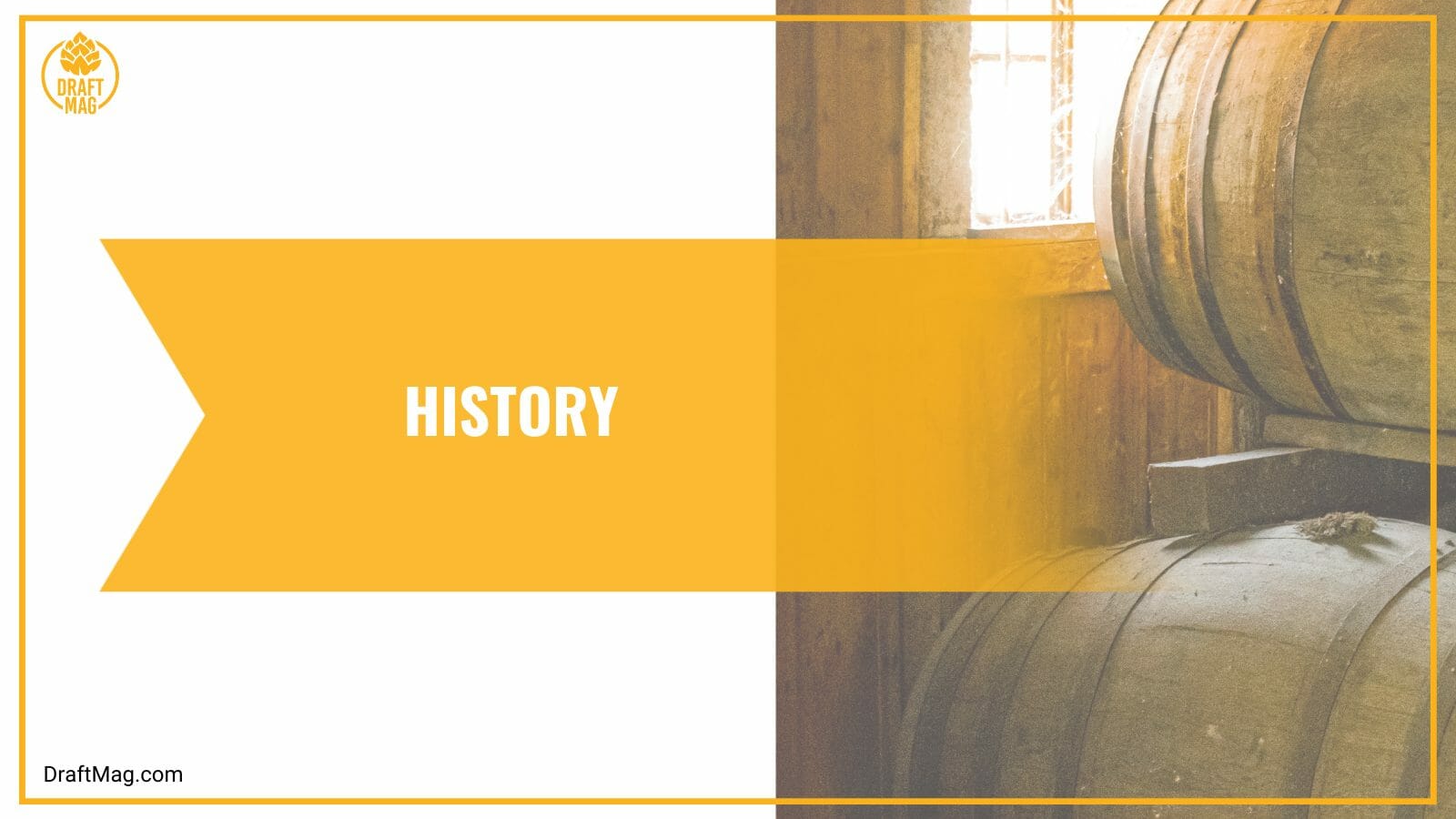 The beer is the recipient of 34 awards, including gold medals. These include the World Beer Cup, European Beer Star, California State Fair, and the Great American Beer Festival. The year-round beer is produced on draft, in 12-oz cans, and also in 12-oz bottles.
Conclusion
The Sculpin ale is a refreshing beer, ideal for those who enjoy drinking hoppy IPAs and fruity notes. Here's a summary of our Sculpin beer review:
Sculpin is an American IPA with a 7 percent alcohol content from Ballast Point.
The beer has flavors and aromas of malts, citrus, hoppy, and pine, with a good balance of bitterness and sweetness.
Its exact ingredients are unknown.
The beer is best served in a pint glass, with a serving temperature of 45 degrees Fahrenheit.
Pair it with spicy food, crisp, and bright produce, citrus-flavored desserts, and hard-aged cheese.
If you're curious about the Sculpin beer, you can purchase it on draft at the brewery whenever you're in California. You can also purchase the can or bottle from online and physical liquor stores.