Hitachino White Ale Review: A Look at This Top-Selling Witbier
The Hitachino White Ale is a common favorite among those who enjoy drinking witbier and is a refreshing, mildly hopped beer. One of the most popular beers from Hitachino, the Nest White Ale is a bestseller for a good reason.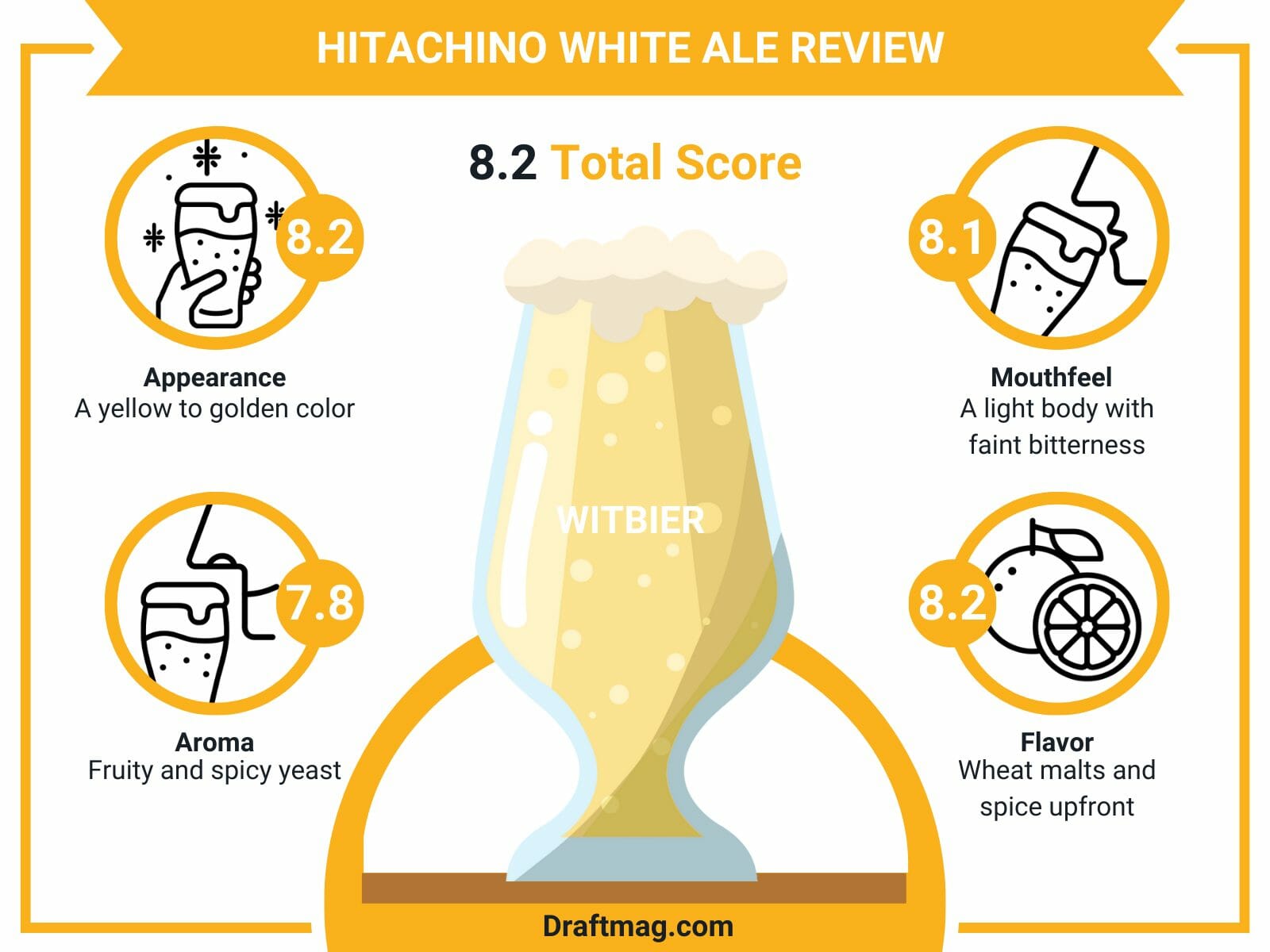 Drinkers can expect a soft and flavorful taste with spice and citrus against a wheat backbone. You can learn more about this beer including the tasting notes, food pairings, and nutritional information by reading the review below.
Hitachino White Ale Stats
| | |
| --- | --- |
| Country  | Japan |
| Brand | Kiuchi Brewery |
| Style | Witbier |
| Taste  | Wheat, spice |
| Body | Light body |
| ABV | 5.5 percent |
| Flavors & Aromas | Wheat, dry, earthy, spicy, yeast |
| Serving Temperature | 45 – 50 degrees Fahrenheit |
Tasting Notes
Hitachino White Ale Tasting Profile
Hitachino White Ale Review
The Hitachino White Ale is a witbier or wheat ale that offers a soft and flavorful taste with a 5.5 percent alcohol content. The beer is a product of Kiuchi, based in Japan. The beer follows a classic Belgian witbier style and is flavored with coriander, citrus, and nutmeg. It has a golden color and a soft mouthfeel.
The beer has flavors and aromas of herbal, fruity, and floral hops, wheat, and barley malts and has a dry, earthy, and spicy character. You can best enjoy this beer when served in a tulip glass, at temperatures ranging from 45 to 50 degrees Fahrenheit since you don't want it too cold. Garnish the beer with a citrus wedge.
An all-season witbier, the White Ale goes well with citrus fruits and white fish. The brisk carbonation makes it highly drinkable and refreshing for hot days.
– Appearance
The White Ale pours a yellow to golden color into your glass, with a white foamy head up to two fingers. It features a hazy appearance, and you will see sediment at the bottom of the bottle or glass, which is brewer's yeast.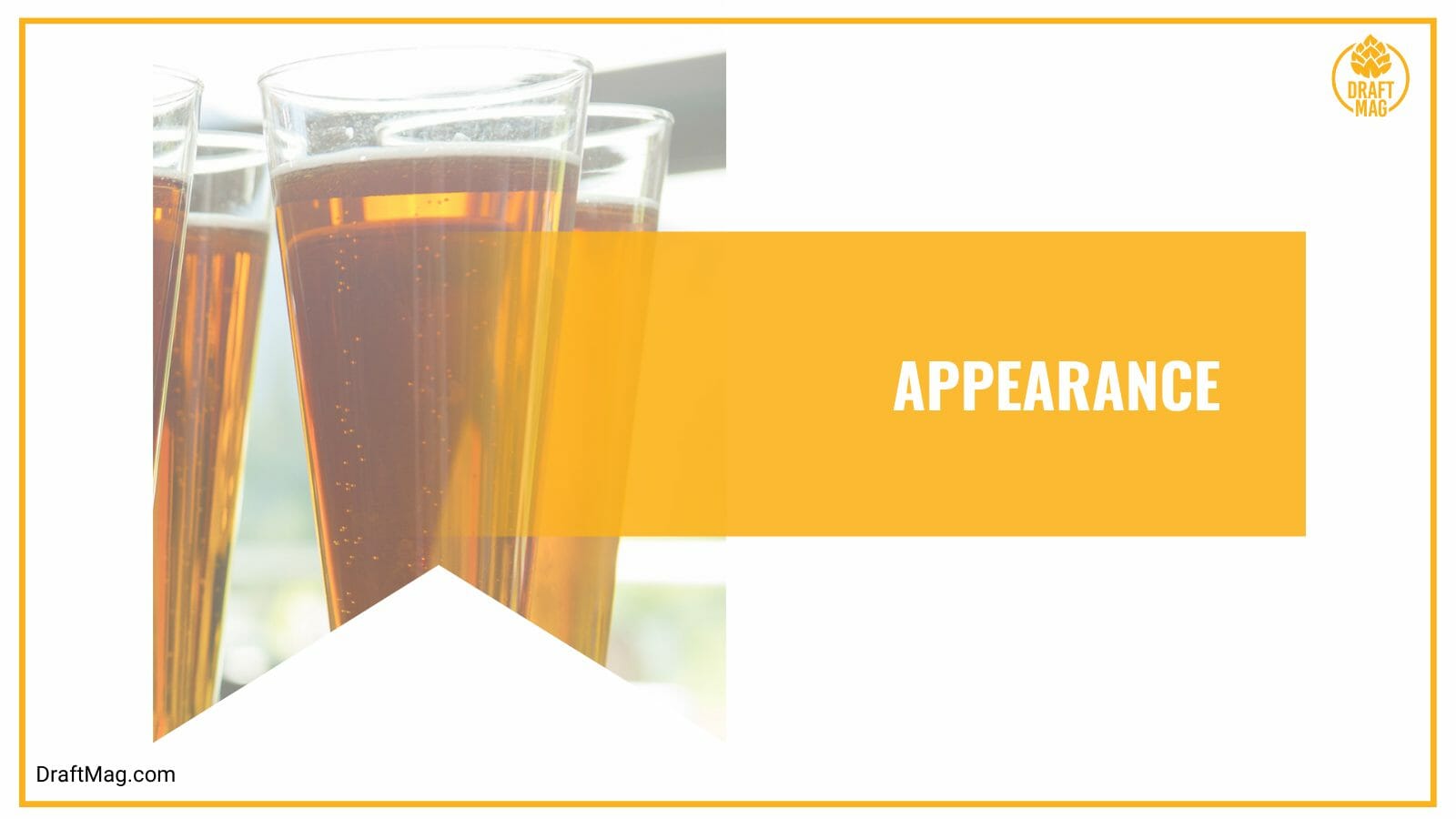 The sediment is safe to drink, but you can avoid it too. The foamy head has decent retention and fades down to a decent cap and good lacing.
– Aroma
On the nose, the White Ale has a prominent aroma of fruity and spicy yeast. This is followed by the backbone of wheat and floral hops. There is mild ginger and a faint skunky aroma, depending on how long the beer was stored. The aroma is mild and does not overshadow the taste.
– Mouthfeel
The Hitachino Nest White Ale has a light body with faint bitterness on the palate. The beer offers brisk carbonation, which presents itself with a bubbly feeling and a soft texture. You might also feel the brewer's yeast against your palate while swallowing. It has a dry finish from the hops and yeast.
– Flavor
The flavor of the White Ale follows the aroma, mostly wheat malts and spice upfront. You will notice the semisweet coriander at first, along with the wheat malt and a hint of orange peel. There is minimal bitterness in the beer. Also upfront is mild ginger, while towards the end are dry yeast notes.
The beer starts off with fruity hops and spicy yeast, and this is followed by the flavor of wheat and floral hops before becoming a spicy yeast finish. Initially, it has a delicate taste with some orange and lemon, and the wheat becomes more noticeable as the beer warms up.
You can also notice hints of green apple, mint, honeyed malts, herbal notes, nutmeg, and pasta water.
– Food Pairings
When having the White Ale, you can pair the hazy, citrussy, and aromatic character with a wide range of foods. For a typical American brunch, you can have the witbier with quiches, tacos, omelets, and pies, especially when the food contains fresh coriander, mint, basil, and parsley.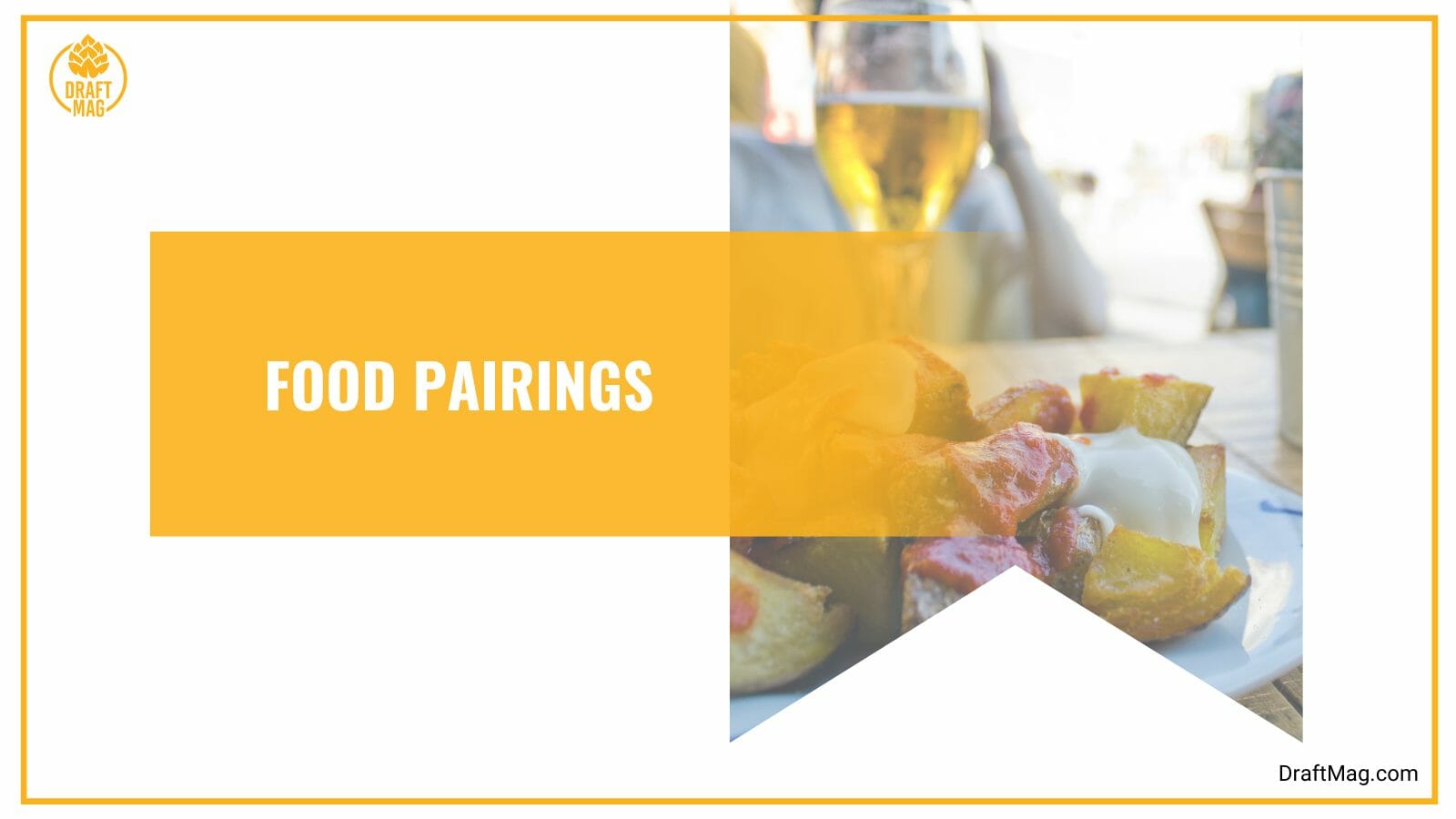 The beer also goes well with creamy foods like butter-seared lobster and prawns, cream pasta, and foods with dairy-based sauces like Alfredo and Bearnaise. Seafood like crab, oysters, mussels, clams, fried or grilled sole, and smoked salmon also go well with this beer. You can also try fried fish, raw fish, sushi, and fish cakes.
For a cheese pairing, have the beer with young goat cheese, feta cheese, or sheep cheese. The beer also goes well with salads like a Caesar salad or tomato salad or Thai and Mexican dishes that have a lot of herbs and citrus. For dessert, the beer goes great with a panna cotta with lemon or orange sorbet.
Ingredients
The White Ale is brewed with different ingredients including grains, hops, yeast, and adjunct ingredients. The malt list includes malted wheat, pale malt, torrified wheat, and flaked wheat. This offers a strong wheat backbone and hints of malt as the beer warms up.
The hops are Perle, Amarillo, Celeia, and Styrian Golding, but it is not a hoppy beer. As for the adjunct ingredients, they are orange juice, orange peel, nutmeg, and coriander.
Nutrition Facts
The Hitachino Nest White Ale has a modest alcohol content of 5.5 percent, while the IBU is 13. It is light in color with SRM 2. In every 12 ounces of beer, there are 165 calories and 17 carbs. Consider these when calculating your daily dietary intake.
The beer is not gluten-free as there are different ingredients in it that contain gluten. It is also not suitable for those on a keto diet due to the high net carbs content.
History
The White Ale is brewed by Kiuchi Brewery, a Japanese brewery. Kiuchi Brewery dates back to 1823 and started by making sake before launching its first microbrew beer in 1996, which was the Japanese Classic Ale.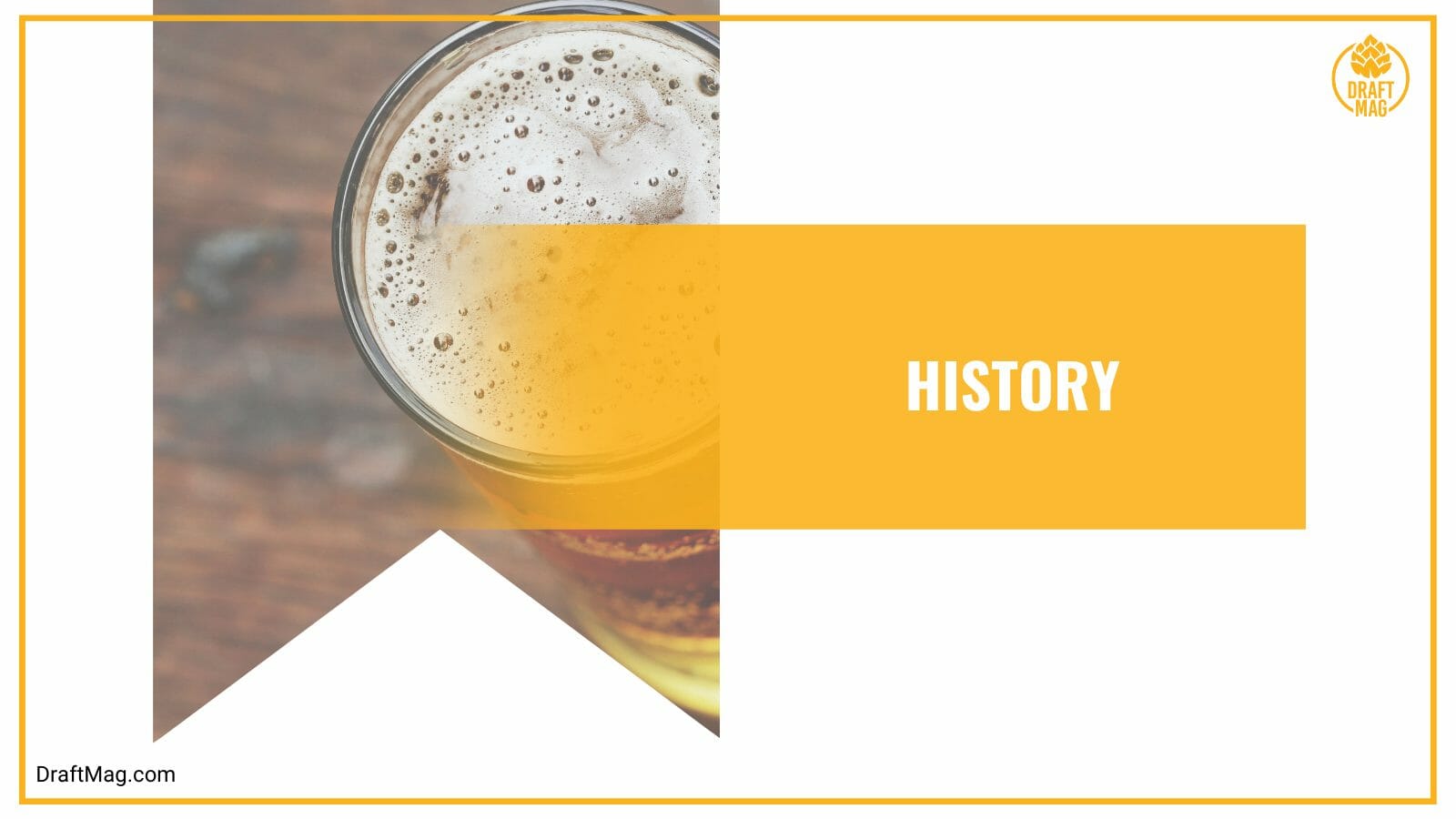 They have made a wide range of beers in the Hitachino Nest series, including the White Ale that was released in 2001. Another member of the series is the Red Rice Ale, a pale ale.
Conclusion
The Hitachino Nest White Ale offers a refreshing and flavorful character for any wheat beer lover. Our review covered all you need to know, and here's the rundown:
The White Ale is a Belgian-style witbier with a 5.5 percent alcohol content.
It has flavors and aromas of wheat and malts, citrus, spice, nutmeg, and coriander, with a soft mouthfeel and semi-dry finish.
The beer is made with grains, hops, yeast, and adjunct ingredients.
It is best served in a tulip glass and should not be too cold.
Pair the beer with different kinds of seafood, American-style brunch, creamy foods, goat or sheep cheese, and citrus desserts.
Since White Ale is popular, you can easily find it at liquor stores near you or served in Japanese restaurants. It can also be purchased online.