Dogfish Head Dragons and Yum Yums Review: Bright and Fruity
Dogfish Head Dragons and Yum Yums is a unique and fruity American ale that will surprise you with different kinds of bright tropical fruits. The beer is known as the first beer with its own theme song.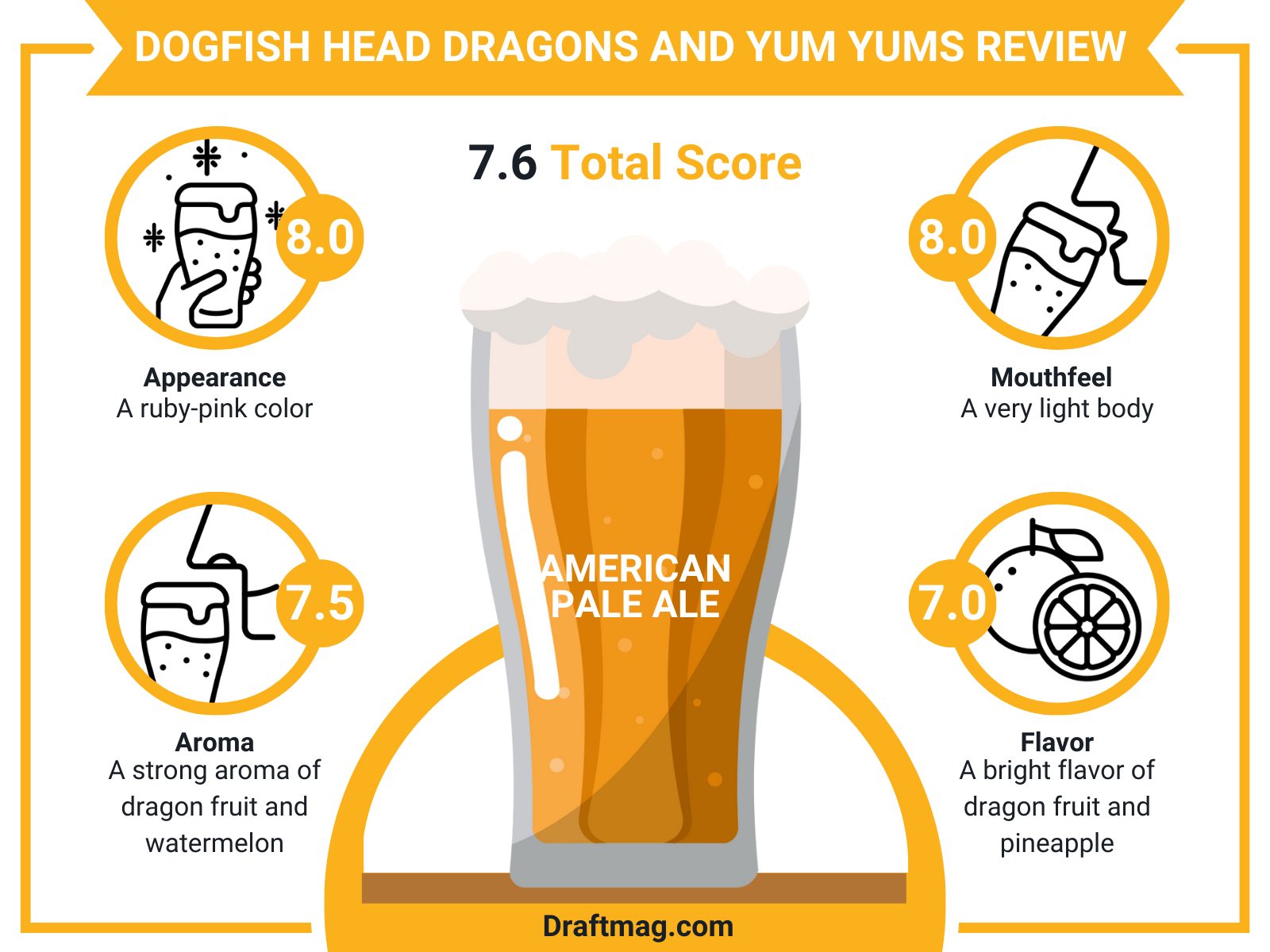 From the fruity notes of dragon fruit and yumberry to the crushable mouthfeel and juicy aromas, you're in for a full experience with this ale. To learn more about the beer, read our complete beer review below. 
Dogfish Head Dragons and Yum Yums Stats
Country 

United States

Brand

Dogfish Head Craft Brewery

Style

American

Pale Ale

Taste 

Tropical fruits, tart

Body

Light Body

ABV

6.5 percent

Flavors & Aromas

Tropical fruits, citrus, dragon fruit, pineapple, malts, berry

Serving Temperature

45 – 50 degrees Fahrenheit
Tasting Notes
Dogfish Head Dragons and Yum Yums Tasting Profile
Dogfish Head Dragons and Yum Yums Review 
Appearance: 8/10

Aroma: 7.5/10

Mouthfeel: 8/10

Flavor: 7/10
Dragons and Yum Yums is an American pale ale made in the United States. The beer features an alcohol content of 6.5 percent and there's so much in the fruity flavor to look out for.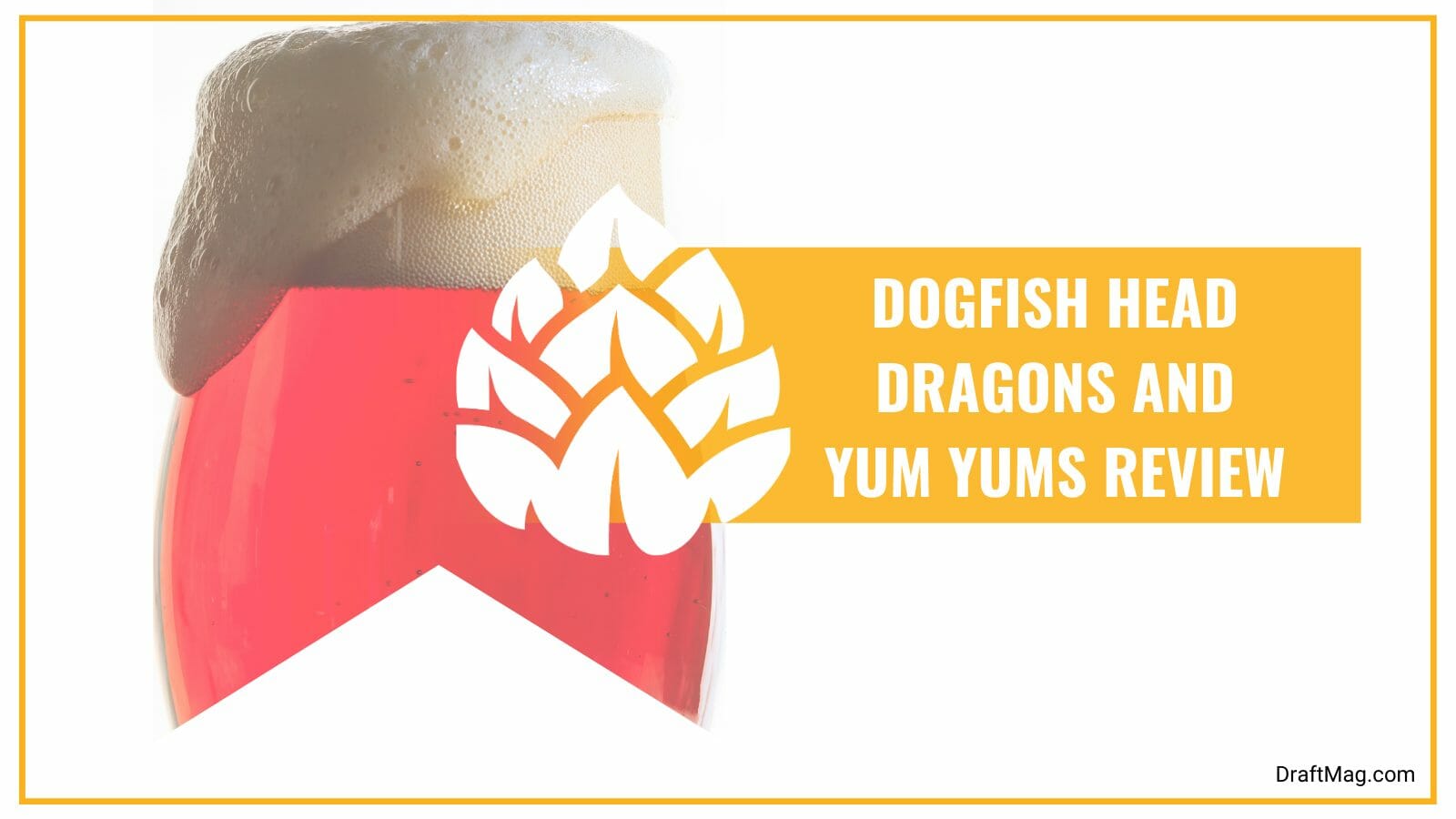 The beer pours a ruby pink color and has a light but slightly thick body. It offers flavors and aromas of tropical fruits, dragon fruit, citrus, pineapple, and berry, and a solid malty base. Enjoy this beer with friends, when having a pool party, or use it to complete any summer vibe. It also pairs well with different kinds of food. 
Serve the American ale in a pint, as recommended by the brewery. The pint glass is designed with a wider opening and a slim bottom for showing off the color. It holds the head in place as you drink. The ideal serving temperature is from 45 to 50 degrees Fahrenheit.
– Appearance 
On the pour, the Dragons and Yum Yums ale has a ruby-pink color that will remind you of a juicy grapefruit. The light ale has a bit of cloudiness to the transparency, but it is not hazy. 
As for the head, it is a white foam with a lot of pink hues. The foamy head is only a finger high and reduces to a thin film quickly, leaving no lacing behind. 
– Aroma 
The aroma is not as fruity as you would expect, as that is all left for the flavor, but it gives you a sense of juiciness that holds promise. There is a strong aroma of dragon fruit and watermelon in the forefront.
You might also smell a lot of malts in the aroma, which gives it a sweet scent that contrasts the tart citrus hops. It offers an interesting and promising aroma.
– Mouthfeel 
The fruity ale is very light bodied but does not classify as watery as there is some thickness and creaminess to the body. Despite the light body, it is still very flavorful and offers a bit of sourness on the tongue with every sip.
The beer is well carbonated too, giving you a fizzy and poppy feeling on your tongue rather than feeling smooth. In the finish, it feels dry and crisp, with a tart aftertaste. There is no alcohol warming and the beer goes down easy.
– Flavor 
The flavor of the Dragons and Yum Yums beer follows the aroma but it is fuller, fruitier and more vibrant than you would expect. From the beginning of the taste, you're hit with a lot of bright and tropical fruits, especially the dragon fruit and pineapple. The hops shine through the flavor too, giving you a slightly bitter taste that balances out the mellow fruit.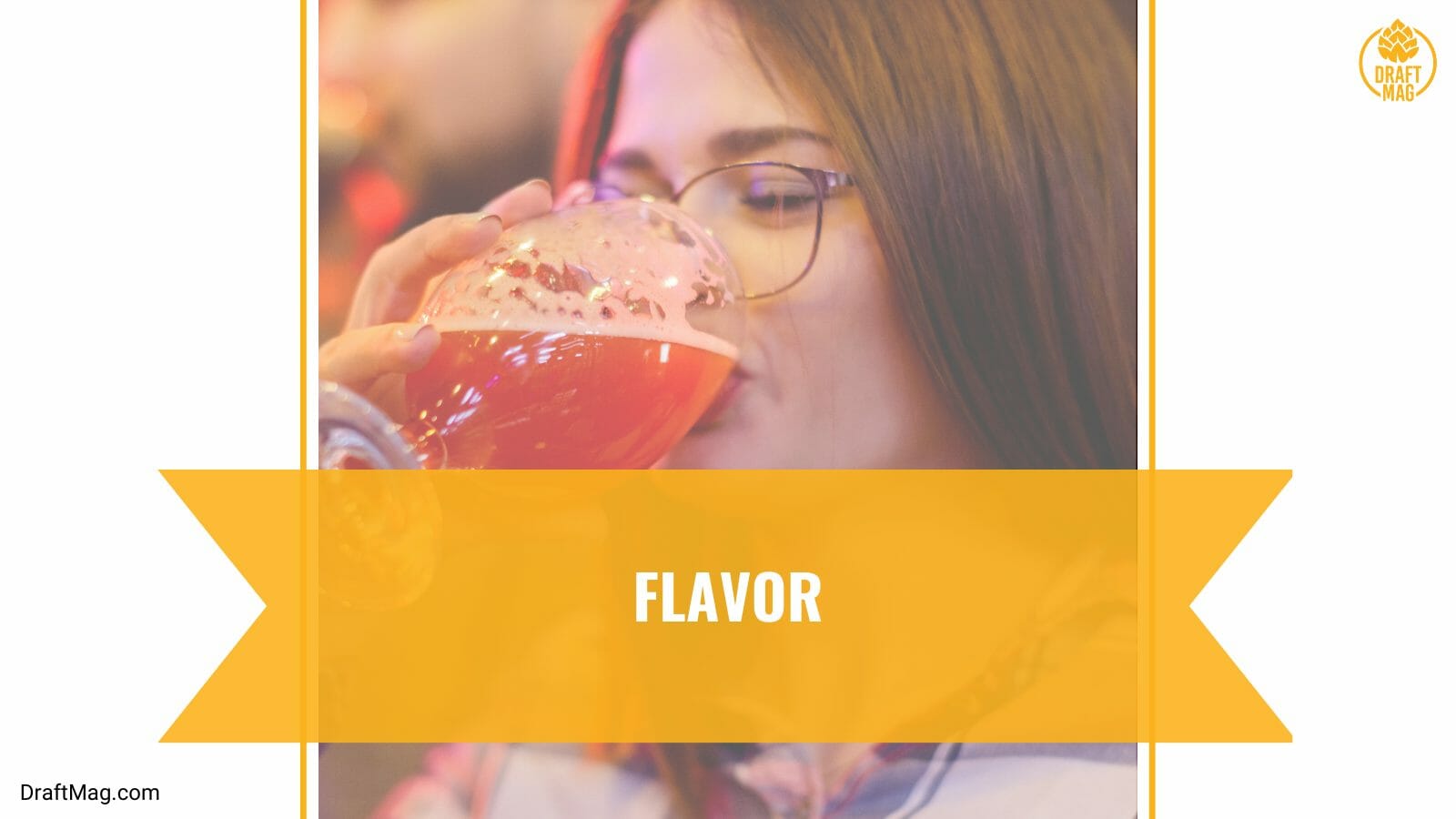 There is a solid malty base throughout the flavor, and you get hints of berries, watermelon, cherry, raspberry, blackberry, and a lot of tartness. The berries shine more mid-palate and remain there until the end. You might also notice hints of carrot juice, passion fruit, pear, and citrus as you drink. The end is sweet with fruit and malts. 
– Food Pairings
When having the Dragons and Yum Yums ale, you can decide to pair it with foods that complement the maltiness or the fruity parts of the beer. The tropical fruit flavor goes great with meals like light white meat, duck and pork with sweet notes, pickled dishes, and salads with fruity dressings.
You can enjoy the light ale with meat pie, burgers, roasted duck or quail, fish and chips, pretzels, pizza, and Mexican food, which go great with the malty sweetness. Light and crisp dishes like a potato salad or corn on the cob complement the mouthfeel and dry finish of the ale.
You can't go wrong with a cheeseboard, as the cheeses will neutralize the bitterness from the hops. Try out cheeses like blue cheese, sharp cheddar, and English cheeses. As for dessert, a fruit bowl or fruit soup will pair nicely with the beer. You can also go for something with chocolate in it.
Ingredients 
The exact ingredients of the beer are not known, except for the fruits used to make it. It was brewed with dragon fruit and yumberries, which is where the name of the beer comes from. This gives it the strong flavor of dragon fruit and different kinds of berries as you drink.
The malts in the beer are solid and sweet, and remain there throughout the flavor. You can also enjoy the hops that offer a bit of bitterness in the character of the beer, and will give some fruity notes.
Nutrition Facts 
In the Dragons and Yum Yums ale, you get an alcohol content of 6.5 percent and this is well-masked throughout the flavor and aroma. You only get slight alcohol warming as the beer warms up. The IBU is 25, offering minimal bitterness from the hops and a lot of fruity tartness.
The beer features 190 calories in every 12 ounce serving. Other facts include 14 grams of carbs, 1 gram of sugar, 1 gram of protein and 10 mg of sodium. The beer is not ideal for those who are on a keto diet as it is a high-carb beverage.
History 
Dragons and Yum Yums was released in 2018 by Dogfish Head Brewery. The fruity ale is a seasonal offering, so it is only available between April and August. It was made in collaboration with the American rock band The Flaming Lips. The band also made a theme song for the beer.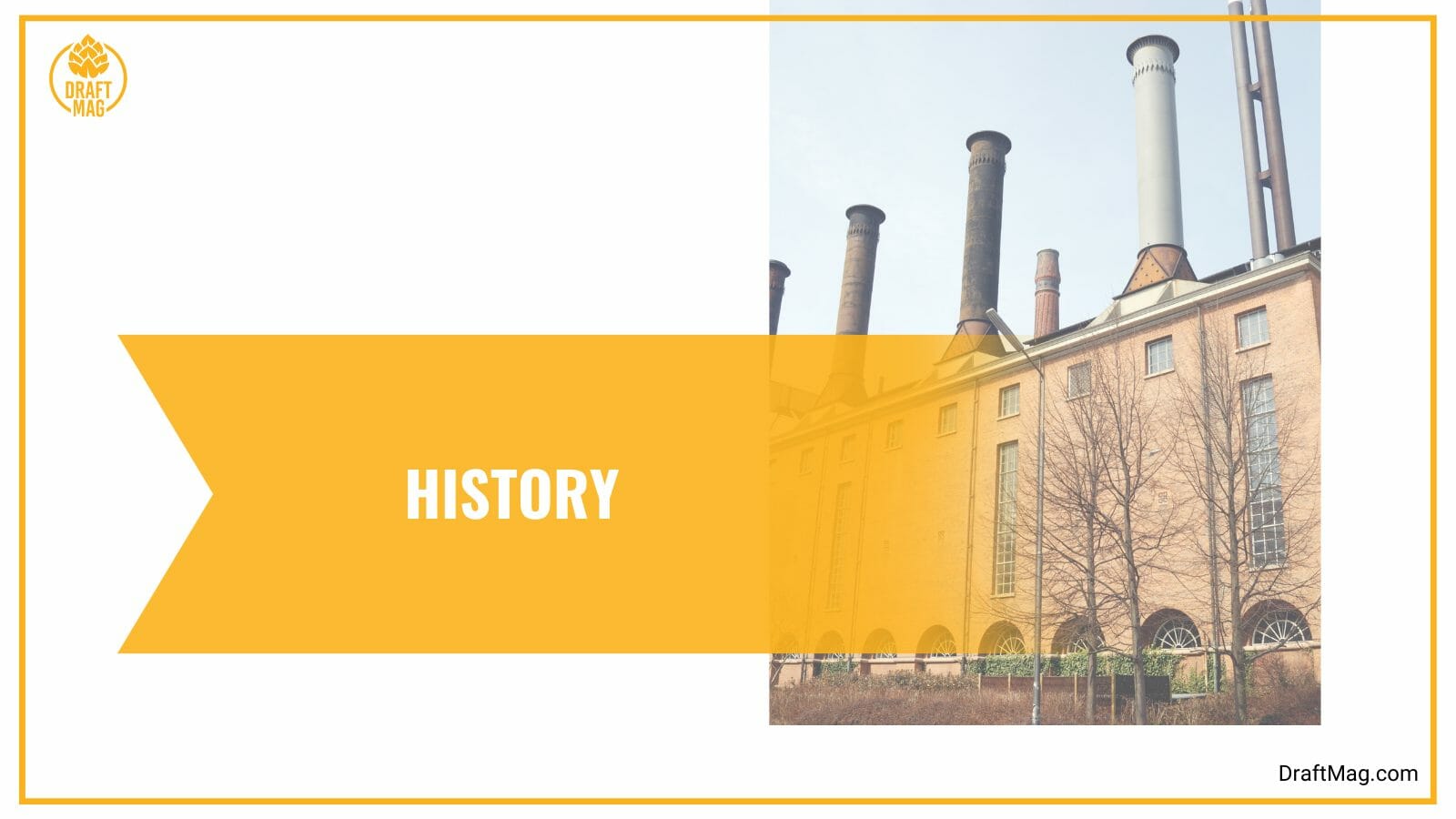 The label on the beer's can was designed by Michael Hacker and is a part of the Off-Centered Art Series by the brewery. It was also inspired by the rock band. The brewery was founded in 1995 and by 2019 was purchased by the Boston Beer Company. 
Conclusion
For your summer vibes, you should check out this light ale and pair it with a wide range of foods.
Here's a summary of our review before you go:
Dragons and Yum Yums is an American pale ale with a 6.5 percent alcohol content.
The beer has flavors and aromas of dragon fruit, berries, pineapple, watermelon, citrus hops and sweet malts.
It is made with real dragon fruit and yumberries.
Dragons and Yum Yums is best served in a pint glass at 45 degrees Fahrenheit.
Enjoy the beer with light white meat, roasted foods, spicy dishes, meat pie, crunchy foods and snacks, blue cheese or a fruit bowl.
Look out for this beer at the brewery from April to August, or purchase it at stores near you.