Yuengling Raging Eagle Review: Is This Fruity Beer Worth the Hype?
Yuengling Raging Eagle, a product of America's oldest brewery, is currently causing a positive rave on the beer scene. It is distinguished by its bold fruity flavor and highly savvy packaging, making it a favorite among young beer drinkers.'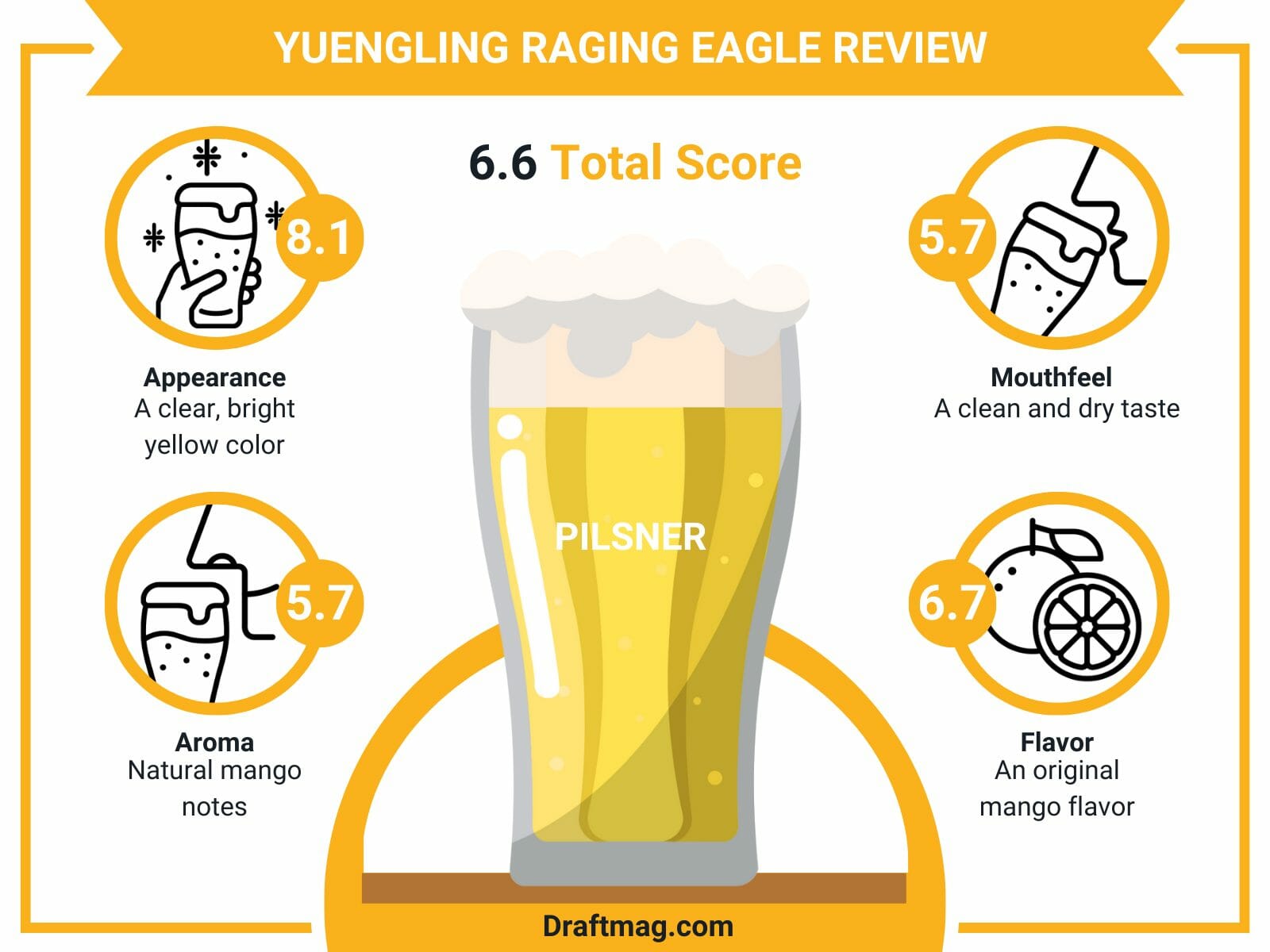 Produced through an expert mix of natural fruit flavor and classic hops, there is no reason why you shouldn't try it out. Our complete review contains every detail you need to know about this adventurous beer.
Yuengling Raging Eagle Stats
| | |
| --- | --- |
| Country | United States (Pennsylvania) |
| Brand | Yuengling Brewery |
| Style | Pilsner |
| Taste | Raging Eagle has a clean, biscuit-like taste marked by a mango note that isn't overly sweet. It leaves a dry finish. |
| Body | It has a body that can be described as between light and medium. It is smooth and effortless to drink. |
| ABV | 6 percent |
| Flavor and Aroma | Flavors are of mango, grass, hops, and wheat. The aroma is also very similar to strong mango notes, with a noticeable piney or grassy scent as well as a bready hint. |
| Serving Temperature | 42 degrees Fahrenheit |
Tasting Notes
Yuengling Raging Eagle Tasting Profile
Yuengling Raging Eagle Mango Review
If you're eager to try a cold can of this beer, continue reading this detailed review. We've compiled what to expect based on the following categories:
– Appearance
The beer pours a clear, bright yellow color that is quite impressive. You can easily notice the slight haziness of this beer alongside its tiny bubbles and off-white head. On closer inspection, this off-white head appears quite thick, but we noticed it didn't retain for a long time.
Although the foam head dissipates fast, you'll see a small cap that lingers for much longer. You'll also discover a nice lacing surrounding the glass with every sip you take.
– Aroma
Perhaps this is a top choice among beer drinkers because of its fruit-accented aroma. One can't help but notice the natural mango note that emanates from this beer.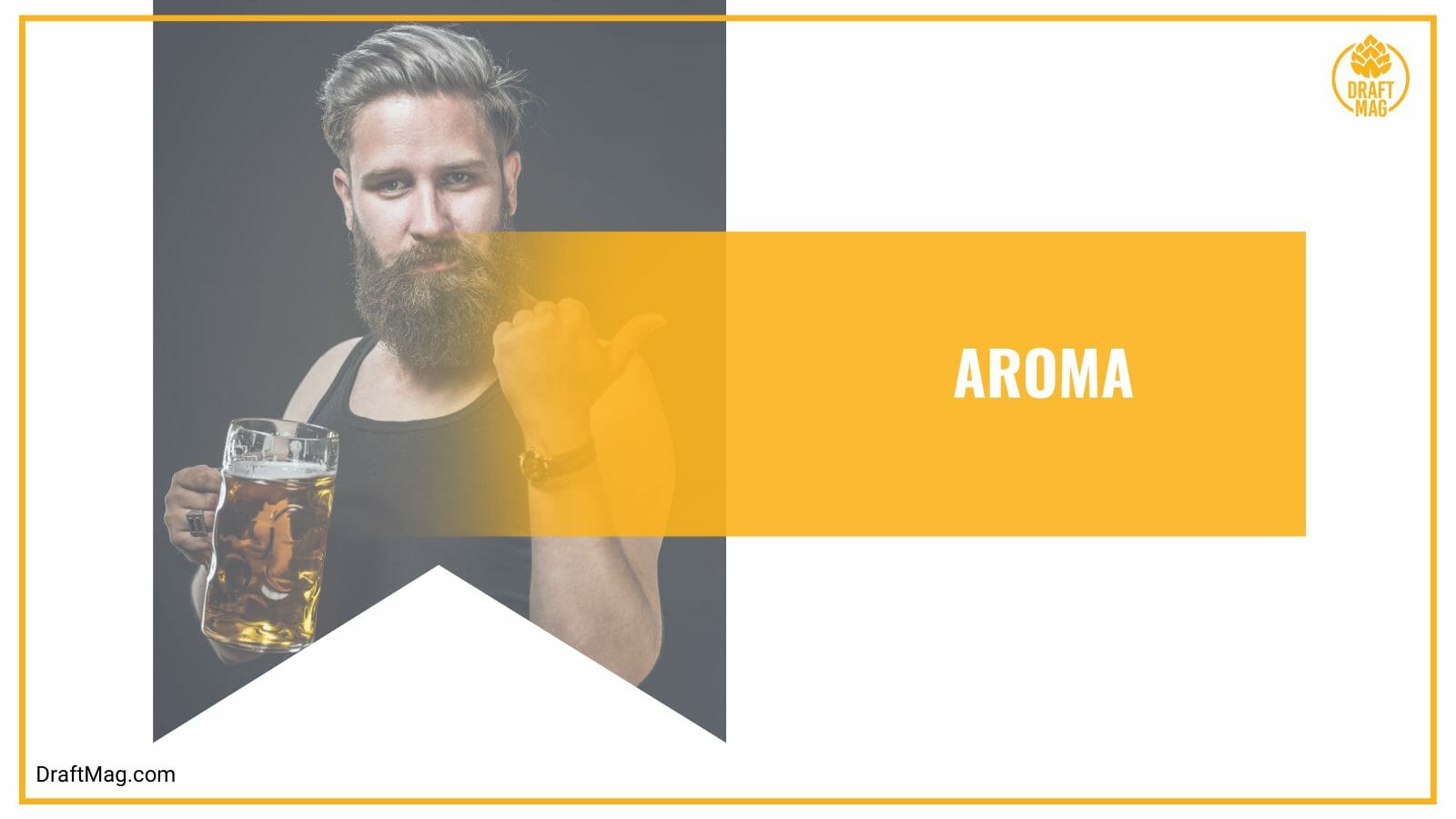 It is appealing and makes you very eager to take a sip. Closely accompanying this fruit note is a noticeable piney or what we love to describe as grassy notes.
This grassy note clearly shows that this isn't just a fruity beer. There are also hints of a wheat scent that give off the impression of cracker biscuit or bread. We like that all of these scents are carefully combined in a way that isn't overwhelming to the nose.
– Mouthfeel
This beer is marked by its clean, dry taste, which borders between light and medium-bodied. Its high carbonation makes every sip appear crisp on the palate. You can also get a hint of fruity tartness, which adds to the crisp, dry feel.
It is hard to miss the grassiness that lingers once you get over the slight tartness. There's also a lingering bitterness that seems subdued, so it is effortless to keep drinking this beer. In all, it is a clean, smooth drink typical of most pilsners.
– Flavor
Just like the aroma, it features an original mango flavor that is quite predominant. It is, in fact, easily the first thing you'd notice about this beer once you take a gulp. This fruity note is balanced by other flavors, including pine, grass, wheat, and hops. Although it contains six percent ABV, you can barely get a whiff of the alcohol in this beer.
One thing we like about this beer is that it has a clean flavor that is perfect for a pilsner. Even though this beer has a more predominant fruit flavor than other fruit-forward beers, it is not overly assertive.
– Food Pairings
Due to its fruity and piney, hop-accentuated notes, the mango beer pairs well with spicy meals. These meals help balance all the beer notes so that one isn't more predominant than the other.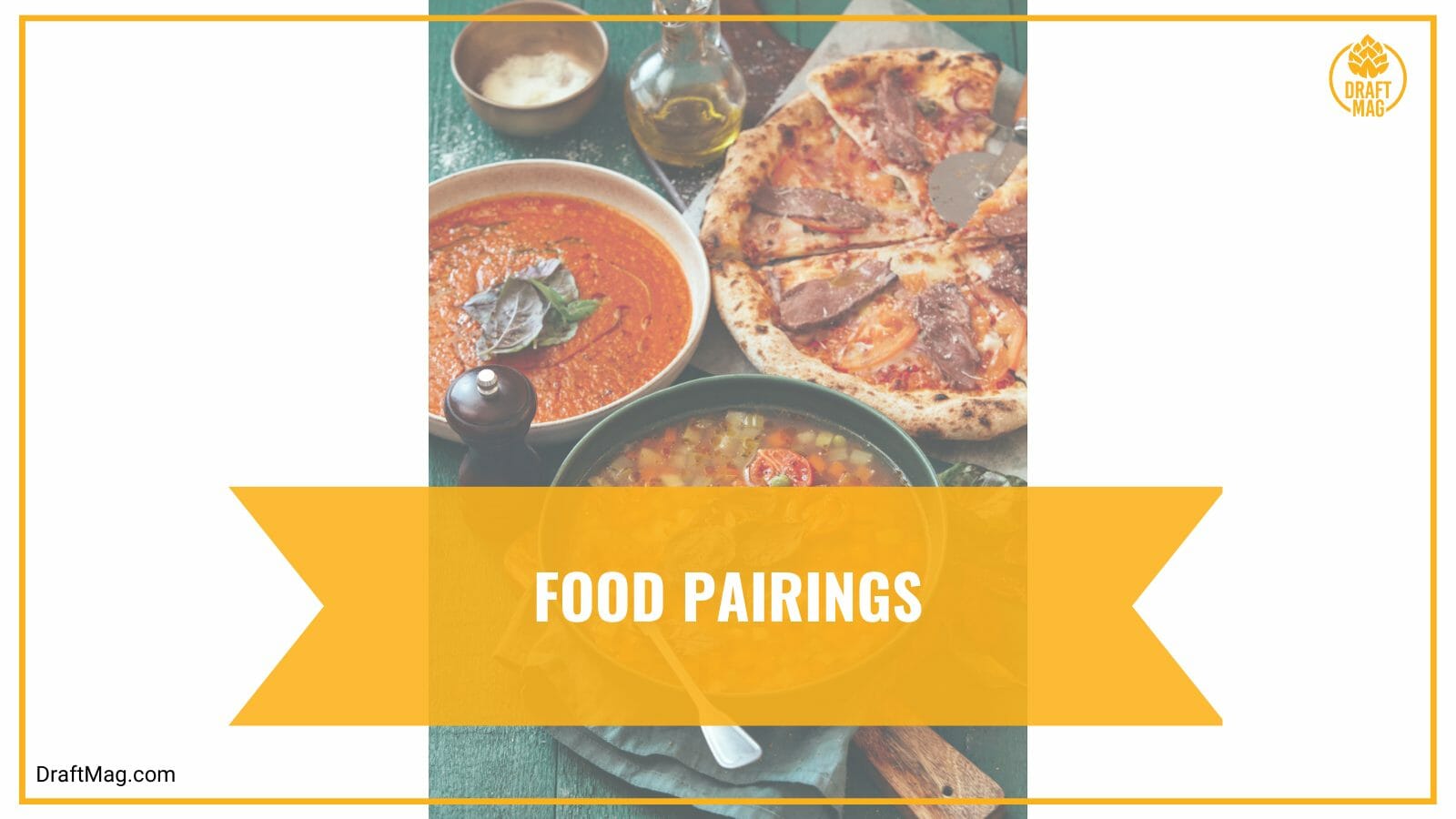 Meals you can pair this beer with include spicy buffalo wings, grilled chicken or steak, sushi, pasta, burger, fish tacos, and even salsas. The beer also goes well with most Asian, Mexican, or Italian dishes.
Ingredients
This beer is a fruit-forward beer, so it undoubtedly contains some fruity notes. This pilsner beer is made from water, classic hops, natural mango flavor, and yeast. These ingredients are professionally brewed to produce smooth and easily drinkable beer for young and old beer lovers.
Nutrition Facts
Like many beers, it contains many calories and carbs. While this beer may not be a regular healthy drink, it is a low-calorie drink with 172 calories. It also contains about 12.5 grams of carbs, zero grams of fat, and zero grams of protein.
History
It is one of the latest experimental fruit beers from Yuengling Brewery. The brewery is the oldest in America and is known for its premium line of beers. It introduced its mango-flavored beer to the beer market in February 2021, which is clearly one of its successful beers. It is targeted at adventurous beer lovers between the ages of 21-35 and is sold in 24-ounce, brightly-colored cans.
Frequently Asked Questions
– What Kind of Beer Is Yuengling Raging Eagle?
Yuengling Raging Eagle is a pilsner beer that combines fruity flavors with classic hops for a well-rounded fruit-forward beer.
– Is Yuengling Raging Eagle Seasonal?
No, this isn't a seasonal beer; the beer is available all year round at most pubs, liquor stores, and retail beer sites around the Pottsville area of Pennsylvania.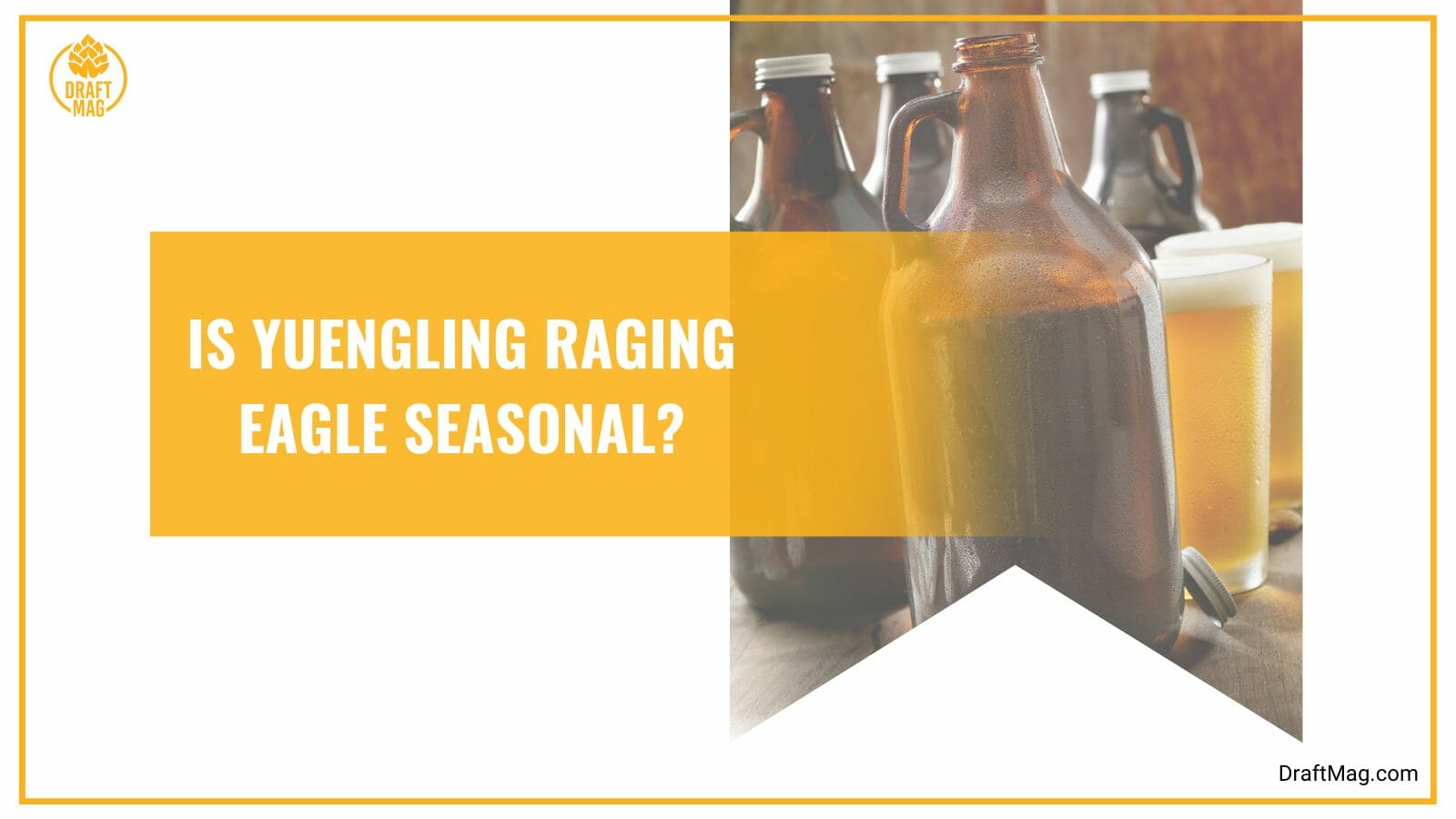 It is also available in 22 other cities under Yuengling jurisdiction.
– What Is the Strongest Yuengling Beer?
At 6 percent ABV, Raging Eagle has the highest alcohol content of the Yuengling product lineup. Most Yuengling beers are under 5.5 percent ABV except for this one.
Conclusion
If you're looking for a pilsner that offers a unique, refreshing, and adventurous feeling, then this beer should be on your list. Here's a quick recap of what we discussed in this article:
Yuengling Raging Eagle Mango Beer is produced by Yuengling brewery and is a fruity pilsner that mixes authentic mango flavor with classic hops.
The beer is characterized by a hazy, pale, bright yellow color. Its flavors and aroma are mango scent, grassy, hops, and wheat notes.
When drunk, the beer leaves a clean, crisp, and dry finish. It is also light/medium-bodied, making it easily drinkable.
The best meals to pair with it are spicy dishes, primarily Mexican, Asian, and Italian cuisines.
Although this sweet beer contains a predominant fruit flavor, it remains a clean pilsner to drink. You can enjoy this refreshing brew with friends and family whether on a cold winter night or a warm sunny day.