Longboard Island Lager Review: Bright, Crisp and Citrusy 
Longboard Island Lager is a light and refreshing American lager that follows the generic style but stands out with the strong flavors of citrus. The crisp lager offers you a more complex flavor than you might have expected, with a slight bitterness that cuts through the sweetness.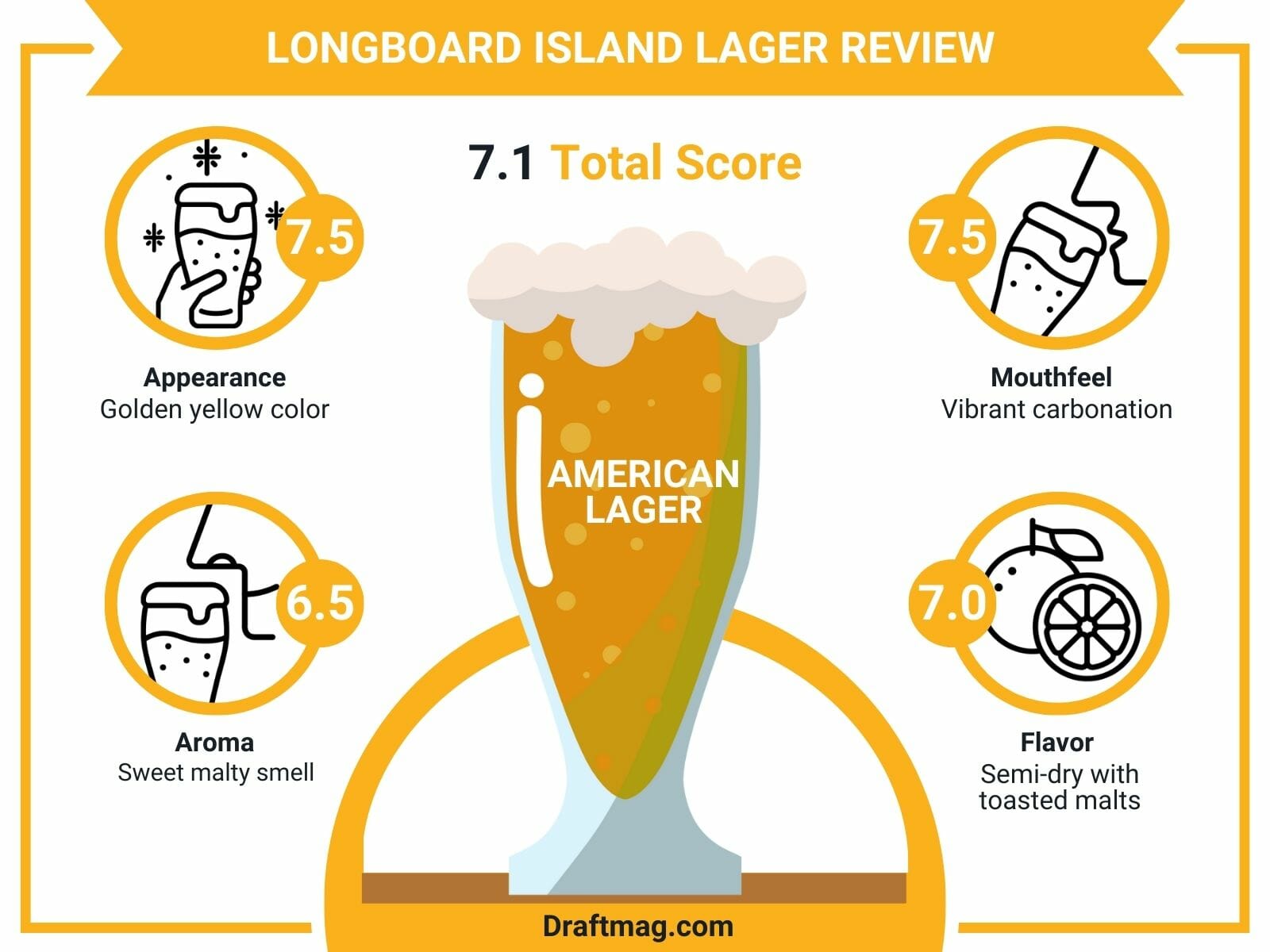 Enjoy this lawnmower beer at any time, whether you're watching the game with friends or having a barbecue. We review the lager in the article below, so read until the end to learn the tasting notes, food pairings, and more!
Longboard Island Lager Stats
| | |
| --- | --- |
| Country  | United States |
| Brand | Kona Brewing |
| Style | American Lager |
| Taste  | Biscuit, lemon |
| Body | Light Body |
| ABV | 4.6 percent |
| Flavors & Aromas | Biscuit, floral hops, lemon, grassy, bready, cereal |
| Serving Temperature | 35 – 40 degrees Fahrenheit |
Tasting Notes
Longboard Island Lager Tasting Profile
Longboard Island Lager Review 
Appearance: 7.5/10

Aroma: 6.5/10

Mouthfeel: 7.5/10

Flavor: 7/10
Kona Longboard Island is an American lager with an alcohol content of 4.6 percent, made by Kona Brewing. The crisp lager offers a balanced taste of biscuit malts and citrus, mostly lemon, from start to finish. It offers a solid lager style and follows the typical style profile perfectly. With its modest ABV, you can enjoy this beer at any time.
The lager features a bright yellow appearance and a light mouthfeel, with flavors and aromas of biscuits, floral hops, lemon, citrus, grassy hops, cereal grains, and bready malts. The beer is malty and sweet, and the citrus shines through with a bit of spice. 
You should serve the beer at a very cold temperature, from 35 to 40 degrees Fahrenheit, as this makes it even more refreshing on a hot day. It looks best in a pint glass, which has a wider opening that holds the small head. You can garnish the beer with a lemon slice. 
– Appearance 
The beer pours a golden yellow color into your glass, and it looks bright and light. Its appearance is clear, and the visible carbonation shows off the active bubbles floating to the top and fueling the small head.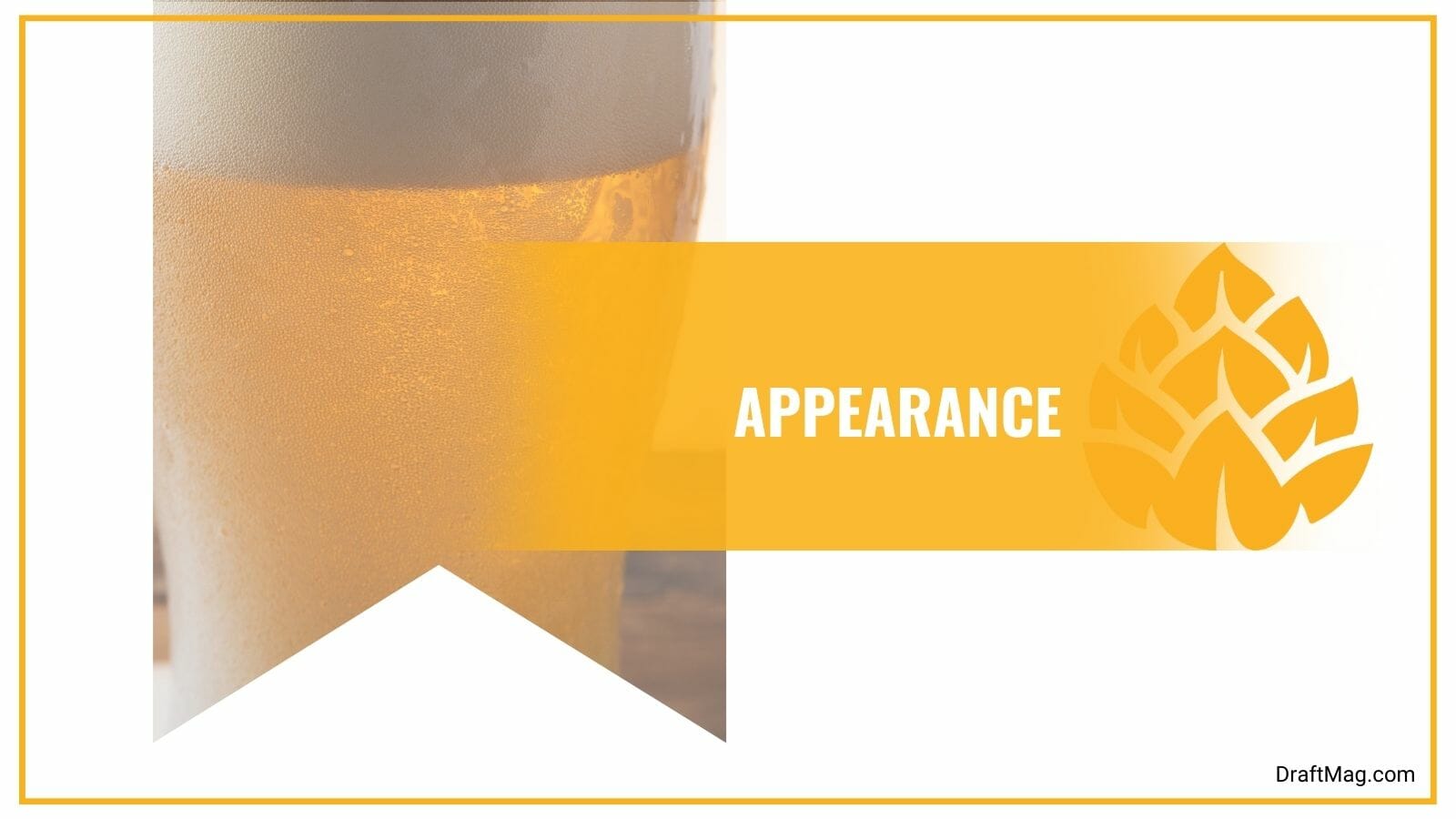 The beer features a foamy white head up to one finger, and it quickly dissipates to a small film at the top. It doesn't leave any lacing behind, but the thin cap remains for a while. 
– Aroma 
On the nose, the lager has a sweet malty smell that is expected from its style. You get a touch of cereal on the nose, especially when it becomes warmer. Along with the grainy malt, the aromas give you the subtle scent of lemon, and this remains.
You might also notice a bit of floral and spicy hops on the nose as the beer warms up, while the malts will become more sweet honey. 
– Mouthfeel 
As for the palate, the lager is light, although not too light, despite having a crisp, clean, and bright feel. There is a bit of heaviness due to the vibrant carbonation, as this gives you a foamy mouthfeel as you drink and swallow.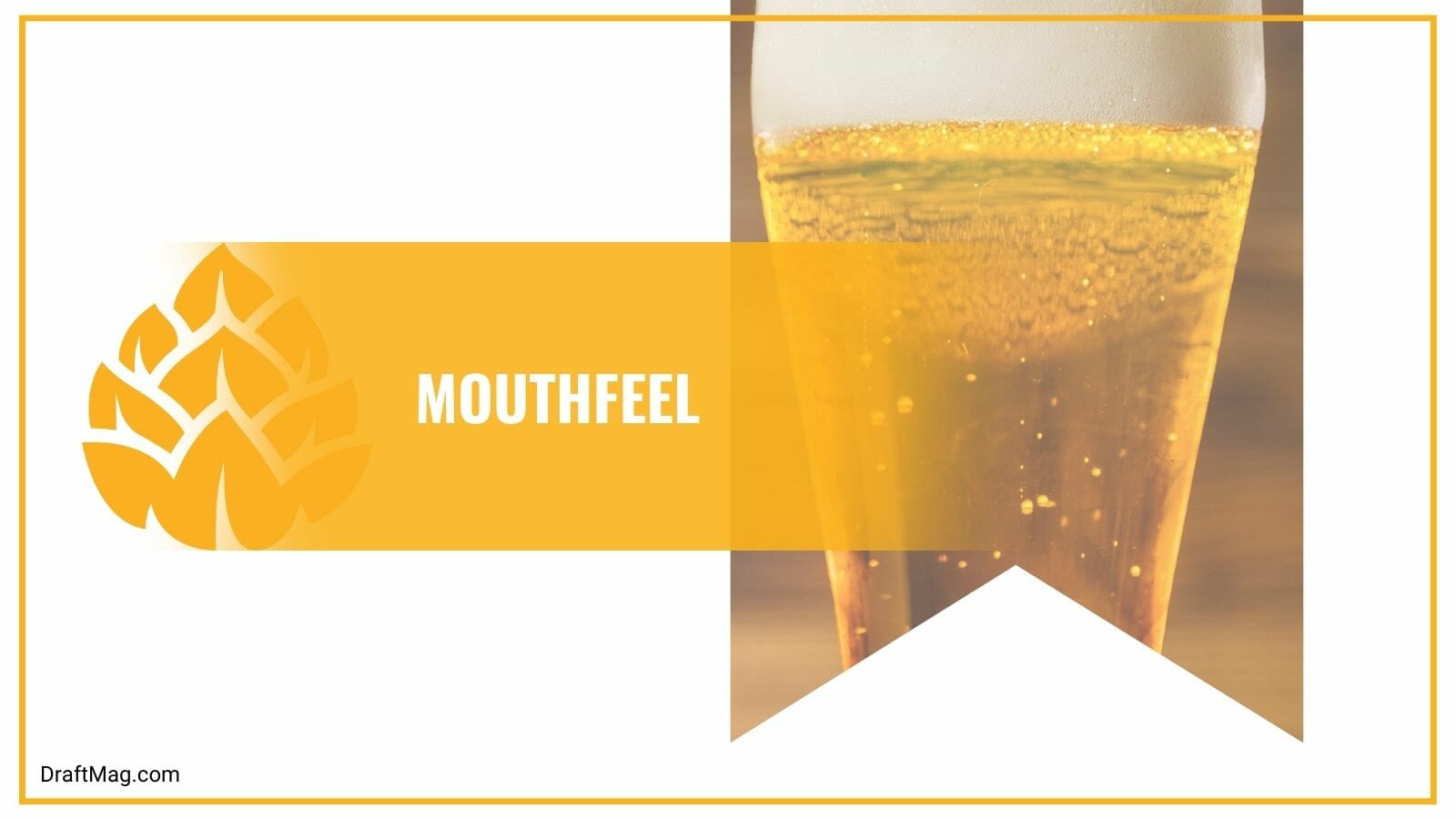 The mouthfeel makes the beer perfect for sipping, especially since it has a low and completely masked ABV. The beer offers slight bitterness on the tongue and finishes mildly dry. 
– Flavor 
The flavor of the Kona Longboard lager is similar to the aroma but offers more as you drink. Unlike most lagers that are malty and bland, the beer gives more room for the hops to shine while retaining the standard lager flavor. You will get a mildly sweet flavor of biscuits and bready malts with a bit of honey. 
The hops offer a lot of citrus in the taste, especially in the form of lemons. You also get some grassy and floral hops as you drink, along with a bit of pepper that contributes to the spicy hops. The slightly bitter hops offer a small balance to the mostly sweet beer, and the beer finishes semi-dry with toasted malts and a hint of hops. 
– Food Pairings
Kona recommends that you have the Longboard Lager with grilled chicken on pizza, mixed greens, or in a sandwich. You can also consider a Greek-style shrimp pasta with kale. The light body of the beer makes it suitable for light dishes, but since it has a lot of flavors, you can enjoy it with heartier dishes.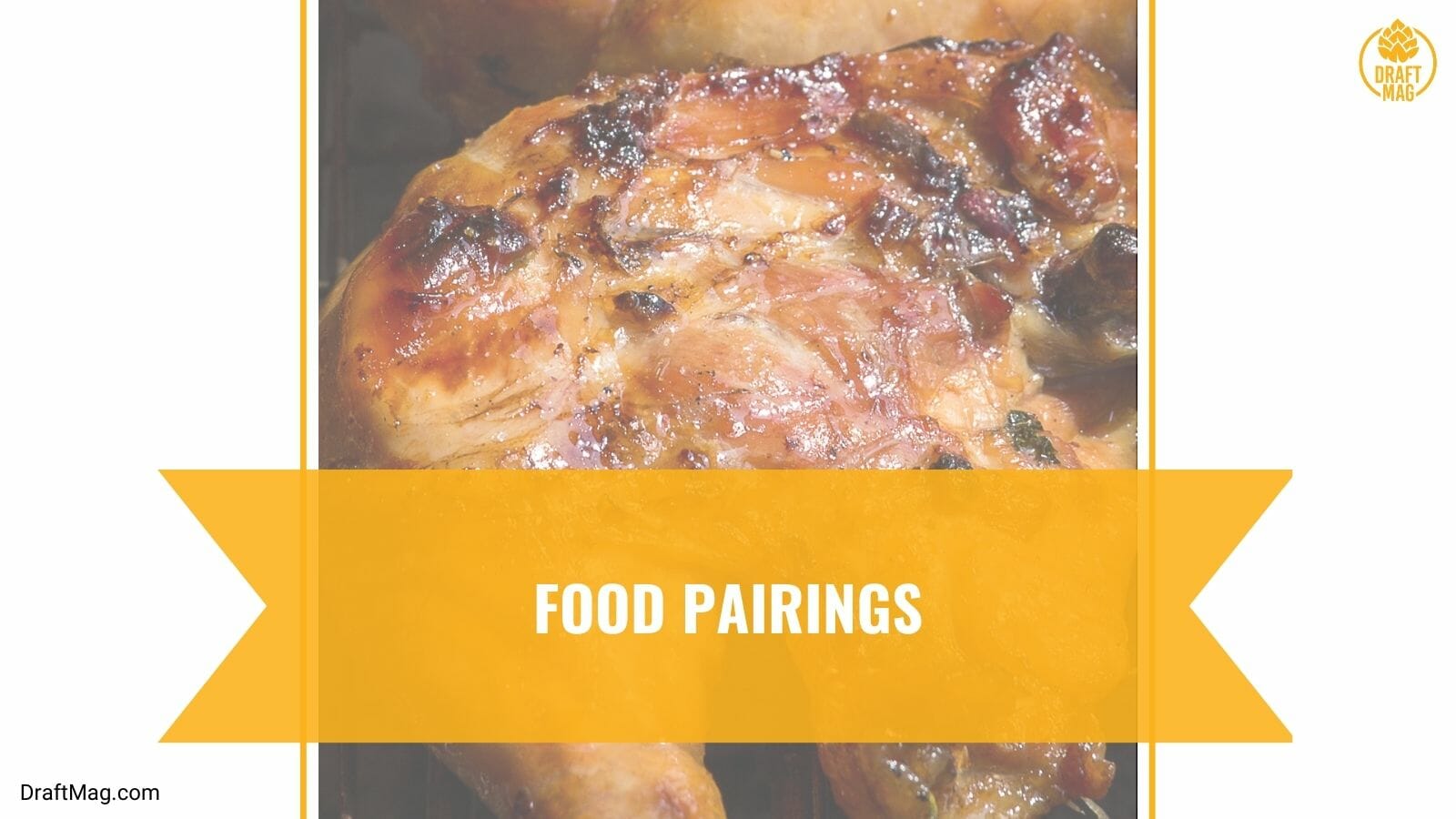 Try out the beer with Southeast Asian, Mexican and Latin cuisine and other spicy dishes. It has a clean finish that reduces the spiciness. Also, seafood like sushi, shrimp, and shellfish go great with the beer. If you want to have it with pasta, ensure they are light without any meat or cream sauces. 
Grilled foods like chicken, pork, and fish will also go great with the beer. For your cheese pairings, enjoy the beer with a cheese spread, or go for mild cheddar, Havarti, and fresh mozzarella. The ideal dessert will be something citrusy to match the notes in the beer. 
Ingredients 
The Island lager beer is brewed with the typical ingredients for a beer. You will notice that the malts play the most important role, but unlike most lagers, the hops are given room to shine. The malts in the lager are premium 2-row pale malts, giving you a bready and biscuity taste.
The hops used in brewing this beer include Mt. Hood, Sterling, Hallertau, and Millennium hops. These are not too bitter but offer more floral and spicy notes as you drink. The ingredients give you a refreshing and light taste and are well-balanced. 
Nutrition Facts 
The Longboard Lager features an alcohol content of 4.6 percent in every 12 oz bottle, while the IBU is 20. The ABV is low and allows you to enjoy drinkability in the beer with no alcohol warming. With the low level of hops, it's not surprising that it has low bitterness.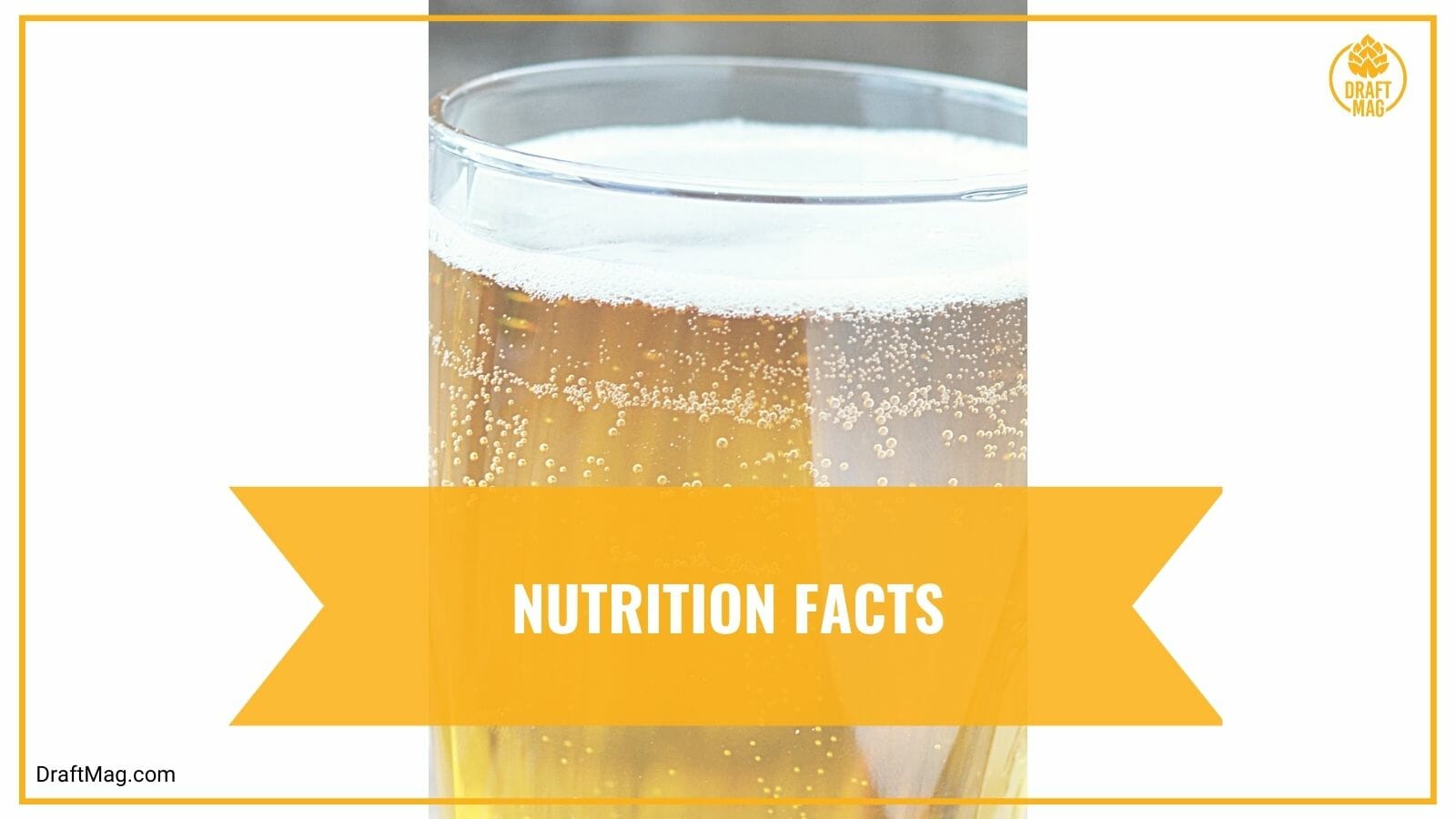 In each 12 oz bottle, the beer features 134 calories, 11 grams of carbs, 2 grams of protein, and 6.77 mg of sodium, with no fat. Drinkers on a keto diet can have this beer since it has a moderate level of carbs. 
History 
The beer was released in 2002 by Kona Brewing Company in Hawaii. The beer is available year-round and is named after longboard surfing, which is popular on the big wave on Waikiki beach and has been well-known for over 90 years. It was brewed to give you a refreshing taste that reminds you of surfing.
It is an award-winning beer that has won over 20 awards so far from the North American Beer Awards, Great International Beer Festival, Great American Beer Festival, US Open Beer Championship, and more. The most recent award is the bronze medal at the 2020 Best of Craft Beer Award in the Dortmunder/European-Style Export Category.
Conclusion
Whenever you need a crisp lager to keep you refreshed and to pair with a wide range of foods, you should consider this one from Kona.
Here's a rundown of our beer review:
Longboard Island is an American lager with a 4.6 percent alcohol content.
The beer has flavors and aromas of biscuit and bread malts, citrusy lemon, floral hops, cereal grains, and grassy notes.
It is made with two-row pale malts, Sterling, Millennium, Hallertau, and Mt. Hood hops.
The beer is best served in a pint glass at a cold temperature of 35 degrees Fahrenheit.
You should enjoy the beer with light dishes, grilled chicken dishes, spicy food, seafood, light pasta, a cheese spread, and citrus desserts.
If you're curious about the beer, you can purchase it on tap if you're in Hawaii or order it online. It is also sold at liquor stores near you.