Budweiser Supreme Review: Is This Popular Beer Any Good?
Anheuser-Busch InBev recently launched their Budweiser Supreme to fill up the taste buds of the American traditional lager lovers. The company tagged it as a classic lager with American taste and an alternative to their popular Budweiser.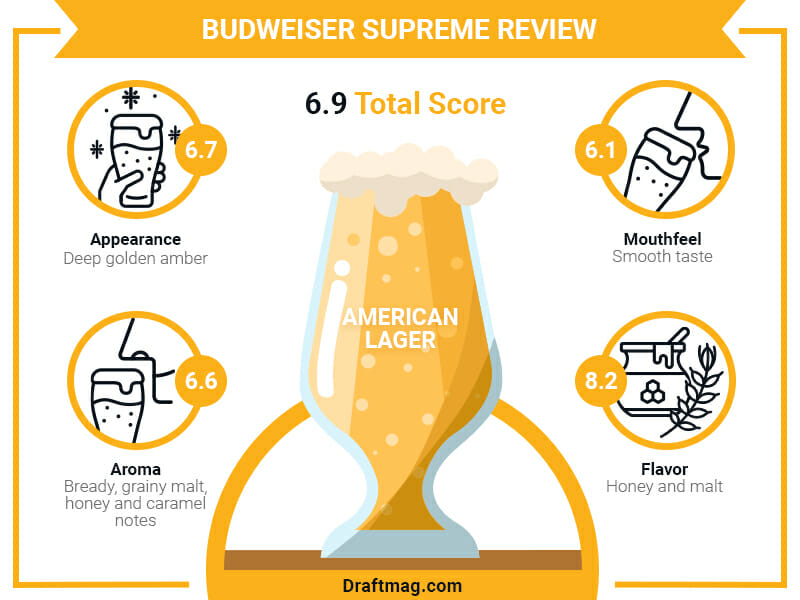 Following the trend in the beer industry, we are sure that the Supreme drink from Budweiser is already a popular mass option for many lagers and ale lovers. In this complete review, our experts share all the juicy details about this beer and what makes it so special.
What Is Budweiser Supreme?
Budweiser Supreme is a beer by Anheuser-Busch InBev that is made with honey malt and a hint of fruity sweetness for people of all taste buds. It has an alcohol rating of 4.6 percent ABV, so it has high and easy drinkability and can be the perfect lager item to kick start your long beer night.
Tasting Notes
Budweiser Supreme Tasting Profile
Budweiser Supreme Review
Reviewers claim that Supreme tastes pretty much the standard Budweiser. Its honey malt provides sweetness, and the malted brewing gives slight bitterness. The drink is easy to drink with nice smoothness for entry-level drinkers.
The beer has triple filtering for a sophisticated taste. Plus, its honey malt brewing is delicious and intriguing. The company has released it only in a few states for taste purposes and to create hype.
– Taste
Although the taste buds of every people will vary, we all have something in common. We all want a high drinkability and easy-going lager on our menu. Following it, Budweiser Supreme reviews have found that it tastes smooth and has a hint of sweetness.
The sweetness comes mainly from the honey used in its brewing period. You will also get a slight malt flavor from the American malt used to brew the classic American lager. Thus, it balances the sweetness and bitterness perfectly without any shocking feeling in your stomach.
Each serving of the Supreme is 12oz of carbs. Also, Budweiser Supreme 12 pack contains 143 calories per serving. Henceforth, a few servings of the supreme will be ideal to meet your daily carbs and calorie needs easily.
Honey Malt
Honey malt has an intense sweetness. When it is brewed slowly at a cool temperature, you will get different tastes, including grain, pretzel, bread crust, and honey. Also, it brings slight tartness to the drink for a nice balance between sweetness and sourness.
– Nutrition Facts
When choosing the drink, you may want to know Budweiser Supreme calories and their related nutritional facts, so here goes the answer:
| | |
| --- | --- |
| Calories: | 143 per serving (12 oz per serving) |
| Carbs: | 12 (12 oz per serving) |
It doesn't have a higher amount of calories or carbs like the other larger drinks. Also, you must remember that each supreme serving has 12 oz of drink. You will love the sweet honey taste of it with a hint of malted bitterness.
– Alcohol Content
The alcohol content plays a crucial role in the drinkability of a beer. Following it, we found that the Supreme has a 4.6 percent ABV rating, so it has a low percentage of alcohol content in it. The low presence of alcohol means the drink is easy and smooth to to drink.
Your stomach won't get a shocking feel with the drink. It is a great relief for first-time drinkers who may have difficulty taking lagers or ales with a high percentage of alcohol. Plus, the low percentage of alcohol means it has a smooth taste. You will love the smoothness and high drinkability as you enjoy BBQ or grilled chicken or lamb.
– Where To Buy
Anheuser-Busch InBev has introduced the Supreme on a test basis only in a few states. If you want to taste the new but conventional lager, you will need to visit the following states:
Ohio
New York
Washington, D.C.
California
Texas
Henceforth, Budweiser Supreme Texas and Budweiser Supreme California are great options for you. You will easily find it in the renowned shops to enjoy the drink. Its cool temperature brewing method will be enjoyable during scorching days.
– Price
Presently, the company is running a campaign to create buzz about Supreme. They launched it on March 14, 2022, in selected stores in California, Texas, New York, Washington, and Ohio. As it is on test-run and the company is trying to get feedback from the clients and create the hype, they haven't revealed the pricing.
We have gone through a series of drinking sites and haven't found any accurate information on its actual pricing. However, you can get the drink in various options, including the following:
– Bottles
The bottle has a golden finish with a reddish appearance. Henceforth, you will find its cans and bottle packaging pretty attractive. Also, AB-InBev's selection of color palates for its packaging is useful for enhancing the crisp, lager feel.
– Anheuser-Busch InBev
Anheuser-Busch InBev stated that they introduced the beer as a mass option of their already popular standard Budweiser. It is running on taste bases currently, and the company is taking feedback from the drinkers to fine-tune the drinks before the final release.
If you are planning a summer BBQ party, you can try this easy drink with your friends and families. It will be a perfect starter for your long BBQ or grilling nights. Plus, we have consulted with our experts who claim that it goes brilliantly with BBQ chicken and sauces. This might just be the perfect drink during those long lazy nights.
– Budweiser vs Budweiser Supreme
You might be keen to know why the company introduced the supreme version when they already have a massively popular Budweiser drink in the market. According to the company, they wanted to present the people with a different choice of traditional yet tasty lager.
The biggest difference between these two drinks is the malt they use. Budweiser uses barley malt with two rows and six rows combination, and the barley malt is carefully hand-picked. The barley malt is chosen from the local growers in America to help boost their local business.
The Supreme drink, on the other side, has honey malt instead of barley malt. It has triple filtering for a sharp, sophisticated taste. The differences in malt uses and taste have also brought an important question: "Will the Supreme replace the original Budweiser?"
As far as the drink reviewers are concerned, they think that Budweiser, with its 145 years of rich history, is impossible to be replaced. Yes, Budweiser was introduced in 1876, and since then, it has remained one of the top choices for everyone. In fact, it has set the standard for the classic American lagers over the years. Therefore, it won't be easy even for the Supreme to replace the actual Budweiser, which has entertained people with a unique taste for years.
What Is the Strongest Budweiser Beer?
Bud Light Platinum and Black Crown are the strongest beers in the Budweiser line-up. These drinks have more than a 6 percent ABV rating and are stronger than average Budweiser drinks. If you love s strong drink with a shocking feel in the stomach, you can try the Black Crown.
Conclusion
Budweiser Supreme has created excellent hype among Budweiser lovers. Its tartness and sweetness bring a smooth and exotic feel with every sip you take, and on top of it all, Supreme can be an entertaining option for people with its easy drinkability.
 Budweiser Supreme has a 4.6 percent of ABV rating for easy drinkability.
Honey malt brings a combination of tartness and sweetness to the beer.
Each serving of 12 oz drink contains 143 calories and 12 carbs.
The drink is presently available for purchase in California, Texas, Washington DC, New York, and Ohio.
Although it is still not available in all states of the USA, we hope soon it will be available widely. You will surely appreciate its refreshing taste with BBQ or grilled beef or chicken to enjoy your weekends.