Daisy Cutter Beer Review: For Pale Ale Lovers
Daisy Cutter beer is for you If you want to taste both pale ale and IPA from one bottle. Being a flagship beer of Half Acre Co., it revolutionized the Chicago brewing industry by providing the taste and aroma of IPA though it's an American Pale Ale.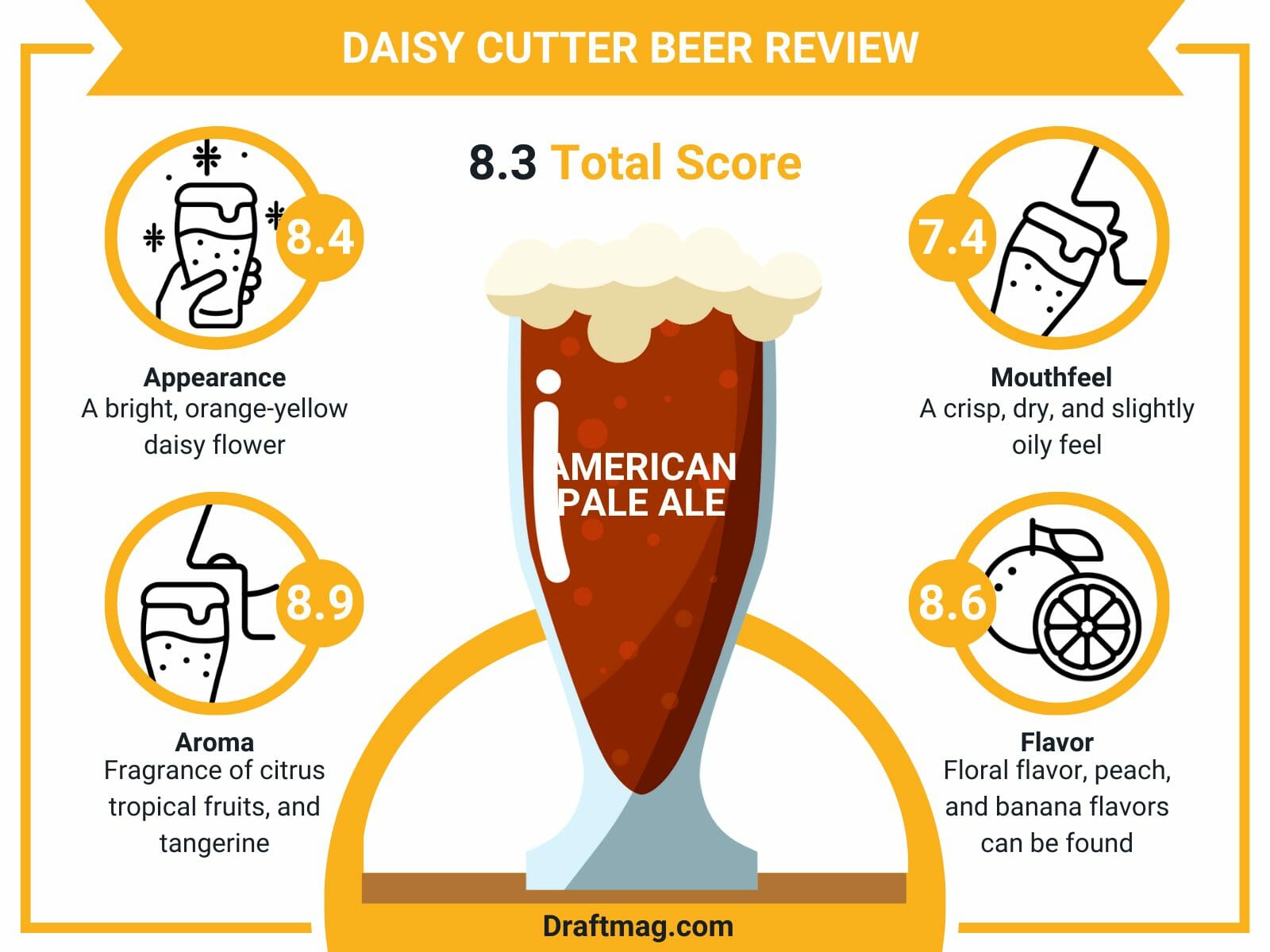 Keep reading this review as we have gathered all the necessary details about this fantastic lager.
Daisy Cutter Stats
| | |
| --- | --- |
| Country | The United States of America |
| Brand | Half Acre Beer Company |
| Style | American Pale Ale |
| Taste | Pine, Citrus, Mango, Biscuit |
| Body | Medium-bodied |
| ABV | 5.2 percent alcohol content |
| Flavors & Aromas | Bitter, Citrus-like, tropical fruits' flavors and aroma |
| Serving Temperature | 45 to 50 F |
Tasting Notes
Daisy Cutter Tasting Profile
Daisy Cutter Review
A beer with an excellent shade and luxurious taste, there are many more interesting facts about Daisy ale that you would like to know. Find out the appearance, aroma, mouthfeel, flavor, and food pairings of Daisy cutter Pale Ale.
– Appearance
This beer offers a beautiful look just like a bright, orange-yellow daisy flower. It has the same orange-yellow hue which can be compared to the golden-ambered color that comes with a dense, fluffy, and bubbling white head. Not pure white, hence, easily you can identify the color of the head as beige.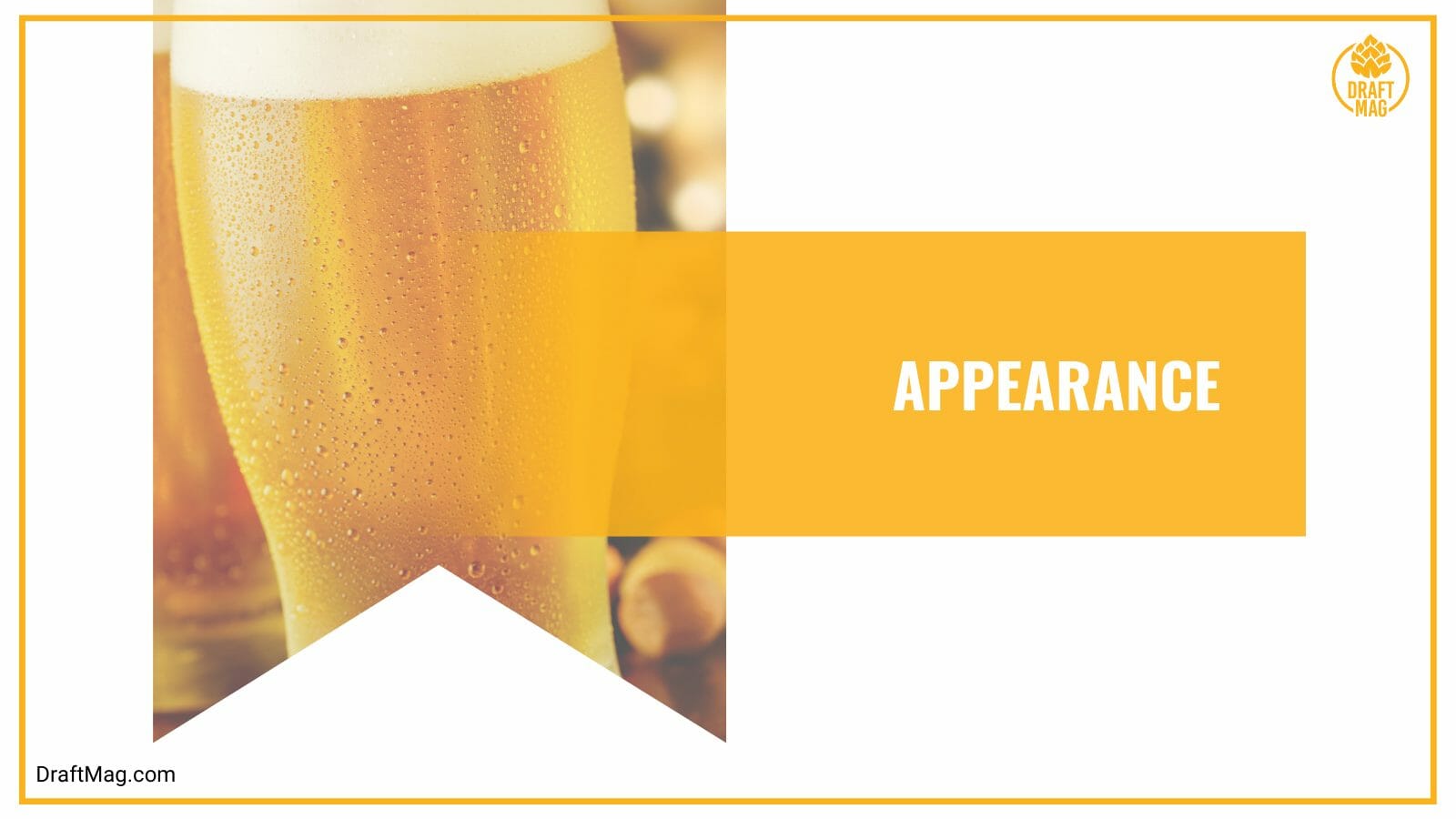 When you pour this beer into its glass from the bottle or can that has been packaged with a floral print label, a crystal clear beer will be ready in front of you. You will find your glass full of beer with an average but lasting head and plentiful lacing will be left as you will finish the drink.
– Aroma
The fresh hops aroma the cutter beer possesses comes from the authentic pitch and pine fluid along with the weak smell of tobacco resin, all coming to your nose. However, as you pour the beer, your nose will be touched by the fragrance of citrus, different flowers, tangerine, caramel, and plenty of tropical fruits.
With the aroma of bready yet biscuity malt, the esters produced while brewing the beer add the aroma of peach, cookies, and banana to the hops' aroma, in short, all sweet and fruity nose-feel.
– Mouthfeel
When you sip from the glass of your beer, you will find a crisp, dry, and slightly oily feel in your mouth. Bitter and floral taste with light raw grainy malt will entertain you. With moderate carbonation and medium body, this lager gives a balanced, smooth mouthfeel. Though it offers bitter, citrus-like taste notes, you will be able to finish your drink without encountering overwhelming astringency.
– Flavor
You will encounter the sloping and floral flavor when you will drink this ale though they were absent as aroma. The malt flavor with bitterness along with the slight taste of bread is also a prominent flavor of this pale ale. Peach and banana flavors will also be found while drinking.
– Food Pairings
Daisy ale goes best with meat pie, fresh and soft cheese, and any kind of spicy and smoky food as it is a Pale Ale. In other words, any spicy Indian dish including spicy chicken or mutton curry, spicy kebab, and even a vegetable stew that has a sense of spice will make fine food pairing with the beer.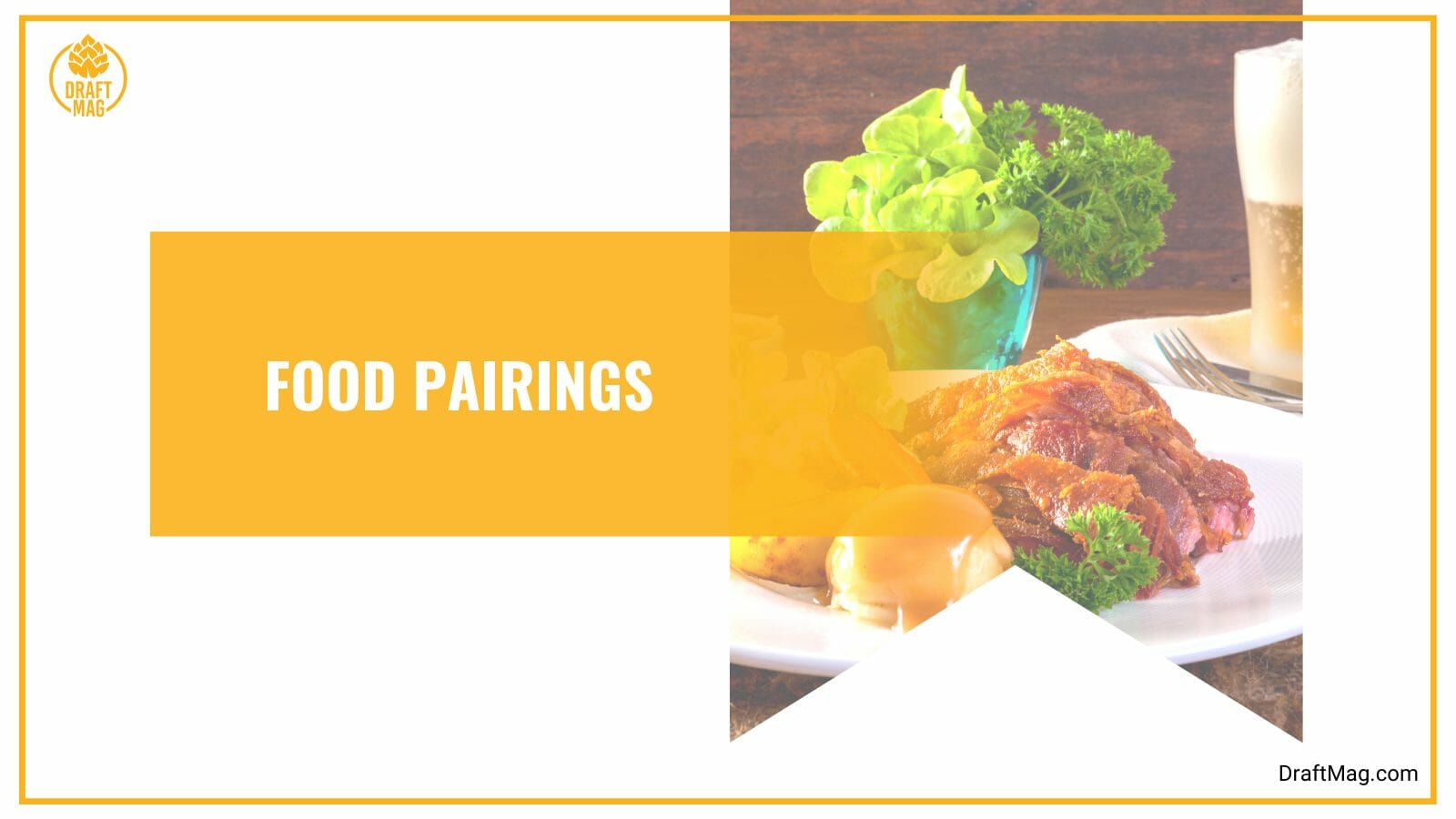 If you want to taste the beer with something light, then it is also possible. Dishes like sweet chicken tikka masala or chicken korma also work nicely with the beer. Being spicy, Mexican dishes pair with the beer as well: items like tacos, burritos, enchiladas, or fajitas are great options to have with this beer.
This is a great summer beer and a perfect option to enjoy at a backyard barbeque with steaks, ribs, brisket, or even burgers dipped into delicious barbeque sauce. The daisy cutter beer hops feel better when it is tasted with spicy food.
Ingredients
This beer requires malt, hops, water, and yeast to be brewed just like other American-style ales. However, Half the maker beer company doesn't reveal the full recipe of its beer.
Different kinds of malts, including dry light malt, crushed crystal malt, etc have been used to brew the beer along with different types of hops, including centennial hops, cascade hops, etc. Food scientists use the scent of fruits to add fruits' aroma and flavor in the malty lager. Besides, high-fermenting yeast is needed to brew the beer as well.
Nutrition Facts
Daisy beer calories are reported to be 156 in a can of 12 oz. Besides, the total carbohydrates it possesses is 12 gm per can along with 0 gm protein and zero gm fat.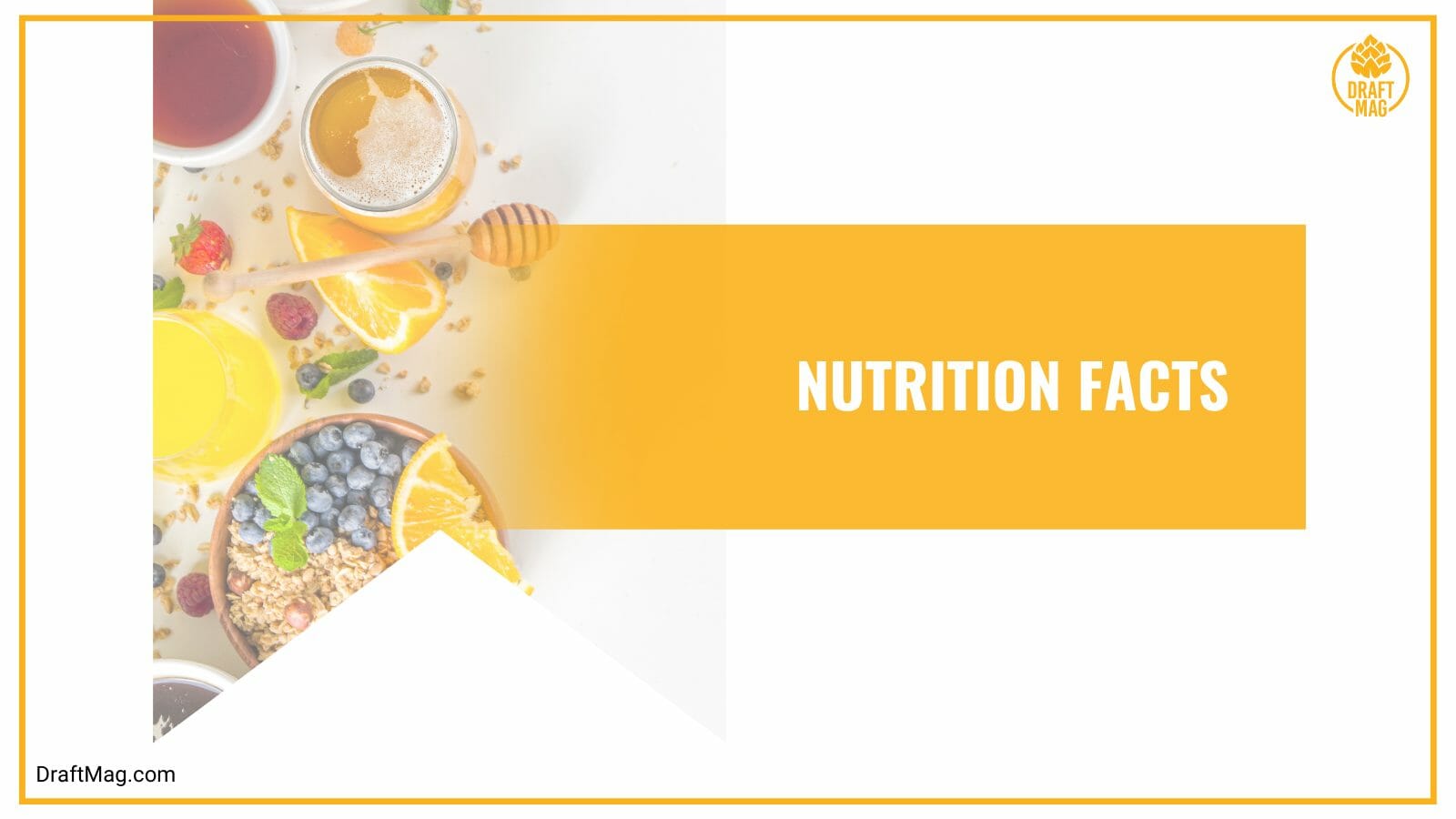 There is no cholesterol, sodium, fiber, or sugar in this beer. The cutter pale is good if you are following the keto diet as the net carbs of the daisy cutter beer percentage is eight percent of calories in every serving which resembles the keto guideline of consuming under 25 gm of net carbs per day, hence, it's a great for the keto-lifestyle.
History
Gabriel Magliaro founded Half Acre Beer Company in Chicago, Illinois, the United States in 2007. Usually, the recipes for the beers are developed in Chicago but aren't brewed in the city. The beers are brewed at Sand Creek Brewery in Black River Falls, Wisconsin.
However, the cutter pale is the second beer the company brewed and still brews at Lincoln Avenue which is its original brewery. Half Acre introduced the beer in 2009 and as a fresh, local beer it has been sold at a good rate since then.
Conclusion
Reading till now, you know the reasons why this ale has shaken the market. We have summed up the attractive attributes of the beer so that you can decide easily whether to go for it or not.
Half Acre Beer Company is brewing Daisy beer since 2009 which is an American Ale in style.
Being a Pale Ale, it offers the smell and taste of the IPA which makes it popular and it has changed the craft beer industry of Chicago after coming to market.
Like IPA, you will find bitter, citrusy, and piney as well as floral, earthy, and fruity aromas and flavors while enjoying the beer.
It provides a crispy and withered feeling in the mouth with bitter yet smooth finishing and is low in calories.
Daisy Cutter pairs best with spicy foods like different Indian and Mexican items along with your barbeque menu.
The beer has been existing in the market only for 12 years, yet gained the fame of being an iconic Ale. As a beer lover, you shouldn't miss the opportunity to enjoy your summer evening with Daisy beer.