Classic City Lager Review: Clean and Crisp for Everyone
Classic City Lager is a brilliant, crisp, and flavorful American lager made for anyone who wants to try out a clean lager. Even if lagers are not your style, you'll find yourself reaching for another can with this beer.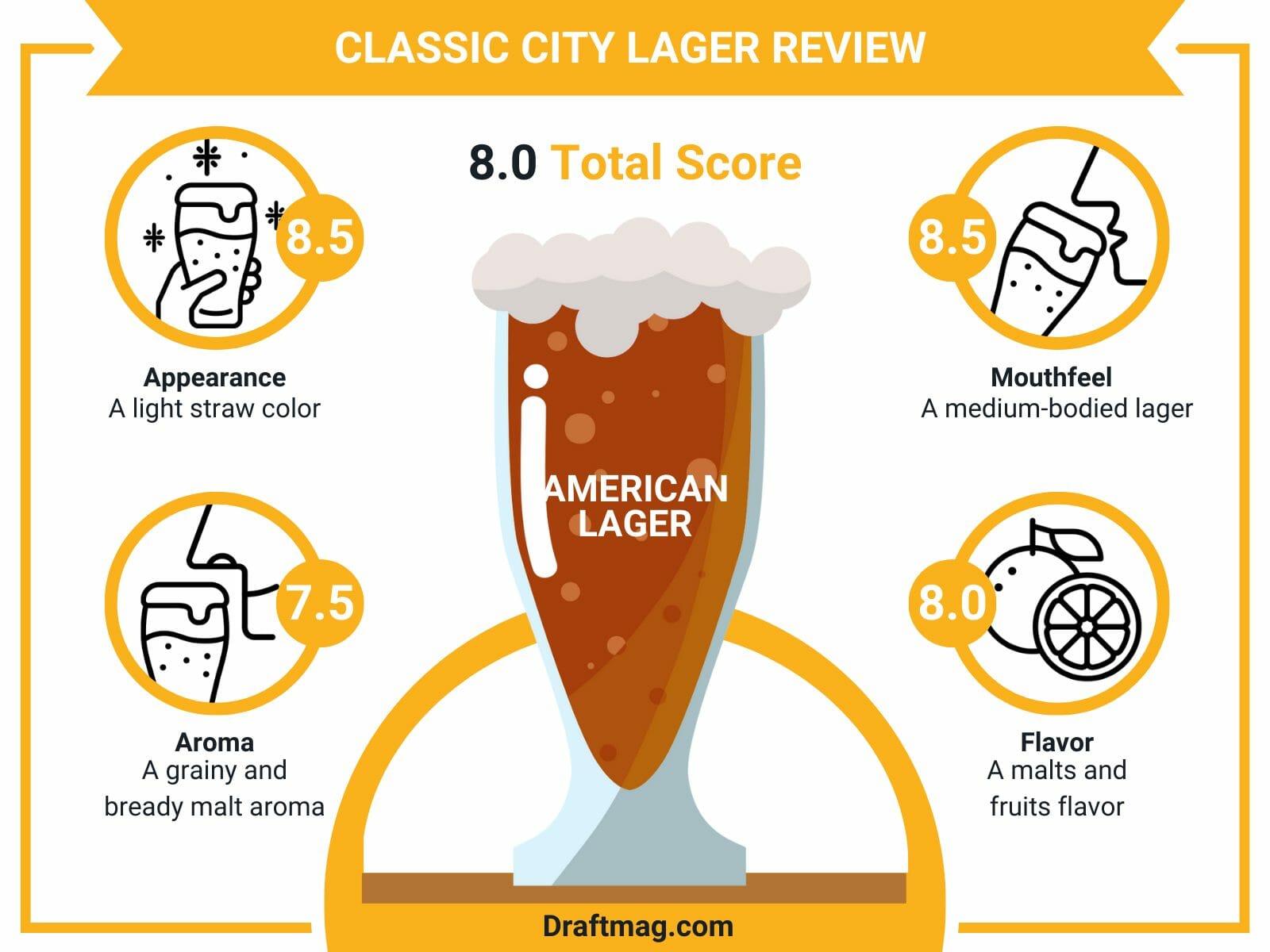 The refreshing and crushable flavor of the lager makes it suitable for a hot summer day, pool parties, barbecues and pairing with food. In our detailed review below, we cover all you need to know about the American lager, so take a closer look.
Classic City Lager Stats
Country

United States

Brand

Creature Comforts Brewing

Company

Style

American Lager

Taste

Bready malts, fruits

Body

Medium Body

ABV

4.2 percent

Flavors & Aromas

Bready malts, grains, honey, citrus, tropical fruits, grassy hops

Serving Temperature

35 – 40 degrees Fahrenheit
Tasting Notes
Classic City Lager Tasting Profile
Classic City Lager Review
Appearance: 8/10

Aroma: 7.5/10

Mouthfeel: 8.5/10

Flavor: 8/10
Classic City is an American lager made by Creature Comforts in the United States. It features a drinkable alcohol content of 4.2 percent and a taste of bready malts and tropical fruits. The lager offers a clean and crisp taste, with a good balance of flavors that go down easy regardless of the occasion.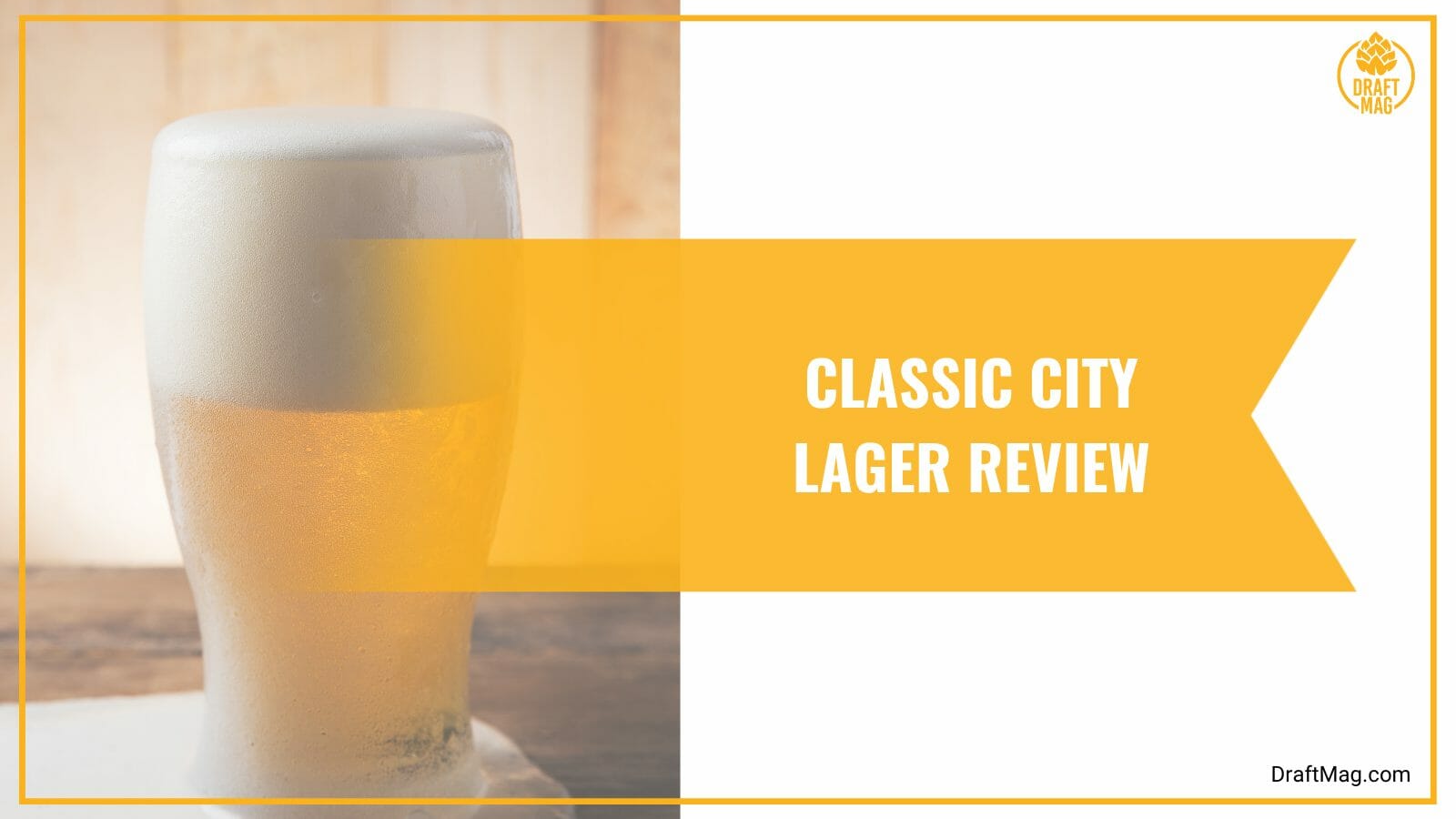 The lager has a light straw color and a medium body that is a bit light. There are flavors and aromas of bready malts, grains, tropical fruits, citrus, honey, and grassy hops. It is an all-around lager, and the simple taste makes it suitable for those who aren't familiar with this beer style.
When having this lager, consider serving it in a pilsner glass. It is a tall-footed glass with no curves and will preserve the beer's bright head and retain the carbonation. As for the serving temperature, it should be very cold at 38 degrees Fahrenheit or between 35 and 40 degrees Fahrenheit.
– Appearance
The cold beer has a light straw color when you pour it into the glass and looks great, especially in a pilsner glass. This is because of the bright and light golden color, along with the active carbonation that offers lively bubbles floating to the top.
There is a bright white head on the beer, but it dissipates quickly and leaves a thin film of foam floating. It also leaves decent lacing against the glass as the beer goes down.
– Aroma
On the nose, the lager offers a clean and simple aroma that offers promise for what is to come with the flavor. The main aroma on the nose is the grainy and bready malts, but it does not smell too sweet. There is also a bit of honey and citrus in the aroma.
As the beer warms up, you might notice some tropical fruit notes in the aroma and a little bit of grassy or floral hops.
– Mouthfeel
The mouthfeel of the lager might be medium-bodied, but it tends towards the lighter side. It is also a very crisp beer that feels clean and dry on your tongue, almost like a fizzy soda. The carbonation is very prominent in the feel too.
You can feel the bubbles offering a fizzy feeling at the back of your tongue. The beer is light on the palate, and the finish is crisp, short, and dry.
– Flavor
The flavor of the lager follows the aroma very closely, giving you a balance of malts and fruits, but the grainy flavors take the lead. It follows the American lager style and is more flavorful than your usual macro lager. The beer has citrus and grainy flavors, and there is some restrained bitterness from the hops.
The malts offer low sweetness too, and the aftertaste is quick and sweet. You will get flavor notes of honey, citrus, and tropical fruits, along with the grainy and bready malts that you get in the flavor. The hops also offer grassy and floral notes, and the citrus notes shine in the flavor, leaning towards tangy.
– Food Pairings
When having the beer, you can pair it with light and clean foods. Consider having grilled pork and chicken or light pasta dishes that don't have meat or cream sauce. Seafood also goes well with this beer, so try out light fish dishes, shellfish, salmon, and sushi. You can top your seafood with traditional lemon.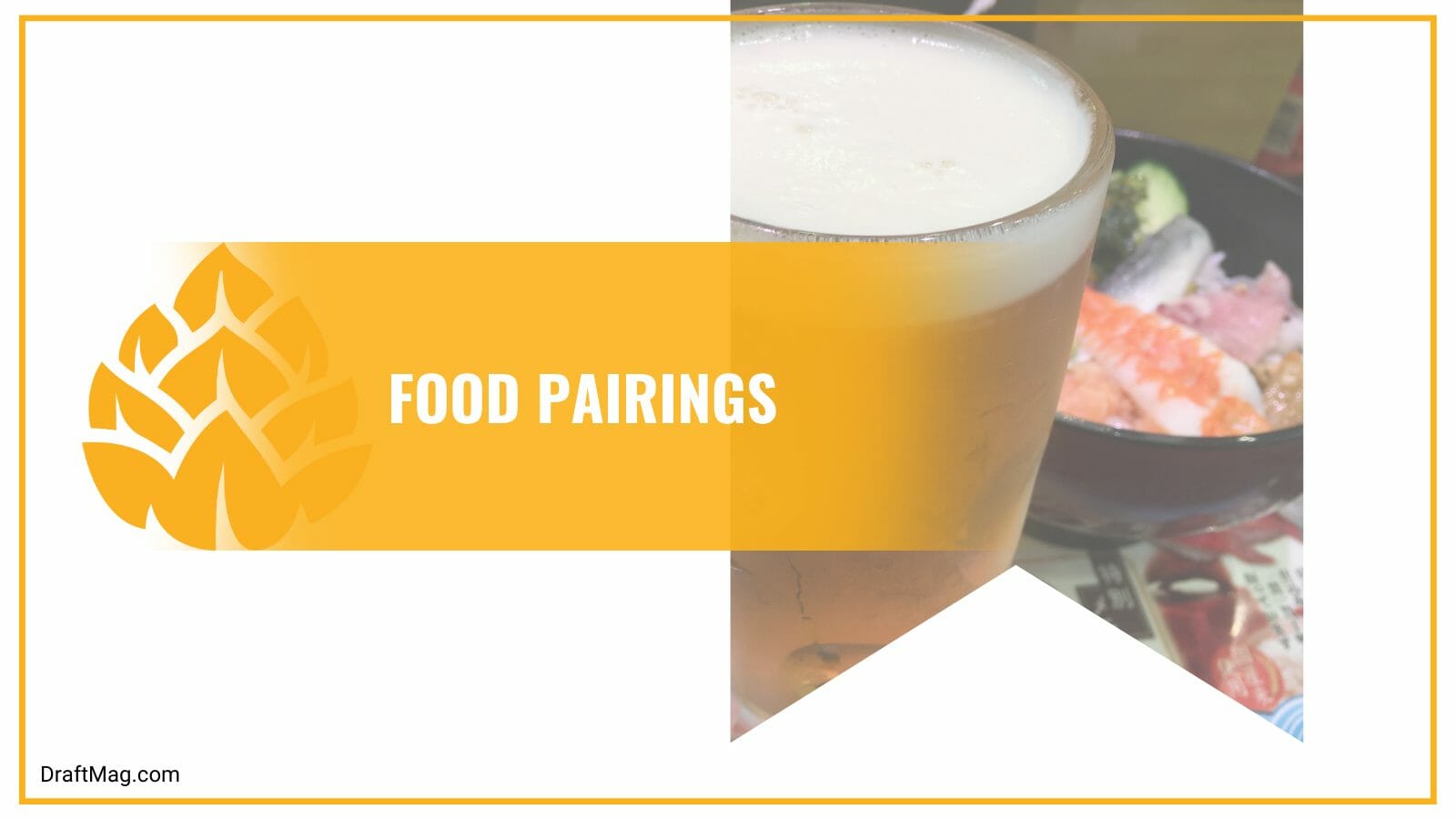 Spicy food also goes great with this American lager, so go for Indian curry, Mexican food, spicy noodles, or a burger with a spicy barbecue sauce. Other options include Southeast Asian and Latin dishes, buffalo wings, French fries, taters, hotdogs, tacos, and mildly flavored cuts of meat like filet mignon.
Cheese plates are a fantastic option for the lager, so you can enjoy mild cheeses like Cheddar and Havarti or soft cheeses like Brie and white mold cheeses. For your dessert options, have the lager with strawberries and cream, dark or milk chocolate, brownies, or a lemon tart.
Ingredients
When you purchase the beer, you will see that it is made from malted barley and hops. The brewery specifically selects its ingredients to leave its customers with high-quality brews. The malt variety is barley malts and pilsner malts, and these are the main player in the flavor and aroma.
With the malts, you get the solid flavor of grains and biscuit malts as you drink. As for the hop variety, it includes Hallertau Blanc and Saphir hops. With these hops, you get fruity notes, floral and grassy hints, and citrus.
Nutrition Facts
For every 12 ounces of the lager, you get a 4.2 percent alcohol content. The alcohol percentage is expected for the beer style and does not get in the way of the flavor. There are low bitterness units too, set at 20, with the malts taking charge of the flavor.
The beer also features 152 calories, with 150 from the source and 2 from fat. It also has 6.67 grams of net carbs in every 240ml serving, so it should be avoided on keto as it is high in net carbs. If you're on a diet, you should consider the nutrition facts before drinking.
History
The lager was released by Creature Comforts Brewing in 2017. When the beer was first launched, it was strictly a draft offering in the Athens tasting room. As of November 2018, the brewery released it in 12-ounce cans as a year-round offering, making it easy for anyone to purchase it.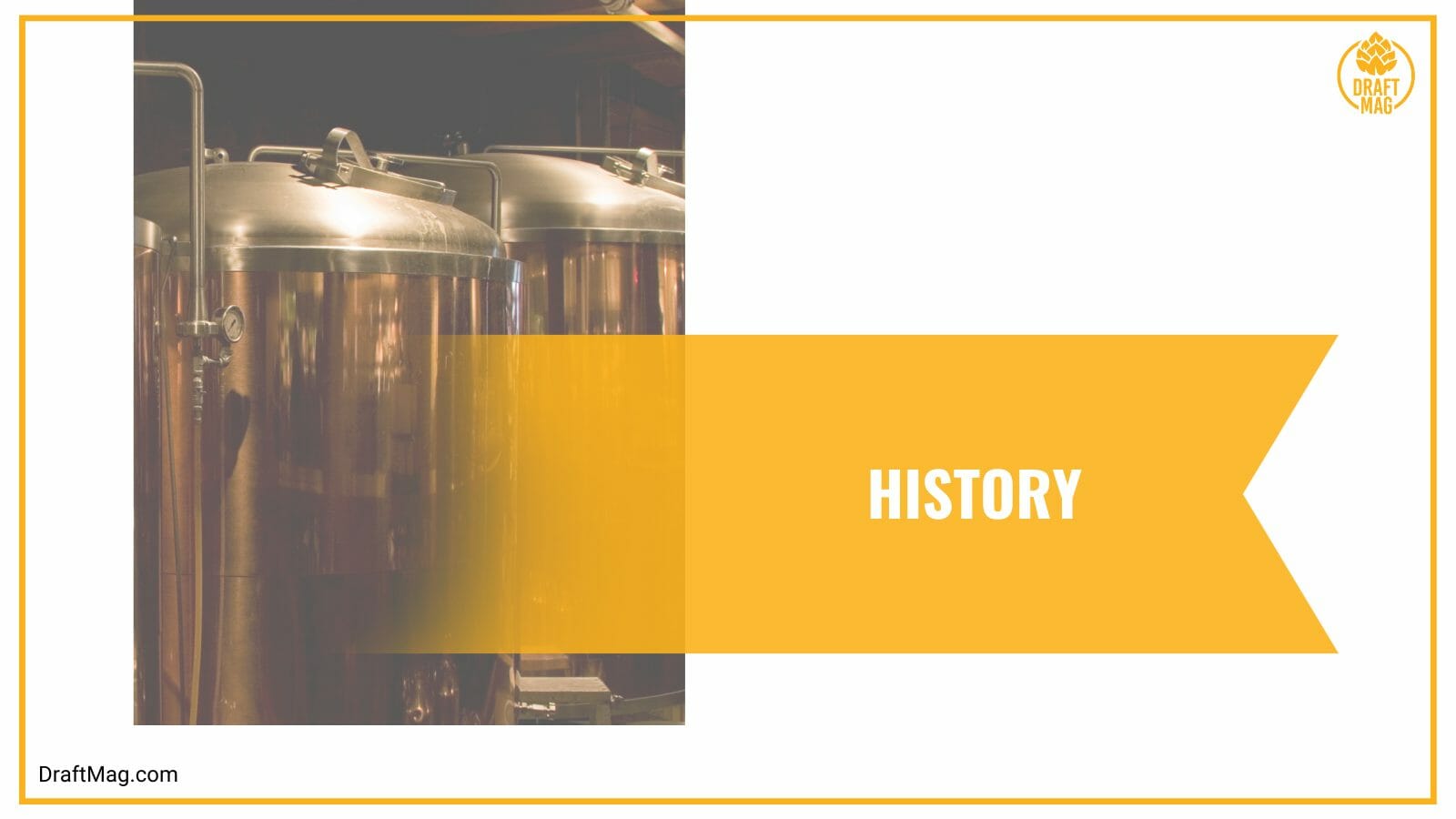 The beer was a local draft offering but achieved a lot of popularity because of its simple style. The brewery focused on making a beer for those who want a low-ABV, cold, pale lager. Creature Comforts partnered with Chris Collins, an artist in Athens, to design the typography for the can label.
Conclusion
With the clean and crisp mouthfeel and the balanced taste of bread malts and tropical fruits, this lager is the ideal option for any occasion.
Here's what we covered in our review:
This is an American lager with a 4.2 percent alcohol content.
The beer has flavors and aromas of bready malts, grains, honey, citrus, tropical fruits, and floral and grassy hops.
It is made with malted barley, hops, yeast, and water.
The Classic City Lager is best served in a pilsner glass at a very cold temperature of 38 degrees Fahrenheit.
It is best paired with light dishes without heavy sauces, seafood, spicy dishes, hotdogs, burgers, cheese plates, and different kinds of desserts.
You can easily get this classic lager on tap at the brewery or purchase it in the 12-oz cans available at liquor stores and supermarkets. It is also available for sale online.