Mad Hatter India Pale Ale Review: A Fine and Clean IPA
Mad Hatter India Pale Ale is a vibrant ale that doesn't stray away from the standard style an IPA gives. If you're a lover of hops or ales, you'll definitely love drinking this juicy beer on any occasion.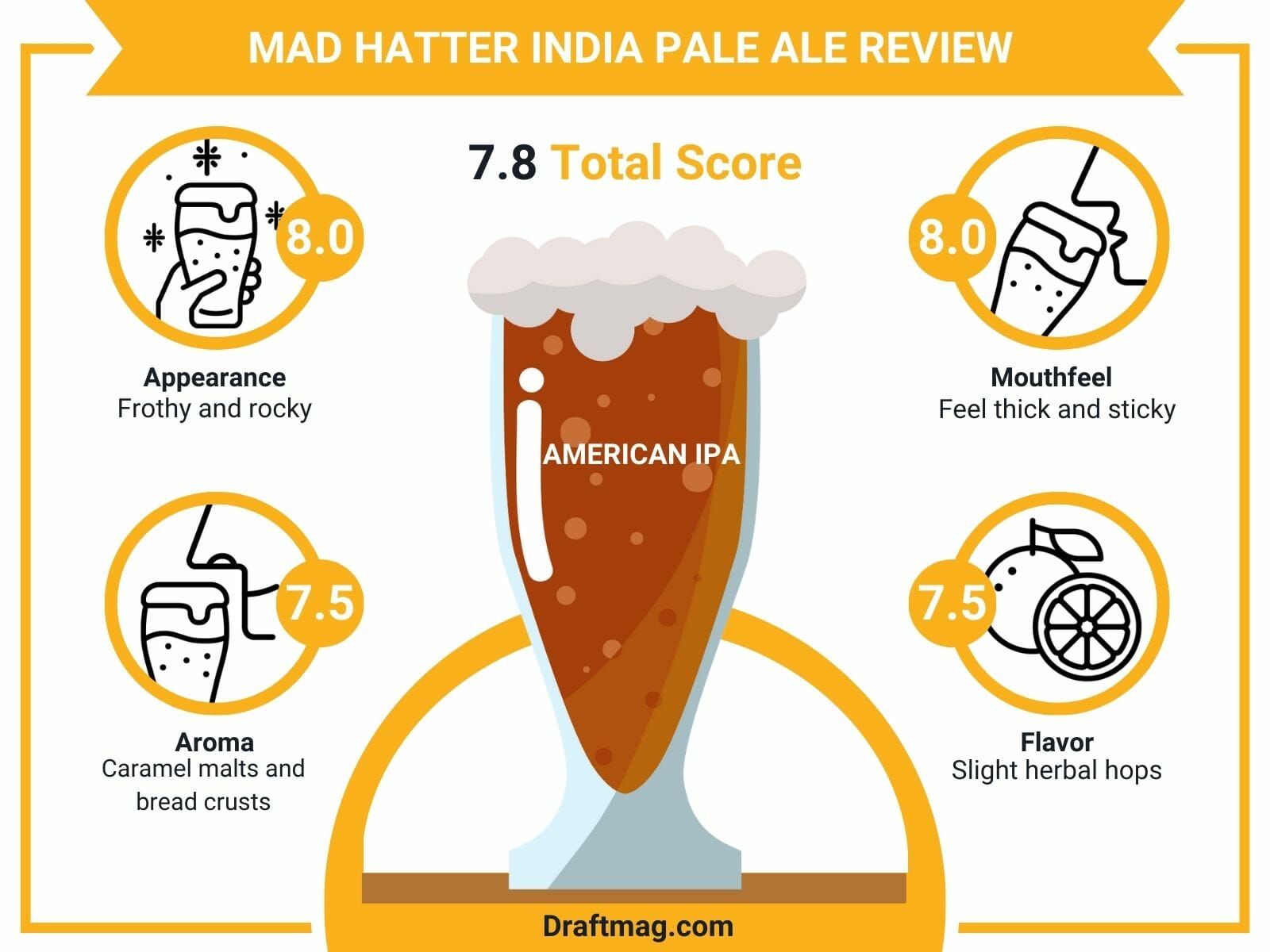 Whether you want a refreshing IPA for the hot summer days or a high-alcohol ale that will get you drunk when hanging out with friends, this is the ideal choice. In this review, we look at the tasting notes and food pairings of this IPA. 
Mad Hatter India Pale Ale Stats
Country 

United States

Brand

New

Holland Brewing Company
Style

American IPA

Taste 

Citrus, hops

Body

Medium Body

ABV

7 percent

Flavors & Aromas

Citrus, pine, floral notes, herbal, grapefruit, biscuit

Serving Temperature

45 – 50 degrees Fahrenheit
Tasting Notes
Mad Hatter India Pale Ale Tasting Profile
Mad Hatter India Pale Ale Review 
Holland Mad Hatter is an American IPA with a balanced taste of citrus and hoppy notes that you would expect from an IPA. In the beer, there is an alcohol content of 7 percent and a clean finish that makes it pair great with different kinds of food. 
The IPA features flavors and aromas of citrus, floral notes, pine, grapefruit, and herbal hops, with a solid biscuity base. It has a hazy amber color and a medium body that looks great. The fine texture of the ale makes it suitable for all kinds of food, and it is refreshing enough for a hot day. 
Serve the IPA in a nonic pint glass, as it features a wider mouth and body that allows you to take bigger sips and enhances the aroma (Pint glass is preferred among all the other available beer glass types that are widely used). You can also get a seidel or a mug. Serve it at temperatures from 45 to 50 degrees, and garnish it with a citrus slice. 
– Appearance 
On the pour, the IPA features a copper appearance, and once it settles, it looks amber. It is a cloudy beer as it features a slight haze when you look at it. You can barely look through the beer.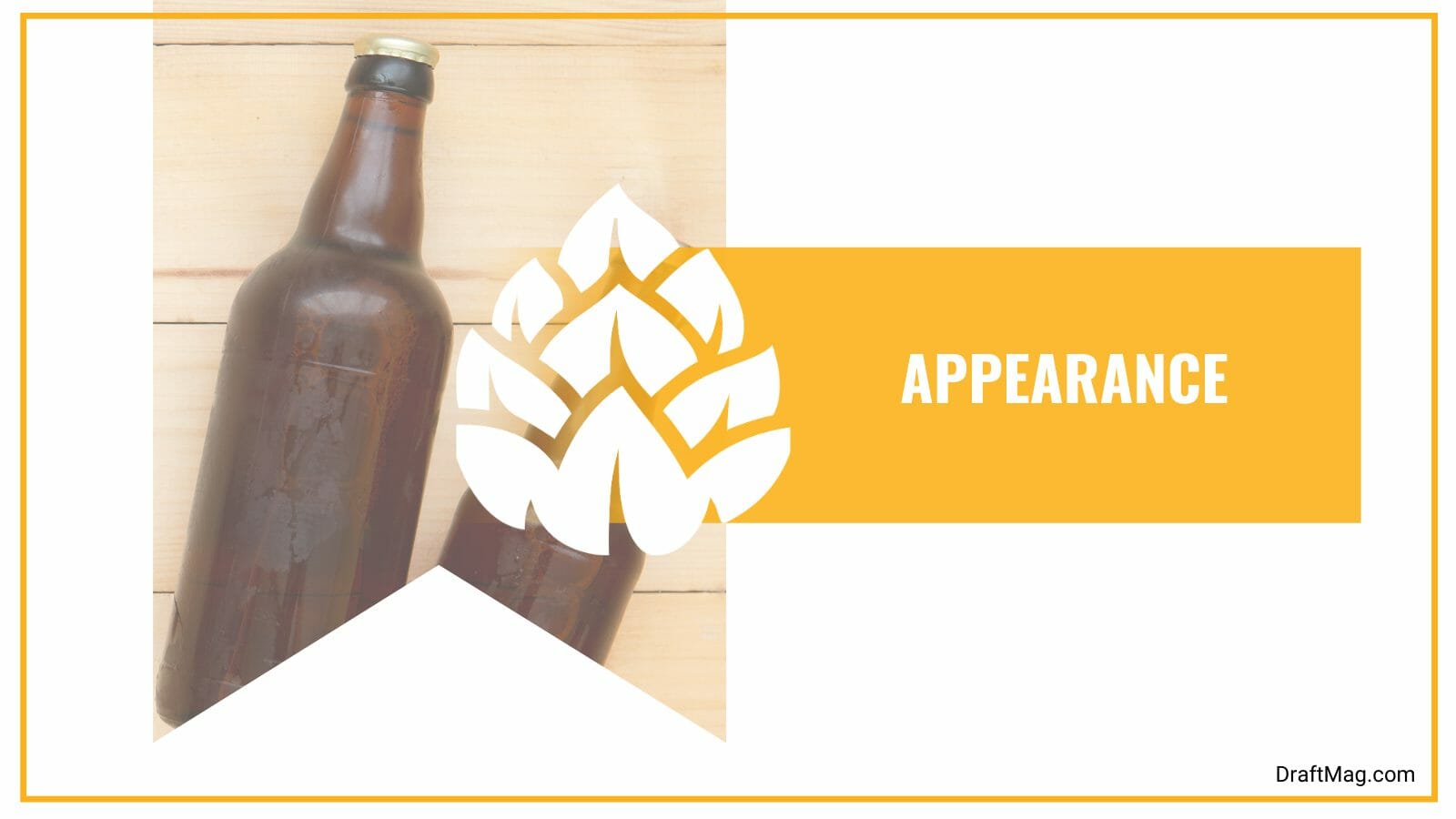 Atop it is an off-white to beige head that looks frothy and rocky. The foamy head is up to one finger high and will dissipate into a thin film quickly. 
– Aroma 
As for the aroma, the IPA features a sweet and hoppy scent of honey and citrus notes. The first thing that you smell is the pine and citrus rind, with a backbone of floral notes. The alluring aroma of mild grapefruit, piney hops, and orange will fill your nose.
At the base of the aroma, you will smell caramel malts and bread crusts that are obtained from the malts. You might also notice some earthy pine notes. 
– Mouthfeel 
On the palate, the IPA features a medium body that tends a bit toward full. The medium body is smooth and finishes bitter on your tongue. There is also a resinous feel on the palate that makes it feel thick and sticky on your tongue.
There is also a bit of carbonation in the beer that improves the refreshing taste. The moderate carbonation makes it drinkable and crisp, with a clean finish. There is a decent flow and hop texture. 
– Flavor 
The taste follows the nose of the IPA, with balanced flavors of citrus, hops, and malts. The biscuit malts in the base and the slight herbal hops remain from the start to the finish when you drink, but they give room for the hops to shine. In the finish, you get herbal hops and a clean malty taste.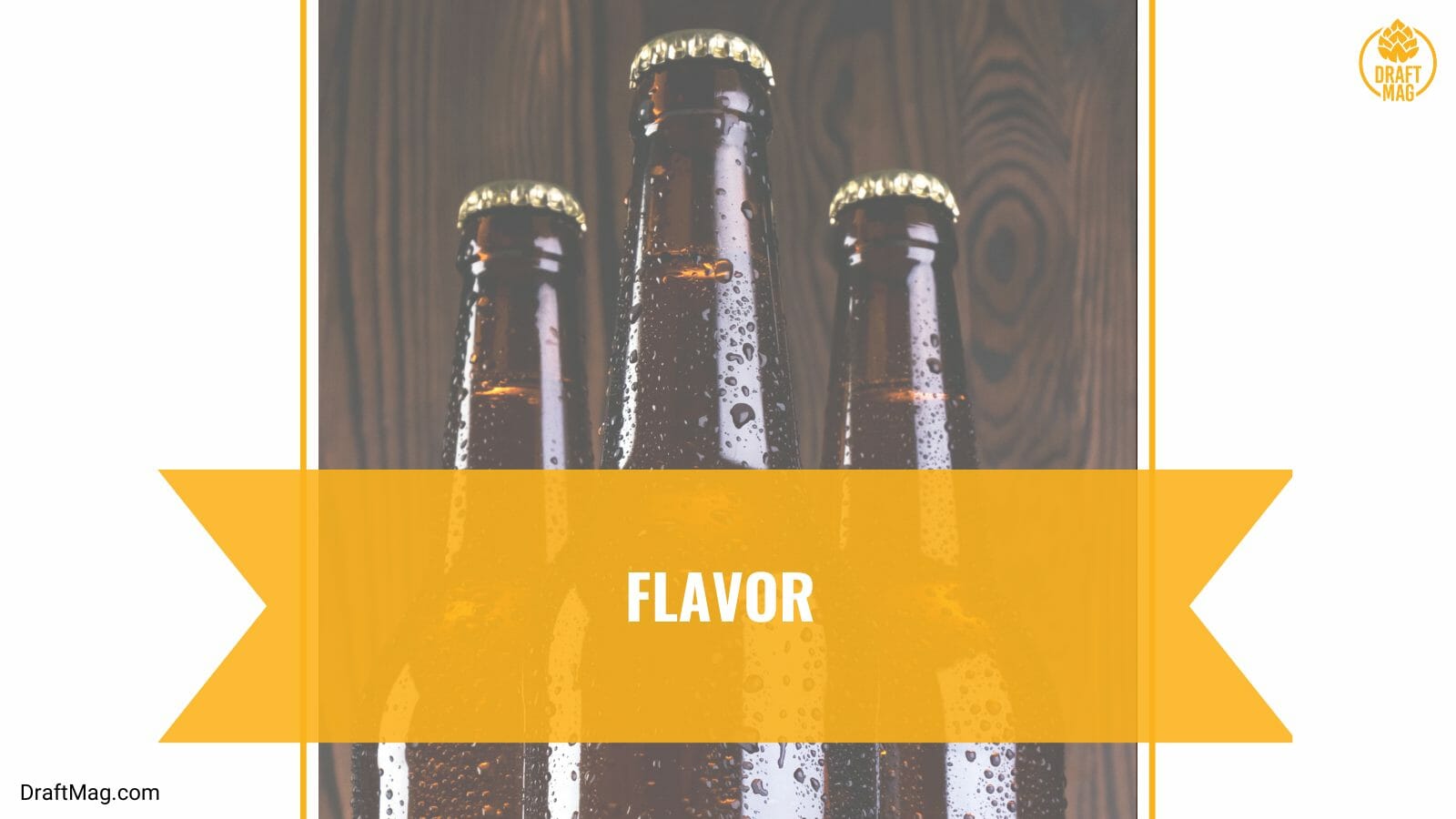 There is a pleasantly balanced taste as you drink, giving you piney hops and citrus flavors of grapefruit and orange. There are also some spicy and bitter hops that tingle your tongue as you drink, adding to the bitterness. In the backbone, there is a malty base of caramel and bread crust. The orange citrus flavor remains until the end.
– Food Pairings
The bitter and clean taste of the IPA goes well with different kinds of food, and it's better to choose similarly intense foods so that you don't overwhelm your tongue. Spicy foods pair well with this beer, as the bitterness will cool things off. You can try out tacos or burgers with barbecue sauce, Indian curry, Mexican food, and spicy noodles.
The IPA features a resinous body that will pair well with oily fish. Try out mackerel or salmon that is flavored with a traditional lemon. Meaty dishes like steak, hot wings, buffalo wings, and different kinds of seafood also work well.
With this IPA, you can consider fruity desserts like a carrot cake, blood orange sorbet, orange banana crepes, and even a fruit soup. It also goes great with different kinds of cheese, like sharp or medium cheddar and blue cheese. 
Ingredients 
The IPA is made with malts, hops, yeast, and water. The malts used to make the beer include two-row malts, wheat, Munich malts, and Carapils (There are plenty of malts types that are being used in general). This forms a strong base of biscuits, caramel, and bread crust, but this is only in the backbone and won't overshadow the hoppy taste.
Three hops are used to make the beer, and these include Centennial, Cascade, and Citra hops. These offer citrus and a pleasant bitterness that will excite your palate when you drink. It also contributes to some floral aromatics, especially since it goes through dry hopping after they brew it. Even though there are several types of hops available, and breweries use most of them, this IPA focuses on these three.
Nutrition Facts 
The IPA features an alcohol content of 7 percent, which is expected for an IPA. The ABV level gives you a bit of warming when you swallow it. The IBU level is 55, as there is decent bitterness from the hops. This is balanced out with the malty sweetness.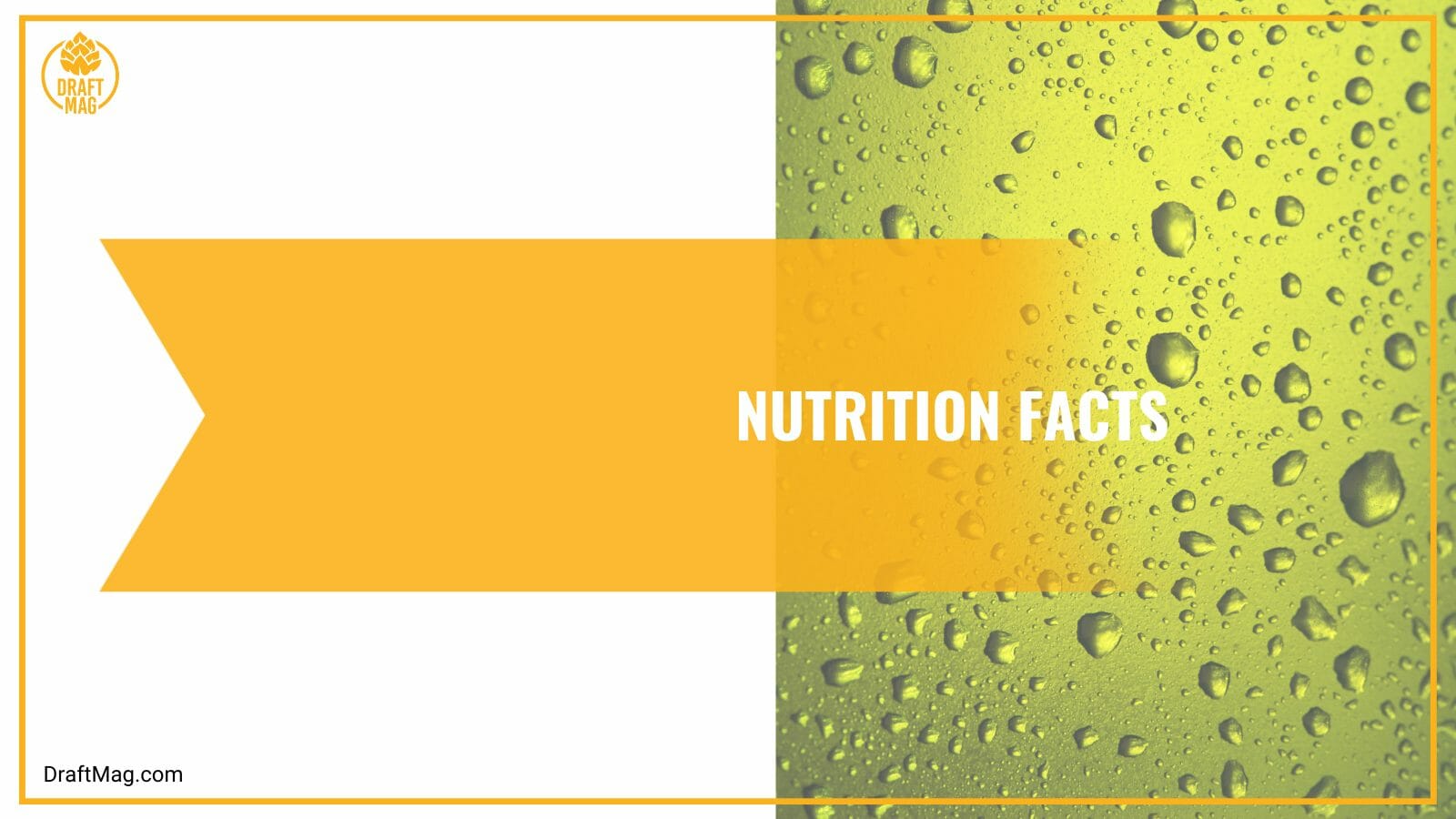 It features 159 calories in every serving, and you also get 12 grams of carbs. The IPA is not suitable for drinkers on a keto diet, although you can take a small serving since the carbs level is not too high. It is not a gluten-friendly beer, either. 
History 
The IPA was released in 1998 by New Holland Brewing Co, although it is no longer on the list of year-round beers from the brewery. The beer has been a permanent part of the lineup in the brewery since then. Also, the brewery released a lot of hop-forward Hatter beers annually for the anniversary celebration. 
Some other popular Hatter beers include the White Hatter, which has a lot of citruses, and the Oak Aged Hatter, which is a barrel-aged version of the beer. In 2015, the IPA was adjusted to increase the ABV, and the brewery also changed the grain bill and added Michigan-grown hops to the ingredients. 
Conclusion
Whenever you're in the mood for a fruity and citrusy IPA, you can give this beer a try, as it hits all the flavor notes.
Here's a summary of what we covered in our review:
This is an American IPA with an alcohol content of 7 percent.
The beer has flavors and aromas of citrus orange and grapefruit, pine, herbal notes, biscuit malts, and floral notes.
It is made with malts, hops, yeast, and water.
Serve the beer in a pint glass or mug at temperatures from 45 to 50 degrees Fahrenheit.
You can pair the beer with spicy foods, oily fish, meat and steak, seafood, fruity desserts, and medium or sharp cheddar.
You can order this beer online, but it would be difficult to purchase it directly from the brewery.