Warsteiner Dunkel Review: Everything About the Dark-colored Beer
Warsteiner Dunkel is a great option if you are looking for a dark beer. The taste of this beer is as smooth and satisfying to your tongue, with rich flavors that will leave you wanting more.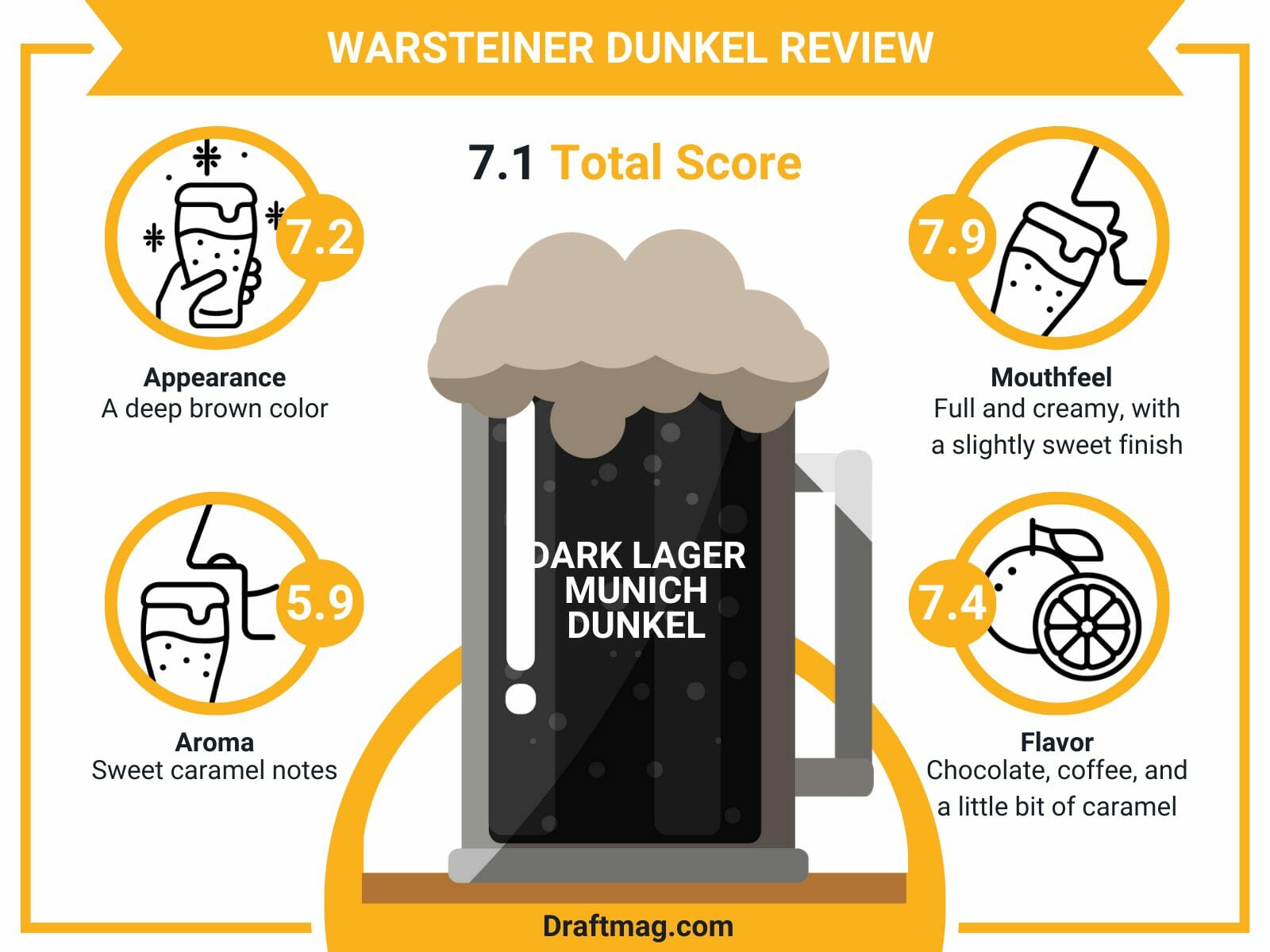 The aroma may not be too intense, but it's got enough depth for those looking for an enjoyable drink without overwhelming the senses. The professionals have handcrafted this German-style brew at Warsteiner Brauerei since 1753, and it will not disappoint you.
Warsteiner Dunkel Stats
| | |
| --- | --- |
| Country | Germany |
| Brand | Warsteiner, The Warsteiner Brewery |
| Style | Dark lager, Munich Dunkel |
| Taste | Roasty, Smooth, coffee, sweetness, slightly bitter, and delicious |
| Body | Medium-bodied and light carbonation |
| ABV | 4.9 percent alcohol content |
| Flavors & Aromas | Toasted malt, Chocolate, Molasses, Caramel, hints of coffee and hops |
| Serving Temperature | 45-50 degrees Fahrenheit |
Tasting Notes
Warsteiner Dunkel Tasting Profile
Warsteiner Dunkel Beer Review
Any beer drinker knows that there are many different types of beer to enjoy. This beer, however, is a dark beer with a unique flavor profile. We'll take a closer look at what makes this one so special and review how it stacks up against other dark beers on the market. Whether you're an experienced beer drinker or just getting started.
– Appearance
The beer is brewed with dark roasted malt, which gives it a deep brown color. The deep, rich coloration of this wine is unparalleled. This beer pours a clear, brown to faint amber color with a mild white head.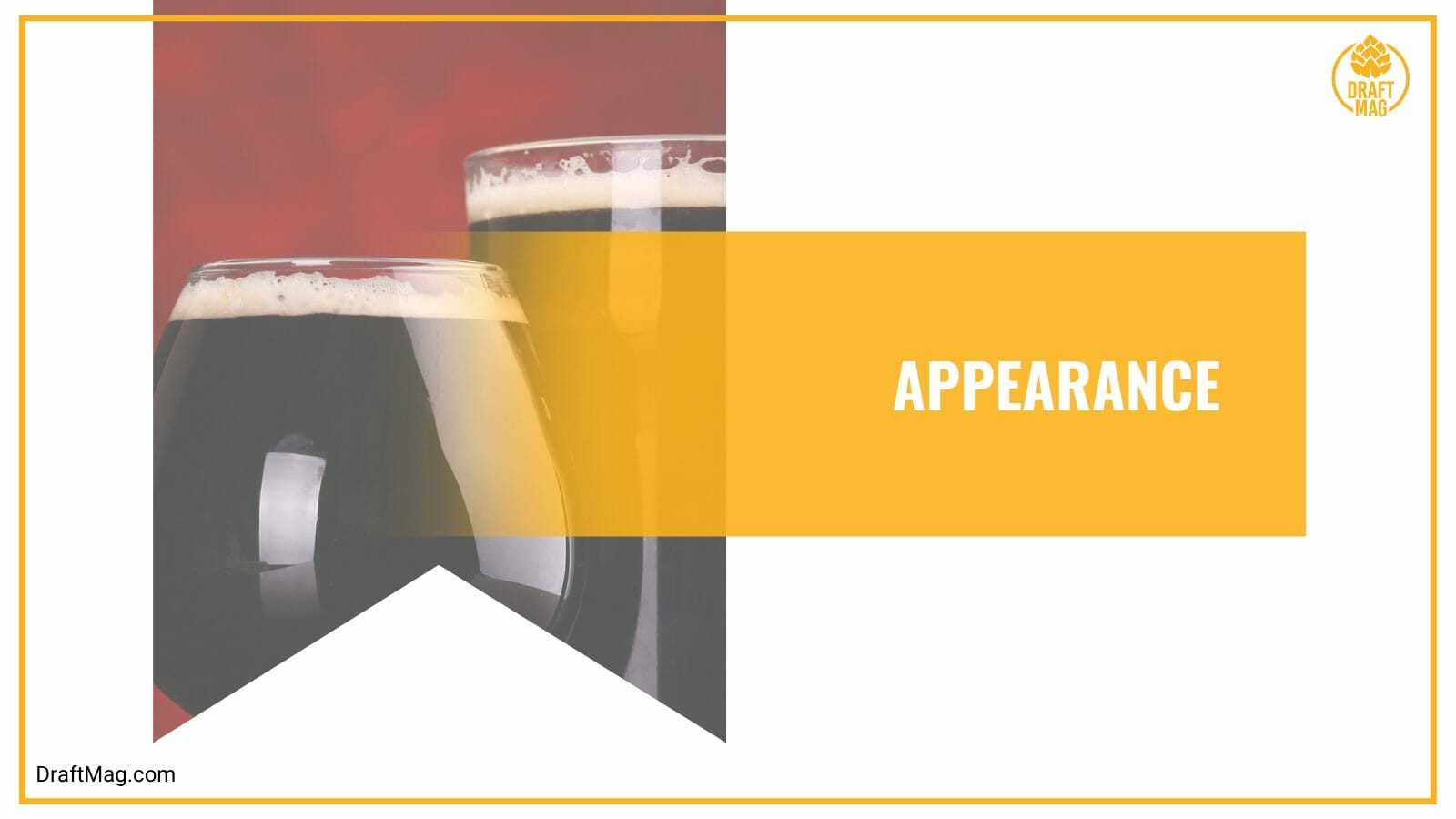 The color appears dark brown with red-orange undertones when viewed in the light. The head was also tan but thin, and it vanished quickly. Although Dunkel's head disappears quickly, it leaves behind its lacing. To see the color in a very vivid way, Dunkel is best served in a traditional German pint glass.
– Aroma
As you pour Warsteiner Beer into the Pilsner glass, you will notice that the beer has a roasted malt aroma. The notes on the nose of this beer are toasted grain and malt with light coffee bean undertones. Sweet caramel notes and good walnut tones are also present. In addition, this beer uses semi-sweet chocolate to give beer a unique aroma.
The chocolate scents are artificial, but they do not overpower the other scents in the beer. The Beer's aroma is attributed to the Warsteinerhopfen, a noble hop that gives the beer a fresh, well-rounded bitterness. Overall, it is a decent beer but nothing special. It's an easy-drinking beer that would be perfect for someone new to craft beer or looking for something lighter.
– Mouthfeel
The Dunkel is a dark beer with a distinctively rich flavor. Enjoy this beautifully brewed pilsener with a clean taste that perfectly balances the hints of barley malt and mild hoppy bitterness.
The mouthfeel of the Dunkel is full and creamy, with a slightly sweet finish. It has a strong malt presence, with hints of chocolate and coffee. The Dunkel's moderate carbonation provides just the right amount of refreshment.
– Flavor
This beer is brewed with care, using only the finest ingredients. The result is a beer with a deep amber color and a delicious malty taste. The beer gets its distinct flavor from a combination of malted barley, hops, and caramelized malt. Its flavor has notes of chocolate, coffee, and a little bit of caramel.
The drink contains dark malts to give the beer its flavor and color. The malts are roasted, which gives the beer its unique flavor.
– Food Pairings
Keep in mind that this dark-colored beer pairs well with a variety of foods. The beer's malty flavor goes well with grilled meats and roasted vegetables. The beer's sweetness pairs well with chocolate desserts. It is a versatile beer that can be enjoyed with various foods.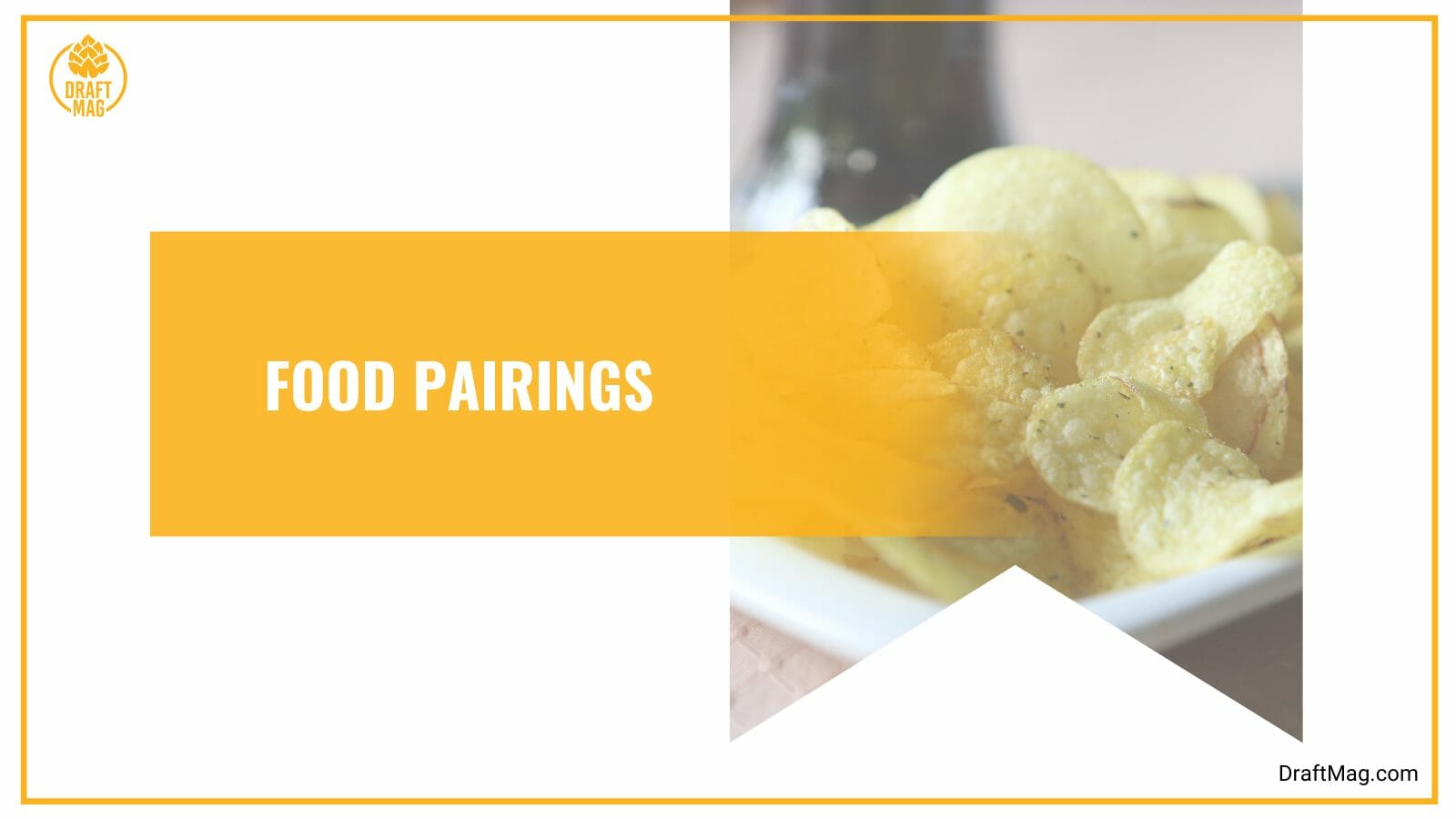 You can even pair it with some mash, or some pretzels to add to the flavor of the beer. Some people also like to eat cheesy pizza, or even some juicy burgers with the beer.
Ingredients
Water, barley malt, roasted barley malt hops, and yeast are all used to create the beer. This dark beer gets its unique flavor from the specific types of malt and hops used in its recipe. The malt gives the Warsteiner its characteristic dark color, while the hops add bitterness and aroma. In addition, it is brewed using a special bottom-fermenting yeast which ferments at a lower temperature than other types of yeast.
Nutrition Facts
Warsteiner beer alcohol content is 4.9 percent by volume. It contains fewer calories than other beer brands and is low in carbohydrates. And what about Warsteiner beer calories? One 12-fluid-ounce serving of this beer has 140 calories.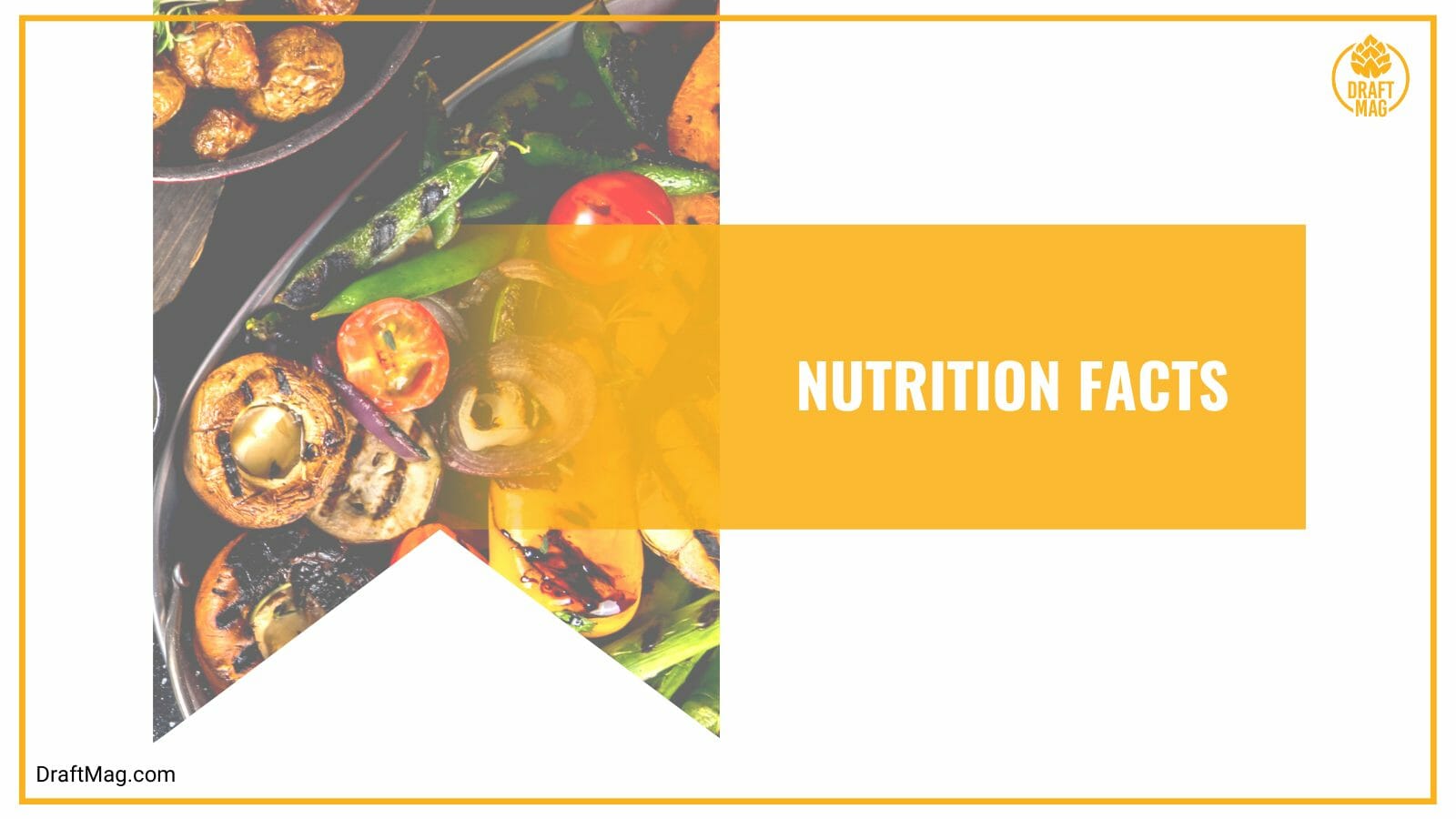 The fat content in the beer is zero grams, the carbohydrate content is 3.5 grams, and the protein content is 0.5 grams. The salt content is 0.01 grams. The beer is a good source of vitamins and minerals, including potassium, phosphorus, and magnesium. Dunkel beers are also a good source of fiber. To add more, it is gluten-free and keto-friendly.
History
In the heart of Germany, one could find a small town known for its own Warsteiner Brewery. Warsteiner beerr is a German dark lager first brewed in Warstein, Germany, in 1753. this company is a family business that is run by a member of the Cramer family. Catharina Cramer, a 9th-generation member of the family, owns and manages this brewery.
The company's headquarters are in the German state of Westphalia, known for its natural beauty and rich heritage. The brand is available in more than 60 countries across the world. Warsteiner has established itself across Europe, Asia, and Africa, with its exports reaching many countries. Today, you can easily find beer in your local stores or buy this beer online.
Conclusion
Warsteiner beer is a dark German beer with a unique flavor from roasted malt. The rich color and full flavor will make your taste buds happy.
Warsteiner beer is a dark beer that has a unique flavor profile.
It's brewed with dark roasted malt, which gives it a deep brown color.
The beer has a slightly sweet flavor with notes of caramel and chocolate.
The beer is medium bodied and has an alcohol content of 4.9 percent.
You can pair this beer with a variety of foods, such as pizzas, burgers, and even some European pretzels.
This beer is a great one for those who appreciate a unique flavor profile. So if you're looking for a dark beer with a complex flavor profile, then this is the one for you.