Goose Island Christmas IPA Review: Unique Brew With a Hoppy Punch
The Goose Island Christmas IPA is a new take on the traditional English IPA. It uses six different hops and has a very malt-forward flavor with subtle citrus and sour notes. Some of the exclusive hops used by the Goose Island beer are Meridian, Chinook, and Cashmere to get the exclusive depth of flavor that this beer boasts of.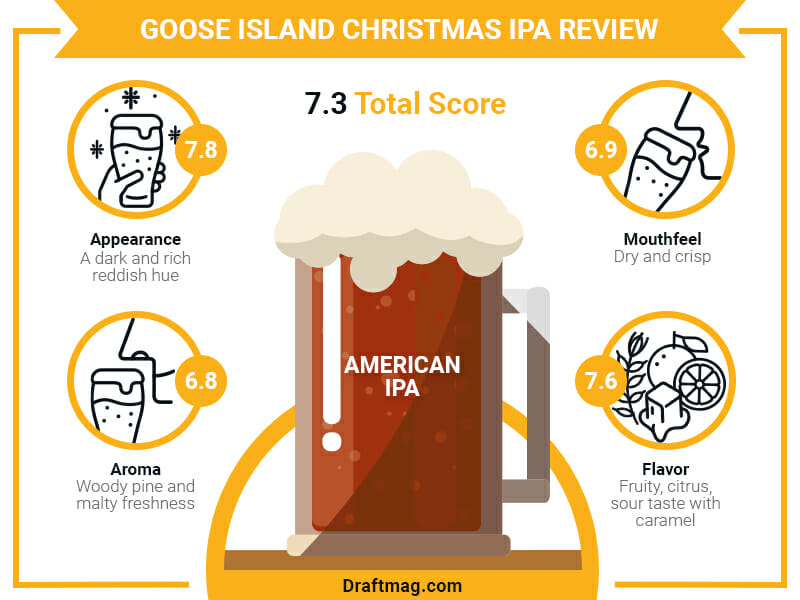 Read our carefully curated and well-researched article on why this hoppy beer is popular and what makes it stand out among all other IPAs available in the market.
Goose Island Christmas IPA Stats
| | |
| --- | --- |
| Feature  | Description  |
| Brand | Goose Island Beer Co. |
| Origin | Illinois, Chicago, United States |
| Color | Dark red to dark brown |
| Style | American India Pale Ale |
| Taste | Sweet, hop-forward, and malty taste |
| Body | Balanced and dry finish |
| IBU | 50 |
| ABV | 7.5 percent |
| Aromas | Distinct smell of hops, malts, caramel and fruity aroma |
| Serving Temperature | 45 – 50 degrees Fahrenheit |
| Suggested serving glass | Snifler/Goblet/Chalice |
| Commercial packs | Pack of 6 or 15 cans or pint bottles |
Tasting Notes
Goose Island Christmas IPA Tasting Profile
Goose Island Christmas IPA Review
Goose Island IPA tastes like different varieties of fruits such as lychee, pineapple, orange, lemons and a strong malty sweet flavor from the grains used. It also has a string bitterness which comes from the hop usage. The bitterness lingers on the tongue even quite some time after drinking.
The Goose Island IPA is light-bodied, letting the hop and malt flavors shine. But the sweetness of the fruit flavors and the sourness of the lemon balances out the bitterness from the hops.
The Goose Island Christmas IPA has an old-school English IPA charm to it. This is mostly because of the caramel malt and the dry hops used in the brewing process. But this beer has many more unique characteristics that make it so popular among beer advocates. Here are a few characteristics to help you understand the minute nuances.
– Appearance
The Island Christmas IPA has a dark and rich reddish hue which can also range to a dark brown color. The rich color rightly complements the rich flavor profile of the beer. This beer looks like a deep red liquid that almost looks like a ripe fruit drink.
The Island beer also forms a white foam head when poured out on a serving glass. The foam is thick but does not have very good retention. There is medium carbonation present in this beer, which makes fast-rising bubbles visible. The overall texture of this beer is quite clear and the clarity is pretty consistent.
– Aroma
The Goose Island Christmas smells of woody pine and malty freshness. It also has a slightly bitter smell from the six different hops used in the brewing process. It has a subtle smell of earthen hops, but none of the aromas are very powerful or aggressive on the nose.
There are also smell notes of fruity sour elements like mango from the hops used. The smell of alcohol is not very strong. However, the grainy malt smell is dominant but does not overshadow the other subtle smells. The overall smell is very earthen from the mixture of hops and malt.
The malt used also leaves a fine smell of caramel and herbal sweetness and forms a good balance with the herbal hop smell.
– Mouthfeel
The Island Christmas has a dry and crisp mouth finish. The medium carbonation also leaves a fizzy feeling on the tongue. The carbonation almost feels fluffy and has an overall medium-bodied finish.
– Flavor
This Island beer by the Goose Island Beer Company has a semi-sweet and balanced flavor profile. It is strong on the alcohol level and is famously known as one of the most popular IPAs with a high ABV. The beer also has a distinct taste from the malts used, giving this beer a subtle caramel flavor.
It also uses six exclusive dry hops that give it a fruity, citrus, sour taste with an earthen flavor. This beer has a malt-forward taste with subtle taste notes of wood and fruity flavors, making a very nice balance of diverse tastes. It also has taste notes of mango and woody pine.
Moreover, it has a mildly bitter taste due to the six hops used in the brewing process. However, the bitterness is not very aggressive and ranges between medium-low to medium-high. The overall taste is very light, making it quite an easy drink even with the 7.5 percent ABV level.
– Food Pairings
There are a lot of diverse uses for a great Goose Island Christmas IPA. Here are a few food pairing suggestions to make your beer drinking experience more enjoyable.
As this is a light IPA beer with a high level of alcohol and medium bitterness, it pairs well with curries of all kinds. The rich and spicy curry flavor cuts through the light beer taste and makes the beer feel more refreshing.
Other Indian dishes like food that contain a lot of spices or sour elements also work well with this beer.
You can also pair the Goose Island Christmas IPA with spicy Mexican or Jamaican food. The beer's freshness works very well with the spices, forms a perfect balance of flavors, and gives you a holistic feel of the beer.
If you are not keen on spicy food, you can pair it with some smoked barbeque, grilled chicken, or burgers. The smoky flavor profile of the barbeque will pair well with the herbal and earthy flavor of the beer derived from the hops.
Ingredients
There are four main Goose Island Christmas IPA ingredients. They are three different malts, six different hops, yeast, and freshwater.
– Malts
The malts used in the brewing process of the Goose Island IPA are 2-Row, C-20, and Debittered Black. They have a very caramel-like and grainy flavor profile and help in getting the rich flavor profile of this beer.
– Hops
The exclusivity of the Christmas IPA is determined by its hop usage. Six different types of dry hops are used to create this beer's rustic and earthen flavor and smell. The hops used are mainly Cascade, Meridian, Cashmere, Athenaeum, Chinook, and Northern Brewer.
The brewmasters at the Goose Island Brewery use a very fine balanced proportion of these hops to get their exclusive taste. This hop usage sets them apart from other beers and other IPAs in general. The excellent balance of the hops and its fine-tuning with the exclusive malts is felt in every sip of this beer and is highly appreciated by beer lovers.
– Water
Goose Island uses fresh water in the brewing process giving the beer its overall fresh taste and aroma. The level of water is what lightens up the beer even with the 7.5 percent ABV and makes it an easy drink.
Nutrition Facts
A single pint of the Goose Island Christmas IPA has the following nutritional statistics. This list is carefully curated with diet-conscious people in mind. Here are the Goose Island Christmas IPA nutrition facts:
Calories: 197
Cholesterol: 0 milligrams
Sodium: 16 milligrams
Potassium: 85 milligrams
Carbs: 6.6 grams (0.4 grams from sugars)
Protein: 1 gram
The Goose Island beer has a very high ABV level standing at 7.5 percent, but it was not always the case. Previously, it used to range below 5.8 percent. Recent and new experiments with their beers have led to an increase in the alcohol levels and have been exceptionally well received by beer lovers.
Though the alcohol level is high, the taste of alcohol is not very aggressive since the malt and hop flavors cut through some of the alcohol taste. Its alcohol is much higher than any average IPA, which is one reason for its exclusivity.
The Goose Island Christmas IPA is available in both cans and small pint bottles. Both of them are designed in red color to compliment the beautiful and rich deep red beer inside. The overall bottle is convenient and gives out a very festive and Christmas-like vibe.
History
The Goose Island Beer Co. started in 1988 as a small brewery in Chicago's Lincoln Park neighborhood as a small craft brewery. The owner, John Hall, took a trip to Europe and found some amazing flavors in the original English IPA. Since then, he has experimented with different kinds of IPAs in his humble brewery.
In the early 1970s, there were not many English IPA options in the American market and craft breweries were a very new phenomenon. That is when John Hall started his Goose Island IPA. From there, he later developed the Goose Island Christmas IPA. This is named after Christmas because of its fruity, spicy, and earthen take on the traditional English IPA.
The rising demand for their exclusive craft beers and especially the IPAs also made them open up a second and bigger brewery in Wrigleyville in 1999. But to date, the Goose Island Christmas IPA is brewed only in their original Chicago brewery and supplied all across the country.
– Goose Island Today
In 2011, the Goose Island Beer Co. was acquired by Anheuser-Busch InBev. This helped this small craft brewery to spread its wings and expand nationwide. Now their exclusive Christmas IPA is available all across the globe. After the takeover, the number of beers at the Goose Island Brewery has increased to more than 50.
They now make Bourbon County stouts, Classic Ales, Seasonal Beers, and much more. Most of their beers are aged in old bourbon barrels, making up the rich and exclusive flavor profile of all their beers.
There are many places to buy the Goose Island Christmas IPA since the takeover by the Anheuser-Busch InBev brewing company. They have now started national production and ship their products across the globe. You can also buy them online directly from the source or other alcohol retail stores. If you want the whole experience of drinking this craft beer, you can also visit their exclusive facility in Chicago and taste it right from the source.
FAQs
– What Is the Alcohol Content of Goose Island IPA?
The Goose Island IPA has an ABV level of 7.5 percent. It is quite a strong beer and is true to its holiday mood. It is very big on the alcoholic aroma and other fruity taste notes, which makes for a great winter beer.
– Is Goose Island IPA a Craft Beer?
Not really; when the Goose Island Brewery started out with its first production in 1988 as a brewpub, its flagship Goose Island IPA was a craft beer, but with the advancement of time and the start of its mass-scale production, it did not retain its craft beer aspect. Now, this beer is found on shelves across America and is more of a commercial beer than a craft one.
When it comes to Christmas Ale styles, there is actually no standardized flavor profile for a Christmas ale. Any ale beer that is exclusively produced during the winter and Christmas months is generally known as the Christmas ale, but most of them are generally dark, malty and strong in flavor profile and appearance. They are also higher on the alcohol level with a punch of the holiday feeling.
– Does Budweiser Own Goose Island?
Yes, Goose Island is owned by Anheuser-Busch. It has been over a decade since the Goose Island Beer Company was sold to the Anheuser-Busch brand for a $38.8 million deal. But experts believe the flavors and authenticity of the brand have not changed due to the change in ownership.
Goose Island brewery did expand its production and distribution capabilities when it went under the Budweiser umbrella.
Major Takeaway
There is a lot to learn about the exclusive Goose Island Christmas IPA, and if you are an IPA lover, this is a must-try. Here is a quick recap of everything we talked about to help you recollect the major takeaways before you taste this flavorful beer.
The Goose Island Christmas IPA has two main ingredients that shine: the exclusive malts that give out a grainy caramel-like flavor and the six different dry hops.
The dry hops used in this beer are Cascade, Meridian, Cashmere, Athenaeum, Chinook, and Northern Brewer, which form the earthy flavor of the brew.
The ABV level is at 7.5 percent, making it quite strong for an IPA beer. However, the hops and malt flavors cover up some of the alcohol taste and make it an easy drink.
The overall taste of this beer is sweet and fruity, giving it a very festive and holiday feel.
It also has subtle taste notes of piney and woody elements, which create the exclusive taste of the beer.
After you read this article and gather all your information about this beer, you must try out a bottle or two before forming an opinion about this beer from the Goose Island Beer Co.