Ugly Sweater Beer Review: Creamy Imperial IPA That You Will Love
We've compiled a complete Ugly Sweater Beer review for lovers of imperial IPAs. The beer is bursting with fruity flavors and is super hoppy, with a high ABV that will give you some alcohol burning.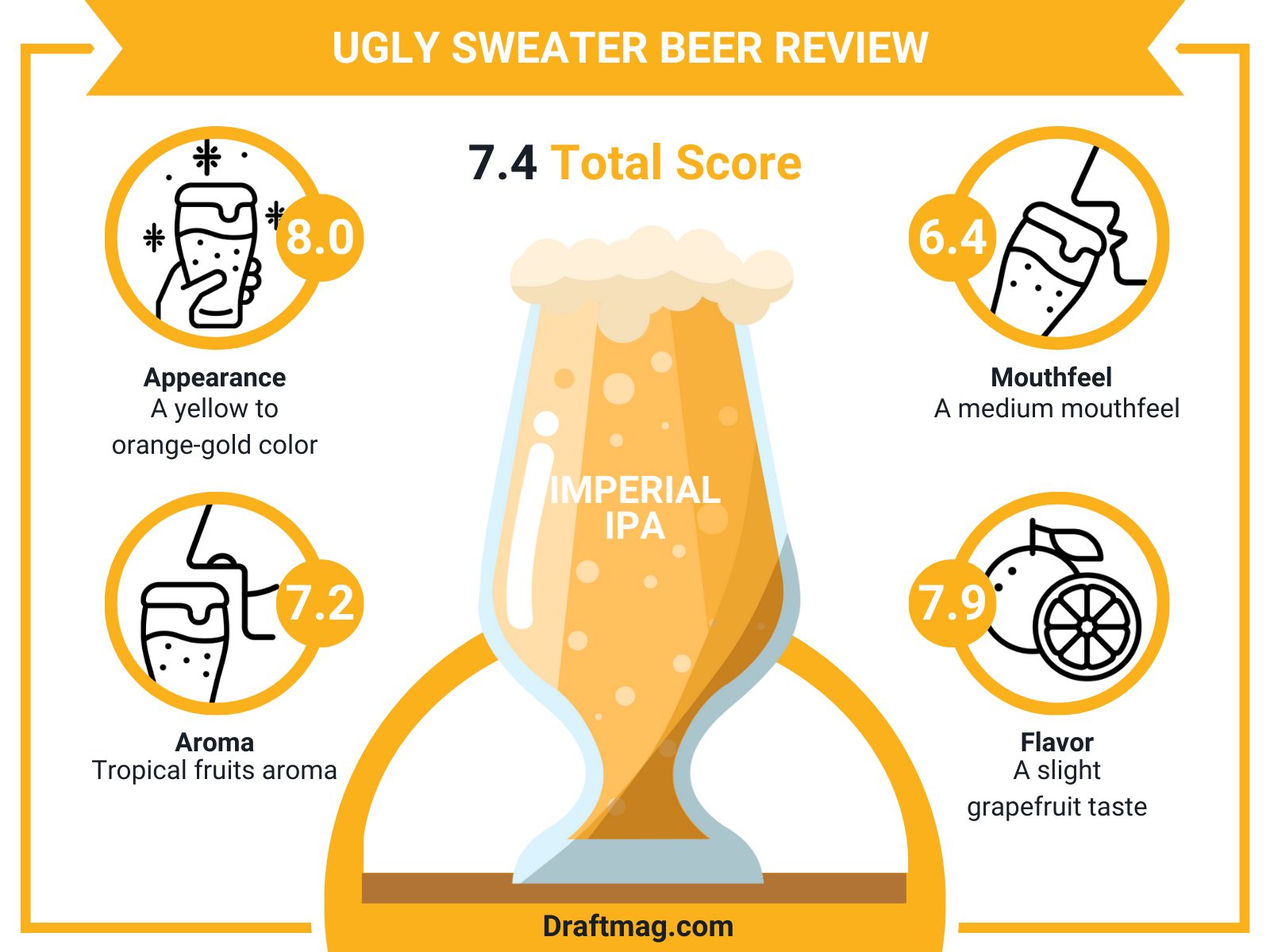 Ugly Sweater is the perfect party IPA, with a soft and light body and a boozy feeling at the end. Our review covers all you need to know about this imperial IPA, from the tasting notes to the nutritional information.
Ugly Sweater Beer Stats
| | |
| --- | --- |
| Country  | United States |
| Brand | New Trail Brewing Company |
| Style | Imperial IPA |
| Taste  | Fruity, creamy |
| Body | Medium Body |
| ABV | 11.2 percent |
| Flavors & Aromas | Pineapple, citrus, creamy, ethanol |
| Serving Temperature | 45-50 degrees Fahrenheit |
Tasting Notes
Ugly Sweater Beer Tasting Profile
Ugly Sweater Beer Review
Ugly Sweater is an imperial IPA with an 11.2 percent ABV and bursting with hoppy flavors. The beer has a main fruity and cream character and has a sharp alcohol flavor at the end. With a soft mouthfeel and a balance of tropical fruits, grapes, and pineapples, the beer is an excellent example of an imperial IPA.
The beer is best served in a pint glass, which enhances the flavor and aroma. It would be best to serve it in a goblet or chalice. The serving temperature goes from 45 to 50 degrees Fahrenheit, and you can add citrus garnishing like orange slices or any other fruit.
With the high ABV, the beer will get you drunk pretty quickly. It pours hazy yellow and is a fantastic beer for any season.
– Appearance
The Ugly Sweater beer has a hazy yellow to orange-gold color, which makes it appear opaque. The two-finger white head feels pretty sticky on your tongue and will leave behind thick lacing against the glass. The top-notch head retention causes massive streaks of lace.
– Aroma
On the nose, the Ugly Sweater beer hits you with flavors of tropical fruits. You will notice candied pineapple, papaya, apricot, mandarin, and grapefruit rind. The fruity smell of pineapple and citrus is combined with the aroma of oats.
– Mouthfeel
The Ugly Sweater IPA has a medium mouthfeel that feels full in your mouth. The beer features soft, gentle carbonation that makes it feel creamy and sticky and is not dry despite being an IPA. Even with the 11.2 percent ABV, the beer goes down quickly with only a slight alcohol warming.
– Flavor
As for the flavor, the Ugly Sweater IPA follows the aroma. With a slight grapefruit taste, you will notice the robust flavors of papaya, pineapple, mandarin, and apricot. The taste of alcohol will linger after every sip you take, but it's well-balanced and will not overshadow the prominent flavor of the beer.
In the flavor, the pineapple appears dank and spicy and is well balanced with citrus. After the tropical fruit sweetness, the beer has a taste of barley. Then, the hops will take over smoothly after the barley, before ending with some alcohol in the finish. The barley malt offers some malty sweetness and shares the stage with the fruits.
– Food Pairings
You can pair the Ugly Sweater beer with a wide range of foods. With the bitter and hoppy flavors, you should pair them with food that has similarly strong tastes. The IPA goes well with spicy dishes like tacos or burgers topped with barbeque sauce. You can also have it with Indian and Mexican cuisine.
The creamy and smooth flavor of the Ugly Sweater beer also acts as a palate cleanser. You can have the beer with fatty foods like deep-fried meats, sausages, and French fries. It also goes well with smoked, grilled, and fried foods.
You can enjoy the Ugly Sweater brew with blue cheeses, including Roquefort, gorgonzola, and Danish blue styles. These cheeses have intense flavors, which are well balanced with the strong flavor of the imperial IPA.
If you have a sweet tooth, the beer goes well with carrot cake and citrus-flavored desserts. You can also have it with fruity desserts like an orange sorbet.
Ingredients
Ugly Sweater is a delicious IPA made with white wheat, oats, hops, yeast, and water. The white wheat and oats give you barley flavors and a full feeling in your mouth. This makes the beer creamy and fruity. Furthermore, it is heavily hopped as an imperial IPA.
The hops give you flavors and aromas of tropical fruits, pineapple, and citrus. The beer is hopped with Citra, Nelson Sauvin, and Mosaic, which provide you with lush citrus notes and tropical fruits.
You should avoid drinking this beer if you're allergic to wheat or oats.
Nutrition Facts
Ugly Sweater has an ABV of 11.2 percent and low bitterness units. The exact nutrition facts of the beer are unknown, but the beer is not ideal for those on a keto diet due to its high carb content. Furthermore, it is not suitable for those that cannot consume gluten due to the wheat and oats on the malt list.
History
Ugly Sweater is brewed by New Trail Brewing Company, based in Williamsport, PA. The brewery was founded by Mike LaRosa, who gained a passion for beer after brewing with his father from an early age. New Trail is based on the concept of experiencing the natural environment around you, along with beer.
New Trail is focused on preserving the wonders of Pennsylvania. They work with different organizations to safeguard and elevate the quality of the local resources like PA Parks & Forest Foundation, PA Trail Dogs, and local trails.
The Ugly Sweater beer is one of the many beers from this company. The can is designed to look like an ugly Christmas sweater, with green and red colors.
Conclusion
Ugly Sweater is a creamy, medium-body IPA that offers fruity flavors and will go well with a wide range of foods. Here's the rundown of what we covered in this review:
Ugly Sweater is an imperial IPA with an 11.2 percent ABV from New Trail.
The beer offers flavors and aromas of pineapple, citrus, tropical fruits, and a taste of barley.
It is brewed with white wheat, oats, Citra, Nelson Sauvin, and Mosaic hops.
It is best when consumed cold, with a citrus slice garnish in a pint glass.
The beer goes well with foods, including spicy, roasted, fried, and smoked foods, fruity desserts, and strong cheeses.
If you're curious about the Ugly Sweater beer, you can check it out at liquor stores nearby. Unfortunately, i is unlikely to be on tap at New Trail.