Salty Crew Beer Review: Is This Coronado Beer Salty?
Salty Crew beer is a type of beer that you should consider if you're curious about blond ales or want to try something new. But before trying the Coronado Salty Crew beer, its dedicated review will give you a heads-up on what to expect from this beer.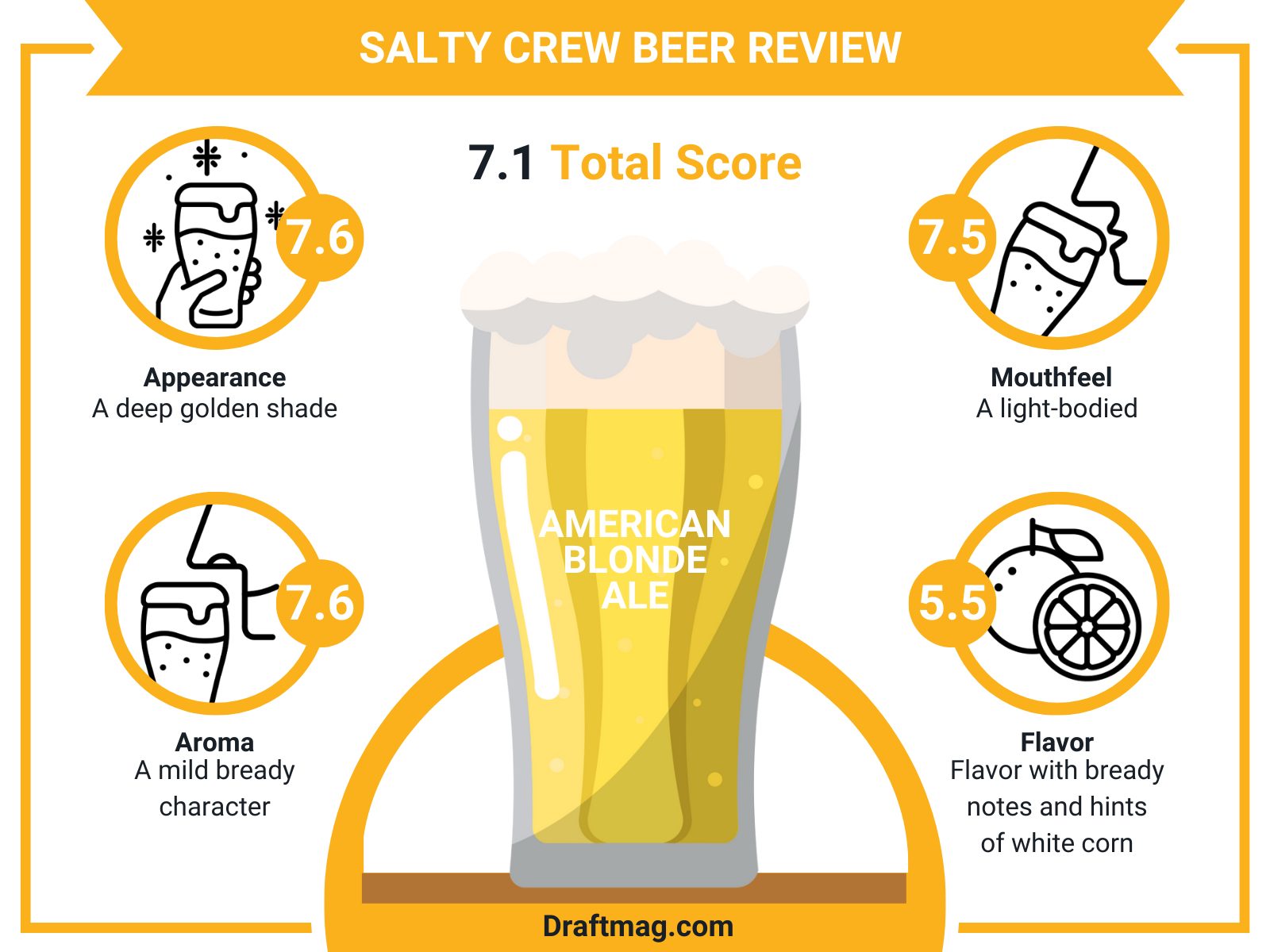 We'll discuss the beer's organoleptic properties, ingredients, and food pairings. It does end there, so keep reading, as this review will also cover the beer's nutrition facts and history.
Salty Crew Beer Stats
| | |
| --- | --- |
| Country | United States |
| Brand | Coronado Brewing Company |
| Style | American Blonde Ale |
| Taste | Malt sweetness with mild hops |
| Body | Light |
| ABV | 4.5 percent |
| Flavors & Aromas | Malt with subtle hop notes |
| Serving Temperature | 45 to 50 degrees Fahrenheit |
Tasting Notes
Salty Crew Tasting Profile
Salty Crew Beer Review
What are the characteristics that classify this beer as an American Blonde Ale? Let's find out in details.
– Appearance
American Blonde Ales are usually straw-colored and would go to a deep golden shade. From a tulip glass, this beer appears pale golden with pleasant clarity. Light carbonation follows this with a not-so-thick white head diminishing rapidly and leaving lacings.
– Aroma
The beer gives off a moderate malt sweetness with a mild bready character on the nose. However, the hop aroma is not distinct, and there is a hint of sulfur on the backend.
– Mouthfeel
The beer is light-bodied and easy to drink; however, it has mild carbonation, which is unusual for Blonde Ales. On the palate, it begins with sweet maltiness with a biscuity feel. The hops character is relatively low and gently cleanses the palate. Despite being branded as "salty," this beer doesn't have any hint of saltiness. Overall, the beer is crisp and finishes clean.
– Flavor
It begins with a soft sweet malty flavor with bready notes and hints of white corn. In addition, the flavor blends with a subtle hop character giving an earthy but balanced bitterness typical of an American Blonde Ale.
– Food Pairings
There are no rules whether hard or fast rules combining this beer with food, and there are various ways to pair it. Still, you'll have a more pleasant experience pairing it with light spicy flavors and fried foods as the beer cuts through these dishes.
Hence, consider Mexican dishes like Tacos or Asian cuisines like lightly flavored sushi as the beer will serve as a palate cleanser, preparing you for the next bite. Also, the Middle Eastern dishes can play the game; we talk about likes of hummus and falafel.
Also, this craft beer goes well with green salads if you love fresh foods. Furthermore, the beer creates magic with shrimps, whitefish, and salmon, including other seafood, grilled fish, game, sausages, caramelized meat, chicken wings, and dry pasta.
In addition, this beer contrasts heavier foods like ribs, burgers, and casseroles. When you think you can't take another bite of that burger, the light texture of this blonde ale helps you leave nothing on your plate. Still talking about contrast, you can introduce cheeses like sharp cheddar,  gruyere, Monterey jack, aged Gouda, and pepperoni thin crust pizza.
The effervescence of carbon dioxide and the mild hop bitterness cleanses the mouth of the greasy sensations that leave the cheese. Also, although low, Salty Crew beer alcohol content gives softness, body, and strength to contrast the taste of some cheeses, and the slightly bitter taste helps balance intense flavors.
Ingredients
Coronado Brewing Salty Crew is a blend of different ingredients such as 2-row, yeast, wheat, water, German Hallertau hops, Pilsner malt, and lastly, Czech Saaz hops.
Salty Crew Blonde Ale Nutrition Facts
The 12oz cans contain about 133 calories, 10g of carbohydrates, 1.4g of proteins, and a trace amount of sodium. While the calorie content isn't too high, it's something you should be mindful of if you" ll be doing multiple bottles regularly.
Salty Crew beer's alcohol content is 4.5 percent which is mid to low. As a result, a few cans may not get you boozy; however, you should go beyond your limit. In addition, the beer has 10 IBU, which is below the range for an average blond ale, usually between 15 and 25. This is the reason there is no strong hop bitterness in this beer.
History
Salty Crew beer originates from the partnership between two San Diego-based companies; Coronado brewing and Salty Crew, a clothing brand. The association is due to both brands' similar water cultures. Coronado Brewing has its roots in coastal culture, while Salty Crew designs different surfing, fishing, diving, and sailing apparel for watermen.
Their relationship began in May 2019 when the Salty crew approached Coronado to produce a one-time beer for the premier of a movie titled "Sink or Swim." After this, both brands resorted to a long-term collaboration to brew a year-round beer. The result of their agreement birthed the Salty Crew beer. This beer was launched at Coronado's brewery on October 12, 2019. After that, it was made available for the San Diego market in 12oz cans and on draft.
In January 2020, the beer was introduced into the brewery's distribution network to reach a larger audience by being available in six-can packs. Today, Salty Crew beer is famous in Californian and the United States. Interestingly, the Great American Beer Festival once awarded this beer with a silver medal under the Blonde Ale style.
Conclusion
Do you want a beer that isn't only visually appealing but crisp and refreshing? Then it would be best if you tried Salty Crew beer. In the review, we've detailed the beer's characteristics and food pairings. Here are key takeaways:
Salty Crew beer is an American Blonde Ale with 4.5 percent ABV.
The beer appears pale golden with a not-so-thick white head.
The flavor is a mix of malty sweetness with white corn hints balanced by mild hop bitterness.
The beer's ingredients include 2-row, wheat, German Hallertau hops, water, pilsner malt, yeast, and Czech Saaz hops.
When pairing Salty Crew with food, you shouldn't go towards super spicy dishes, or you will overwhelm the beer.
The beer is versatile and thus can travel with a broad selection of dishes. So, take advantage of the foods suggested in this review and stick to the beer serving temperature for a fantastic experience.