PBR Extra Review: Classic American Lager for Any Occasion
PBR Extra is a fine American lager that hits all the flavor notes expected from this style but still surprises you with different hints. The lager is balanced and sweet, with a refreshing body that goes great with a wide range of foods.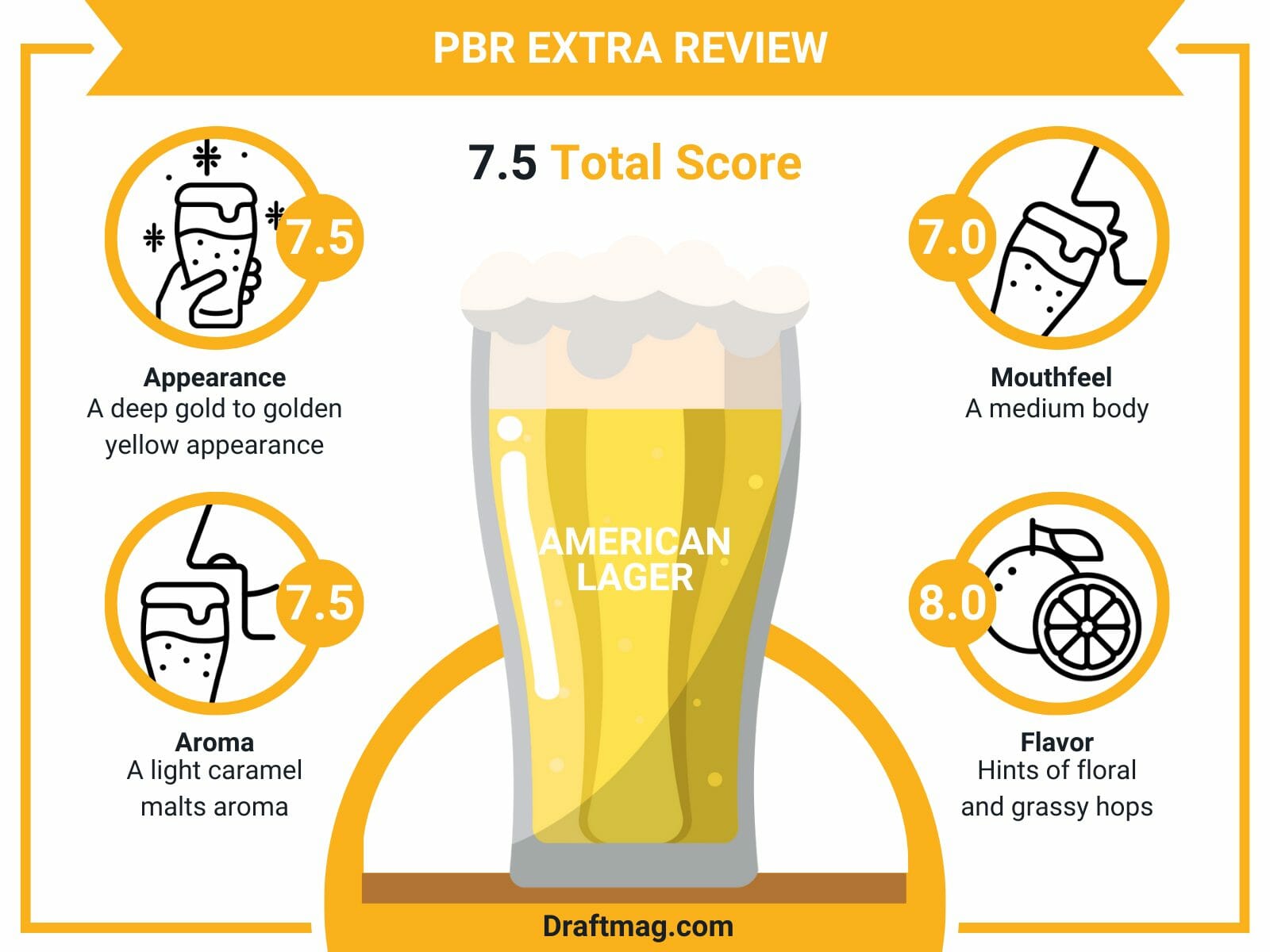 You can enjoy this Extra lager with friends or when you're having a hearty lunch that deserves a cold beer. But before you do that, check out our detailed review of this lager which includes food pairing recommendations. 
PBR Extra Stats
| | |
| --- | --- |
| Country  | United States |
| Brand | Pabst Brewing Company |
| Style | American Lager |
| Taste  | Sweet, malty |
| Body | Medium Body |
| ABV | 6.5 percent |
| Flavors & Aromas | Malty, caramel, crackers, pepper, grains, cereal, earthy |
| Serving Temperature | 35 – 40 degrees Fahrenheit |
Tasting Notes
PBR Extra Tasting Profile
PBR Extra Review 
Appearance: 7.5/10
Aroma: 7.5/10
Mouthfeel: 7/10
Flavor: 8/10
PBR Extra is an American lager made by Pabst Brewery, and it stands out for following the classic beer style. The simple beer features an alcohol content of 6.5 percent, which is higher than one would expect and signifies the flavorful character that this beer offers. It also features a medium and refreshing body paired with a bronze and bubbly appearance.
The PBR Extra beer has flavors and aromas of malts, caramel, pepper, grains, crackers, and cereal with some earthy hops. The flavor of the lager is best described as having a lot of tasting hints together and all well balanced, but there are no clear distinctions. It is the ideal party beer, and it pairs well with different foods.
As an American lager, you should serve the beer very cold, at temperatures from 35 to 40 degrees Fahrenheit, preferably 38 degrees. You can serve it in a pint or pilsner glass, depending on what you have, and garnish it with a thick lemon wedge on the rim. 
– Appearance 
On the pour, the Pabst Blue Ribbon Extra lager features a deep gold to golden yellow appearance in your glass and is crystal clear. The beer is so clear that you can see plenty of large bubbles from the visible carbonation floating to the top very quickly.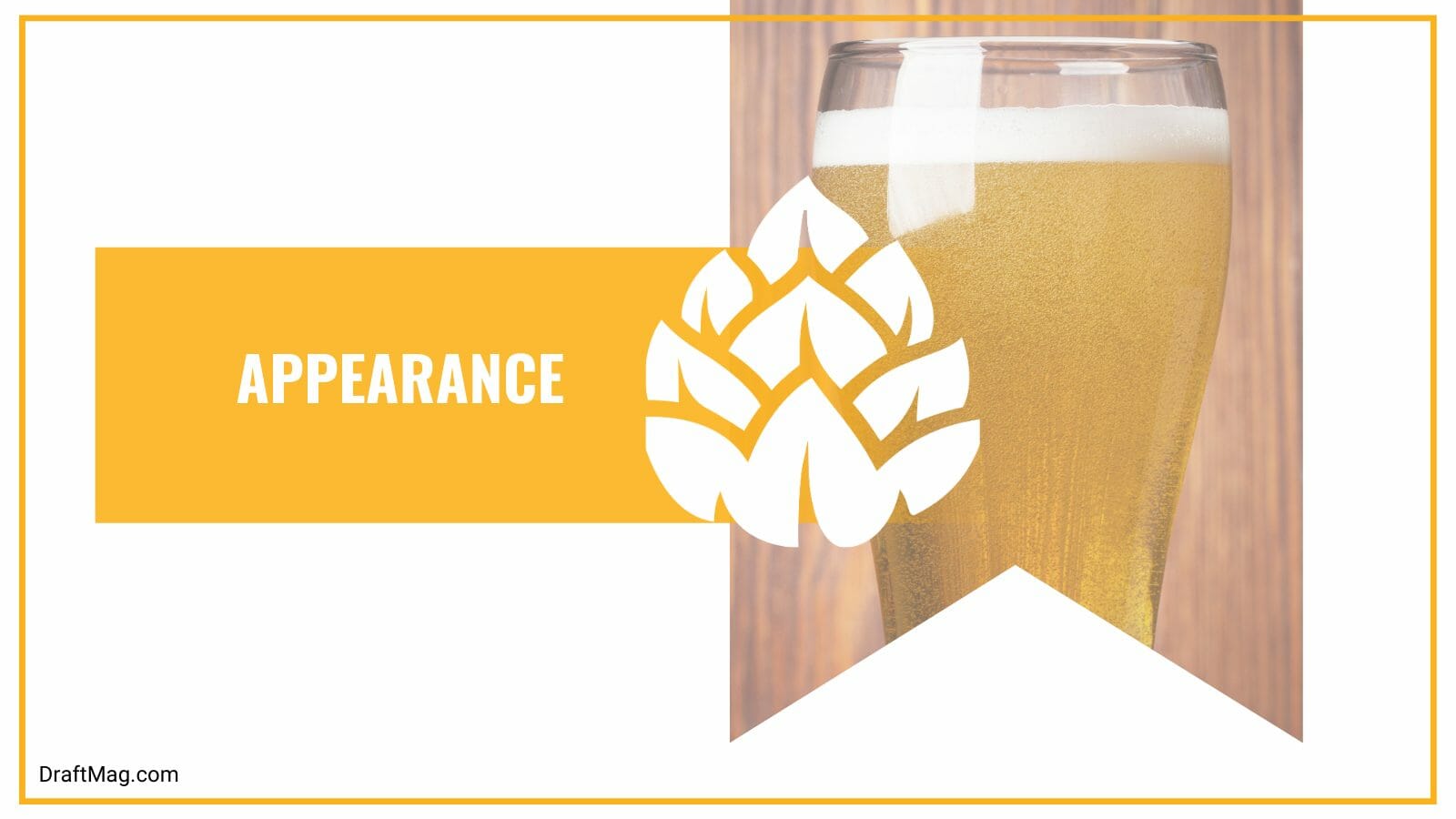 The lager sports a large head with a rocky white appearance and decent retention. It leaves a lot of sticky lacing against the glass when it finally dissipates.
– Aroma 
The aroma of the Extra beer offers more than you'd expect from a lager, which is a sign of the flavorful taste. The main aroma that you smell is the light caramel malts and crackers obtained from the malts. You might also smell some earthy hops as the beer warms up.
The grain cereal aroma also pops up as time goes on, and a bit of pepper from the beer might prickle your nose. 
– Mouthfeel 
In the mouth, the Blue Ribbon Extra has a medium body that tends toward full, and this helps you enjoy every bit of the flavor notes as you drink. The big bubbles that you see in the appearance are not so loud on the tongue, but instead offer a gentle fizzy feeling.
The beer is mostly creamy smooth despite the carbonation, with a sweet finish and a well-rounded character. It is also clean and refreshing, making it the ideal palate cleanser or thirst quencher. Plus, there isn't any alcohol warming.
– Flavor 
The flavor of the Pabst Blue Extra is more generic than the flavor, as it tastes mostly like an American lager that any beer enthusiast will be used to. But it does this very well, hitting all the ideal flavor notes and giving you a sweet malty beer. There's also a smear of floral and grassy hops in the flavor, which gives you a limited bitter balance.
The traditional American lager is well balanced with the malts that taste a bit like flaked maize. In the finish, you get an astringent taste that gets rid of the sweetness of the lingering malts. There's also a mild hop bite at the end of every gulp, but it still remains refreshing. 
– Food Pairings
When having the Pabst Blue Ribbon Extra lager, there are different kinds of food that go great with the malty sweetness. Try out some seafood dishes like shrimp pasta with kale, shellfish, or sushi. Other light pasta dishes without any meat or cream sauces will also go great with the beer.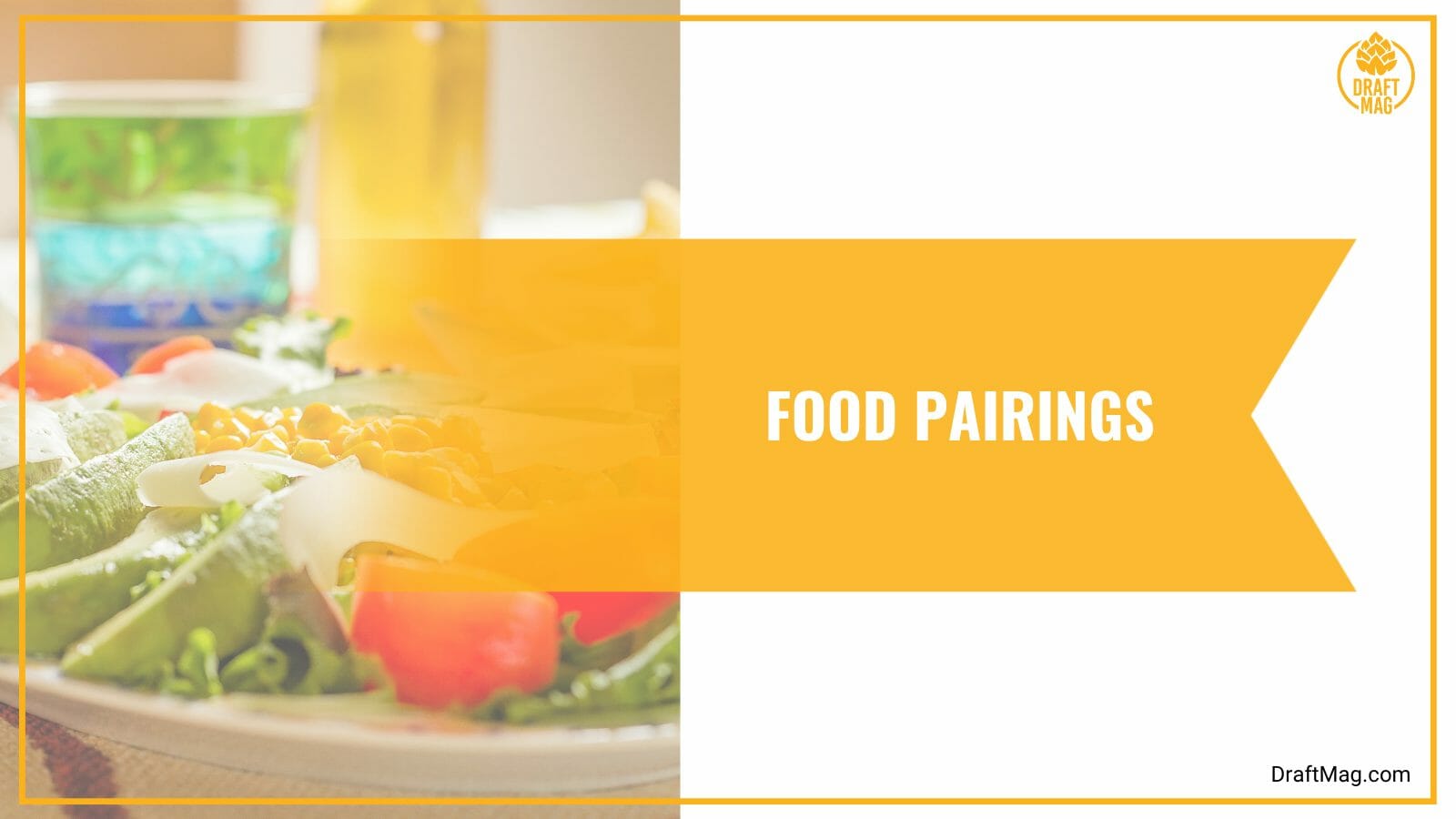 The beer also goes great with Mexican, Southeast Asian, and Latin food. Try out some grilled foods like pork and chicken or a steak. The lager does a great job of cleansing your palate, so you can have it with noodles, buffalo wings, fried fish, French fries, taters, hot dogs, and chicken. 
If you enjoy having cheese with your beer, you can have the Extra with Cheddar or Havarti cheese. The ideal dessert with this beer is anything made with milk or dark chocolates and lemon or other fruit flavors. You can try out a chocolate cheesecake or banana orange crepes. 
Ingredients 
The Extra lager is made with the standard ingredients found in PBR beers, but it is more flavorful and has a higher ABV than the Original lager. The ingredients include water, corn syrup, barley malts, hop extract, carbon dioxide, and artificial flavor.
The hop extracts used to make the beer are combined with low-fructose corn syrup to give you a slight bitterness that balances out with sweetness. The malted barley is the main base of the beer's flavor. Other ingredients include filtered water and cultured yeast. Keep in mind that this beer is vegan-friendly.
Nutrition Facts 
In the Extra lager, you have an alcohol content of 6.5 percent in every 12 ounces of beer. It does not have alcohol warming as it is well-masked, but you can taste a bit of ethanol as the beer warms up. The beer has low bitterness units too, with the sweet malts taking the forefront. 
The beer features 149 calories in every 12 ounces, 12 grams of carbs, 1.1 grams of protein, 10 mg of sodium, 14 mg of calcium, and 98 mg of potassium. Due to the high carbs content, it is not intended for those on a keto diet. The beer is not gluten-friendly, either. 
History 
The Extra was released in 2019 as a sequel to the PBR Original beer, which is lighter and has a lesser alcohol content. The brewery released the Extra to go after heavy drinkers who want a higher alcohol percentage but prefer a light and crisp beer.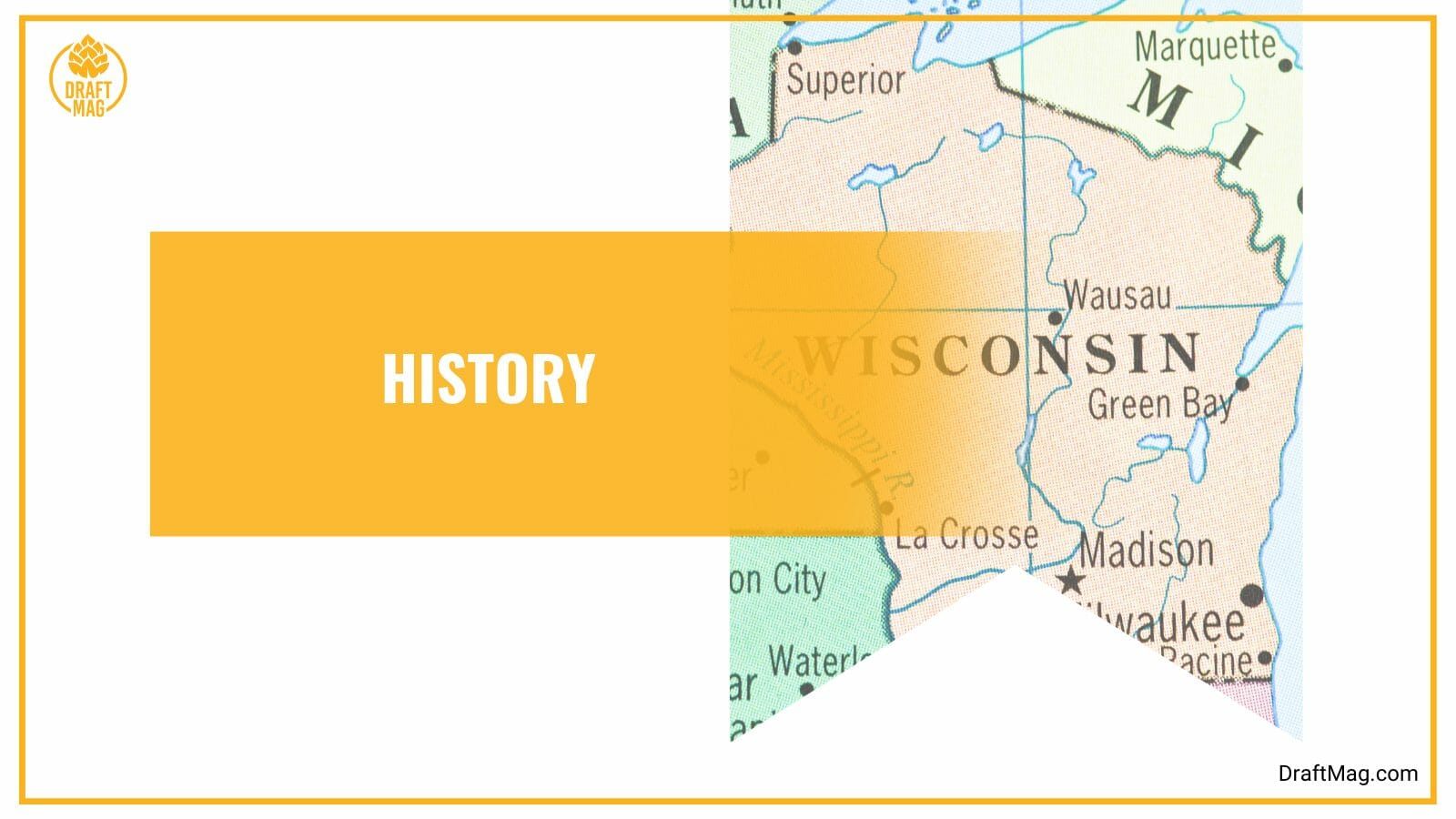 The PBR brand is under Pabst Brewing Company and dates back to 1844. It was first established in Wisconsin but is now based in San Antonio, Texas. Aside from Extra, other popular beers include Original, Easy – a low-calorie version of Original, and the non-alcoholic PBR. 
Conclusion
Whenever you're in the mood to lay back, enjoy a beer and hang out with friends, the PBR Extra offers a balance between sweet drinking and a high ABV.
Here's a summary of our review:
Extra is an American lager with a 6.5 percent alcohol content.
The brew has flavors and aromas of malts, crackers, caramel, earthy hops, cereal, grains, and floral hop notes.
It is made with hop extract, malted barley, corn syrup, filtered water, and cultured yeast.
PBR Extra is best served in a pint glass when it is very cold and garnished with lemon.
Serve it with light seafood dishes, chicken, spicy food, Mexican and Southeast Asian dishes, Havarti cheeses, and fruity or chocolate desserts.
You can easily order this beer online or purchase it at a wide range of stores around you. It's available in 12-oz cans and tallboys.