Sunny Little Thing Review: The Most Detailed Buyer's Guide
Sunny Little Thing is one enjoyable beer that has impressed a lot of beer lovers. It is produced by the famous Sierra Nevada Brewing Company and is currently one of the most talked about wheat beers.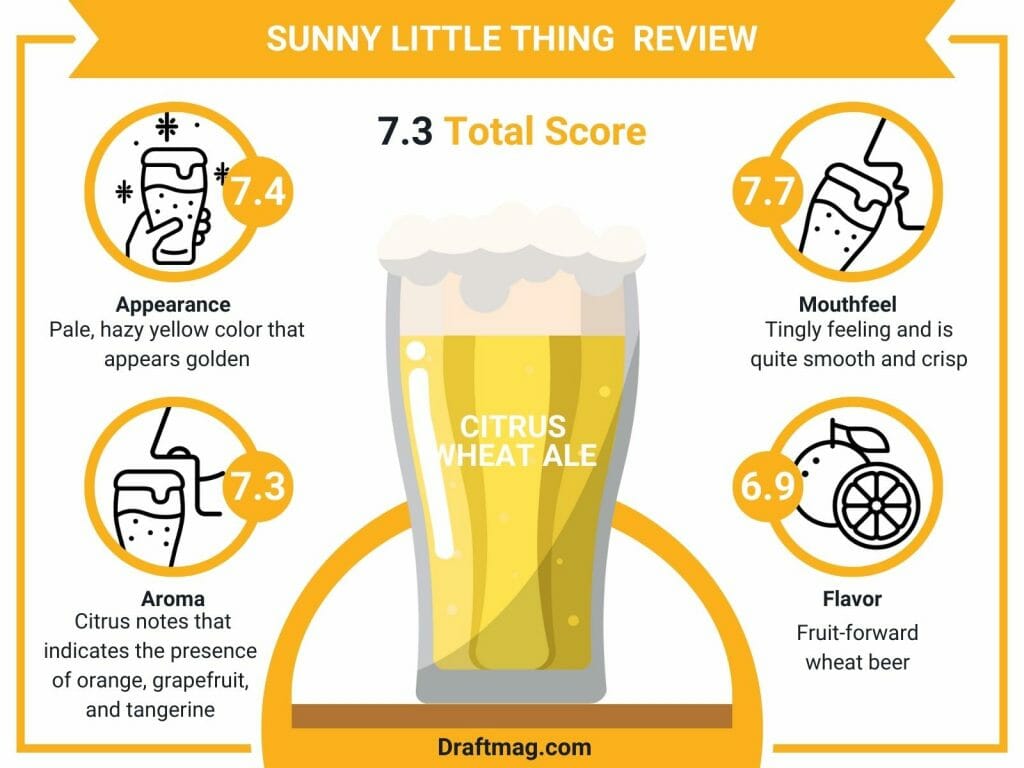 It combines citrus flavors, oats, and wheat malt to produce a sunny beer that instantly makes the taste buds come alive. This detailed review compiled by our team of beer experts is all the sign you need to decide if you should try this beer or not.
Sunny Little Thing Stats
| | |
| --- | --- |
| Country | United States (California) |
| Brand | Sierra Nevada Brewing Company |
| Style | Citrus Wheat Ale |
| Taste | Sunny Little Thing tastes a lot like oranges and other citrus fruits, especially tangerine, lemon, and grapefruit. It has a rich maltiness and wheat notes that make for a clean and refreshing beer. There's also a tiny bitterness that you can taste after every gulp. |
| Body | This beer has a light/medium body with active carbonation. Since it is fruit-forward, it has strong citrus feel alongside a mild lingering bitterness. It is crisp and smooth and leaves a fairly dry finish. |
| ABV | five percent |
| Flavor and Aroma | The most predominant flavors and aromas of this beer are orange, lemon, grapefruit, and tangerine. You can also detect a pleasant wheat-like and malty note. |
| Serving Temperature | 42 degrees Fahrenheit |
Tasting Notes
Sunny Little Thing Tasting Profile
Sunny Little Thing Review
Sierra Nevada has again proven its expertise with Sunny Little Thing. By reviewing this beer based on the following categories, our beer experts provide all the information you need before trying out this beer.
– Appearance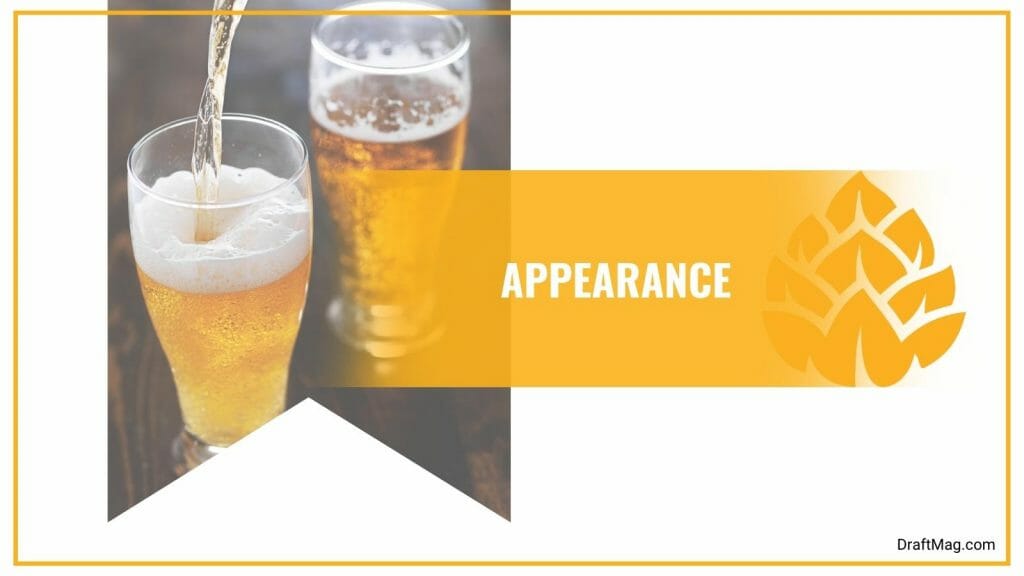 Sunny Little Thing has a pale, hazy yellow color that appears golden. A thin white foam head appears immediately after the beer is poured into a glass and quickly fades into tiny wisps of lace. It has fair retention, and the lacing sticks to the glass for a while. From a distance, it is simple to confuse the appearance of this beer for a lager.
It has great carbonation as tiny particulate bubbles can be seen streaming through. Overall, Sunny Little Thing has an impressive appearance that instantly invites you to have a gulp.
– Aroma
There's a strong blast of citrus notes that indicates the presence of orange, grapefruit, and what might be tangerine. These citrus notes also hint at lemon or lime. It is almost impossible to miss the oat and wheat scents alongside a cracker/dough-like note. The aroma of Sunny Little Thing is great and is surely how a wheat beer should smell.
One thing we like about this brew is that the aroma is balanced. Also, the scent isn't cloying, overly assertive, or distracting. Instead, it teases the nose and makes you eager to taste the beer. For fans of subtlety in beer, Sunny Little Thing should be on your 'to-drink' list.
– Mouthfeel
Just like lagers, Sunny Little Thing has a light, medium body with noticeable active carbonation. It also has a tingly feeling and is quite smooth and crisp. There's a very slight hop bite; however, there isn't much indication of an alcohol presence. At first, this beer might appear thin in the mouth, but this eventually gives way to a sticky feel that gives it a thick edge.
It finishes somewhat dry and clean and when cold, has a thirst-quenching feel that makes you want to keep gulping without pause. It is a slick and refreshing drink to have.
– Flavor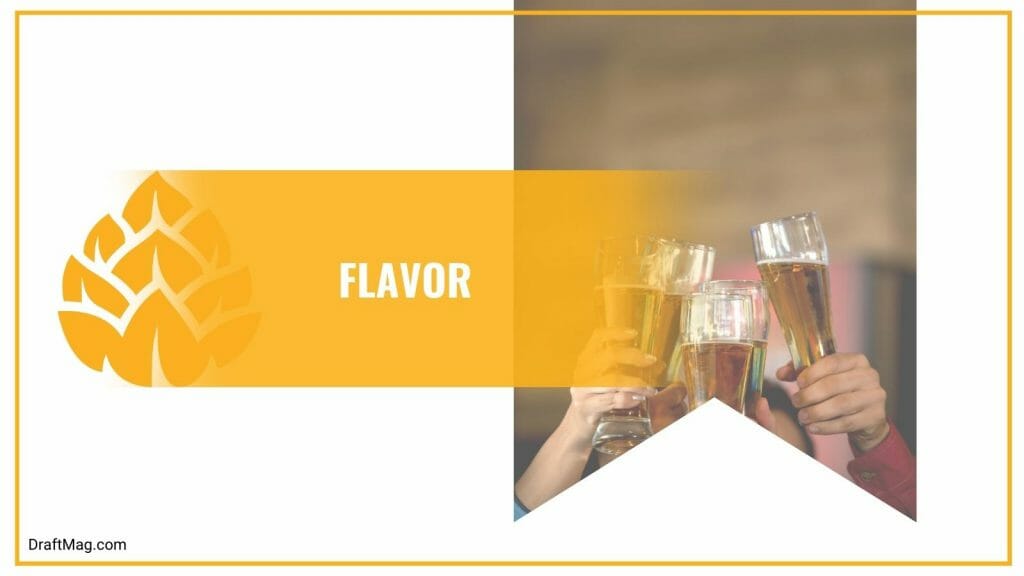 The main flavor of this beer is fruity; hence, it can be described as a fruit-forward wheat beer. You can detect orange peels, tangerine, and an assertive lemon flavor. You can also make out a mildly subdued wheat flavor.
In all, Sunny Little Thing has a mix of refreshing flavors that are very noticeable but not in any way overwhelming or off-putting. From the flavors, you might be tempted to think of this as an orange soda rather than a beer, making it all the more enjoyable.
– Food Pairings
Sunny Little Thing is a simple citrus ale that is best enjoyed with simple meals. You can enjoy this wheat beer with most citrus-flavored meals, especially fruity desserts. It can also be paired with salad desserts, sushi, light soups, goat cheese, and barbecue. While these meals may greatly enhance your drinking experience, you can pair this beer with almost any meal, and it would go well.
This IPA beer is popular because of its bold flavors, signature sweetness, and appealing appearance. They're also very easy to drink and have a refreshing, smooth taste. Hence, this is why it goes well with the sweet and the savory.
Ingredients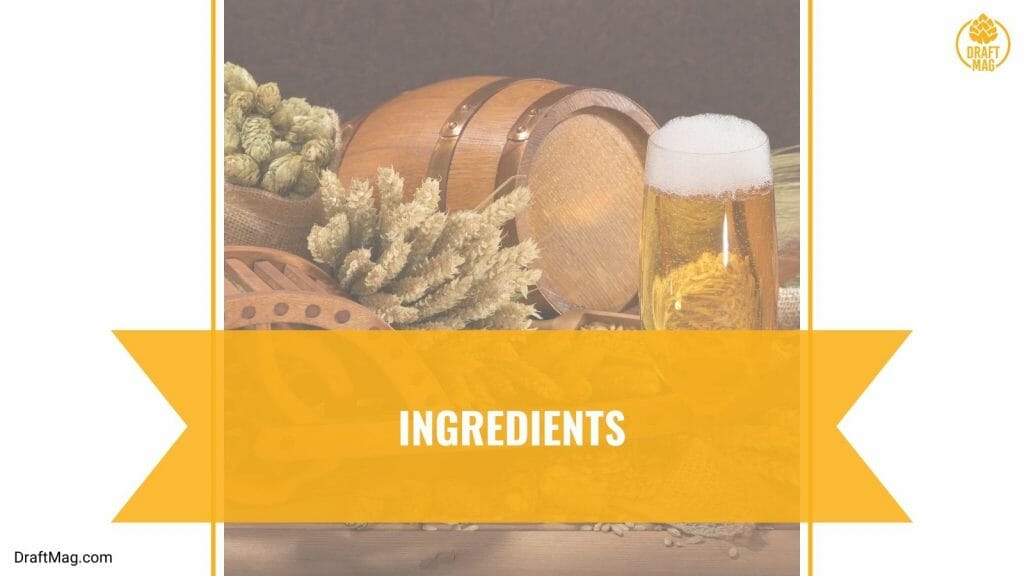 Sunny Little Thing is made from oats, wheat malt, crystallized juice – which the company boasts is from real orange and grapefruit – as well as a small touch of hops. However, aaside from these, it also contains the traditional beer ingredients: water, yeast, and grain.
Nutrition Facts
A 12 oz can of Sunny Little Thing contains 170 calories. It also contains 16.5 grams of carbs, 10 IBU, 1.9 grams of protein, and zero grams of fat.
History
Sunny Little Thing was introduced into the beer scene in 2022 by the Sierra Nevada, a brewery known for its vast number of premium beers. It is an ale that is mostly fruit-based and has predominantly orange flavors. Sierra Nevada Brewing Company produces it in California, United States.
Sunny Little Thing is a nice addition to the beer market and, so far, has left a positive impression on beer lovers all over the country. You can purchase it from any bar, pub, liquor store, online beer site, and even the brewery's tasting room. This citrus wheat ale is sold in 12 oz cans.
Conclusion
This is indeed a great beer that every beer lover should try at least once. Below is a summary of what this review discussed:
The Sierra Nevada Sunny Little Thing has flavors of orange and grapefruit alongside hints of lemon, herbal notes, malt, and wheat scents.
This fruit-forward beer is somewhere between light and medium-bodied. It has a smooth, crisp, and refreshing taste predominantly of orange flavors.
There is a lingering mild bitterness, although it hinges more on being sweet. It leaves a sticky, full, and fairly dry finish.
You can pair this beer with salad, light soups, sushi, and fruity desserts or citrus-flavored meals.
The overall calories in this beer are 170 per can, which is not very caloric if you think about it.
Sunny Little Thing comes highly recommended by our beer experts. It has a rich, simple, and smooth taste that makes it very easy to drink and is perfect for both beer beginners and experienced beer drinkers.