Rock Bitter Review: Try This Light Summer English Bitter
Rock Bitter is one of the most popular offerings from Nottingham Brewery in England. This is because it's lighter than the traditional bitter beers you might be used to, but it still offers a flavorful character with a balance of malts and hops.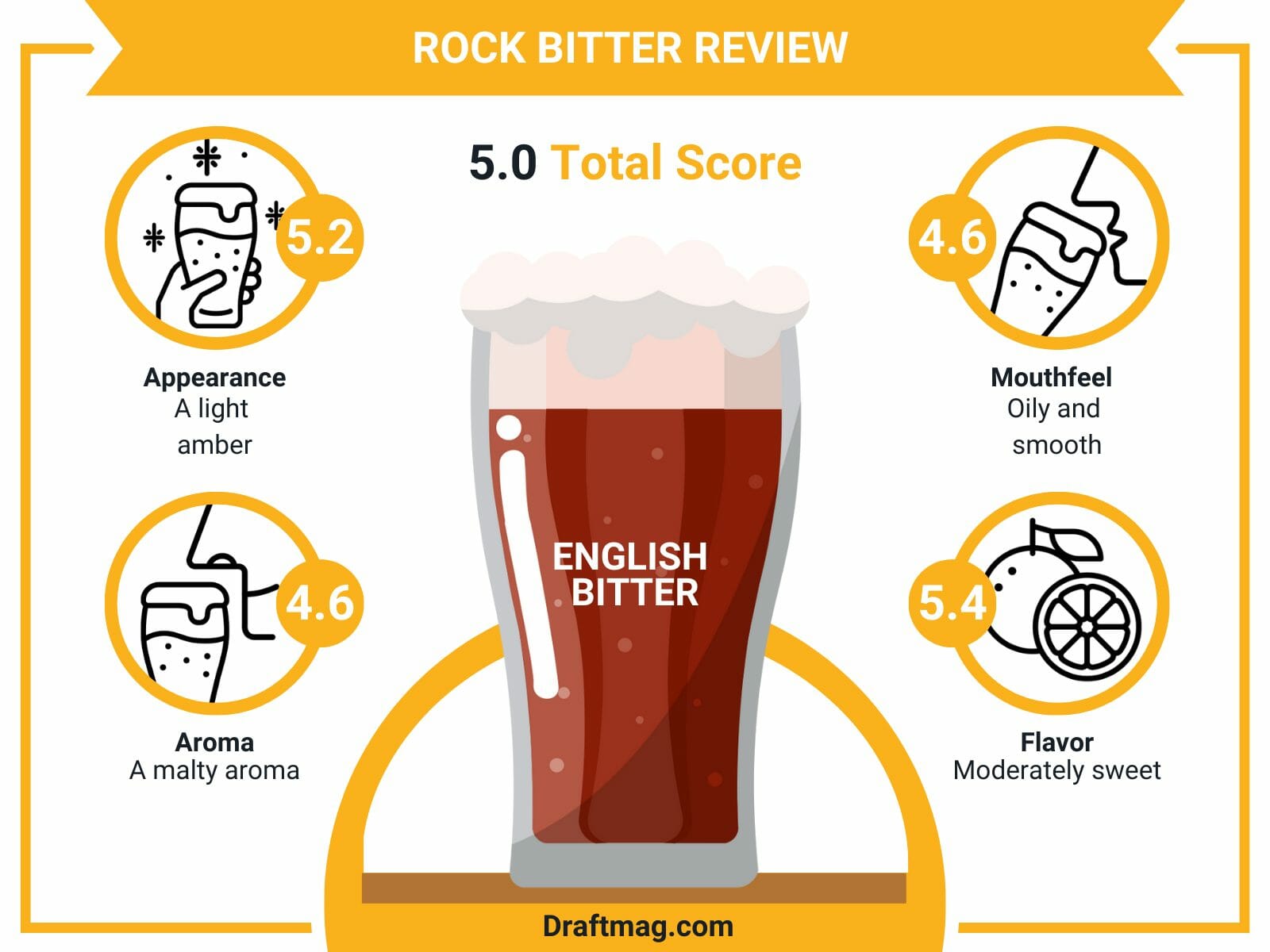 The low ABV allows you to fully enjoy every single tasting note that it has to offer. Continue reading our comprehensive review of the beer to know more.
Rock Bitter Stats
| | |
| --- | --- |
| Country  | England, UK |
| Brand | Nottingham Brewery |
| Style | English Bitter |
| Taste  | Malts, citrus |
| Body | Light Body |
| ABV | 3.8 percent |
| Flavors & Aromas | Citrus, malts, biscuits, grapefruit, hops, |
| Serving Temperature | 50 – 55 degrees Fahrenheit |
Tasting Notes
Rock Bitter Tasting Profile
Rock Bitter Review
Rock Bitter is an English bitter with a 3.8 percent alcohol content, which is below the average range of this beer style. It is made in England by Nottingham Brewery and is hoppier than you would expect. The taste of the beer can be best described by a balance between malts and hops, as it pours an amber body with a light mouthfeel.
The English bitter has flavors and aromas of citrus, malts, biscuits, grapefruit, lemon, and some syrupy hops. It is the ideal summer beer, best served at a refreshing temperature of 50 to 55 degrees Fahrenheit.
The hoppy and light beer should be poured into a nonic or imperial pint glass, which is designed with a small lip at the mouth. The glass allows you to see the bright color while the head rests on the lip on top of the glass. Garnish it with a thin lemon slice.
– Appearance
The English bitter pours a light amber body into your pint glass and has a clear appearance that you can easily see through. Atop the beer is a good white head that offers great retention and will leave heavy lacing against the glass as it slowly dissipates.
– Aroma
On the nose, the aroma of the bitter is mostly malty. You will notice some caramel and light fruit in the background of the aroma. The fruits are from the hops, offering tropical fruit, ripe fruit, and peach. The aroma is light and moderate without overshadowing the taste.
– Mouthfeel
As for the feel, it is a light body that is nearing medium. The beer feels oily and smooth on your tongue and goes down easy with the low ABV.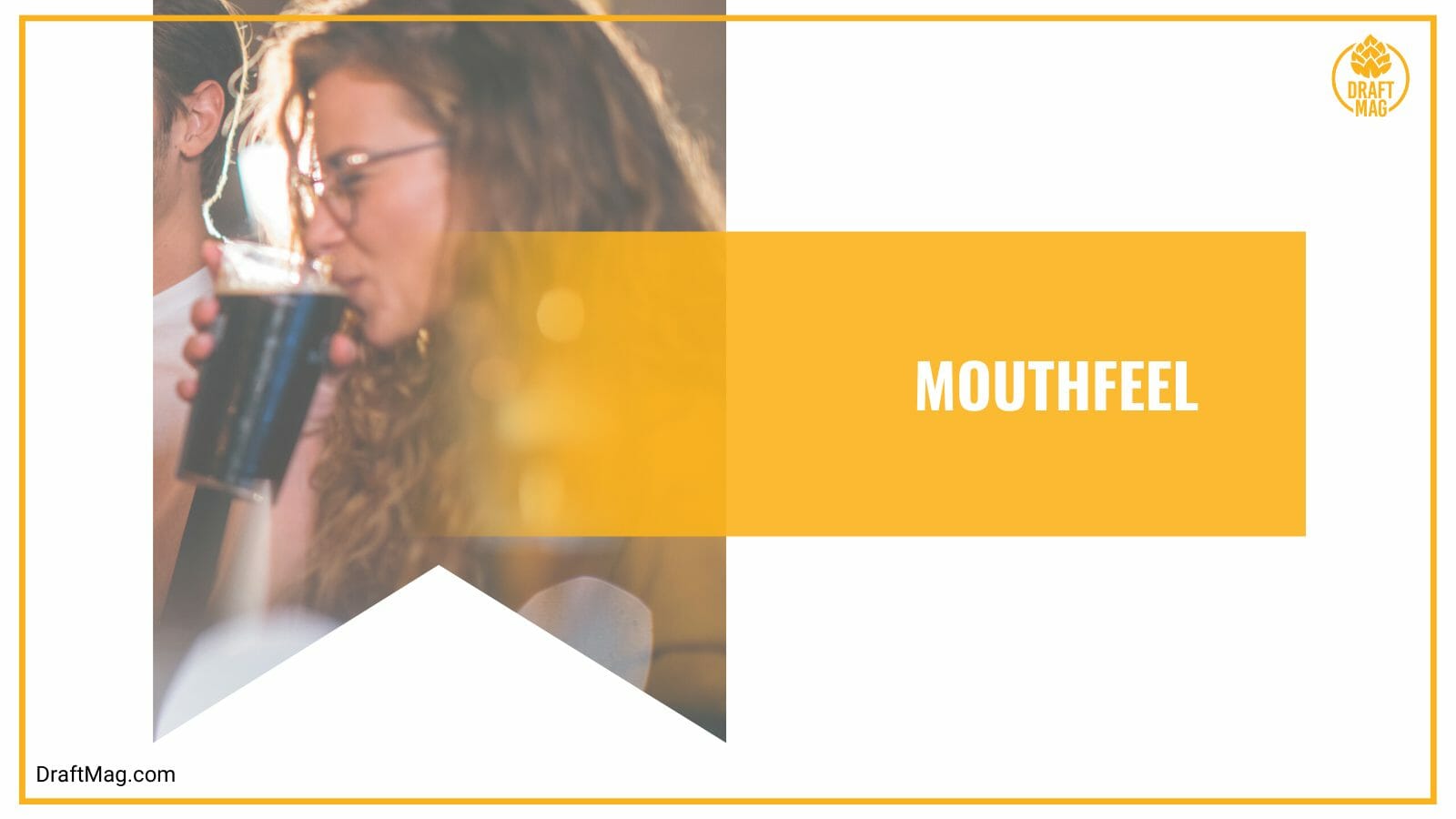 There is also some carbonation in the beer that makes it soft and offers a slight tingling feeling on your tongue.
– Flavor
Rock Bitter has a pretty complex but delicious flavor from the hops and the malts. The flavor is moderately sweet, and this is balanced with some light bitterness, and the tropical fruits remain in the taste until the finish. You will taste the hoppiness with some citrus fruits, lemon, and grapefruit bitterness.
There are slight hints of mandarin and mellow floral hops. Along with this is some biscuity malt that remains consistent throughout the flavor. There are hints of summer hay too, and it finishes syrupy, with hops going into the aftertaste.
– Food Pairings
When having the English bitter, you can pair it with a wide variety of food. The beer pairs well with fatty foods that the hops can cut through, so go for pasta that has a lot of cream cheese and fried foods like French fries, chicken wings, bacon, grilled cheese sandwiches, and hamburgers.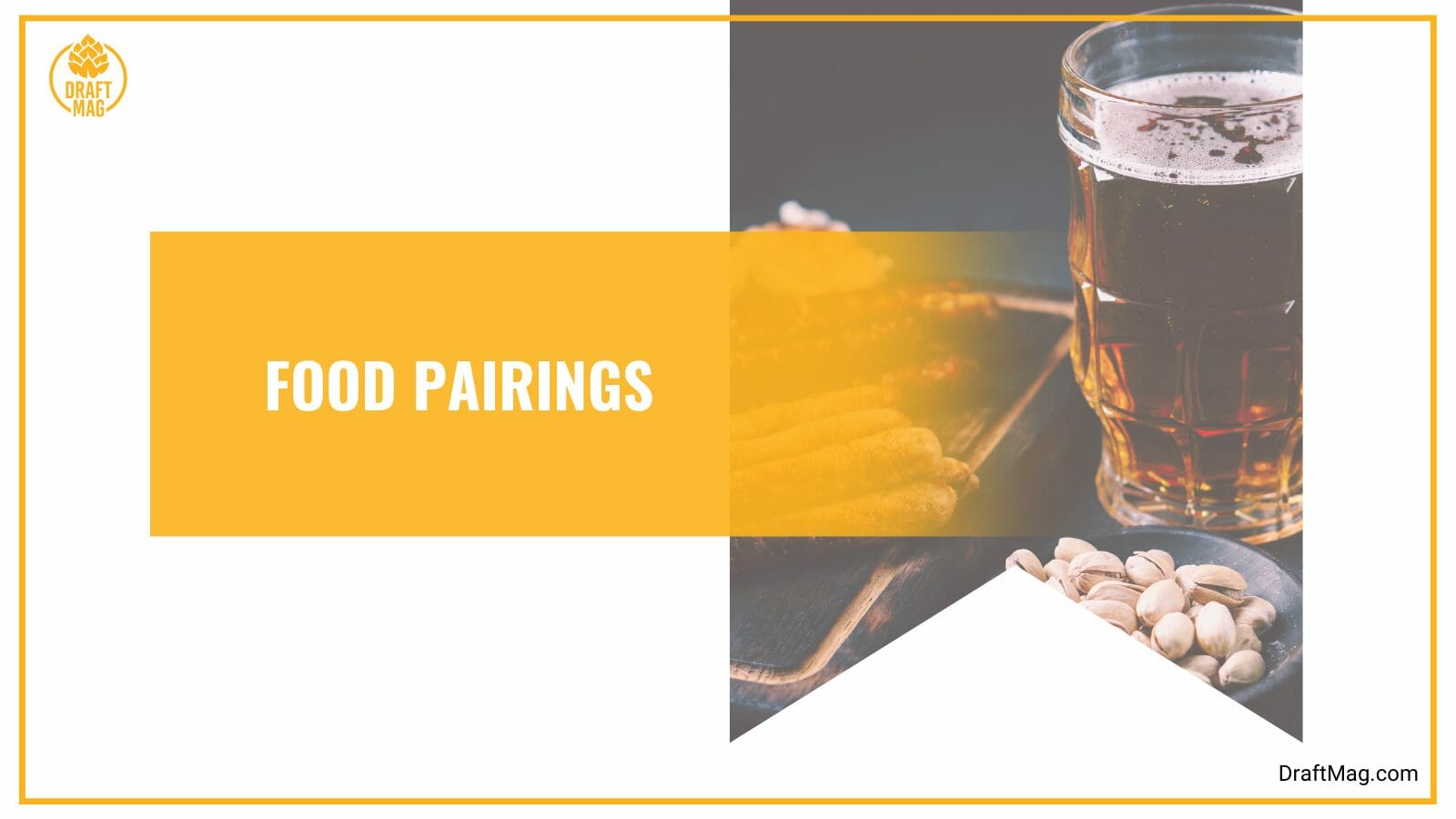 You can also have the beer with roast chicken, fish, chips, or pork. To fully enjoy the experience, you have some British bar snacks with beer. Go for scotch eggs, pork scratchings, pickled eggs, Cornish pasty, pickled onions, or scampi fries.
If you're in the mood for cheese, mild cheeses like cheddar and Havarti will go great with this beer. You can also pair it with desserts like oatmeal and raisin cookies, a carrot cake, or panna cotta with lemon. Light desserts with citrus flavors will go well with the beer.
Ingredients
The beer is made with barley malt, hops, yeast, and water. The exact hops used to make the beer are unknown, but they offer the delicious flavors of mandarin, lemon, and grapefruit with some floral notes. The barley malts are consistent throughout the flavor, especially with hints of biscuit and hay.
Nutrition Facts
In this English bitter, you get 3.8 percent of alcohol, which is a pretty low level. The pale beer offers no alcohol in the flavor or aroma. It has moderate bitterness units too, with a good balance of sweet malts and bitter hops throughout the flavor.
The exact calories and nutritional facts of the beer are unknown, but if you're on a keto diet, you should avoid drinking this beer. It is also not suitable for those that cannot consume gluten as it is made with barley. The beer is not vegan-friendly, either.
History
Rock Bitter is made by Nottingham Brewery in England, United Kingdom. The beer was first made in the 1800s as a drinkable ale and was targeted towards factory workers in the city who wanted a thirst-quenching beer without getting drunk. Since it was made early, it is lighter than traditional bitter beers.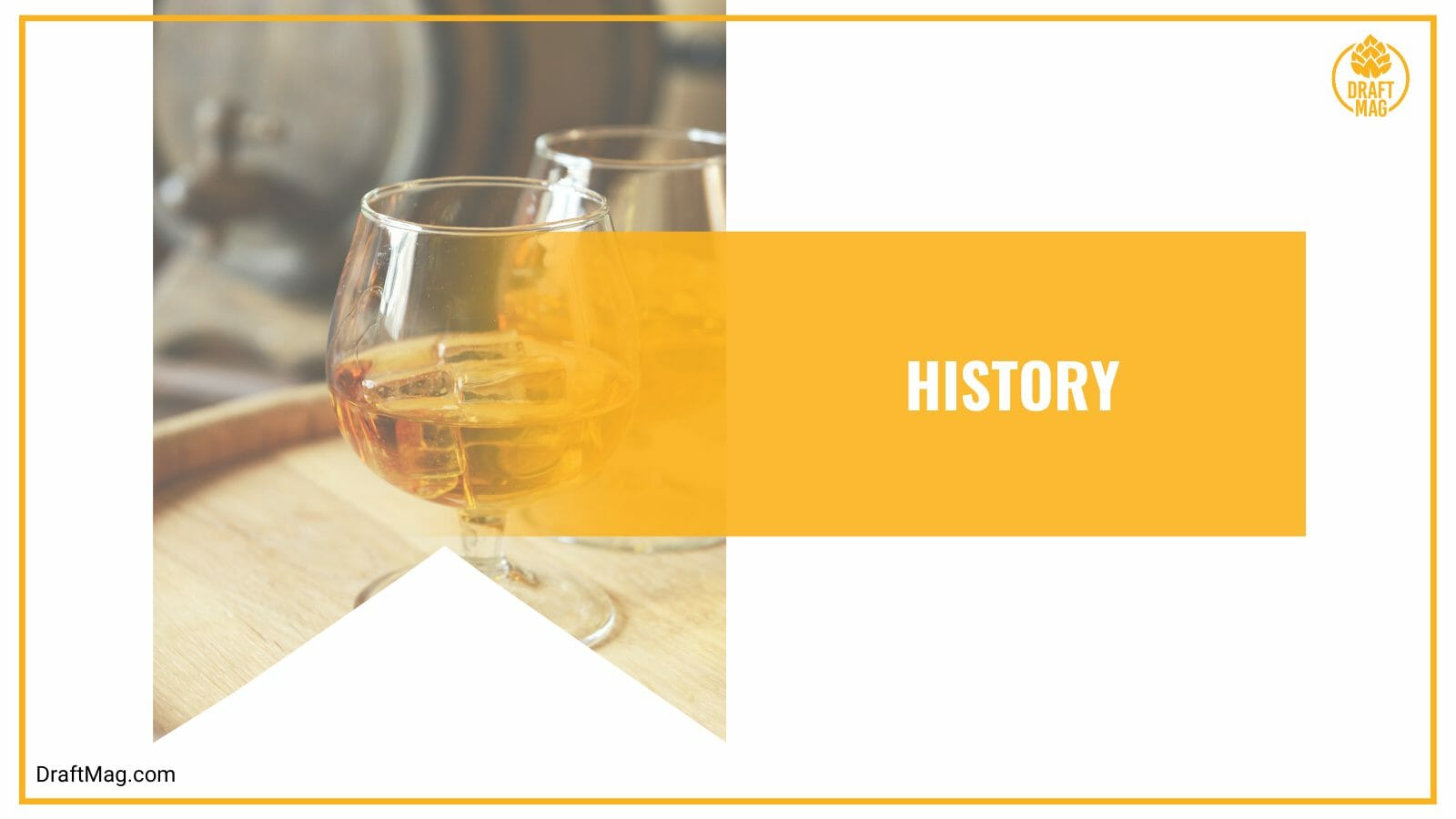 The beer is known to be the forerunner of the India Pale Ale. Nottingham rose to popularity when the beer was transported to British Empire troops around the world. The brewery built a ten-barrel plant in 2001 and has been brewing traditional ales there since, but it can be traced back to 1847.
Conclusion
If you're looking for a delicious English bitter to fill your pint glass with, this is the ideal choice. Here's a rundown of our review:
Rock Bitter is an English bitter with a 3.8 percent alcohol content from Nottingham Brewery.
It has flavors and aromas of malts, biscuits, hops, citrus, grapefruit, lemon, and floral notes, with a light body.
The beer is made with barley malts and hops.
It is best served in a nonic pint glass with a lemon slice to garnish.
The beer pairs well with different foods, including fatty and creamy foods, British pub snacks, roast chicken, mild cheeses, and lemony desserts.
You can purchase the beer online or at a wide range of liquor stores near you.