Harpoon IPA Review: A Solid Session India Pale Ale for Hop Heads
Harpoon IPA is a unique English IPA that is brilliant at balancing hoppy bitterness with its solid malty backbone. The refreshing beer is ideal for all seasons and offers a drinkable nature for new and experienced beer lovers.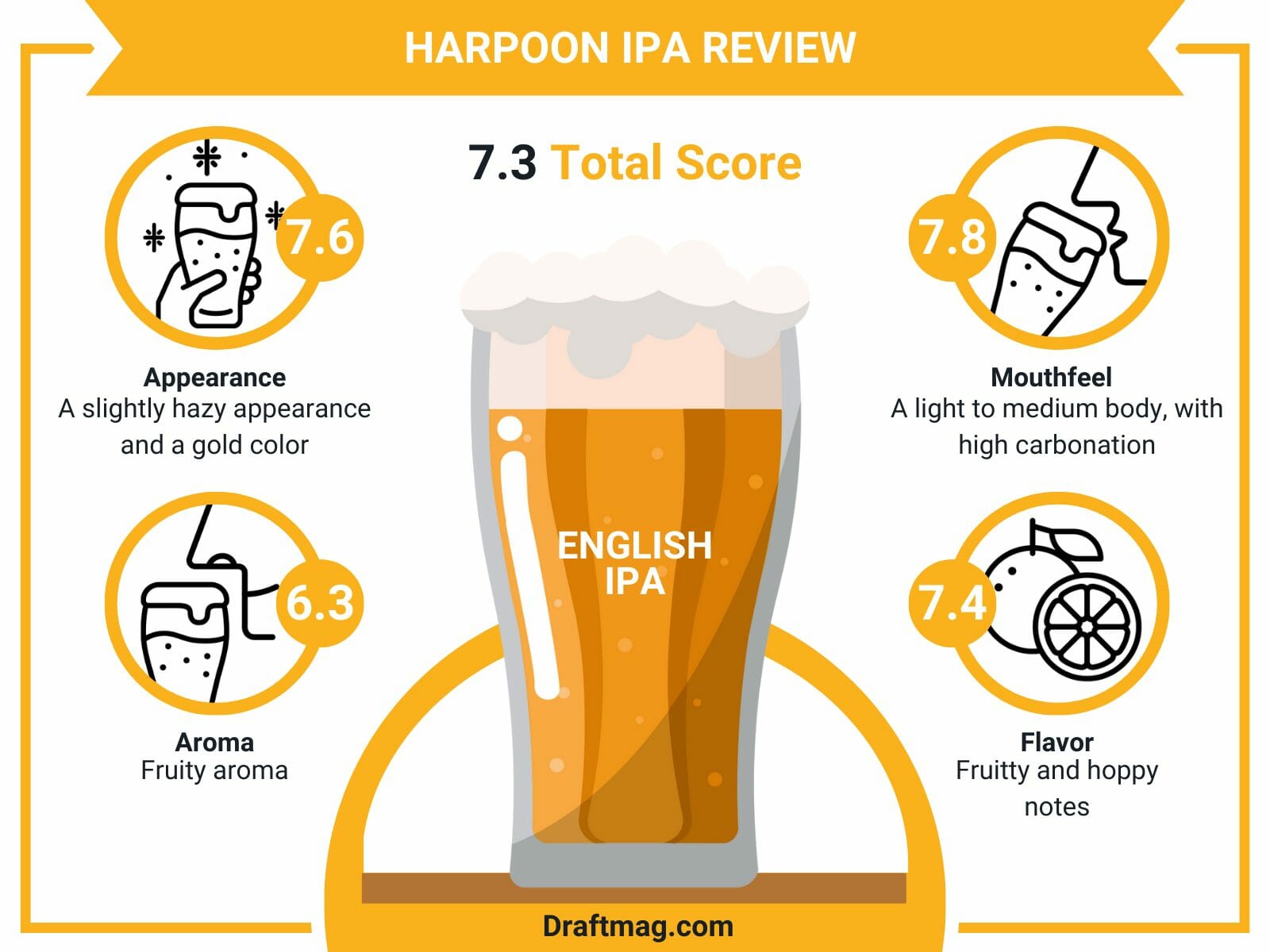 If you're looking for an excellent example of the IPA, Harpoon will be a fantastic choice. Our review covers all you need to know about its flavor and recommended food pairings before you down your first glass.
Harpoon IPA Stats
| | |
| --- | --- |
| Country  | United States |
| Brand | Harpoon Brewery & Beer Hall |
| Style | English IPA |
| Taste  | Malt sweetness, fruity |
| Body | Light to Medium Body |
| ABV | 6 percent |
| Flavors & Aromas | Malts, fruity, orange zest, earthy |
| Serving Temperature | 50 – 55 degrees Fahrenheit |
Tasting Notes
Harpoon IPA Tasting Profile
Harpoon IPA Review
Harpoon India Pale Ale is an English IPA brewed by Harpoon Brewery, with a 6 percent alcohol content. The beer offers a medium-bodied and refreshing flavor without overwhelming the palate and some cloying bitterness after each sip. You can enjoy the piney hops, heavy fruits and zest, and the round malt body as it pours hazy gold.
If you have the IPA, you should pour it into a pint glass to enhance the color and aroma. The beer also looks great in other glasses like a snifter, chalice, and goblet. Serve it lukewarm at temperatures from 45 to 50 degrees Fahrenheit and with a citrus slice.
You can enjoy the IPA at any time due to its refreshing and drinkable nature. It's especially great for summer afternoons and evenings.
– Appearance
The Harpoon beer has a slightly hazy appearance and a gold color as it pours into the glass. On top of it is a white, frothy, and foamy head with decent retention. It dissipates after a while and will leave a lot of thick and sticky lacing against the glass and a frothy ring floating on top of the beer.
– Aroma
The aroma of the Harpoon ale is quite complex but subtle, so it does not overshadow the flavor when you drink it. The malt sweetness comes through, along with slight fruit notes and musky hops. As the beer warms up, there's some grapefruit in the aroma, but it is not overly fruity as in the flavor.
– Mouthfeel
The Harpoon beer has a light to medium body and is fairly thin with high carbonation. You will notice a sudsy kick against your palate as you drink, and it is watery and grainy.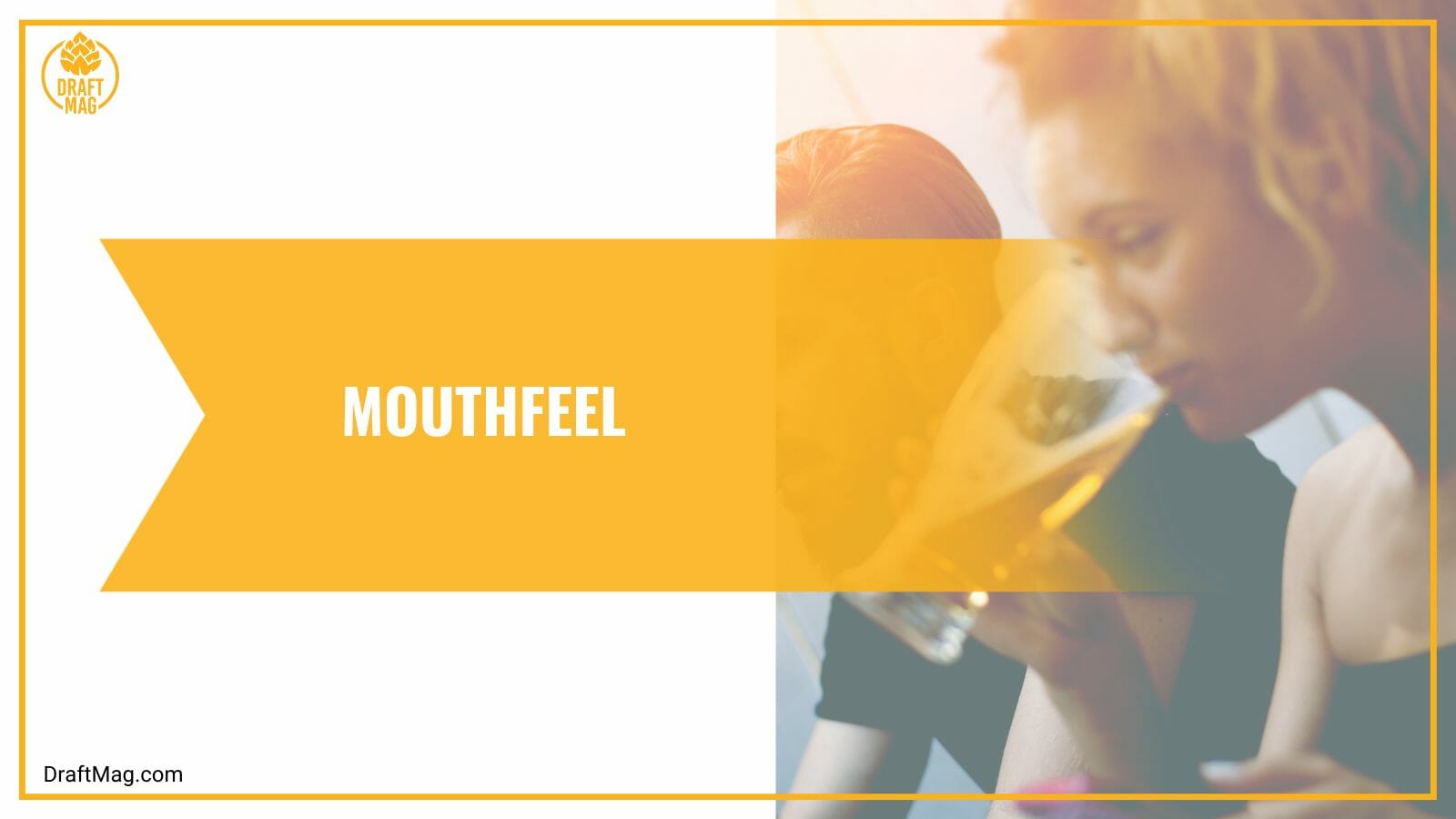 There is a juicy character, too, before it finishes mildly dry. There is also a sweet herbal and bitter earthy aftertaste.
– Flavor
There are different fruity and hoppy notes to expect in this complex IPA. The craft beer offers hints of lemon, grapefruit, orange zest, and pine upfront, but this is quickly replaced by the solid malt emerging from the backbone. The hoppy bitterness is not unpleasant but moderate and provides some earthiness.
The malts also offer a biscuit note at the beginning that quickly becomes piney hops. There is a slight bite from the hops and carbonation and moderate bitterness following into the aftertaste. The Harpoon ale is sweet and juicy with some floral hops tinged with pine and some earthiness. There is some apricot, too, especially as it finishes dry.
– Food Pairings
When pairing the Harpoon beer, you have the chance to consider foods that match its bitterness, malt, or hop flavor that is earthy, citrusy, and herbal. The beer goes well with heavy and fatty foods as it cuts through it like deep-fried meat, sausage, or French fries. Also, it balances well with fried and salty foods.
You can serve the IPA with dishes that have a crispy side too, like green beans, corn, radishes, peas, and asparagus, which complements its soft mouthfeel. Fish always works with a vibrant IPA, so pair it with salmon or mackerel with lemon. It's also the ideal barbecue beer, pairing well with smoked and roasted chicken, pork, or beef.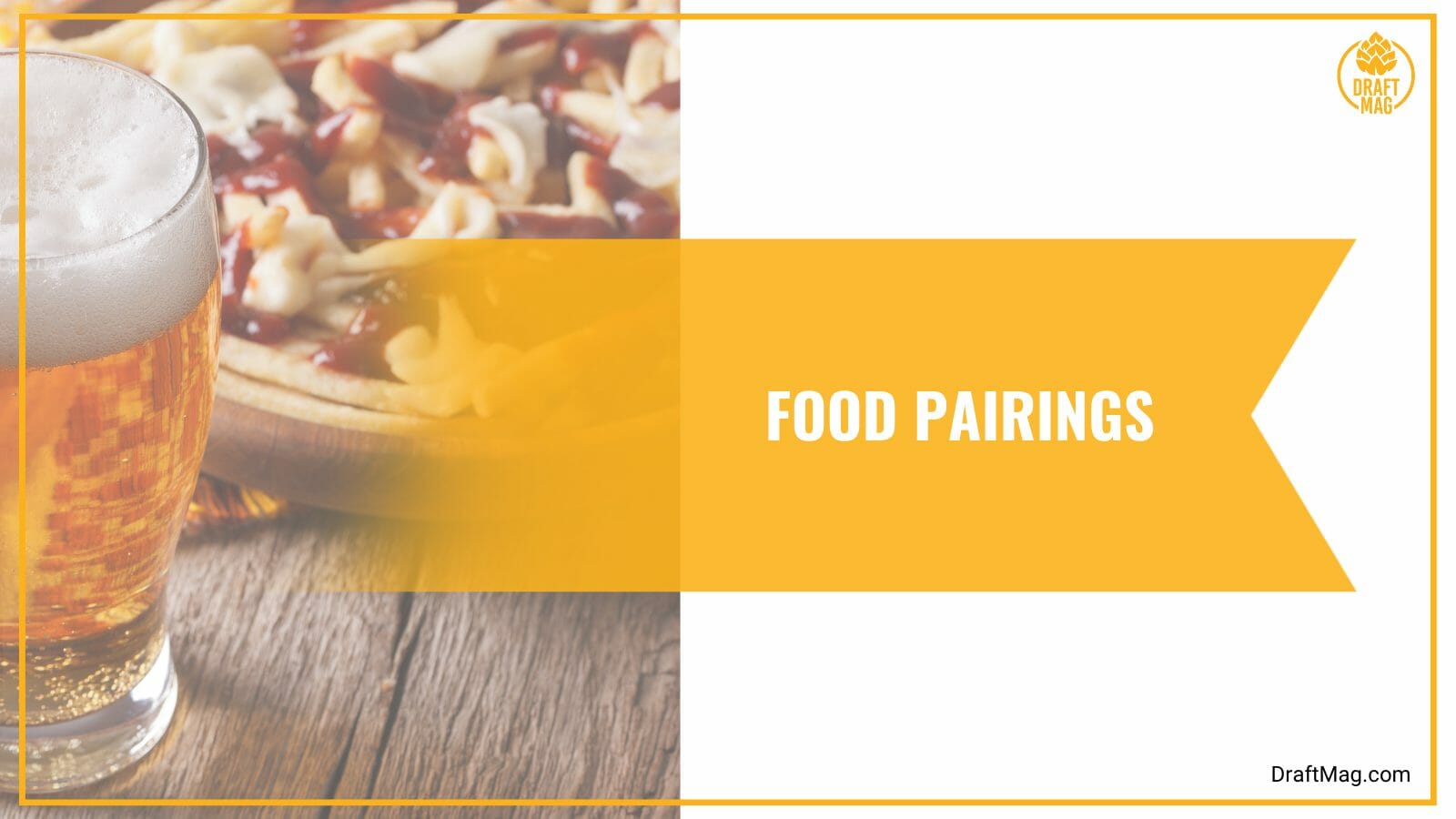 Pair the Harpoon ale with a crumbly and sharp cheddar which goes well with the hop-forward bitterness. Also, it can match the intensity of blue cheeses, as it balances with the creaminess. For your dessert, you can have the beer with carrot cake, crème brulee, or caramel cheesecake.
Ingredients
The Harpoon ale is brewed with water and three malts, including a 2-row pale malt, Northwest Cascade hops, and yeast. The beer's malts offer flavors of biscuits and caramel, but the hops are the main players, offering aromas and flavors of piney bitterness, fruits like orange, lemon, and grapefruit, and floral hints.
Although the beer is styled as an English IPA, it was brewed with American hops to give a distinct and refreshing flavor.
Nutrition Facts
The Harpoon beer features a 6 percent alcohol by volume in every 12 ounces, which is barely noticeable in character. There are also 42 IBUs from the hops, offering moderate bitterness with nothing harsh or unpleasant.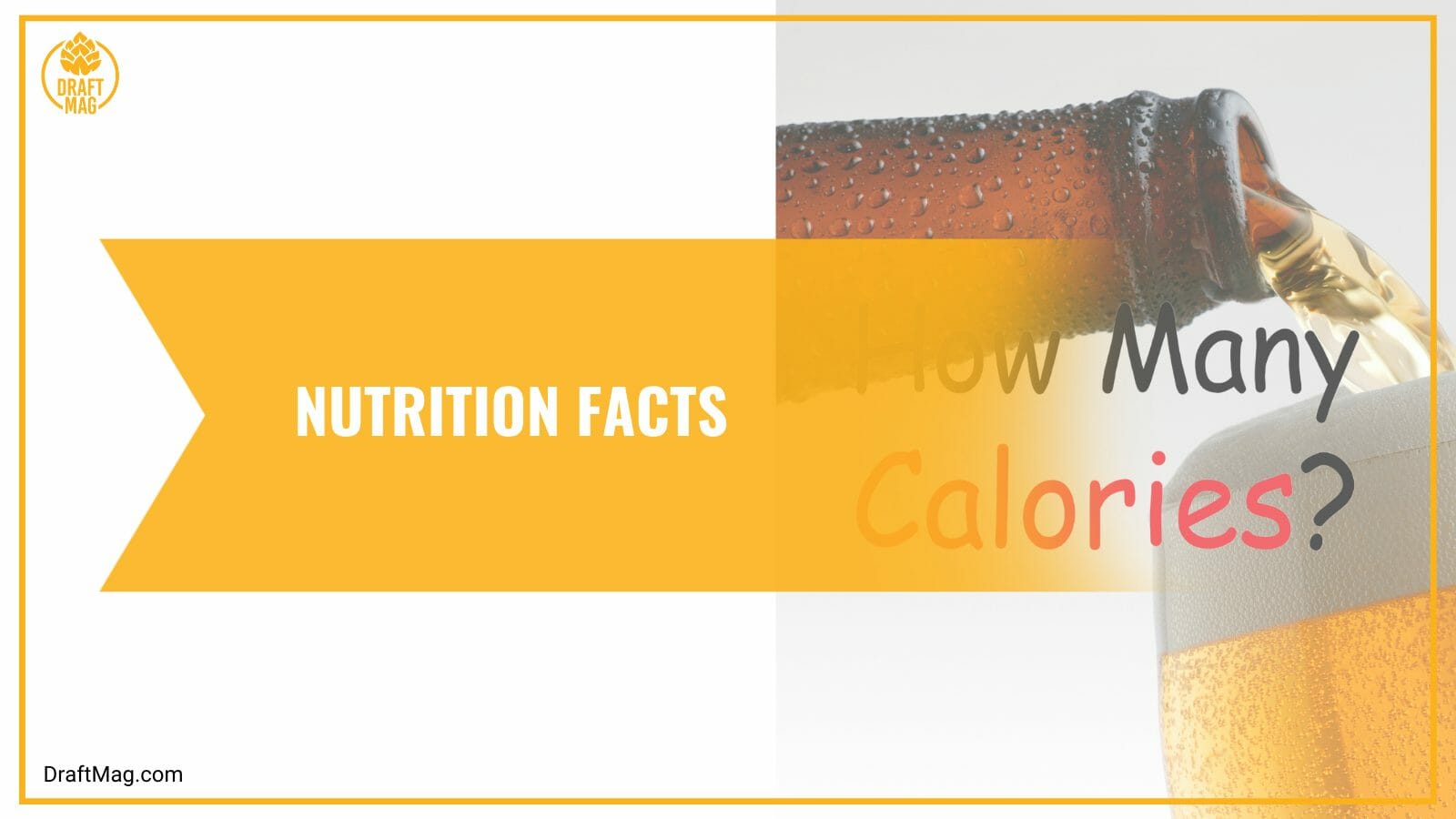 The beer has 170 calories in the 12-ounce serving, which you should keep in mind for your daily dietary needs. Also, it features 12 grams of carbs and 9 grams of sugar. There is no fat, protein, or sodium. The beer is safe for a keto diet due to its low carbs content, but it is not gluten-free.
History
The Harpoon ale is a production of Harpoon Brewing & Beer Hall and has remained its flagship beer since it was founded. Harpoon started brewing the beer in 1993 as a summer seasonal, especially since there were no local IPAs on the East coast at that time. With its popularity, it eventually became a year-round beer.
It is now the best-selling beer from Harpoon and its flagship. The beer is popular for its balance between bitterness and the malty backbone.
Conclusion
Harpoon is the ideal all-season beer that offers you a balanced dose of hops and malts like an IPA should. Here's a summary of what we covered in our IPA review:
Harpoon beer is an English IPA with a 6 percent ABV.
The beer has flavors and aromas of malty sweetness, hops, fruits, citrus, and earthiness, finishing smooth and bittersweet.
It is brewed with water, three malts, Northwest Cascade hops, and yeast.
You can pour in a pint glass while lukewarm, with a citrus slice.
The beer pairs well with fatty, fried, and salty foods, sharp and intense cheeses, crispy vegetables, and sweet desserts.
You can enjoy the IPA at Harpoon Brewery in Massachusetts or order it online. The beer is also sold at liquor stores around the country.