Sweetwater Hash Session Review: A Unique Hop Hash to the Rescue
Sweetwater Hash Session IPA is a spring seasonal and one of the few beers brewed with a twist, as it uses hop hash. For a beer with 4.2 percent alcohol by volume, Sweetwater brewing company did an excellent job of giving it a character similar to a stronger beer.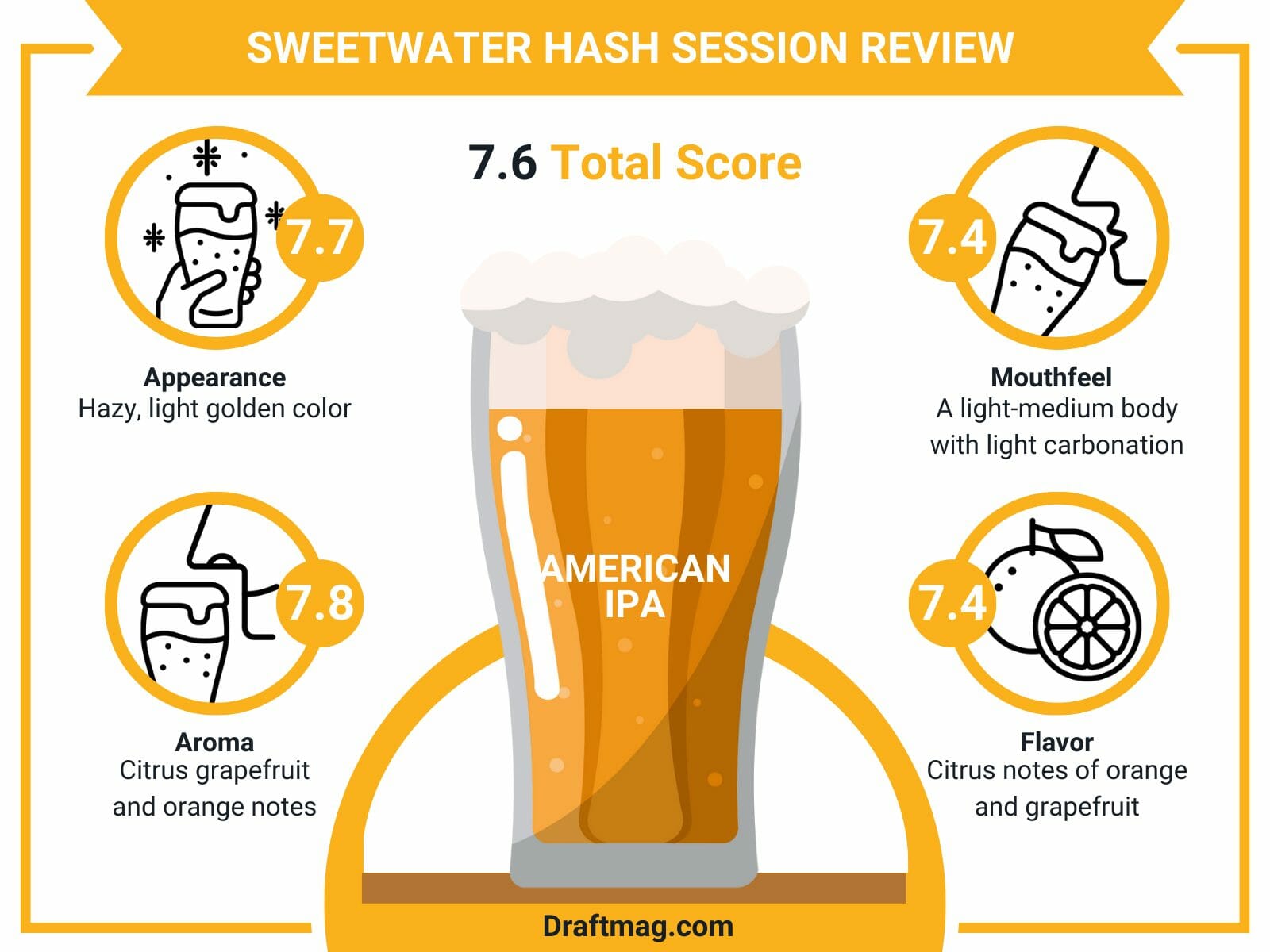 You're probably wondering what this beer has to offer. Worry not, as this complete review will unravel the beer's characteristics as well as dishes that pair perfectly with it.
Sweetwater Hash Session Stats
| | |
| --- | --- |
| Country | United States |
| Brand | SweetWater Brewing Company |
| Style | American IPA |
| Taste | Orange and grapefruit |
| Body | Light-medium |
| ABV | 4.2 percent |
| Flavors & Aromas | Orange, grapefruit, pear, watermelon |
| Serving Temperature | 45-50 degrees Fahrenheit |
Tasting Notes
Sweetwater Hash Session Tasting Profile
Sweetwater Hash Session Review
A session ale is a low-ABV beer, typically below 4.5 percent. As a result, you can drink multiple bottles without getting knocked out. Also, this type of beer is smooth on the palate and does not quickly get you filled.
Generally, hop pellets are used when brewing, and they are obtained from filtering hop cones. Most times, the sticky residue, known as hop hash, is discarded because it's seen as a waste product, but curious brewers have noticed that this waste product can impact a twist to beers.
Sweetwater is one of the few breweries incorporating conventional hops plus hop hash in beer. For Hash Session IPA, Sweetwater uses hop hash from the filtration Amarillo hops, giving the beer a citrus and floral character. Let's dive into more details.
– Appearance
Hash Session pours an almost hazy, light golden color with an orange tint.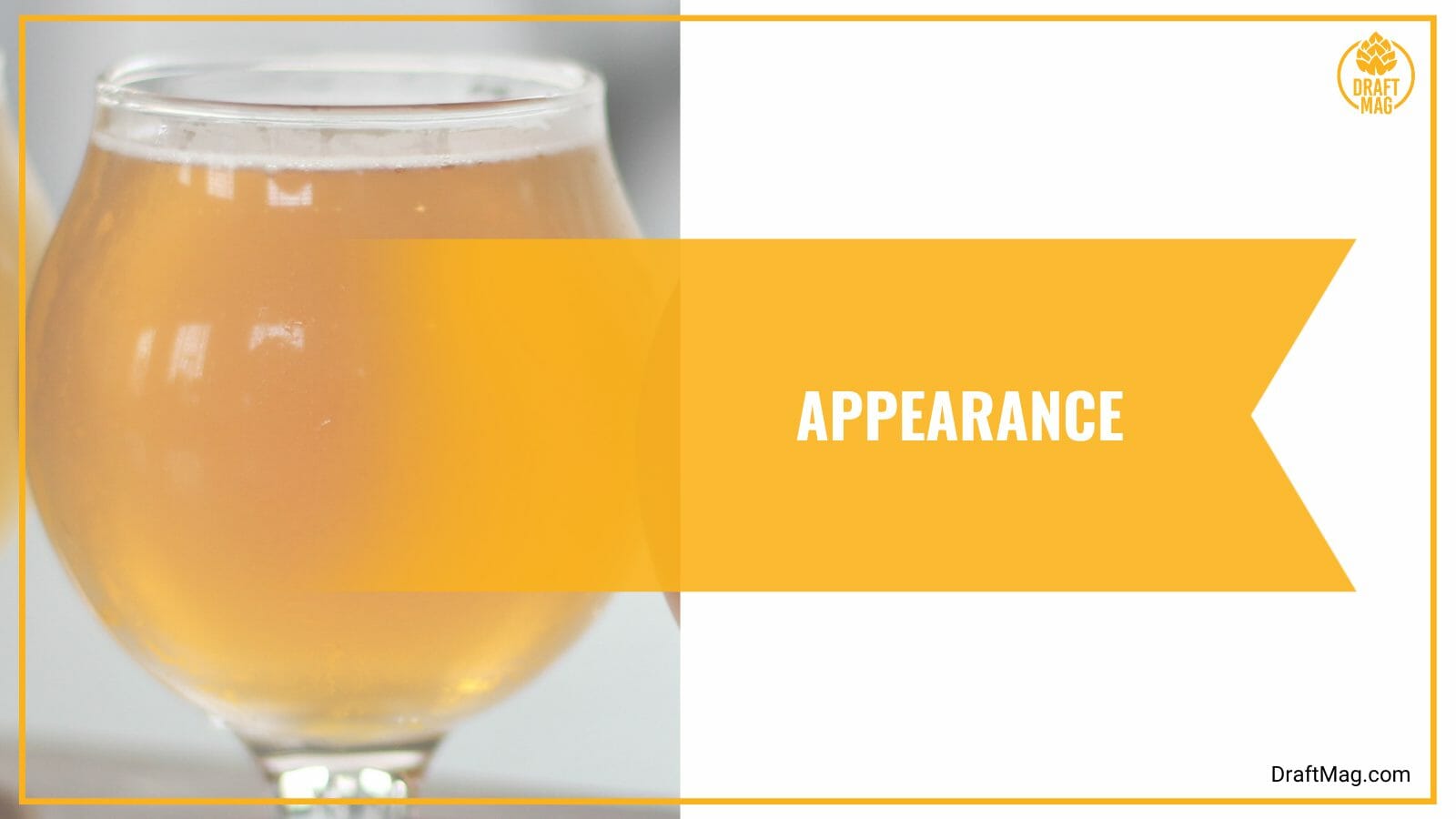 The white head lingers for a while and is about two fingers thick, leaving decent lacing.
– Aroma
This sweetwater session beer is dank on the nose with citrus grapefruit and orange notes upfront. If you give it a more curious sniff, you'll get notes of pine, resin hops, and light malt hints.
– Mouthfeel
The craft beer has a light-medium body with light carbonation and a chewy syrup mouthfeel thanks to the hop hash. Also, there is no alcohol warmth, thanks to the low ABV. The beer is crispy with mild astringency and finishes dry, making you crave more sips.
– Flavor
Sweetwater kept the malt bill light to pave the way for the hops. The flavor follows the aroma, but it's stronger. First, you get the citrus note of orange and grapefruit.
Also, watermelon and pear flavors from El Dorado hops come midway with spicy tones from the crystal hops. On the back end, you get light malt with bitterness.
– Food Pairings
It is easy to pair Hash Session IPA with food; all you need to do is closely follow the tones released by the hops. The beer is not strong, so you can pair it with delicate dishes like wheat pasta, noodles, light sandwiches, salad, skinless chicken, and leafy vegetables.
Also, the hops can lend themselves to cutting through creamy and fried foods. So consider fried fish like salmon and tuna, fried chicken, turkey, bacon, and French fries with a creamy and spicy sauce. Cheeses are another perfect pair with this beer, but go for the soft types like gorgonzola, ricotta, brie, cottage, and stilton.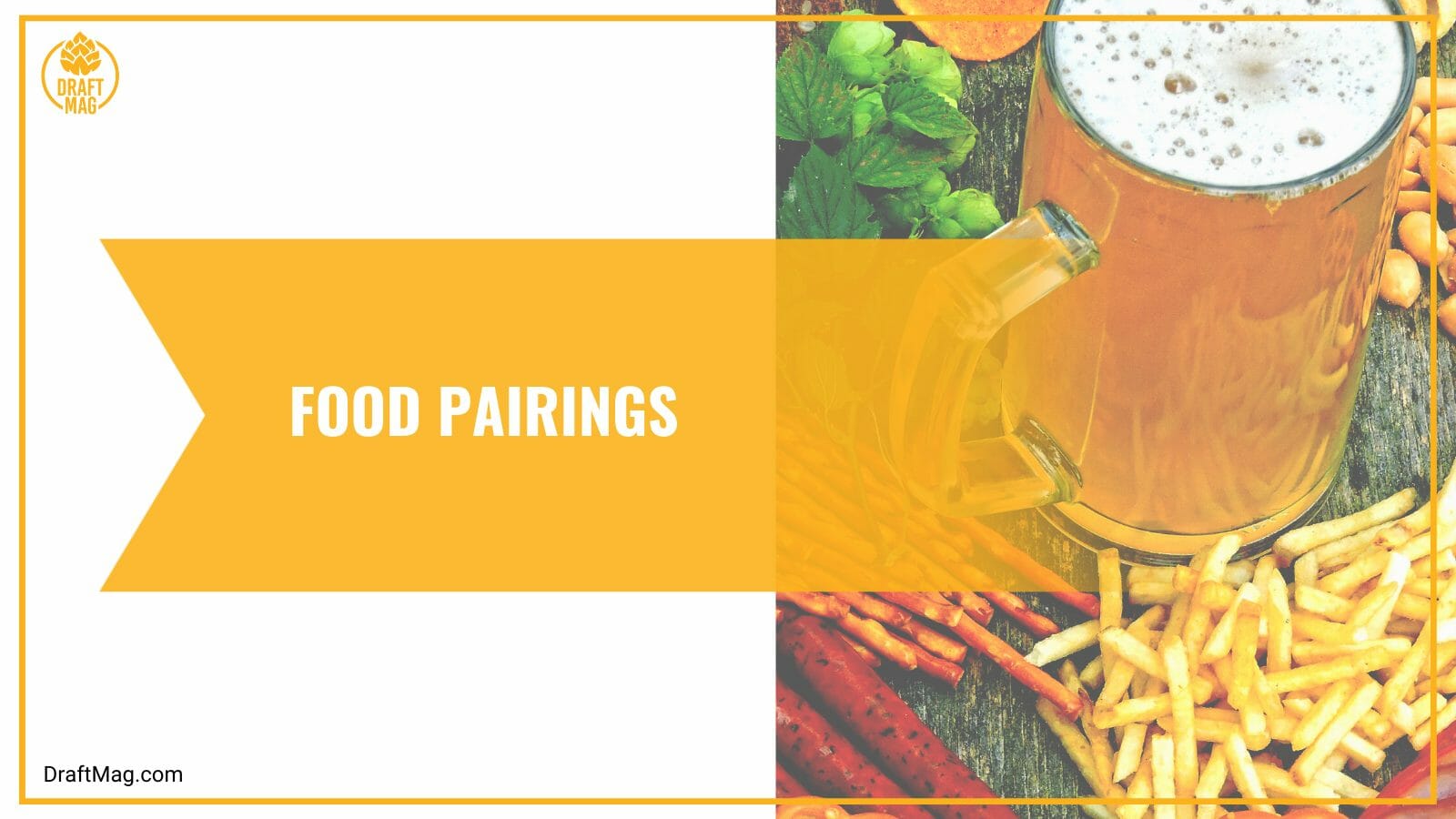 In addition, the fruity flavors can complement fruity desserts, so try fruit salad, orange creamsicle, banana cake, apple pie, negroni bars, grapefruit cake, banana foster, and grapefruit-vanilla shortbread.
Other desserts can come to play, including popcorn, potato chips, cookies, and chickpeas. Also, it is best to serve the beer between 45-50 degrees Fahrenheit to unravel the fruity flavors.
Ingredients
The following ingredients are in the beer:
Midnight Wheat malt
Pilsner malt
Amarillo Hash
Water
Yeast
Crystal hop
Bravo hop
Ahtanum hop
El Dorado hop
Nutrition Facts
The 12 oz bottle contains approximately 126 calories and 12 grams of carbohydrates. While the calorie content is not too high, you wouldn't want to be close pals with this beer if you're on a weight loss program.
Also, it has a low alcohol content of 4.2 percent, typical of a session IPA. So the beer is good to go on a sunny afternoon without worrying about getting boozy, but you're advised to drink responsibly, as always.
History
Sweetwater Hash Session IPA was released as a spring seasonal in 2016 by Sweetwater brewing company. The craft brewery, which began as a dream of roommates Kevin McNerney and Freddy Bensch at the University of Colorado, became a reality in 1997 and is situated in Atlanta, Georgia. Sweetwater is a subsidiary of Aphria Inc., a cannabis-producing company, after its acquisition in 2020.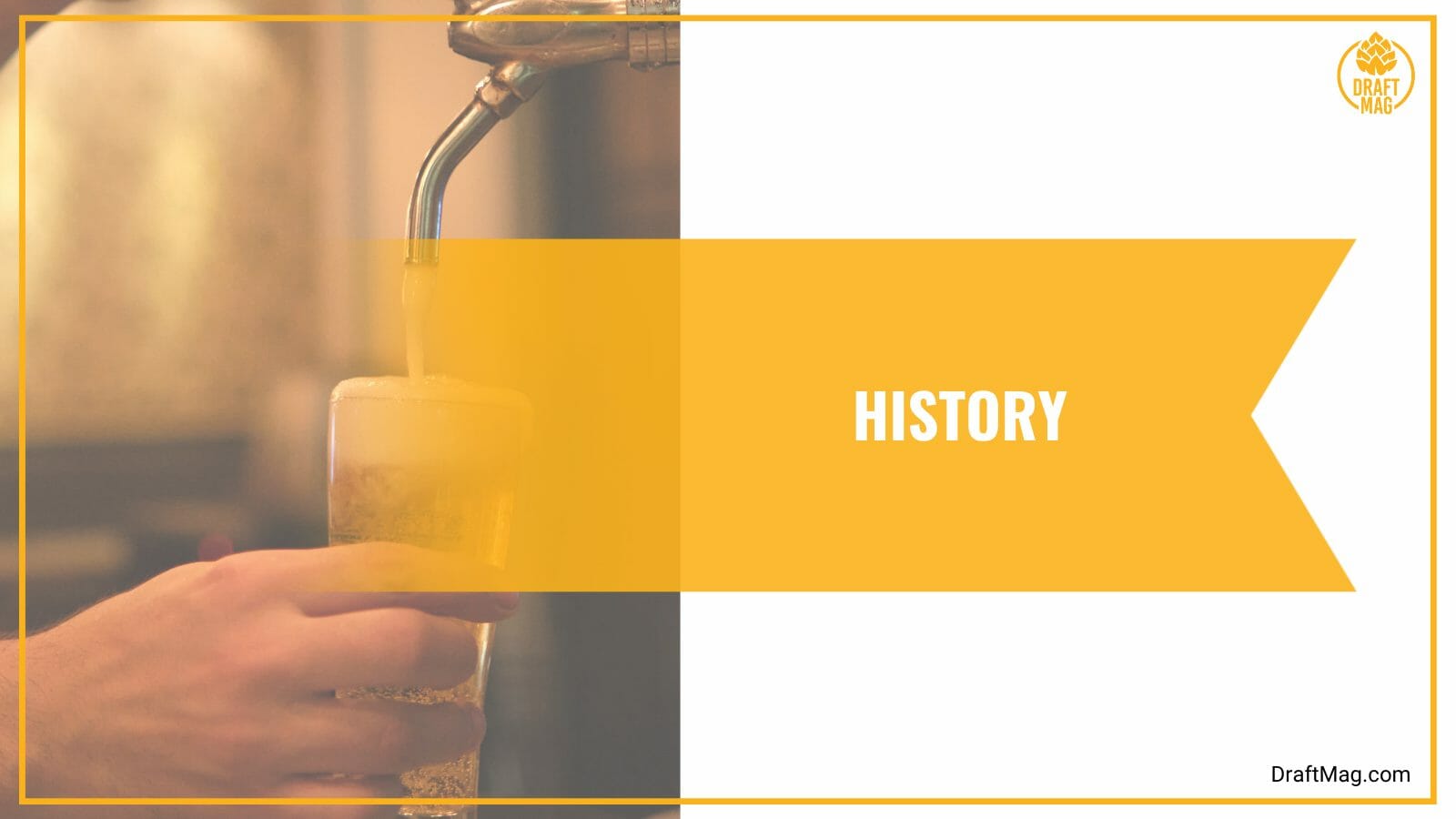 The brewery produces various beer styles under different categories, including seasonal, limited-release, and year-round beers. Sweetwater brews go beyond beers, producing vodkas, hard seltzers, and hard teas.
When the brewery noticed that hop hash, considered dirt, was useful, they took the opportunity to benefit from it. Other beer offerings from Sweetwater containing hop hash include Johnny Hash, Hash Brown India Brown Ale, and Hop Hash Easy IPA. Hash Session IPA is available in 12 oz bottles and 15-pack cans.
Frequently Asked Question
– In What States Is Sweetwater Beer Sold?
The beer is primarily sold in the United States, and while Georgia is the beer's home state, it is also available in the following US states: Iowa, Colorado, New York, Minnesota, Maine, Michigan, Nebraska, Vermont, Wisconsin, and North Dakota.
Conclusion
This detailed review has explained the essential features of Sweetwater Hash Session IPA. Let's quickly recap the beer's characteristics:
Sweetwater Hash Session IPA has a 4.2 percent alcohol content.
The beer appears light golden with an orange hue and a two-finger thick white head.
The beer is a light to medium body with a chewy and syrupy mouthfeel, making it a perfect addition to any picnic or get together.
The beer incorporates traditional hop and hops hash, giving it a citrus and floral tone.
The beer is light and refreshing, so you can drink more and more without getting drunk, but you're advised to drink within your limit. Also, don't get bored with this beer; serve it with dishes that match its tasting notes.