Best Non Alcoholic IPA: The 7 Top Low ABV IPAs To Enjoy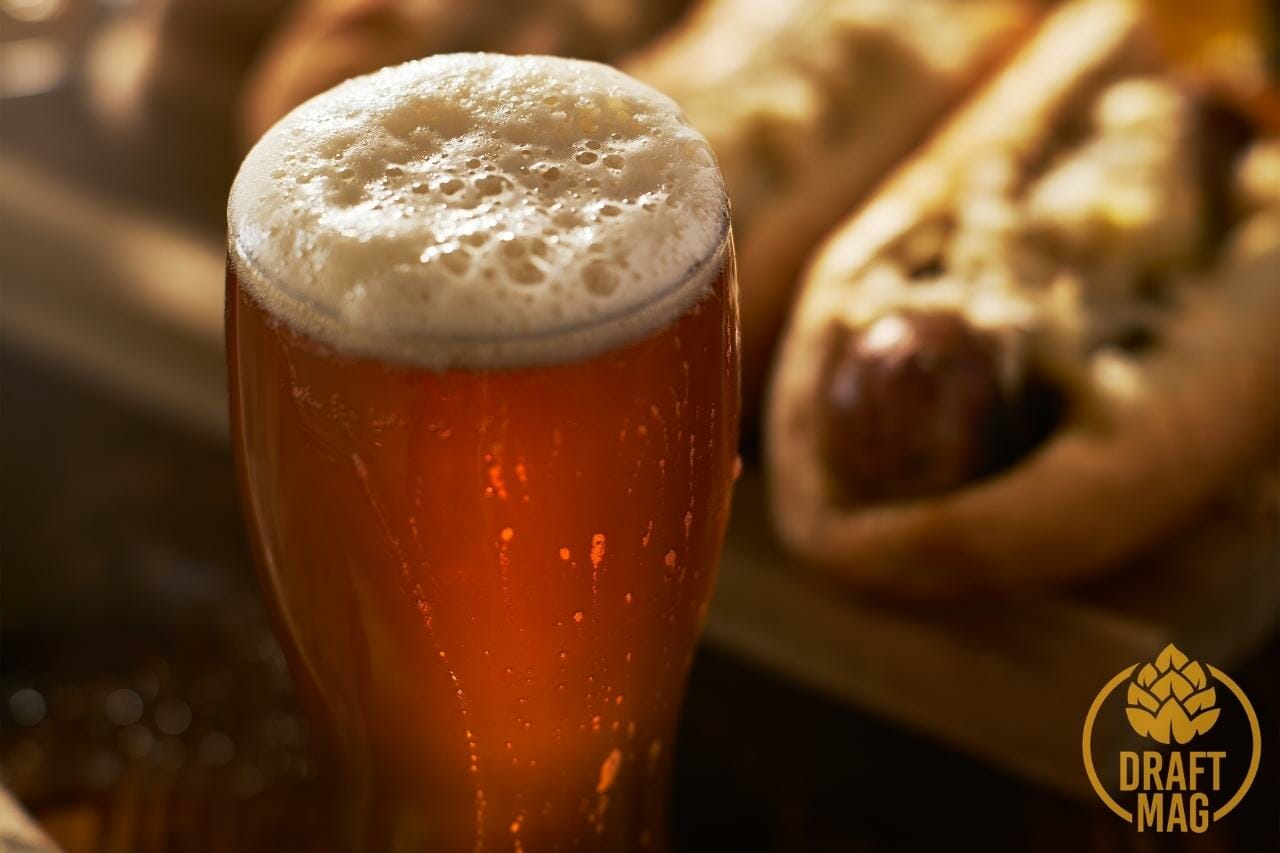 Non alcoholic IPA tastes just like regular IPAs when done right, but they can also taste a lot like wet cardboard when not brewed properly.
In this review, 20 brewers share with you 7 of the very best non-alcoholic IPAs you will absolutely love. Pay close attention as we set the ball rolling.
Best Non Alcoholic IPA Beers To Try
Here is a carefully-curated list of the best non-alcoholic IPAs for those who are watching their alcohol intake but still want to join the beer-drinking fun.
Partake Brewing Pale IPA
Pros
This beer has a light, bubbly body.
It has a clean, dry finish that will leave you wanting more.
Crispy malty taste nicely balanced with slightly bitter hops is the star of the show.
This beer has a great taste for being a non-alcoholic beer.
Cons
There is no characteristic beer taste, which is a turn-off for many consumers.
This delicious IPA pours a gorgeous clear crystal amber color with a considerably visible amount of carbonation. With a decent ABV of 0.3 percent, the Partake Brewing pale IPA is the first non alcoholic craft IPA beer to grace the market.
The aroma is enticing enough with caramel-like malts, hoppy northwest pine, and notes of grapefruit and citrus. The aroma promises the taste of a classic beer.
Upon taking a sip, you are quickly reminded that getting the classic beer taste from non-alcoholic beer is not an easy feat. The hoppiness is impressive and has just the right amount of bitterness.
You will have a nice easy drink with this one but will experience the thin, light-bodied mouthfeel without any true malt character. The truth is that you can't have a beer of such little alcohol content without the malt character and mouthfeel taking a significant hit.
Overview: The Partake Brewing Ale is a great choice and one of the best for a non-alcoholic IPA. It has fruity and floral notes with a slight malt character and a thin mouthfeel. It is perfect for anyone who does not mind the thin but crispy mouthfeel and the lack of true beer character in their IPA.
Samuel Adams Just The Haze
Pros
There is a nice, frothy head and appealing bright yellow-orange color in this beer.
It tastes of flavorful fruits and hints of banana.
There is a nice and spicy hop finish.
This beer contains nice carbonation and enticing aromas.
Cons
Unfortunately, the beer becomes extra bitter when it warms.
This drink may be too fruity for some people.
If this is your first time tasting non alcoholic beer, you will be pleasantly surprised with this one. Samuel Adams has once again proven that they know how to give beer drinkers precisely what they want. Just the haze is what our experts call a "really good beer that hits the spot at all times." We couldn't agree anymore.
Despite the lack of buzz, Just the Haze offers you a flavorful experience with an exciting amount of hops to keep you going. The aroma is nice and citrusy and promises a similar taste. True to the aroma forecast, Just the Haze begins with decent biscuit flavors, pale and cereal grain malts.
With a gentle and soft mouthfeel, this beer finishes with a light but lingering citrus and tropical notes as well as moderate amounts of carbonation. Although some experienced beer drinkers may find it a bit too fruity, there's no denying that Just the Haze makes for a perfect non-alcoholic IPA to drink.
Overview: This Samuel Adams shot at a non-alcoholic IPA is indeed noteworthy. It has a light mouthfeel and a masterful blend of fruity flavors, especially citrus and tropical fruits. Just The Haze is the perfect buy for anyone who wants a decent non-alcoholic hazy beer with a burst of fruity flavors.
Funky Fluid Point Five
Pros
This beer has a perfect hazy blend of Galaxy, Azacca and Citra hops.
There is an irresistible pale yellow color upon first look.
When drinking, you'll notice fruity notes with a slightly bitter finish.
This beer is double dry-hopped.
There is a great mouthfeel with every sip.
Cons
This beer is a bit too watery for some.
In addition, it might be too hoppy for those who are not used to the taste.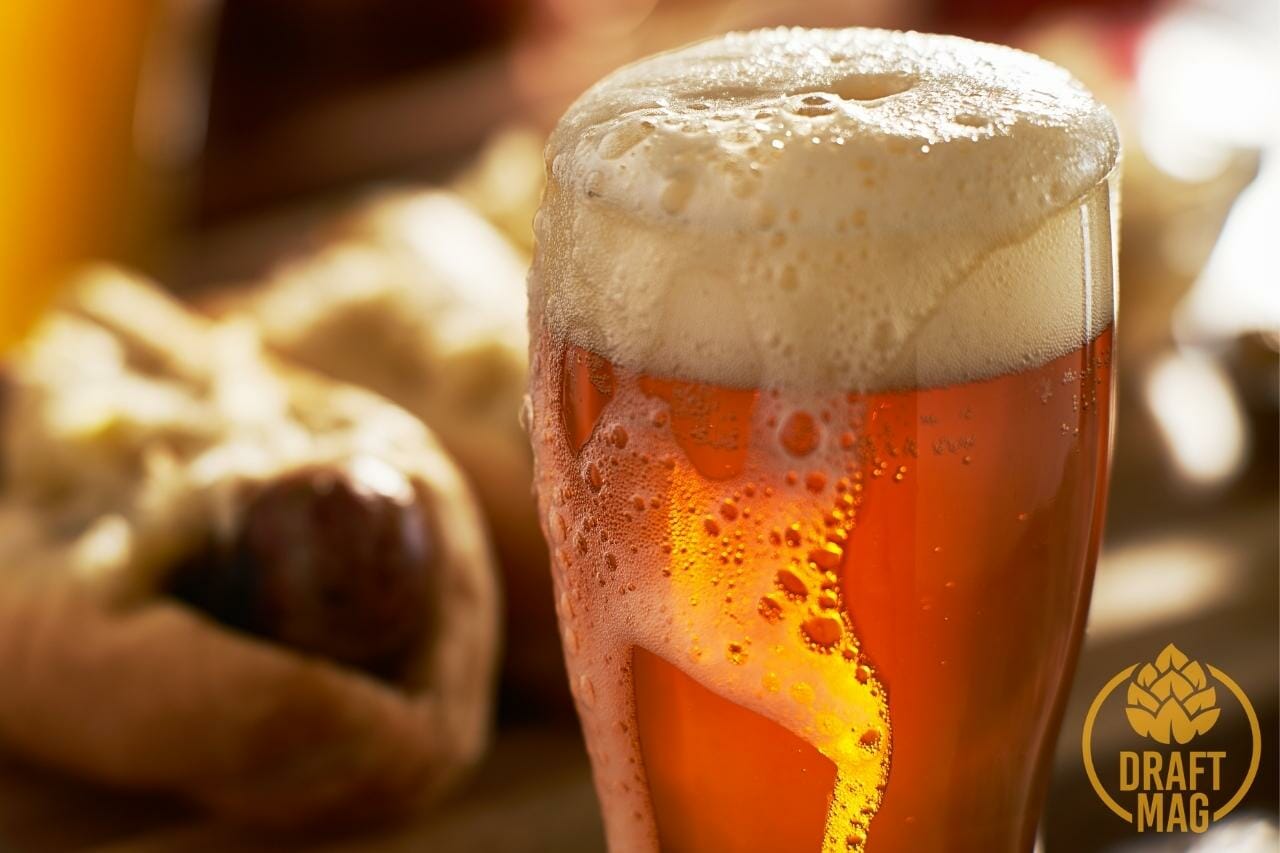 This hazy IPA is alarmingly close to the perfect non alcoholic IPA beer if there ever was one. Stuffed with a skillful blend of Galaxy, Azacca and Citra hops, this delicious pale yellow beer is light with addictive fruity notes and a much-appreciated bitter finish.
You'll enjoy this complex mix as every sip is a taste of goodness.
New beer drinkers may not really enjoy the assertive hoppiness. On the other hand, experienced beer drinkers may find it a tad watery. Funky Fluid Point Five tastes great regardless and is one non-alcoholic IPA you should try.
Overview: Funky Fluid tastes sweet, a common feature of Non-alcoholic IPAs. This beer is excellent for anyone who wants to kick back and enjoy the summer heat with copious amounts of fruitiness and hoppiness.
Wellbeing Heavenly Body Golden Wheat
Pros
There is a sweet malt taste taht is moderately balanced with floral, grassy hops.
This beer has a nice, dry finish.
Light flavors and its citrus character is the highlight of this drink.
Cons
Might be too watery for some people.
There is a subtle, fleeting taste that can be a turn-off.
This light gold delicacy hits you pleasantly with the aromas of fresh grains and an unmistakable sourdough taste. There isn't much of an aroma to study with this one, but it has a dash of caramel. As its name promises, this IPA is also generously wheaty and exhibits a little bit of orchard fruitiness.
Wellbeing certainly made a superb non-alcoholic based on what almost everyone would enjoy without too many complaints. With a light-bodied mouthfeel and a nice dry finish at the end, you can almost forgive this drink for not having a lasting taste.
For some people, the lightness of it all — the smell, the taste, and notes — might not do it. However, we did enjoy this beer and would definitely advise you to pick it up and try it out for yourself.
Overview: This beer is pretty good and super easy to drink. If you enjoy a nice wheaty edge to your NA beer and do not mind lightness, WellBeing Heavenly Body Golden Wheat might very well become a favorite. It is an excellent option for people who are just starting to drink beer.
Athletic Brewing Co. Free Wave
Pros
There is an unmistakable beer-like finish.
Enticing dark golden apricot color with moderate carbonation greets you upon opening this beer.
It has the perfect balance of cracker, grainy malts, and grainy sweetness.
This beer has a slightly crisp and easy finish.
Cons
Some consumers report that it is thin or watery.
Since its 2017 debut, Free Wave has established itself as a respectable non-alcoholic IPA and a favorite for many NA beer lovers. Unlike other IPAs, Free Wave has a unique dark golden color with enough carbonation.
This non-alcoholic IPA is undoubtedly not the shy kind and graces your mouth with a full-bodied mouthfeel at first sip, and this continues to the end. The aroma forecast promises bright, citrusy flavors, but you will be surprised to find generous amounts of bitterness following the initial rush of flavors.
Our experts happen to think this NA isn't just an excellent non-alcoholic beer. It's an excellent beer overall and deserves a chance with you. The bitterness that replaces the easier doughy flavors is not offensive enough to change your mind. It only lingers for a bit and gives way to an excellent finish.
Free Wave is also a versatile non-alcoholic IPA and pairs well with a lot of cuisines, whether spicy or not. The only downside to the beer is that it tastes too thin and has a noticeable watery feel.
Overview: Free Wave is a brilliant choice for you no matter what you're doing or having on the side. It has no off-flavors or aromas, delivers a nice west-coast feel, and tastes a lot like its alcoholic counterpart. It is perfect for anyone who wants a nice malty drinkable IPA with more similarities to beer than its other non-alcoholic peers.
Brooklyn Brewery Special Effects
Pros
This beer is highly aromatic with intriguing citrusy notes.
There is a clean grapefruit aftertaste that works well with the overall taste of the beer.
There is a balanced mouthfeel that's between light and medium.
A nice, bubbly appearance is apparent opun opening.
Cons
There is weak lacing in this beer.
This beer's dominating citrus flavor might be too overwhelming for some.
As Brooklyn's first non-alcoholic IPA, this Special Effects release is a taste to savor and talk about non-stop. It's not always that you get to enjoy an IPA without alcohol this intensely.
Special Effects has a beautiful clear golden color with lots of carbonation and some bubbly action. The aroma is strong and comes on with lemon, grassy and many other citrus shades that are pleasing to inhale.
The mouthfeel titters between thin and keeping the mouth wet enough. The taste is also equally as fruity as the aroma warns, which might be a little too much for anyone who would like a little less fruitiness.
There is a lingering grapefruit aftertaste following the initial rush of citrus, mangoes and fresh biscuits. If fruitiness is an added advantage for you when drinking non-alcoholic beers, then you'll relish every sip of the Brooklyn Brewery Special Effects non-alcoholic IPA.
Overview: The Brooklyn Brewery Special Effects NA is an excellent beer IPA overall and offers a delectable array of grassy hops and citrus notes. It's an excellent choice for someone who doesn't mind lots of fruitiness.
Golden Road NA Mango Cart
Pros
There is a remarkable hazy appearance in this beer.
This beer starts with a tropical but faint aroma followed with flavorful taste.
A refreshing and clean finish ends the sip.
Cons
The mango essence might be too faint for some.
Although Golden Road promises a tasty mango refreshment, it does not live up to its name. Instead, you are first enticed with a gorgeous hazy yellow color and tropical aroma.
When you get a taste, the tropical hints carry on with only the slightest hint of mango. The unexpected citrus does not taste bad; in fact, it tastes pretty great and is accompanied by a decent hop finish.
Overview: Like many other non-alcoholic IPAs, Mango Cart has a thin and watery mouthfeel. Still, it's worth the test, and for all its mango-less tropical notes, it's an excellent drink if you're alright with not getting mango all the way through.
Is Alcohol-free Beer Healthy To Drink?
Non-alcoholic beer is one of the healthiest drinks offered behind the bar because of its numerous health benefits such as lowering your risk of heart disease, improving your sleep, boosting bone growth, and minimizing your chance of infections like the common cold.
It also has more vitamins and minerals such as folic acid, potassium, iron and zinc, and has fewer calories. Non-alcoholic beer can aid in the cessation of a drinking habit. It's an excellent method to give oneself a break from booze on a night out without reverting to water or soft drinks.
FAQ
Is it okay to drink non-alcoholic IPAs with liver disease?
No, even non-alcoholic IPAs contain small amounts of alcohol, which can worsen liver disease. It's best to avoid alcohol completely.
Do non-alcoholic IPAs have zero ABV?
No, non-alcoholic IPAs typically contain a very low amount of alcohol, usually less than 0.5% ABV.
Is non-alcoholic IPA safe for pregnancy?
It's generally safe to consume non-alcoholic IPAs during pregnancy as they have very low alcohol content, but it's best to consult with a doctor first.
Conclusion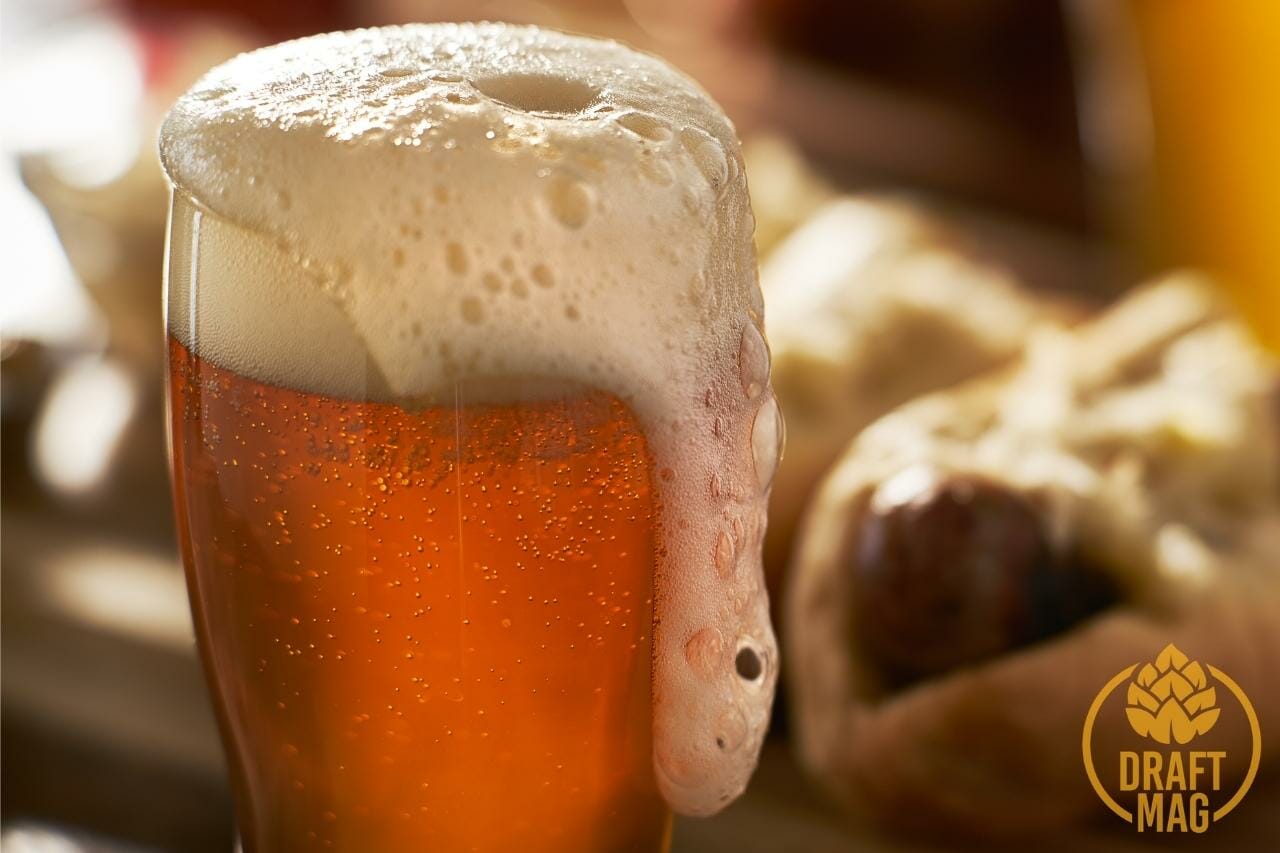 While there are many non-alcoholic IPAs to choose from, we guarantee that our seven best brands will find their way to the top of your favorite choices. Trust our experts to provide you with the best of both worlds — beer and no alcohol.
Non-alcoholic beer is a great alternative for those who are looking to lessen their alcohol intake while still taking part in beer-drinking fun.
With its caramel-like malts, hoppy northwest pine, and notes of grapefruit and citrus, the Partake Brewing Pale IPA is our top choice for the best non-alcoholic beer in the market.
Aside from the fact that it has a minimal amount of alcohol, non-alcoholic beers contain vitamins and minerals such as folic acid, potassium, iron and zinc, and have fewer calories as well.
If you're going for the best of the best, we highly recommend Athletic Brewing Co. Free Wave. If you'd rather be adventurous, taste any of the 7 beers we reviewed, and we promise you won't regret it.