Tecate Light Review: Complete Details About This Light Mexican Beer
Tecate Light is a Mexican beer from its namesake city of Tecate in Baja California, Mexico. It's a refreshing light lager well received by beer lovers, especially the female populace. So are you a fan of beers that are easy on the palate with low alcohol by volume? Then stick around until the end as this detailed review will unravel what to expect from the beer's characteristics.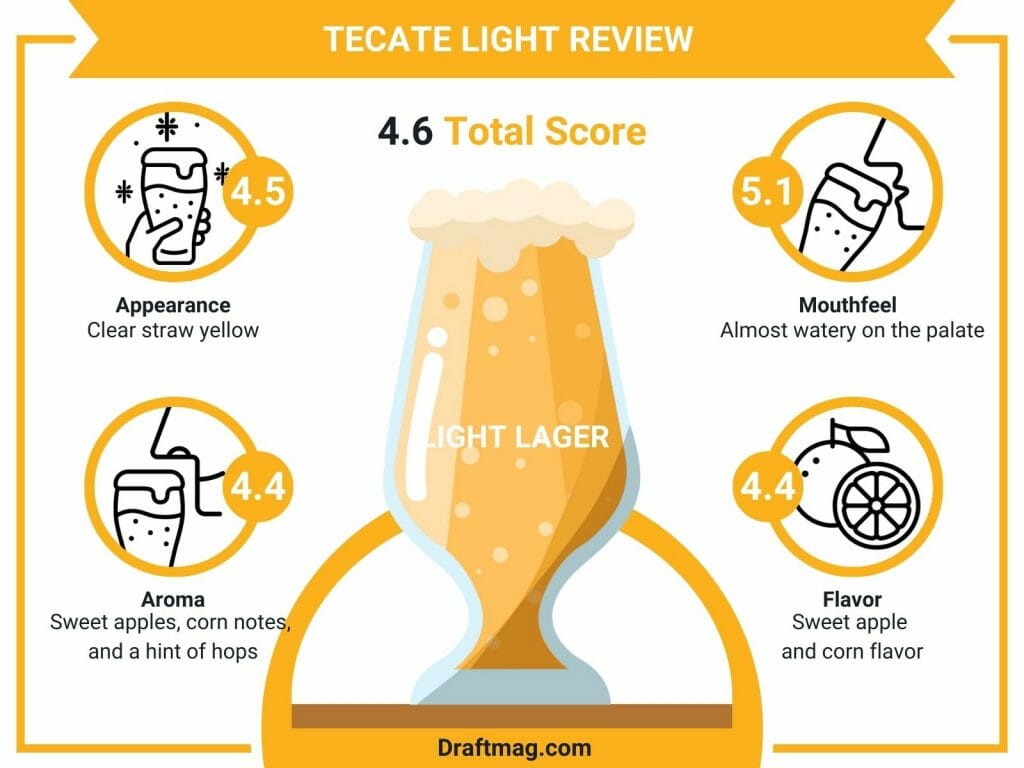 Tecate Light Stats
| | |
| --- | --- |
| Country | Mexico |
| Brand | Cervecería Cuauhtémoc Moctezuma, S.A. de C.V. |
| Style | Light lager |
| Taste | Sweet apple, corn, malt |
| Body | Light |
| ABV | 3.9 percent |
| Flavors & Aromas | Sweet apple, corn, malt |
| Serving Temperature | 35-40 degrees Fahrenheit |
Tasting Notes
Tecate Light Tasting Profile
Tecate Light Review
Light lager is the most prevalent beer style globally, and this style is one of the discovered treasures in the beer world post-prohibition. Generally, light lagers are straw-colored, light-bodied, and carbonated, with a mild hop and malt character.
Also, they have lower alcohol content, calories, and carbs. This section explains Tecate Light's appearance, tasting notes, and possible foods that pair perfectly with the brew.
– Appearance
Whether you buy the bottle or can, you'll see a simple design with a bird logo. Typical of its style, Tecate light pours a clear straw yellow with not-so-lively carbonation.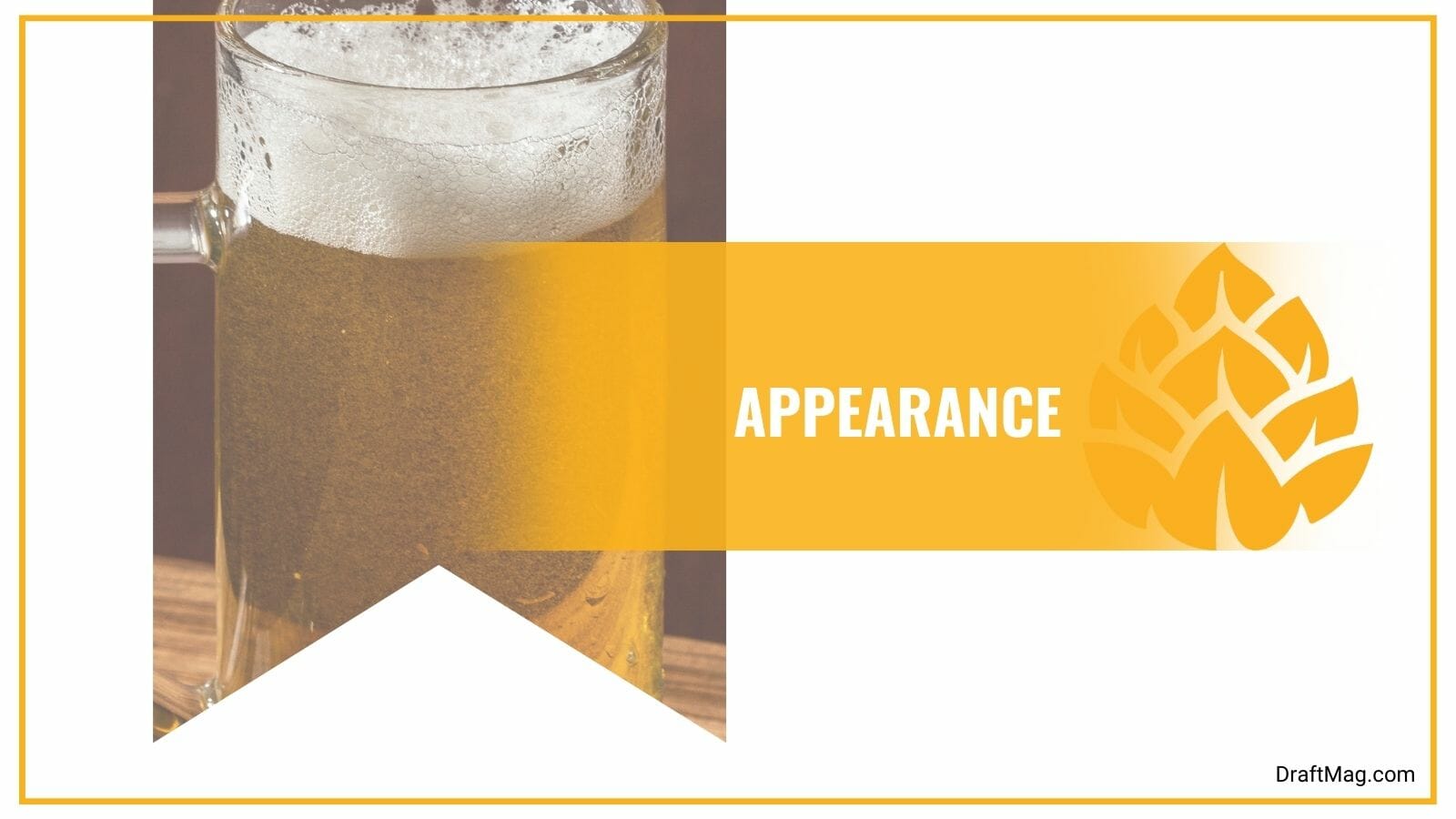 Also, you'll see a few bubbles rising from the glass to a thin white head that disappears quickly.
– Aroma
Tecate light presents with nothing much on the nose. You'll get lightly toasted malt grains, sweet apples, corn notes, and a hint of hops. Also, there is no alcohol presence due to its low ABV.
– Mouthfeel
The beer is light-bodied with mild carbonation, and it's almost watery on the palate with a gentle sting from the bubbles. Also, Tecate Light doesn't present any alcohol heat thanks to its low alcohol content, and it's crisp and finishes dry. There is also no lingering bitter aftertaste with the beer, a feature consistent with most light beers.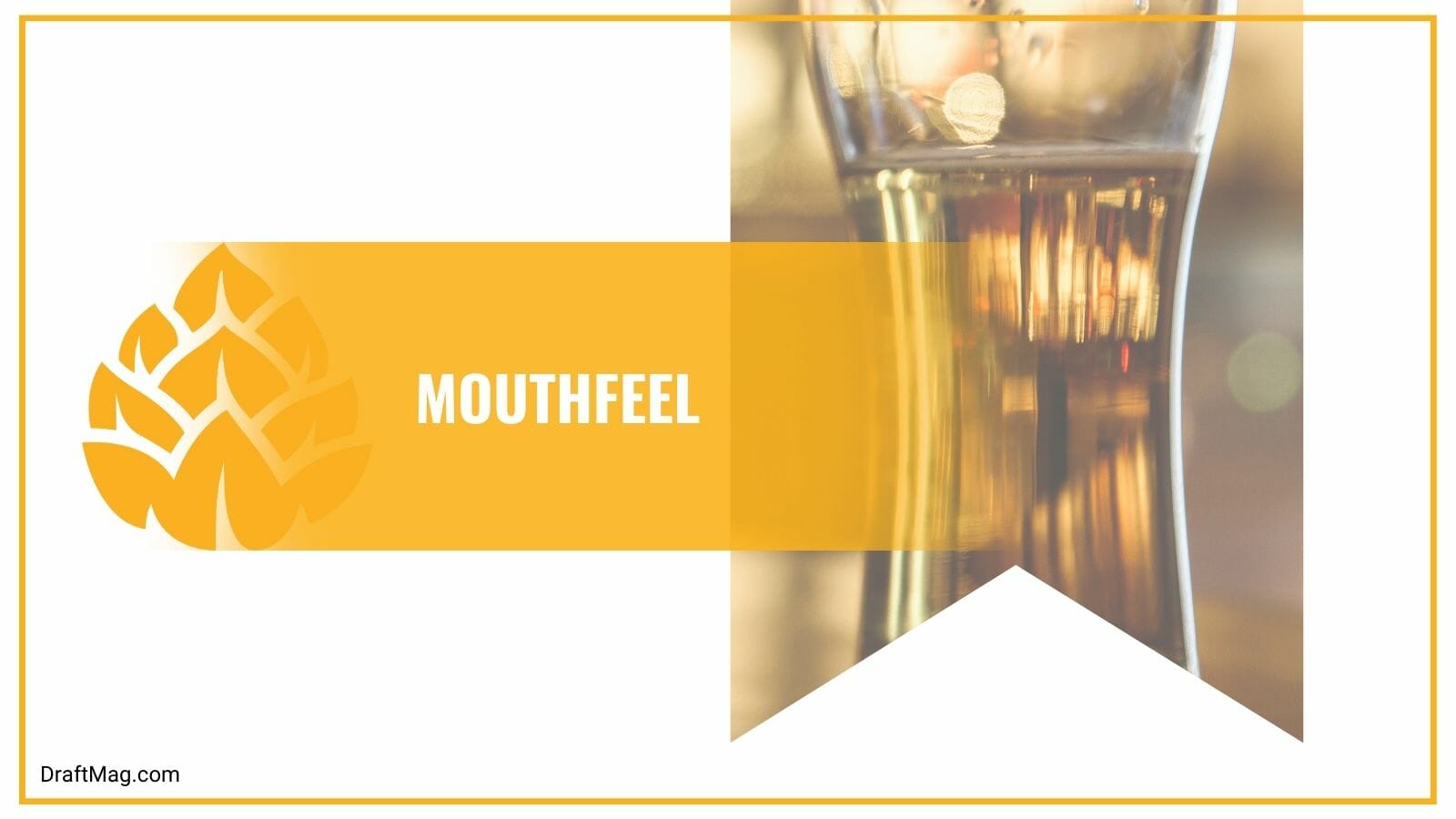 As a result, it is easy to drink for all genders and legal age groups, so after a long day at work, ease yourself with a chilled can or bottle of this beer.
– Flavor
Like the aroma, Tecate light has a sweet apple and corn flavor with a blend of malt. This is balanced by a low hop character, giving the beer a mild bitterness and slight sweetness. Also, the fermentation character is clean, with no yeast and diacetyl presence.
In addition, the beer has 7 IBUs, which is on the low end of the scale. As a result, there is no distinct bitterness to it. Overall, the beer tastes like water with a touch of alcohol and no distinct aftertaste.
– Food Pairings
Now that you know how Tecate Light beer tastes, let's see what kinds of dishes you can enjoy with this beer. This beer is best combined with light foods, following the popular matching strength rule. Hence, consider the likes of canapé, potato skins, smoked salmon bites, crackers, mussels, bruschetta, and salads for appetizers. Also, this beer can contrast spicy dishes, lightly creamed cheese, burgers, and grilled meats.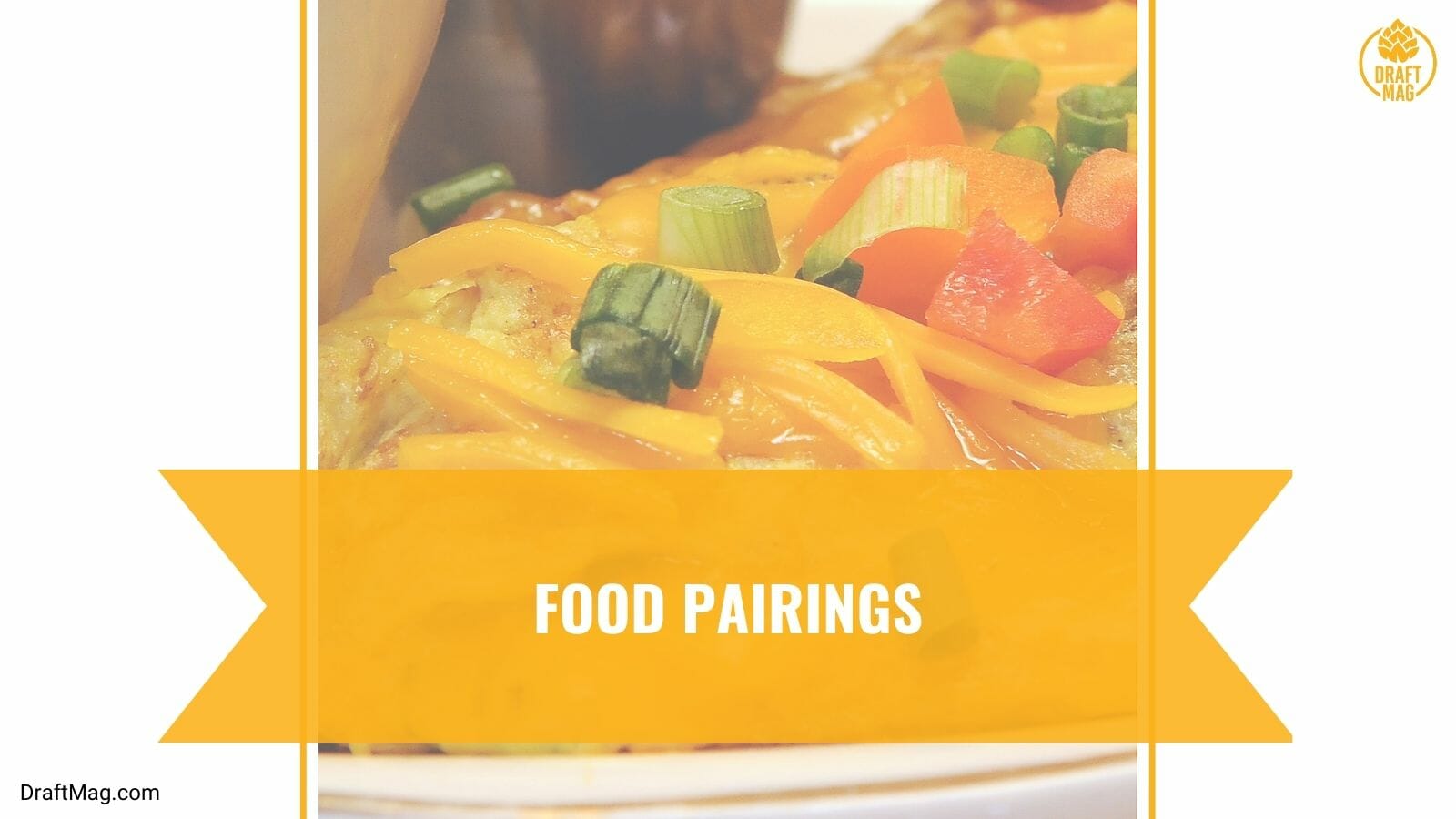 Talking about cheese, consider the likes of ricotta, Colby, mascarpone, swiss, cottage, mozzarella, feta, parmesan, and blue cheese. In addition, Tecate light is an ideal match with pizza kebabs, veggie omelets, french fries, fish tacos, pasta, shrimp, sweet potato, Thai prawn curry, noodles, and rice. It is best not to use creamy sauce when serving pasta with this beer. In addition, you can include white meats like veal, chicken, hotdog, pork, rabbit, and turkey.
For desserts, try cheesecake, cookies, corn chips, puddings, vanilla cake, sweet soups, apple pie, pastries, potato chips, light apricot, and fruit salad. Also, the carbonation bubbles help wash the palate between bites, so this beer is fine with slightly oily foods. Other great foods include buffalo wings, fried fish, french fries, tuna, swordfish tartare, and spicy Mexican and Thai cuisines.
Take note that this pairing list is not restrictive, so feel free to explore other alternatives.
Ingredients
Tecate light is brewed with general beer ingredients that are native to Mexico. They include:
Water from a Mexican spring
Yeast
Hops
Corn
Barley malt
Nutrition Facts
When it comes to Tecate Light nutrition, a 12 oz serving contains 110 calories, 7g of carbohydrates, and 1g of proteins but is void of vitamins, cholesterols, and fats. Tecate Light calories and carbs are low; thus, you can enjoy this beer even on a keto diet.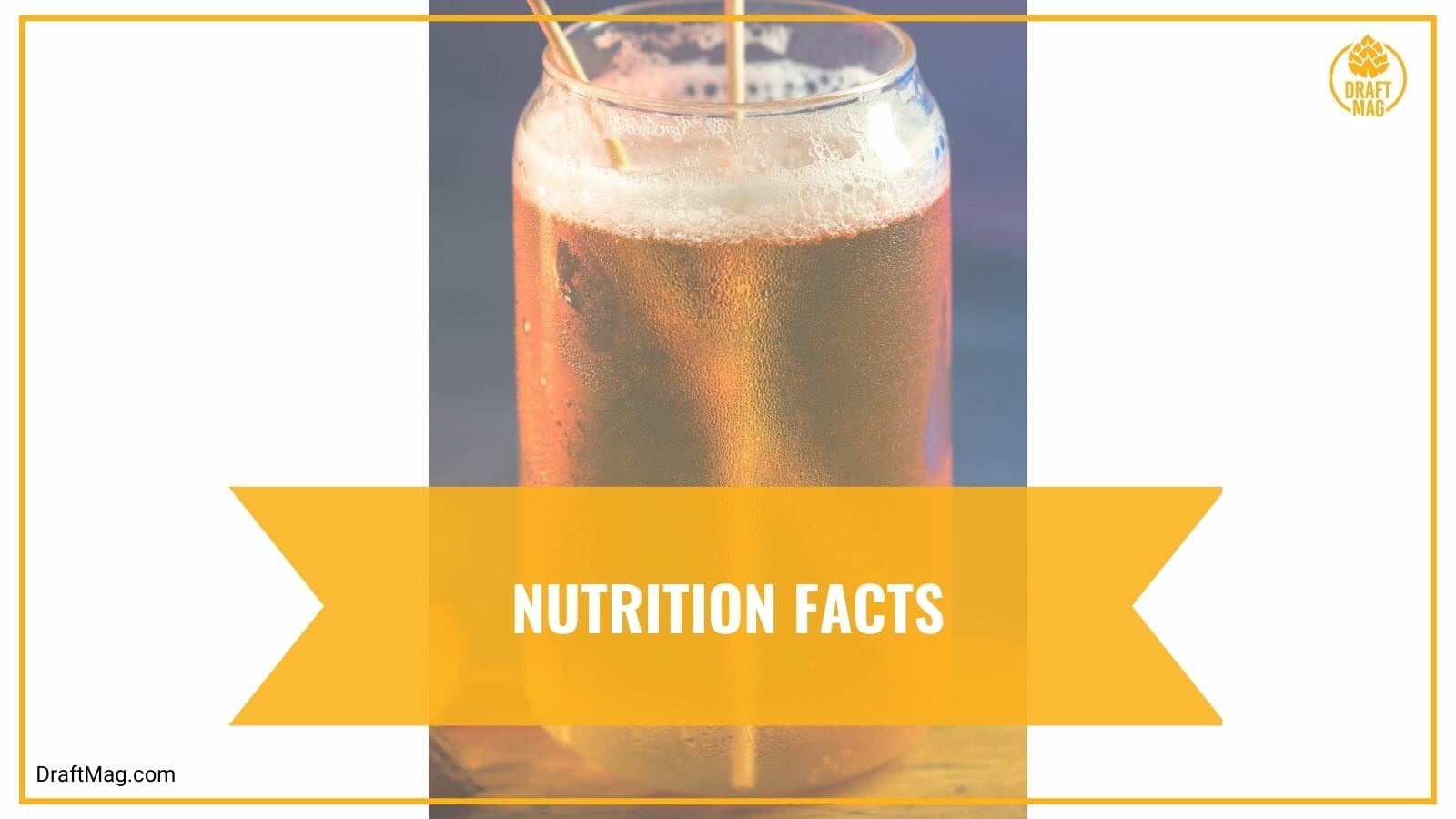 Also, Tecate Light alcohol content is low at 3.9 percent. Therefore, you can drink multiple bottles without getting boozy, but drink responsibly as excess alcohol intake may harm you.
History
Tecate was first introduced in 1943 in its namesake city, Tecate in Baja California, Mexico. The beer was initially produced by a local brewery before Cuauhtémoc Moctezuma Brewery, a subsidiary of Heineken International in Mexico, acquired the brand in 1955. Later, in 1992, Héctor Emilio Ayala, the brewery's project manager, introduced Tecate Light in cans and bottles.
After that, the brand expanded to other countries, including the United States (US). As of 2015, Tecate Light was only available in a few US states, including Arizona, Florida, Arkansas, Colorado, Alabama, and other sunbelt states. Then in 2016, Heineken began a nationwide and international expansion of the Tecate Light brand.
Other brands from the brewery include Dos Equis Blanca, Tecate Original, Bohemia Oscura, Sol Breva, Superior, Tecate Alta, Superior Bellita, Indio, etc. Tecate light is available online and in local bars and beer stores in the US, Mexico, and surrounding countries in 12 fl.oz and 16 fl.oz cans. Also, you can get the beer in 12 fl.oz bottles and six-packs.
FAQ
How much sugar does a Tecate Light have?
A 12 oz Tecate Light has less than 1 gram of sugar according to their nutritional label
What's the difference between Tecate and Tecate light?
Tecate is a full-bodied lager with a richer taste, while Tecate Light is a lighter beer with lower calories and less alcohol.
Is Tecate a Heineken brand?
Yes, Tecate is a Heineken brand. Heineken acquired a controlling stake in the Mexican brewery that produces Tecate in 2010.
Conclusion
Now that you have the complete details about Tecate Light, will you give it a shot? Here are key points to note from this review:
Tecate Light is a light lager with 3.9 percent ABV.
The beer's flavor is a blend of sweet apples, malt, and corn.
The beer is named after Tecate in Baja California, Mexico.
The beer pairs well with cheesecake, potato skins, smoked salmon bites, crackers, mussels, bruschetta, and salads.
Remember to serve the beer between 35-40 degrees Fahrenheit to appreciate it better. You can get the beer in stores all across the country.