Kentucky Bourbon Barrel Ale Review: Guide to a Unique Sipping Beer
The Kentucky Bourbon Barrel Ale has won awards for its unique, flavorful experience, with a smooth and robust feeling and complex character. The sipping beer combines bourbon with ale, with hints of vanilla and oak.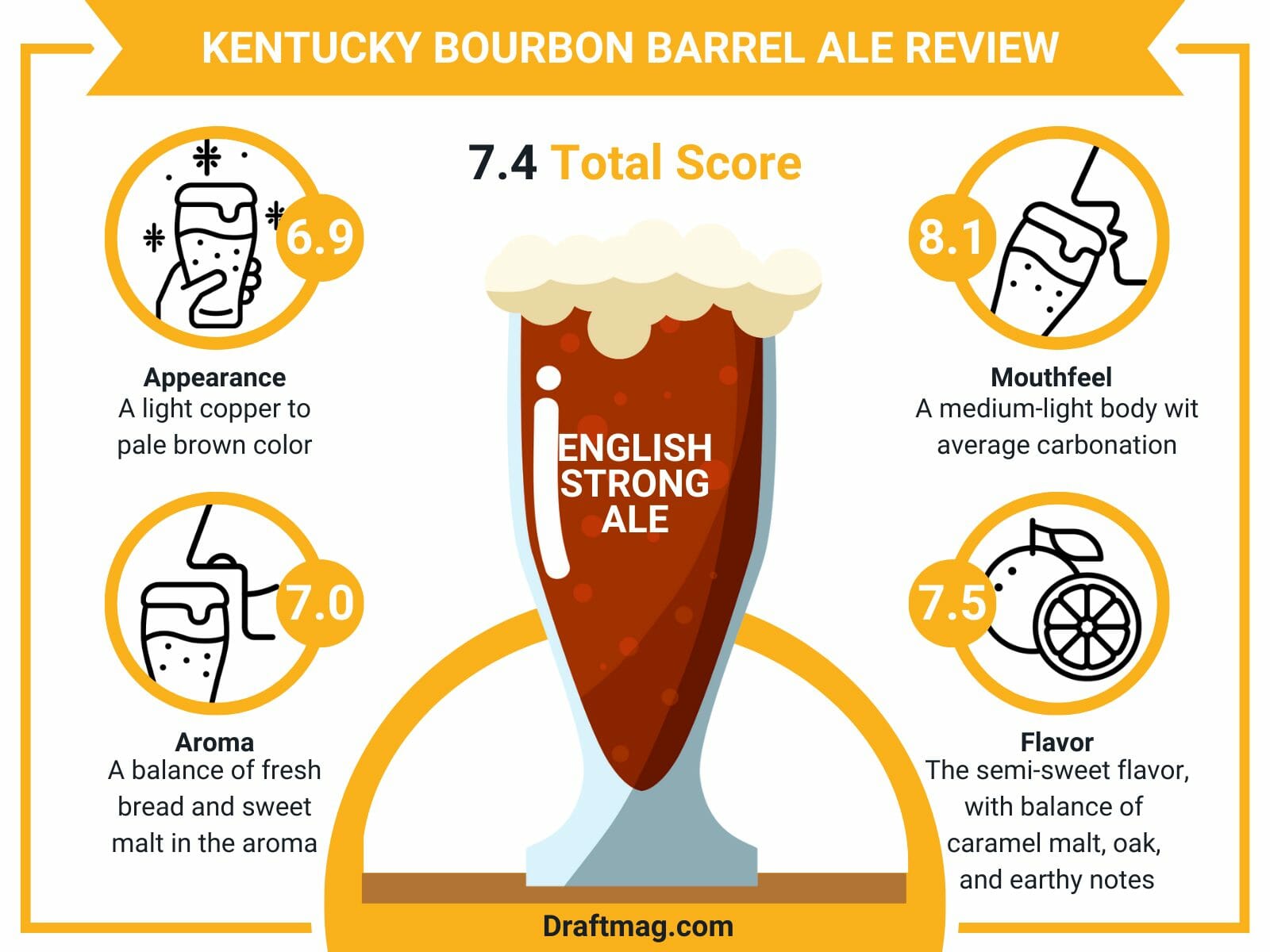 A perfect aperitif or after-dinner drink, the Kentucky Bourbon Barrel beer is a pleasant and sweet beer for you. Our review will cover all you need to know about this English strong ale, including its tasting notes and food pairings.
Kentucky Bourbon Barrel Ale Stats
| | |
| --- | --- |
| Country  | United States |
| Brand | Alltech Lexington Brewing and Distilling Co |
| Style | English Strong Ale |
| Taste  | Bourbon, Malt |
| Body | Medium-light Body |
| ABV | 8.19 percent |
| Flavors & Aromas | Malty, bourbon, oak, vanilla, alcohol |
| Serving Temperature | 50 – 55 degrees Fahrenheit |
Tasting Notes
Kentucky Bourbon Barrel Ale Tasting Profile
Kentucky Bourbon Barrel Ale Review
The Kentucky Bourbon Barrel is a strong English ale with an 8.19 percent alcohol content. The sipping beer has the nose of bourbon after being aged in barrels, giving it flavors of oak and vanilla. The beer has a clear pale brown color and hints of sweet malt and bread. It is a bit fizzy and warm but is a mostly smooth and light beverage.
You should pour the Kentucky Bourbon Barrel into a snifter, goblet, or chalice. These glasses have a small opening but become wider towards the middle. This allows the thin head to settle on the beer and makes it easy for you to swirl the beer in your glass to enhance the aroma.
The strong English ale is the perfect nightcap after dinner and can also be used as an after-dinner drink or aperitif with beef or hard-aged cheese. Since it's a sipping beer, you don't have to chug it down, but you can take your time and let it warm your mouth. The high ABV is something to look out for too.
– Appearance
The Kentucky Bourbon Barrel has a light copper to pale brown color with a khaki-colored head. Its appearance is bright and clear, with average carbonation that results in different bubbles floating to the top of the beer. The brown ale has a creamy head up to one finger high. It quickly fades into a thin ring and leaves thick lacing against the edge of your glass.
– Aroma
On the nose, the brown ale is mostly bourbon as the beer is barrel aged. There is a balance of fresh bread and sweet malt in the aroma, giving you a semi-sweet smell. The beer has hints of light oak and vanilla enveloped by caramel malts. The beer is sweet on the nose, with slight notes of sweet honey, creamy vanilla, coconut, and raisin.
– Mouthfeel
As for the palate, the Kentucky ale has a medium-light body with average carbonation and a semi-dry finish.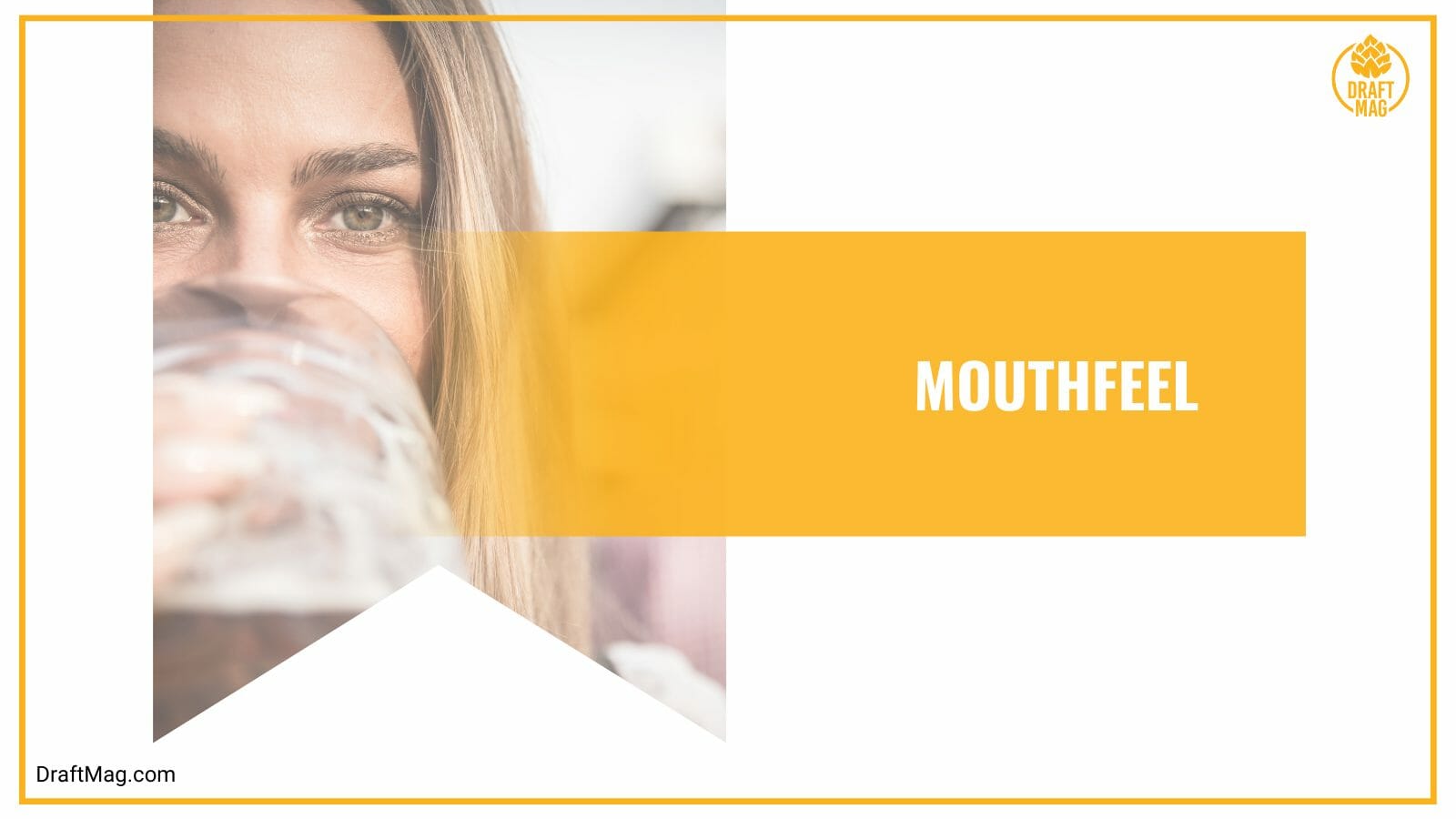 While the beer is smooth and robust, it has a slight fizzy feeling that tingles on your tongue, and some warmth is offered from the bourbon. The silky beer leaves with a lingering sweetness and a mostly dry finish.
– Flavor
When you taste the Kentucky Bourbon Barrel, you will notice the semi-sweet flavor, with a balance of caramel malt, oak, and earthy notes. There is slight vanilla and bourbon, too, with minimal bitterness. It starts sweet, although not as much as the nose, and there are hints of honey, earthy hops, and molasses in the front end of the sip.
Then you can taste toffee, brown sugar, spicy whiskey, and sweet vanilla when you swallow. The flavor will show the bourbon strongly, offering you a lot of warmth. Then, there is vanilla sweetness and a dry oak flavor towards the end. The flavor of this strong ale is not earthy but nutty with a strong aftertaste.
– Food Pairings
Despite being a complex beer, you can find different pairings for your Kentucky Bourbon Barrel beer. The beer goes best with big dishes like roast beef or lamb, which match its wine-like character. You should pair it with spicy salads, like those with arugula, or light meats like poultry or fish, which are also spicy.
You can have a beer with seared foods, jerk chicken, Cajun food, sausage, and beef. Also, normal snacks and everyday foods like burgers, Mexican food, Asian food, fried, spicy and nutty food, and buffalo wings are great while sipping the beer. Sushi and fish are great pairings too.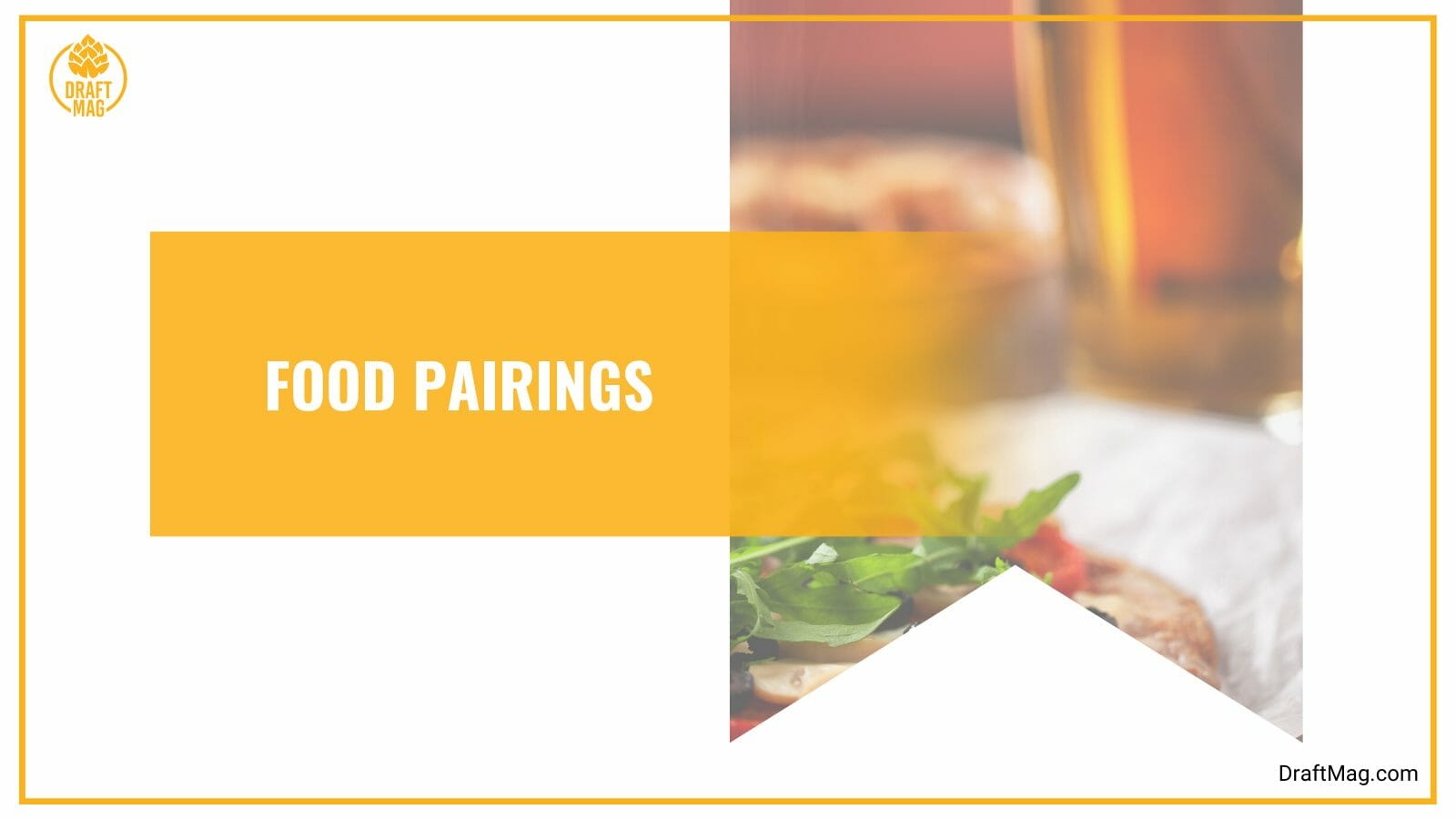 Try it out to satisfy your sweet tooth with a classic cannoli, plum-walnut tart, and toffee apple crisp. You can try it out with toffee and marmalade flavored sweets, shortbread, oven-baked pears, and mozzarella sticks.
Cheese lovers should have hard-aged cheese with this sipping beer. Some ideas include Gruyere, Swiss and Emmental cheeses. Stilton and blue cheeses will also go well with this rich, sweet, strong ale. You should consider having the Kentucky Bourbon Barrel beer as a nightcap with a snack.
Ingredients
The Kentucky Bourbon Barrel beer has been aged for six weeks in decanted bourbon barrels from some of the best distilleries in Kentucky. The charred barrels give you subtle flavors of vanilla and oak in this special ale.
Aside from being aged in oak and bourbon barrels, the beer is made with American 2-row malts, Carapils, Caramel, and Malted Wheat. It is also hopped with English hops as per the style, like Fuggles and East Kent Goldings. The yeast that is used is an English ale yeast strain.
Nutrition Facts
The Kentucky Bourbon Barrel beer has an ABV of 8.19 percent, while the IBU is 19. The ABV is pretty high and evident in the alcohol warming from the bourbon, but the beer is barely bitter, as the low IBU indicates. The beer has 12.33 grams of carbs, 0.6 grams of sugar, and 1.94 grams of protein.
There is also 13.85 mg of sodium and 0.5 grams of total fat, saturated fat, and trans fat each. Also, the beer has 1 gram of protein. There are 220 calories in every 12-ounce serving, which is pretty high. Consider this when calculating your daily dietary intake.
History
The Kentucky Bourbon Barrel is brewed by Alltech's Lexington Brewing and Distilling Co and was first released in 2006. It quickly became the brewery's flagship ale and has gained a lot of attention. It is the earliest craft beer from the brewery and was originally considered experimental.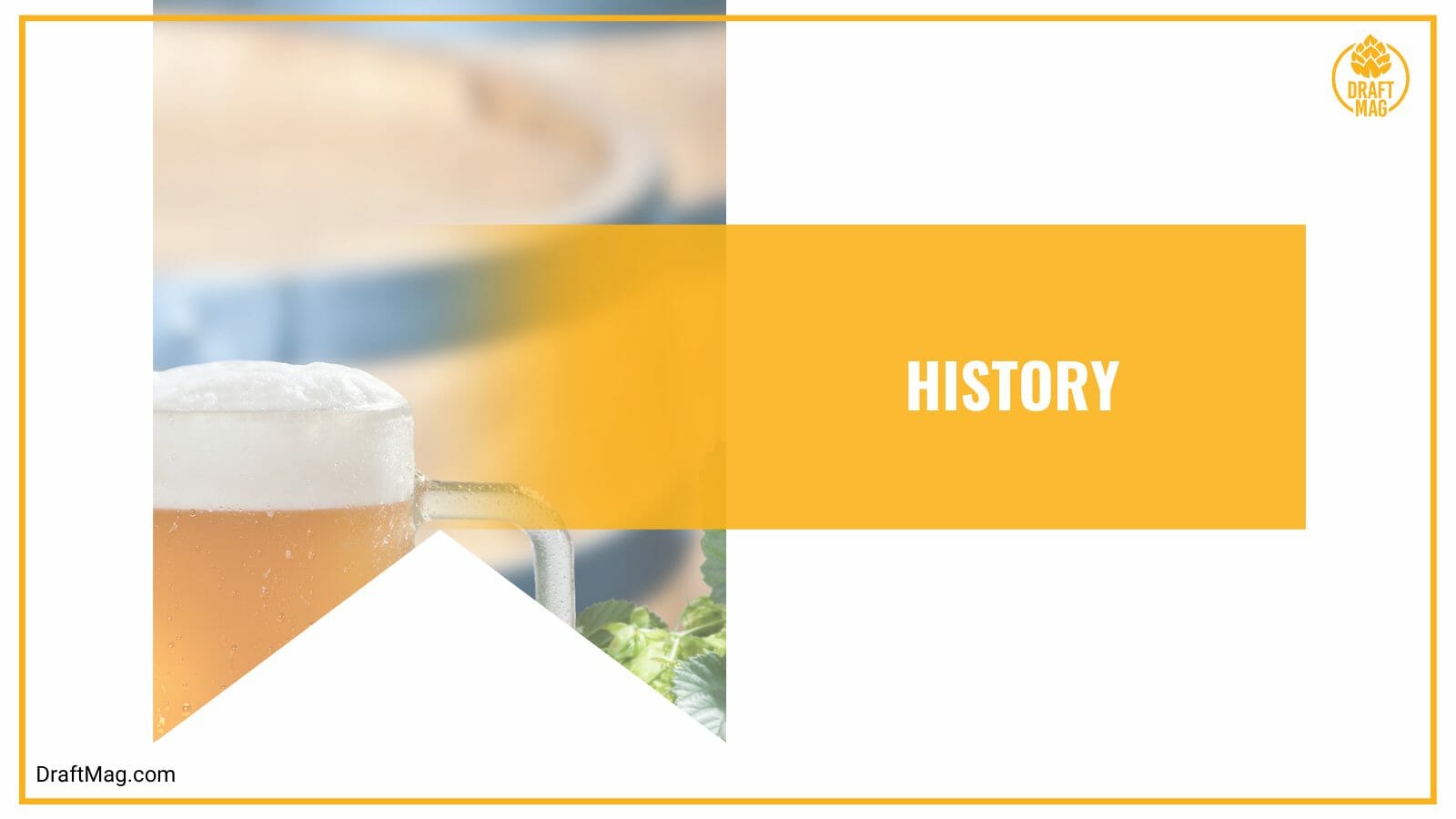 It has also won different awards, including silver from the World Beer Cup and another from the Great American Beer Festival. The brewery is owned by Alltech and was founded in 1999. It produces beers and spirits, many of which have won awards, and distributes distilling and brewing operations globally.
Conclusion
If you're looking for a delicious dinner or after-dinner beer, the Kentucky Bourbon Barrel beer is an ideal choice. Here is a summary of our review:
The Kentucky Bourbon Barrel Ale is a strong English ale with an 8.19 percent ABV from Lexington Brewing.
It has flavors and aromas of bourbon, fresh bread, oak, vanilla, and caramel, with a smooth and robust feeling and a sweet, semi-dry finish.
The beer is made with American 2-row malts, Carapils, Caramel, Malted wheat, Fuggles, East Kent Goldings, and an English ale yeast strain.
You should pour the ale in a snifter, chalice, or goblet.
The beer is best paired with roast beef, lamb, fish and sushi, spicy salads and other spicy foods, cannoli and shortbread, and hard-aged cheese.
If you want to know more about this strong ale, you can check it out online or at bars near you. Wherever you get a serving, it won't disappoint!