Tower Station IPA Review: Try This Drinkable Fruity India Pale Ale
The Tower Station IPA is a mainstay in the Mother Road Brewing Company collection and a fantastic example of the classic American India Pale Ale style. Bursting with tropical fruit and pine flavors, the unfiltered IPA is an all-season beer.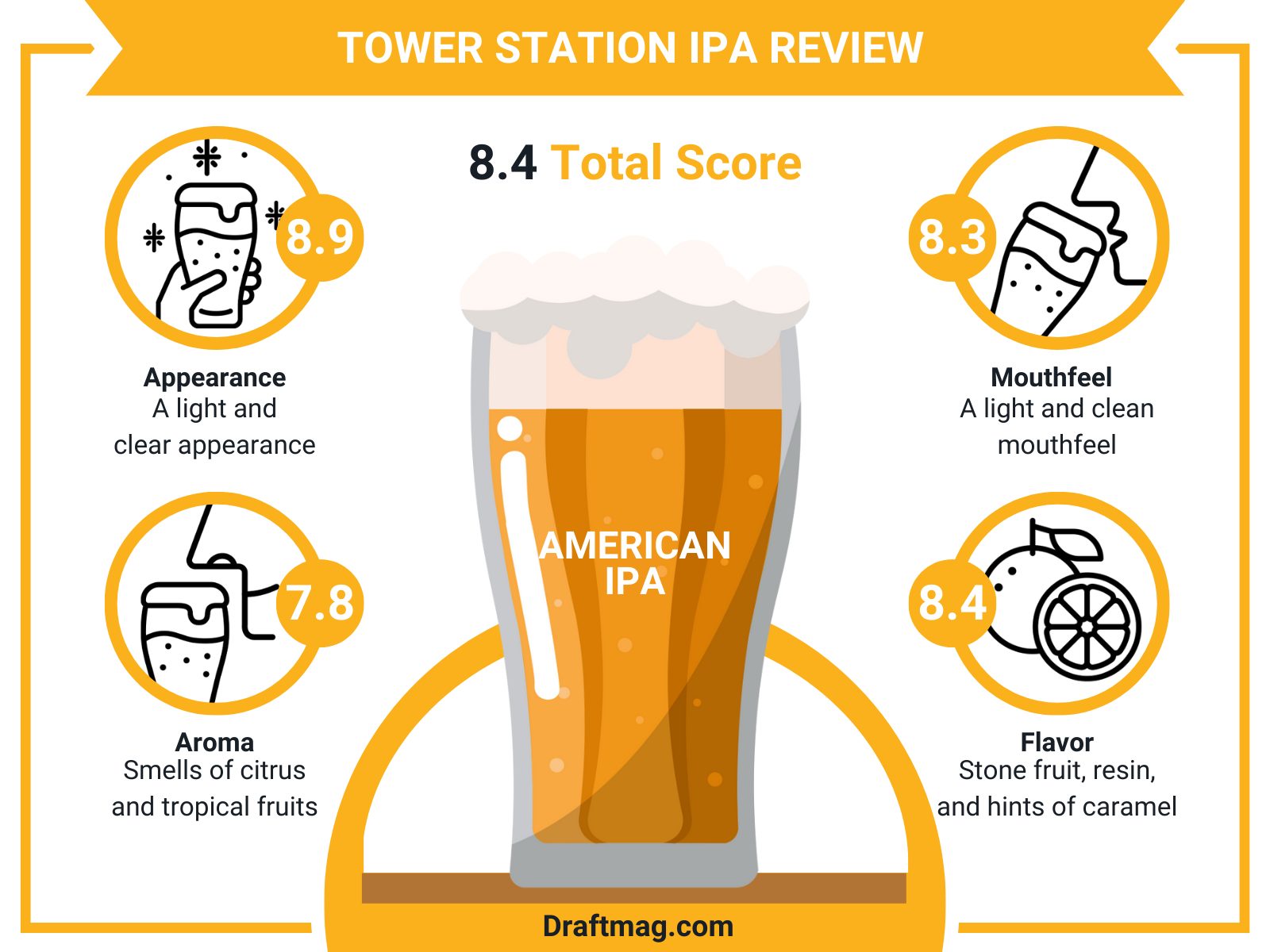 Whether you have a beer with friends or drink alone, the Tower Station beer is always fitting. If you're wondering whether you should get this beer, this review covers all you need to know about it.
Tower Station IPA Stats
| | |
| --- | --- |
| Country  | United States |
| Brand | Mother Road Brewery |
| Style | American IPA |
| Taste  | Fruity, pine |
| Body | Light to medium body |
| ABV | 7.3 percent |
| Flavors & Aromas | Citrus, tropical fruit, stone fruits |
| Serving Temperature | 45-50 degrees Fahrenheit |
Tasting Notes
Tower Station IPA Tasting Profile
Tower Station IPA Review
Tower Station IPA is an unfiltered IPA with a 7.3 percent alcohol content. The beer is named after the Tower Station on route 66 in Texas. The first thing you notice in Tower Station is the copper-orange hue and fluffy off-white head, giving you strong aromas of pineapple and tangerine.
The main flavors of the beer are citrus, tropical fruits, stone fruits, grapefruit peel, and pine. The fruity IPA might have a slightly above-average ABV but does not give off a boozy taste. If you want to enjoy the Tower Station beer best, you should serve it in a tulip glass, as the unique shape enhances the aroma and foamy head of the beer.
The beer is best served at 45 to 50 degrees Fahrenheit, with light and drinkable character. As an all-around IPA, the beer is perfect for all seasons and situations, whether you need a warm beer for a cold day or a cool beer for a hot day.
The drinkable, West Coast-style beer is pretty refreshing.
– Appearance
The Mother Road Tower Station beer pours orange to golden, with a light and clear appearance that will remind you of a bright peach color. A foamy white head with persistent retention is sitting on the beer, leaving behind a thick lacing on the glass and your lips.
– Aroma
On the nose, the Tower Station beer smells first of citrus and tropical fruits. You will notice orange, grapefruit, pineapple, and pine aromas, with a hint of light malt in the backbone. The scent has more pine and resin than grapefruits, giving you a feeling of grassy hops.
– Mouthfeel
As for the mouthfeel, the Tower Station beer has a light, clean feeling. The beer has a light to medium body, with moderate carbonation that presents itself in a fizzy feeling on your tongue. It feels full in your mouth, with very light alcohol burning at the back of your throat.
– Flavor
The Tower Station beer starts as a briefly sweet beer obtained from the grapefruit before transitioning to a long and smooth bitter taste. But it doesn't end here, as the beer also features a clean malt flavor afterward.
You can enjoy the sweet taste of stone fruit, resin, and hints of caramel malt before the bitter finish. The flavor also hints at grassy hops, pineapple, and citrus. It finishes with a slight grapefruit bite, and the taste of tropical fruit follows in the aftertaste.
– Food Pairings
If you have the Tower Station IPA, there are different kinds of food you can pair with it. The brewery recommends you pair it with fajitas, carrot cake, and green curry. The tropical fruity beer goes well with tacos and avocados, roast beef, chicken wings, and barbeque short ribs. You can also pair it with normal foods like burgers, spicy food, and pizza.
As for dessert, you can have the Tower Station beer with citrus-flavored foods like banana orange crepes, panna cotta with lemon, or a blood orange sorbet. You can enjoy the beer with earthy and light cheeses like a Cambozola, which will go well with the pine aromas and flavors. It also pairs well with cheddar, spicy pepper, and blue cheeses.
Ingredients
The Tower Station beer contains malts, hops, yeast, and water. Chinook, Columbus, Citra, and Simcoe are the hops used to make the beer. These hops are present in the flavors of grapefruit, orange peel, pine, tangerine, and pineapple.
As for the malt list, the beer is made with pilsner and pale malts. The beer's flavor is a clean malt taste with hints of caramel. If you want to make a Tower Station clone, you can use similar malts and hops in your brewing process. There are also different recipes that you can test out to make your version.
Nutrition Facts
The Tower Station IPA features a 7.3 percent ABV in every 12-ounce can and an IBU of 70, so you can expect hints of bitterness in the taste. The ABV is as expected from an American IPA, but the beer does not have a boozy flavor to distract you from hops.
The beer has a total of 230 calories in a 12-ounce serving, so drinkers watching their dietary intake should consider this. The beer features 1 gram of sugar and 3 grams of protein in every can. It also has 10 mg of sodium and 1 gram of fiber.
History
The Tower Station IPA was brewed by Mother Road Brewing Company and named after the Tower Station. On Route 66, thirsty motorists usually visit the station for its hospitality, It opened in 1936, and you can still visit the brewery today.
It is one of the brewery's flagship beers and started with an extra pale ale recipe. The brew team worked with guests to test the beer before finally making a perfect batch.
Conclusion
The Tower Station beer offers an excellent example of what a classic IPA should be, and it's not surprising it's one of the most popular beers. Here are some highlights of this beer review:
Tower Station is an American IPA made by Mother Road Beer, with a 7.3 percent ABV.
The beer combines tastes and aromas of grapefruit, orange peel, and pine to give you a crisp, light to medium body.
The recipe includes pale, pilsner malts, and Chinook, Columbus, Citra, and Simcoe.
It is best when consumed in a tulip glass, with citrus garnishing when cold.
It goes well with grilled, spicy foods, citrus-flavored desserts, and earthy cheeses.
You can try the Tower Station at Mother Road Brewery in Arizona or purchase it at a nearby liquor store.