Modelo Mango Chelada Review: Spicy Mango Beer for Something New
When it comes to unique beers, the Modelo Mango Chelada is always a great beer to start with. Combining the fruitiness of the mango with the spice of chile peppers, the michelada-style beer brings the vibrancy of Mexico to your tongue.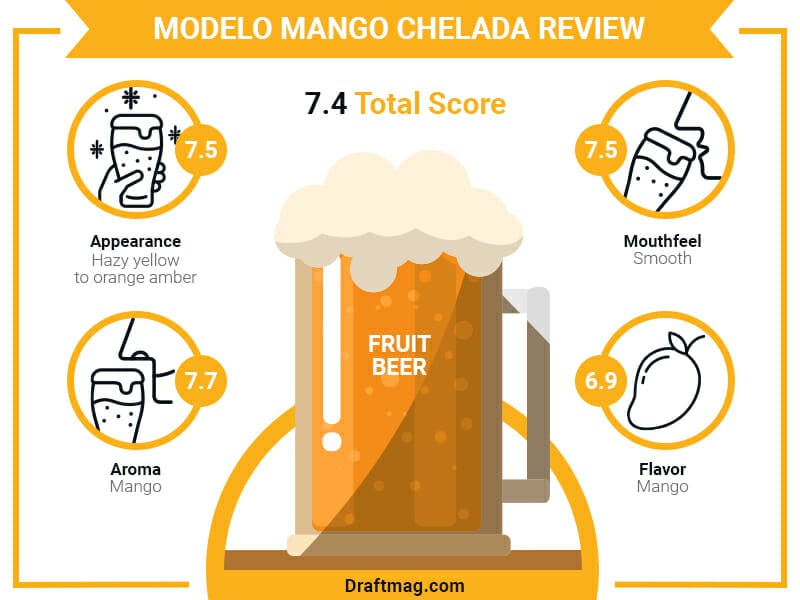 The Cerveza offers a refreshing taste and vibrant flavor, making it the perfect thirst-quenching beer for any season. Our Mango Chelada review covers all you need to know about the fruity beer.
Modelo Mango Chelada Stats
| | |
| --- | --- |
| Country | Mexico |
| Brand | Grupo Modelo S.A. de C.V. |
| Style | Fruit beer |
| Taste | Mango, Spice |
| Body | Light to medium body |
| ABV | 3.2 percent |
| Flavors & Aromas | Mango, chile peppers, spice, tropical, citrus |
| Serving Temperature | 45-50 degrees Fahrenheit |
Tasting Notes
Modelo Mango Chelada Tasting Profile
Modelo Mango Chelada Review
The Modelo Chelada Mango y Chile is a Mexican import flavored beer made by Grupo Modelo. With its michelada style, the beer offers a good balance of fruit and spice and is praised for its invigorating flavor and delicious experience.
The Cerveza has an authentic Mexican character, evident in the ingredients and flavor of chile peppers. It also has a low ABV, making it the ideal choice for those who want to drink a refreshing, thirst-quenching beer without getting drunk quickly.
Chelada Mango y Chile is best served in a pint glass, with a good balance of flavors and aromas. It has a light, drinkable body that goes down easily and a moderate amount of carbonation to give the tingly, fizzy feeling that beer lovers enjoy.
– Appearance
The Modelo Chelada Cerveza pours hazy yellow to orange amber, with a fizzy, foamy head that dissipates rather quickly. The head leaves no lacing on the sides of your glass, but you notice a ring of white bubbles around the edges. With a hazy appearance, the beer has a visible amount of carbonation and slight hues of amber.
– Aroma
The Mango Chelada has a strong mango aroma on the nose, but the fruity scent appears ore tropical. There are hints of orange and apricot too. The red chile peppers also appear in the aroma, making it a bit spicy. The mango aroma is pretty sweet and moderate, not affecting the flavor.
– Mouthfeel
The fruity beer has a light to medium body with a smooth mouthfeel. It is a thin-bodied beer with some oil viscosity, as the beer is not dry. The alcohol also feels warm on your palate, while the carbonation adds a soft sizzle to your tongue while drinking.
– Flavor
As for the taste, the michelada-style Cerveza starts with a strong and natural mango flavor. The mango flavor is combined with other tropical fruits like passionfruit and apricot. It is followed by chile Mexican peppers that give it a spicy, peppery taste.
The fruit and spice do not take away from the beer character of the Chelada Mango y Chile, as you will taste the malty backbone that adds a semi-sweet flavor. The flavor follows the aroma, and the chile carries into the finish.
In the aftertaste, you can taste orange flavors and slight peppers.
– Food Pairings
You can pair the Modelo Mango Chelada with a wide range of foods, especially those with similar flavors. It goes well with foods that have herbs and spices, including chicken, meat, and fish, especially light white meat. You can also pair it with duck and pork dishes that have sweet components or sweet and sour food.
Pickled dishes also go well with the Mango Chelada and salads with fruity dressing. As for desserts, it's always best to go with fruity desserts. Fruit cakes, pie, and mango-based desserts go well with the beer. Other pairings include toasted nuts, feta crumbles, and flourless cake.
Cheese lovers can choose mascarpone and bleu cheese when pairing with the Mango Chelada.
Ingredients
The main ingredients of the Mango Chile Chelada beer are authentic mango and chile peppers. This adds natural flavors of sweet and spicy to the beer. Aside from this, the beer is made with barley malt and non-malted cereals in the malt list.
Despite the strong flavors of fruit and spice, the malt and cereals seep into the flavor to retain the true beer character. This is in the form of caramel and malty sweetness. Some other ingredients include different kinds of hops, water, natural lime flavor, and salt.
Nutrition Facts
The Modelo Mango Chelada has a 3.2 percent ABV, lower than the average level. This ensures there's hardly any alcohol warming, and you won't get drunk quickly. In a 12-ounce serving, the beer has 278 calories, which is much higher than the average. It also has 36.2 grams of carbs and 2.6 grams of protein.
In a 12-ounce serving, the beer also offers 1,000 mg of sodium and 1,130 mg of potassium, but there is no fat. The beer has a high level of carbs, so it's not ideal for a keto diet. It also contains gluten and poses a risk for those with allergies.
The beer is brewed for vegans too.
History
The Modelo Chelada Mango y Chile is brewed by Grupo Modelo, a Mexican-based brewing company. The Mango y Chile Chelada was launched in 2020 and quickly became popular, not only among those in Mexico but in the United States too. It was designed as a summer beer and came with a recipe for making it into a cocktail.
You can best enjoy the fruity beer with a lime-covered rim, chili powder, salt, fresh mango, chamoy sauce, a mango wedge, and served cold.
Conclusion
If you're a lover of fruity and spicy beers with a bit of malty sweetness, you'll enjoy drinking the Mango Chelada beer. The Cerveza is well-liked among others and became a huge hit after its release, so here is a summary of the points we covered in this article.
Mango Chelada is a Grupo Modelo fruit beer made with mango and chile peppers.
The beer has flavors and aromas of mango, spicy chile, and tropical fruits, with a malty backbone.
It is brewed with natural mango, chile peppers, barley malts, non-malted cereals, and hops.
The beer is best consumed with a mango wedge or slice, chamoy sauce, lime-covered, fresh mango cubes, or a sprinkle of chile powder.
It pairs best with herby and spicy foods, salads with fruity dressing, other fruity desserts, and blue cheese.
You can satisfy your curiosity about the Mango Chelada beer by checking out liquor stores, brewpubs, and other places that sell beer. It's a popular beer distributed widely and available for online sales.