Corona Beer has been the go-to alcoholic beverage for millions of Americans for virtually all occasions. The Corona brand has different varieties, including Corona Extra, Corona Light, Corona Premier, Corona Familiar, and hard seltzers. These different types of alcoholic beverages are highlighted and detailed in this article!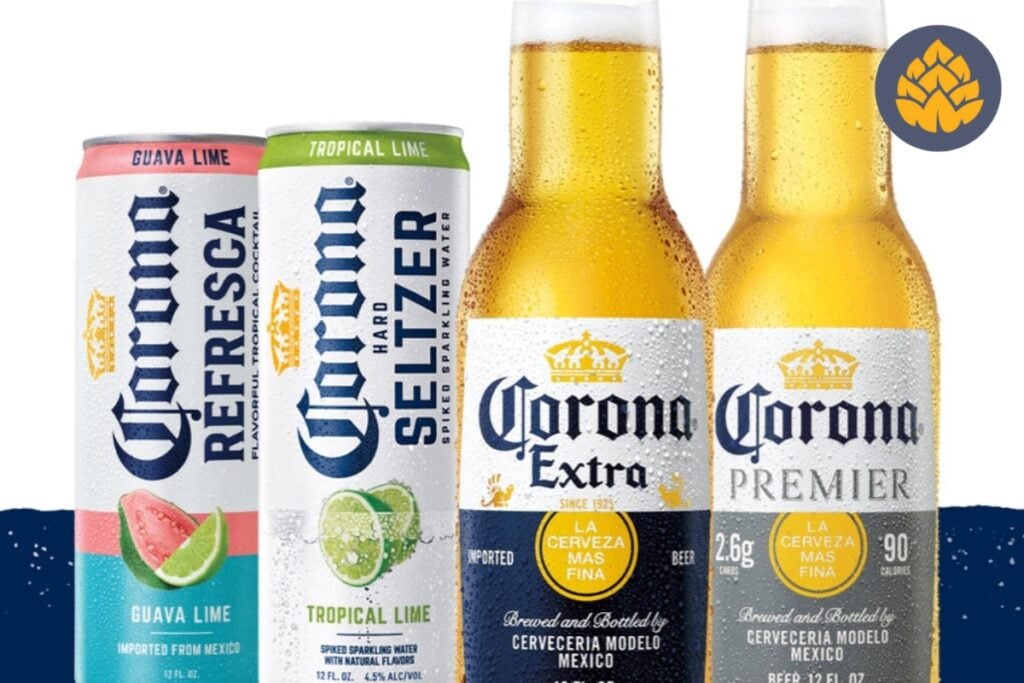 Everything You Need To Know About The Corona Beer Brand
Corona Extra Beer was created in 1925 in Mexico, the same year as Modelo, by the Grupo Modelo. The golden liquid, with its refreshing taste and clean finish, has put it into debates with other top beers like Modelo and Pacifico.
This has paved the way for several other Corona beer products with unique tastes that are perfect for summer parties and drinking occasions with your friends.
The Corona Extra stands out from the other beers, being the only product of the company to come in a 335 ml bottle. It's popularly served at parties and bars with a lime wedge to give that additional citrus flavor. But away from the Corona Extra, there are several other of their products that give the classic beer a run for its money!
This is especially seen in the popular Corona Extra vs. Corona Premier Beer debates, where the latter has just almost half the carbohydrates in the Extra. These products and more are detailed in the following headings.
Corona Extra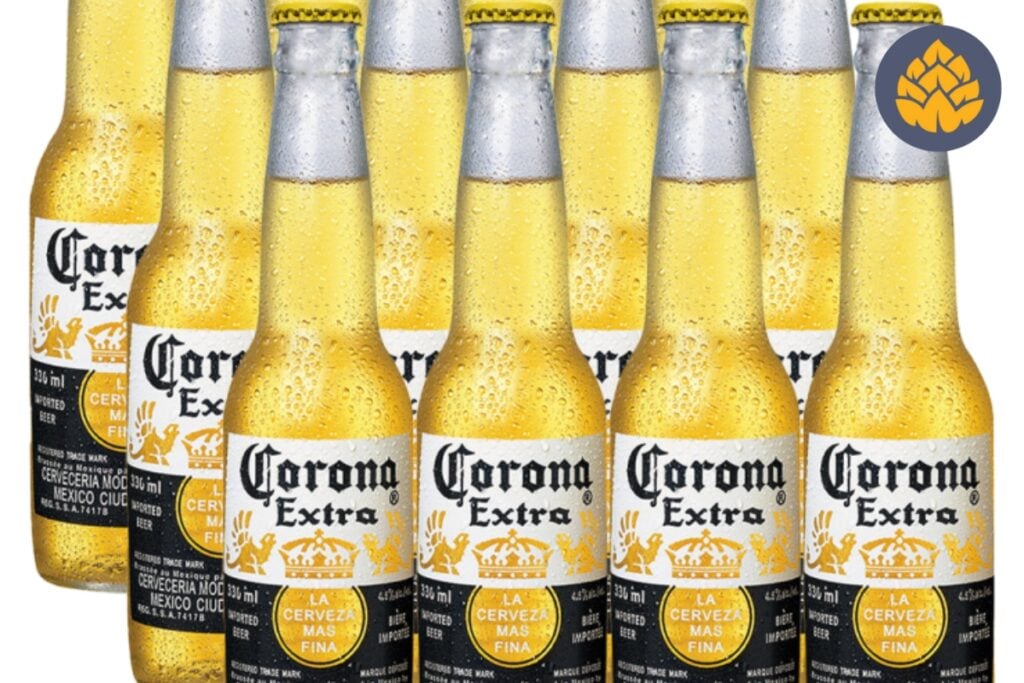 Corona Extra is one of the biggest-selling beers in the world, with reports of it being the most imported beer globally. The Mexican beer is made with malt crisps and well-balanced hops to give you the perfect balance between light and heavy beer. It also incorporates other ingredients, such as yeast, filtered water, malted barley, and corn.
This bottle of beer is brewed to leave you with a sugary taste on your palate. It's best combined with hot & spicy foods, including hot wings, Thai dishes, and Salsa. Corona Extra comes with an abv of 4.6%, 148 calories, and 13.9 grams of carbs. The Corona Extra beer comes in bottles and cans to purchase online or at your nearest retail store.
Corona Light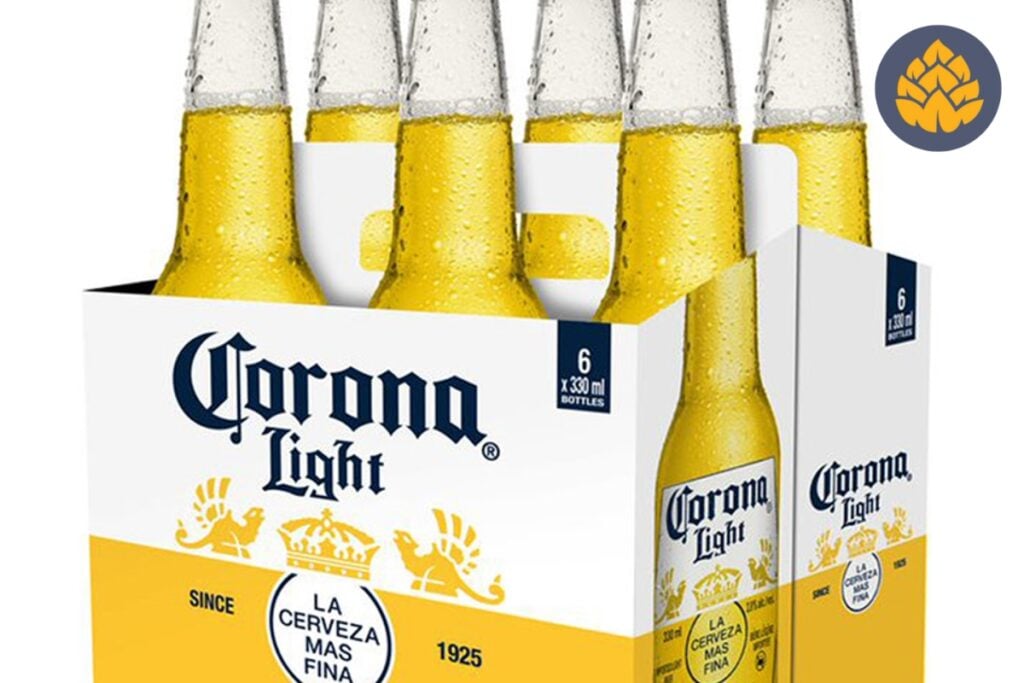 Corona Light is known in the beer market as the healthier version of all Corona products. However, compared to some other products, like the Corona Premier, the Corona Light has more carbohydrates and calories. Corona Light is made with non-malted cereals, yeast, hops, water, and barley malt.
Although the beer is not gluten-free, it's a healthy and refreshing choice to have for family gatherings, movie dates, and game days. The drink has 4.8g of carbohydrates, 99 calories, and 4.0% abv. You'll enjoy the Corona beer with citrus-infused and spicy dishes.
Corona Premier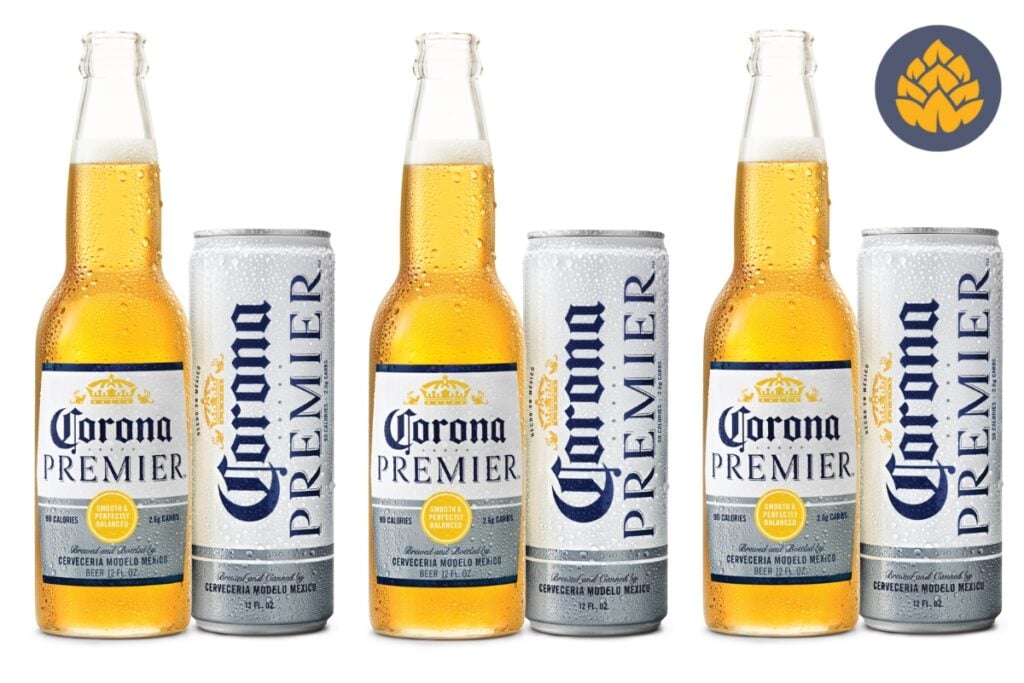 This is also a light beer that's a major upgrade from the Corona Light beer brand. It's a beer with smooth drinkability suitable for all occasions. Similar to other Corona beers, the drink is brewed with Barley Malt, Non-Malted Cereals, hops, and water.
You'll enjoy this premier drink with grilled dishes, including pork, chicken, and fish. It contains 2.6g of carbs, 90 calories, and 4.0% abv. Its carbohydrates and calories are lower than that of the Light, and you might need this guide that compares Corona Light and Corona Premium to decide which is best for you.
Like the other Corona products, this beer also comes in cans and bottles to retain in online stores or in physical liquor stores.
Corona Familiar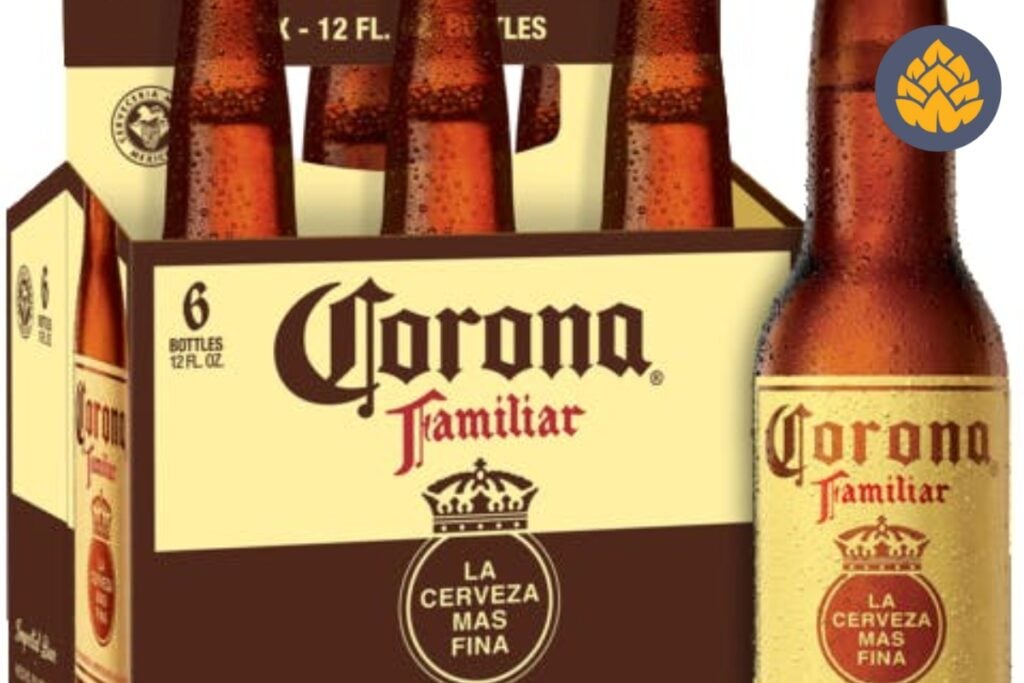 As the name implies, this is the Corona beer to share with your family and close friends. It's brewed with barley malt, hops, water, and non-malted cereals as the primary ingredients. The aroma of the drink has notes of caramel, malt, and fruits to accompany the refreshing taste of the drink.
The rich and crisp taste of the drink is best paired with dishes such as salads, fish, and chicken. You'll find that this drink has a higher content of alcohol, carbs, and calories compared to the other drinks from Corona. Hence, you're advised to drink responsibly.
The drink contains 14.6g of carbs, 156 calories, and 4.8% abv. It comes in cans and bottles and has a richer flavor compared to the classic Corona Extra beer.
Corona Hard Seltzers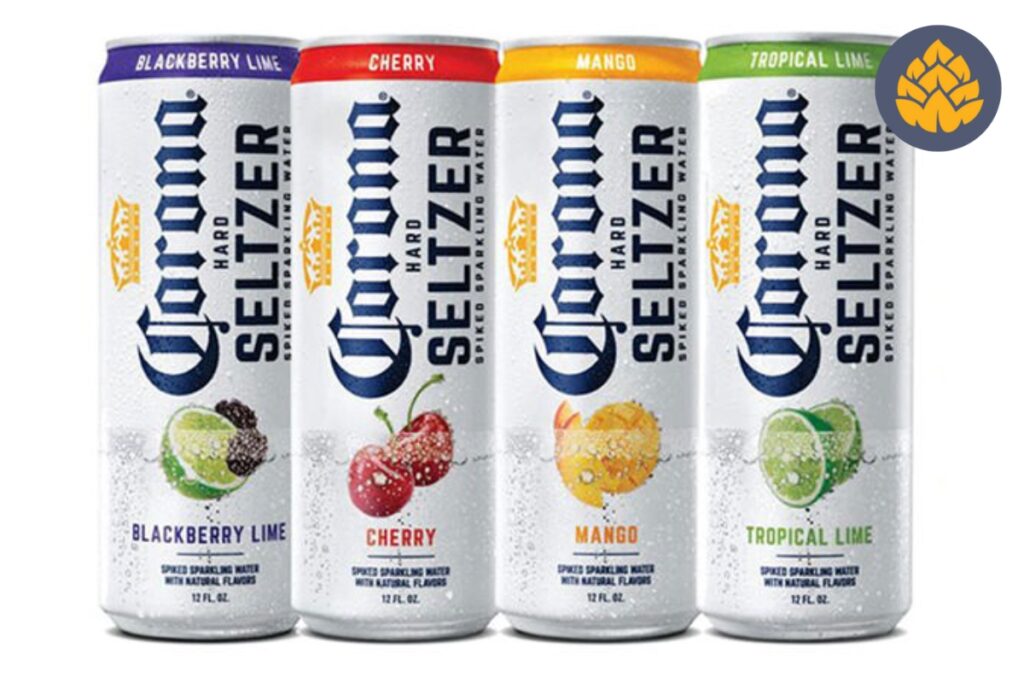 These hard seltzers come in different fruit flavors that make them the perfect match for anything you want to do in the summer. Whether you're serving them at dinner or parties, these come in variety packs that will serve your occasions. The different packs you get include blackberry-citrus, strawberry-kiwi, blueberry-acai, and raspberry-lemon.
They're gluten-free as they're made from carbonated water, citric acid, alcohol from sugar, and natural flavors. Each of the hard seltzers variety has 100 calories, 3g of carbs, and 4.5% abv. The flavor you get from the blackberry-citrus is crisp & floral, the raspberry-lemon gives you sweet & refreshing, strawberry-kiwi gives you smooth & fruity, and blueberry-acai gives you bright & sweet.
These drinks are predominantly in packs and can be ordered online and in retail liquor stores.
Corona Hard Seltzers Seltzerita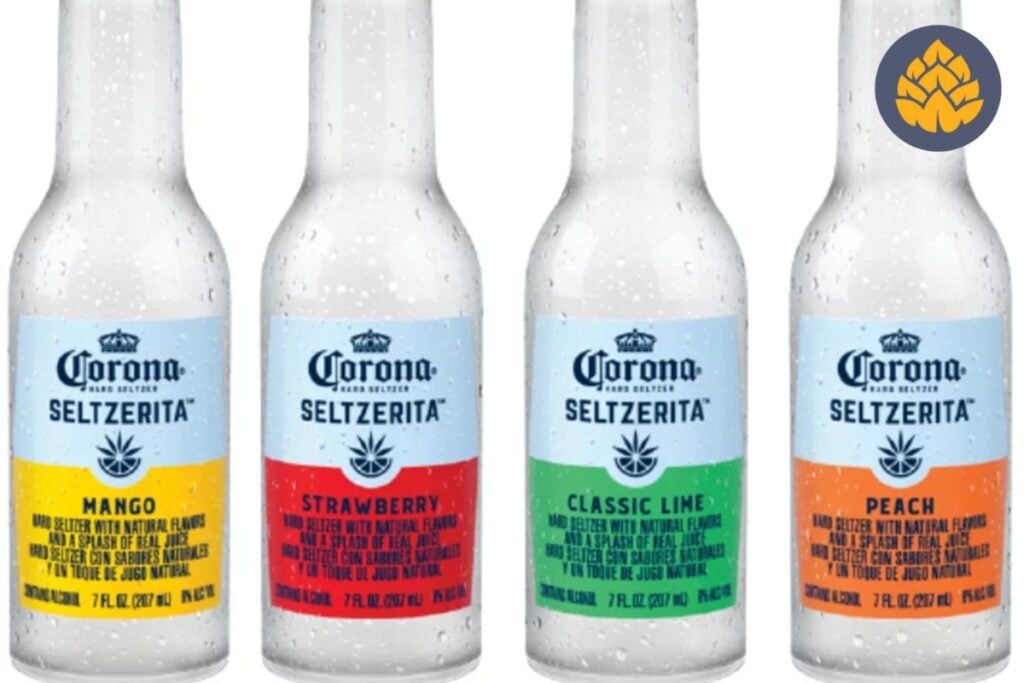 These are hard seltzers with a single flavor, including classic lime, strawberry, mango, and peach. Compared to the classic hard seltzers, these contain 6% abv, four grams of carbs, and 130 calories. They're the perfect drinks to have at your beach parties.
FAQs
Who sells and distributes Corona beer in America?
Constellation Brands have the exclusive license to sell and distribute all Corona products in the states.
What's the highest calorie count in a Corona beer?
The highest calorie count is in the Corona Familiar drink, with about 156 calories present.
What other Corona products are there?
You have the Corona non-alcoholic beer and the Corona hard tropical punch.
Alternatives and Comparisons
If you're seeking popular alternatives to Corona, this section has you covered. We take a look at internal and external comparisons.
Modelo is a stronger and richer beer compared to Corona. However, Corona retains the title of the world's most imported beer.
Corona Extra has a larger volume, more carbs & calories, and more sweetness than the Corona Premier. Also, the extra has a higher abv.
The familiar beer has a biscuity flavor profile with a smooth finish, while the extra has a malty flavor profile with a crisp finish.
Related Articles
Discover a beer similar to Corona with our guide, and enjoy this review of the best summer beers.
Wrapping Up
With this review of the Corona beers, you now know to get your hands on the best suitable product for your next special occasion! Order yours online or walk into the nearest store to you!