Goose Island 312 Review: A Bright and Crisp Wheat Beer for All
Goose Island 312 is a light and crisp wheat beer that offers a drinkable flavor for all beer lovers. The refreshing summer beer does not come off as a wheat ale in the first impression and combines light biscuits with some lemon citrus.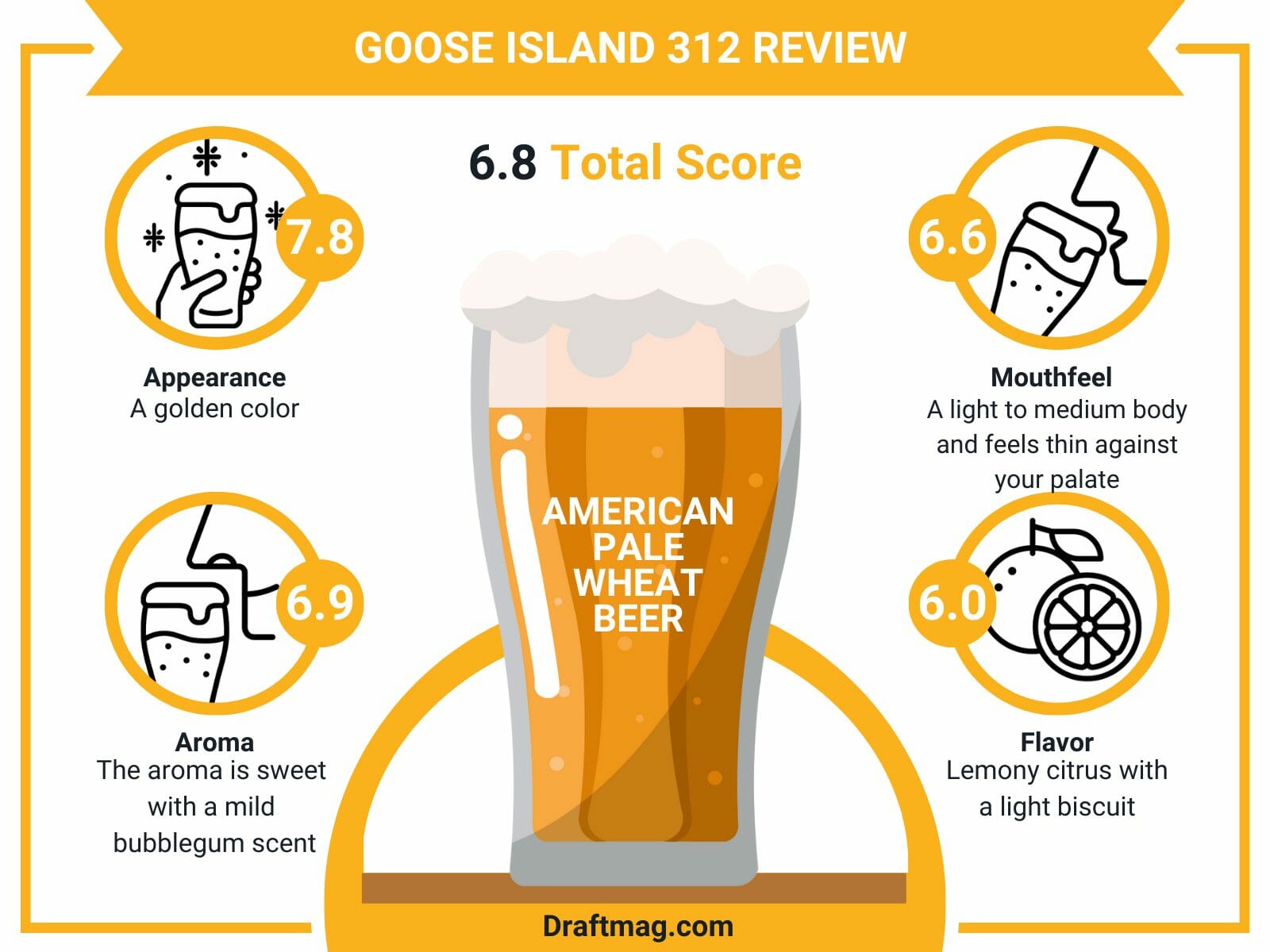 With the 312 Urban Wheat, you can enjoy a crushable and flavorful beer for any occasion. Check out our complete review of the 312 beer below.
Goose Island 312 Stats
| | |
| --- | --- |
| Country  | United States |
| Brand | Goose Island Beer Co |
| Style | American Pale Wheat Beer |
| Taste  | Malty, citrus |
| Body | Light to Medium Body |
| ABV | 4.2 percent |
| Flavors & Aromas | Cracker malts, banana, spice, yeast, citrus |
| Serving Temperature | 40 – 45 degrees Fahrenheit |
Tasting Notes
Goose Island 312 Tasting Profile
Goose Island 312 Review
312 Urban Wheat is an American pale wheat beer with a 4.2 percent alcohol content. The light wheat beer features a smooth finish with flavors and aromas of cracker and malts, banana, yeast, spice, lemony citrus, and cloves.
The perfect temperature for serving your 312 is 40 to 45 degrees Fahrenheit, and it is best poured in a Weizen glass. The tall glass starts skinny but becomes wider at the top, able to hold the foam near the rim. Garnish the beer with a lemon or orange slice.
With its refreshing and drinkable nature, you can have the 312 Urban anytime. The beer has a low ABV so you will not get drunk quickly. Have it on a hot summer day or when hanging out with friends.
– Appearance
The 312 beer pours a straw yellow to golden color and has a hazy appearance. The white head looks like a thick cream and is as high as three fingers.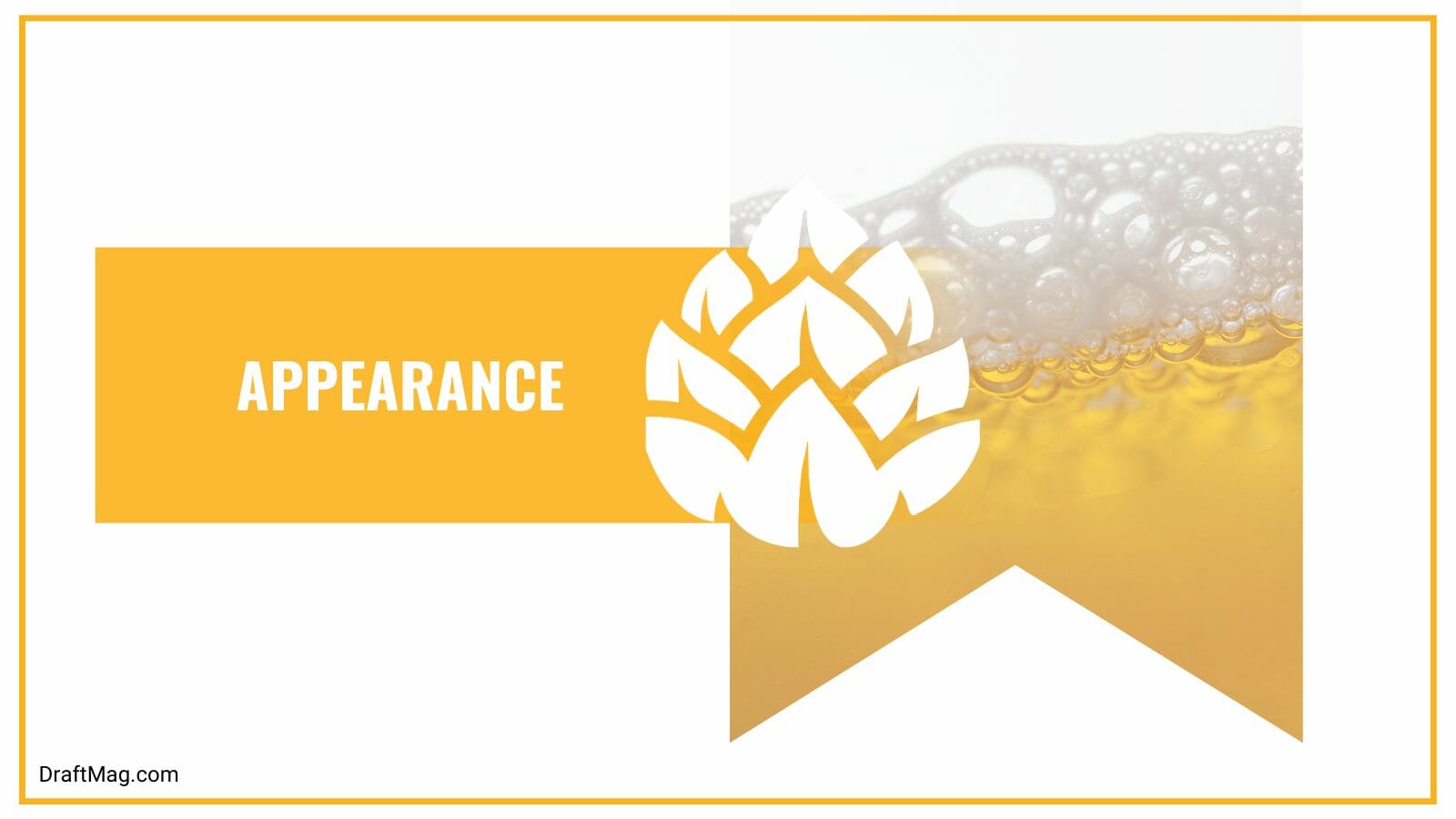 It lingers for a while and looks great in a Weizen glass, but as it dissipates, it leaves minimal spotty lacing.
– Aroma
On the nose, the aroma is sweet and has a mild bubblegum scent. Accompanying the sweet scent is the aroma of wheat with slight lemon peel. There are hints of bread, floral, and grass in the aroma of the malts and hops.
– Mouthfeel
The 312 wheat beer features a light to medium body and feels thin against your palate.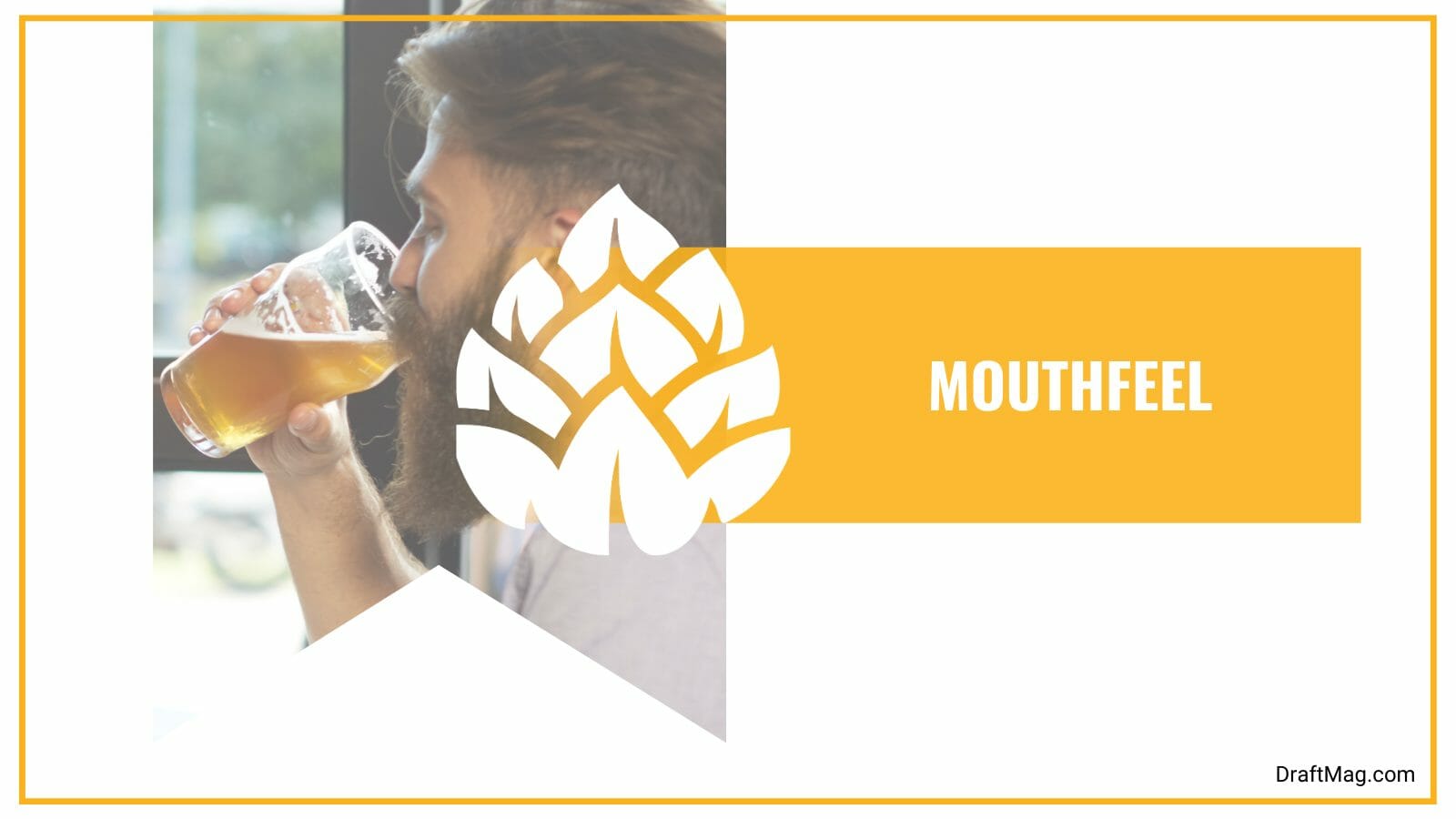 The moderate carbonation gives you a sharp and sudsy feeling on the tongue, and it finishes dry and clean. The approachable beer feels wet and is really refreshing, going down smoothly after every swallow.
– Flavor
The taste of the 312 Urban beer follows the aroma, mostly offering lemony citrus with a light biscuit. The beer has a flavor of fresh biscuits from the malts, and there are subtle hints of banana, cloves, and lemon. There's a lot of wheat enveloping the beer, with a slight spiciness.
The drinkable wheat ale has a balanced flavor with nothing special standing out. Wheat and grain are the dominant flavors, presenting themselves in the cracker biscuit, and there are tasty hints of honey. The beer finishes slightly bitter and creamy with a bit of dryness.
– Food Pairings
The 312 Urban offers a light bready wheat malt, and this will go well with beef skewers, spicy orange peel chicken, teriyaki chicken, and Kung Pao chicken. You can try out this beer with salty, savory foods or spicy Pad Thai and other spicy dishes.
Other options include buffalo wings, salads, spicy noodles, and pastries. The beer is flexible when you're matching foods because of its drinkable and balanced nature. Pair it with lighter food like chicken, salmon, Mexican dishes, and other spicy food, salads, bratwurst, pork, chicken, and sausage.
If you enjoy cheeses, you can have this light wheat beer with fresh burratas, mozzarella, and chevres. Also, aged goat cheese is a fantastic pairing. Satisfy your sweet tooth with lemon bars, carrot cake, and banana bread, which goes well with the citrus, banana, and clove flavors in the wheat beer.
Ingredients
The 312 is made with malts, hops, yeast, and water. The malts used to make the beer are 2-row and wheat malts. This gives you flavors of fresh biscuits, crackers, and wheat. As for the hops, these are Millenium, Hallertau, and Cascade. The hops are barely evident in the flavor, but it contributes some hints of fruit and citrus.
Nutrition Facts
The 312 Urban Wheat ale features an ABV of 4.2 percent, which is not noticeable in its aroma and flavor. With the low ABV, you can start drinking in the afternoon. The beer also has 18 IBU, which shows the minimum amount of hops in it.
As for the calories, it has 128, and this is a pretty decent level. Consider this when calculating your daily dietary intake. There are also 13 grams of carbs in every 12-ounce beer serving. The beer is not an ideal beverage for those on a keto diet and is not gluten-free. Also, avoid drinking this if you're allergic to wheat or its derivatives.
History
The 312 Urban ale is from Goose Island Beer Co, a leading brewery in Chicago. The beer is inspired by the city of Chicago and was released in 2004. It has remained one of the top beers from the company. On the packaging, you will see the city skyline as it pays homage to Chicago.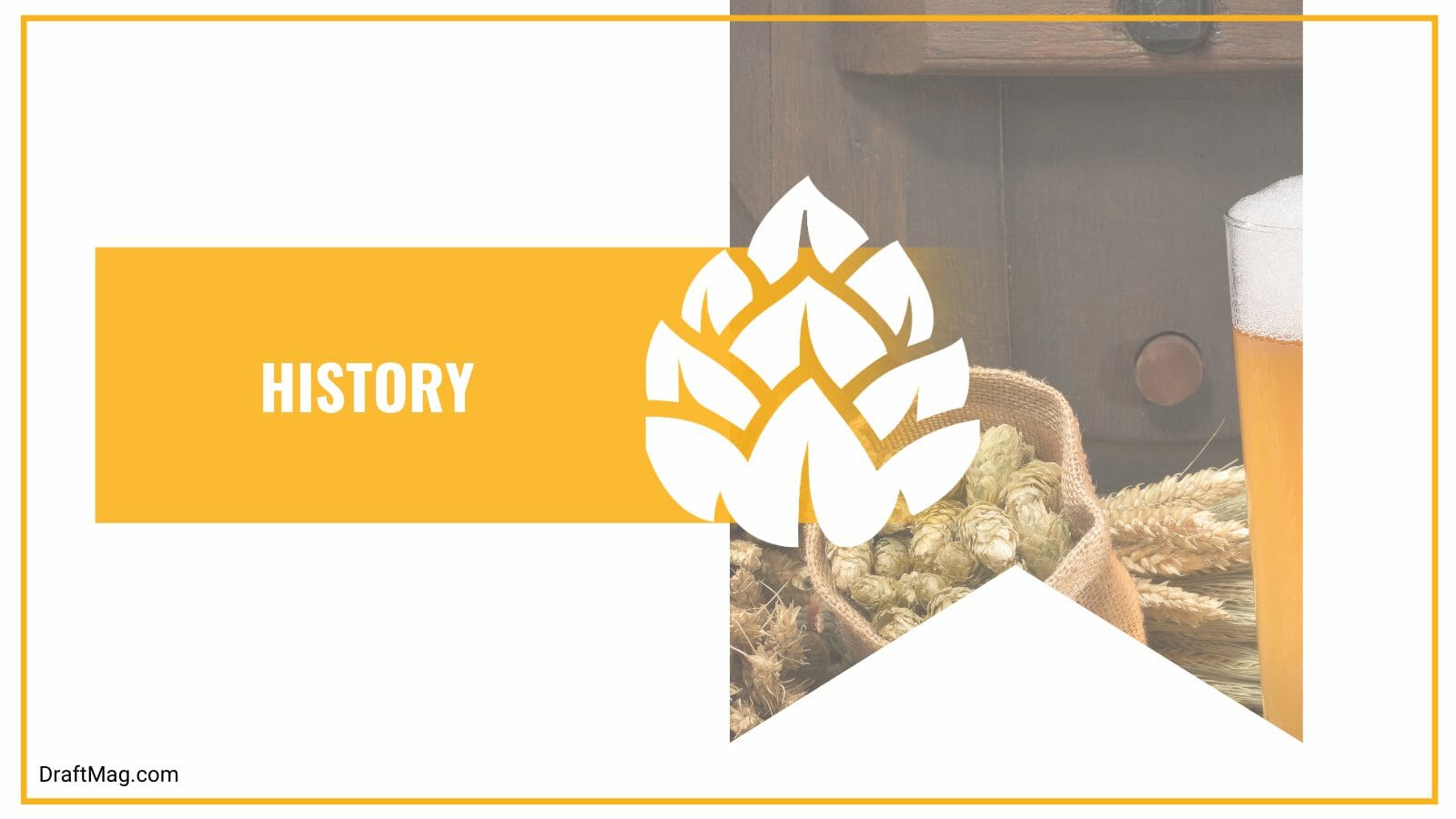 The brewery is one of the top breweries in Chicago, which started as a single brewpub in 1988 in Lincoln Park. After the founder, John Hall, experienced different kinds of beers in Europe, he decided to bring this to Chicago.
Conclusion
The 312 Urban Wheat ale is a delicious and drinkable wheat beer for keeping you refreshed on any occasion. Before you go, here's a summary of our review:
312 is an American pale wheat beer with a 4.2 percent ABV from Goose Island.
The beer has flavors and aromas of cracker malts, spice, banana, lemony citrus, and yeast, with a dry and creamy finish.
It is brewed with 2-row malts and wheat, Millenium Cascade and Hallertau hops, yeast, and water.
It is best served in a Weizen glass to retain the foamy head while cold.
Pair the beer with spicy, salty, and savory foods, light foods and everyday snacks, fresh cheeses, and desserts.
If you're curious about the 312 beer, you can check it out whenever you're in Chicago to get it right on draft. It is also available in cans and bottles in stores near you.