Molson Golden Review: Is This Adjunct Lager Worthy of Purchase?
Molson Golden beer has become a favorite among many beer drinkers in the country due to its taste and the brand's popularity.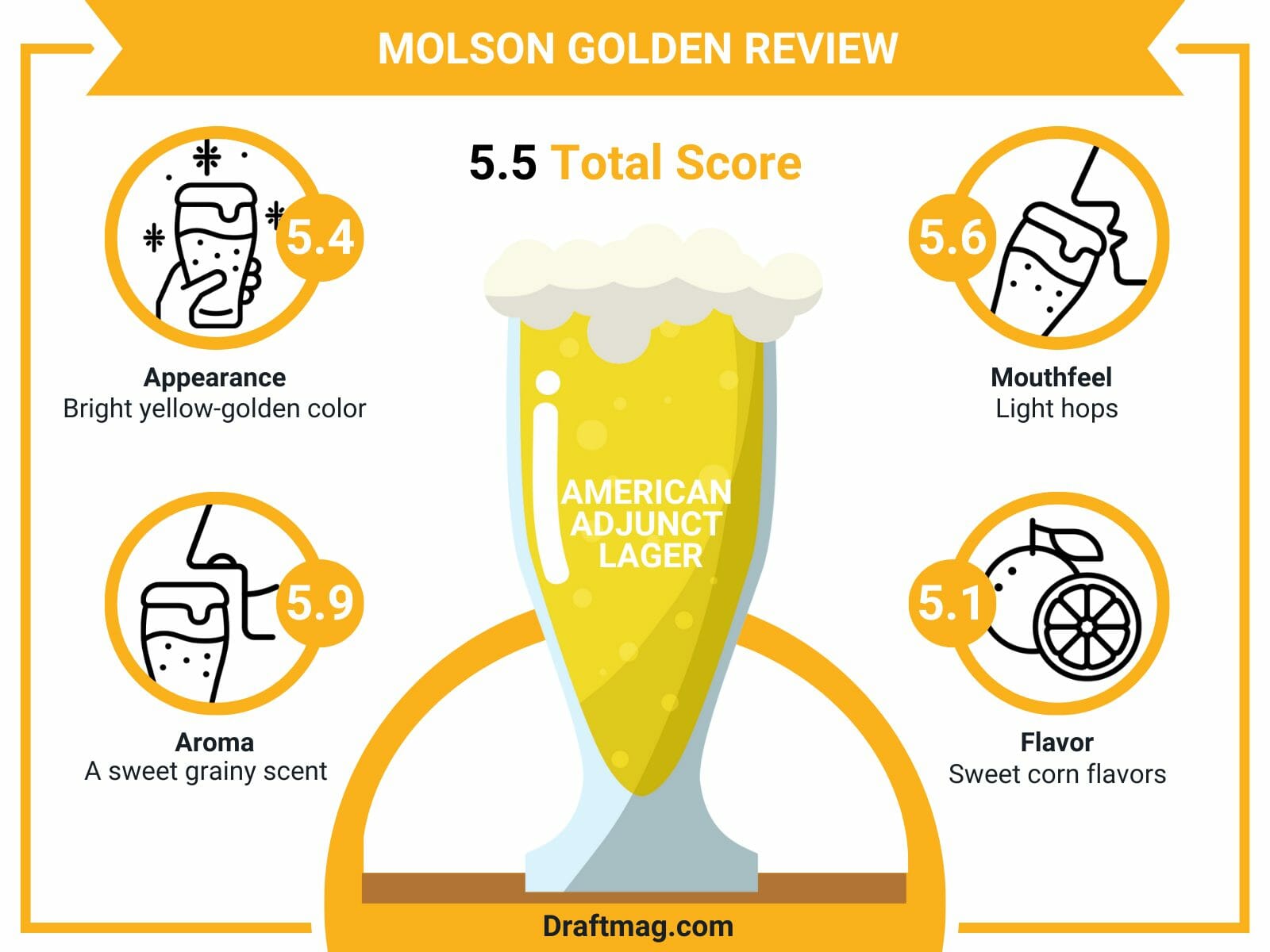 This refreshing lager has an interesting blend of hops, corn syrup, and yeast. Our complete review helps you decide whether it's worth the purchase or not, so read on!
Molson Golden Stats
| | |
| --- | --- |
| Country | Canada |
| Brand | Molson Coors |
| Style | American Adjunct Lager |
| Taste | This beer tastes sweet, with its sweetness derived predominantly from corn, malt, and faint citrus notes. There's a mild hoppiness as well. |
| Body | It is medium-bodied with minimal carbonation. It's crisp and smooth, with a lingering sweetness balanced by light hops. |
| ABV | Five percent |
| Flavor and Aroma | Its flavors and aroma are sweet corn, malt, wheat, grass, light hops, and muted citrus notes. |
| Serving Temperature | 45 – 50 degrees Fahrenheit |
Tasting Notes
Molson Golden Tasting Profile
Molson Golden Review
It wouldn't be wrong to describe this beer as sought after by many beer drinkers. However, our review helps you decide if this popularity is due to a unique taste or mere hype. Our beer experts critically examine this beer based on the following categories.
– Appearance
This beer pours a clear, bright yellow-golden color with minimal haze. A fluffy inch of foam head rises to the top of the glass after pouring and settles for some minutes. Once it dissipates, a frothy layer coats the top of the beer and remains for some time. There's also a ring of lacing that clings to the side of the beer glass with every sip you take.
One noticeable thing about this beer is its lack of carbonation, which can be seen in the scattered tiny bubbles moving through the beer glass. Although this beer has no distinctive appearance, it looks good enough without appearing too filtered.
– Aroma
Nothing extraordinary hits the nose when you sniff this lager. However, one can easily make out a sweet grainy scent that smells like sweet corn and corn sugar. You can also catch whiffs of malts, mild hops, and a bread note easily associated with wheat. There's the unmistakable scent of grass or hay that you can detect if you pay close attention to the aroma of this beer.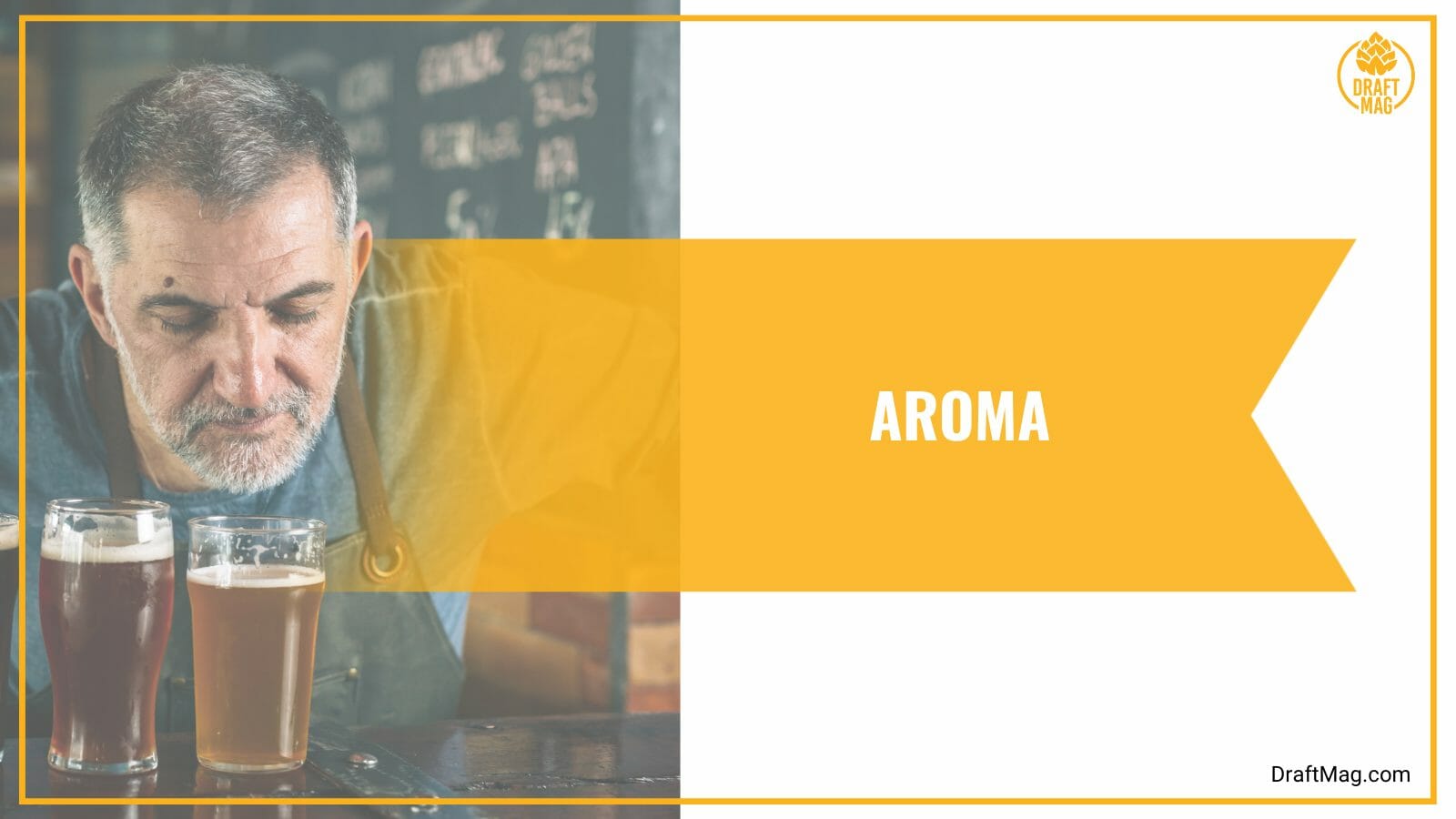 Also, you can catch faint citrus/floral notes from this beer. Overall, the aroma is what you'd get from any adjunct lager. It's simple and without any depth or unique composition.
Aside from its sweet, grainy scent, there's hardly any distinguishing feature that makes you eager to take your first sip. The only redeeming quality is that due to its simplicity, you can expect none of the overly cloying scents associated with many craft beers.
– Mouthfeel
Aside from the fact that this beer has a grainy sweetness balanced by light hops, it's medium-bodied with minimal carbonation. Like most lagers, this beer is crisp yet smooth on the palate.
There's a lingering malt sweetness at the beginning, which eventually gives way to a light bitterness one can easily overlook. You can detect faint hints of spice, but overall, the beer is thin and watery.
However, its crispness redeems it, as it's easily drinkable and leaves a dry finish. This beer doesn't have a bad mouthfeel, but it isn't award-winning, either. It's simply an easy beer to have after a long day at work or on sunny days, especially if it's served cold.
– Flavor
This beer has simple, almost subdued flavors, which isn't surprising for an adjunct lager. You can easily detect a sweet malty flavor, followed by sweet corn flavors and light hops.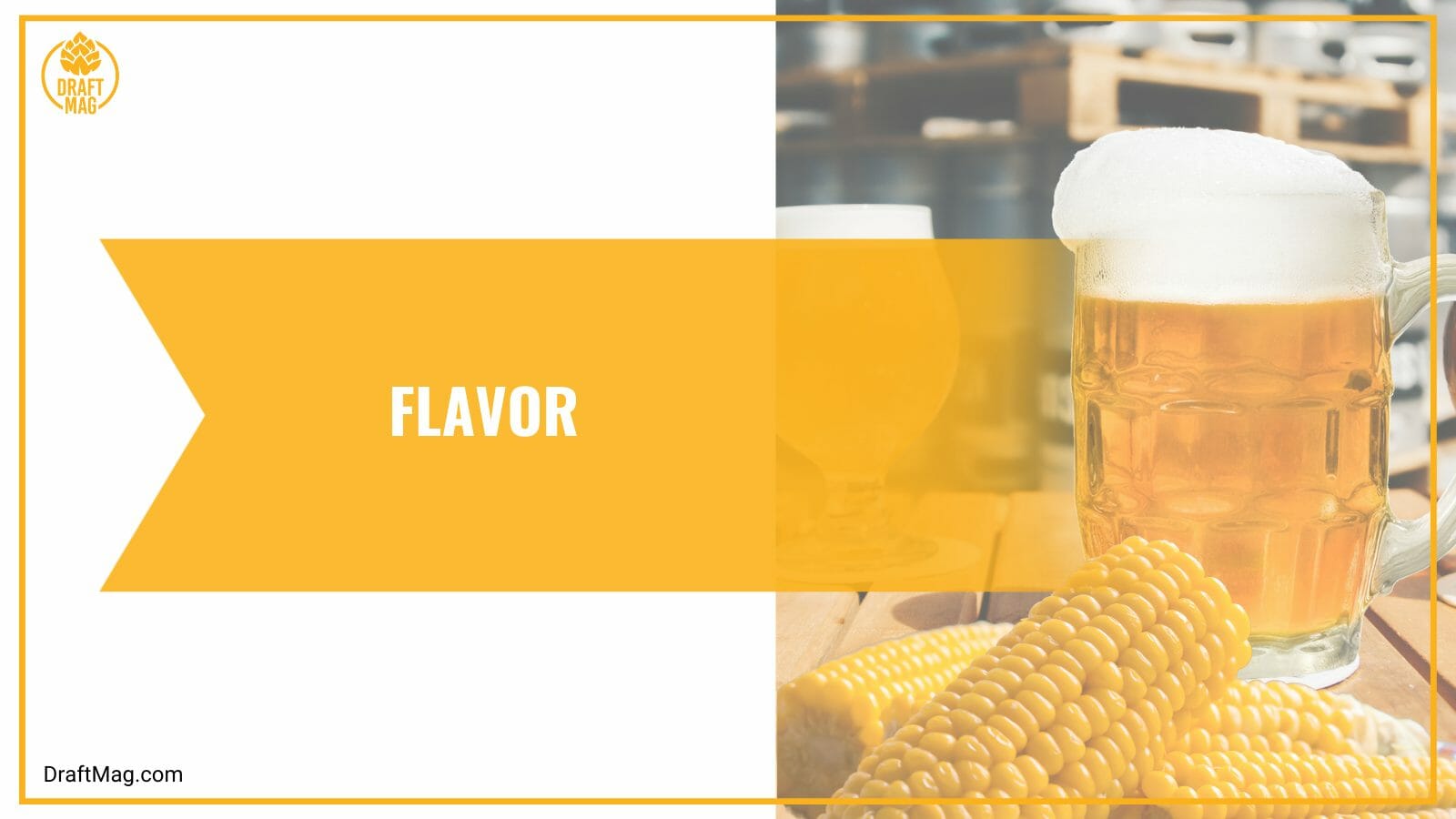 Interestingly, the clear hop flavor does nothing for the beer profile as this beer is sweeter than lagers should be. Surprisingly, there are faint fruit flavors that appear to be either apple or peach.
A grassy flavor is also noticeable, lending the beer an earthy character. We appreciate that this beer has flavors that are present without being overwhelming. Even though the flavors are a bit disappointing, they're not an issue, especially if you prefer beer with simple flavors.
– Food Pairings
Although this beer is versatile, it pairs best with spicy meals. Simple foods are also a hit, such as spicy pizza, hotdogs, burgers, fruit salad, salty nuts, and fruit-flavored cakes. You can also try it with BBQ, spicy chicken wings, steak, and French fries.
This beer goes well with fried fish and chips, steak, roast lamb, salmon, oyster, and kebab. For intercontinental variety, you can pair it with Mexican, Jamaican, Italian, and Spicy Thai cuisines.
Ingredients
It's made of traditional beer ingredients including hop extracts, spring water, yeast, corn syrup (maltose), and barley malt. However, there's an indication of mild citrus notes in this beer's composition. The brewery asserts that it takes a lot of thought in the brewing process, and each ingredient is used in its purest form. This guarantees drinkers a high-quality alcoholic beverage at any time.
Nutrition Facts
This American adjunct lager contains 150 calories, 12.3 grams of carbohydrates, one gram of protein, and zero grams of fat per 12 oz bottle serving. It also has an ABV of five percent and is deemed vegan-friendly, as it consists wholly of plant-based products.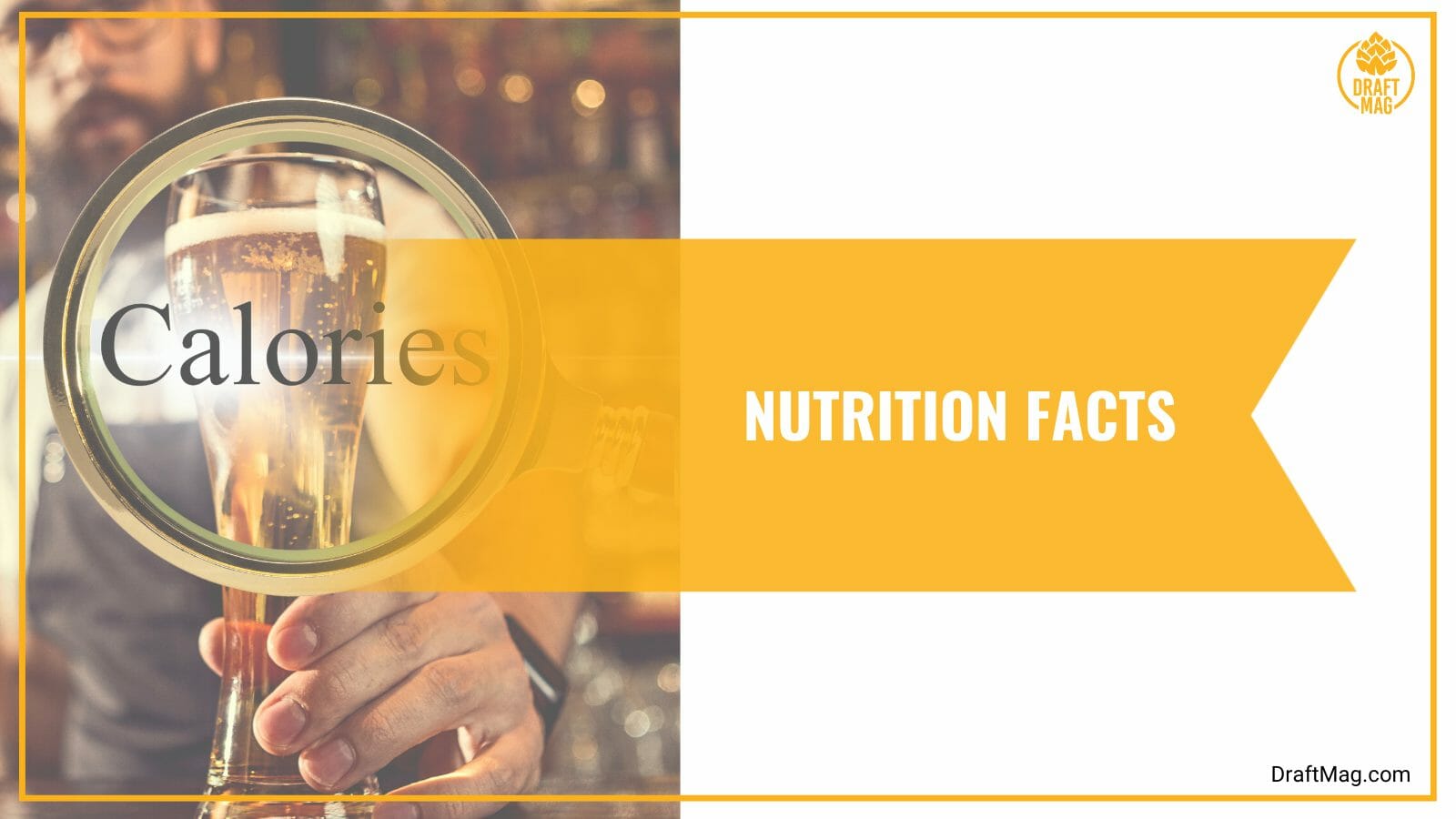 If you're following a keto diet or actively trying to lose some weight, you may need to be careful with how much of this beer you consume. Unless stated otherwise by the manufacturer, this beer may contain gluten due to the barley in it.
History
Although its exact date is unclear, this lager was first introduced to the beer market in the early 1980s. It's brewed by Molson Coors Breweries, Canada, and is available for American beer drinkers. Although the brewery discontinued it in the early 2000s, it produced other beers under the brand, including the Molson Canadian and Molson Export Ale.
However, in 2020, the lager was reintroduced to the public. It's available in pubs, liquor stores, and online beer retail sites across the country.
Conclusion
This beer is quite refreshing despite its lack of memorable qualities. Here's a summary of the points discussed in this review:
Molson Golden beer is an American adjunct lager with a five percent ABV.
Its aroma and flavors are malts, sweet corn, hops, and light citrus notes.
This beer tastes sweet, with its sweetness balanced by mild bitterness.
It's medium-bodied with minimal carbonation. The beer is crisp and has a smooth texture that's easy on the palate.
You can pair this lager with pizza, spicy chicken, buffalo wings, roast lamb, BBQ, and fruit salad.
Although this beer wouldn't rank high in a list of premium lagers, it's nonetheless a good beer to have. We recommend this beer if you need a quick drink and aren't too bothered about beers with bland flavors or aromas.